Bastille Day Fireworks: The Definitive Guide
Bastille Day Fireworks: What is it, what time does the Bastille Day fireworks start, and from where to watch Bastille Day fireworks in Paris? As a local in Paris, I am going to answer all these famous questions with detailed description, 13 places where to watch the fireworks show, and many options to choose from. So keep reading this complete guide and let's start!
---
Bastille Day fireworks in Paris is a not-to-miss summer itinerary for those invested in French culture, history, and grandiose celebrations!
The day begins with a mighty parade of France's military, marching from Arc de Triomphe down Champs-Elysees; the national anthem boosts the strident steps and spectators wave their flags.
Their spirits don't flag even as the noon sun starts to set, instead congregating on the landscaped expanse of Champ de Mars.
Music weaves around the picnic mats in both classical and opera strains, building an anticipatory air before the main event.
Only when the sky has turned completely dark does the first firework flare bright from behind Eiffel Tower. Picture this: colorful spirals and playful symbols framing Eiffel Tower in bright bursts of light, while spectators sing along to national songs!
What a vibrant show!
If you plan to visit Paris the next summer, definitively try going there during the period of Bastille Day!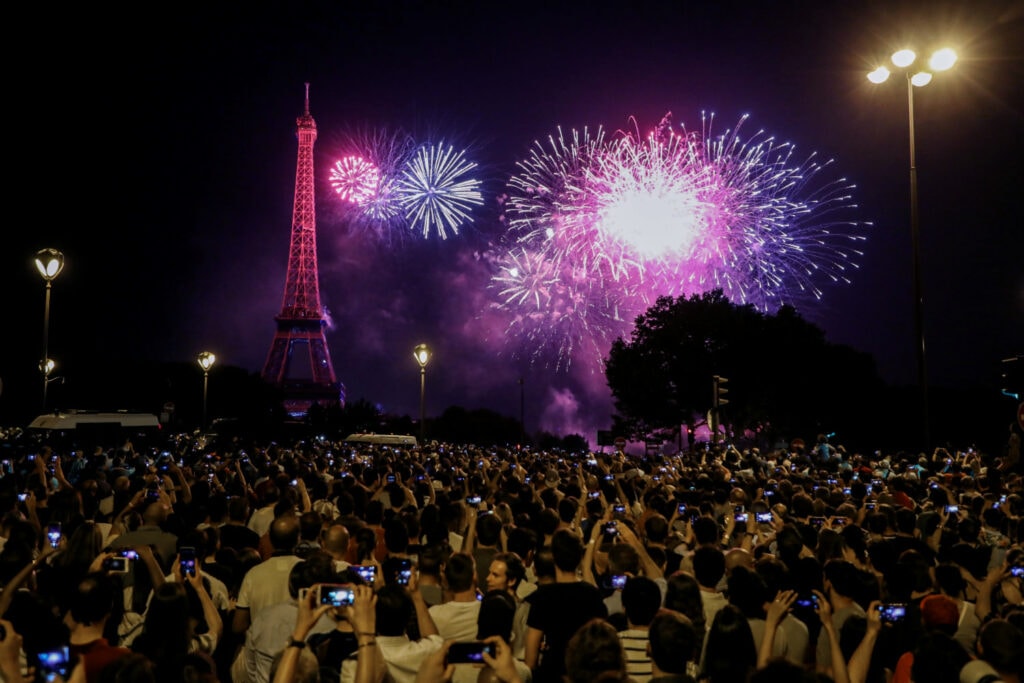 But what is Bastille Day? What makes it so special?
In the following guide, you'll learn briefly about how the national holiday got its name, and what it symbolizes for the country.
This guide is also the go-to reference for trip planners who are in town for the celebration!
Learn about the best viewing points for the Bastille Day Fireworks and find the best fit for you. Depending on your budget and preference for crowded or non-crowded spaces, you'll find a roster that ranges from front-seat terrace restaurants to more distant and city-sweeping observation spaces.
Let's dive in!
What is Bastille Day?
Ushering in the fall of the French monarchy on July 14, 1789, the storming of the Bastille prison and fortress was the leading event of the French Revolution.
In short terms, Bastille Day celebrates France as it is today, liberated by the people.
Originally constructed as a defense against invasions during the Hundred Years' War in 1300s, the massive stone building was later the holding cell of political dissidents. It only became an undisputed target of the masses when Jacques Necker, the Finance Minister who supported the peoples' voice, was dismissed from the assembly.
It was the catalyst to the growing discontent among the people, leading to the storming of the Bastille as both a strategic and symbolic move. The prison held large stores of gunpowder and represented the tyranny of the royal family. After taking what was needed, Bastille was dismantled.
Because of issues surrounding political correctness, this national holiday was established as a dual celebration of the Fete de la Federation and the storming of the Bastille rather than solely the latter.
Due to its duo purpose, Bastille Day entertains with parades, parties and a late night firework show. It is also one of the world's oldest military parades where French troops have marched since 1880.
It was only in 1918 however, that the parade took to the Champs-Elysees, running from the Arc de Triomphe to the Place de la Concorde.
Later in the afternoon, the crowds take to Champ de Mars in preparation for the Bastille Day fireworks.
Bastille Day isn't simply a national holiday; it is a celebration of the spirit of independence.
If you're visiting Paris (even outside of the Bastille day period), I highly recommend participating in this French Revolution Walking Tour. The guide is very knowledgeable and funny too, the tour itself is very cheap so treat yourself and don't miss this one!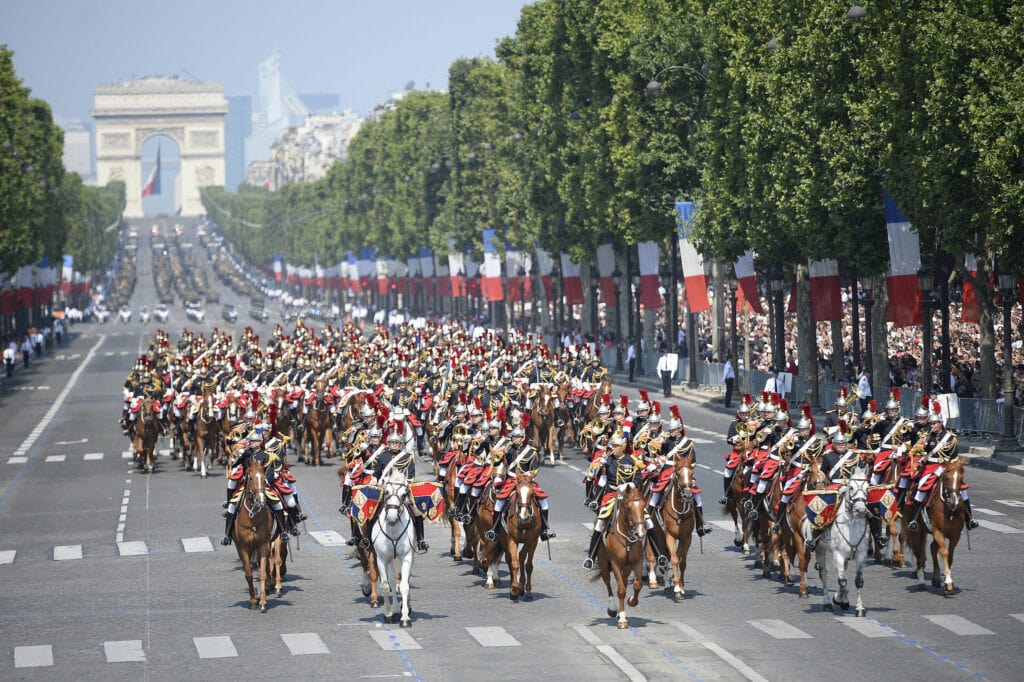 Where Are the Fireworks on Bastille Day?
It is easy to assume that the fireworks take place at the Place de la Bastille since the celebration derives its name from that historical monument, but don't make that mistake!
The Bastille Day fireworks happen at the Eiffel Tower!
There are various places to watch the fireworks on Bastille Day, but if you want to watch them launch into the sky up close and personal, your destination is Champ de Mars right in front of the Eiffel Tower!
The fireworks are set off behind the tower, where the lights frame the tower in dazzling spirals and blooms. For this reason, the main viewing space and musical procession takes place in front of the Eiffel Tower along Champ de Mars.
Most of the crowds can be found picnicking on its expansive lawns and poised on nearby terraces from the afternoon.
At What Time Do the Fireworks Start?
As you'd imagine, the Bastille Day fireworks start at 11pm in the evening.
While waiting for the sky to go completely dark, free open air concerts take place from 9:30pm onwards to feature classical and opera performances.
Settle in at Champ de Mars earlier to steal a viewing spot – the fireworks erupt right on time at 11pm for 35 minutes of stunning sparks and colorful shapes.
Where Can I Watch Bastille Day Fireworks in Paris?
There are a variety of places to watch Bastille Day fireworks in Paris, whether the traditional tourist spot or more unexpected gems.
When choosing the viewing spot for you, consider the crowd size, accessibility, budget and comfort level of the space.
Here I give you some options to choose from.
1. From Champ De Mars
What better view of Bastille Day fireworks than in front of the Eiffel Tower?
Settle in on the sprawling lawns of Champ de Mars as early as the afternoon for the best spots – people pick off spaces from before 5PM!
It fills up rapidly and a 5-minute delay makes a big difference on viewing angle!
Don't worry about being bored either, since the National Orchestra of France and other music troupes will entertain with live concerts!
While it is the best viewing spot since the fireworks are fired from behind the tower, people who struggle with crowds might prefer a more isolated space. In this case, we suggest viewing the fireworks from different places below, keep reading.
2. From Trocadéro Behind the Eiffel Tower
I heard some people giving the advice to watch the fireworks show from Trocadéro.
Placing yourself at Trocadéro will indeed bring you close to the actual fireworks set off point, but behind the artful show. Along not being able to see Eiffel Tower clearly, it is also difficult for you to get a complete picture of the sparks filling up the sky.
Still, if you'd like to be close to the action, Trocadéro is a solid landing point, but I don't recommend it.
3. From the Balcony of Your Hotel (or Your Friend's Apartment)
The cheapest and perhaps most cozy option is to view the fireworks from a friend's apartment (if they have a good view!). The other option is to kill two birds with one stone by booking a hotel with stunning views on the Eiffel Tower (click to read my selection of the best 25 hotels with views on the iron lady). Here are some choices to consider.
– Hotel Terrass: A 4-star hotel within vicinity of the Sacre-Coeur Basilica, it is a 19th century structure within Montmartre district. Its panoramic terrace offers beautiful view of Eiffel Tower; some rooms even have framed views of it beyond the window.
– Shangri-La Hotel: Top-tier and classy Shangri-La checks off everything you might require – luxury rooms, Seine proximity and direct view of the Eiffel Tower. If you check-in here for your stay, you can admire the fireworks from the comfort of your room or take to their terrace.
– Hotel Raphael: Ornate and mood-setting, Hotel Raphael doesn't only cater with 15th-century style rooms, but also balconies that overlook Eiffel Tower. Relax away from the crowds while close enough to take in the spectacular display.
Check the selection for 25 options to choose from and get an exclusive view on the Eiffel Tower right from your hotel room!
The Best 25 Hotels with views on the Eiffel Tower
4. From a Bridge with a View of the Eiffel Tower
River cruises can be expensive but budgeters can fulfill their water yearning by hunting down one of the many beautiful bridges in Paris that cross the Seine.
Take in Eiffel Tower and Bastille Day's firework display from any nearby bridge: Pont Alexandre III, Bir Hakeim, Pont de la Concorde and more. They might not directly face the tower front, but they still provide sweeping views of the iron lady and it's lit sky and backdrop!
5. From Pont De L'Alma
Of the few Parisian bridges with an Eiffel Tower view, Pont de l'Alma takes the cake.
Watch fireworks both in the sky and reflected in glimmering water by parking yourself along the bridge; its slanted view shows an open expanse across the river.
Expect brilliant views of the fireworks while being close enough for music to drift over. Kill two birds with one stone as you experience a musical and dynamic night for free!
6. From Any Cruise Along the Seine
Believers of not just living, but living well, should definitely consider a river cruise the night of Bastille Day.
Book a river cruise along the Seine for a magical glide under Paris' majestic bridges, indulging in a special dinner and tour that will bring you close to Eiffel Tower.
On water there are no crowds to impede your view or comfort, nor towering buildings to weave your way around.
Get your tickets here, they are valid for up to one year so you can plan ahead.
Seine river cruise with Eiffel Tower view
You are guaranteed unparalleled views with maximum comfort, and a guide to regale you the history behind this celebration.
7. From Boulevard Pasteur
Distance offers perspective and in this case, alternative space for fireworks viewing.
The Boulevard Pasteur is an elevated road near Montparnasse from where the Eiffel Tower is clearly visible, easily accessible via the metro.
Framed by ornamental condo blocks and tree-lined pavement, the Eiffel Tower rises beyond the stretch of the boulevard in painting-like clarity.
Lesser crowds also offer a much more comfortable viewing and clean photography of the fireworks but you most likely won't be able to hear the musical performances that complement the light show.
8. From Montparnasse Tower's Restaurant
Montparnasse Tower is an ideal fireworks viewing spot if not for one thing – its observation deck closes before the fireworks start.
What you could do however, is reserve a spot at its restaurant: Ciel de Paris.
Elegant, sleek, and with floor-to-ceiling windows to perfectly frame the Eiffel Tower, this elevated restaurant is a hot spot for those who want to join in the festivities.
But its popularity comes with a few setbacks, including the fact that many people would fight for a reservation. Do try your hand at reservations (perhaps weeks or months in advance); it is worth shelling out for.
9. From Sacré Coeur Basilica
It is always an excellent idea to climb to an elevated view point to get away from the crowds and be free of any obstructions.
The stunning Sacré Coeur Basilica in Montmartre is a contender if we talk high spaces, promising panoramic views over Paris city center.
However, its distance away from the fireworks means shrunken displays and a not-so majestic experience.
You won't be able to hear the accompanying music nor feel the air of excitement; not such a good choice for those who like to thrive in the ambience.
10. From Parc De Belleville
If an elevated monument isn't your shtick, what about an elevated park? Parc de Belleville runs parallel to Sacré Coeur as a viewing spot.
It sits far from the fireworks with sweeping views over the city, a preferred space for those who like spectacles and not the crowds.
For those who would rather the fireworks be a background distraction, chatting out at the park that evening is the perfect post-dinner activity.
11. From a Terrace Restaurant or Café
Double down on having a "good evening" by sipping at drinks at a terrace restaurant or a Parisian café while the fireworks spiral nearby.
Enjoy the show close up and comfortable at these terrace eateries: Les ombres, Monsieur Bleu, and Maison Blanche.
They might eat into your budget but you're not just paying for the food; you also get to experience a cultural celebration in close quarters.
Do book ahead of time as many people have the same idea!
Les Ombres: Nestled in the shadow of Eiffel Tower, the terrace restaurant offers a contemporary cuisine backed with stunning views. Open for lunch and dinner, it is a popular choice for those who covet panoramic glimpses of Paris.
Monsieur Bleu: Art deco is the theme of Monsieur Bleu, sleekly decorated in gold and black color schemes. Sit outside on the south-facing terrace to look over the Seine and Eiffel Tower whilst indulging in traditional French cuisine.
Maison Blanche: Perched atop the theatre of Champs-Elysees, this distinctly Mediterranean-influenced restaurant is another top choice for Eiffel Tower views. Dig into a hearty meal before the fireworks come on; there's no better backdrop for your post-main dessert.
12. La Defense Grande Arche Rooftop
Overlooking the urban sprawl is the newly opened La Defense Grande Arche Rooftop, some 110 meters off the ground for clear eye-line of the fireworks.
There is something special about watching the show at eye-level so buckle down for the views!
Definitely bring a camera up to this terraced spot – and maybe your own drinks for the inevitable cheers.
13. Watch the Live-stream on TV
Of course, if you're from the community who live for everything digital, you can also watch livestream on the TV.
This is also an alternative for those who don't like crowds; don't feel up to navigating the streets at night, or not up for climbing hills or paying for stunning but expensive viewing points.
If you prefer to be snuggled up in bed with a hot drink in hand, simply flip on the TV and enjoy the festivities at a distance!
Are There Fireworks in Paris on New Year's Eve?
Fireworks were not historically present in Paris on New Year's Eve, but the past 6 years have seen a new tradition emerge.
Gather around Arc de Triomphe for a series of events that build up towards the new year!
The night starts with video morphing on the face of Arc de Triomphe, which is followed by the requisite countdown.
The night caps off with a short fireworks show to bring you through New Year's Eve to the first new day, so stick around Champs Elysées.
The year 2020 was welcomed with some 2,700 fireworks but make sure to check on the city council's plans before planning your New Year Eve itinerary.
Wrapping Up
Now that you have all the information you need to properly enjoy Bastille Day fireworks, go ahead and plan out your spot for the night! Where the people are isn't necessarily the best, but luckily Paris is equipped with a diverse range of terrain.
It's worth dedicating a night to this celebration not only because of its stunning light show, but also for its cultural significance.
Of course, if you'd like more historical context, reach out to the locals around you to make the night even more meaningful.
For those who aren't in Paris on Bastille Day but may be traveling somewhere else, take note of the other countries who also celebrate this day.
Whether due to wartime alliances, colonization or home to a large French population, these countries host their own celebrations: Belgium, Canada, Czech Republic, Hungary, India, Ireland, New Zealand, South Africa, French Polynesia, United Kingdom and United States. Often organized by the French consulate, these festivals entertain with performances and French-themed delights such as food and film screenings. Music and dance take over the streets, sometimes with fireworks rounding off the night's revelry.
Belgium in particular is known for its widely celebrated Bastille Day festival, which entertains 35,000-people crowds to honor the relationship between France and the city of Liege. If you're in the area, do stop by for its fireworks show outside of Congress Hall.