Top 12 Most Beautiful Bridges of Paris
The bridges in Paris aren't just bridges, they are enchanting city structures that tell stories spanning centuries.
Connecting river banks, parks and major attractions like veins across the Seine river, they keep culture circulating through the people that pass through every day, and keep Paris' unique vibes fly in the air.
Between the motor-carrying stone arches and the simple curves of pedestrian bridges, you can hop into different points of history.
They stand as architectural highlights as well, each with individual characteristic. Featuring gold-embroidered sculptures, baroque bordering, gas lamps, and other unique details, they force your appreciation.
Below is a list of some of the most beautiful architectures in Paris, the most famous bridges in Paris, waiting for you to discover.
1. Pont Alexandre III
This very famous Parisian bridge is grandiose and absolutely stunning.
Le Pont Alexandre III joins Place des Invalides and Champs-Elysées in glamorous detail.
Like an open-air museum, the bridge is inhabited by gold and bronze sculpture. Fantasy comes to life, gold statues, the figures of cherubs, nymphs, cupids, water spirits, sea monsters, maidens, and creatures paint an otherworldly fairy tale.
Beautiful architecture aside, the bridge brings you close to the water. Cafés line grounded areas beneath the bridge, calling on the young population.
If there ever is a bridge you have to see, Pont Alexandre III wears the crown.
2. Pont D'Iéna
Pont Iéna is a bridge near the Eiffel Tower. Originally named by Napoleon after a victorious battle in 1807, it also answers to the name "Jena Bridge".
While directly facing the Eiffel Tower, one the best places in Paris, it is known for its historical monuments. Imperial eagles decorate the sides of the bridge, and four sculptures sit on the bracketing pylons: a Gallic warrior, a Roman warrior, an Arab warrior, and Greek warrior.
James Bond fans will be more interested in the steps leading off the bridge, where, in A View To A Kill
, he commandeered Renault taxi and crashed his way down in pursuit of an enemy.
3. Pont De Bir-Hakeim
Pont de Bir-Hakeim stands out as a "triple bridge", a layered construct that allows metro, pedestrian, and vehicle crossing.
It is easily recognized by its pillars; creating a corridor below the running train line makes for an unusual and almost mystical walkway.
Some visit the bridge for its clear view on the Eiffel Tower, but others come for its film-features. Re-watch Inception
and other Paris-based films to try and catch a glimpse of this unique structure.
4. Passerelle Simone De Beauvoir
Acting as a link between Bibliothèque François Mitterrand and Parc de Bercy is the pedestrian bridge Passerelle Simone de Beauvoir.
Unlike most contemporary bridges, wooden planking offsets its unique double curve design.
Its layered curvature was built in memory of 20th-century writer and philosopher Simone de Beauvoir, a world-famous feminist (get a look to her books).
The surrounding area offers cinemas, parks, beautiful parisian cafés, and Cour-Saint-Emilion (a wine storehouse-turned-boutique heaven), drawing in many young people.
There's also a beautiful walking bank underneath the bridge for post-meal strolls and romantic evening time.
5. Passerelle Leopold-Sedar-Senghor
Well-loved by artists and photographers, Passerelle Leopold Sedar Senghor (who is a former President of Senegal) opens up in the middle opposing curves to take you to the Seine bank.
Like Passerelle Simone de Beauvoir, its wooden planking is in juxtaposition to its modern design.
Cross over on your walk to Jardin des Tuileries and the Louvre Museum, or stop by after for a nice river breeze.
6. Pont Neuf
Le Pont Neuf is the oldest bridge in Paris. And you might wonder why the oldest bridge in Paris is named "New Bridge".
At the time of its opening in 1604, Pont Neuf was the newest of existing crossovers. The first of house-less bridges that moved away from the traditional wooden, building-ridden structures of previous eras, its stone foundation signaled an architectural renaissance.
Intersecting at the tip of Ile de la Cite, the bridge is actually a two-in-one construct marked by a statue of Henry IV.
While engineers of that time emphasized its uneven wings (five to seven bridge arch ratio), present-day attentions are focused on the 381 mascarons – grotesque masks sculpted onto the stone brackets.
7. Pont D'Alma
The Pont d'Alma make seem ordinary at first glance, but look towards its water-dipped base to see the Zouave soldier statue.
Three other military statues use to exist alongside the Zouave; a grenadier, skirmisher, and artilleryman, but were relocated about reconstruction.
Most notably, the bridge is a short walk to the Lady Diana memorial, where the Flame of Liberty marks the area of her last moments
.
8. Pont Saint-Louis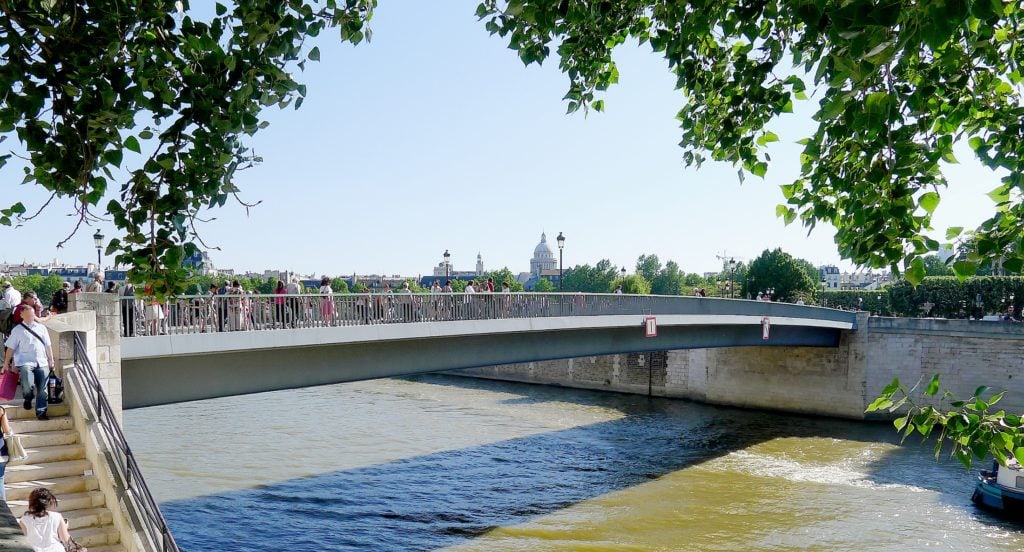 Entertainment abounds at Pont Saint-Louis!
This bridge is near the Notre Dame Cathedral and is THE gathering spot for musicians, magicians, street theater and all kinds of street art performances that will have you throwing in your wallet.
Plain or not, the bridge is one of the liveliest spots in the city.
Sitting right behind the Notre Dame Cathedral, it's an easy next move – rest your feet at a café and enjoy the musical atmosphere over cold treats or tea.
9. Passerelle Debilly
Near the base of Eiffel Tower is romantic Passerelle Debilly, a pedestrian footbridge that is simple and unassuming.
While most visit this bridge for its sunset views and picturesque shot of the iconic landmark, it is recognized for another reason:
Following an incident in 1989, after the fall of the Berlin Wall, this bridge was found to be the rendez-vous point for East German spies.
10. Pont Des Arts
Also known as "the love lock bridge in Paris" or "the Paris bridge with locks", le Pont des Arts might be the most famous bridge of Paris despite the fact that it is no longer home to the colorful trinkets of love.
But is nevertheless one of the most beautiful bridges of Paris, and as such, a great place for photos.
Built in 1801, it retains the traditional wooden fixtures of pedestrian crossings.
For safety reasons, visitors are no longer allowed to padlock the railings as it chips away at the architecture.
Be creative with your romantics instead! Commemorate with a photograph, schedule for a sunset stroll, or dine nearby for views of River Seine (more details in the FAQ section below).
It is especially lively in the summer, inviting casual sitters. Artists emerge during warmer weather to show off their talents; artists and musicians entertain while photographers come for the magnificent backdrop.
For all these reasons, The Pont des Arts Bridge is one of the top romantic places in Paris that you should visit at least once with your better half.
11. Pont De L'Archevêché
Some of the best views of Notre Dame Cathedral comes from Pont de l'Archevêché, which is located directly behind it.
The older parapets of the originally 1800s construction have been replaced by stronger steel railings; it has become another "love locks bridge" for romantics. Some people even call it the new love lock bridge in Paris.
An interesting fact about this bridge: it is the narrowest road bridge over River Seine. Spanning only 11 meters wide with 2-meter margins for pedestrians, it is a road to carefully navigate.
12. Pont De La Tournelle
A bridge of transformation and renewal, Pont de la Tournelle has seen many iterations!
Its first wooden bridge form in 1620 was destroyed twice in the following decades until it was replaced by a stone bridge in 1654.
Its current form was erected in 1928, making it a much younger structure compared to the others.
Artfully asymmetrical, the bridge is simply a central arch plus two smaller ones as bookends. The patron Saint of Paris, Saint Genevieve, overlooks traffic atop its sole pylon.
Fun fact: the drama series Highlander has filmed several scenes around and under the bridge in the 1990s.
Frequently Asked Questions
How Many Bridges Are in Paris?
Paris has 37 bridges. Where the Seine river bisects Paris are no less than 37 bridges linking the heritage-listed banks. Of these number, 5 are solely pedestrian and 2 are rail bridges. A few link the floating islands of Île Saint-Louis and Île de la Cité. There are also a total of 49 pedestrian bridges and both foot and road bridges over the Parisian canals. More infos on wikipedia.
What is the Oldest Bridge in Paris?
The oldest bridge of Paris is Pont-Neuf and it's the sole survivor of older Parisian bridges. Having finished construction between 1604 to 1606, it is the first stone bridge that broke away from traditional wooden crossovers, and one that didn't host any buildings. A statue of Henry IV separates the slightly unaligned spans, making it two separate lengths combined into one.
What is the Most Beautiful Bridge in Paris?
The most beautiful bridge in Paris is Pont Alexandre III. One can say that beauty is in the eye of the beholder, but no one can deny the beauty of Pont Alexandre III, Pont des Arts, and the Passerelle Simone de Beauvoir.
The gentle arch of the famous Pont Alexandre III glows white in the sunlight, gold accents and decorative lamps lining its rails. Pont des Arts exchanges stone for a metallic sheen, exuding an industrial charm in contrast to the unusual, two-curved structure of Passerelle Simone de Beauvoir.
But I think you already guessed it. The most beautiful bridge in my opinion, and my preferred one, is Pont Alexandre III Bridge!
Where is the Lock Bridge in Paris?
The pedestrian Pont des Arts bridge, known as "the Love Lock Bridge" and one of the most famous bridges of Paris, crosses the Seine river ends landing before Institut de France and the central square of Palais du Louvre. Its proximity to The Louvre sees a lot of foot traffic, whereas the backdrop of River Seine entices photographers and romantic couples.
Can You Still Put a Lock on the Bridge in Paris?
No! The sentiment isn't as important as safety! People are no longer allowed to put love locks on the bridge. By 2015, the fencing along the bridge was carrying the weight of over 700,000 locks; weighing approximately 20 elephants!
Sections of metal crumbled under the immense mass, leading to the risk of exposed gaps. The City Council cited the love lock phenomenon has a danger to the people, as well as a degradation of city architecture and heritage site.
While some people still lock up their love on bridges, they get taken down pretty quickly.
Others suggest creating new romantic traditions that won't damage property, such as taking the funicular up Montmartre for a sunset shot with Sacré Coeur as a backdrop. Follow up with a dinner at any classy restaurant nearby and create memories instead of leaving behind cheap trinkets.
After all, Paris' numerous iconic bridges such as the historical Pont Neuf offer stunning views for tangible proof of your love-trip. Commemorate with a photo, print it and carry it around.
Wrapping Up the Most Beautiful Bridges of Paris
Intrigued yet? Parisian bridges will prove that functional structures can be both meaningful (in historical and cultural context) and visually appealing.
You'll find long years of history behind the Seine river's road crossings, dating far back when Paris was still a small town. Bridges have come a long way, from simple wooden planking to ones supporting housing, slowly replaced by stone and cast iron.
Like the city, the bridges have grown bolder, bigger and stronger.
Pro-Tip to help you fully explore:
Here is a Paris travel tip you might want to consider. Kill two birds with one stone by joining a Big Bus Tour where you can hop on and off at all the major attractions. Coming in with one-day, two-days, and night passes, English-speaking live guides, and different routes to mix it up, there's no better way to cross those bridges.
Many stops bring you to the beautiful bridges we talked about in this article, showcasing both iconic landmarks and River Seine's intricate network.
For a preliminary glance of Paris and a comprehensive tour of the most prominent bridges, why not take a River Cruise?
Not only does the hour-long tour pass under the impressive architectures spanning the Seine river, but it also offers glimpses of many major landmarks.
You can take note of the sights and heritage properties that caught your eye and go back to those selected areas for more in-depth exploration.
We highly recommend to upgrade your experience to a lunch or dinner Seine River Cruise which lets you embark on an unforgettable gourmet cruise on top of the Seine River.