Why Visit Paris: Top 20 Reasons to Visit Paris Right Now
'Why should I visit Paris?' is one of the world's most frequently asked travel questions.
Well, there are lots of reasons to visit Paris.
With 20 districts, 130 museums, 2 million residents and around 40 million tourists per year, Paris is packed to the brim with things to see and do.
And it has something for everyone. Audrey Hepburn once said: "Paris is always a good idea"! And you can't argue with Audrey Hepburn.
You know the clichés. You've heard of the Eiffel Tower. And you've nibbled on a croissant.
But in Paris, those things are all much more special, more iconic and more charming than you could ever imagine.
And the city is so much more than that, from stained glass to famous cemeteries to gorgeous bridges to world-renowned day trips.
There are hundreds of reasons to visit Paris right now… but here are our favorite 20!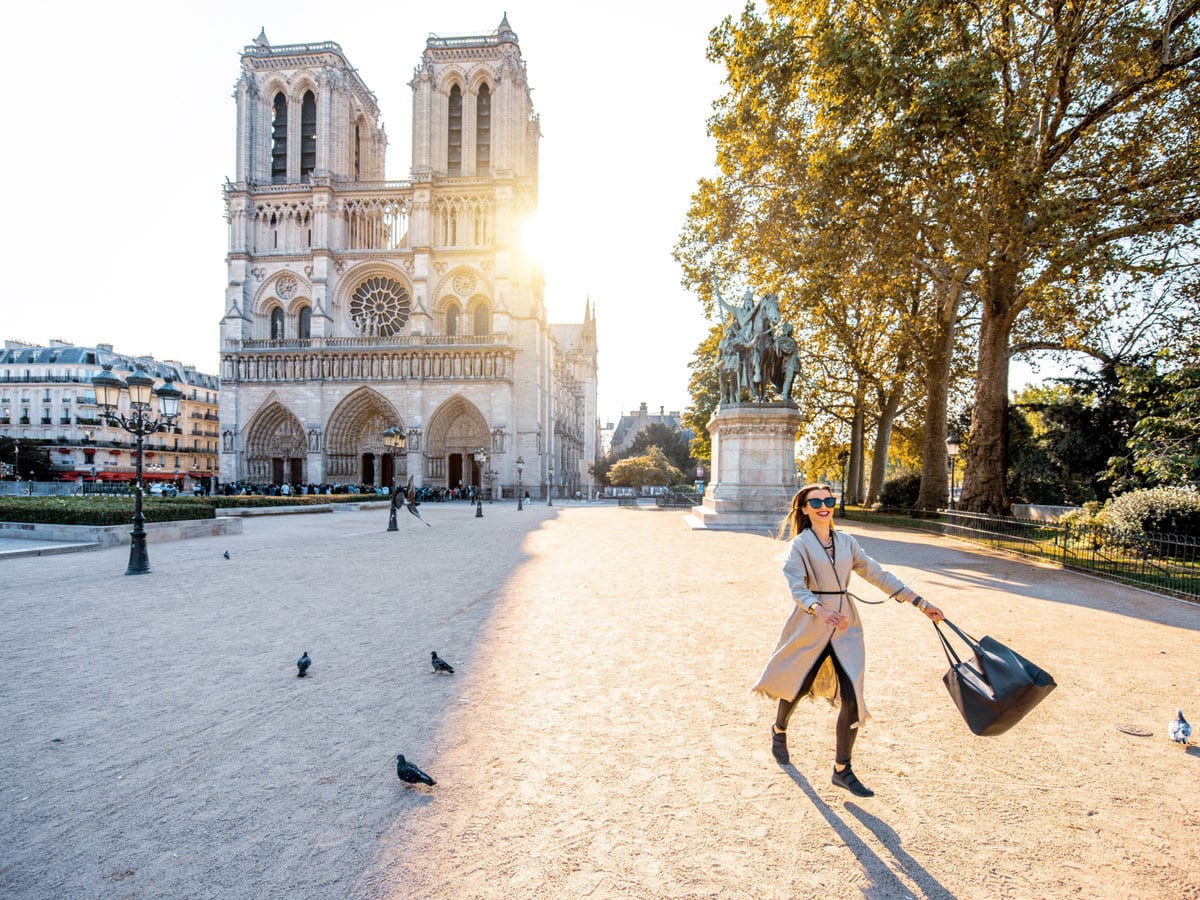 1. For the Romance
Known across the world as the city of love, Paris has romance and lust built into its very core. Movies, songs and literature have all paid homage to the romance of the city.
Whether it's a riverside kiss, dining in a candlelit restaurant or getting lost in a narrow side-street, doing it with your partner is a beautiful way to experience France's heart-stopping capital.
The romantic vibe of the city is one of the most popular reasons to visit Paris, especially for couples.
If you want a romantic getaway with the love of your life, this is the best place to have it.
2. For the Unbelievably Good Food
Paris is a foodie's paradise. And not just for the high-priced indulgent meals you might associate with the city. Though that type of cuisine is easy to find, Paris is also a great place to grab a cheap on-the-street sandwich.
French people love tasty food, from Michelin Star decadence to freshly-baked pastries. You've not tasted all that great food has to offer without exploring Paris on an empty stomach.
Parisian food experiences are plentiful, from bistros to cafés to food trucks. Popular French dishes include onion soup, cassoulet, cheese, oysters, and the humble croissant. If you've never before tasted a Parisian croissant, you're in for a treat – they're way better than any uninspiring replica you've ever eaten before.
In short, food is one of the best reasons to go to Paris.
3. Because You'll Find Hotels for Every Budget
There's a prevailing (and incorrect!) idea that Paris has to be an expensive trip.
But it doesn't.
The French capital can be much more affordable than you might expect. You can easily travel to Paris without spending too much money, and it's very easy to find affordable accommodation in Paris – even hotels directly facing the Eiffel Tower!
4. For the Iconic Landmarks
If there's one city with more iconic landmarks than any other on the planet, it's probably Paris. The tallest and most iconic of all is the Eiffel Tower, which beautifully looms over the city, providing incredible views of the surrounding cityscape. At 312 meters, it's a lofty piece of architecture, and one of the most famous sights in the world.
The Eiffel Tower alone acts as one of the top reasons to go to Paris.
The best views of the Eiffel Tower itself are perhaps from the Arc de Triomphe, which is iconic in its own right.
Other huge famous attractions include the Panthéon, with its crypts, and The Notre-Dame Cathedral. Though the cathedral is currently being rebuilt, you can still marvel at its exterior.
5. For the Unparalleled Architecture
Aside from its sites and sights, the general architecture of Paris is astounding, with beautiful moments and monuments lurking on every corner.
A walk in the city is like strolling through a living museum, with architectural eye candy running the gamut from Roman relics to modern marvels.
If you're remotely interested in architecture, you'll love Paris. Though the city offers countless varieties of the stuff, most of the city's buildings fit one of four styles: roman, medieval, renaissance or classical.
6. To Navigate the Seine
One of Europe's most famous rivers, the Seine runs right through the heart of Paris. There are even two islands in the Parisian stretch of the Seine, with plenty of activities and attractions.
The Seine is a beautiful place for a boat trip and offers an excellent way to gawp at the city's riverside attractions. If the weather is good, it's one of the most immersive and interesting ways to explore the city.
On some boat trips, you can even glide under the river's bridges during sunset, with a tasty meal in your mouth. Decadent!
7. For a Multitude of Museums and Art Collections
If you like museums, you need to visit Paris. It's home to the world's biggest, most famous (and perhaps best) art museum in The Louvre, but that's not all it has to offer. There's also a huge amount of innovative and interesting modern art in the Centre Pompidou.
There are around 130 museums in Paris, offering artifacts and attractions based on history, nature, cinema and plenty more.
If you like something a little different, Paris has that too. Among others, there are museums dedicated to medicinal history and fairground arts.
8. Because Paris Has Splendid Churches…
There are just under 200 churches in the heart of Paris.
We've already touched upon the Notre-Dame cathedral – and though it's the highlight, it's by no means the only church on offer.
The Sacré-Coeur is also thoroughly unmissable. It's beautiful inside and out, and it offers fantastic views of the surrounding Montmartre.
Another highlight is Sainte-Chapelle, which was built to house Jesus' crown of thorns along with a piece of his crucifix. The stained glass windows here are some of the best Gothic wonders on the planet, but many of the stained glass windows throughout Paris are absolutely incredible.
9. And Mesmerizing Covered Passages…
An early form of a shopping arcade, Paris' covered passages are unique and beautiful – and a great option if the weather is bad.
Covered in glass and tucked away from the crowds, these offer a peaceful but picturesque slice of typically-Parisian life.
Most passages have their own unique character. One is full of Indian and Pakistani stores, while another houses many antique dealers. Because these passages are often home to unusual stores, they're a great way to spend time doing something a little different.
10. And Not-so-Spooky Cemeteries
We get it – cemeteries aren't typically a tourist's top spot. But Parisian cemeteries are a whole different attraction. They're grand, peaceful, and full of beautiful architecture.
They're also home to many famous figures. The most notable celeb-spotting cemetery is Père Lachaise cemetery, which is home to the bodies of Oscar Wilde, Jim Morrison, Edith Piaf and many more. There are more than 1 million bodies buried there.
Montmartre cemetery is set in an abandoned quarry, making the place particularly atmospheric.
Others include Picpus Cemetery, which hides behind a nondescript wooden door, and is home to the mass graves of guillotined nobleman. Creepy.
11. To Enjoy the Café Culture…
Paris has café culture at its heart. Every day, thousands of Parisians enjoy cafés and croissants. Some of them are even highly Instagrammable 😉
Paris is specifically associated with outdoor, on-street café terraces, perfect for coffee, cake and people-watching. In 2018, a lobby even campaigned for French terraces to be place on the UNESCO World Heritage List (source).
There are plenty of choose from: if you spent every day of your life on a different Parisian café terrace, it would take you around 30 years to try them all out. That's a lot of café terraces.
12. And Participate in Endless Shopping
Paris is truly a shopper's paradise, from expensive haute-couture to huge department stores to trendy boutique hideaways.
Other offerings include some of the planet's most interesting jewelers, back-alley oddities and incredible grocery shops.
If you visit Paris over the festive period, you'll be amazed by the scale and intricacy of the city's multiple Christmas markets and displays.
13. For the Enchanting Day Trips
Yes, the center of Paris is phenomenal. But so too are the day trips – and not enough tourists take the time to explore them.
Versailles is one of the best on the list, with its stunning gardens, fountains and sculptures. It even has a hall of mirrors.
Another top trip is to Monet's Gardens, in the quaint and beautiful village of Giverny.
Disneyland is an obvious choice.
Meanwhile, the rocky island of Mont Saint-Michel looks like a real-life version of the Disneyland castle, towering above the ocean which surrounds it.
If you're seeking a cross-border trip, Belgium's traditional city of Bruges oozes charm, for an excellent day out.
14. To Discover Hidden Gems…
Despite its huge popularity, Paris still has plenty of tucked-away hidden areas for those seeking something a little less touristy.
There are two approaches to getting off the capital's beaten track. The first is to simply get lost in the many narrow streets hiding behind the big, bold boulevards.
The second is to seek out lesser-known attractions. One of the best is Le Manoir de Paris, an unsettling insight into the spookier side of the city's grisly past. The Vampire Museum offers similar thrills and chills.
Paris also has an abandoned railway line circling its outskirts, which can make for a great stroll.
15. And Marvel at the Barrage of Bridges
We've already covered the Seine. But we haven't covered what covers the Seine. And that's a catalogue of historical and beautiful bridges!
With 37 of them spanning the Seine, Paris offers a rich selection of bridges. Some of the best include the medieval-looking Pont des Arts, the iconic Pont Alexandre III, and the Pont d'léna, which sits at the foot of the Eiffel Tower.
If you're particularly interested, here's a detailed insight into the most beautiful bridges in Paris.
16. For Strolling the Streets
Parisian streets come in all shapes and sizes, from boulevards to barely-accessible alleys. Each Parisian district offers different Parisian vibes, which is why it's a great idea to walk around the city as much as you can.
If you don't, you'll be making a grave – and common – mistake!
One of the best areas for strolling through Paris is Montmartre, with its winding streets, cobbled aesthetic and rustic charm.
Le Marais couldn't be more different to Montmartre, but it's equally unmissable. Le Marais is all grandeur and galleries – it's trendy, it's hip, and it's archetypal Parisian.
You also shouldn't miss the vast avenue of Champs-Elysées or the jazzy streets of the Quartier Latin.
17. For Exploring Parks and Gardens
For such a well-populated city, you'll be surprised by how much greenery Paris packs in. The city has some of the planet's best picnic spots.
Bois du Boulogne hosts summer Chopin concerts, while Jardin du Luxembourg is a fully-fledged family day out. The most famous park in Paris, it offers food, drink, puppet shows, sunshine and fairground rides.
Whether you want views, cycling routes, flowers, concerts or outdoor classes, there's a Paris park that'll give you it.
18. To Watch Bastille Day Fireworks
Celebrated on July 14th, Bastille Day is a huge occasion throughout France – and Paris is a great place to enjoy it.
Every year, there are two days of free entertainment, including parades, dances, concerts and fireworks. These fireworks typically take place at The Eiffel Tower, for an iconic and unparalleled light display.
The day pays tribute to the French Revolution, and each Parisian throws themselves fully into the celebrations. It's a great time to see Paris at its most hedonistic and indulgent.
19. For Making Friends with the People of Paris…
With over 2 million people living in the center of Paris, one of the city's great charms is its residents.
The diverse mix of people in Paris is fascinating. While the sight of the beret-wearing, charm-talking Parisian cliché is everywhere to be seen, the identity of Paris is way more than that – the city has residents from all over the world.
Parisians have a reputation for being unfriendly and aloof. It's not true. Get to know some of them and you'll be charmed like never before!
20. And to Embrace the Parisian Culture
Paris is a fascinating place to watch life pass by.
Parisians like to wander about their hometown, spending much of their time strolling on streets to get from place to place. In a world dominated by Netflix, smartphones and public transport, busy Parisians still allot much of their time to parks, arts and socializing.
Parisians do things differently. They're relaxed, fashionable and suave, and they're the heart of the city.
Once you've visited the place yourself, you'll get sucked in by the allure of Paris and its people!
Final Thoughts
All these tempting incentives combine to form a fascinating cultural package, offering some of the world's best food, attractions and landmarks.
From on-street cafés to romantic boulevard strolls, Paris offers way more than most cities on the planet. For diversity, Paris is one of the best cities in the world. It's romantic, it's alluring, and it's full of fun.
Once you been there, you'll want to go again and again. Pack your beret and get on your way!
Being a Digital Nomad: Tips, Tricks and Places
Do you want to be a digital nomad?
If you do, maybe you don't know where you might want to live. Or how to live there. Or whether you need a visa. Or how to make friends in the scary sprawl of a brand-new city. Or how to stay productive while you travel. Or how to find an apartment. Or whether this lifestyle really is for you. Or… I'm sure you get the idea.
But with some insight and experience, it's not as difficult as you think. So in this book, I've gathered my 6 years of digital-nomadding experience… and I've used it to answer all your questions, soothe all your fears, and get you on your way. After reading this, you'll realise being a digital nomad is much easier (and much more possible!) than you think.