15 Best Mountain Bike Trails in Arizona (+ Expert Tips)
Mountain biking is a sport that is climbing in popularity. In Arizona, you're likely to be cruising among the saguaros or red rocks, but you'll also find perfect single-track trails winding through pine and aspen forests.
Although I'm a trail runner, I married a mountain biker, and we have desert trails less than a mile from our house suitable for both sports. We've traveled all over Arizona to do the activities that we love, and all of our favorites are on this list!
There are trails for beginners and advanced riders, short jaunts, and long multi-day rides. Whether you're looking for casual flat cruises or heart-racing climbs, Arizona's mountain biking trails have it all. If you're looking to break into the sport of mountain biking, read on to find out the best place to start.
1. Hangover Trail, Sedona
We're starting this list with a challenge! Hangover trail outside Sedona is one of the most technical rides in the area. With plenty of rocky sections, beautiful views of the red rocks, and some steep sections, this trail is not for beginners.
The trailhead has ample parking, but like any trail in Sedona, it'll fill up quickly especially on weekends. At the end of Schnebly Hill Road, you'll find the trailhead clearly marked. This ride climbs steadily over the nearly 6 miles (out and back), and be prepared for some rocky sections and technical areas on slick rock.
Take your time and know your limits! The views towards the top of the trail are truly spectacular, and this would make an excellent sunset ride as the red cliffs of Sedona really glow in that late afternoon sun. This is a great ride for those more experienced who also want a less crowded trail in Sedona.
2. Hiline Trail, Sedona
Another Sedona favorite, the Hiline Trail skirts the flanks of the famous Cathedral Rock, one of the most recognizable peaks in Sedona. Starting on the Village of Oak Creek side is recommended to get the most difficult part out of the way first.
You can do this trail as an out and back (about 8.4 miles), or connect to other trails in the area to form a larger loop. There is one very steep section that most bikers might choose to walk, but otherwise, it is rideable for most levels.
The slick rock in Sedona can get pretty treacherous when it is wet (hence the name) so mountain biking the Hiline Trail during rainy weather might not be ideal. If you want to add a hike to the saddle of Cathedral Rock, do the big loop and park your bike at the bottom. Whichever way you choose to do the Hiline Trail, it'll be well worth the trip.
3. Bell Rock Trail, Sedona
The rugged terrain around Sedona doesn't make for very many beginner-friendly trails, but this is one of the few in the area that beginner mountain bikers should be able to tackle. The trail is a relaxing double track with very little climbing.
The deep sand in some spots can be a little challenging for some riders, but if you lower the air in your tires a bit, it makes the sand more manageable. Like most trails in Sedona, you can also connect from the Bell Rock trail to other trails in the area for longer loops and routes.
The trailhead parking is fairly close to the main highway that goes through Sedona, so be sure to get there early as it usually fills up quickly. Enjoy the casual ride, and stop frequently to take in the views of the famous red rock cliffs and mountains of Sedona.
4. Arizona Trail, Flagstaff
Although the Arizona trail stretches 800 miles from the Utah border to Mexico, the section that runs near Flagstaff is one of the most beautiful stretches. Park at either the bottom of Snowbowl Road, at Aspen Corner, or up at Snowbowl Ski Resort (in the summer/fall only) to intersect the trail.
Wherever you choose to start, head north from there. The trail will climb up into the aspens and in the fall months, the leaves glow yellow and gold and make for a peaceful atmosphere. You can go as far north as you wish before turning around, as this trail continues to the Utah/Arizona border.
I recommend this section of the Arizona Trail since you will be riding in the foothills of Humphrey's Peak, the largest mountain in Arizona. The beautiful setting plus the cooler temperatures in summer make this a great getaway destination for mountain bikers who want to get out of the desert.
5. Schultz Pass Loop, Flagstaff
Slightly closer to town than the previously mentioned ride, this mountain bike route climbs gradually but eventually tops out at over 8,000 feet, so be prepared to struggle a bit in the elevation if you're not from Flagstaff.
This trail is an 11.5-mile loop, with about 930 feet of climbing. Whichever direction you decide to go, remember that you'll get a nice downhill section at the end to reward you for your hard work.
The smooth single-track trail and the lack of super steep sections make this trail a great option for more advanced beginners.
6. Pemberton Loop, Fountain Hills
This nearly 16-mile loop is a local favorite in the Phoenix area, as the distance is perfect for a moderately long ride and the terrain is smooth enough for more advanced beginners. This trail has a nice gradual climb to about the halfway point, before looping you back down to the trailhead on a smooth double track.
Pemberton Trail gives you excellent views of Four Peaks in the distance, as well as the McDowell Mountains and Thompson Peak nearby. This trail is in full sun for the entire ride, so it is not recommended in the middle of summer but makes for a fantastic winter trail. Pemberton is located inside McDowell Mountain Regional Park and there is a $7 entrance fee.
7. Hawes Trail System, Mesa
The Hawes Trail System was relatively unknown for several years, but in just the last year or two, it has exploded in popularity both for bikers and hikers.
It's close to Mesa and easily accessible from several trailheads. The Hawes Trail Alliance is constantly improving on old trails and building new ones. Mountain bikers of all abilities can tackle many of the trails in Hawes. 
Trailheads can be found at the entrance to Las Sendas neighborhood on Power and Thomas, or at the bottom of the Power Road hill where it turns into Bush Highway. All along Bush Highway, you'll see other small parking lots where the trails are accessible from the road. Starting your ride from any of these trailheads is bound to guarantee an excellent adventure.
The biggest climb in this rugged section of the desert is up the Mine Shaft portion of the Saguaro trail. Watch for riders coming down, as this section is steep and gravely and can be challenging. Once at the top, enjoy the unmatched views of the Salt River and Red Mountain.
Another favorite trail in the Hawes Trail System is Wild Horse. It's one of the longer trails here, at over 7 miles out and back. The climb is gradual and the trail itself is smooth singletrack with very few rocks. Connecting to other trails from Wild Horse can make your mountain bike ride longer depending on your goals.
8. Pass Mountain Trail, Mesa
Usery Mountain Regional Park is the home of Pass Mountain, and this trail creates a perfect loop around this small peak. At about 7.8 miles around, this trail has some sketchy sections that might require less experienced riders to walk your bike.
The "front side" (western side) of Pass Mountain is less rocky than the back side, although it still requires a fair bit of climbing no matter which direction you go. The back side has whole sections of boulders and jagged rocks but is still rideable for experienced mountain bikers.
This is a very popular trail on weekends, so for a more peaceful and less busy ride, try a weekday morning. The trail can be narrow at times so dodging hikers and other riders can be difficult at times! Pass Mountain trail is a classic loop, perfect for experienced riders, with excellent views of the east valley.
9. Blevins Trail, Mesa
If rugged technical trails are not your thing, Blevins is the perfect casual, easy ride for beginners and experienced riders alike. Also located in Usery Mountain Regional Park, Blevins trail creates a nice loop with very little climbing and plenty of smooth single and double track.
This trail intersects with a few other trails, and they are all fairly flat and easy terrain to maneuver, even for beginners. You can easily make a 10-mile loop by mountain biking just the outer trails in this lower area of the park. Pass Mountain trail can also be accessed from here. The $7 day pass lets you access almost 30 miles of trails.
Be on the lookout for coyotes, mule deer, and rattlesnakes, especially around sunset. Scattered throughout Usery Mountain Regional Park are towering saguaros and "forests" of cholla cactus, which will stick to you with even the slightest accidental brush against them. Many mountain bikers have found that out the hard way!
10. National Trail, South Phoenix
Located in South Mountain Preserve, this 16-mile point-to-point trail gives you incredible views of Phoenix as well as an exposed ridgeline ride that's daily challenging for most riders. National Trail takes you from the east to the west end of the preserve and intersects several other trails along the way.
Due to the length, this trail has plenty of elevation gain at around 2200 feet over the 16 miles. Starting at the east end, the trail climbs gradually over the first 5 miles then turns into rolling terrain as you traverse the ridgeline. The last 6 miles are a screaming descent on singletrack through cactus and other desert flora.
This is a great trail for those looking for a longer and more challenging ride without having to connect many trails. Parking is available at either end of the National Trail.
11. Dynamite and San Tan Trails, San Tan Valley
San Tan Mountain Regional Park is another park located within Maricopa County and has miles and miles of trails that are popular with mountain bikers, hikers, runners, and equestrians. Some of the trails here are in deep sand in washes, which are definitely not a favorite with mountain bikers. Dynamite and San Tan trails have minimal sand and maximum fun.
Starting at the northern parking lot at the Goldmine Trailhead (a $2 park access fee is required here, versus a $6 fee at the main lot), you'll ride your bike a short distance up the trail before you see the Dynamite trail fork to the right.
This trail climbs steadily over the next mile-and-a-half, before dropping down some small switchbacks and meeting up with the San Tan loop. You can choose to go either direction, each one has short but challenging climbs but is doable for most beginners.
All told, the Dynamite trail with the San Tan loop makes about 11.6 miles total, the perfect distance for a morning ride. Most mountain bikers can tackle this ride, but the climb up Dynamite might be challenging for true beginners. Don't be too proud to walk if the trail gets beyond your comfort zone!
12. Honeybee Canyon Loop, Tucson
Just north of Tucson and in the foothills of Mount Lemmon is the local favorite route called Honeybee Canyon. The trail can be hard to follow at times, so always download a map before you head out to make sure you take the correct trail (this is true for all mountain bike rides).
This trail is great for beginners who are ready to challenge themselves a bit more. The trail is hard-packed dirt, with rocks here and there but the vast majority of the trail is smooth singletrack. The climb is so gradual you almost don't notice it happening.
Once you reach the turn-around point (a windmill), it's an easy cruise back down to the bottom. At 20 miles total, this loop is the perfect challenge for beginners and an easy, relaxing ride for more advanced riders.
13. CDO, Tucson
For those mountain bikers who love a fast and adrenaline pumping downhill, this trail is for you! The best way to do this trail is to use a shuttle system – travel in a group, and park one car at the bottom, and then drive the other car to the top. This is best done as a point-to-point because you do not want to try to make the climb back up Mount Lemmon on your mountain bike! 
This trail starts around 9000 feet elevation and drops a whopping nearly 7000 feet over 21+ miles. You will want to check your bike brakes before you attempt this ride, as you'll be hitting them hard the whole way down!
There is a section of several creek crossings, so keep your eyes open for cairns (rock stacks marking the trail) and other markings. Always have a GPS map downloaded to avoid getting lost in these wilderness areas, as there are several junctions that aren't clearly marked for the right direction down the mountain.
The CDO trail could take most mountain bikers most of the day to complete, but it is one you won't want to miss.
14. Los Burros, Pinetop/Lakeside
One of the premier White Mountain routes, this trail loop will take you through forests of towering pines and aspens. In the fall, these aspens glow golden yellow and add to the magic of this trail.
In the summer, there are daily monsoon storms in the afternoon, so plan accordingly and try to be done before midafternoon. Snow makes the Los Burros trail impassable during the winter but the rest of the year is simply sublime.
This is a more intermediate trail due to the elevation and some short steep climbs, but more advanced beginners should be good to go on the Los Burros trail. If you decide to cut your ride short, there is a crosscut trail that will take you back to the start. There's also an option to start in the small town of Pinetop, adding about 10 miles to the 14 mile Los Burros loop.
Mountain biking in the desert is nice enough, but getting to ride among the White Mountain's aspens is truly special and should be on every mountain biker's riding bucket list.
15. Prescott Circle Trail, Prescott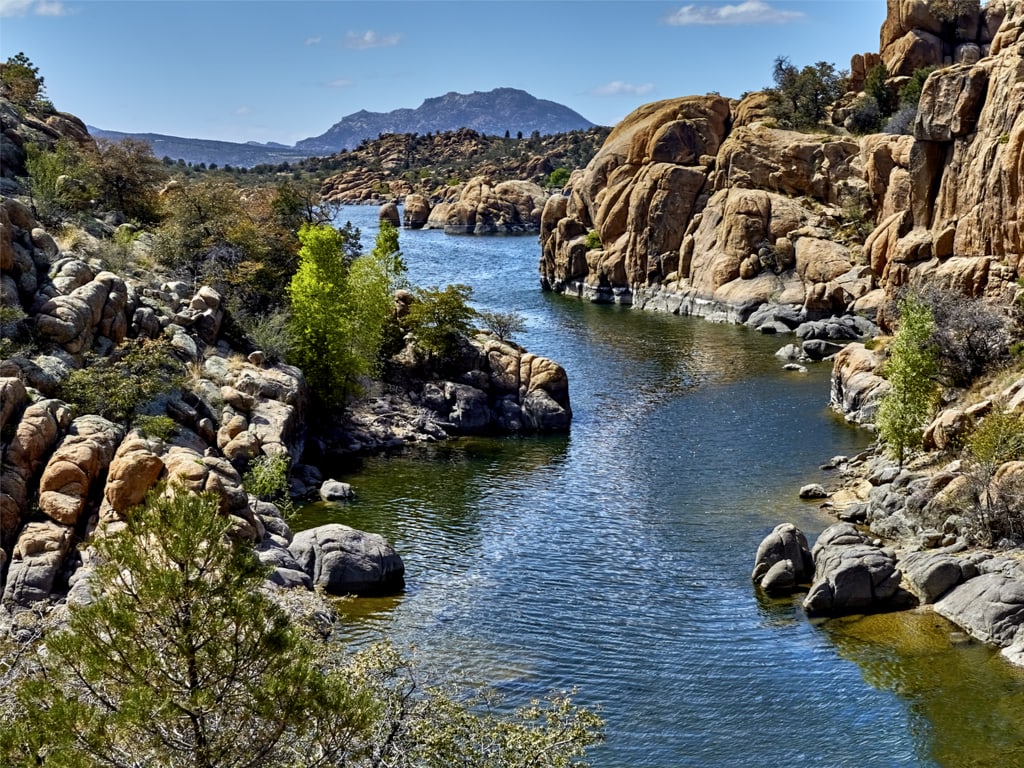 The 57-mile Prescott Circle trail traverses around the entire perimeter of the city of Prescott and the surrounding area. There are established campsites along the route, making a multi-day trip possible if desired. The trail climbs and descends constantly, with very few flat stretches.
The Prescott Circle trail intersects with several different trail systems along the way, so bringing a GPS map is a must to ensure you don't lose the official circle trail. Over 5,200 feet of climbing is sure to make your heart work hard to get up those ascents. For the speedy downhill lovers, there are two long descents where you can really let your mountain bike fly.
The longest trail on our list, the Prescott Circle Trail is rated as intermediate and may take more than one day to complete for more beginner or slower mountain bikers.
Expert Tips
Know your route! Download a mountain biking app that includes map downloads and live GPS maps- I recommend Trailforks or MTB Project. These are invaluable for backcountry riding and even rides close to home, as it is easy to miss a turn when you're flying down the trail. 
Be familiar with your gear. Know how to fix a flat tire or a broken chain. Always wear a helmet, and padded shorts make a big difference on those long rides. 
Know your limits, and stick with them. Accidents happen easily while mountain biking, and knowing when to push yourself and when to walk your bike safely through a treacherous section can help you enjoy many more miles to come. 
Pay attention to the rules of the trails. Bikers and hikers always yield to horses, and bikers yield to hikers as well. Always give ample room or stop to let foot traffic pass safely. Never speed past horses or people. Always respect other outdoorspeople! 
This may seem obvious, but ALWAYS bring water. No matter how short of a ride you are doing, it is best practice to always have water with you. You never know if you'll be stranded with a flat tire in the hot Arizona sun.
Watch for wildlife! When rattlesnakes are coming out of hibernation they tend to use trails as a sunning spot and love to stretch across the trail. Deer, javelina, squirrels, and coyotes also frequent the areas mentioned on this list.
For beginners, make sure you know how to use your gears before you head out. Lower gears are used for climbing, higher gears are used for fast descents and flat sections. Get comfortable with switching gears quickly and be familiar with all aspects of your bike. The easiest way to avoid an accident is preparation!
If you decide to buy a bike, invest in a custom fitting session with a professional. A well-fitting bike can make all the difference between a good ride and a great ride.
Conclusion
Mountain biking is becoming increasingly popular, especially in Arizona. New trails are being built all the time in places like Mesa, Flagstaff, and Tucson. Buying your own bike is a great investment in your health and is an excellent hobby for old and young alike.
The variety of trails throughout Arizona ensures that every mountain biker from beginner to expert has options for routes. Whether you want a challenge or an easy cruise, there is a trail for you. Remember to be safe, be respectful, and get out there and shred those trails!