7 Best Hiking Trails in Mesa Arizona (by a local)
Mesa, Arizona, a city of almost 500,000 people twenty minutes east of Phoenix, is an unexpected hub for outdoor enthusiasts.
I grew up in the neighboring city of Gilbert, and have lived in Mesa for the past 3 years. As a trail and ultra marathon runner, I have logged hundreds of training miles on the trails near my home. Trail running allowed me to conquer the trails, and now, as I hike with my 5-month-old daughter, I'm able to slow down and savor the views.
There are several parks and trail systems just outside of Mesa's borders, all within a short drive from any part of the city. Featuring towering saguaros, prickly chollas, and abundant wildlife, these trails are sure to provide anyone with a true Arizona hiking experience.
Whether you're a seasoned veteran of the trails, a mom with kids in tow (like myself), or just starting out on your fitness journey, Mesa has a hike for you!
1. Hawes Trail System
Tucked between Power Road and Usery Pass Road to the west and east, and the neighborhood community of Las Sendas to the south and the Salt River and Bush Highway to the north, lies the Hawes Trail System.
It is a lesser-known network of trails that are continually being added to, improved upon, and enjoyed by more and more people every year. For example, the Hawes Trail Alliance which is a group of mountain biking and hiking enthusiasts, have built 27+ miles of new trails in this area in just the last 2 years.
The trails in Hawes consist of easier strolls (like Wild Horse or parts of Saguaro trail) or gnarly climbs and steep descents (like Mineshaft or Cactus Garden). There truly is a loop or out-and-back route for every age and skill level.
There are multiple trailheads, and multiple free parking areas in dirt lots off of the roads surrounding the trail system, but be sure to pay attention to no parking signs.
I include the Hawes trail system on this list as a whole, as each trail connects to each other and there are multiple routes you can take when heading out.
Be sure to watch for snakes, it is a favorite haunt for several species of rattlesnake! Other wildlife seen in this area by myself or by other hikers and bikers include coyotes, bobcats, javelina, and even the elusive mountain lion. There is even a beloved herd of wild horses that use the washes to travel to the nearby Salt River.
Many ancient saguaros dot the landscape, as well as mesquite and palo verde trees. Shade is scarce, so bring plenty of water, no matter the time of year.
Difficulty: Easy to Moderate
Distance: Varies
Map: Use the All Trails or Trail Forks apps, or the maps on the Hawes Trail Alliance website
Kid friendly: Yes
Dog friendly: Yes, but best on a leash
Entrance Fee: None
2. Wind Cave, Usery Mountain Regional Park
This is a favorite trail of mine for a heart-pounding, sweaty hike! And it's definitively one of the best things to do in Mesa.
Climbing 800 feet in only 1.5 miles, this out-and-back trail features a "cave" at the top that is eroded into the cliff face from eons of wind, hence the name.
I've been hiking this trail since I was just a little hiker, and now it is by far the most popular hike in Mesa.
The Wind Cave trail starts out as an easy gradual uphill stroll, then about halfway up turns into rocky switchbacks as you climb through boulders. This part climbs quickly and as you stop to catch your breath, don't forget to take in the views of the Valley of the Sun.
The trail finishes with a short stairs section, then you are rewarded with some glorious shade and views of Mesa and even Phoenix in the distance.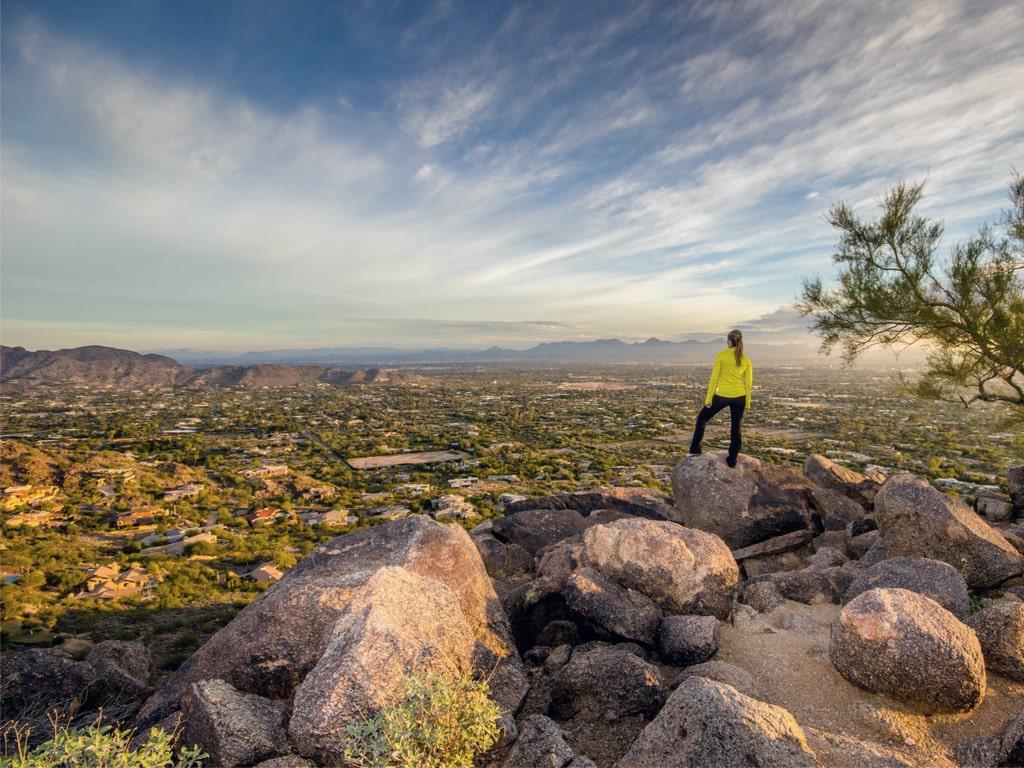 If you do this trail in the morning, most of the trail will be shaded by Pass Mountain, or "Scarface", so-named due to its signature stripe of yellow rock across the cliffs.
Wind Cave trail is most busy on weekend mornings, so make sure to follow trail etiquette and yield to uphill traffic. I love this trail for the challenge and for the rewarding views at the top.
Difficulty: Moderate
Distance: 3 miles round trip
Average Duration: 1.5- 2 hours
Kid friendly: Yes, for experienced little hikers
Dog friendly: Yes, must be on a leash according to park rules
Entrance fees: $7 per vehicle for a day pass
3. Siphon Draw, Lost Dutchman State Park
This was my first real hike as a teenager, and I can still remember how sore and tired I was for a week after.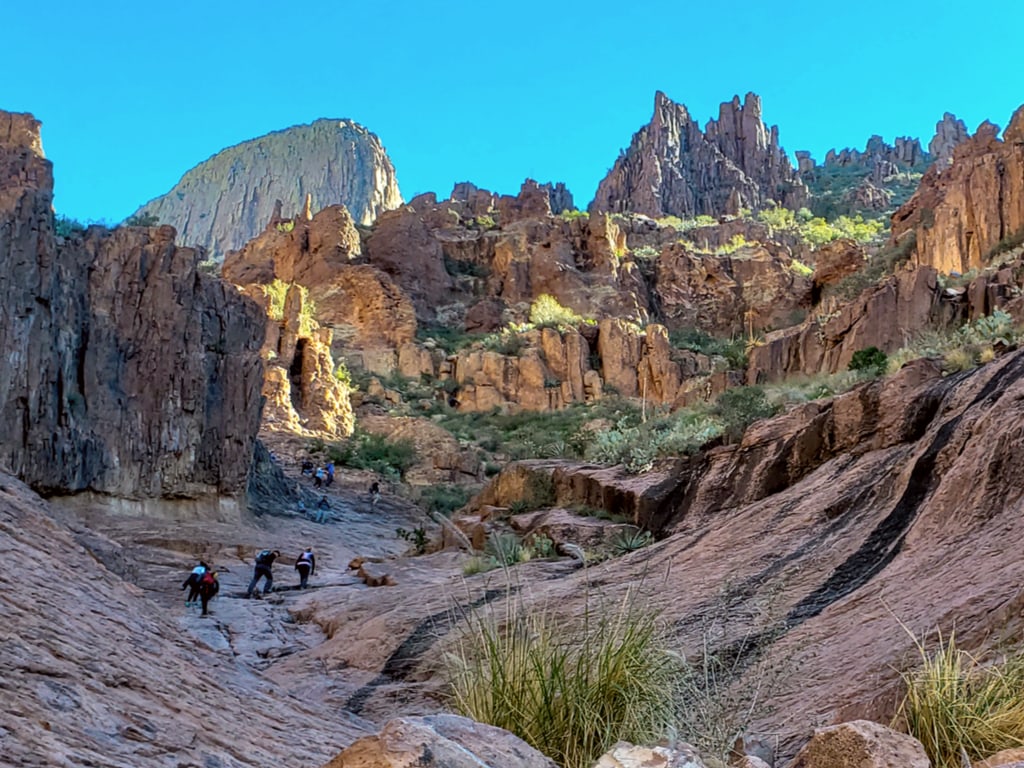 While not exactly in Mesa, this hike is in the Superstition Mountains, a short drive to the east.
By far the most difficult hike in the east valley (if you go all the way to the top), it also has the most rewarding views of the entire Phoenix area.
Little hikers and those less experienced can stop at the Siphon Draw, a solid stone amphitheater-like canyon that will have a tiny stream of flowing water during the wetter seasons. Continue to the Flat Iron, however, and you'll have to do some boulder scrambling and minor route-finding.
Watch for rattlesnakes and scorpions, who love hiding in the nooks and crannies among the huge boulders.
There is one section near the top where it looks like you might have to scale a wall of rock, but if you look to the left, there is an almost perfect stair case of stone hidden in plain sight. Once you reach the top, enjoy the well-fed chipmunks but be watchful of leaving any food out, as they will take the opportunity and steal it!
Take your time on the way down, and watch for the white spray-painted dots on the rocks to help you pick your way through the boulders. Bring plenty of water as there is not any to be found on this trail.
Difficulty: Hard (easy/moderate to the Siphon Draw)
Distance: 6 miles round trip to the top
Average Duration: 3-6 hours
Kid Friendly: yes, to the draw
Dog friendly: yes, to the draw. I have taken dogs to the very top, but you may have to lift them up certain sections. Leash required.
Entrance fee: $7 per vehicle for a day pass
4. Brown Road Hill
Located just east of the Loop 202 on Brown Road, this hike gives you some bang for your buck.
At only a half mile to the top, it is one of the shortest hikes around but takes you up almost 300 feet. It is perfectly doable for all skill levels due to its short distance.
On top, the hill itself is perfectly flat and is a dreamy place to watch the sunset. I have fond memories of hiking this trail on summer nights to have a picnic at the top and take in the sparkling house lights surrounding the hill.
Parking is available at the bottom in a dirt lot, just be mindful of no parking signs.
The Brown Road Hill would be the perfect short hike for families with young children who want to enjoy the views of northeast Mesa.
Difficulty: Easy
Distance: 1 mile round trip
Average Duration: 20 minutes
Kid Friendly: Yes
Dog Friendly: Yes
Entrance Fee: None
5. Pass Mountain, Usery Mountain Regional Park
Located at the same trailhead as the Wind Cave trail, Pass Mountain is a 7.2 mile loop with about 950 feet of climbing that takes you all the way around the iconic "Scarface" mountain.
Like most other desert hikes in this area, this trail is rocky and dry, passing through several washes on the south end of the mountain. As you make the climb up the eastern side of the mountain, you'll pass under several large saguaros and triapse between many mesquite and palo verde trees.
The topmost part of the trail is a perfect place to rest, with a cliff that proves plenty of shade. As you descend on the back side of the mountain, watch for the lone saguaro on the right side of the trail, the sentinel of Pass Mountain- I've nicknamed this giant "Sarge".
From here you'll see views of distant Four Peaks, the highest point in Maricopa County. You can also see the Salt River, marked by a green stripe of vegetation through the brown desert landscape.
As you make your way around the northern end of the mountain, you'll see a trail fork to the right – this trail conveniently connects you to the Hawes Trail System a mile away.
You'll finish where you started, where clean restrooms and a cold water fountain reward you for all your hard work!
Difficulty: Moderate
Distance: 7.2 miles
Average Duration: 3-4 hours
Kid Friendly: Yes, depending on child's age and hiking experience
Dog Friendly: Yes
Entrance Fee: $7 per vehicle
6. Massacre Falls Trail, Tonto National Forest
This trail is near Lost Dutchman State Park, about 30 minutes east of Mesa. It is one of the few trails in the east valley that features a waterfall, although you'll have to go after heavy rainfall or after it snows (yes! Although rare, it does snow in Arizona).
Climbing just over 1,000 feet and coming in at 5.4 miles round trip, Massacre Falls trail is doable for most skill levels. There isn't much shade until close to the end, so plan accordingly.
The waterfall itself varies in size depending on the season and weather conditions, but when it flows at its fullest, it is truly beautiful. Due to the scarcity of the flow, this trail will be most crowded after big rain storms.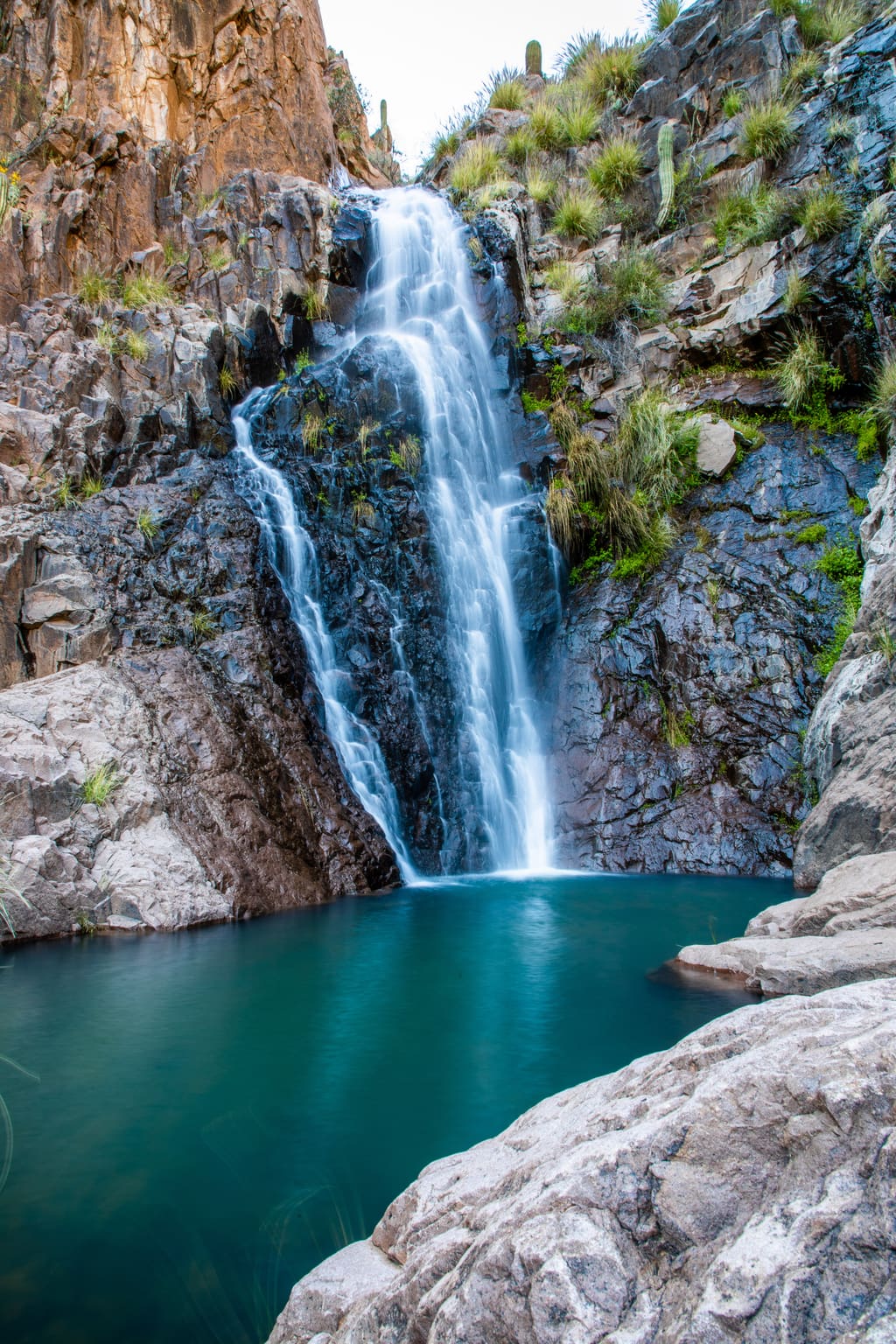 Parking is in a dirt lot on Forest Road 78, which is the first right after Lost Dutchman State Park.
Difficulty: Moderate
Distance: 5.4 miles
Average Duration: 3 hours
Kid Friendly: Yes, depending on child's age and hiking experience
Dog Friendly: Yes, must be on leash
Entrance Fee: None
7. Desert Trails Park Loop
Located at Desert Trails bike park in the Red Mountain district of Mesa, this hike is perfect for small children and those with limited hiking abilities. It can even be stroller friendly for more rugged jogging strollers.
Primarily a mountain biking park, Desert Trails Park Loop surrounds the entire park and is mostly used for beginner bikers as well as hikers. Bikers are required to yield to foot traffic.
There is an ample parking lot and bathrooms, further making this a family-friendly park. From toddlers to grandmas, everyone can tackle this 0.8 mile loop with ease.
Difficulty: Easy
Distance: 0.8 mile
Average Duration: 20-30 minutes
Kid Friendly: Yes
Dog Friendly: Yes, on leash
Entrance Fee: None
Conclusion
Mesa, Arizona is a hidden gem of hiking trails. From the lesser-known Hawes network and Brown Road Hill, to the popular Wind Cave and Siphon Draw trails, there truly is something for all ages and skill levels.
The weather is mild enough for hiking for about 8 months of the year, giving you ample time to explore all of Mesa's trails and parks. There's a good reason that many retirees spend their winters in Arizona; the constant sunshine, various National Parks, and welcoming desert landscapes make it easy to get out often.
But before you go to the outdoors, make sure to read (and follow) my essential tips for hiking in Arizona.