Best Things to do in Mesa AZ (How to make the most of your visit)
Mesa, Arizona is a quickly-growing suburb about 30 minutes east of Phoenix, and this city has no shortage of activities and things to do for every age.
Whether you're looking for hiking trails, iconic restaurants, museums, movie theaters, arcades, or parks, Mesa has it all and so much more.
Much of the things to do on this list are family-friendly, while some might be perfect for a date night or even on your own (although more is always merrier!).
You can be an outdoor enthusiast looking for adventure, a foodie looking for a unique dinner experience, or visiting from out-of-town and looking for a classic Mesa experience; this city proves that the suburbs can be just as exciting as the big city!
1. Dinner and a Show at Organ Stop Pizza
First on our list is a quintessential and iconic Mesa experience. Have you ever wanted to eat delicious pizza while being serenaded by an organist playing live music?
It may seem unusual, but don't sleep on this place – it's a fun experience for the whole family!
Playing anything from the classics to a twist on modern pop songs, the organists who perform at Organ Stop Pizza are immensely talented and excellent at entertaining. The pizza here is delectable and there is also a salad bar with tons of variety.
The food plus the entertainment make this a must-do for any family visiting Mesa.
Address: 1149 E Southern Ave, Mesa, AZ 85204
Hours: Daily 4-9 pm
2. A Day on the Salt River
The Salt River is an important water source for the entire east valley (Mesa included) and during the summer, it is a prime spot for recreational activities.
Paddleboarding, tubing, fishing, kayaking/canoeing, and swimming are all favorite things to do here.
The Salt River Tubing company has convenient bus shuttles and tube rentals, making it simple to get out and float for the day with minimal planning needed. The Salt River is fairly calm except for some stretches of mild rapids, enough for a few exciting moments throughout your float.
You can also bring your own small watercraft (non-motorized) and set up your own shuttle with friends to get back to the start.
Paddlers can go at their own speed and there are spots to pull off the water and rest on the sandy beaches. The Salt River is calm enough for all skill levels.
At the bridge where the highway crosses the river, you'll find Pebble Beach, a stretch of sandy riverbank long enough for people to set up their shade tents and beach chairs for the day, and also one of the best beaches in the region.
Whichever way you decide to enjoy the Salt River, the proximity to Mesa and the cool water make the river a perfect picnic spot near Mesa and one of the most popular destinations in the area.
Address: On Bush Highway between Power Road and Saguaro Lake
Hours: Sunrise-Sunset
Fee: $7 Day Pass
3. See a Show at Mesa Arts Center
Located in downtown Mesa, the beautiful facade of the Mesa Arts Center invites you in for classical music, local and touring musicians, choral performances, motivational speakers, and more.
The large Ikeda Theater is large enough for popular artists who want a more intimate venue, and the acoustics in this performance hall are incredible.
The smaller theaters are used for recitals and speaking engagements. There are even art classes held here in the studios, for kids and adults alike!
Jazz musicians, political activists, pop culture enthusiasts, and even athletes use Mesa Arts Center for concerts, meet and greets, and symposiums.
The grounds around the Mesa Arts Center are just as pleasing to the eye as the inside, with sculptures and artful landscaping perfect for taking family photos.
Address: 1 East Main Street, Mesa, AZ 85201
Tickets: MesaArtsCenter.com
4. Hike to the Wind Caves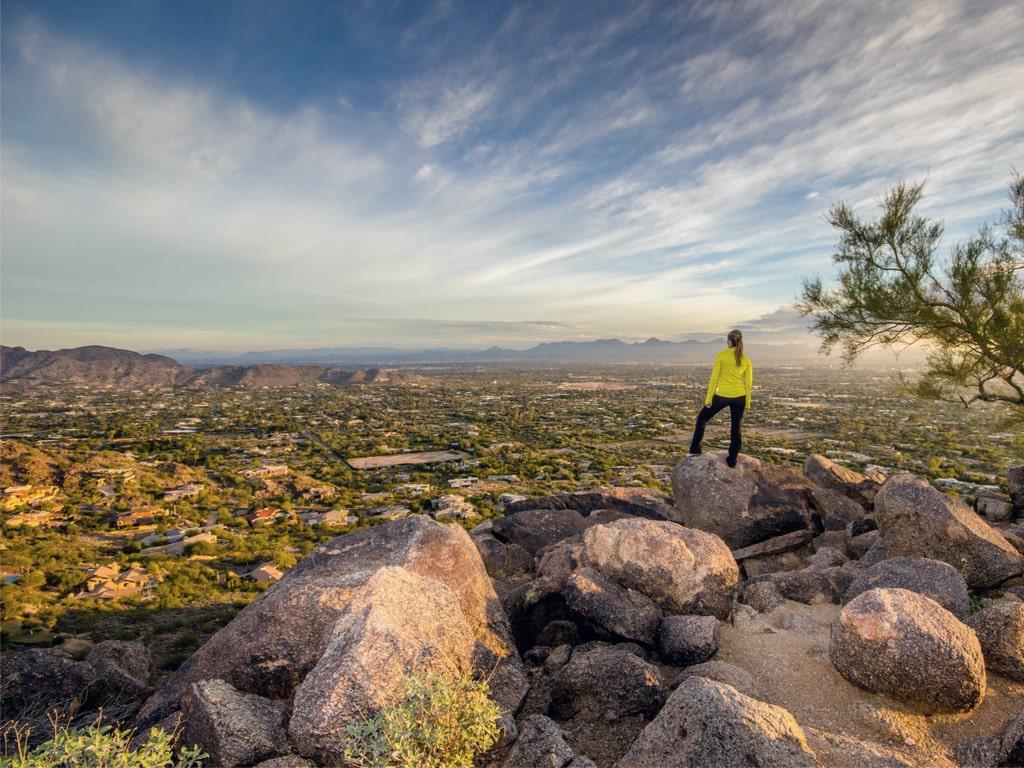 The most popular hike in Mesa is in Usery Mountain Regional Park, and the 3-mile round trip trail climbs steadily up the face of Pass Mountain to the wind cave.
The cave itself isn't very deep but is more of an alcove eroded into the cliff face by eons of winds.
There are other trails in Usery Mountain Regional Park, but this is by far the most-used trail. Beginners might find themselves out of breath as the trail climbs about 800 feet in a mile and a half with very few flat spots.
The trail to the cave has no shade unless you choose to hike right at sunrise when the mountain casts its shadow over the western face.
For good views of Mesa and a challenging climb, look no further than the Wind Cave trail.
If you prefer a more gentle experience other trails in the park are flatter and easier, perfect for more beginner hikers and mountain bikers.
Address: 3939 N Usery Pass Rd, Mesa, AZ 85207
Hours: Sunrise to Sunset
Fee: $7 Day Pass
5. Learn About Natural History
The Arizona Museum of Natural History, one of the best museums in Arizona, holds fossils and displays of dinosaurs and other prehistoric creatures. You can easily spend hours wandering among the exhibits and learn about mammoths, T-rex, triceratops, and other gigantic animals that used to roam the Earth.
A paleo dig pit is also a great option for kids, where they can learn how to unearth fossils in the dirt using tools similar to what archeologists use.
Along with the dinosaurs and other ancient fossils, you'll tour exhibits that teach you all about the ancient people and civilizations that used to live in Arizona. And there's even an exhibit that allows kids to pan for gold!
The Arizona Museum of Natural History is an excellent resource for history buffs and families who want to see cool artifacts and fossils in person.
Address: 53 N McDonald St, Mesa, AZ 85201
Hours: 10 am- 5 pm
Admission: $7 Children, $13 Adults
6. "Take Me out to the Ballgame"
Spring training for major league baseball brings in thousands of travelers every year. Hohokam Stadium is home to the Oakland A's spring training games, and the Cubs play at their spring training facility, Sloan Park, near Riverview, both in Mesa.
The weather is great, the tickets are cheap, and you get a chance to enjoy baseball's biggest stars in a smaller stadium setting. With the all-American concessions and the classic traditions of baseball games, spring training games are more relaxed than regular-season games.
At Sloan Park, you can set up a blanket on the grassy lawn and enjoy the games at your leisure. Hohokam Stadium has more standard seating available and is located near historic downtown Mesa. Both are great places to catch a casual spring training game during Arizona's best weather of the year!
Address: Hohokam- 1235 N Center St, Mesa, AZ 85201. Sloan- 2330 W Rio Salado Parkway, Mesa, AZ 85201
Tickets: $27-$80 per ticket depending on seat and team
7. Mini Golf and Water Slides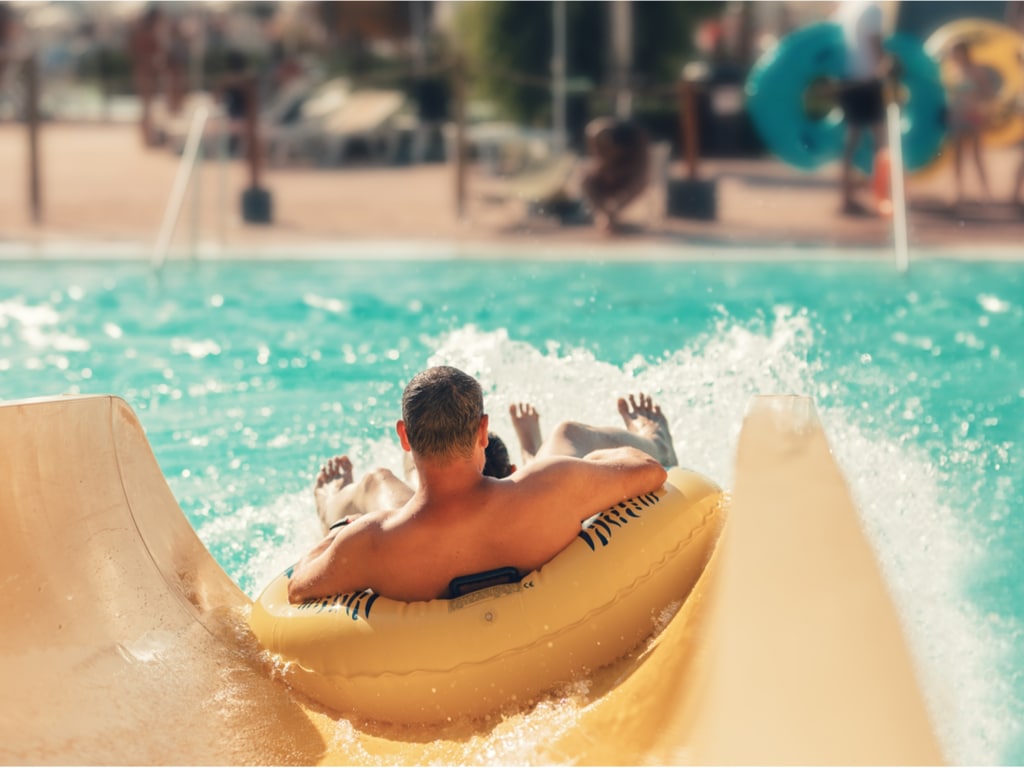 Sunsplash and Golfland are sister parks, the former is a water park with pools, water slides, and water rides and the latter with mini-golf courses. They are conveniently located right next to each other and are family-owned parks for all ages.
The wave pool at Sunsplash is almost as good as the beach, and the rollercoaster-like Master Blaster slide is sure to give you plenty of thrills. There are adrenaline-pumping slides that drop from dizzying heights, and the lazy river is a great way to relax away an hour or two.
Mini golf is a great way to spend an afternoon with the family, with courses for kids and adults alike. Golfland also has a splash pad that is great for toddlers and babies, giving moms a chance to sit and relax for a bit while the kids safely play.
Family fun is certain to be found at Sunsplash/Golfland!
Address: 155 W Hampton Ave, Mesa, AZ 85210
Hours: 10 am- 10 pm
Tickets: $6 for toddlers, up to $45 for adults
8. Strike a Bargain at the Swap Meet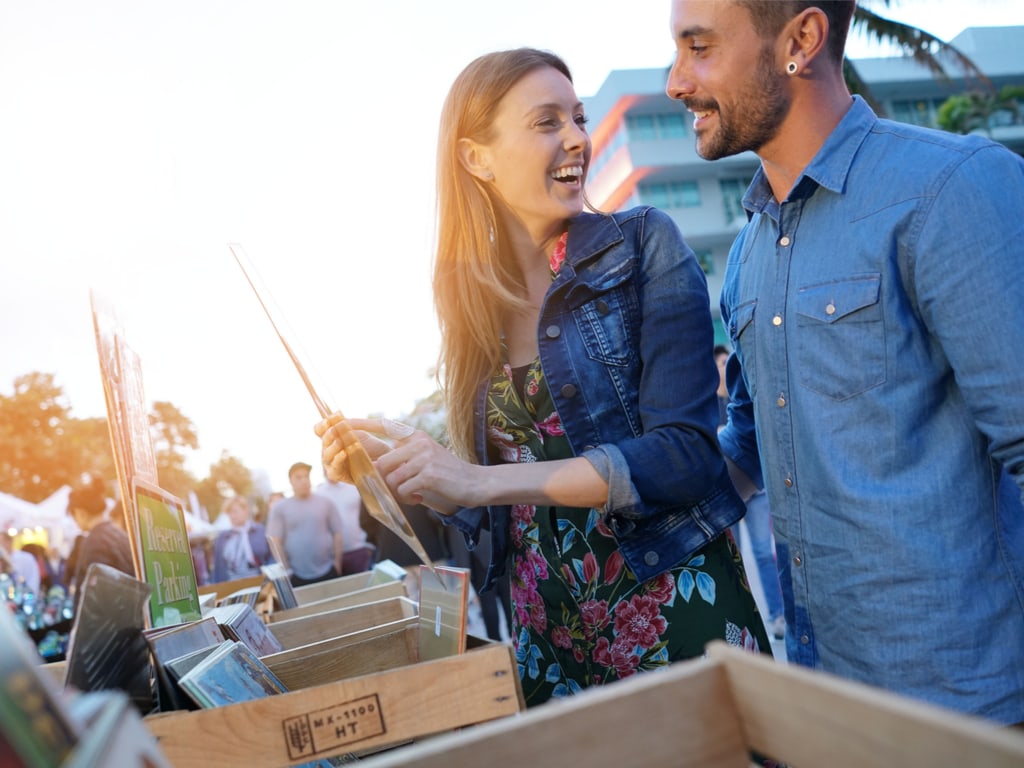 The Mesa Market Place Swap Meet is huge – enough vendors, aisles, and shopping to last for hours!
With over a mile of aisles to shop from, you're sure to find whatever you're looking for. Vintage clothing, handmade soaps or lotions, antique furniture, gifts, trinkets, or collectible items can all be found in the seemingly endless booths here, one of the best flea markets in Arizona.
Although it is open air and therefore can get very hot in the summer, all of the vendor's booths are under a roof, and the added misters make your shopping trip more comfortable even on warm days.
There are food and drink trucks or booths as well to give you more fuel for your shopping excursion.
Bargain hunters and casual shoppers alike all flock to the Mesa Market Swap Meet to find those hidden treasures among the thousands of products being sold. You're sure to find something unique and have one while doing it!
Address: 10550 E Baseline Rd, Mesa, AZ 85209
Hours: Weekends, 7:30 am- 3 pm
9. Climb a Jungle Gym at Riverview Park
Riverview Park is one of the biggest parks in Mesa and has climbing structures and playgrounds for both kids and adults. The most exciting jungle gym to climb is a giant pyramid-shaped rope structure, allowing you to ascend up to 50 feet in the air.
There's also an expansive splash pad, one of the biggest in the Phoenix area. Babies and kids will have hours of fun running through the sprinklers and water features while parents can relax.
There are two playground areas, one perfect for kids under 5 years old and another play structure for the older ones.
The miles of accessible sidewalks that wind through the ponds and playground areas make this a great place to ride scooters and rollerblades or take a lovely stroll. The shaded ramada and picnic tables are perfect for picnics as well.
Address: 2100 W Rio Salado Parkway, Mesa, AZ 85201
Hours: Sunrise to 10 pm
10. Mountain Bike Among the Saguaros
Located on the far northeast corner of Mesa is a trail system known as Hawes, a series of rugged single-track trails that wind among the desert fauna. The trail system is amongst the best mountain bike trails in the whole of Arizona.
There are several trailheads located along Power Road and Bush Highway, and starting at any of them will give you a memorable ride.
For a big challenging climb, try the Saguaro trail loop; this trail gets steep in parts (you might have to put away your pride and walk your bike on some sections) but you'll be rewarded with magnificent views of Red Mountain and Salt River.
A great trail for beginners is Wildhorse, which is about 7 miles out and back and has minimal climbing.
Mountain bikers of all levels can ride in Hawes, but always check the trail conditions and consider downloading an app that gives you information on the distance and difficulty of the trails.
Enjoy the trails, but always watch out for rattlesnakes! They are plentiful here and love to use the trails as prime sunning spots.
Location: Along Power Road/Bush Highway in Northeast Mesa
No Fees
11. Browse the Farmer's Market and Wander a Corn Maze
The Power Road Farmer's Market and Vertuccio Farms offer seasonal family fun around the holidays. The farmer's market runs throughout the year and sells fresh produce from local farms. It's definitively one of the best farmers markets in Arizona.
Throughout the month of October, families wind their way through the corn maze in search of checkpoints (and the exit!). There's also a petting zoo, mini train rides, a hay bale playground, and other fall-themed activities. You can also buy pumpkins here for your Halloween festivities.
In the winter months, the whole farm is lit with twinkling Christmas lights, and groups of families and friends walk around to enjoy the holiday spirit and the beautiful light displays. Grab some hot chocolate near the front entrance to warm you up!
Address: 4011 S Power Rd, Mesa, AZ 85212
Tickets: $12
Conclusion
Mesa, Arizona is one of the largest suburbs of the Phoenix Valley, and has so many family-friendly activities to do! If you want to leave the kids at home, there's even some fun for the adults as well.
Whether it's indoor or outdoor, relaxing or adventurous, regardless of what you are in the mood for, Mesa has things to do for everyone.
Since I am happiest when I am outdoors, my two favorite things to do from this list are hiking the Wind Cave and mountain biking at Hawes. I live within ten minutes of both trails, and spend many hours enjoying the desert during the cooler months.
This is also why visiting Mesa in the winter is preferred – the excellent weather makes your outdoor adventures much more enjoyable!
Explore Arizona
Still wanting to learn more? Dive in our Arizona Travel Guides and discover the best places to visit, interesting things to do, budgeting tips, comfortable accommodation, and everything you need to plan your perfect trip in the state.