15 Best North Coast 500 Campsites
Scotland's most famous road trip, the incredible and iconic North Coast 500 is one of my favorite rides in the world.
So in this guide, I've celebrated my passion by bringing you this… the 15 best North Coast 500 campsites. Expect basic pitches, pod-offering modern spots, and everything in between.
Quick note: Most people tackle the North Coast 500 in a loop, beginning and ending in Inverness, and riding in a clockwise direction. I've ordered these campsites according to the (hopeful!) assumption you're doing exactly that (cos that's what you should do).
Alright—here we go. Pack your tent, hop in the driving seat, and come join the fun!
1. Ardtower Caravan Park
Near Inverness, this isn't just one of the best campsites on the North Coast 500—it's one of the best campsites in Scotland.
It sits slightly east of central Inverness, but it's totally worth the detour… and since you'll be getting way more remote than this soon, it's a good warm-up for what's to come.
It's one of the most comfort-and-convenience-packed campsites on this list. Highlights include free WiFi, electric hookups for tents(!), camping pods, a breakfast cafe, evening pizzas, and some of the best toilets and showers I've ever seen on a campsite. If you like luxury, you'll love it.
And as a nice bonus, it's in a good location for exploring some of the things you won't see on the North Coast 500. When you set off for your trip, you'll be heading west—but because this site is east of Inverness, it's close to Culloden Battlefield, stretches of the Moray Firth, and some dolphin-spotting locations. Highly recommended!
2. The Wee Campsite
Located in Lochcarron (a village sitting on the loch of the same name), this is as cute and wholesome as campsites get.
It's been offering tent pitches for around 70 years, and it still has a rustic charm that sticks to its roots. The owner is really accommodating and welcoming—and there's an honesty box for you to stick your money in if you don't meet him (which I think tells you everything you need to know about the place).
It's exactly the sort of campsite I love. It sits on a little mound overlooking the village and the loch, with some lovely views.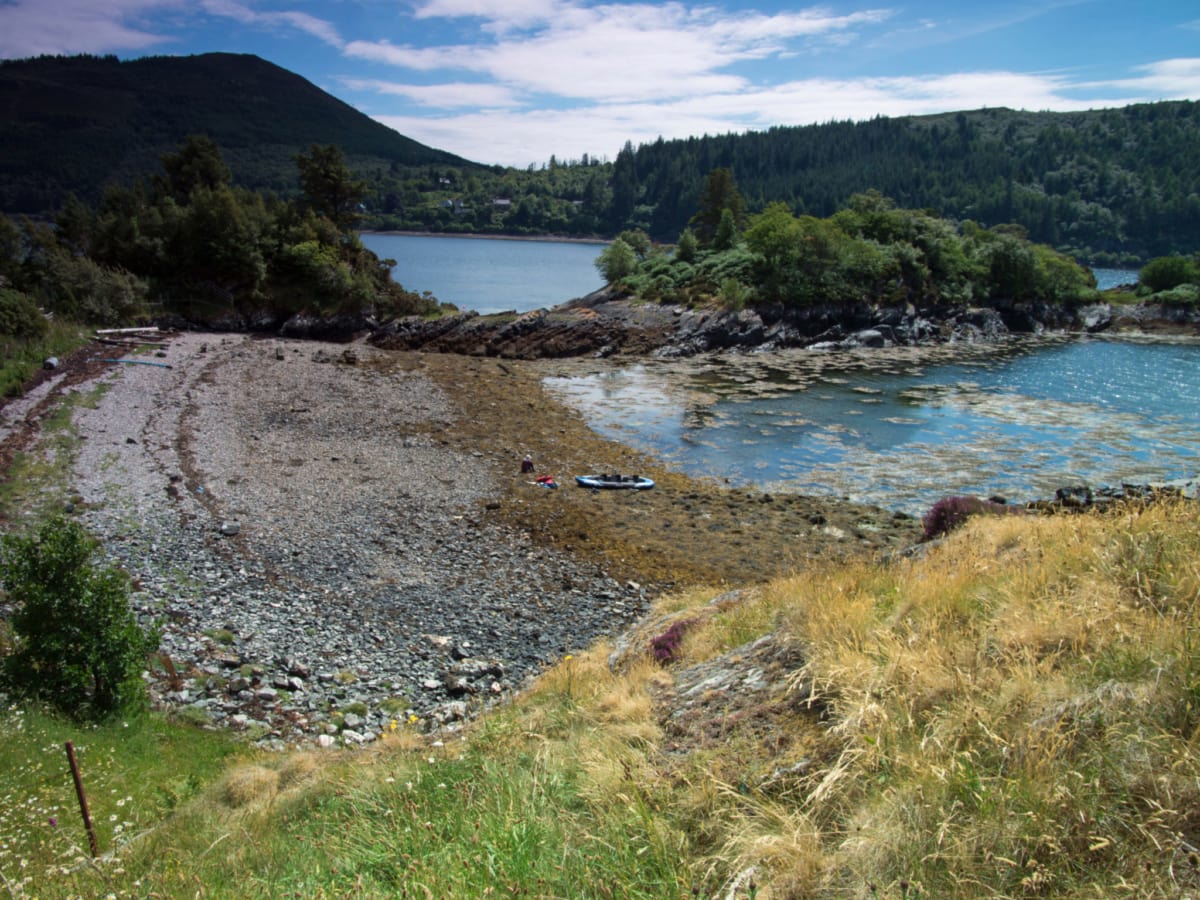 Lochcarron is one of the most scenic settlements on all of the North Coast 500. And although it's small, it still offers plenty of great stuff, including bars, restaurants, and lovely shoreline stretches (for cycling, walking and running).
You can't book in advance for tent pitches here, and the owner doesn't like phone calls. So arrive early!
3. Applecross Campsite
You know that super-famous Bealach na Bà mountain pass in the very southwestern pocket of the North Coast 500? Well, this site sits just underneath it!
It offers tent pitches, static caravans, a bunch of camping huts, and even a bed-and-breakfast spot.
If you like homely, cozy and charming, you'll think this is one of the best campsites on the North Coast 500. Okay, it can get a little crowded, and it's not quite as modern as some of the other campsites we've covered. But it's friendly and sociable, it offers great views (of both Applecross Bay and the Isle of Skye), and it's perfect for families, couples, solo campers, and everyone in between.
And because it sits a little above sea level, it's also a pretty good sunset spot.
It's surrounded by lots of Scottish wildlife (including deer), and it's a good base for seaside walks and bike rides.
4. Sands Caravan and Camping
Sitting in Gairloch, this shoreside spot might just be my favorite campsite on the North Coast 500.
When I last stayed here, I got myself a camping pod, like some sort of weather-fearing luxuriant.
But they also offer lots of basic camping spaces, along with spots for motorhomes. They have a wide range of different offerings, including duneside pitches, perfect-for sunset pitches, and grassy behind-the-bay pitches. Although Gairloch is a small place, this campsite is pretty big.
The on-site Barn Cafe has some of the best on-campsite food I've ever munched on, and eats and treats include halloumi burgers, spinach strudels, butternut squash risottos, big fat steaks, and various other high-end meals that have no business being served on a campsite. Book for evening meals, cos they sell out fast.
Make sure you venture to the nearby Mountain Coffee Company. It's one of my favorite cafes in Scotland. A homely and wholesome place, it's so comfy and cozy—and it serves up some of the best coffee on the North Coast 500.
5. Broomfield Holiday Park (Ullapool)
I love Ullapool, and I love this site.
It isn't necessarily one of the best campsites on the North Coast 500—but I think Ullapool is the best town on the North Coast 500. And this is the most central campsite near the town. So put those two things together, and you still get a sweet little site.
Nestled in the southwestern corner of the town, it's close to the beach, the harbor, and all the central parts of the town. The site is pretty basic, but it's clean, tidy, and well-maintained—and it's a fantastic sunset spot.
I recommend spending two or three nights here. Most campsites on this list are remote, so (unless you're doing lots of hiking), you'll probably be wanting to move on every night. But Ullapool is worth exploring for a day—and it's surrounded by loads of excellent stuff (including Stac Pollaidh, a mountain offering one of the best hikes in all of Scotland).
6. Port a Bhaigh Campsite
One of the most charming campsites in Scotland, Port A Bhaigh is the most remote and rural on our list.
This part of Scotland is all sparsely-populated… but this stretch is even quieter than most others. The campsite doesn't actually sit on the North Coast 500 route—it's around 16 miles (26km) west of Drumrunie, where you turn off to reach the place.
So, okay, this isn't quite one of the best campsites on the North Coast 500—but it's totally worth the detour. It's impossible not to fall in love with the place—it sits on a quiet but atmospheric bay, backed by low-level hills and a few small houses. It's popular with outdoor adventurers, who come here for swimming, hiking, kayaking, fishing (you can rent fishing boats from the campsite!) and more.
If you like remote and peaceful locations, I genuinely can't recommend this enough. It's sincerely special.
7. Achmelvich Bay's Shore Caravan Site
If you like shorelines, you'll love this place—it sits right beside Achmelvich Bay, which is often voted as one of the best beaches in Britain.
The campsite itself isn't quite as modern and clean as some of the others we've covered, and the facilities aren't as reliable as some people might like. But hunting for pristine modernity isn't really in the spirit of camping… so you should be okay here so long as you're not outrageously high-maintenance.
They have a decent on-site shop, a taste-packed on-site fish and chip shop, and spots for tents, caravans, and campervans, along with some static caravans.
For quiet-beach fans, this is one of the best campsites on the North Coast 500. It's also an excellent base for cycling—this stretch of the route is one of the most remote and most scenic, and riding a bike around here is perfect.
8. Clachtoll Beach Campsite
Clachtoll Beach Campsite is right beside Achmelvich Bay's Shore Campsite, so you probably won't want to visit them both (although they're both great, so if you have time, you absolutely should).
Peaceful and quiet, this family-run place has a very welcoming atmosphere—and it's impossible to walk around the site without a big smile on your face.
One of the NC500's lesser-known beaches, this is one of the most rural campsites on our list. But it's super-modern, and it was largely renovated in 2022. This is one of the most feature-packed campsites I've ever heard of. Highlights include free use(!) of kayaks, canoes, paddle boards, wetsuits, and beach games.
There's also an on-site fire pit, along with a shop selling lots of basics and essentials, and some homemade and locally-sourced snacks. The campsite is a very dog-friendly spot, and they offer dog treats and lots of water-filled bowls.
Is this the very best campsite on the North Coast 500? It might be.
9. Scourie Caravan and Camping
Scourie Caravan and Camping is perched right over the shores of Scourie Beach. It's around 30 miles (50km) north of Clachtoll.
It has excellent clean facilities. It's a little dated compared to some of the other sites we've covered, but not in any major way. It doesn't offer many frills, but it gets the basic stuff right.
Because it's just off the main road, it's not a detour to get here. That also means it's easy to access the (admittedly-tiny) village of Scourie, which offers a couple of eateries and a small smattering of homes. The campsite has an on-site cafe/restaurant, which is managed by the same people who own the site.
The campsite is a great base for visiting Handa Island. In summer, this tiny uninhabited island becomes a temporary home for over 100,000 seabirds (including puffins), who nest and breed here. If you're visiting during the right season, make sure you visit.
10. Sango Sands
Sitting in Durness, this is one of my favorite campsites on the North Coast 500. It's regularly nominated as one of the best campsites in the UK.
Perched right over the shores of Durness Beach, it's one of the biggest campsites along the ride, and it's packed with loads of great stuff. HIghlights include large showers, mega-clean facilities, and a nearby zip wire.
They offer excellent dinners (including seafood treats, pub-style fayre, and surprisingly nuanced flavors), along with taste-packed sandwiches for breakfast.
Oh, and if you're lucky, you might even see the Northern Lights!
If you can, get here early. The best camping spots (if you can endure the wind) are the ones perched along the cliffs, but all spots are offered on a first-come-first-served basis. From the clifftops, you can often see whales, seals, and dolphins. And even if you don't, you'll still get great views of the beach.
11. Kyle of Tongue Hostel & Campsite
Not just one of the best campsites on the North Coast 500, but also one of the most underrated campsites on the North Coast 500.
Lots of people rush along the northern-coast stretch of the NC500 because they think all the best stuff is behind them. And although I sort of understand that instinct, the area in and around the Kyle of Tongue is one of the trip's highlights (make sure you check out Castle Varrich, Coldbackie Beach, Achininver Beach, and some cycling and kayaking.)
Anyway, this campsite is the best base for exploring it all. Clean, tidy, modern, welcoming, cute and quaint, it's one of the smallest campsites we've covered, and you'll probably fall in love with its charm. It was built back in 2018, so everything is pretty new.
And as a nice bonus, they also offer a hostel, and 3-bedroom self-catering cottage. Perfect if you're tired of slumming it!
12. Thurso Bay Caravan and Camping Park
Alright, this place isn't quite as adventurous or scenic as some of the campsites we've brought you so far—but by now, after all the wilderness and rurality, you might be ready for a little more life.
Sitting just on the western outskirts of Thurso, Thurso Bay Caravan and Camping Park is much better than most people expect. Alright, Thurso isn't the nicest place in the world, but it's underrated, and its campsite is an excellent base.
Family-managed and family-owned, it overlooks Thurso Bay, and is made up of many different pitches (for tents and caravans and everything in between).
The showers are fairly modern, the conveniences of the town center are only a 10-minute walk away (Thurso is small, but it feels like New York after all the tiny places you've visited), and ferries to the Orkney Islands are only a 5-minute drive from the campsite.
It's a great spot for sunset.
13. John O'Groats Caravan and Camping Site
John O'Groats is famous for being the most northerly place in mainland UK. And because lots of people come here, the campsite is pretty big.
Although it's in a quiet spot, the campsite is busy and friendly, and has two on-site places to eat. The toilets and showers are clean (although there aren't loads of them given the size of the site, so you might need to queue).
The site is surrounded by some great stuff. Check out Duncansby Lighthouse, the cliffy columns of Duncansby Stacks, and the famous John O'Groats sign—and make sure you touch the last of them, just like everybody else does.
Oh, and if you have time, you can (and should!) tackle trips to the Orkney Islands from here. The campsite is right beside the office where you can book your trips. Convenient!
14. Wick River Campsite
Situated just west of the little town of Wick, this endearing site is (unsurprisingly) perched right along the area's river. It features a nice location, well-maintained facilities and greens, shelter-providing trees, and close proximity to lots of conveniences.
It's not quite as modern as some other town-centric campsites, but it's exceptionally clean, it's full of families, and there's plenty of space.
For a quiet and gentle adventure here, I recommend wandering west along the river, away from the town center. It's nothing special, but it's a pretty walk. And of course, if you follow the river the other way (for around 10 minutes), you'll hit lots of pubs and places to eat (along with the pretty throwback of the harbor area).
Because this campsite sits right on a river, the Scottish midges can be horrendous. So if you're traveling during midge season, take some repellent spray!
15. Dornoch Caravan and Camping
Because it sits on the southern part of the eastern stretch of the North Coast 500, this campsite is less remote than most others we've featured.
It's situated around 45 miles (72km) north of Inverness, right over Dornoch Beach. It serves up great sunrises, close proximity to the cafes and restaurants of Dornoch, and what'll probably be your last stop before you venture on the end of the ride.
It's one of the best campsites on the North Coast 500 for big groups. Absolutely huge, they usually always have space for everyone, so you can probably turn up without a booking (although don't blame me if that doesn't work out for you).
But despite being big, it's somehow still very peaceful and welcoming. If you're the sort of person who likes making friends, you'll absolutely love this place.
And to top it all off, the facilities are all excellent, modern, and reliable.
Frequently Asked Questions
Before You Go
Pack up your sleeping pag and roll up that tent—we're done!
For more information on road-tripping around Scotland, drive on over to our guides on the 13 best road trips from Edinburgh, and the 18 best road trips in all of Scotland.
And for more canvas-covered fun, here's our guide on the best tents for camping in Scotland.
Being a Digital Nomad: Tips, Tricks and Places
Do you want to be a digital nomad?
If you do, maybe you don't know where you might want to live. Or how to live there. Or whether you need a visa. Or how to make friends in the scary sprawl of a brand-new city. Or how to stay productive while you travel. Or how to find an apartment. Or whether this lifestyle really is for you. Or… I'm sure you get the idea.
But with some insight and experience, it's not as difficult as you think. So in this book, I've gathered my 6 years of digital-nomadding experience… and I've used it to answer all your questions, soothe all your fears, and get you on your way. After reading this, you'll realise being a digital nomad is much easier (and much more possible!) than you think.