15 Best Hikes and Walks on the Isle of Skye
By far the most famous Scottish island, I absolutely love the Isle of Skye.
It's packed with loads of excellent stuff, including brilliant beaches, craggy cliffs, charming villages, otherworldly landscapes, and some of the most beautiful views you've ever seen.
But on top of all that, it also has a ridiculous number of excellent hikes. So in this stroll-stuffed guide, we've brought you the 15 best walks and wanders on the Isle of Skye.
Hope you have some hiking boots and sandwiches, cos you're gonna need them kid!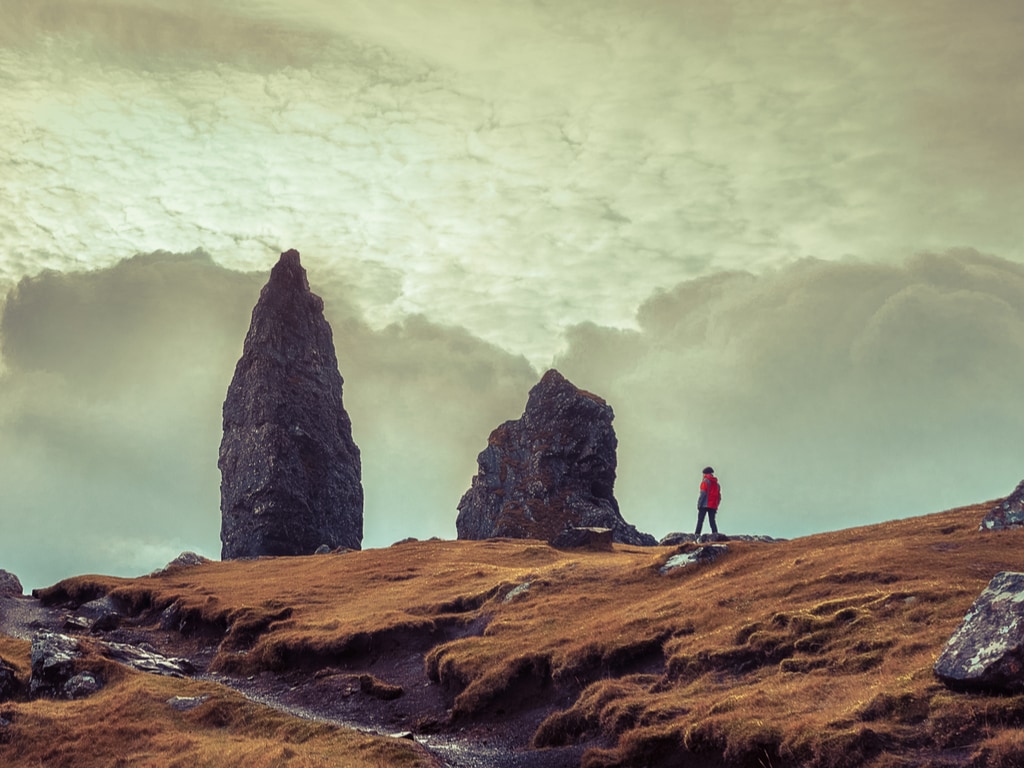 1. The Fairy Pools
Probably the most famous attraction on the Isle of Skye, the island's Fairy Pools are a magical little place. A series of rocky plunge pools connected by a bunch of waterfalls, they're great for swimming, picnicking and taking photographs.
But the best way to explore them is on a hike. Park up at the Fairy Pools car park (recently modernized, with plenty of space, and a charge of £5 per car), then follow the easy-to-find trail that takes you past all of the falls and pools.
Most people wander around 2.5 miles (4km) from the car park before turning back. And for a simple (but beautiful!) stroll, that's exactly what I recommend.
Top tip: Bring some stuff to swim in. One of the most famous wild swimming spots in Scotland, the pools are filled with super-clear water.
Top tip 2: Get here as early as you can. The Fairy Pools get ridiculously busy, and they're much more impressive and enjoyable if you can avoid all the annoying crowds.
2. The Old Man of Storr
A bunch of atmospheric rocks on the north end of the island, this place is brilliant.
Start your wander from the designated car park (right on the main A855 road heading north from Portree). The clear path takes you up and around all of the most famous parts of the complex, so it's really easy to navigate. It's relatively steep in parts, but there's only around 300 meters (985 feet) of ascent in total.
Most people wander on a round trip of around 3 miles (5km). For a good introduction, that's what I recommend, but there are plenty of side trails and detours to explore in and around the whole area. So if you want a longer walk, you can easily get it!
Fun fact: The so-called Old Man is just the name for the biggest and most recognizable rocky pillar in the complex. There are lots more rocky pillars, but I don't think they have their own names.
3. The Quiraing
This is (by far!) my favorite easy hike on the Isle of Skye.
The Quiraing is a strange little place. A marshy, lumpy, otherworldly landscape formed by a series of landslides, it's one of the greenest places I've ever seen. All boggy and bizarre, it's like something from a different planet.
If you can only do one hike on the Isle of Skye, you should make it this one.
Most people only go on a short wander on the Quiraing, but I'm much more pedantic and particular than most people—so here's the way I think you should explore it…
Park up in the designated car park, on the small west-to-east road in northern Skye. From here, head up and east past Needle Rock, before heading north for around 1 more mile (that's 1.5km). On this extra mile, you'll see lots more peaks, cliffs, crags and overhangs.
When you hit the highest part of the cliff's ledge, take a sharp left and head back to the car park in a narrow semicircle.
4. Glendale to Neist Point
An excellent cliff-top wander taking in the impressive trifecta of an iconic lighthouse, a world-famous sunset, and one of Skye's most interesting landscapes, this hike is incredible.
It's set on a lumpy little peninsula in the west of the island, and it offers great views along its entirety.
First, park up at the end of the road just past the diminutive settlement of Glendale. You then follow a clear path with a metal handrail (so you can't miss it). Keep following this path on a strange and surreal lump-fest up and over lots of miniature ridges.
When you're done, retrace your steps and head back to your car.
Top tip: I recommend getting to Neist Point for sunset. One of the UK's best sunset spots, people come from all over the UK for this lovely little lightshow.
Fun fact: If you come here in summer, you might see dolphins, porpoises or minke whales.
5. The Fairy Glen
Less famous than the similarly-named Fairy Pools, the Fairy Glen is relatively underrated.
Sort of like a mini Quiraing, it's a great place for a wander. Strange and unique, it's marshy, bright green and undulating, and it's super popular with families. Because it's interesting but easy, it's one of the best hikes on Skye for anyone traveling with kids.
Like lots of places we've featured on this list, most people just come here for an aimless wander. And I know this sounds like a lazy recommendation, but that's exactly what I'm gonna advise.
Park up at the designated Fairy Glen car park, just north of Glenbrittle, and follow the well-worn trails in and around the glen—it's easy to see where you should stroll. Make sure you hit Castle Ewen, a rocky little tower with great panoramic views.
6. Talisker Bay
If you're looking for a gentle wander with kids or a dog or whatever, this is perfect.
The most famous beach on Skye, Talisker Bay is a lovely place—some people think it's the best bay on the island. Just like Neist Point, it's great for catching a beautiful sunset.
Take the single-track road to Talisker Farm, and walk in the direction dictated by the small sign. On the easy-to-find path, you pass pretty farmland and distant mountains before you hit a beautiful finale. The bay has massive cliffs, an iconic sea stack, and some lovely spots for a swim. It's most famous for the lofty waterfall on the eastern side of the bay.
When you're done, return the same way you came.
Top tip: Talisker Bay is pretty close to the Fairy Pools, which we've just outlined above. You can easily tackle them both on the same day.
7. Loch Coruisk Circular
To start this adventurous wander, you typically need to take a ferry, making it much more remote and exciting than most other walks on this list. It's a perfect option if you want to dodge the crowds, enjoy some peace and quiet, and see lots of excellent wildlife.
First, get to the village of Elgol (probably my favorite settlement on Skye). From here, the ferry journey takes around 45 minutes, transporting you to one of Scotland's most alluring and secluded lochs.
Craggy and boggy, the circular wander gives you great views of the Cuillins, the entirety of the loch, and even the distant sea. For both unusual and beautiful, this hike is unbeatable.
Depending on when you visit, you might see seals, otters, minke whales, basking sharks, dolphins, porpoises and killer whales.
Top tip: If you want to hike, make sure you book a trip that allows you to spend a few hours exploring the loch.
8. Shulista to Rubha Hunish
I reckon the area in and around Rubha Hunish is the best clifftop region on the entirety of Skye.
Start at the car park on the A855 road (just west of the tiny Trotternish Art Gallery). Head north towards hills, headlands, lots of incredible cliffs, and the ruins of the strange abandoned village of Erisco.
Once you hit the northern point of Rubha Hunish, you of course can't go any further without falling into the sea (which I don't recommend). Circle the tiny peninsula for a little while before (briefly) heading west, then heading back. To do so, you can either retrace your steps, or follow a different path which runs parallel to your entry route.
Depending on when you visit, you might see otters, porpoises, dolphins, whales, shags, razorbills and gannets. If you like spotting birds, this is one of the best hikes on the Isle of Skye.
9. Ramasaig to Orbost
If you like lengthy cliff-top wanders, you'll love this—some people reckon it's the best cliff-top walk in the whole of the UK. I know that sounds like a bold claim, but it's ridiculously beautiful.
But be warned: it's lengthy and challenging, and it's way more difficult than most people expect. You'll clock up a distance of around 14.5 miles (23km), tackle almost 1,000 meters (3,300 feet) of ascent, and encounter some tricky terrain.
You start from a tiny car park in the equally-tiny settlement of Ramasaig. On the walk, you'll pass tiny valleys, dramatic cliffs, hidden bays, countless caves, mysterious misty inlets, and some of Skye's most under-the-radar views.
To get back to where you started, there's no public transport that I know of, so your only option is to hitchhike. But luckily for you, hitchhiking is super easy on the Isle of Skye, so don't let that prospect put you off.
10. Sgurr Na Stri
For the first time in this guide, we're heading up to the peaks and panoramas of the Cuillins, southern Skye's iconic and atmospheric mountains.
These big boys offer some of the UK's most challenging adventures and ascents. But before you panic, the wander up Sgurr na Stri is an excellent compromise—it's relatively difficult, but you don't need to be an equipment-clad adrenaline junkie to tackle it (as you do for some other Cuillin wanders).
Starting from opposite the Sligachan Hotel, you walk south past endless peaks, lots of small lochs, and some incredible views. The landscape is largely dry and arid, but there's plenty of stuff to love. There's only around 600 meters (1,968 feet) of ascent in total.
To return, you retrace your footsteps.
This is one of the most-loved walks in the UK. For some people, it's the best the entire region has to offer.
11. Blaven (Bla Bheinn)
Known as both Blaven and Bla Bheinn, this peak is very close to the Cuillins, but isn't actually part of the range. If you want great views of the Cuillins without actually going up the Cuillins, this is an excellent option.
The views aren't quite as good as those offered by Sgurr na Stri, but it's a way easier challenge. That said, there are some very steep sections, and some heavy scree.
To get started, follow the B8083 road leading from Broadford to Elgol. On the western part of Loch Slapin, there's a little car park— and that's where you want to start your walk. On your way up, you hit moors and steep scrambles, tackling a total ascent of around 990 meters (3,248 feet).
The views of the Cuillin ridge are incredible, as are all the panoramas of Glen Sligachan. From here, you feel like you can see the entirety of southern Skye.
12. Elgol to Camasunary Bay
One of Skye's most underrated bays, Camasunary is just north of Elgol, and it's surrounded by some incredible views of the Cuillins.
Drive in the direction of Elgol. Just after you pass the church, there are two tiny roads off to the right. Take the second of them, and park in it.
From here, you start your walk to the bay along an easy-to-follow route. As you approach the bay, the trail gets closer to the sea, to give you some excellent coastal panoramas. En-route, you get views of small lochs, mini streams, and various vistas of the mountain-backed Camasunary. If you're looking for a beach where you'll probably see absolutely no-one else, you've found it.
To return, you wander exactly the same way you came.
This is the easiest of all the challenging hikes we've featured, so if you're looking for a moderate wander, this is perfect.
13. Coire Lagan
Coire Lagan is one of the most impressive corries on the Isle of Skye.
If that sentence has you confused, don't fret—a corrie is just hollow in the side of a mountain, typically carved out by ancient glacial movements.
Like pretty much all corries, Coire Lagan looks like a loch. But because it's perched right on the edge of a mountain-rimmed plateau, it's particularly beautiful and strange.
From the car park just west of Glenbrittle Campsite and Cafe, head east on the path that goes past the campsite toilets. Keep following on a steady ascent, and you'll soon hit the corrie. Walk around the corrie (you'll absolutely love the place!) before retracing your steps back.
About a quarter of the way down, you can branch off from the ascent path for an alternative descent (which I recommend doing!)
Along the whole route, you clock up around 590 meters (1,935 feet) of total ascent.
14. Sgùrr Dearg and the in Pinn
As we've mentioned, the Black Cuillins have a fearsome reputation for offering some of the UK's most difficult summits.
And of them all, this is the most challenging. The vast majority of people reading this guide won't have the experience or equipment needed for this entire summit (myself included), but you can't assemble a list of Skye hikes without mentioning it.
This isn't just a hike. One of the UK's most dangerous ascents, the final few stages are actually a rock climbing challenge, so you need ropes and other specialist stuff.
Park up at the Glen Brittle Memorial Hut (a little hiking lodge) before passing a gorge, wandering through arid crags and mountains, and reaching the Sgùrr Dearg summit. From here, you can see the towering impossibility of the In Pinn. If you're an expert climber, attempt it. If you're not, don't.
If you want a challenge, this is one of the best hikes on the Isle of Skye.
15. The Skye Trail
If you're looking for a multi-day walk, this is without doubt the best hike on the Isle of Skye.
It's not official, nor is it waymarked, but it's becoming massively popular with people who want to explore as much of the island as they can on their tiny little feet.
A linear walk taking hikers from Broadford to the very north of the island (or vice-versa), the Skye Trail measures in at around 79 miles (128km). Along the way, you pass lots of the island's highlights, including the Trotternish ridge, some excellent coastal sections, lots of the low-level Cuillin area, and some great towns and villages.
Because it's not an official route, you'll need to be really confident with a map and compass, and make sure you properly prepare. But that also means it's a massive adventure, and much more challenging than a standard waymarked trail.
Before You Go
That's everything you need to know about the best hikes on the Isle of Skye. Thanks for reading!
If you want to know anything else about Scotland's islands, check out our guides to the best hikes on Arran and the best cliffs on the Isle of Skye.
And if you're a bit worried about the cell phone signal on the Isle of Skye, I've put together a guide. It tells you about phone coverage, the best phone companies, and what to do if you can't get a signal. Find out more here: Isle of Skye Mobile Coverage.
And for more hiking inspiration, we have stroll-packed listicles on the best walks and wanders in and around Glencoe, Edinburgh, Glasgow, and Inverness.
See you next time, you lovely adventurous stranger!
Being a Digital Nomad: Tips, Tricks and Places
Do you want to be a digital nomad?
If you do, maybe you don't know where you might want to live. Or how to live there. Or whether you need a visa. Or how to make friends in the scary sprawl of a brand-new city. Or how to stay productive while you travel. Or how to find an apartment. Or whether this lifestyle really is for you. Or… I'm sure you get the idea.
But with some insight and experience, it's not as difficult as you think. So in this book, I've gathered my 6 years of digital-nomadding experience… and I've used it to answer all your questions, soothe all your fears, and get you on your way. After reading this, you'll realise being a digital nomad is much easier (and much more possible!) than you think.