The North Coast 500: Everything You Need To Know
Ever thought about tackling the North Coast 500? Want to know more about what you'll experience along the route? In this guide to the North Coast 500, we've brought you everything you need to know about the trip.
We've included details on where the route takes you, places you should stay, and some unmissable highlights along the way. Let's go!
What is the North Coast 500?
The North Coast 500 is a 516 mile (830 km) circular road trip in the Scottish Highlands. Officially launched in 2015, the North Coast 500 offers craggy coasts, towering mountains and some of the UK's most isolated and idyllic landscapes. The route begins and ends in one of either two places: Inverness or Applecross.
But the North Coast 500 is much more than that:
It's one of the best road trips in the world.
It's rugged, remote and beautiful, and it's unbelievably diverse.
I love road trips. And I love mountains. I've traveled to countless different parts of the world in a mindless attempt to experience both, from Tajikistan to Kyrgyzstan to Georgia. From the Alps to the Caucasus to the Carpathians. But Scotland – on both counts – beats them all.
If you like hiking, mountains, road trips or lochs (that's the Scottish word for 'lakes'), the North Coast 500 is probably the most amazing trip you'll ever take.
Where Does the North Coast 500 Route Start and Finish?
Most people begin and end their trip in Inverness, Scotland's most northern city. Others start their journey in Applecross, but Inverness is a better place to begin.
Inverness has lots of great stores, cafes, restaurants and other useful conveniences, so it's the perfect place to finish a trip which is largely remote and rural. After you've finished your 500 miles, the city offers easy access to pubs, bars and supermarkets, making it a perfect place to relax.
For the same reasons, it's a good city to start your journey – you can use Inverness as a convenient place to stock up on essentials before you set off on your big trip.
Should I Drive the North Coast 500 Clockwise or Anti-clockwise?
It's best to drive clockwise from Inverness. If you do, you'll be driving as close as you possibly can to the coast and all of the excellent views it offers. In Scotland, everyone drives on the left-hand side of the road, so if you drive anti-clockwise, there will be a stream of cars between you and the coast at all times.
Driving clockwise also means that your last stretch will be on the eastern coast, where the roads are at their highest quality and the views are at their worst, allowing you to zip through the final stretch of the journey on your way towards recuperating in Inverness.
That said, some people think the views are better if you drive anti-clockwise, so it's up to you!
I've done the North Coast 500 twice. Both times were clockwise. And both times I absolutely loved it. Maybe one day I'll do it anti-clockwise.
Whichever way you drive the North Coast 500, it'll be one of the best trips you've ever been on.
What Other Places Are Along the North Coast 500?
This part of Scotland is short on cities. The only city you'll see is Inverness (and you'll probably be surprised by how small it is).
But there are lots of other places which offer a convenient spot to overnight along the way.
Lots of travelers tackling the North Coast 500 wild camp, sleep in remote hostels, sleep in their own vehicle or stay in some of the most secluded homes you've probably ever seen.
But if you're looking for places of significance, which offer a little luxury and convenience (such as a bed, a store and a place to eat and drink), try these 5 towns:
1. Ullapool
For me, this is the best town to overnight on the entire North Coast 500. It offers the convenience of shops, cafes and pubs, but it's also ridiculously charming.
With a small port, local fishing boats, great seafood and excellent proximity to lots of beaches and mountains, you'll fall in love with the place. You'll probably wind up wanting to live here.
2. Durness
Despite having a population of around only 400 people, this is the type of place that passes for densely-inhabited in this part of the world.
Though tiny, it feels like a metropolis compared to the diminutive villages which surround it. Here, you'll find great beaches, excellent campsites and enough conveniences to make you wish you could stay longer.
3. Gairloch
Another small village of relatively-gargantuan proportions.
With a population of around 1000 people, it's one of the bigger villages on the North Coast 500. It's also one of the most endearing.
Gairloch offers travelers a perfect microcosm of everything that the entire North Coast 500 is about, with mountain-backed beaches, views of distant islands and stunning drives packed with scenic surprises.
4. Thurso
Let's be honest, Thurso is never gonna win any prizes for beauty or charm. But if there was a prize for 'most welcome small town in a remote part of the world', Thurso would probably win it.
After many miles of driving through endless wilderness (if you're driving clockwise), Thurso is a welcome sight, and it's a great place to spend a little time recuperating. But whichever way you're driving, there are lots of nice places here to eat and drink.
5. Wick
Marginally behind Thurso in the highly-prestigious 'convenient but uninteresting' category is Wick.
Slightly smaller than Thurso but pretty similar, this former Viking settlement is an intelligent place to overnight between Inverness and Thurso. Again, it's not a particularly scenic town, but it offers the conveniences provided by towns of any significance.
What Are the Must-see Parts of the North Coast 500?
You should never skip the western coast or northern coast sections of the North Coast 500. The western coast especially is my favorite part of the entire North Coast 500.
While the eastern and southern sections have some great stretches and some incredible sights, they're nothing compared to the western and northern sections. Spend most of your time on the western and northern sections of the North Coast 500, and you'll be spending most of your time on the best parts.
But, across the whole route, here are my top ten places you absolutely need to see. Starting clockwise from Inverness, here's what I recommend:
1. Lochcarron
At the southwestern tip of the North Coast 500 is Lochcarron. Essentially a one-street row of whitewashed houses, its lochside location makes it one of the prettiest places on the whole route.
The narrow shape of this part of Lochcarron (the loch which confusingly shares its name with the village) makes for a picturesque area with great views from both sides of its shores.
2. Bealach Na Bá
The most infamous (and famous) part of the North Coast 500, the Bealach na Bá is a volatile and vertiginous mountain pass which is only accessible to some vehicles.
Though it's possible to skip this section (if you or your vehicle aren't up to it), brave drivers are rewarded (or maybe punished) with hairpin turns, hair-raising corners and winds strong enough to blow that raised hair right off.
The highest point of the North Coast 500, the Bealach na Bá sits at 626 meters. The views coming down from it are some of the best on the whole route.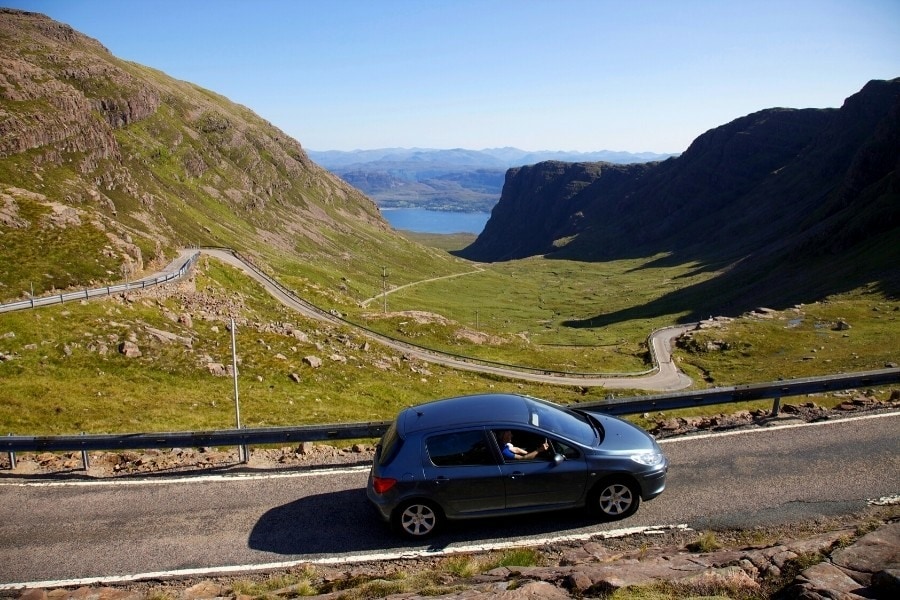 3. Shieldaig
A cute little fishing village with some great beach walks and its very own island, Shieldaig's few houses are backed by some insanely aesthetic foothills. The village smokehouse makes some of the best traditional smoked salmon in the whole of Scotland.
4. Torridon
Torridon is two things: a village and an area. Here, I'm referring to the area.
If you like mountains, this region might just be your favorite part of the North Coast 500. It might just be mine.
It offers a huge amount of opportunity for hiking, long drives and other outdoor adventures. If you like the feeling of near-constant astonishment at your surroundings, spend lots of time in Torridon. Two of the best hikes in this area are Beinn Alligin and (if you're looking for something easy but rewarding) the round circuit which takes in Loch Clair and Loch Coulin.
5. Stac Pollaidh
Stac Pollaidh is one of the greatest mountains in Scotland. It's relatively accessible and the whole hike (up and down) is only around 3.5 hours in total.
Some people will walk days to enjoy panoramic views as good as those offered by the ascent and summit of Stac Pollaidh. But you don't have to. If there's one hike you should tackle on the North Coast 500, it's this.
6. Achmelvich Bay
Set near the charming village of Lochinver, Achmelvich Bay is incredible. With white sands, blue seas and vibrant colors, it's near-tropical. The similarly-named but completely-unrelated Melvich Beach is another great spot for sands.
7. Quinaig
An incredible mountain range with a starting route directly from a main road, the Quinaig's three peaks are diverse, challenging and popular with lots of locals.
If you don't have time for all three peaks, the ascent of Spidean Coinich is a good option for an enjoyable but challenging 4-hour jaunt.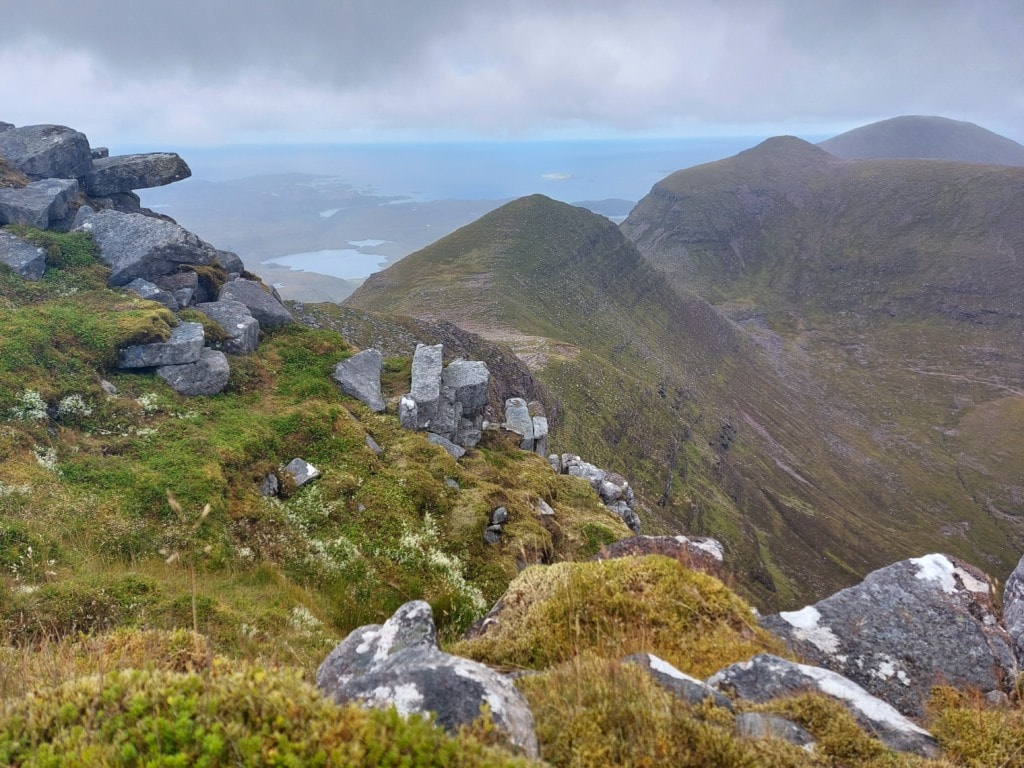 8. Balnakeil Beach
Durness is famous for being surrounded by beautiful beaches. And of them all, Balnakeil Beach is the best.
With huge dunes and vast stretches of white sand, it's a great place for a peaceful stroll.
It's so nice that even cows like lying on its shores. If you're lucky, you might see some.
If you don't, you can commiserate with some snacks from the very close-by (and very famous) chocolate shop, which offers lots of artisan sweets and treats.
9. Dunnet Head
You can't do a coastal trip without visiting at least one lighthouse. And this one, at the most northerly point of mainland Scotland, is the logical choice. With its cliff-edge location, bright white paintwork and retro design, it's like something from a Wes Anderson movie.
10. Dunrobin Castle
I don't really like castles. But if you do, this is one of the best on the North Coast 500. It's the largest castle in the North Highlands, and it's visible from miles around. If for some reason you like looking at well-maintained gardens, historic buildings or huge displays of wealth, you'll love it here.
A quick note: of the above, seven are on the western coast. But like I said, the western coast is the best part!
What's the Best Section of the North Coast 500?
The stretch from Ullapool to Durness is largely considered to be the best section of the North Coast 500. This stretch has everything, with diverse mountains, rugged coastlines, great beaches and remote villages.
How Long Does It Take to Drive the North Coast 500?
Most people tackle the route in anything from 3-14 days.
But here's my advice: take as long as you possibly can. No matter how much time you spend on the North Coast 500, you'll wish you could spend more.
I've spent weeks on the North Coast 500. And I still want to go back and spend more. I basically want to go back and live there, my existence made up of a perpetual road trip, like some kind of madman.
You could probably spend three months on the North Coast 500 and still wish you had more time. Seriously.
But since most people have jobs and lives and responsibilities, that's probably not an option. My advice is this: if you can't spend at least 7-10 days doing the North Coast 500, don't bother doing it at all.
The beauty of a trip like this is its pace. It's slow, it's remote and it's rural. And to really enjoy it, you have to match its languid, laid-back tempo. Of course, you can drive it in 3 days and see all of the road. But if you do that, you're not doing justice to everything that trip has to offer.
Yes, it's a road trip, but it's actually way more than that:
It's a chance to hike. A chance to see some of the world's best lakes. A chance to enjoy the solitude and serenity of some genuinely remote places. A chance to visit one of the most rugged parts of the world. A chance to meet wonderful locals.
If you speed around the North Coast 500 like a rally car driver on a caffeine buzz, you're missing all those chances.
Where Should I Stay on the North Coast 500?
This depends on where you want to stay and how much money you want to spend. You could spend your whole trip in hostels. Or luxurious hotels. Or campsites. You could even spend your whole trip camping in the wild thanks to the right to roam.
I usually stay in campsites and other low-cost places. Here are some of my favorites:
If you're looking for something a little more luxurious, try these hotels: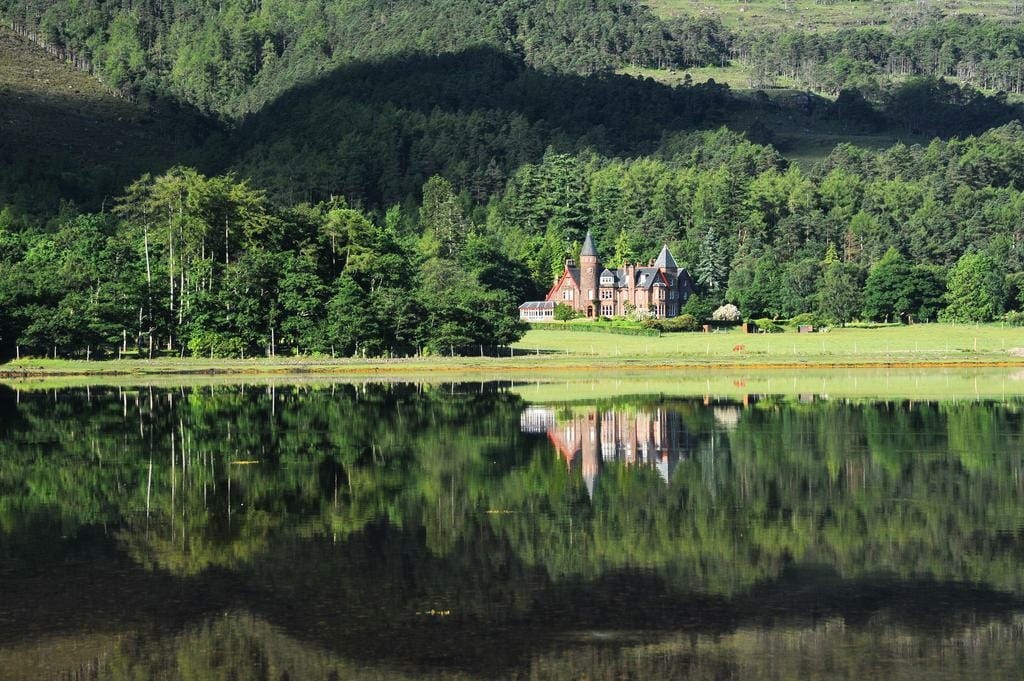 You also have lots of other interesting options.
Often, it's very easy to stay spontaneously in unique and unusual places – it's pretty common for local people to offer you a place in the caravan at the bottom of their garden. Or in their spare room. Or in a relative's holiday cottage.
AirBnb is also a very good option if you like unusual stays, with options on farms, in campervans and in small converted garages.
You could also try staying in bothies, very rudimentary shelters which provide a perfect place to stay if you're on a multi-day hike. They're completely free to use and they're maintained by a brilliant network of community volunteers. They're the physical embodiment of the generous Scottish spirit.
When is the Best Time of the Year to Do the North Coast 500?
The best time to drive the North Coast 500 is between May and October.
Here's what you can (generally) expect from the weather on the North Coast 500:
Winter: short days mean little time for enjoying views, but the weather is usually crisp and clear. The cold weather in Scotland can make high-level hiking a dangerous pursuit.
Spring: a good alternative to visiting during busy summer, but it can be pretty wet.
Summer: usually warm, sometimes wet, but the one constant is the high numbers of tourists.
Fall: many locals think this is the best time to visit. There are less crowds, relatively little rain and (if you visit in September) pretty long days.
An important note: though these summaries are a good guide, Scottish weather is notoriously unreliable, especially if you're up a mountain.
One minute, you're enjoying panoramic views stretching from islands to peaks to distant houses. The next, you're weeping and panicking and wishing you'd brought a compass. So prepare accordingly for hikes, no matter what time of year you visit – and no matter how good the forecast looks.
What Are the Conditions of the Roads Along the North Coast 500?
They're driveable, but only if you're confident. If you're not, you'll probably wind up having a panic attack, deserting your car in the middle of the road and running away forever.
I've traveled the full North Coast 500 twice. And I've traveled some shorter sections more than twice. But I've never driven any of it. I've hitchhiked it, I've ridden alongside car-confident friends and I've thought about cycling it. But I've never driven a single mile.
That's mainly because some of the roads are challenging. While some of the roads are well-maintained and pretty normal, others are single-track frightfests of potholes, cattle herds and overly-enthusiastic speed freaks.
What's a single-track road? A single-track road is a road with no lanes. It's a road with enough width for only one car.
When you're driving down a single-track road and a car approaches towards you, there's some negotiating to do. Luckily for you, most single-track roads in Scotland have 'passing places,' which are small sections of road designed for pulling over in order to allow others to drive past.
Scotland is famous for its single-track roads. The Wikipedia entry for single-track roads even has a section designated to Scotland.
In short, if you're a good driver, you'll be fine with the North Coast 500. If you're a nervous driver, you probably won't be.
Side Trips from the North Coast 500
There are lots of side trips you can take from the North Coast 500. Here are some of my favorites:
1. The Isle of Skye
The most famous and most popular Scottish island (but surprisingly not the biggest), Skye is connected to the mainland by a bridge. Maybe that's why so many tourists come here.
With great mountains, remote drives and various otherworldly landscapes, it feels like an extension of the North Coast 500. The bridge to get to the island is a few miles northwest of the most northwestern point of the North Coast 500.
But be warned: you could easily spend two weeks in Skye, so it's not necessarily a short detour.
2. Plockton
Situated right between Skye and the most northwestern part of the North Coast 500, Plockton has to be one of the most aesthetic villages in the world. Known as 'the jewel of the highlands' it probably has more fishing boats than it does residents. Set right in the middle of a sheltered bay, it's unbelievably scenic and secluded.
On your way in or out of Plockton, drive through Duirinish, which is somehow maybe even more attractive.
3. Ault A'chruinn
Another spot just off the northwestern point of the North Coast 500.
This tiny settlement is surrounded by the equally-tiny settlements of Invershiel and Morvich. There are very few places to stay, but this region has some of the most incredible views in the whole area.
If you like camping, fishing or hiking, try to spend some time in this area, which sits on the unbelievably-beautiful banks of Loch Duich.
4. Glencoe
Glencoe is incredible. Scotland's most famous glen (or valley, if you're not from Scotland), it's full of peaks, troughs and other hiking opportunities. If the North Coast 500 doesn't offer you enough hiking, Glencoe is the next best place to do even more of it.
Some of the best hikes in and around Glencoe include Bidean nam Bian, Ben Nevis (Scotland's highest peak!) and the Pap of Glencoe.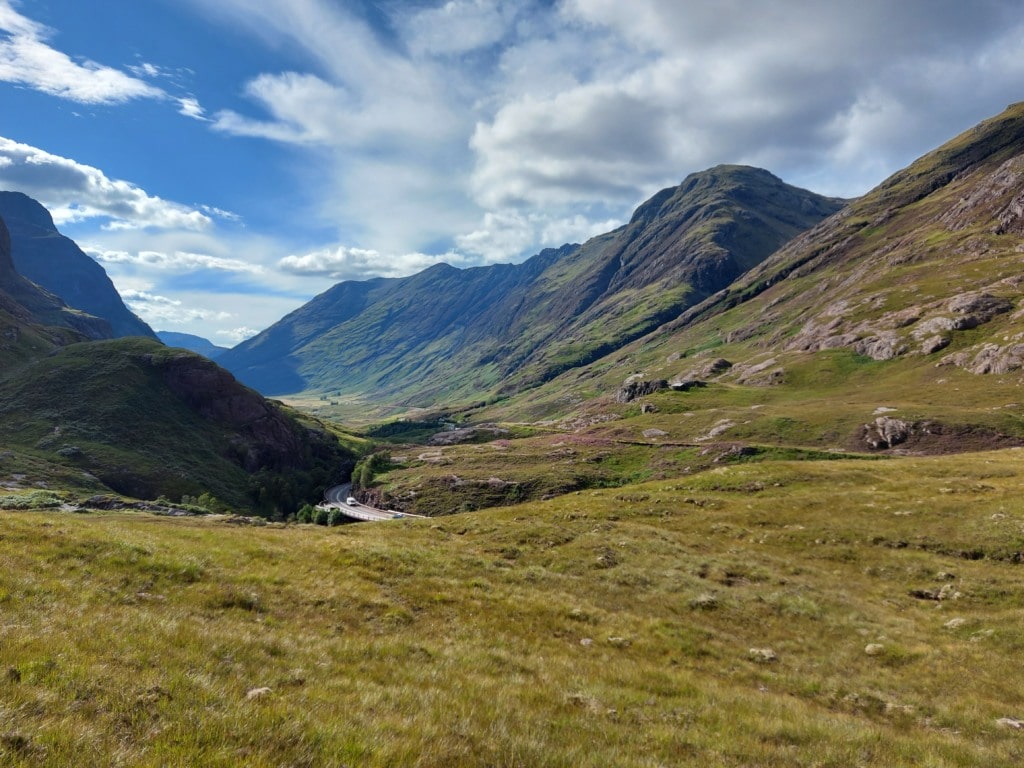 5. Loch Ness
In case you don't know, Loch Ness isn't just the name of a (probably fictional) monster. It's also the name of a loch, which the (probably fictional) monster is named after.
Some people unironically think this monster lives in the lake, and swims up to the surface periodically so that someone can take a grainy, vague and inconclusive photograph of it.
Though Loch Ness is by no means the most attractive loch in Scotland, it's definitely the most famous – and the most significant. It runs for over 36km.
But its real vastness lies in its volume. Take all the lakes, rivers and reservoirs in England and Wales. Add their volume. That's still smaller than the volume of Loch Ness, at more than 250 billion cubic feet of water.
You could take every single person in the world and fit them in the loch. Ten times.
So maybe it is big enough to hide an elusive sort-of dinosaur after all.
Beyond the loch itself, its shores are surrounded by charming villages such as Fort Augustus, Drumnadrochit and Invermoriston.
Pro Tips to Make the Most of the North Coast 500
Here are my top tips:
Now that I've covered the big questions, here's a section of some smaller FAQs…
North Coast 500 FAQ
How Long is the North Coast 500?
The North Coast 500 is 516 miles (or 830km).
What Type of Vehicle Should You Drive on the North Coast 500? Should I Drive a Car or a Campervan on the North Coast 500?
It's best to drive either a car or a small campervan.
If you drive a big campervan, you might get stuck on some of the route's narrower roads. You might also find that you can't drive down some stretches of road. The Bealach Na Bá pass at Applecross, for example, isn't recommended for larger vehicles.
Are There Petrol Stations on the North Coast 500?
There aren't many, but there are enough. Just.
Here's my advice: every time you pass a petrol station, fill up your car. If you don't, you'll inevitably have a moment of panic in which you'll realize you're 29 miles from a petrol station with 30 miles left in the tank.
It's happened to me twice.
Both times, the petrol station on the horizon was like an oasis in a desert. Those petrol stations brought a tear to my eye and a sense of profound relief to my panicking brain.
Don't be an idiot like me.
There are enough petrol stations, but there's hardly an abundance – fill up when you can.
Lots of the petrol stations in this part of Scotland are retro and rudimentary, so even filling up your tank on the North Coast 500 can be fun.
Is the North Coast 500 Dog Friendly?
Absolutely. Not all pubs, cafes and accommodations are dog friendly, but the vast majority of them are. I've taken a dog on the North Coast 500, and it was welcome everywhere.
Your dog will love the beaches. It'll love the mountains. It'll love all the other dogs. It'll love the North Coast 500.
Will My Kids Like the North Coast 500?
Yes. There's literally a chocolate shop. There's a smuggler's cave. There's unhealthy food. There are big hairy cows standing in the middle of the road. There are beaches with fish and crabs.
Your kids will probably like the North Coast 500 more than you do.
Just don't blame me if they whine when you drag them up a mountain.
What Should I Eat on the North Coast 500?
Lots of the food along the North Coast 500 is pretty unhealthy. You'll probably end up surviving on a diet of fish and chips, cakes and coffees and other stodgy stuff. But that's okay. You're on vacation, and you'll be hiking a lot.
Aside from the stodge, here are some local delicacies you should try to get your mouth around:
Smoked salmon: Scottish smoked salmon is the world's best smoked salmon.
Haggis: a big weird combination of oatmeal, fat and sheep's stomach, liver and lungs, there's no other food which sounds quite this horrible but tastes quite this good.
Scottish breakfast: tasty, meaty, eggy, carby and huge, it's unnecessary, but vaguely justifiable if you're about to go on a long hike.
Cullen skink: a creamy fish soup, this is one of the best things I've ever eaten.
Shortbread: it's not short and it's not bread. Instead, it's a traditional Scottish biscuit made with lots of butter and lots of sugar.
Looking for specific places to eat? Three of my favorite indulgent eateries on the North Coast 500 are Cocoa Mountain in Durness, Lochinver Larder and Ullapool's The Seafood Shack.
Can I Rent a Car for the North Coast 500?
Yes, there are lots of places to rent cars.
Renting a car in Scotland is surprisingly affordable and surprisingly easy. The best place to rent a car is Inverness, but no matter where you rent it, always make sure you rent with a reputable agency.
Should I Take a Paper Map on the North Coast 500?
Without a doubt. A paper map allows you to properly plan out the route of the North Coast 500, as it isn't very well signposted.
You should rely on road signs and your paper map rather than a GPS, so that you can follow the route fully and properly. A GPS won't take you the scenic way, it'll take you the easy way.
What Do I Need to Take with Me on the North Coast 500?
Here's a list:
Aside from the above, you should also take the same things which you'd take on any trip which might involve hiking, camping and getting cold and wet. Take hiking boots, a waterproof coat, a hat and gloves. And make sure they're all good quality.
If you're camping, you'll want to take a ground mat, tent and sleeping bag.
Make sure you take a pretty good camera, because you'll want to stop for photographs approximately every three seconds. And for the quiet evenings, take a book or two.
Being a Digital Nomad: Tips, Tricks and Places
Do you want to be a digital nomad?
If you do, maybe you don't know where you might want to live. Or how to live there. Or whether you need a visa. Or how to make friends in the scary sprawl of a brand-new city. Or how to stay productive while you travel. Or how to find an apartment. Or whether this lifestyle really is for you. Or… I'm sure you get the idea.
But with some insight and experience, it's not as difficult as you think. So in this book, I've gathered my 6 years of digital-nomadding experience… and I've used it to answer all your questions, soothe all your fears, and get you on your way. After reading this, you'll realise being a digital nomad is much easier (and much more possible!) than you think.