18 Best Road Trips in Scotland You Can't Miss
Scotland is one of the world's best road trip nations.
The country has countless scenic drives, a massively diverse landscape, stunning lochs, endless remote adventures, and lots of charming towns, cities and villages. But more importantly than that, Scotland's road trip infrastructure is great, with a surprising number of well-planned and perfectly-waymarked official road trips.
So in this article, I've brought you the best of them, along with a small few other routes I like.
I've included in my list both short trips and long trips, so there's an adventure you can enjoy no matter how much time you have.
For each road trip, I've recommended some top things to do and see along the way, and a guideline for how long each one should take.
Anyway, enough of all the introductions. Here they are: the top 18 road trips in Scotland.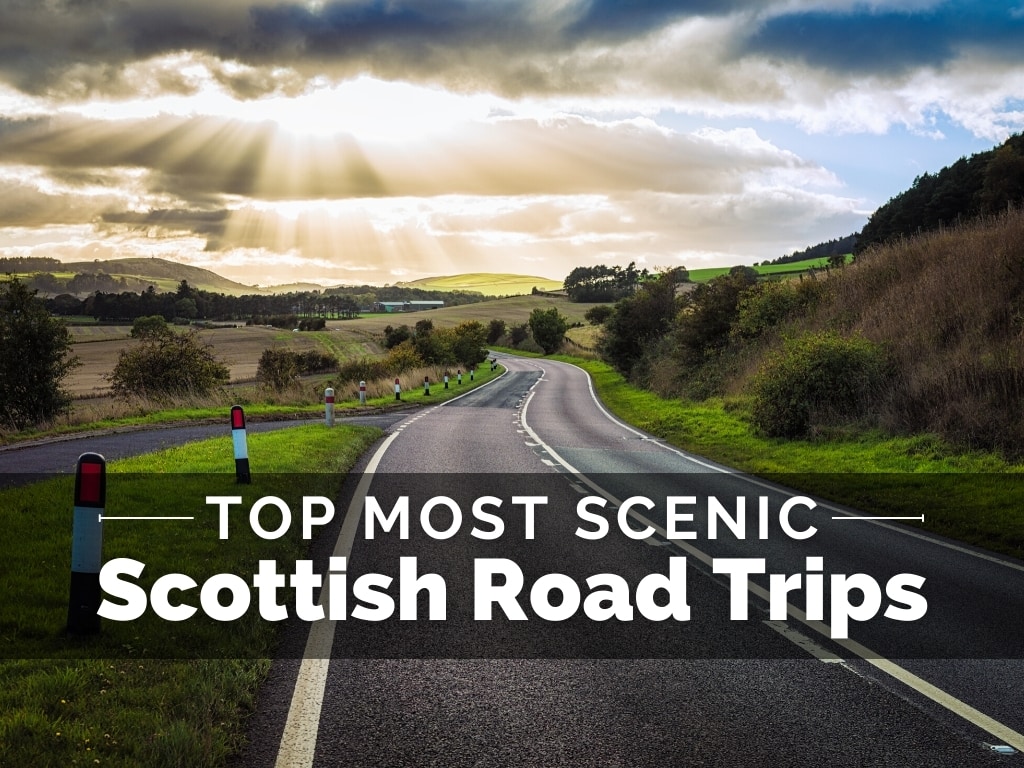 1. The North Coast 500
The big boy. The top dog. The number 1.
The North Coast 500 is by far the most famous Scottish road trip. If you're only going to do one road trip in the nation, make it this one. The other ones are great, they're just not this great.
I love the North Coast 500. I've done it twice, and I'd be happy to tackle it ten more times. A 500 miles (800km) loop through the most northern parts of the Scottish Highlands, the route includes some of the best mountains, lochs, beaches, cliffs, scenery and villages you've probably ever seen.
Most people tell you to do this in 2-5 days. Don't listen to those people. You could probably spend a month on the NC500, and still want to spend more.
If you like walking, you should be particularly slow. Along the way, there are loads of beautiful hiking spots. All of my favorites are the hikes along the northern part of the west coast, in and around places like Ullapool, Torridon and Gairloch. If you only do one hike along the NC500, make it Stac Pollaidh.
Itinerary: Loop beginning and ending in Inverness (or Applecross)
Distance: 500 miles/800km
Time: 5-21 days
Highlights: Ullapool, Torridon, Lochcarron, Durness, the Bealach na Bà and much, much more
2. North and West Highlands Route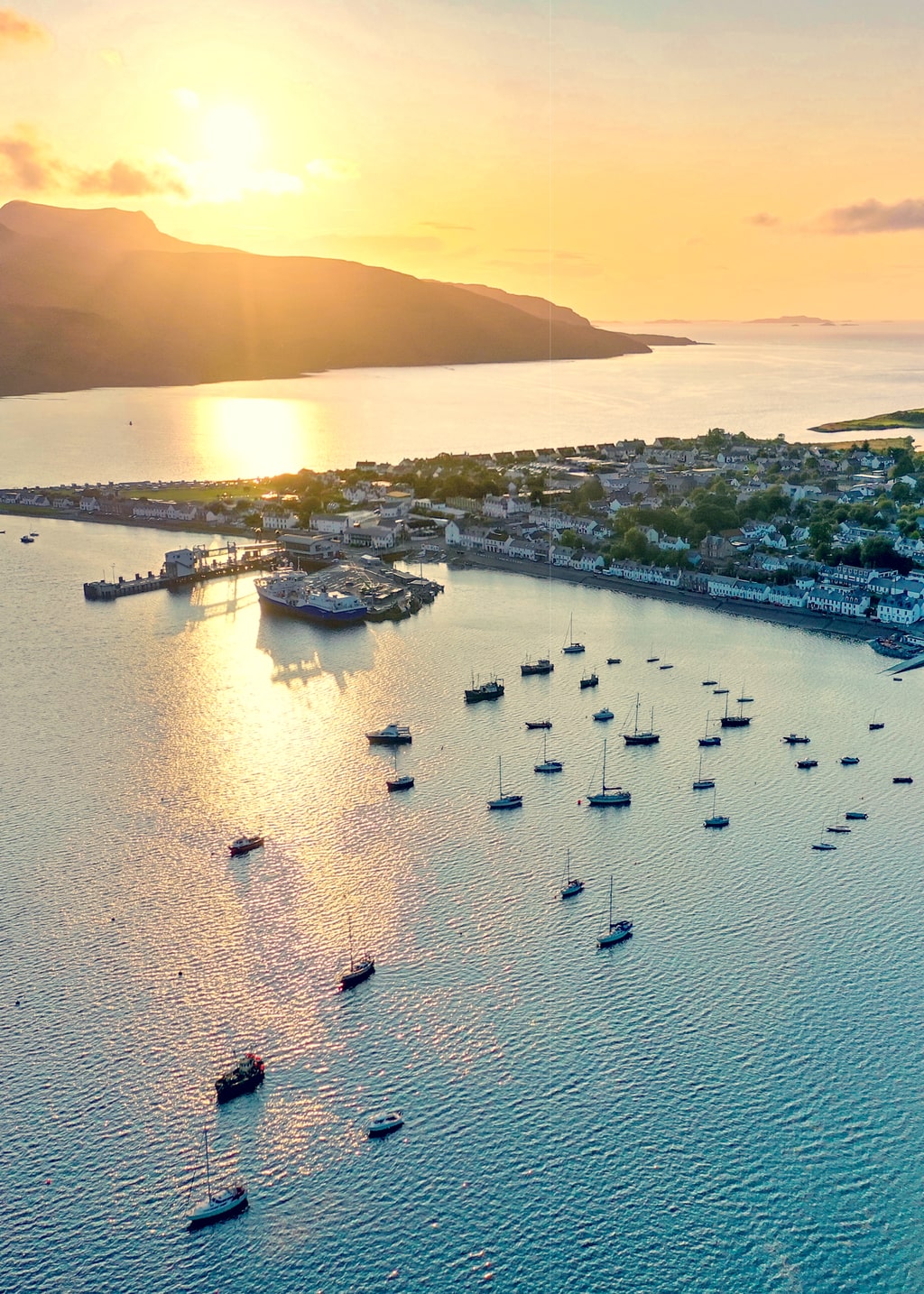 If you don't have time to do the entire North Coast 500, but want to enjoy (most of) the best bits, ride the North and West Highlands Route instead.
That said, because this route isn't a loop, it's nearly as easy to just complete the entire North Coast 500. So my advice is, unless you have some huge reason to not do the NC500 instead, you should do the NC500 instead.
But the North and West Highlands Route is still great.
You start in Ullapool, one of the world's most endearing port towns, and you end in the iconic John O'Groats. Along the way, you still get all of the northern coast, most of the best bits of the western coast, and plenty of hikes, hills, beaches and tiny towns.
Itinerary: Ullapool to John O'Groats
Distance: 158 miles/254km
Time: 4-10 days
Highlights: Ullapool, Durness, the mountains and the beaches
3. The Heart 200
One of the newest official road trips in Scotland, the gimmick here is that the route goes right through the so-called heart of the nation.
This road trip itinerary takes drivers in and around Perth, Stirling, the southern tip of the Cairngorms, the eastern tip of Loch Lomond & The Trossachs, and some other lovely places.
It's a pretty unique route, because it takes drivers through a remote, rural and unexplored area sandwiched between lots of massively popular places. It's a weird little no-man's land where few tourists go, but way more should.
The Heart 200 narrowly misses Glasgow, Edinburgh, Dundee and some of the nation's most popular hiking spots, but it hits lots of under-the-radar stuff. So if you want to see the hidden gems of a relatively accessible area of Scotland, the Heart 200 is a really good choice.
And as a sweet little bonus, the route passes through loads of lovely towns and villages including Pithlochry, Callander and Bridge of Allan.
Itinerary: Loop starting and ending in Perth or Stirling
Distance: 158 miles/320km
Time: 3-7 days
Highlights: Perth, Striling, Bridge of Allan, Loch Tay, Loch Tummel, and the eastern tip of Loch Lomond & The Trossachs
4. The South West Coastal 300
Another loop, this one takes drivers through the southwest of Scotland, and to some of the most underrated parts of the nation. You probably haven't heard of Stranraer, Moffat and Ayrshire-but after tackling this scenic drive, you'll wonder why.
It's a good choice if you don't want to be surrounded by lots of other tourists. Rides such as the North Coast 500 and the Trotternish Loop, though brilliant, are always ridiculously busy. But the South West Coastal 500 is exactly the opposite. So if you like quiet drives, undiscovered terrain, and secluded experiences, you'll absolutely love it.
It's also a good option if you don't have time to head too far north-the most easterly point of the loop is right beside the English border.
The relatively straight stretch of coast between Ayr and Stranraer is lovely, while just south, you'll find Mull of Galloway lighthouse, the most south westerly point in Scotland. Other highlights include towns and villages Girvan, Portpatrick and Whithorn, and the hikes and hills of Galloway Forest Park.
Itinerary: Loop starting and ending in Dumfries
Distance: 300 miles/482km
Time: 7-14 days
Highlights: Ayr, Stranraer, Mull of Galloway, Moffatt, Galloway Forest Park, and huge stretches of coastline
5. Highland Tourist Route
The name of this route is sort of misleading.
The most famous tourist spots in the Highlands are Loch Ness, Fort William, Glencoe, and all the other places you've already heard of.
So you'd assume this drive goes through all of them.
It doesn't. It actually runs from Aberdeen to Inverness, on an inland route through some of the lesser-known parts of the Highlands.
You cross through some of the Cairngorms, the biggest national park in the UK, where you can get involved in loads of hiking and nature-spotting.
But the real highlight here is all the historical stuff. You drive past four brilliant castles (including Cawdor Castle and Fort George), and you hit Culloden Battlefield, an immersive experience unpacking a massive battle between the British and the Jacobites.
If you want insights into Scottish history and heritage, this is one of the best road trips in Scotland.
Itinerary: Aberdeen to Inverness
Distance: 116 miles/187km
Time: 3-5 days
Highlights: Cawdor Castle, Fort George, Culloden Battlefield, Aberdeen, Inverness and Grantown-on-Spey
6. Argyll Coastal Route
This route runs 129 miles (208 km) between Fort William and Loch Lomond, two of the most popular spots in the Highlands.
But it doesn't go inland. As you probably worked out from the name of the route, it hugs the western coast for the majority of its length.
The Argyll Coastal Route is a good choice for foodies, as it takes drivers past some of Scotland's best (and most famous) seafood eateries, including Loch Fyne Restaurant & Oyster Bar, Iverary's Samphire, and the Green Shack in Oban.
A huge highlight is the town of Oban itself. One of the most popular tourist spots on Scotland's west coast, the crescent-shaped settlement is ridiculously pretty.
Considering how short the route is, it's unbelievably diverse. You get lochs, coasts, tourist towns, some of Scotland's biggest mountains, and several of its most well-known spots. If you want an introduction to all that Scotland's famous for, it's brilliant.
Itinerary: Tarbet to Fort William
Distance: 129 miles/208km
Time: 4-7 days
Highlights: Oban, Fort William, Ben Nevis, Loch Lomond, Tarbet and all the food
7. Deeside Tourist Route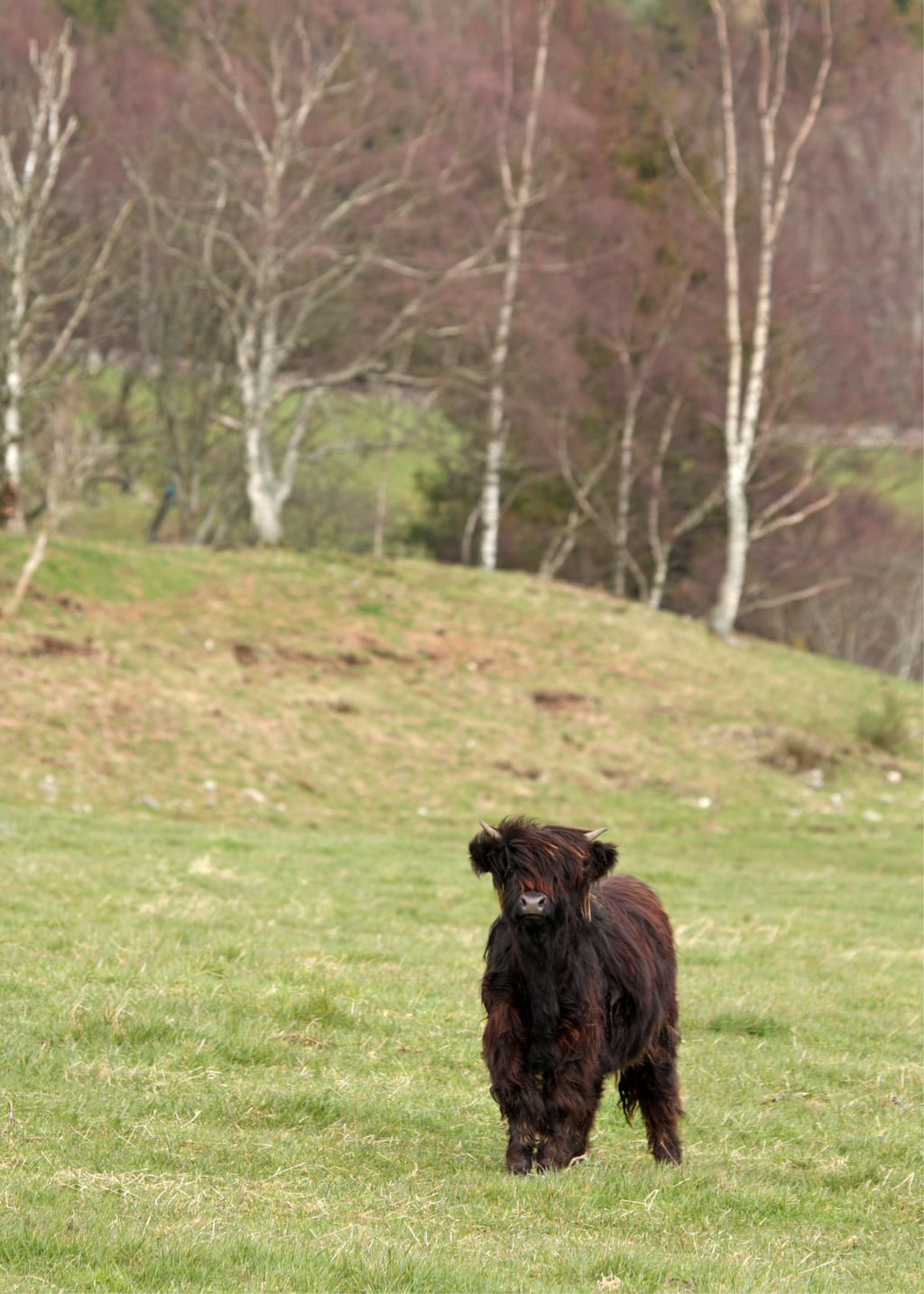 This inland ride from Perth to Aberdeen, like a lot of the routes we're featuring, takes you through some of Cairngorms National Park.
But because it travels through one of the more remote regions of the Cairngorms (and that's saying something), you get to see lots of the area's lesser-known sites. There's also a huge amount of wildlife-so take your time and you might see deer, eagles, pine marten and more.
You'll pass through Blairgowrie (most famous for its fruit-growing fields and farms), hit the two lovely cities of Perth and Aberdeen, and drive through and beyond loads of mountains and forests. If you want a remote inland adventure on the eastern side of Scotland, the Deeside Tourist Route is a brilliant little solution.
Itinerary: Perth to Aberdeen
Distance: 108 miles/174km
Time: 3-5 days
Highlights: Braemar, Ballater, Perth, Aberdeen, and the quieter Cairngorms
8. The Arran Ring Road
This drive around the island of Arran is one of my favorite Scotland experiences.
Arran is the perfect size for an island adventure. And even better, it's like someone took all the best bits of Scotland, squashed them together, and shipped them off to an island.
Not too big, not too small, you can do all of Arran's best bits, hidden gems and everything in between in around a week. So if you're a pedantic completionist (like me), you'll find the place appealing.
And luckily for us, there's a big ol' ring road that basically runs around the entire perimeter of the island. The road is only 56 miles (90 km), but you'll see plenty to stop and explore.
Important: this route is actually part of a 5-drive collection of road trips called 'The Coig.' Making up the 5, you have the Arran route, a route running around the perimeter of Bute, a route running around the perimeter of Great Cumbrae, a 138-mile (222km) circular trip around the western coast of Scotland, and another 55-mile (88km) loop just north of its bigger brother.
Itinerary: Loop beginning and ending in Brodick
Distance: 56 miles/90km
Time: 2-7 days
Highlights: Brodick, Goatfell, Lochranza, Eas a' Chrannaig, and all the coastal views
9. Perthshire Tourist Route
The Perthshire Tourist Route is a tiny trip that runs through a similar area to the Heart 200. So if you want a flavor of the ride without committing to the full thing, it's a great option.
Running in a near-straight line just west of Perth, it clocks in at only 43 miles (69km), so it's a lovely little option for a day trip. That said, it still packs lots of excellent highlights into its relatively diminutive dimensions, so you can easily stretch it out to two or three days (or even more!) if you want to.
If you like woodlands and forests, you'll love this one-there are loads of easily-accessible wooded trails you can explore on excellent hikes. In and around these woodlands, you can often spot deer, squirrels, golden eagles and mountain hares.
If you want to feel remote without really being remote, this is one of the best road trips in Scotland.
Itinerary: Greenloaning to Ballinluig
Distance: 43 miles/69km
Time: 1-3 days
Highlights: Gleneagles, Innerpeffray Library, Highland Safaris near Aberfeldy, and all the woodland
10. The Trotternish Loop
This isn't an official road trip, but it's one of my absolute favorite on-road Scottish adventures.
The Isle of Skye is made up of a little central portion along with lots of explorable peninsulas. The most famous of them, the Trotternish peninsula, is the most northern part of Skye. It's home to some of the most iconic places on the island, including the Quiraing, the Old Man of Storr, Mealt Falls and more. And at its southern tip, there's the colorful capital of Portree.
So if you want to see some of Skye's most famous attractions (and loads of other lovely places too), the Trotternish Loop is a perfect solution. Even better, the drive itself is absolutely phenomenal.
Most people complete this in a day, but I recommend longer. The well-known highlights are brilliant, but the other stuff is even better.
Itinerary: Loop beginning and ending in Portree
Distance: 50 miles/80km
Time: 2-4 days
Highlights: The Quiraing, the Old Man of Storr, Mealt Falls and Portree
11. Galloway Tourist Route
Just like the South West Coastal 500, which we've already covered above, this ride is in the massively underrated region of Dumfries and Galloway. But while it's in the same area as its longer neighbor, it's a slightly different experience.
Firstly, it's not a loop. Secondly, a large part of the ride runs along the eastern perimeter of Galloway Forest Park, one of the least-explored adventure areas in Scotland. If you like woodland walks, you can access loads of them via this route. While the South West Coastal 500 is mainly coasts, seas and shores, the Galloway Tourist Route is all hikes, hills and secluded woods.
One of the least-populated regions in southern Scotland, you get lots of peace and seclusion along this route.
The ride starts in the elopers' paradise of Gretna Green, and ends with an endearing coastal finalé in Ayr.
Itinerary: Gretna to Ayr
Distance: 92 miles/148km
Time: 3-4 days
Highlights: Gretna Green, Galloway Forest Park, Robert Burns Birthplace Museum and Ayr
12. The Snow Roads Scenic Route
The Snow Roads Scenic Route takes drivers through the highest public road in Britain. It's named so because this road is usually the first in Britain to be covered in snow. So, inevitably, the route is packed with snow-capped peaks, lofty mountains, heathery moors and wide-open bogs.
The vast majority of the ride is in the Cairngorms National Park. So you get loads of forests, Scottish heather, endless peaks and summits, and lots of cute towns and villages. The infrastructure along the Snow Roads Scenic Route is also great: there are designated 'photo-posts' along the way, offering the best views, and the best places to watch the landscapes change.
Because you drive over lots of passes, you hit lots of tight switchbacks, blind turns and towering summits. If you like driving on (relatively) challenging roads, you'll love this ride. The highest point is Cairnwell Pass, which measures in at around 670 meters.
For lofty panoramas, this is without doubt one of the best road trips in Scotland.
Itinerary: Blairgowrie to Grantown-On-Spey
Distance: 90 miles/144km
Time: 3-7 days
Highlights: Cairnwell Pass, Braemar, Tomintoul, Corgarff Castle, and all the lofty roads
13. Moray Firth Route
If you're staying in Inverness (or if you live in Inverness!), this is a great option for a short but beautiful trip. The semi-circle route starts (or ends) in the city, and takes drivers through some of Scotland's least-explored Highland landscapes.
What's great about the route is that it heads north, in a similar area to the North Coast 500. But instead of following the same route, it instead heads inland, offering a more remote part of an already-remote part of the world. Two highlights are Easter Ross and Sutherland, a pair of rural, rugged, untouched Highland regions.
If you visit between May and November, make sure you go to the Falls of Shin. You'll see loads of salmon diving upstream.
Considering its short length, The Moray Firth Route is a pretty diverse ride, offering coastlines, lochs, great waterfalls, and lovely towns.
Itinerary: Inverness to Loch Fleet
Distance: 80 miles/128km
Time: 2-4 days
Highlights: Inverness, Beauly, Rogie Falls, Falls of Shin, Easter Ross and Sutherland
14. Forth Valley Tourist Route
If you don't have much time to explore and you're looking for an easy road trip out of Edinburgh, the Forth Valley Tourist Route is a great choice. It takes drivers between Edinburgh and Stirling on a relatively remote ride which avoids the direct M9 motorway route.
Measuring in at only 43 miles (69 km) you can easily do this as a day trip if you're short on time.
If you like architecture and engineering, you'll love this route. You come across lots of famous buildings, statues and monuments, including the Forth Bridge and Antonine Wall, a pair of UNESCO-listed heritage sites. The second is one of Scotland's most significant Roman sites, sort of like a mini Hadrian's Wall.
You end your ride in Stirling, a friendly city bustling with charm and dominated by a huge castle.
Itinerary: Edinburgh to Stirling
Distance: 43 miles/69 km
Time: 1-2 days
Highlights: The Forth Bridge, Antonine Wall, The Falkirk Wheel, Edinburgh and Stirling
15. Fife Coastal Route
An excellent option for people who like beaches, under-the-radar adventures and slightly shorter road trips, the Fife Coastal Route is a lovely ride along one of Scotland's most underrated coastal spots.
And because the southern tip of the route is just north of Edinburgh, it's a good choice if you want an adventure close to Scotland's capital-or if you don't want to travel very far north.
Starting just short of Stirling and coming really close to Dundee, the route runs along a pretty populated part of Scotland. So if you like fishing villages, beautiful houses, coastal towns and lots of conveniences, you'll probably prefer this drive to some of the country's more remote and rural road trips.
Elie, Crail and Pittenweem are all pretty cosy and alluring, while Kirkcaldy, Anstruther and St Andrews are three of the bigger settlements along the way. The last of them, you've probably heard of-it's one of the world's most famous golfing destinations.
For an accessible adventure, this is one of the best road trips in Scotland.
Itinerary: Kincardine to Newport-on-Tay
Distance: 77 miles/124km
Time: 3-5 days
Highlights: Elie, Crail, Pittenweem and St Andrews
16. Angus Coastal Route
Another short coastal option, this ride runs between Dundee and Aberdeen.
It starts just north of the most northern point of the Fife Coastal Route (which we just covered above). So if you want to combine those two smaller routes into one longer route, you can!
Even if you don't, you'll love the Angus Coastal Route. When they're looking for bigger settlements, most tourists visit Edinburgh, Glasgow or Inverness. But both Dundee and Aberdeen are beautiful, and not enough tourists visit them-or the towns and villages between them, such as Stonehaven and Montrose. It's an underrated part of Scotland, and it's a lovely route.
For the majority of this ride, you have mountains to the west and the sea to the east, so you get lots of brilliant views and vistas.
Itinerary: Dundee to Aberdeen
Distance: 68 miles/109km
Time: 2-4 days
Highlights: Dundee, Aberdeen, Arbroath Abbey, Stonehaven, and the Grampian Mountains
17. Borders Historic Route
When most people visit Scotland, they head to the Highlands, the coast, or the big cities, but Scotland's border region is brilliant. Nowhere near enough people explore the most southern stretches of Scotland.
On the Borders Historic Route, you start in Northumberland, in the very north of England, and make your way to Edinburgh via an inland route taking in some of southern Scotland's least-explored areas.
The coastal stretch between Edinburgh and Northumberland is great, but the inland stretch (which this route follows) is way less busy. So if you want remote, rural and southern, you'll absolutely love the Borders Historic Route.
Some highlights along the way include the small towns of Hawick, Selkirk and Galashiels. And Edinburgh is pretty good too.
Because I'm from Northumberland, I might be biased, but I think this route is incredible.
Itinerary: Scots Dyke to Edinburgh
Distance: 89 miles/143 km
Time: 3-4 days
Highlights: Hawick, Selkirk, the remote rolling hills, and Edinburgh
18. Clyde Valley Tourist Route
If you're in Glasgow and you're looking for a short and speedy road trip from the city, the Clyde Valley Tourist Route is a great choice.
A quick-one day adventure, the ride is perfect if you're traveling with kids. It's not Scotland's most rural or intrepid adventure, but it's a lovely drive south of Glasgow that takes you past loads of excellent day trip destinations.
The route runs (almost) parallel to the M74 motorway, so it's a good way to see secluded spots in a busy, built-up area.
Stop-off options along the way include ancient castles, forests, country parks, a bird of prey center, waterfalls, wildlife reserves, and much more.
Itinerary: Abington to Hamilton
Distance: 38 miles/61 km
Time: 1 day
Highlights: Lanark Loch, Falls of Clyde Wildlife Reserve and West Forth Forest
Before You Go
Thanks for reading my guide to the best road trips in Scotland!
If you want to know anything else about one of my favorite nations on the planet, we have plenty more stuff on our site. Check out our guides to the best road trips from Edinburgh, the best hikes in Scotland, the best cliffs in Scotland and the best coastal walks in Scotland.
And again, if you want to explore Scotland's best road trip, here's my full guide to the North Coast 500.
For more road trips in the UK head over to my selection of the best road trips in England, the best road trips in Wales, and the best drives in Northern Ireland.
Being a Digital Nomad: Tips, Tricks and Places
Do you want to be a digital nomad?
If you do, maybe you don't know where you might want to live. Or how to live there. Or whether you need a visa. Or how to make friends in the scary sprawl of a brand-new city. Or how to stay productive while you travel. Or how to find an apartment. Or whether this lifestyle really is for you. Or… I'm sure you get the idea.
But with some insight and experience, it's not as difficult as you think. So in this book, I've gathered my 6 years of digital-nomadding experience… and I've used it to answer all your questions, soothe all your fears, and get you on your way. After reading this, you'll realise being a digital nomad is much easier (and much more possible!) than you think.