10 Best Picnic Spots in and around Mesa AZ (by a local)
Close your eyes and imagine for a minute – the sun is shining brightly, the birds are chirping, maybe a friendly bee buzzing around, you're surrounded by your friends and family while enjoying a pot luck of BBQ and sides.
Relaxing, isn't it? There are few things better than a picnic full of friends, family, laughter and delicious food. Picnicking is definitively one the best things to do in Mesa.
In Mesa, Arizona, there are many picnic areas and parks that are unlike anything you'll find elsewhere. The desert landscape is inviting; for about 8 months of the year, the weather is downright splendid.
Even in the scorching summer months, you can have a gathering near a lake, pool, or river to stay cool. Mesa parks also have many splash pads for the kids, too!
Having lived in Mesa for a few years now, and growing up in nearby Gilbert, I certainly have my favorite spots for picnic areas in and around this area. Each park is unique and offers something for everyone.
Read on to find out about all the popular spots and the hidden gems for cookouts, BBQs, and picnics that Mesa has to offer!
1. Usery Mountain Regional Park
Located in northeast Mesa, Usery Mountain Regional Park has a plethora of trails for all ages and abilities.
At the largest parking lot (called the horse staging area), there are several ramadas with picnic tables underneath them. Nearby bathrooms, newly built in 2018, make this a convenient place for a day spent at Usery.
There are views of Pass Mountain, the Cat's Peak hills (so named due to their resemblance to cat ears), and far off in the distance to the east is the iconic silhouette of the Superstition Mountains (one of the most beautiful mountains in Arizona).
Each ramada has its own basic charcoal barbecue grills. There are no fire pits, but the grills are big enough to handle plenty of hamburgers and hot dogs for your whole party.
There are four trailheads from this parking lot, making Usery Mountain Regional Park the perfect destination for an evening hike, followed by dinner. Or try a sunrise stroll, with donuts and milk waiting for you under the ramadas when you finish.
The proximity to Mesa, while still being in the desert, makes this picnic spot a convenient pick for any group outing.
Address: 3939 N Usery Pass Rd, Mesa, AZ 85207
Hours: 6 am to 8 pm (entrance gate for parking pass)
Parking/Entrance Fee: $7 per vehicle, day pass
Restrooms: Yes
2. Granite Reef Recreation Area
Located on the Salt River near the Granite Reef dam, this is the favorite place for kayakers and paddle boarders who want a gentle part of the river to test out their paddling skills.
There are 12 picnic tables scattered throughout the park area. Not all of them are in shade, but there are plenty of mesquite and palo verde trees that do provide some cover from the Arizona sun.
Parking fills up quickly, so start your adventure early if you can!
This unique area gives unmatched views of the locally famous Red Mountain, so named for its reddish hue that glows at sunset.
The river itself is at its calmest here, almost lake-like due to the nearby dam. You might even be lucky enough to see the wild horses foraging for river grass on the banks. Watch for the great herons, fish, and even the rare river otter.
Granite Reef Recreation Area is a fantastic option for summer picnics; start your day working up an appetite on the water, and finish with lunch and cold drinks.
Address: N Bush Highway, Mesa AZ 85215
Hours: Sunrise to Sunset
Parking/Entrance Fee: Daily Pass $8
Restrooms: Yes
3. Desert Arroyo Park
Another favorite spot in northeast Mesa, Desert Arroyo Park was created especially with children in mind. With five covered ramadas with several picnic tables each, there is plenty of shade, even for summer outings.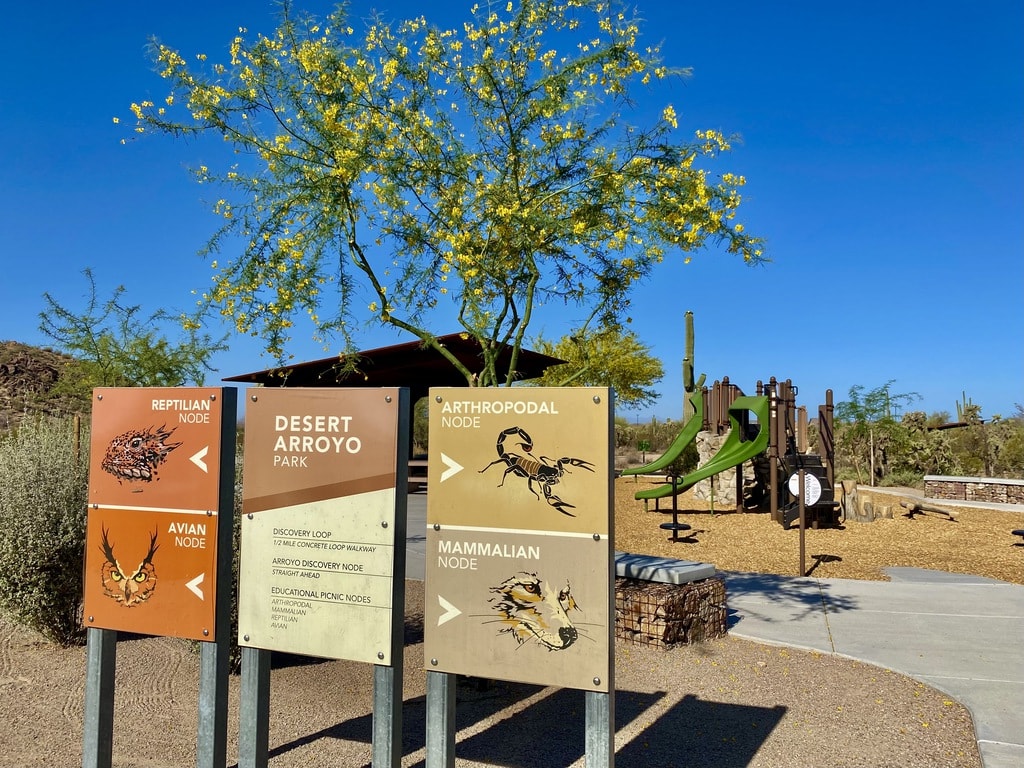 Located on 58 acres of pristine lower desert landscape, this park also features three short trails: two dirt trails with educational plant and wildlife signs as well as hiking and biking access, and one paved wheelchair accessible trail that connects all the ramadas.
The outdoor classroom area is even WiFi connected, specifically to further assist your children in learning more about Arizona's history, landscape, and wildlife.
The ramadas are close to the playground, making it easy for parents to socialize while also supervising the kids. Children will especially love the crawl tubes that simulate mammal dens, wind chimes to mimic bird songs, and the sand pit with hidden rocks that have reptile images on them.
Desert Arroyo Park is part educational experience, part picnic area with plenty of activities for all ages.
Address: 9320 E McKellips Rd, Mesa, AZ 85207
Hours: Sunrise to Sunset
Parking/Entrance Fee: None
Restrooms: Yes
4. Riparian Preserve at Water Ranch
In the neighboring town of Gilbert, next to the Southeast Regional Library, lies the Riparian Preserve. Featuring 7 large ponds, 110 acres of desert and marshland, and 4.5 miles of trails weaving throughout, this park is a wildlife oasis in the middle of the city.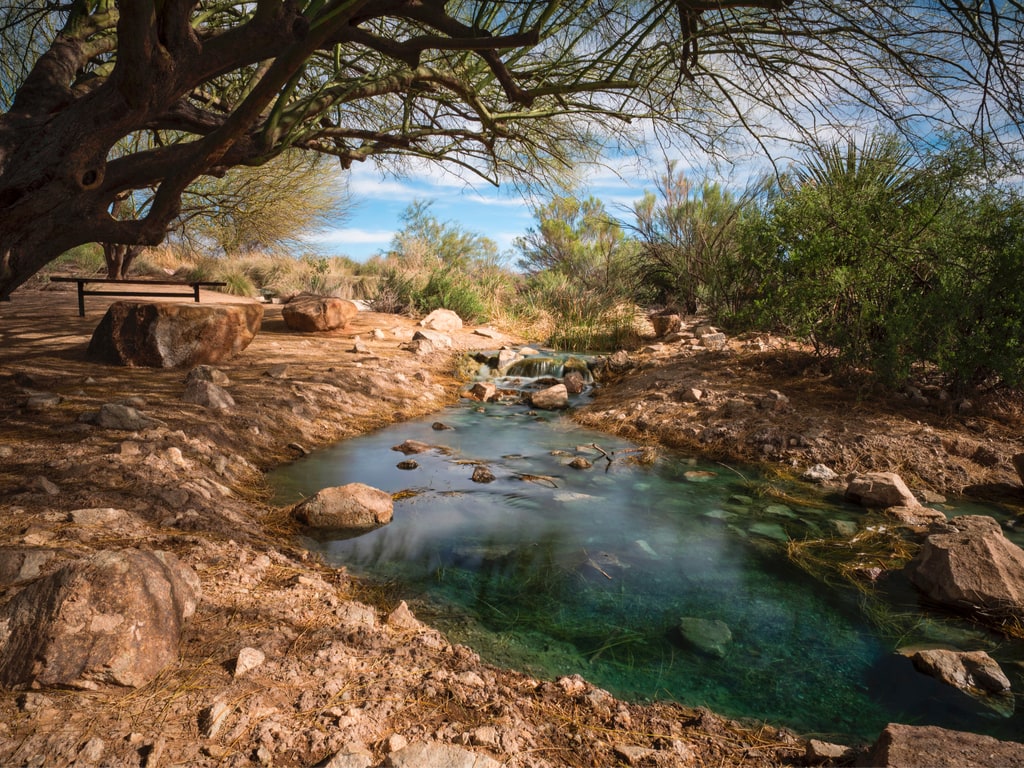 Near the library, there are ramadas with picnic tables and bathrooms nearby, making the Riparian Preserve an ideal family picnic destination. The proximity to neighborhoods in Gilbert and Mesa make this a first choice for many families in the area to spend a few hours walking on the trails, fishing in the ponds, and taking in the local wildlife.
Almost 300 different species of birds have been seen in this park, making this another favorite area for local birdwatchers as well. Adorable cotton-tail rabbits are plentiful, as well as more elusive coyotes, especially in the evening hours.
The Riparian Preserve is a unique area for a picnic due to its peaceful trails in the middle of the city. The early mornings are calm and quiet, and during the winter months you can see and hear the visiting Canadian geese in several of the ponds.
If you are looking for an accessible picnic spot within close driving distance, with plenty of birds, wildlife and desert fauna to enjoy, the Riparian Preserve is an excellent choice!
Address: 2757 E Guadalupe Rd, Gilbert, AZ 85234
Hours: Sunrise to Sunset
Parking/Entrance Fee: None
Restrooms: Yes
5. Riverview Park
One of the premiere parks in the Mesa area, Riverview Park boasts a fishing lake, a children's splash pad, multiple playground areas, two 50+ foot climbing and rope towers, wheelchair accessible trails, and several reservable ramadas with picnic tables.
The playgrounds and climbing towers make this park fun for kids of every age, and therefore perfect for large family picnics and gatherings.
This park is in close proximity to the Chicago Cubs spring training facility and playing field, as well as the brand new Rio Salado pathway that connects to several other parks in the area.
There is also plenty of open grass space at Riverview Park, leaving ample room to spread out a picnic blanket on pleasant Arizona winter days. Many of the playground areas are also shaded to protect your kids from the sun's rays.
The size and diversity of activities make Riverview Park a superb choice for a picnic gathering of any kind.
Address: 2100 W Rio Salado Pkwy, Mesa, AZ 85201
Hours: Sunrise to Sunset
Parking/Entrance Fee: None
Restrooms: Yes
6. Pebble Beach Recreation Area
Located on the Salt River under the Bush Highway bridge, this is one of the few "beach" areas near Mesa. It is very popular during the summer months, and is the most crowded area during the weekend on the Salt River.
Don't let that stop you from enjoying Pebble Beach! Weekends are busy, but weekdays can be more calm, especially if you get there early. There is plenty of parking on either side of the bridge; make sure you pick up the required parking permit, which you can buy at stores near the river or at the parking area itself.
The river in this area of the bridge isn't too deep, perfect for swimming and wading. There is also fishing here too, just be aware of other picnickers around you! Unfortunately, dogs are not allowed in this area of the river.
There are several covered ramadas near the parking lot, with picnic tables underneath as well as bathrooms nearby. There's not much shade on the banks of the river except for right next to the bridge; most people will bring their own beach umbrellas to provide cover from the harsh sun.
With the cool water in the river, the shaded ramadas, and the "Arizona beach", Pebble Beach Recreation Area is the perfect summer option for a picnic with friends and family.
Address: Bush Highway, 2 miles east of the Usery Pass Rd/Bush Highway intersection
Hours: Sunrise to Sunset
Parking/Entrance Fees: $8 Day Pass
Restrooms: Yes
7. Fountain Park
Just a short drive north of Mesa, Fountain Park is named after the world famous fountain, a 330-foot tall water feature that can be seen from other parts of the valley. It runs for 15 minutes at the top of every hour from 9 am to 9 pm daily. However, on particularly windy days, the fountain will automatically shut off, so keep that in mind if you're headed to Fountain Park for the day.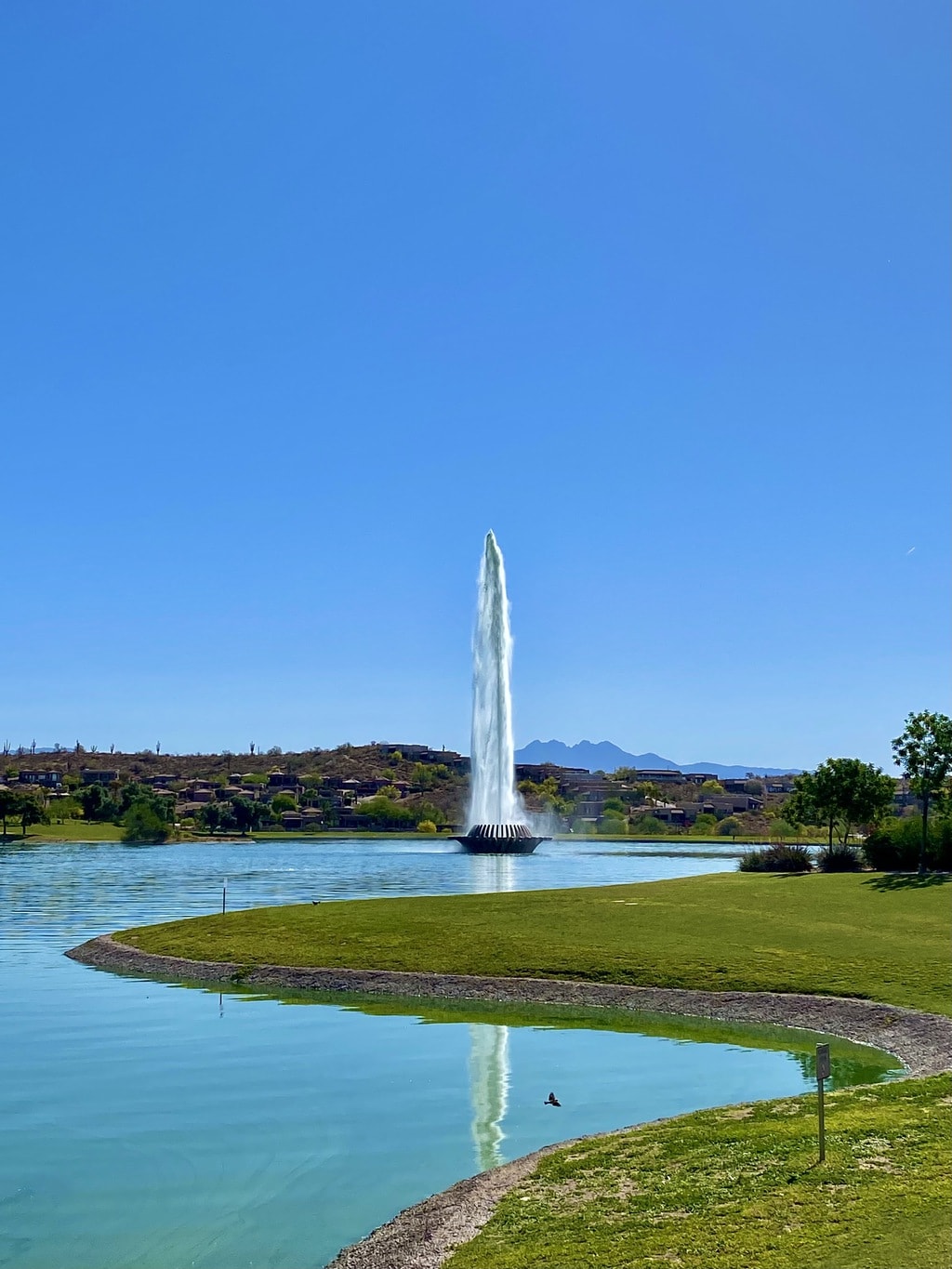 This park is a unique and picturesque place for a picnic, especially around holidays, as the city of Fountain Hills will dye the water different colors (for example, the fountain is green on St Patrick's Day). Fountain Park also features splash pads, a disc golf course, walking track, and playgrounds.
This is a fairly popular picnic site on the weekends, but with 35 acres of turf, there's plenty of room for everybody. The park's location is slightly elevated above the rest of the valley, providing beautiful views of the city lights at night. The fountain is also lit up at night, providing a romantic atmosphere.
The picnic ramadas have tables and simple charcoal barbecues, perfect for that Memorial Day outing or evening potlucks. There are activities for all age levels, making Fountain Park a fantastic option for a pleasant picnicking experience.
Address: 12925 N Saguaro Blvd, Fountain Hills, AZ 85268
Hours: 6 am- 11pm
Parking/Entrance Fee: None
Restrooms: Yes
8. Butcher Jones Recreation Site
Another water-adjacent picnic location, Butcher Jones is located at Saguaro Lake. This is a very popular recreational site due to the pleasant water temperature in the summer, perfect for those scorching Arizona days.
Huge mesquite trees provide ample shade, and there are a few picnic tables as well. In the evenings, the sun dips below the ridgeline to the west of the beach, providing shade as soon as 4 pm on summer afternoons.
Just like any of the other water recreational sites, Butcher Jones can get quite busy on the weekends. Weekday mornings are known to be more quiet and less crowded. Parking passes are required, they can be bought at gas stations near Bush Highway or on site.
The water at Butcher Jones starts out shallow and gets deeper gradually, providing a safe place for smaller kids and for those who don't wish to go into deeper waters. As always, watch your children closely and for best safety practices, have them wear a life vest or floaties.
Butcher Jones is one of the few places in Arizona that you can feel like you're at the beach, just without the road trip.
Address: E Butcher Jones Beach Rd, Fort McDowell, AZ 85264
Hours: 7 am-7pm
Parking/Entrance Fee: $8 Day Pass
Restrooms: Yes
9. Sky Harbor Parking Garage
This picnic spot is not your usual park or recreational area, but for those who enjoy aviation, it can be quite the enjoyable spot to eat dinner and watch the planes land and take off. For adults and kids alike, sitting in the back of a pickup truck and watching the planes fly by at close range can make for a memorable evening.
The terminal 4 garage will give you the best views of the airport, in fact it will feel like you're in the middle of the action! Parking is $4 an hour so this is an affordable option for everybody. Enjoy the sunset and watch the planes at the busiest airport in the southwest.
Address: Terminal 4 Parking Garage, 3400 E Sky Harbor Blvd, Phoenix, AZ 85034
Hours: All Day
Parking/Entrance Fee: $4/Hour
Restrooms: No
10. Gilbert Regional Park
This brand new addition to Gilbert's park system is quickly becoming one of the most popular parks in the city. Gilbert Regional Park has two basketball courts, 16 pickleball courts, 6 sand volleyball courts, and 6 tennis courts; plenty of options for friendly tournaments and pick up games.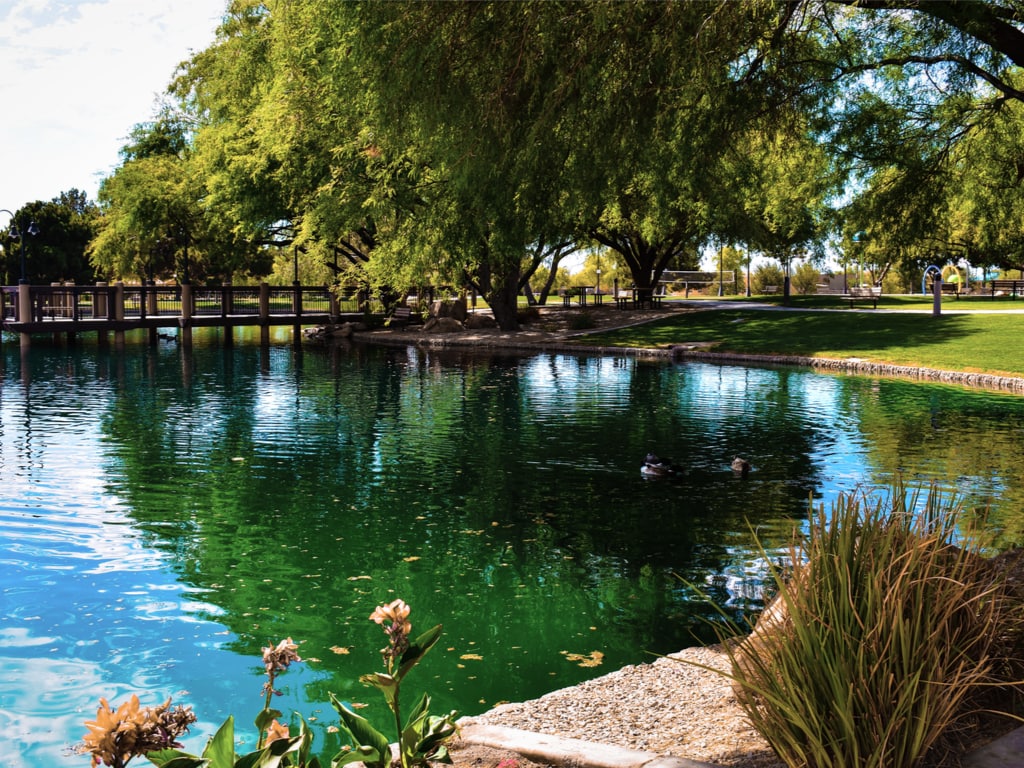 A huge group ramada has electricity, grills, and even fans (perfect for a hot summer evening) and it can hold up to 160 people. There's also an amphitheater and expansive event lawn that can hold up to 5,000 people, flanked on one end by a food truck court.
This park is especially enticing for the kids, with a giant splash pad, a 17-foot-tall playground area that has slides and even a zip line, and a smaller playground just for the toddlers. With the multiple sports courts and all of the playground amenities, this truly is the perfect picnic space for all ages.
Address: 3005 E Queen Creek Rd
Hours: Sunrise to Sunset
Parking/Entrance Fee: None
Restrooms: Yes
Top Expert Tips
Arizona summers can get scorching hot, with temperatures as high as 120 degrees F for a few days out of the year. Always bring plenty of water, and seek out shaded areas.
When possible, avoid going out between 11 am-3pm (unless you're in the water!), as this time of day can get dangerous to be out in the sun.
The fall, winter, and spring months are prime picnic times, with the popular parks becoming fairly crowded during these seasons. Stick with weekday mornings to avoid the crowds.
Research before you go! You'll want to be prepared with swimsuits for the kids if there's splash pads, or cold drinks in a cooler if there's no drinking fountains available.
Arizona sunsets are legendary – the best time for a picnic is about an hour before the sun goes down.
April and May have the most pollen, something to keep in mind for those with severe allergies. Bees are also most active during these months, especially in the desert parks.
Snakes are most active during the day in March through May, then mostly at night during the hottest summer months. Keep your pets on a leash when walking in Usery Park and other desert areas to avoid getting bit!
Enjoy the beautiful parks in Mesa and the surrounding areas by keeping them clean and always packing out what you bring in. The Salt River recreational areas can get especially "trashed" during the busier months, so do your part by packing out an extra garbage bag of trash if you can!
Conclusion
Mesa, Arizona and its surrounding areas contain many unique and beautiful parks that are ideal for any kind of picnicking excursion. For 8 months out of the year you can enjoy being outside in Arizona's famously sunny weather, and for other hotter months, there are plenty of water-adjacent options to stay safe and cool.
Arizona, and especially the Phoenix Valley, are one of the fastest growing areas in the entire country, partly due to the abundance of family-friendly activities. A picnic is a simple way to spend time with friends and family, and Mesa has all you need to make it a memorable one.
Explore Arizona
Still wanting to learn more? Dive in our Arizona Travel Guides and discover the best places to visit, interesting things to do, budgeting tips, comfortable accommodation, and everything you need to plan your perfect trip in the state.