Best Zoos and Wildlife Parks in Arizona
Arizona has one of the most diverse ecological systems in the entire United States. From alpine forests to arid deserts landscapes and everything in between, there are so many different terrains and varied species of wildlife that make their homes here.
Scattered throughout Arizona are several wildlife parks, refuges, and zoos that allow visitors to see Arizona's wildlife up close and personal, and they also showcase and preserve animals from all over the world as well. Some of these creatures are only found in Arizona, and viewing them up close is always a treat!
If you are wanting to visit one of Arizona's zoos or wildlife parks and refuges, read on to figure out which ones should be first on your bucket list.
1. Phoenix Zoo
Started with the largest and most diverse of them all, the Phoenix Zoo is located conveniently in the southeast corner of Phoenix, close to Tempe and Scottsdale. This zoo offers unique opportunities to view animals from all around the world.
A large portion of the Phoenix Zoo is devoted to showcasing Arizona's native wildlife. Animals as large as mountain lions and bighorn sheep to creatures as small and secretive as scorpions and tiny mice all have exhibits in Arizona's biggest zoo. There's even Stingray Bay, allowing you to touch and become friendly with the stingrays.
One of the more popular sights in the zoo are the huge elephants, rhinos, and giraffes that all have their natural habitats in Africa. One of the greatest aspects of the Phoenix Zoo is it allows visitors to have up close encounters with animals that they would never otherwise see in person. It's hard to appreciate the vast size of these huge animals from just a picture!
With over 3,000 animals, it is easy to spend an entire day here taking in all the sights and exhibits. Members get a special perk of going into the park an hour earlier than everyone else, giving you a greater chance of seeing the animals when they are most active!
Address: 455 North Galvin Parkway, Phoenix, AZ 85008
Entrance Fee: $20 per child, $30 per adult, annual memberships available
2. Bearizona
By far my favorite wildlife park in Arizona, Bearizona is located among the pines of Williams, about 30 minutes west of Flagstaff. There are two sections of the park; a drive-through portion, and a walk-through area.
Have you ever wanted to see bears, wolves, bison, and deer at extremely close range but in a safe environment? The drive-through section at Bearizona allows you to do just that! You drive your car slowly through the different, separate enclosures, and these animals are free roaming in these large fenced-in areas. They can walk right up to your car, but remember to keep your windows closed!
The more classic zoo experience is in the walk-through portion of Bearizona, which is always growing and they are constantly adding new rescued wildlife. Just last year, they added three grizzly cub siblings who were found orphaned from a forest fire. Other animals include jaguars, foxes, javelina, and other native Arizonan species.
Bearizona is very kid friendly and wheelchair accessible, making it a perfect zoo for families. The higher elevation and cooler weather make this zoo especially popular in the summer. Come first thing in the morning when the animals are most active for a more exciting experience.
Address: 1500 E Rte 66, Williams, AZ 86046
Entrance Fee: $20 per child, $30 per adult
3. Out of Africa Wildlife Park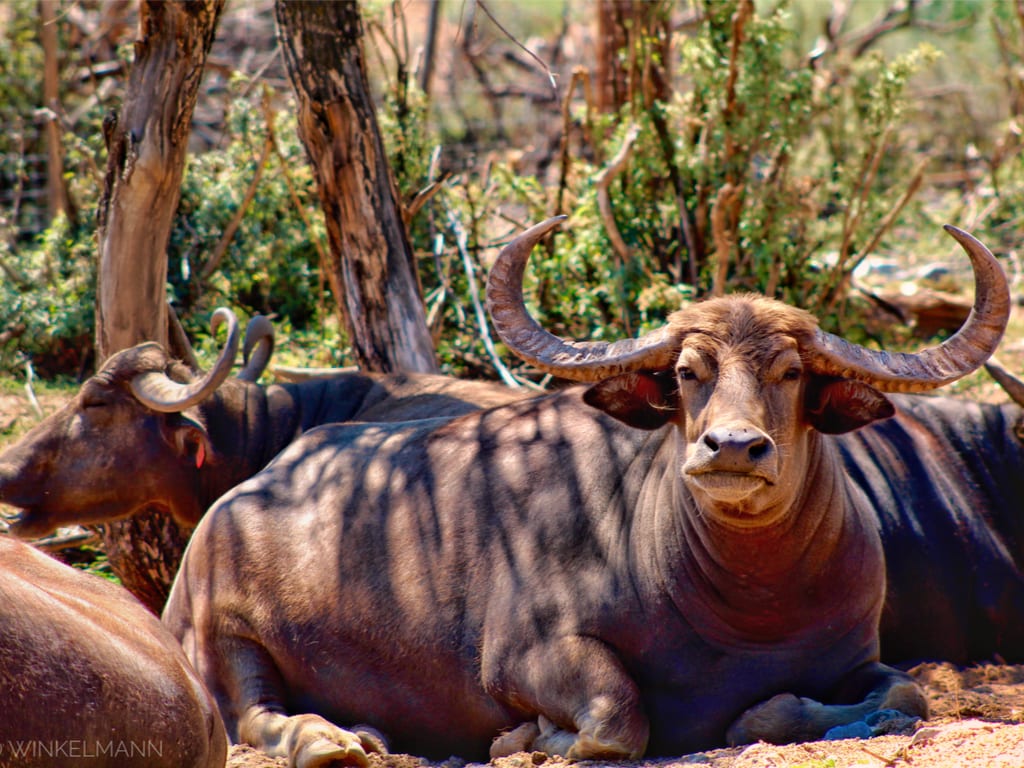 The name tells you a lot about this park; the majority of the animals located here are found in Africa. In fact, Out of Africa even has two species that are considered extinct in the wild – the white Bengal Tiger and the Barbary Lion. Seeing these two majestic animals in person makes the visit to this park more than worth it.
Jump on the African Bush Safari tour, where you can get the opportunity to pet a giraffe and see other hoofed African animals up close, a truly once in a lifetime experience. There is also the Tiger Splash show, the daily creature feature (where you get to hold and interact with different small animals) and a giant snake show for those brave enough to touch a giant anaconda or python.
Out of Africa Wildlife Park stands out from the rest of the parks and zoos on this list due to the many opportunities for visitors to have up close and personal encounters with the animals. The tigers have close relationships with their handlers, and the other rescued animals live very comfortably and are well taken care of. This is definitely a must-stop for any family that wants a different kind of zoo experience.
Address: 3505 W SR-260, Camp Verde, AZ 86322
Entrance Fee: $24 per child, $39 per adult
4. Wildlife World Zoo, Aquarium and Safari Park
This attraction in Litchfield Park, Arizona combines a zoo, aquarium, and safari park all into one. There are even a couple roller coasters and amusement park rides in the Adventureland section of the park!
The aquarium is held within 4 large buildings, and even has a long clear tunnel that takes you through one of the huge tanks, giving you an up close look at some of the sea creatures who live here. The aquarium is home to three sea lions, including the first baby sea lion born in the state of Arizona. They are a close-knit group and visitors can watch them during feeding times and perform tricks during daily shows.
The zoo section of Wildlife World Zoo has a special exhibit for viewing the baby animals, a space for visitors to walk among the kangaroos, and an enclosure for the rare white rhinoceros. Wildlife World Zoo also has the distinction of being a park with ALL the species of big cats from around the world!
There are several dozen African animals in the Safari Park section of this zoo, and it has been recently expanded to allow even more room for all of the animals to roam and thrive. At 30 acres total, the Safari Park is a large and fascinating place to see and learn about many of Africa's species.
With the variety of activities found at Wildlife World Zoo, and the diversity of the animals and creatures, there is something here for everyone to enjoy!
Address: 16501 W Northern Avenue, Litchfield Park, AZ 85340
Entrance Fee: $23 per child, $42 per adult
5. Desert Breeze Hummingbird Habitat
This beautiful natural habitat is part of Desert Breeze Park in Chandler, Arizona. This park is truly special as the hummingbirds here are completely wild and free, and come and go as they please. There are more than 50 species of desert plants here that hummingbirds love.
This is a great stop for those who are interested in bird watching. Not only will you see dozens of hummingbirds on a good day, you'll also see different species of dove, sparrows, cardinals, and other native birds.
The playground and park nearby are also perfect for families to enjoy. The hummingbirds are most active on cooler spring days, when most of the plants are in bloom. There are benches and even some beautiful metal artwork scattered throughout the park.
The Desert Breeze Hummingbird Habitat is a small wildlife refuge that is perfect for bird watching enthusiasts, and is a great place to spend a peaceful morning.
Address: 4700 W Desert Street, Chandler, AZ 85226
Entrance Fee: None
6. Heritage Park Zoological Sanctuary
Located among the pines near Prescott, Arizona, this sanctuary is home to rescued animals and is also a holding facility for endangered Mexican gray wolves before they are released into the wild.
The majority of the animals at Heritage Park cannot be released back into the wild due to injury or their age when they came into captivity, but all the animals are well cared for and act as ambassadors for their species. The main goal of this park is "Conservation through Education", and they truly do focus on educating their visitors on the plight of many endangered species.
For being only 10 acres, this small sanctuary boasts an impressive array of animals, from large mammals like black bears and cougars to smaller creatures like tarantulas and over a dozen different bird species.
There are holiday-themed events throughout the year (such as zoo lights in the winter and easter egg hunts) as well as moonlight tours during the full moon. If you're a teacher, you can even contact the sanctuary and they will bring some of the animals to your classroom and educate the children on different species.
This small but robust park is doing great work by rescuing endangered, abandoned, and injured animals and giving them a safe space to live and be educational ambassadors. Help support their work by donating and visiting their park!
Address: 1403 Heritage Park Road, Prescott, AZ 86301
Entrance Fee: $6 per child, $12 per adult
7. Keepers of the Wild Nature Park
This small non-profit organization in the small town of Valentine, Arizona (about a half hour outside Kingman) is home to over 130 animals, and all have been rescued or donated to the park by other rescues. The animals here will stay here for the rest of their lives as ambassadors for their species.
The owner of Keepers of the Wild has been rescuing creatures big and small for over 25 years; after a stint as a performer in Las Vegas, Jonathan Kraft saw how poorly the animals in show business were treated, and decided to quit the industry and devote his life to rescuing big cats, bears, wolves, and several other species.
One of the best features of the park is the daily guided feeding tour, where a keeper will drive you around on the large tram to experience the prowess and strength of the big cats and other animals in the park during feeding time. It's a great opportunity to see the animals when they are most active.
There is also a guided safari tour on the tram that will take you through the entire park (making this family friendly and handicap accessible) while a keeper shares fun facts about all of their rescues. This is well worth the extra fee!
As one of the top rated rescue operations in the country, Keepers of the Wild Nature Park is an excellent way to enjoy seeing animals up close without the crowds of larger parks. Plus, your entrance fees go directly to the care of the animals!
Address: 13441 E Highway 66, Valentine, AZ 86437
Entrance Fee: $12 per child, $20 per adult
8. R Lazy J Ranch
Located in the higher elevations near Eagar, Arizona, this small ranch and wildlife park contains about 50 animals of varying sizes and species, from all over the world. They are primarily concerned with the preservation of species that are near-extinction, and have successfully bred wildebeest, addax antelope, aoudad sheep, and other large mammals and birds.
Contact the ranch to reserve your "safari" tour to enjoy all the animals in small touring groups. There are even nighttime tours, to enjoy the nocturnal animals and hear the sounds of the night. Enjoy another tour at sunset, when some of the animals become more active.
The petting zoo is especially unique- you won't just find the typical sheep and goats, but you'll also find pigs, giant tortoises, and even capybara (one of the largest rodents in the world!). For extra fees, you can even hold a lemur, a sloth, or feed the parakeets- definitely a bucket list item for many people.
Although R Lazy J Ranch is over 4 hours from Phoenix, it is well worth a weekend trip to enjoy the animals here and have up close and personal experiences with creatures from all over the world.
Address: 649 East Central Avenue, Eagar, AZ 85295
Entrance Fee: $15 per child, $25 per adult, additional fees apply for other activities
9. Southwest Wildlife Conservation Center
Located conveniently in Scottsdale, the main goal of this sanctuary and rescue facility is to return injured animals back into the wild once they are rehabilitated. For those that cannot be returned due to continued injury or other issues, they will have a permanent home at Southwest Wildlife Conservation Center.
All of the animals here are locally native to Arizona. There is no breeding or selling of these animals, they are simply given a safe space to live if they cannot return to their natural habitat. They even have a separate holding facility to help with the recovery of Mexican grey wolves in the wild.
This isn't your average zoo environment, and they only give guided tours by appointment only. However, it is well worth making a reservation in order to see wild animals who are being helped along to a hopefully full recovery.
Among the animals that have a permanent home here are an entire wolf pack, five black bears, a group of javelina, several coyotes, and three mountain lions. All of the animals that live at Southwest Wildlife Conservation Center have names and are lovingly cared for by the staff, and it shows! Make your reservation to see some of Arizona's native animals up close.
Address: 27026 N. 156th Street, Scottsdale, AZ 85262
Entrance Fee: $15 per child, $25 per adult for guided tours
10. Riparian Preserve at Water Ranch
The last park on our list is a preserve set aside in the middle of the city. It consists of 110 acres of ponds, vegetation, trees, and trails that are haven for local and migrating birds. Walk among the trails in the early mornings and you might be lucky to see coyotes and rabbits as well.
The seven large ponds act as retention basins for the Town of Gilbert's water supply, while also doubling as habitats for many different bird species. In the winter, Canadian Geese sing their songs in the misty morning air, and in the spring you'll be lucky to see baby ducks swimming behind their mothers.
Over 4.5 miles of dirt trails wind through the park and around the ponds, and there is even a fishing pond in the park as well. This is a bird watcher's paradise, as nearly 300 different species of birds have been spotted here.
The Riparian Preserve is a great place to see local and migrating birds in a pristine habitat right in the middle of the city.
Address: 2757 E Guadalupe Road, Gilbert, AZ 85234
Entrance Fee: None
Conclusion
Visitors to Arizona usually take in the national parks, hikes, botanical gardens or other points of interest, but shouldn't overlook the zoos and wildlife parks that are scattered across the state.
From the largest zoo in the state in Phoenix to the quaint hummingbird habitat in Chandler, there is a place for everyone to enjoy looking at and even interacting with animals.
You wouldn't expect to see such exotic species from all over the world in Arizona, but our zoos and wildlife parks are full of animals that you couldn't otherwise see without spending exorbitant amounts on a plane ticket.
Visit any one of these parks for a wildlife experience to remember!
Explore Arizona
Still wanting to learn more? Dive in our Arizona Travel Guides and discover the best places to visit, interesting things to do, budgeting tips, comfortable accommodation, and everything you need to plan your perfect trip in the state.