Top 23 Things to do in Vietnam
Here's you. You're planning a trip to Vietnam. Your notebook is primed, you've got your pen in your hand and you've got 8 million tabs open on your laptop. Your hand is poised over your notebook, ready to furiously scribble down every last Vietnamese top tip you read.
Here's my tip: close the rest of your tabs and focus on this one instead. We've brought you the ultimate compendium of things to do in Vietnam. Whatever you're into, whatever you're looking for, we've got it here. And it's all good stuff.
I used to live in Vietnam, so I wouldn't call myself an expert, but you can if you like.
I've covered cities, outdoor adventures, culinary experiences, weird stuff, cultural quirks and loads more.
In no particular order, here are the top 23 things to do in Vietnam:
1. Chew and Chomp…
Gobble gobble gobble. Yum yum yum.
That's you every five minutes in Vietnam.
The nation is the proud owner of one of the most criminally underrated food scenes on the planet.
You get sandwiches. Soups. Fried pastry things. Mashed up savory cakes made of worms. Some of the world's freshest and tastiest herbs. Crepes. The iconic pho. The less iconic but even more delicious bun cha. Incredibly fresh fruits. Spring rolls.
Vietnamese cuisine is varied, nuanced, fresh and (mainly) healthy. Packed with greens, broths and little oil, Vietnamese isn't the indulgent greasefest you find in other parts of Southeast Asia.
And the best bit is how cheap it all is. You can get meals for $1. You can get snacks for less than half of that.
Get your lips around the best food by eating where the locals eat. If you see big crowds of Vietnamese people eating there, you should also eat there. And the best places are always where you sit at plastic tables and plastic chairs on the street.
Forget expensive restaurants, forget places with big English menus and forget places which look 'nice'. You won't find the best food at those places.
And, no, you won't get food poisoning.
Food is at the heart of the Vietnamese way of life. Around the clock, you'll spot Vietnamese people munching on meals and morsels. You'll see it at midnight. At 5am. You'll see so many people gobbling and gulping that you'll think you've accidentally stumbled across an eating competition.
In a country where food is at the epicenter of existence, you'd be stupid not to spend loads of your time furiously cramming stuff down your throat.
2. … and Slurp and Sip
Gulp gulp gulp.
That's also you in Vietnam.
Sorry everyone, but Vietnamese coffee is the world's best coffee.
It's also some of the world's cheapest coffee, so you can sit and watch Vietnam pass you by on even the barest of budgets. Even in cities, you can get a good coffee for around $0.30. Perched on a plastic chair, drinking a Vietnamese coffee in a bustling city is one of the best ways to get acquainted with the nation.
Vietnamese coffee has a nutty, caramel, thick flavor which is massively unique. Pretty much always made with Robusta beans, Vietnamese coffee is very strong, packed with superhuman amounts of caffeine. And superhuman amounts of taste.
And the variety of coffee on offer is immense. There's your normal black coffee. There's the traditional Vietnamese coffee with condensed milk. There's egg coffee, a weird dessert-like coffee which looks and tastes more like custard. There's coconut coffee, which is made with coconut cream. Then in the more westernised joints, you've got your normal lattes, cappuccinos and americanos.
Then there's the iconic and infamous weasel coffee, which some people reckon is the best coffee in the world.
Here's how weasel coffee works: local civets are fed coffee cherries. Many hours later, the civets then turd them out. The partially-digested coffee cherries are collected, and coffee is made from them. No, I'm not joking. It's weird, but it tastes amazing, with a non-bitter balanced profile which massively helps to bring out the varied flavors.
If you're particularly passionate about coffee, visit Buon Ma Thuot, a city just west of Da Lat. The regional capital of the central highlands, it's the heart of Vietnam's coffee culture. Here, you can visit plantations, factories and the World Coffee Museum. There's even a biannual coffee festival in March.
3. Meet Tribes Not Called Quest
Vietnam has a huge tribal heritage, with 54 different ethnic groups still living in the nation today.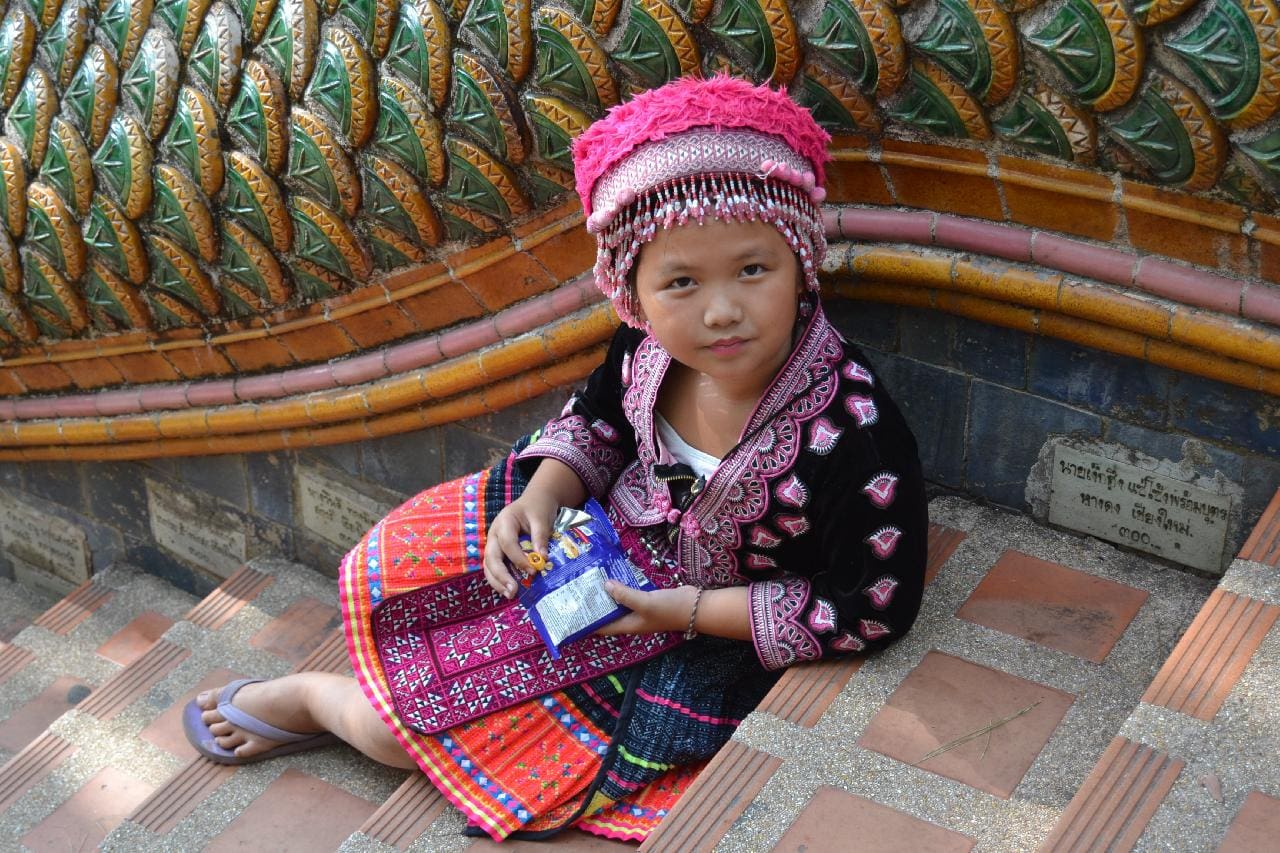 Some of the most well-known tribes include:
Hmong: probably the most famous tribe in Vietnam, there are around 1 million Hmong people living in Vietnam, most of them close to the Chinese border. Originally from China, these people wear colorful clothes and distinctive headpieces. The Flower Hmong people are a subsection of the Hmong people.
Tay: the earliest-known tribe in Vietnam, the Tay people are the 2nd-biggest ethnic group in the country, and they've been hanging around in Vietnam since before Jesus was born. They wear black clothes, live in tight-knit groups, often reside in stilted houses and are most easy to find in Cao Bang.
Red Dao: again, these people live in the mountainous areas of the north of Vietnam. Traditionally, Red Dao people wear a red turban-style headdress, and often shave the sides of their heads. Red Dao women often shave their eyebrows.
Jarai: a tribe from the southern central highlands of Vietnam, the Jarai people often wear striped vests, they lay their villages out in squares and their houses are made of wood or bamboo. Most Jarai people are animists.
The Ede tribes and Cham tribes are very matriarchal. In the Cham tribe, for example, women are not expected to perform labor-intensive work, and families of females find an appropriate male suitor for their daughters. When a Cham man dies, he's buried in the cemetery of his wife's family.
Each tribe (as you've probably noticed) has different customs, different dress and different history. But they're typically always very friendly, warm and welcoming.
If you want to meet some of Vietnam's tribal people, just go solo to whatever region you want to visit. You don't need to book some sort of organized tour, unless you're hugely interested in learning about history and culture in great depth.
4. Scoot and Toot
Riding a scooter in Vietnam is one of the nation's best adventures.
Around 80% of the nation's journeys are made on the back of a scooter, and there are around 60 million scooters in the country.
If you've never before been to Southeast Asia, you'll be massively surprised by how many scooters Vietnam has. And even if you have been to Southeast Asia, Vietnam still seems to have loads of them.
The most famous scooter trip is the jaunt from Hanoi to Ho Chi Minh City (or vice versa), which takes riders between Vietnam's two biggest cities. The popular coastal route is around 1,700km (1056 miles) and most people who tackle it do so in anything from 1 week to 3. But it's best to do it as slowly as possible, so you can enjoy all the sights and cities along the way.
This route takes riders over the Hai Van Pass, the most famous stretch of road in the whole of Vietnam. Nestled between Da Nang and Hue, it's routinely voted as one of the best stretches of coastal road in the world. 21km of bends, cliffside drops and unbelievably-tight switchbacks, you get views of mountains, shores and the South China Sea.
Even riding within cities is fun in Vietnam. You'll get stuck in gridlocks. You'll notice that the laws are considered advice rather than legally-binding. You'll laugh as tourists try to cross the street. You'll have your eardrums ripped to pieces by all of the honking and revving. But in spite of it all (or maybe because of it all), it's an exciting adventure.
If you're looking for a shorter multi-day scooter trip in Vietnam, try the Ha Giang Loop, a (typically) 4-day trip around the most northern section of the country, and very close to the Chinese border.
This 350km trip begins and ends in (unsurprisingly) the city of Ha Giang. The road takes you through, beyond and around mountains, limestone karts, tiny ethnic villages, valleys, waterfalls and more.
Confused about the karst thing? Don't be…
5. Crawl Around Some Caves and Karsts
Vietnam is packed with caves and karsts.
If you don't know what a karst is, I want you to close your eyes, take a deep breath and imagine Halong Bay.
You know those big stacks of rock? They're karsts.
If it's big and it's made of limestone, it's usually a karst.
Karsts can be towers, as they are in Halong Bay, but they can also be in the form of caves. And here's a cool little fact for you – Vietnam is home to the biggest cave in the world, Hang Son Doong, which sits in Phong Nha Ke Bang National Park.
If you want to explore some caves while you're in the country, Phong Nha Ke Bang National Park is by far the best area. The place is rapidly emerging as one of the must-visit caving destinations on the planet. With hundreds of cave systems and the oldest karts mountains in Asia, there's plenty of adventure here, both subterranean and above ground.
The most accessible cave journeys in Vietnam are found near Ninh Binh, where small hatted ladies use their legs to expertly steer you through narrow and low-lying cave formations. On these boat trips, you ride through tiny caves, beyond jungles and around wooden homes.
And as I nearly said earlier, don't miss Halong Bay. Boat tours here are one of the most popular attractions in the whole of Vietnam. Yeah, the area is massively oversaturated with endless packs of tourists, but it's still incredible.
6. Explore Hanoi's Streets and Sidewalks
Hanoi's Old Quarter is one of the most charming places in the whole of Southeast Asia. A cobbled-together selection of sidestreets, alleyways, street food stalls and endless scooters, Hanoi is like someone took a village then inflated it to city-sized proportions.
You'll see smiling faces, one million coffees, ten million beers and fifty million bowls of pho. An enticing maze of sights, smells and tastes, it's rapidly modernising while remaining vehemently defensive and proud of its traditional core.
Because of that, the city's sprawl is an incredible mix of colonial homes, ancient temples, towering skyscrapers and humble storefronts.
You'll immediately feel at home in Hanoi. Everyone else does too.
I felt so at home in Hanoi that I moved there.
7. Step Back in Time
Vietnam has a very recent war history, and it has to be explored to be understood.
And I know that's a cliche, but it's true.
Your first stop should be the War Remnants Museum in Ho Chi Minh City. One of the most disturbing and distressing museums on the planet, the exhibitions are mainly made up of large detailed photographs taken during the war.
With images of punishment, torture and suffering, it's not a pleasant experience, but it's key to understanding Vietnam's people and history.
For more information on the Vietnam war, check out the Cu Chi Tunnels near Ho Chi Minh City. These tiny tunnels were a huge part of the Viet Cong's war victory, as fighters would live, plan and attack from below. Some of the tunnels are up to 12 meters deep, and fighters could survive in them for mere minutes before dying of suffocation.
If you're particularly interested in learning more about the Vietnam War, you can visit the so-called Demilitarized Zone (or DMZ). A narrow strip which once separated north Vietnam from south Vietnam, it's now the site of a small few museums and attractions, though most of the sites have been cleared and the land repurposed.
Throughout Vietnam, there are lots of other museums and fascinating insights into the nation's heritage. Some of the best are Hanoi's Vietnam Museum of Ethnology and Vietnamese Women's Museum, and the Museum of Traditional Vietnamese Medicine in Ho Chi Minh City.
8. Rub Your Temples
Vietnam is packed with temples. Some of the best include Tran Quoc and the Temple of Literature in Hanoi, Giac Lam in Ho Chi Minh City and Bai Dinh Pagoda in Ninh Binh. Throughout the country you'll also find cathedrals, tombs and a miscellaneous assortment of other religious buildings.
Though most religious people in Vietnam are Buddhist, some are Catholic, and there are a small number of CaoDaists (but more on that later). Many people in Vietnam are atheist (or at least don't strictly follow the teachings of organized religions).
The biggest religious complex in Vietnam is My Son, a UNESCO site made up of around 70 tombs and temples. It's like a smaller version of Angkor Wat, but it's named after one of your kids.
If you want to check out a really unique religious building, take a trip to Tay Ninh, the home of CaoDaism. A modern faith born in Vietnam, it's a surreal combination of several different religions, and its followers worship a ragtag cast of unrelated idols, including Jesus, Buddha, Joan of Arc, Lenin and Victor Hugo.
9. Go Chasing Waterfalls
If you're in Vietnam, don't listen to TLC's advice. It's terrible.
There are a massive number of waterfalls in Vietnam, and loads of them are amazing.
The most famous is Ban Gioc, which sits right on the Chinese border. If I gave you a pencil and told you to draw the most beautiful waterfall you could possibly imagine, it would probably look like Ban Gioc, with its countless number of mini waterfalls all combining to form one mega complex.
Other Vietnamese waterfall highlights include Elephant Waterfall, May Waterfall and Yang Bay Waterfall. At Yang Bay Waterfall, you can combine your trip with mud baths and hot springs, for a day of aqua-filled adventure.
If you want to know more about Vietnam's waterfalls and how to visit them, we've published a bumper guide right here.
10. Bridge a Gap
Vietnam is home to a selection of mega-famous bridges.
I know what you're thinking.
I can hear you thinking it.
'Paul – no-one cares about bridges, stop trying to pad out your word count with terrible ideas. I don't want to look at a bridge and neither does anyone else.'
Think again kiddo.
Vietnam's most famous bridge is Golden Bridge, a 150-meter beauty which is seemingly perched in the hands of a rusty giant. Situated in the Ba Na Hills close to Da Nang, it's part of a theme park, but only reachable via cable car. It's like being cradled in the hands of God himself.
Also in Da Nang, you'll find Dragon Bridge. At 666 meters long, and in the shape of a golden dragon, it's maybe no surprise that it can breathe fire. And no, I'm not joking. During fire shows, the head of the dragon interchangeably spurts out both fire and water, making for an extravaganza both amusing and absurd.
Vietnam's third iconic bridge is perhaps the most famous of them all. The catchily-titled 'Japanese Covered Bridge' is a fantastic piece of Japanese architecture in Hanoi, a city packed with fantastic pieces of Japanese architecture. Take a selfie there. Everybody else does.
11. Go Along the Mekong
The Mekong Delta is massive. Absolutely massive. More massive than you probably realize.
At over 40,000 square kilometers, it's about 91,000 times bigger than the Vatican City.
But just to be clear, you won't meet the Pope there.
The Mekong Delta is like a country of its own. It doesn't function in the way that the rest of Vietnam functions. Live is lived on – and based around – the sprawl of the huge delta network. This giant spider's web of rivers, canals and streams is home to farms, floating markets, stilted houses, mangrove forests, hyper-local wildlife and endless swathes of rice fields.
Culturally, this area is also a little different to the rest of Vietnam. While the way of life is dominated and dictated by the ebb and flow of the Mekong itself, there's also a large Khmer population here, as the region was formerly part of the Khmer empire.
Can Tho and My Tho are two of the best access points for visiting the Mekong Delta region. You can visit on a whistlestop day trip from Ho Chi Minh City, but you only get a superficial experience if that's what you do.
If you want to explore the culture, history, food, people, places, waterways and wonder of the Mekong Delta, give it a few days.
12. Soak Up Sun and Sands
Vietnam has a lengthy coastline which clocks in at a hefty 3,260km. Because of this massive length, the nation has a huge number of incredible beaches.
Three of the most famous beachside spots are Da Nang, Nha Trang and Quy Nhon.
Da Nang and Nha Trang are pretty similar to one another. If you want to combine big city living with beachside fun, they're the two best spots in Vietnam. Both big beachside cities with seafood, mountainous islands and countless other tourists, they're the two most popular seaside hubs in the whole of the nation.
Both also offer the niche quirk of excellent Russian cuisine, as loads of Russian tourists hit up both spots. So if you're sick of Vietnamese food (though I'm not sure why you would be), you can have some pelmeni instead.
Quy Nhon is a little more laid-back and languid. Cosmopolitan and relaxing, it's a common retirement spot for older Vietnamese couples.
Another top spot is southern Mui Ne, with its fishing villages, countless small resorts and world-famous sand dunes.
If you want an island break, check out Phu Quoc, which is actually closer to Cambodia than Vietnam. An idyllic little island largely untouched by mass tourism, it's quickly becoming much more popular, so make sure you visit before everyone else does. With dense jungles, excellent diving and isolated beaches, it's Vietnam's best island getaway.
Another top pick for an island getaway is Con Dao, but there's more on that later.
13. Fall in Love with Hoi An….
We've all heard of Hoi An, and we all know Hoi An is unmissable.
'Get over yourself Paul, we've all seen pictures of Hoi An you you idiot.'
But I can't assemble a list of the best things to do in Vietnam without talking about Hoi An.
So here we go…
Yeah, the city is full of touts and shameless catering to tourists, but it's also full of charm. Stacked to the brim with old Chinese teahouses, Japanese architecture and a cityscape of dimly-lit lanterns, Hoi An is one of the prettiest destinations in all of Southeast Asia.
You'll probably plan to visit for two days, then wish you could stay for two years.
Everyone falls in love with Hoi An, and you will too.
The most atmospheric and alluring town in the whole of Vietnam, its riverside setting is enchanting and romantic.
It's also one of the least polluted cities in Vietnam. While lots of the nation's other cities are noisy smogfests packed with trash and traffic, Hoi An has limits on scooters, making it much more tidy, clean and relaxing than other big cities in the nation.
There's more information on Hoi An in our guide to the top cities in Vietnam.
14. … and Hit More Cities
We've already talked about Hoi An and Hanoi, but Vietnam is brimming with lots of other brilliant cities.
Its most populous is Ho Chi Minh City (or Saigon, as some people – even locals – still call it). An endlessly-busy mish mash of boulevards, scooters and non-stop nightlife, it's the most busy city in Vietnam, and the most modern.
Another highlight is Da Lat, which is unlike any other city in the nation. With a cool mountainous climate and huge swathes of colonial history and architecture, Da Lat is like Paris without all the people pretending to be statues.
Other cool cities include the Mekong near-metropolises of My Tho and Can Tho and the shoreside escapes of Nha Trang and Da Nang. Or if you like history, have a wander over to Hue, the former capital of the nation.
If you want a bigger (and frankly better) introduction to all of Vietnam's cities, we've got it here.
15. Take My Advice and See Some Rice
One of the biggest rice exporters in the world, Vietnam is unsurprisingly home to a huge amount of rice fields.
But they're not just for looking at.
You can hike through rice fields in Sapa. You can ride a boat through them in Ninh Binh. You can ride bigger boats through them in the Mekong Delta, which is home to a huge amount of Vietnam's rice production. You can see stacked terraces of them in lots of the nation's northern mountainous regions.
And this is typically the best way to see them, when they resemble bright-green shelves of verdant staircases.
If you want to see rice fields looking their best, you should visit between February and May, or sometime in September or October. If you visit during other periods, those same rice fields can look squalid, grey and depressing, and nothing like you see on the postcards.
Even watching the production of this rice is fascinating. Lots of Vietnam's economy, culture and agriculture relies upon the humble rice grain, and watching farmers plant and plough it is an interesting way to pass some time. Even in a country which has a swiftly-growing economy, it's still a very manual job.
If you want to know more about Vietnam's rice terraces, check out my guide to the best rice fields in Vietnam.
16. Hit Your Target Market
Vietnam is packed with fascinating local markets where you can buy all types of stuff:
Clothes markets: if you love cheap clothes, you'll board your plane out of Vietnam looking like Joey from that Friends episode. There are lots of massive markets in Vietnam specialising in selling knock-off branded-but-not-branded clothes.
Food markets: from Vietnamese fruits to herbs to vegetables to meat to fish, Vietnam's food markets are like theme parks, with different tastes, smells and sights on every stand. Southeast Asian food markets are fun in a way that no other global food markets are fun. Vietnamese markets are immersive, interesting and friendly, and they're full of stuff you've probably never seen before.
Floating markets: we've already mentioned them, but Vietnam's floating markets are completely unlike any other market on the planet. For one, they're floating. And if you're not impressed by that, you should be. But because of the environment, the produce on sale is vastly different to markets in any other part of Vietnam. Here you'll find shrimp, frogs, crab, fish, and fruits and vegetables you've probably never seen before.
Flower markets: cheap, fresh flowers, perfect for trying to charm your new Vietnamese lover. Vietnamese people love flowers, and the lotus is the national flower.
17. Become a Top Chef
Across Vietnam, you can get involved in excellent (but ridiculously affordable) cooking classes. And they're often hosted by fantastic chefs.
Want to badly replicate the amazing food you've eaten in Vietnam when you get back home? Well now you can!
The best cooking classes are in Hanoi and Ho Chi Minh City, but you can find them in most towns and cities.
Most cooking classes have a regional theme, so you could do several cooking classes in various parts of the nation and probably learn to cook a different dish each time.
The best cookery classes take you through the entire process from market to taste buds. In these classes, you'll visit markets with your chef, buy your produce, cook it, eat it and chat with your chef about the different tastes and textures. If you're gonna take some cookery classes, make sure the market trips are part of the deal – often, they're the best bit.
If you're a proper foodie, get involved in a food tour. Available in the nation's bigger cities, these food tours guide visitors around cities and introduce them to all the best meals and morsels – and all the best places to eat them.
18. Make Friends…
Vietnamese people are incredible.
They have an almost hostile friendliness which is at first disarming, but over time, extremely charming. Vietnamese people are curt, short and to the point, but once you get past this apparent coldness, you realize it's actually just pragmatism.
And then you also realize that Vietnamese people are genuinely kind, warm and friendly.
If you like the idea of being shouted at while you're also being made to feel at home, you'll enjoy Vietnam.
But seriously, Vietnamese people are great. Family is a hugely important part of life in Vietnam, and Vietnamese people will immediately make you feel like part of the family. If you're invited into a family home, you'll be given food, drinks and a warm welcome. Communal meals are massive, with lots of dishes designed for sharing.
Vietnamese people have a huge amount of respect for older people, which reflects how polite and respectful they are. It also means you'll be treated especially well if you're a slightly older tourist.
Resilient, tough and unendingly hospitable, Vietnamese people are a lovely bunch, and they'll help you to fall in love with Vietnam.
19. … and Stay in Homes
The best place to meet Vietnamese people is at a Vietnamese homestay. In case you're confused, here's how it works: you stay with a real Vietnamese family in a real Vietnamese home, and they give you real Vietnamese welcomes and food.
If you value real interactions with real local people, you'll love these homestays.
You'll make friends with the family, with the kids, with the family dog. With family friends. With village neighbours.
The best places for homestays are in the small, rural, tribal areas of Vietnam. If you want to go somewhere touristic and comfortable, Sapa and Ha Giang are both good bets.
If you're looking for something more authentic and untouched (and you don't mind sacrificing some luxury in pursuit of an interesting experience), check out Kon Tum and Cao Bang. Or just go out into the middle of nowhere and find one.
Different homestays offer different experiences. Some homes and families offer games rooms, ceremonies, homegrown food, homemade drinks, Vietnamese language lessons, cooking classes, trekking guides and more. Others are more rustic and rudimentary, but they're all an excellent way to learn about local life.
If you don't have time to hit Vietnam's more remote areas, you can even find homestays in cities.
20. Dive…
One of the most underrated dive spots in Southeast Asia, Vietnam is a submerged gem.
Lots of tourists visit Thailand and the Philippines for diving. But you don't have to. If you're in Vietnam and you fancy getting involved in some world-class diving, you don't have to go anywhere else.
Again, with such a massive coastline, there are of course lots of opportunities for diving, even if some of them aren't particularly well-known.
Nha Trang is the most popular spot, with lots of nearby islands which are perfect for spotting underwater creatures and critters. Popular sites here include The Black Island (or Hon Mun Island), Moray Beach and Madonna Rock.
But the best diving is found on Con Dao, a group of islands off the southeastern coast of the nation, with huge coral heads, dugongs, turtles, cuttlefish, ray and countless schools of tropical fish. There are sixteen islands in the area, and visibility on a good day stretches up to 20 meters.
There's also good diving near Hoi An, and on Phu Quoc.
If you've never done any diving before, Vietnam is a good place to learn. Some of the sites are mega accessible, and it's usually all very affordable.
21. … and Hike
Vietnam isn't well known for its hiking opportunities.
And in all honesty, Vietnam's hikes aren't the world's best hikes. But there are still some pretty incredible spots, which lots of tourists seem to miss out on.
One of the best hiking spots in Vietnam is Sapa, where you can combine hiking with meeting locals. Here, you can hire a local guide who'll take you on a multi-day trek – and during these multi-day treks, you'll stay in the types of homestays we mentioned earlier.
You can get similar experiences in Cao Bang, which might just be the home of the nation's best multi-day trek, clocking in at four days of hills, tribes and rice terraces.
You can also hike in Ha Giang, Ba Be National Park, Phong Nha Ke Bang National Park, Cat Ba and lots of other places.
One of the nation's best hikes is in Nam Cat Tien National Park, but more on that in our next point…
22. Do a Dr. Dolittle
Vietnam has a pretty diverse cast of animals. And not just the weird civets who brew coffee in their bowels.
The best place to go animal spotting in Vietnam is undoubtedly Cat Tien National Park. No, they don't just have cats. Or tiens. Whatever they are.
Here, you'll find a whole host of creatures, including langurs, macaques, treeshrews, bears, reptiles, otters, bats, lemurs, deer, boar and endless numbers of rare birds (including some pretty massive birds of prey).
But Cat Tien National Park is most famous for its packs of endangered gibbons. On a three-day trek here, you can see these gibbons in their natural habitat. It's one of the most incredible experiences which Vietnam has to offer. If you want to visit or book a hike, book in advance – visitor numbers are limited to protect the area and its inhabitants.
Other places to spot animals include Cuc Phuong National Park, Ba Be National Park and Tam Dao National Park.
Phong Nha Ke Bang, which we mentioned earlier, is also packed with animal inhabitants. Here, you can find lots of rare birds and primates. Hang Son Doong (which, as we mentioned, is the biggest cave in the world) even has its own ecosystem, such is the insane size of its subterranean labyrinth.
Vietnam is not as well-known as some of its Southeast Asian neighbors as a hub for animal spotting. Because of that, animal-based tours in the nation are quieter, more authentic, and better for the environments and their animals.
23. Unpack the Imperial Past
We've already mentioned Hue earlier in brief. But it deserves a real mention here.
The former capital of Vietnam is still brimming with imperial relics of the nation's distant past. Once the most important city in the entire nation, there's a huge amount of history here – it was the home of the Nguyen dynasty, the last dynasty to rule the nation.
If you're at all interested in Vietnam's heritage, Hue is a mustn't-miss stop on any tour of the country.
The city's imperial citadel is a UNESCO site, and it's a huge complex of temples, moats, gates, museums and fortifications. You'll be surprised by its size, and how much history is stuffed into its fortified walls.
You can also visit the Tombs of the Emperors, where the ancient emperors of the city are buried. These extravagant burial grounds reflect how much these emperors once were (and in some ways still are) respected and revered.
Lots of tourists explore Hue by bicycle or in a rickshaw. In a city where most journeys are tackled on two wheels of a different variety, it's a refreshing change.
Hue is also home to an infamous abandoned waterpark. When you're tired of all the history and heritage, it's one of Vietnam's most unusual attractions.
Stop Reading!
No, seriously. Stop. Now. And book that trip to Vietnam.
With incredible road trips, diverse landscapes and a whole host of tasty treats to shove in your big fat mouth, Vietnam is one of the most fun and exciting nations in the world.
Want to know more about Vietnam before you book that elusive trip? We've got all the articles you need, so don't you dare click that close icon you pesky little customer.
We have guides on markets, the nation's best cities, the best places to visit, and all the things the country is famous for. Or want to know what vaccines you need before you go? We've got that too. We're your one-stop shop for anything you need to know about Vietnam.
So keep browsing our site and explore everything you need to know about Vietnam!
Being a Digital Nomad: Tips, Tricks and Places
Do you want to be a digital nomad?
If you do, maybe you don't know where you might want to live. Or how to live there. Or whether you need a visa. Or how to make friends in the scary sprawl of a brand-new city. Or how to stay productive while you travel. Or how to find an apartment. Or whether this lifestyle really is for you. Or… I'm sure you get the idea.
But with some insight and experience, it's not as difficult as you think. So in this book, I've gathered my 6 years of digital-nomadding experience… and I've used it to answer all your questions, soothe all your fears, and get you on your way. After reading this, you'll realise being a digital nomad is much easier (and much more possible!) than you think.