Top 15 Best Cities to Visit in Vietnam
If you're a cosmopolitan little metropolis hopper and you're looking for the best cities in Vietnam, we've got your back. In this guide, we've unpacked everything you need to know about the best 15 cities to visit in Vietnam.
We've included the big boys of Hanoi, Ho Chi Minh City and Hoi An along with under-the-radar secrets like Vung Tau, Tay Ninh and Haiphong. Haven't heard of them? You will have soon.
Grab yourself a bowl of pho, pour a bia hoi and join me on a little plastic chair as I give you a rundown of Vietnam's most alluring cities.
In descending order, here are the 15 best cities in Vietnam…
15. Vung Tau
Where: Southern Vietnam, just south of Ho Chi Minh City
The cosy little city of Vung Tau is one of Vietnam's best hidden beachside getaways. Situated on a tiny peninsula, this diminutive green port city is surrounded by deep-blue seas on three sides.
Lots of weekenders (expats and locals alike) descend upon Vung Tau from Ho Chi Minh City every weekend. But while it bustles from Friday to Sunday, it's always quiet during the week, offering a welcome slice of respite after the beeps, beers and boulevards of Ho Chi Minh City.
With quaint colonial buildings, laid-back nightlife and a way more relaxed atmosphere than Vietnam's bigger cities, Vung Tau is a great place to relax. Some intrepid travelers hire motorbikes here to scoot along on some charming little road trips to Mui Ne and other popular beachside spots.
If you like quiet beaches and small seaside getaways, you'll love Vung Tau. If you're not interested in beaches, there's not much else on offer here, so don't bother.
14. Cao Bang
Where: Northern Vietnam, pretty close to the Chinese border – and close to Ha Giang
They say that Sapa is the new Pai. And that Ha Giang is the new Sapa. And that Cao Bang is the new Ha Giang.
Hope you're following.
If you're the type of traveler who likes seeking out relatively unexplored natural regions of whatever country you're visiting, consider Cao Bang.
The city itself is cosy and quaint, while the surrounding areas offer some of the best natural wonders in the entire country. A mountainous region packed with peaks, valleys, mists and waterfalls, it's one of Vietnam's last bastions of crowd-free tourism. But it won't stay that way for much longer.
In a country famous for karsts, caves, mountains, lakes and waterfalls, Cao Bang is a gateway to some of the best in the whole nation. The highlight is Ban Gioc waterfall, which might just be the best waterfall in Vietnam. It's definitely the biggest.
Though much of the region's beauty lies a little further afield, the city itself is an excellent way to enjoy a large Vietnamese settlement which doesn't exclusively cater to beer-swigging backpackers.
13. Tay Ninh
Where: Southern Vietnam, north west of Ho Chi Minh City
You've heard of Buddhism. And Christianity. And Hinduism.
But you probably haven't heard of CaoDaism, a modern religion which was founded in the Vietnamese city of Tay Ninh. Established in the 1920s, CaoDaism is basically a big hybrid of lots of other religions, and incorporates various aspects of Buddhism, Christianity, Taoism and more.
Its bizarre selection of idols includes normal names such as Jesus, Moses, Muhammad and Buddha along with wackier inclusions like Shakespeare, Victor Hugo and Joan of Arc.
There are an estimated 2.5 million CaoDaists in Vietnam (or more, depending on who you ask), and lots of them live in Tay Ninh. If you want to visit the religion's biggest and first temple, it's – unsurprisingly – situated in the city, and it's one of the world's most unusual religious buildings.
A giant pink and yellow extravaganza of bold, bright colors, it's somewhere between a cathedral, a mosque, a Russian Orthodox church and a kid's Lego experiment. Sort of garish, sort of beautiful, it's one of the most striking religious complexes in Southeast Asia (and that's saying something). In short, if you like unique or unusual religious stuff, you'll absolutely love Tay Ninh.
12. My Tho
Where: Southern Vietnam, just south of Ho Chi Minh City
Lots of tourists visit My Tho's region on a day trip from Ho Chi Minh City, though few stop off in the city itself. But they should. Rugged and rudimentary, the city is small, humble and charming, and its compact center has a beautiful riverside location.
If you like laid-back cities, you'll love it here – and it's a decent access point for reaching the nearby floating markets (though Can Tho, which I've covered later in this list, is usually a better pick). Aside from floating market missions, other popular day trips from My Tho include visits to bee farms, candy workshops and fruit gardens.
There's not a whole lot in My Tho, but for a relaxing city stay which doesn't revolve around lying on a beach, it's one of Vietnam's best options. And it's an atmosphere you can't fully appreciate on a one-hour breakneck trip from Ho Chi Minh City.
Dip your Tho in and enjoy.
11. Nha Trang
Where: Southern Vietnam, north of Ho Chi Minh City and close to Da Lat
Most famous for great beaches and its impressive selection of quaint little islands, Nha Trang is a good pick if you like beachside lazing, fresh seafood and snorkelling.
It also offers some of Vietnam's best nightlife, with venues running the gamut from budget bia hoi spots to high-class luxury bars. Lots of Nha Trang is a little classier than many other famous cities in Vietnam, and it caters shamelessly to the resort seekers who visit the city.
With spas, cruises and boutique stories and eateries, Nha Trang is popular with middle-class Asian and Russian tourists, and doesn't really offer the backpacker vibe so heavily associated with other parts of the nation.
In short, if you like something a little more luxurious and indulgent than the typical Southeast Asia atmosphere, you'll probably love Nha Trang.
10. Haiphong
Where: Northern Vietnam, sandwiched somewhere between Hanoi and Halong Bay
One of the most laid-back cities in the whole of Vietnam, Haiphong is outrageously underrated. Most tourists who visit Halong Bay travel there directly from Hanoi. And though that's an understandable choice, I'd recommend stopping in Haiphong en-route.
There's not too much to do here, but if you're looking for a city which offers something slightly different to the non-stop tooting and scooting that is most Vietnamese city centres, Haiphong is a good choice. If you're the sort of tourist who likes to eschew sightseeing in an indulgent quest to sip coffee, gobble down on street food and people-watch instead, you'll love Haiphong.
With colonial buildings, tiny cafes, and an endearing coffee culture, Haiphong is an endlessly-adorable place to stop off for a couple of days before you move on to Halong Bay. You won't do anything, you won't see anything and you won't get involved in any activities. But that's exactly the point.
9. Can Tho
Where: Southern Vietnam, south of Ho Chi Minh City
Ever wanted to buy all the things you can buy in a normal market, but while drifting along on a ramshackle wooden boat instead?
If the answer to that question is a big resounding yes, make Can Tho your base. The epicentre of Vietnam's iconic Mekong Delta, Can Tho is the biggest (and usually best) place to stay if you want to explore the waterways of southern Vietnam and its mega-famous floating markets.
Aside from these riverside markets, Can Tho is also an excellent access point for exploring the region's endless agricultural attractions, with a brilliant cocoa farm the top pick.
But beyond being a brilliant base for lots of regional exploration, Can Tho has lots of attraction in its own right. With humble colorful fishing boats, endless spots for glistening sunsets and a quaint riverside setting, Can Tho in places feels like a big village rather than a city.
Bigger than My Tho (which we've featured earlier in the list), and with better access to the biggest and best markets, Can Tho is the most famous city in the iconic sprawl of the Mekong Delta region. It's full of countless crowds of tourists, which is the only real downside, but you're gonna be one of them too.
If you fancy it, Can Tho is also one of the best places in Vietnam to eat rats. No, I'm not joking.
Yum yum yum.
8. Ha Giang
Where: Northern Vietnam, pretty close to the Chinese border – and close to Cao Bang
Okay, Ha Giang isn't anything special in itself. The city, though welcomingly temperate and relatively charming, isn't anything extraordinary. But it's the starting point for Vietnam's most exciting (and popular) road trip: the Ha Giang Loop.
And you can't hit the Ha Giang Loop without first hitting Ha Giang. The city itself offers a tiny taste of what's to come, with views of distant karsts bewitchingly obscured by dense mists.
But as you venture outside of the city to the smaller towns, villages and tribal settlements which make the region so iconic, you'll see what all the fuss is about.
The multi-day road trip which departs from the city is best (and pretty much only) tackled by bike. It's packed with mountains, sheer cliffside drops, local homestays, steep ascents and some of the country's most incredible views.
If you're looking for a proper adventure, the Ha Giang Loop offers it – and Ha Giang city is the only logical gateway to its twists and turns.
7. Da Nang
Where: Central Vietnam, very close to Hue
Da Nang has a slightly unfair reputation for being the thorn in the crown of Vietnam's beach scene. And I sort of get it. It's developing at a pace it can't maintain, it's packed with construction sites and about 50% of its tourists are beefy Russian men who seem determined to squeeze into the tightest Speedos they possibly can.
But beyond all that, there's plenty to love in Da Nang. With great beaches, a stunning neon nightscape and some of Vietnam's best food, it's not all excessive overdevelopment.
If you're looking for ridiculously affordable luxury, Da Nang is a good spot to find it, with mega-modern hotels, flashy resorts and high-end restaurants, but all at outrageously affordable prices.
There are also some pretty unusual experiences on offer in Da Nang. There's an excellent selection of mega-tasty Russian food, and two ridiculous (but very famous) bridges. One has a giant dragon running across its length, while the other is cradled in a pair of rusty hands. No, I don't know why either.
6. Hue
Where: Central Vietnam, very close to Da Nang
Many tourists combine a visit to Hue with a visit to Da Nang, but if you rush through Hue, you're not giving it the attention it deserves (assuming you're interested in history).
The former capital of Vietnam, this place is brimming with heritage, and it still retains much of its former elegance and class. If you're interested in museums, emperors, tombs, temples, pagodas, ancient citadels and once-important buildings, you'll likely find this the most interesting city in the whole of Vietnam.
If you're not, you'll probably be bored to death by much of what Hue has to offer.
But for even the most vociferous of I-hate-history tourists (myself included), there are some other great draws in Hue – it has some pretty cool nightlife and an abandoned waterpark, which is one of the nation's most unusual attractions. Ever wanted to look at a crumbling plastic dragon which lives on a log flume? I didn't either, until I visited Hue.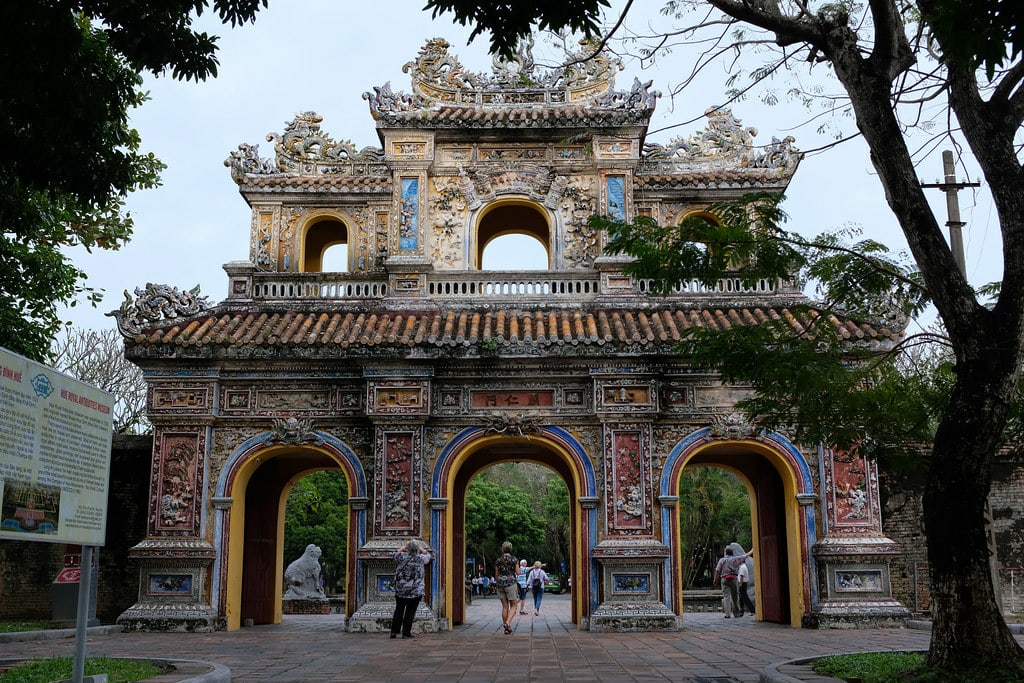 For food lovers, Hue is brilliant – in a country packed with tantalising culinary experiences, many people claim that Hue is the gastronomic epicentre of Vietnam. Want real local food? Visit Hue. Hyper-local specialities include Bun Bo Hue (the city's answer to Pho), lemongrass skewers and Vietnamese crepes. If you can find it in Hue, you'll likely want to stuff it into your big fat mouth.
Oh, and if you're interested in tackling the Hai Van Pass, you'll find it nestled between Hue and Da Nang, so make sure you ride over it on your journey between the two.
5. Ninh Binh
Where: Northern Vietnam, just south of Hanoi
Famous for cave trips, bright-yellow rice fields and towering limestone karsts, Ninh Binh is a relatively popular stop for tourists seeking their next destination from Hanoi.
Its biggest draw is Tam Coc, a nearby area which resembles Halong Bay on land (but in my opinion, it's way better). Cave trips here are one of the most incredible natural wonders that the entire country has to offer. These two-hour boat tours are headed by diminutive hat-wearing local women whose tiny size belies their massive strength.
These women masterfully guide their boats through UNESCO-listed narrow cave formations and beyond vivid rice fields for an experience somehow both exciting and relaxing.
Ninh Binh is also great for some mini outdoor adventures, including great short hikes and gentle bike trails.
If you're interested in temples, there are also some excellent ones here – the most popular is Bai Dinh, the biggest temple in the whole of Vietnam. It houses over 500 carved statues of Buddha, all with big bellies and bigger smiles.
More popular with local tourists than foreign ones, Ninh Binh is a little less-known than some of Vietnam's other popular destinations. Of all the entries in our top 5, Ninh Binh is the least explored – though it won't stay that way for too much longer.
4. Da Lat
Where: Southern Vietnam, north of Ho Chi Minh City and close to Nha Trang
Misty, mountainous and a welcome break from the often-sweltering heat offered in other parts of Vietnam, Da Lat in many ways feels European rather than Asian.
With French-colonial architecture, temperate climes and flower sellers on every corner, strolling through Da Lat feels like you've somehow stumbled into Paris – but a Paris much more charming and rudimentary than the one which sits in France. If you want to experience an alternative side of Vietnamese life, Da Lat is pretty much always your best option.
Da Lat is also full of weird and wacky attractions, including its legendary 'crazy house,' a labyrinthine mish-mash of staircases, narrow passageways and hidden rooms. If you're interested in anything unusual, you'll love it. The city even has a themed bar which is based on the disorienting design of the house.
If you're interested in adventure sports, Da Lat is southern Vietnam's most appealing destination. With trekking, mountain biking, rafting, canyoning and other outdoor adventures on offer, there's plenty here. If you're interested in gentler pursuits, the city is packed with horse-drawn carriages, perfect for a laid-back romantic adventure.
3. Hoi an
Vietnam's most quaint city is also it's most touristic, a dynamic which has given Hoi An a reputation fraught with contradictions.
Yes, you'll have endless touts trying to sell you conical hats. Yes, you'll be offered a cheap suit on every corner. Yes, you'll hear 'hello mister' more than you've ever heard your own name.
But in a city this charming, that's almost all irrelevant. The most endearing and atmospheric city that Vietnam has to offer, Hoi An's Old Town is home to colorful houses, charming bike rides and gently-illuminated riverside photo opportunities. It's by far the most alluring and photogenic city in Vietnam.
It's also the only city in Vietnam with laws created seemingly to ensure the city retains its otherworldly charm, with strict motorbike restrictions and laws which insist upon the use of storefront lanterns. Though it's been years since the city was an important trading port, Hoi An retains an enchanting timelessness which gives it an almost surreal atmosphere.
Yes, it's the most frustratingly-touristic city in the entire country, but it almost doesn't matter.
2. Ho Chi Minh City
A juddering, clanking sprawl of gargantuan proportions, some people love Ho Chi Minh City, while some people hate it.
I'm not quite in the hate camp, but it's certainly not a city I love.
That said, it's impossible to ignore the city's magnetic energy, and some people think it's the most exciting part of Vietnam.
With brilliant nightlife, huge boulevards and roads which stretch on for miles, it's by far the most westernised city in the whole of Vietnam. If you like busy metropolises, you'll love it here – it's Vietnam's most populated city, and it has an effervescent energy which just doesn't stop.
One of the city's biggest draws is its diversity. Want a 50 cent sandwich? No problem. Want a 5-star luxury dining experience? You can get that too. With a proud past but a burgeoning economy, there aren't many cities which run a gamut as diverse as the one on offer in Ho Chi Minh City.
Once known as (and still sometimes known as) Saigon, Ho Chi Minh City is the best place to explore the consequences, actions and atrocities of the deadly and disastrous Vietnam War. Its War Remnants Museum is one of the most distressing museums in the world, while the nearby Cu Chi Tunnels are a ridiculous testament to the tenacity and resilience of the Vietnamese people.
1. Hanoi
I've saved Vietnam's most famous city for first place on this ranking.
And I know that's a cliche, but I absolutely love the place.
I've been there twice as a tourist, I lived there for a few months, and it won't be too long until I'm strolling through its streets again.
The iconic capital of Vietnam, Hanoi is a relentlessly charming maze of sidestreets, street food and smiling faces. Despite its massive proportions, it's quaint and cosy, and it somehow feels like home.
But here's the best bit: with thousands of street food stalls, endless numbers of legendary bia hoi joints and lots of on-street coffee shops, Hanoi is a people-watcher's paradise. It's so easy to perch yourself on a plastic chair here and become acquainted with one of the busiest but most charming cities in the whole of Southeast Asia.
It's also a city of numerous expats, as endless streams of young foreigners come here to nab a job teaching English. No qualifications? Doesn't matter! Hate kids? Doesn't matter! What matters is Hanoi has a magnetism that draws long-term expats from around the entire world.
Beyond all the atmosphere, the city is packed with temples and lakes, while the massive mausoleum here is the burial ground of the famous Ho Chi Minh himself. And the food scene iis incredible – you could munch your way through Hanoi for a month without eating the same meal twice.
Imagine someone took a tiny village and inflated it to city-sized proportions. You're now imagining Hanoi, and you're imagining one of the most exciting cities in the world.
In Short…
… there they are: the 15 best cities to visit in Vietnam.
Now before you say anything, we know we've missed out some absolute bangers.
We haven't included Sapa, Halong Bay, Phong Nga or Mui Ne – but those places aren't cities, so they aren't allowed a spot on our prestigious list. So stop whining.
But don't worry, we've covered all them and more elsewhere on our site.
Want to know more about Vietnam? You can do all your learning here. We have articles on Hanoi, Ho Chi Minh City, markets and fruits, along with helpful stuff you need to know about vaccines before going to Vietnam – and the top 21 things which the nation is famous for. Sling the guidebook in the bin – we're your guidebook now baby!
Being a Digital Nomad: Tips, Tricks and Places
Do you want to be a digital nomad?
If you do, maybe you don't know where you might want to live. Or how to live there. Or whether you need a visa. Or how to make friends in the scary sprawl of a brand-new city. Or how to stay productive while you travel. Or how to find an apartment. Or whether this lifestyle really is for you. Or… I'm sure you get the idea.
But with some insight and experience, it's not as difficult as you think. So in this book, I've gathered my 6 years of digital-nomadding experience… and I've used it to answer all your questions, soothe all your fears, and get you on your way. After reading this, you'll realise being a digital nomad is much easier (and much more possible!) than you think.