What is Vietnam Famous For? 21 Things Which Vietnam is Known For
I love Vietnam. I've traveled there twice, I've lived there and I've eaten about ten million spring rolls there.
It's a bemusing place full of chaos and contradictions. Famous for beautiful food, mind-boggling traffic and warm but no-nonsense locals, it's both friendly and resilient, both welcoming and impenetrable, both alien and home.
It's a place impossible to summarize, but let's give it a try, in the form of Vietnam's most famous exports and assets.
Here's what Vietnam is famous for:
1. Traffic
Traffic in Vietnam is inexplicable. It can't be described. It's impossible to put into words.
But since I'm a writer, that's probably my job. So I'll try.
Imagine you're standing at the side of a road, waiting to cross. Imagine that you're patiently anticipating a red light, so that you can cross safely. Imagine that the red light comes, but the million oncoming scooters ignore that red light, the drivers considering traffic signals to be inconvenient guidance rather than law.
That's Vietnam.
If you want to cross the road in Vietnam, you have to dodge traffic.
Mainly made up of an endless stream of relentlessly-honking scooters, Vietnamese traffic is a world of its own. It's noisy, it's non-stop and it's unlike anything else on the planet. And the scooters which make up this traffic don't just carry people. You'll see scooters carrying dogs, carrying dozens of kilos of fruit, carrying families of four.
If it's safe, Vietnamese people aren't interested.
2. Hanoi
You'll find some of the busiest traffic in Hanoi.
I lived in Hanoi, and I can tell you from experience that it's never not busy.
It's also never not charming.
Though it's a huge city with a population of around 8 million people, it somehow feels like a quaint little village. With hidden side streets, smiling locals and cute street food stalls on every corner, it's relentlessly endearing.
Hanoi is both traditional and modern. While it's packed with temples, lakes and wide-smiling old folks, it also offers modern bars, restaurants and coffee shops, sitting halfway between a jarring culture shock and an expat's paradise. Affordable, animated and accessible but impenetrable, it's one of the most exciting cities on the planet.
It's an overused cliche, but there really is nowhere else in the world like Hanoi.
3. Street Food
Street food is everywhere in Vietnam, and it comes in all forms.
Ever wanted to eat beef soup from an ancient 3-wheeled barrow with an even more ancient owner? Or drink 20c beer while sitting on a child's plastic chair? Or sit on a dirty street floor eating a weird mixture of fruit, jello and condensed milk?
How about enjoying fresh, meaty, fragrant food for only around a dollar? Or buying a freshly-made on-street sandwich for 50 cents?
If you like the sound of any of that, go to Vietnam. It has some of the world's most exciting street food, and it's all outrageously affordable.
4. General Food
Vietnamese food isn't just available on the street (though that's where it's often best). You can also eat in restaurants and cafes, like a normal person.
But no matter where you eat, here are the nation's most popular foods:
Pho: a delicate and delicious soup, pho is simple but incredible. Made up of meat (usually beef) along with broth, noodles and herbs, it's Vietnam's most famous – and popular – dish.
Bun cha: another noodle soup, the main event here is the meat, which comes in the form of barbecued pork meatballs. The accompanying broth is both sweet and salty, and each bowl of bun cha is accompanied by a huge stack of fresh herbs.
Spring rolls: traditional Vietnamese spring rolls aren't like the spring rolls you're probably accustomed to. Instead of being deep-fried, they're fresh, fragrant and light, and wrapped in rice paper.
Banh mi: the traditional Vietnamese sandwich, available throughout the country for around 50c a serving. Fillings can be made up of whatever you like, but pork, egg and pate are the most common and traditional.
Banh xeo: a savoury pancake stuffed with any number of ingredients, the light outer layer is made up of turmeric (and sometimes coconut), for anything but a boring pancake.
5. Vietnamese Coffee
I'm sure this will make Italians, South Americans, Kenyans and Jamaicans cry, but Vietnamese coffee is the best coffee in the world.
And that's mainly because of its variety.
You can drink black coffee. You can drink weasel coffee, which has been eaten and subsequently pooped out by weasels. You can drink coffee with condensed milk. You can drink egg coffee, a dessert-style sweet treat with a custard-like taste and texture.
Coffee culture is a huge part of life in Vietnam, and it has a rich, decadent, full flavor which you won't find anywhere else. You also won't find the Vietnamese coffee-drinking experience anywhere else – it's best consumed on a plastic chair in the middle of a bustling street.
Oh, and I promise that weasel coffee stuff is better than it sounds.
You should buy and bring some back home with you!
6. Friendly Faces
Vietnamese people are friendly. But they're weirdly friendly.
They're abrupt, terse and blunt, but in a charming sort of way.
Vietnamese people say it how it is, but they also help you in every way they can.
Instead of giving you directions, they'll walk you all the way to the place you're trying to find. When you arrive there, they'll shrug and walk away without acknowledging your thanks.
If you park your bicycle up while you buy stuff from a store, you'll leave that store to find a group of middle-aged men laughing and playing and riding around on your bicycle.
Vietnamese people will offer you food on long-distance bus journeys. In restaurants, they'll give you extra servings for free. They'll share their beer and snacks with you.
But they'll do it all with half a frown. They're friendly in the strangest way, but they're some of the world's most brilliant people.
7. The Vietnam War
Vietnamese people are a hardy bunch. They're resilient, they're tough and they're unafraid.
And there's no better example of that than the Vietnam War. A conflict of over 20 years, more than half of the people who died in the Vietnam War were Vietnamese civilians.
A one-sided battle in which the victorious Vietnamese were in every way overpowered and under armed, the hardy underdogs somehow managed to come out on top.
It was an horrendous period of history, disastrous for so many groups of people. But it birthed a Vietnam tougher, hardier and more rugged than the one it first met.
8. Cu Chi Tunnels
One of the strangest war-related relics in the world, it's possible to take a tour of the nation's Cu Chi Tunnels, near Ho Chi Minh City.
Tiny tunnels used during the Vietnam war, some of these subterranean complexes are several storeys deep. Part of a much bigger and much more vast network of tunnels which run under much of the country, these hardy networks were an integral part of the Viet Cong's success, who had to show ingenuity and resilience in the face of their much more powerful enemies.
Tours involve lots of crawling and intimidating dark spaces. Sightseeing in them is hard enough – imagine fighting a war in them.
9. Temples, Tombs, and Pagodas
Vietnam is full of temples and pagodas. My top picks include Hanoi's Tran Quoc Pagoda and Temple of Literature, Ho Chi Minh City's Jade Emperor Pagoda and Tay Ninh's Cao Dai Temple.
The latter of these is particularly unique and unusual – the (admittedly niche) Vietnamese religion of Caodaism believes that all religions are equal and identical. At the religion's main temple, in southern Tay Ninh, lots of famous figures are honoured, including Buddha, Jesus, Muhammed, Joan of Arc and Julius Caesar.
Vietnam also loves tombs. There are lots of them in Vietnam's former capital of Hue, while Ho Chi Minh himself is buried in a mausoleum in Hanoi.
10. Beautiful Beaches
Though some of Vietnam's Southeast Asian neighbors – such as Thailand and the Philippines – have many more famous beaches, Vietnam's are just as good. With a coastline of more than 2,000 miles, there are plenty of great spots for swimming, snorkeling and other shoreline adventures.
My favorite beach destinations in Vietnam include Phu Quoc, Nha Trang, and Da Nang, though there are many other smaller spots with secluded shores.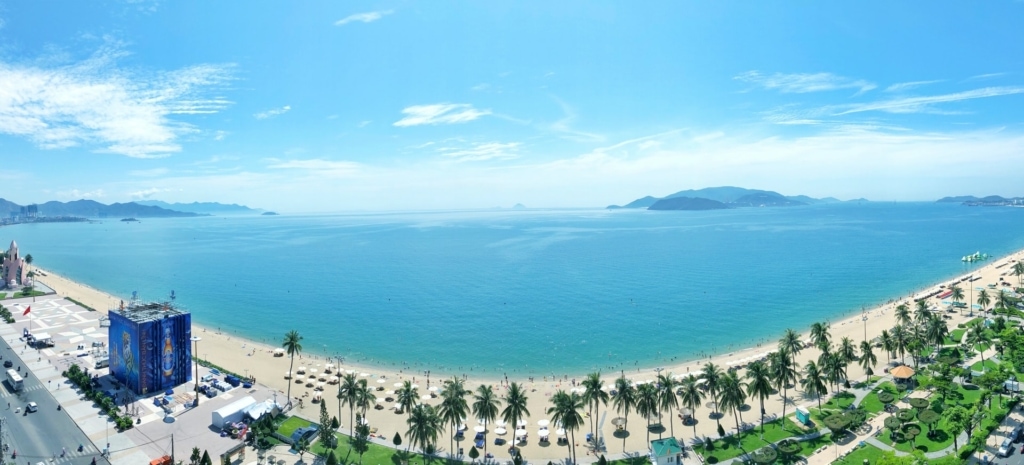 11. Rice Fields
Inland from its beaches are Vietnam's iconic rice fields. One of the biggest rice producers in the world, more than 80% of Vietnam's arable land is used for rice farming.
In short, rice fields in Vietnam are everywhere. Much of the versatile food staple is grown in the mountainous north, in places like Sapa, Mu Cang Chai and Hoang Su Phi. The last of these is the most beautiful rice-growing area in the whole nation, with narrow stacks of yellow mountain shelves.
Misty, mountainous and alien, Vietnamese rice terraces aren't just integral – they also look incredible.
12. Halong Bay
Probably the biggest tourist draw in the whole of Vietnam, Halong Bay is a karst-dotted collection of small islands in the north east of the nation.
Famous for kayaking, snorkeling, hiking and lush green forests, it's the country's most famous outdoor adventure area.
A UNESCO World Heritage site, Halong Bay is packed with turquoise waters, lofty limestone pillars and mysterious caves. Yes, it's busier and more commercial than some tourists expect, but for boat tours and outdoor adventures, it's one of Southeast Asia's most exciting destinations.
13. Cavernous Caves
Aside from Halong Bay, Vietnam is studded with caves throughout the country.
The most frequently visited cave complex in Vietnam is probably Tam Coc, located in Ninh Binh. Here, local women paddle rickety and rudimentary boats, taking you on a tour through low-level caves, past rice terraces and beyond towering karsts.
But the jewel in Vietnam's caving crown is Phong Nha Ke Bang National Park, a huge region packed with massive caves. The biggest of them all – Son Doong – is the biggest cave and the world, and has its very own ecosystem. If you want to visit, you can take a guided four-day trek.
Vietnam is soon set to become a top destination for some of the world's most passionate cavers – so if you want to explore its cavernous grottoes without hordes of tourists, now is the time.
14. Ho Chi Minh City
Ho Chi Minh City (or just HCMC, depending on how trendy you think you are) was once called Saigon. Under its more modern guise, it's a more modern city, all big wide boulevards and westernized facades.
Much more westernized than its northern rival of Hanoi, Ho Chi Minh City is chaotic and crazy. Though not quite as charming as Hanoi, it's arguably more exciting if you're into cityscapes, skyscrapers and sprawling metropolises.
15. Hoi an
Famous for lanterns, its riverside setting and its endless charm, Hoi An is one of the most endearing towns in the whole of Southeast Asia.
With an incredible old town, ancient teahouses and small Chinese temples, Hoi An is quaint, cosy and calm. Bereft of the hustle and bustle offered by Vietnam's bigger destinations, it's a perfect place if you like population without pollution.
Though it's a little overrun by tourists, Hoi An is indescribably charming.
16. Conical Hats
You've seen them.
We've all seen them.
And in Vietnam, you see them everywhere, especially perched on the heads of short old women.
Unsurprisingly, these weird but famous pieces of headwear aren't actually called 'conical hats'. They're actually called nón lá (which translates as 'leaf hat'), and while the most basic are light brown and undecorated, others have images and words. Some even have poems.
These hats make for a perfect souvenir to bring with you back home. You can buy some of them along with many more unique Vietnamese items in various places in the country.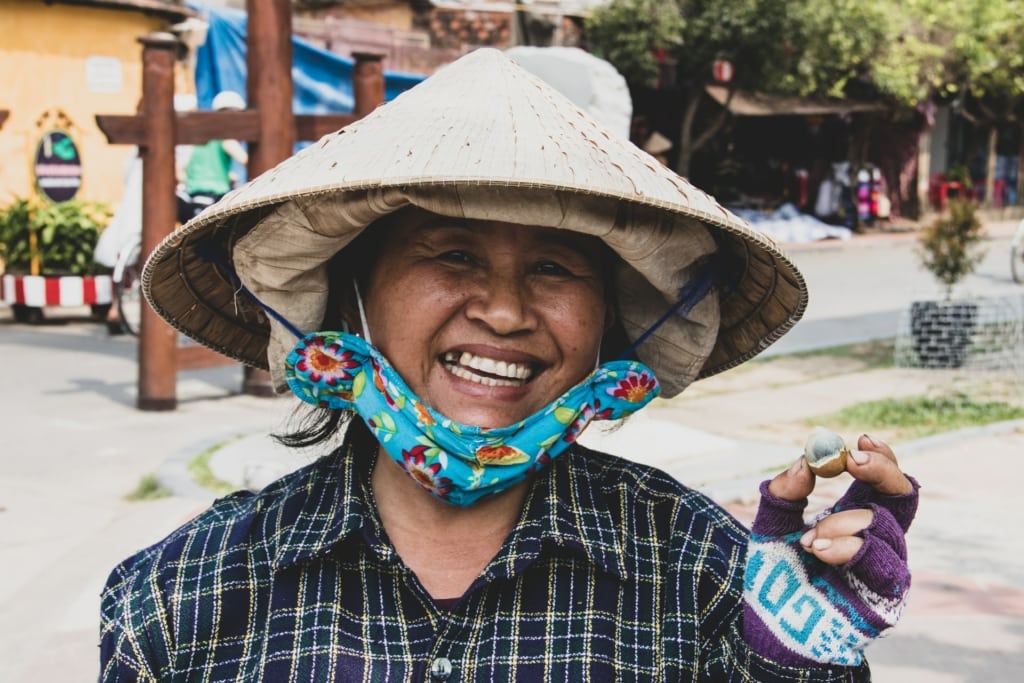 17. Ao Dai
Another traditional Vietnamese garment, this one sits on the body instead of on the head.
Originally worn by Vietnamese lords, the name Ao Dai translates as 'long shirt,' but the garment is actually more of a tunic. It's Vietnam's answer to Japan's kimono, and it's even more elegant (sorry Japan).
A traditional dress, they're most commonly worn at weddings.
18. Floating Markets
Vietnam is famous for its various markets. And among them are the floating markets.
Liberally dotted around the south of the nation, floating markets aren't just a watery gimmick. They're actually a key trading source in the Mekong Delta, and some of them have been functioning for over 100 years.
If you live on a river delta (which you probably don't), it's hard to access places by road. So instead, you live, shop and survive on that delta.
And that's exactly why these markets exist.
They're an excellent way to enjoy an unusual shopping experience, and an even better place to people-watch. Anything you can imagine a market selling, these markets sell. Only difference is, they're sold from the back of a boat.
The best floating markets in Vietnam are Nga Bay Floating Market, Nga Nam Floating Market and Long Xuyen Floating Market.
19. Kayaking
With a huge shoreline and a large tourist infrastructure, kayaking seems like a pretty logical attraction for Vietnam to offer. And it does.
The best places to kayak in Vietnam include Hanoi's massive West Lake (the home of most of the city's expats), the karsts and caves of Halong Bay, Hue's elegantly-titled Perfume River and the nation's southern sprawl of the Mekong Delta.
In Vietnam, if it can attract tourists, it can be done. And since kayaking attracts tourists, it gets done.
Though you won't ride the rapids that you might experience in other countries, kayaking in Vietnam is a unique experience available over a diverse bunch of waterways.
20. Silk
A huge ingredient in Vietnam's trade heritage, silk was once a massive part of the Vietnamese economy. Considered by some to be the best silk in Asia, it's the main material in many of the most prestigious Ao Dai that I mentioned earlier in this article.
The nation is dotted with charming little silk villages, where much of Vietnam's silk production still takes place – and allegedly has for more than 4000 years.
21. English-teaching Expats
Let's round this list off with an element of Vietnam I'm very familiar with.
I've been an expat in Vietnam. And I'm absolutely sure that one day I will be one again.
Though I wasn't teaching English (because, I don't know if you know this, but I'm a writer – how cool am I?), all of my foreign friends were.
It's very easy to get a job teaching English in Vietnam. All you really need to do is exist. Be foreign, be in Vietnam, and you'll get a job.
So every year, countless swarms of globetrotting travelers head to Vietnam to do just that. And by doing so, they enjoy a long-term holiday where they get paid. The terms are pretty good – you get paid well, you work short hours and you party long hours.
When I was living in Vietnam, the only person working less hours than the teachers was, well, me.
In Short
There you have it: 21 things which Vietnam is famous for!
From traffic to towns, from Hanoi to hats, from markets to motorbikes, Vietnam is hugely varied and endlessly interesting.
But more than that, it's a perfect place for a trip – it has a unique atmosphere of its own, but it still somehow feels like home.
It's cheap, it's welcoming, it's interesting, and it's one of the most exciting countries on the planet.
You'll love it just as much as I do. (And their fruits are really delicious!)
Want to know more about Vietnam? We've got plenty more articles on our site, so you can do all your learning here. If you already want to visit Vietnam, we'll help you to make it happen. If you don't, we'll help you to change your mind!
Being a Digital Nomad: Tips, Tricks and Places
Do you want to be a digital nomad?
If you do, maybe you don't know where you might want to live. Or how to live there. Or whether you need a visa. Or how to make friends in the scary sprawl of a brand-new city. Or how to stay productive while you travel. Or how to find an apartment. Or whether this lifestyle really is for you. Or… I'm sure you get the idea.
But with some insight and experience, it's not as difficult as you think. So in this book, I've gathered my 6 years of digital-nomadding experience… and I've used it to answer all your questions, soothe all your fears, and get you on your way. After reading this, you'll realise being a digital nomad is much easier (and much more possible!) than you think.