How to get a SIM Card in Vietnam as a Tourist?
SIM cards can be confusing for travelers.
If you've never before bought a new SIM card when arriving in a new country, you're probably in tears, terrified that your phone is gonna be irreparably broken forever. Your phone will be ruined, your life will be ruined and, most importantly, your Instagram account will be lost forever.
But no, using a new SIM card in Vietnam won't break your phone or do any of those other things – it'll just make your trip to Vietnam much easier.
In this article, we've unpacked everything you need to know about buying a SIM card in Vietnam and using a SIM card on your trip to Vietnam. Stick with us – we'll be your SIM card guides.
Should I Get a SIM Card when Traveling to Vietnam?
Yes, you should get a SIM card in Vietnam. It makes life much easier.
With a local SIM card, you can access the internet any time you like, you can make calls any time you like, and getting around is so much easier.
Data and calls in Vietnam are ridiculously cheap, so there's no good reason not to get a Vietnamese SIM card while you're traveling in Vietnam. Coverage and data speeds are also very good, so it's mega useful to have a local SIM card.
I moved to Vietnam a while ago, and getting a local SIM card instantly made my life so much easier.
Where and How to Buy a SIM Card in Vietnam?
There are lots of ways to buy a SIM card in Vietnam. The best way is usually to get a SIM card in the airport. If you do that, you have your SIM card as soon as you enter Vietnam, and you're ready to use it right away.
The only problem with this approach is that it's a little more expensive than buying a plan anywhere else (though it's still very affordable).
If you want a cheap plan, it's best to go to a network store yourself. Visit a Viettel store (or a store owned by any other network provider), and buy a SIM with a plan. This is usually the cheapest option. You'll find these stores throughout the entirety of Vietnam – in the big cities, they're everywhere, but you'll even find them in lots of small towns too.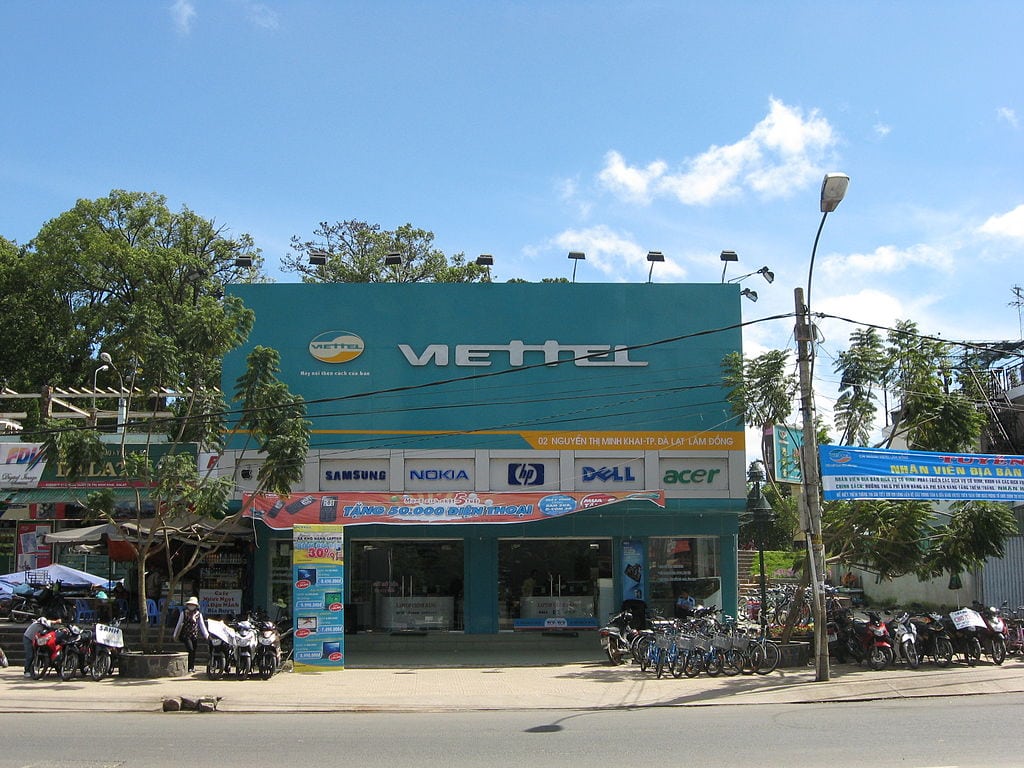 You'll pay a couple of dollars or so for your new SIM, then you'll pay another small and affordable fee for your data plan.
It's best to buy a SIM card from an official store rather than a little sidestreet shack. At these smaller places, your SIM card might not be properly registered with your details, and it might end up getting blocked.
Equally, you probably shouldn't buy one from a hotel or a convenience store for the same reason.
A few years ago, it was possible to buy a SIM card anywhere in Vietnam, but authorities have recently gone hardcore on blocking SIMs which aren't properly and officially registered.
You should also consider using Viator or Klook. With Viator and Klook, you can order a SIM card for hotel delivery or airport pick up. Both companies offer prepaid SIM cards for use in different countries. Though they're a little more expensive than buying one in Vietnam, it can be convenient if you want the assurance of knowing you have a plan in place before you arrive in the country.
With Viator and Klook, you can get plans which offer delivery and pickup in many different cities. Check those plans out here and here.
Wherever you buy a SIM card, you'll likely need your passport, so make sure you take it with you.
Which is the Best Mobile Network in Vietnam?
The best mobile network in Vietnam is without any doubt, Viettel.
The four main cell phone networks in Vietnam are Viettel, Vinaphone, MobiFone and Vietnamobile. Of all these, the best is Viettel.
The coverage of Viettel is the best, the plans are very affordable, and it's the most trusted network in the nation. It also has more users than any of the other networks. And thus, Viettel is the best mobile network in Vietnam for tourists.
When I was living in Vietnam, me and everyone I knew were all using Viettel – throughout the nation, Viettel has the best reputation of all the country's cellphone networks.
Viettel also has a huge number of stores throughout Vietnam, so it's always easy to get a new SIM card and top your SIM up.
Coverage and Data Speed in Vietnam
Again, if you want the best coverage, go for Viettel.
Throughout much of the country, you'll get excellent coverage in the vast majority of the nation if you get a SIM from Viettel. You might struggle a little in some remote areas, but that's the case with any cell network in any country in the world.
Vinaphone, MobiFone and Vietnamobile have way less coverage, though Vinaphone is typically the second best after Viettel.
Data speeds in Vietnam are surprisingly good, and rank as the second best in the whole of Southeast Asia, recently clocking in at an average download speed of 20.6 Mbps (source). In all major cities, you'll get good data speeds – and in some rural areas, you'll also get surprisingly good data speeds.
How Much is a SIM Card in Vietnam?
SIM cards and SIM payment plans in Vietnam are ridiculously cheap. Vietnam offers some of the cheapest SIM plans in Southeast Asia, and that's saying something.
When you arrive at the place where you're buying your SIM card, you'll be given a piece of paper with all of the possible payment plans.
All costs and rates are pretty similar, no matter which company you buy and use your SIM card with. Here's an example of a payment plan offered by Viettel:
| | |
| --- | --- |
| Amount of 4G Data | Price |
| 5GB | 90,000 VND (around $3.90) |
| 8GB | 125,000 VND (around $5.40) |
| 15GB | 200,000 VND (around $8.65) |
| 30GB | 300,000 VND (around $12.97) |
Often, these plans don't include calls, which are a little more expensive.
Have a think about whether or not you'll need calls before you decide to buy some.
If you're only going to be in Vietnam for a short while, you probably won't. But if you'll be sticking around for longer, you might. If that's the case, it's often easier just to top up your phone with some minutes from time to time, since making calls is pretty rare these days – and plans which include both calls and data can be surprisingly expensive.
The current call and text rates with Viettel are as follows:
Local calls (inside of Vietnam): 1,800 VND per minute
Local text messages (inside of Vietnam): 300 VND per message
International calls: 3,600 VND per minute
International text messages: 2,500 VND per message
If you want to make texts and calls, just buy a cheap top-up card which entitles you to some texts and calls. But more on that process later.
It's important to note here that none of these payment plans are rolling contractual plans.
Instead, you just buy what you need for one month, and it expires either when you've used your data, or when one month has passed. You don't need to sign up for a long-term contract – and since you're (probably) not Vietnamese, the staff in the shop will know that you're a tourist and that you only want a short-term plan.
Our Quick Guide to Setting Up a SIM Card in Vietnam
Here's our short step-by-step guide to getting and setting up a SIM card in Vietnam:
Unlock your phone. Before you leave home to arrive in Vietnam, you need to check that your phone is unlocked. If it isn't, you won't be able to use a foreign SIM card. Unlock your phone as soon as you can – it can be a lengthy process. Instead of unlocking your phone, you could also consider a roaming package (but these are very expensive) or a portable WiFi (but more on that later).
Buy your SIM card and stick it in your phone! If you only have one SIM slot, you need to take out your home SIM before inserting your new SIM. If you have a dual SIM phone, that's not a problem. And don't worry – you don't need to change the language of the SIM card; it will usually work in whatever language your phone is set to.
You can check your balance by calling *101#. But when you buy your SIM, always make sure you ask the easiest way to check your balance, just in case this number ever changes.
If you want to top up to add credit to your balance, you have two different options (though if you're staying in Vietnam for a month or less, you probably won't need to). The first is to visit the store where you bought your SIM in the first place, and buy a new payment plan from them. The second is to buy a scratch-off top-up card from a convenience store. With these, you call the number listed on the card and enter the voucher number on the card. Or some of the time, the vendor will even call up to register the top-up for you.
If you want to make things even easier for yourself when it comes to checking and topping up your balance, you can instead download the app offered by your network provider. With these apps, you can perform top ups, check your balance and manage your account in many other ways.
There you have it – easy! You've got your SIM card, it's all working and you're ready to go.
SIM Card Vs Portable WiFi (pocket WiFi) – Which One Should I Get in Vietnam?
A very small number of tourists carry portable WiFi when traveling in Asia, but that's very rare.
For anyone who's confused, here's what a portable WiFi is: imagine a tiny little wireless modem which you can fit in your pocket. That's a portable WiFi!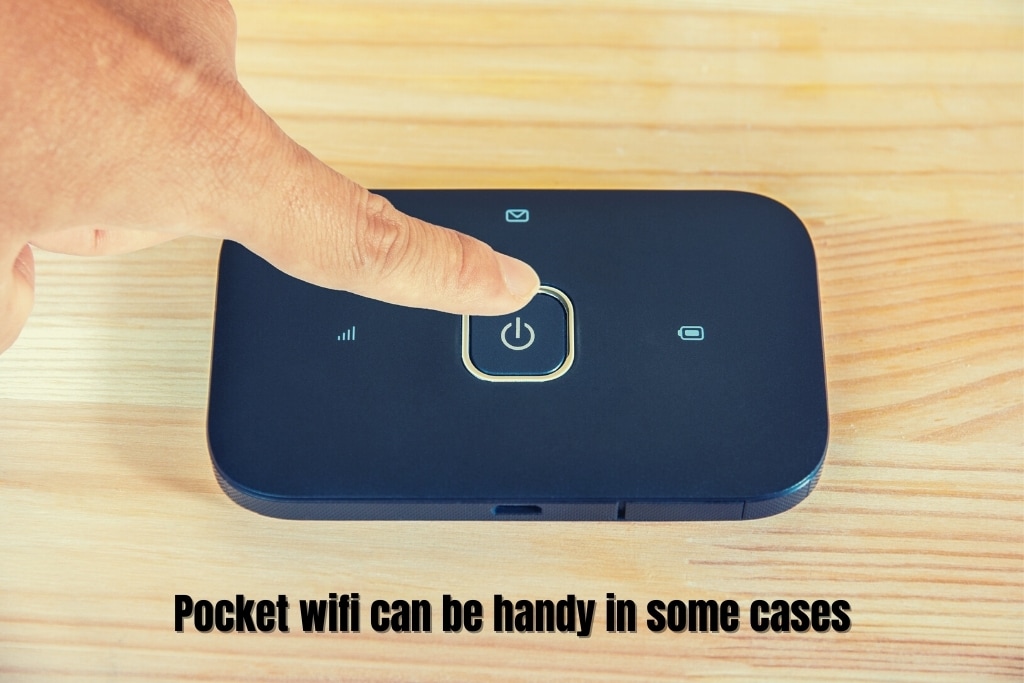 Some people call it a MiFi, some people call it a dongle, some people call it a hotspot. But whatever you call it, it's all the same stuff.
Pros of a Portable WiFi:
You can connect many different devices to one portable WiFi. So let's say you're traveling with a large family. If that's the case, you can all just connect to the one portable WiFi instead of all having to buy separate SIM cards.
It's small, so you can just carry it around in your pocket.
You don't need to worry about messing around with your phone or any SIM cards – you simply connect your phone to the WiFi instead.
Cons of a Portable WiFi:
The speeds can sometimes be a little slow.
It's often way more expensive than buying a SIM card.
The coverage is often a little patchier than the coverage you get with a simple SIM card.
Overall, most people are best to just get a SIM card. If you're traveling in a big group or you don't want to mess around with your phone, then a portable WiFi can be brilliant. But for the vast majority of people, a local SIM card is a better idea. It's cheaper, it's more reliable, and you usually get better coverage.
That said, if you're looking for a portable WiFi, you can get some great ones from Viator and Klook. This one is great, as is this one.
Simply SIMs
There you have it – everything you need to know about getting and using a SIM card in Vietnam.
If you use a Vietnamese SIM card in Vietnam, it'll be easier for you to get around and easier for you to have a brilliant time. So although you don't need one, it's pretty much always a good idea to get one.
Want to know anything else about traveling in Vietnam? Our site is packed with lots of helpful tips and guides. We have articles on the best cities, the best places to visit, the best fruits, the best markets and all the vaccinations you need. Whatever you want to know about Vietnam, we have it all right here.
Being a Digital Nomad: Tips, Tricks and Places
Do you want to be a digital nomad?
If you do, maybe you don't know where you might want to live. Or how to live there. Or whether you need a visa. Or how to make friends in the scary sprawl of a brand-new city. Or how to stay productive while you travel. Or how to find an apartment. Or whether this lifestyle really is for you. Or… I'm sure you get the idea.
But with some insight and experience, it's not as difficult as you think. So in this book, I've gathered my 6 years of digital-nomadding experience… and I've used it to answer all your questions, soothe all your fears, and get you on your way. After reading this, you'll realise being a digital nomad is much easier (and much more possible!) than you think.