Standing Stones in the UK – The Ultimate Guide
You've probably all heard of England's surreal Stonehenge.
The most famous collection of standing stones on the planet, it's a mysterious place, with loads of weird and wacky theories on its purpose and history.
But across the UK (and across the world!), there are loads more similar structures. But what are these standing stones? Why are they often assembled in circles? Who put them there? And why are they so weird?
In this article, we've covered all the big questions and brought you everything you need to know about standing stones in the UK (and beyond!).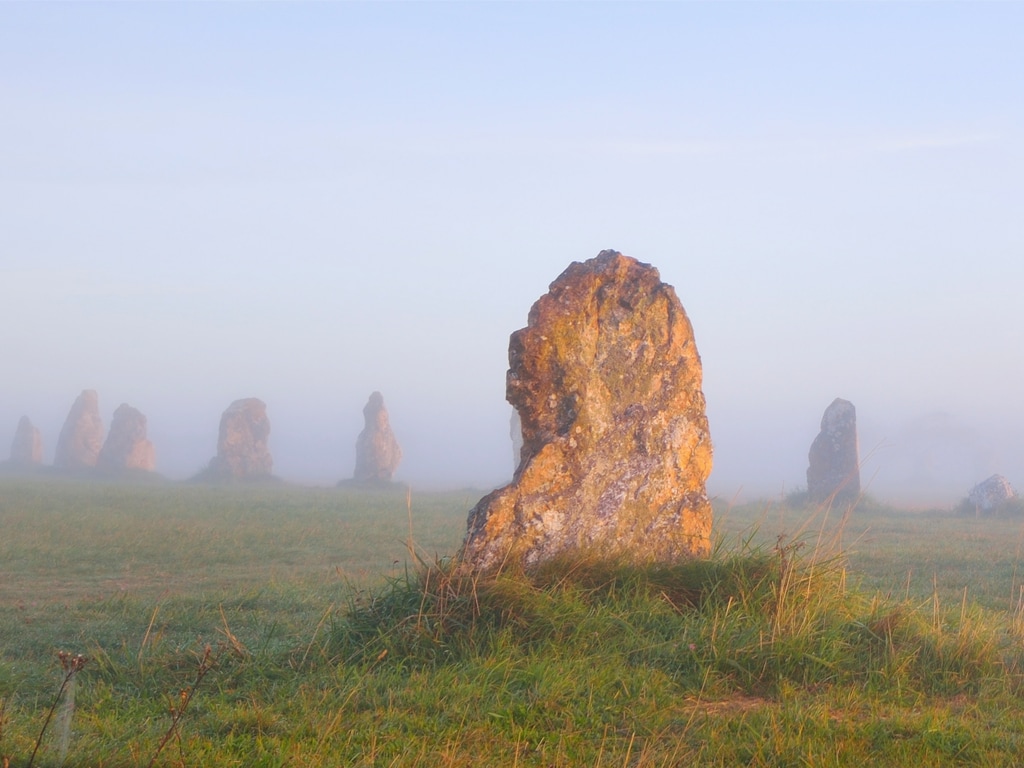 What Are Standing Stones and Stone Circles? Where Are Most of Them Found?
Standing stones are man-made upright-standing stones that have been placed into the ground vertically. And they're usually pretty big. Meanwhile, and this is hardly a revelation, a stone circle is simply made when these standing stones are… that's right!… arranged in the shape of a circle.
Most standing stones are prehistoric, and the majority of them date from sometime between the Bronze Age and the Iron Age (that's approximately between 3300 BC and 1200 BC). That said, a small few are more modern, and many are way older—some standing stones are around 7,000 years old.
Most of the world's most famous standing stones are found in the UK, but stone circles exist across the world, in places like France, Costa Rica, South Korea, and the USA (but we'll bring you much more detail on those locations later).
Allegedly, there's evidence of more than 35,000 different standing stones in Europe alone. Although the UK's standing stones are the most famous, most evidence of standing stones is actually found outside of the UK (and largely in Mediterranean areas).
Although we have an understanding of what some standing stones and stone circles were used for, most theories and guesses are pretty speculative and superficial. This brings us to…
What Was the Purpose of Standing Stones?
No one really knows the full extent of the purpose of standing stones, and they'll probably always remain a mystery.
It's thought that many stone circles were used to celebrate events, hold rituals, measure time and watch the stars. The vast majority of the time, these stone circles probably functioned as early versions of clocks and calendars.
We also know for sure that some stone circles were once used for burials and cremations.
But some experts and theorists speculate that some of them might have had more strange and sinister uses, including sacrifice, alien communication, time travel, and as landing spots for UFOs. Some even think that Stonehenge might be the remains of an ancient Roman temple.
What is the World's Largest Stone Circle?
Avebury (in southern England) is home to the biggest stone circle on the planet.
There are three stone circles at the site, but the biggest of the three was originally made up of around 100 stones, with a hefty diameter of around 330 meters (1,080 feet).
Weirdly, Avebury is only around 25 miles (40km) from Stonehenge, so you can easily visit the two together in one big day trip.
What Are the Oldest Standing Stones in the World?
The oldest standing stones in the world are typically thought to be the ones that make up Nabta Playa, allegedly constructed 7,000 years ago.
Nabta Playa is in southern Egypt, close to Lake Nasser, and it's thought the place was used to track the movements of the sun, in order to anticipate the onset of the monsoon season.
The stones at Nabta Playa are surprisingly small, much littler than the much-more-famous megaliths you can find in other parts of the world.
What Are the Oldest Standing Stones in the UK?
No one's quite sure which standing stones are the oldest standing stones in the UK.
Some think the UK's oldest standing stone site might be Castlerigg, in the Lake District. Others think it's more likely to be the Callanish Standing Stones, on the Scottish island of Lewis and Harris.
The third possible set of contenders are the Stenness Standing Stones, on the Scottish island of Orkney, a UNESCO World Heritage Site.
All three sets of stones were first assembled around 4,500 or 5,000 years ago.
Avebury was built slightly later than these three, while Stonehenge is younger than them all.
How Many Standing Stones Are There in the UK?
There are absolutely loads of standing stones in the UK, but it's hard to know exactly how many for sure.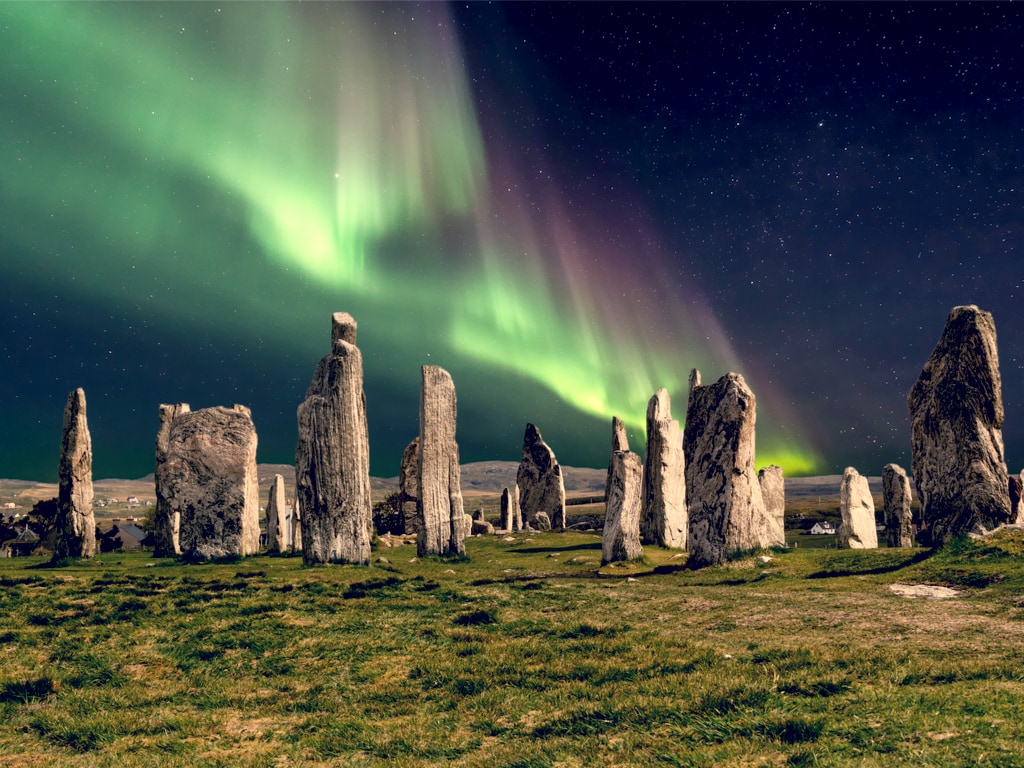 Some sources claim there are around 300 stone circles alone in the UK, while others believe it's closer to 1,000. And in addition to all of those, there are also lots more non-circular standing stones dotted throughout the region.
The best thing about the UK's standing stones is how well-maintained and well-preserved they are. If you want to visit some excellent, iconic and massive stone circles while learning all about them, the UK is a great place to visit.
Where Are the Standing Stones in the UK?
Most of the UK's standing stones are found in two main regions: in Scotland (particularly on many of the Scottish islands), and in several parts of southern England.
But you can also find them in many parts of the UK, and even in places with strong historical connections to British culture (such as Brittany, a region of western France).
The UK's standing stones are so hugely widespread that it's difficult to answer that question in brief. So coming up, we've listed some of the most famous standing stones and stone circles in the UK (and a small few from other places!).
Standing Stones in England
Some of England's most famous standing stones include…
1. Stonehenge
By far the most famous stone circle in the world, lots of people come to the UK solely to see this big boy. Located in southern England, it allegedly took more than 1,000 years to build Stonehenge in its entirety.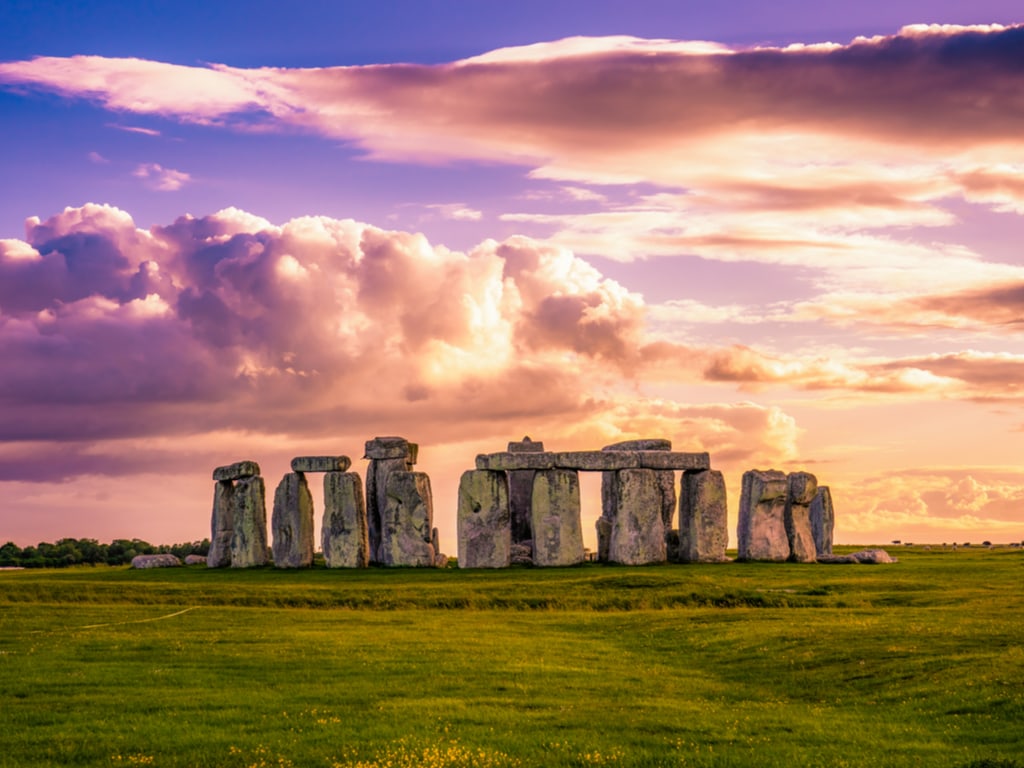 The main circle has a diameter of 33 meters (108 feet), and most of the biggest stones have a height of around 9 meters (30 feet).
Some of the biggest stones weigh around 22 tonnes, which is around the same as four African elephants. So quite how those stones made their way to the Salisbury plain, no-one really knows. Archeologists reckon these stones were sourced 32km (20 miles) from where they now reside.
2. Avebury
Less famous than Stonehenge, but arguably more impressive, Avebury is absolutely massive. Some of the tallest stones have a lofty height of around 5.5 meters (18 feet).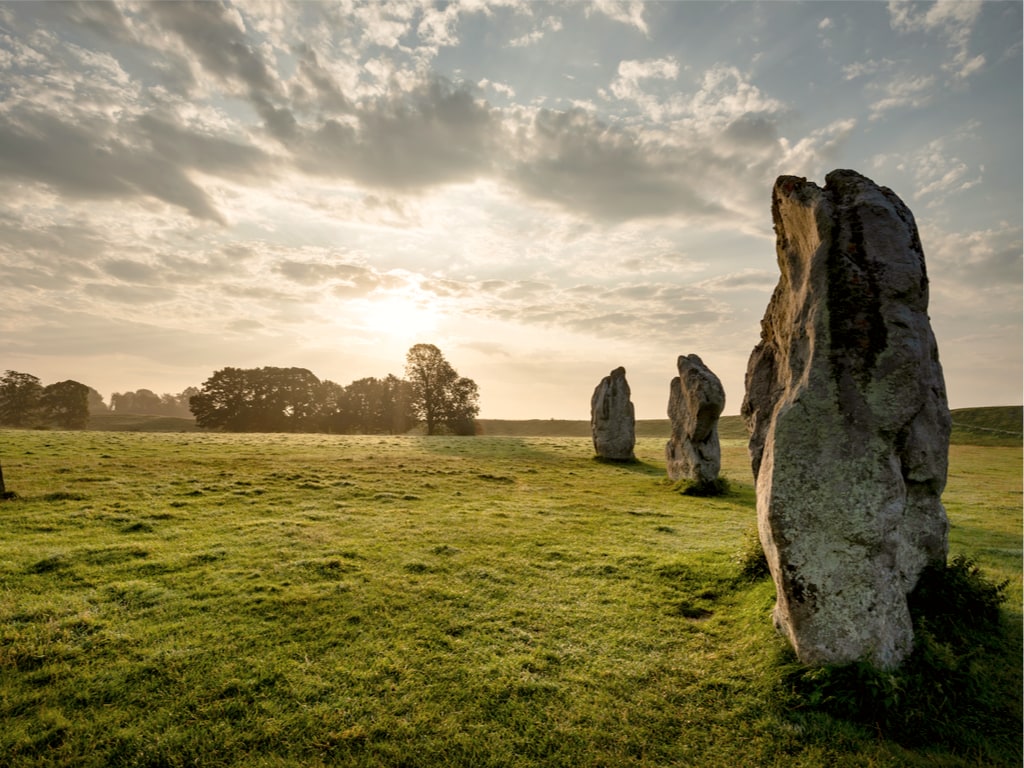 The site is home to the biggest stone circle in the UK, along with two smaller circles inside of the big one. Most people believe Avebury was once a worship site—and that it might have been repurposed for Paganism or devil worship in Medieval times.
Nearby, there are other sites from the Neolithic and Bronze Ages. So if you just can't get enough of old mounds and stones, you'll love the entire area.
3. Long Meg and Her Daughters
This strangely-named stone circle is in the north of England.
Situated between the hiking hubs of the North Pennines and the Lake District, the stones here aren't as big as the ones at Avebury and Stonehenge.
But it's still a massively impressive site, with 69 stones sitting in a (still-complete!) circle. With a diameter of around 106 meters (350 feet), it's the second-biggest stone circle in England.
The biggest stone (the one named Long Meg) is larger than the rest (at a height of 12 feet/3.6 meters), and sits outside of the circle.
Legend has it that, if you count all the stones here, you'll always arrive at a different number.
4. Castlerigg
Castlerigg is in the heart of the Lake District, just outside of Keswick.
Possibly the oldest standing circle in the UK, some people reckon it's also the best standing circle in the UK. At its widest point, it has a diameter of around 32.6 meters (107 feet). 38 of the original 42 stones remain, and the biggest have a height of around 2.3 meters (7.5 feet).
Because it's on a plateau surrounded by valleys, you get excellent panoramas from countless parts of the circle. From Castlerigg, you can see some of the area's highest peaks, including Helvellyn, Blencathra and Skiddaw.
5. The Rollright Stones
The stones here are a lot smaller than most people expect, so this place is cute and quiet rather than imposing.
The complex is made up of three different sections: you have the King's Men (a 4000-year-old stone circle made up of around 70 stones), The King Stone (one stone standing all alone), and The Whispering Knights (a 5000-year-old burial chamber).
Some of the stones are relatively big and sturdy, but others are just ragged little lumps.
They're in the northern part of the Cotswolds, close to Chipping Norton.
Fun fact: Dr. Who episode 'The Stones of Blood' was partially shot here.
6. Fernworthy
In southwest England, in Dartmoor National Park, you have Fernworthy Stone Circle. 20 meters (65 feet) in diameter, it's home to 27 small stones. This is nowhere near as big and impressive as some of the other circles we've featured, but it's still worth a visit.
Leading up to the stone circle, there are three different stone rows, which sort of served as ancient pathways or markers.
7. Trethevy Quoit
Strangely-named Trethevy Quoit is pretty close to Fenworthy, around 36 miles (58km) west of its stoney cousin.
While most places we've covered so far are stone circles, this one is pretty unique. It's instead made up of five stones: four standing vertically with another placed horizontally over the top of the others.
Measuring in at a height of 2.7 meters (8.8 feet), it's an ancient burial chamber. Some think it was also used for worship—and for attempting to communicate with Gods by using the recently-deceased as conduits.
8. Boscawen-Un
Found in southwest Cornwall, Boscawen-Un is almost on the very tip of this part of England.
Another stone circle, it's made up of 19 stones, along with another taller stone in the center of the circle. At its widest point, the diameter of Boscawen-Un is around 24.9 meters (82 feet).
9. Stanton Drew
The third-biggest standing stone site in England, Stanton Drew is probably less famous than it should be.
That's mainly because not much is known about the place. Made up of three circles and a cove, the biggest circle here has a diameter of 113 meters (370 feet), and 26 of its stones remain.
Sitting in Somerset, just southwest of the Cotswolds, this place was allegedly once much more complex and elaborate than it now appears.
Standing Stones in Scotland
Scotland is home to around 500 stone circles, and many more standing stones. Some of the nation's most iconic and well-known include…
10. Machrie Moor Standing Stones
Found on the brilliant Scottish island of Arran, the Machrie Moor Standing Stones are a massively popular tourist attraction. The place is a collection of six separate stone circles, all spread widely across a set of barren moors.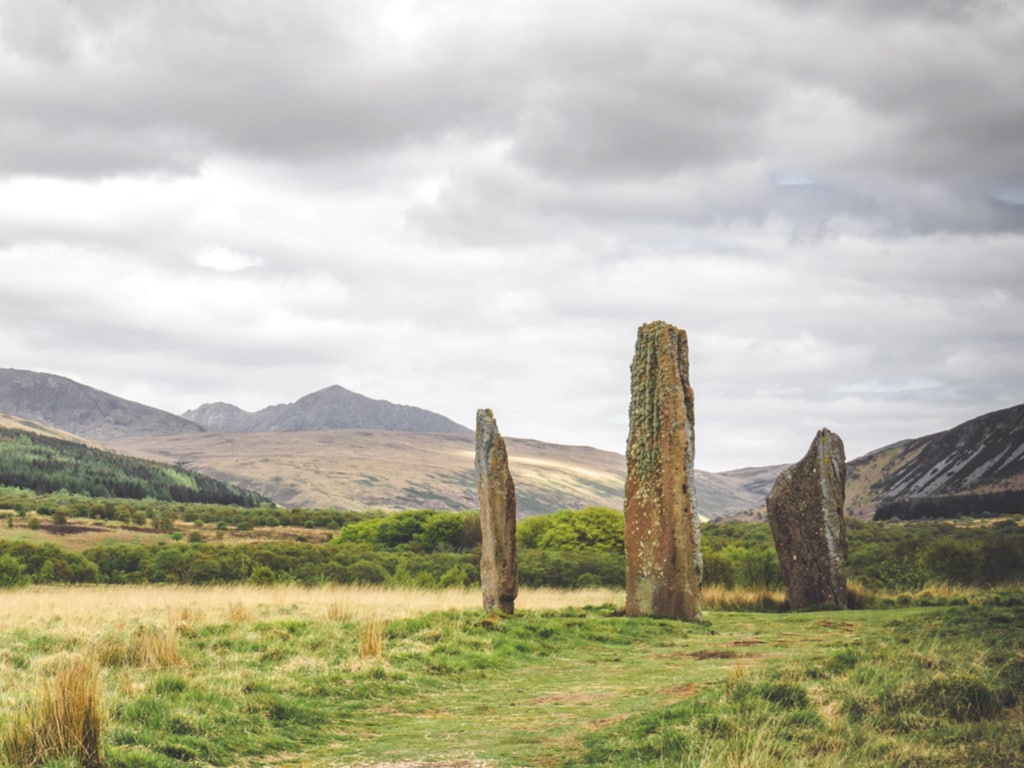 Once the site of cremations and burials, it's now a lovely place for a walk, and lots of people like wandering around the surprisingly-big area.
Some of the six are still in pretty good condition, while others aren't. The most impressive is the so-called second circle, made up of three tall stones of around 4 meters (13.1 feet).
11. The 12 Apostles
The biggest set of standing stones on mainland Scotland, these ones are in Dumfries, in southern Scotland.
Named after the 12 men who liked hanging around with Jesus, there are actually only 11 stones here, but it's thought there were between 16 and 20 of them back in the day. The sort-of circle has a diameter of around 86 meters (282 feet), and the stones are around 2 meters (6.5 feet) tall.
If you're looking for a really interesting and atmospheric place, this isn't it. But if you're on the hunt for a large and accessible stone circle, it's a decent option.
12. Clava Cairns
Arguably the most famous standing stones in Scotland, these ones are pretty close to Inverness, and a popular trip from the city. Another good option for an accessible day out, the best way to explore them is on the hike which also takes in Culloden Battlefield.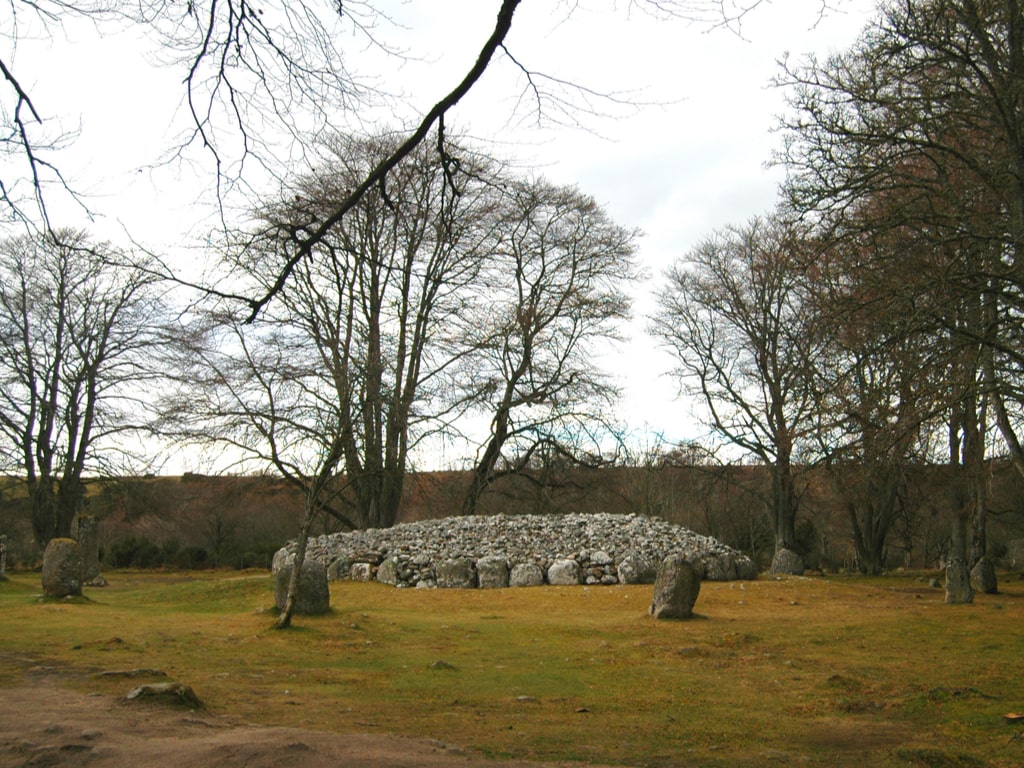 These look a lot different to any other standing stones we've covered so far. You get some scattered standing stones along with three cairn-style mounds, which were used as burial grounds.
The complex also includes the ruinous remains of a medieval chapel.
13. Callanish Standing Stones
Also known as 'Calanais Standing Stones' (that's their Gaelic name), there's a good chance that these are the oldest standing stones in the UK.
Whatever the facts are, I reckon they're possibly the most atmospheric standing stones in the region.
Sitting in the western part of the hefty island of Lewis and Harris, it's a pretty intricate complex. There's a very tall central monolith surrounded by a circle of 13 stones, and five rows of standing stones which point towards this circle. The biggest stone has a height of 3.5 meters (11.5 feet).
Most people think this crucifix-shaped complex was used as some sort of observatory.
14. Ring of Brodgar
One of the most popular attractions on the Orkney Islands, the Ring of Brodgar is ridiculously well-preserved and atmospheric, and loads of people come here for sunset.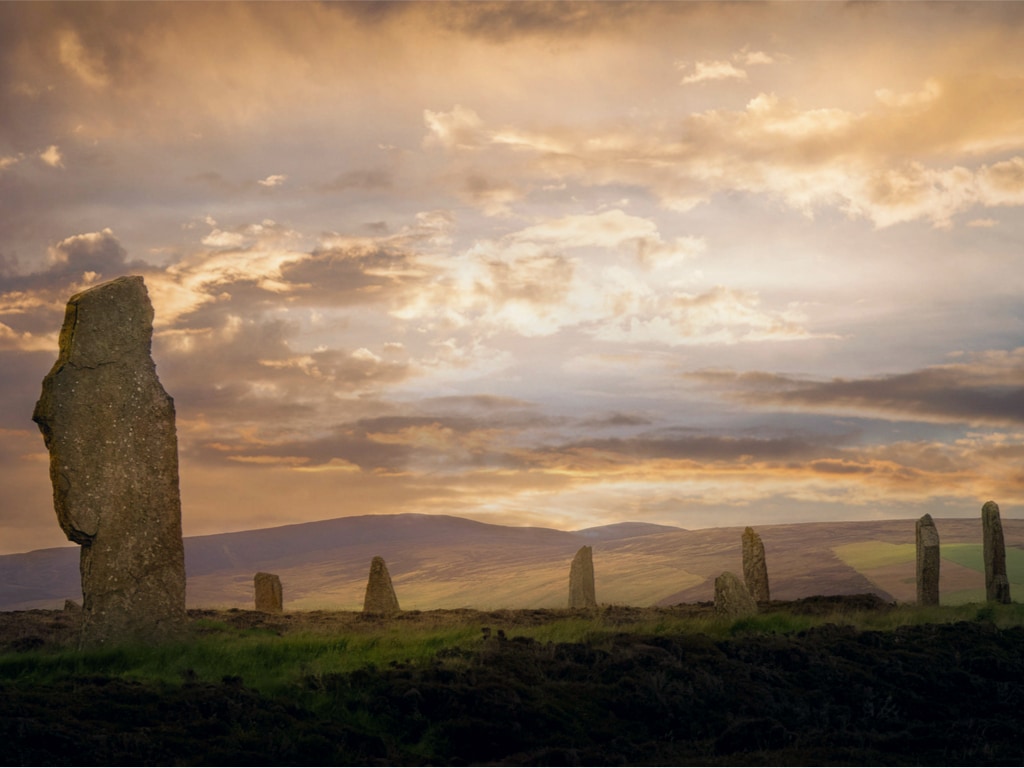 There were once 60 stones in the complex, but only 27 of them remain. The biggest of the stones are around 4.5 meters (14.7 feet) high.
The third-biggest stone circle in the UK, the Ring of Brodgar has a diameter of around 103.6 meters (340 feet). Surrounded by mountains and water, it's absolutely beautiful, and I reckon it's maybe the most photogenic spot in this whole article.
15. Standing Stones of Stenness
Very close to the Ring of Brodgar, the Standing Stones of Stenness are only around 1 mile (1.6 km) from their circular neighbor.
Maybe the oldest standing stone structure in all of the UK, the stones here are pretty huge, the biggest measuring in at a height of around 6 meters (19.6 feet). So if you're looking for lofty stones, this place is a good pick.
While there were once 12 stones here, only four now remain.
Standing Stones in Wales
Compared to both England and Scotland, there are fewer famous stone circles in Wales, but the country still has some excellent sites. Some of the best standing stones in Wales include…
16. The Druid's Circle
This ominously-named area is near the north coast of Wales, close to Llandudno.
A sort-of circle made up of thirty stones, this place has absolutely no connection to the druids. Instead, like pretty much all the stone sites we've featured so far, it was Neolithic, and it probably dates back to around 5,000 years ago.
It was definitely a place where cremated ruins were left, while some speculate it was also a site of sacrifice (though there's no evidence to support that spooky conjecture).
Because it's on a raised plateau close to both sea and mountains, you get excellent views of Snowdonia National Park and some nearby shores.
17. Moel Tŷ Uchaf
Perched on a hill in northern Wales, Moel Tŷ Uchaf is a really special place. The 31 admittedly-small stones form a near-perfect circle, with only small gaps between them.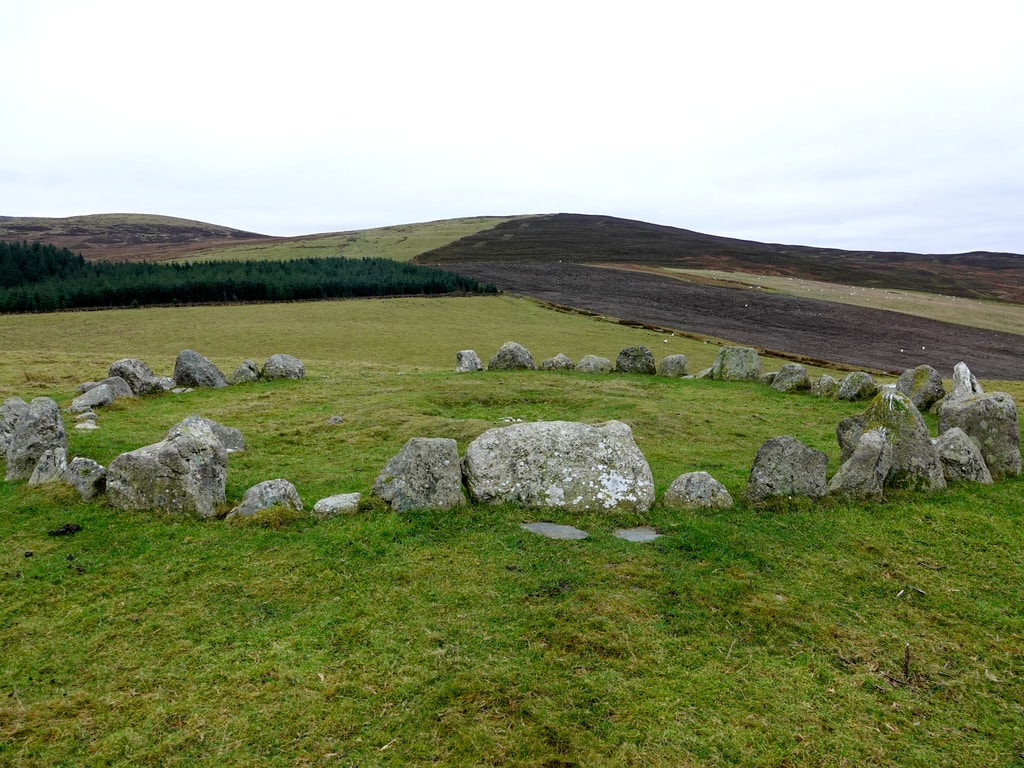 But what makes it really special is the location. From the top of the plateau, you get excellent views of the valley below. I reckon they might be the best stone-circle views in the UK.
And because you need to hike to reach the place, it's usually very quiet and calm, perfect if you don't want to be surrounded by lots of other tourists. It's around a 20-minute walk from the car park.
18. Waun Mawn Standing Stones
The Waun Mawn Standing Stones are in southwest Wales, close to Newport.
They aren't particularly special to look at, because the site is made up of only two standing stones, and two which have fallen over—no one's really sure if this place was once a stone circle, or if it was instead a row of stones.
But the real draw here is in the potential history. Some archeologists believe that some of Stonehenge's stones actually used to live here.
19. Trefignath
Right on the northwestern tip of Wales, Trefignath is pretty similar to Trethevy Quoit, in southern England.
A trio of three neolithic burial chambers, it sort of looks like a pile of rubble at first glance. But have an explore, and you'll be able to work out where the tombs would have been. The place has largely fallen into disrepair, but it's still a decent visit.
Around 350 meters northwest of the site, there are some small standing stones. And a tiny bit further from these standing stones, you have the Tŷ Mawr Standing Stone.
20. Bryn Cader Faner
One of the most unusual sets of standing stones in the UK, Bryn Cader Faner is a strange collection of stones and spikes, and both a stone circle and a burial ground.
The place is made up of a wide cairn, measuring 8.5 meters/28 feet across, and 0.9 meters/3 feet in height. But rising out of the cairn, there are 15 thin spiky pieces of stone. These slender stones are around 1.8-meters (6-feet) high.
To reach the place, you need to walk around 4 miles (6.5km), so it's always pretty silent and serene.
Standing Stones in Northern Ireland
There aren't a huge number of standing stones and stone circles in Northern Ireland, but here are some of the nation's most famous…
21. Beaghmore Stone Circles
The Beaghmore Stone Circles are in the central part of Northern Ireland, relatively close to Derry.
Made up of 7 interlinking stone circles, twelve cairns, and ten rows of stones, it's a pretty big complex. The stones are mostly small, but the sheer number of them is massively impressive.
22. Larne Standing Stone
A sole mysterious monolith in the middle of an otherwise-unoccupied field, the Larne Standing Stone is north of Belfast, and very close to Northern Ireland's east coast.
No one's really sure why it's here—but because it stands all alone, it's a strange site. Because it's in a privately-owned field, you can't wander right up to the stone… but it's still worth a visit if you're in the area.
Standing Stones in Other Parts of the World
As we've covered, not all neolithic stones are found in the UK. Some of the most famous standing stones and stone circles outside of the UK include…
23. Carnac
Maybe the most famous European standing stone outside of the UK, France's Carnac is located in Brittany. In total, there are over 3,000 stones in the area and some of the biggest measure is a lofty 6 meters (20 feet).
The entire complex stretches for more than 4 miles (6.5km), and no one really knows why the stones are here, or what they were used for.
24. The Costa Rican Stone Spheres
These ones are pretty unique. While most stones on this list are rectangular or misshapen, these Costa Rican stones are almost perfectly spherical.
No one really knows why they were made, but one theory is that they were placed in lines that pointed in the direction of Diquís chiefs. In total, there are more than 300 stones at the site.
25. Gochang Dolmens
The highest concentration of dolmens (ancient tombs, in case you're not up on all the megalithic lingo) on the entire planet, Gochang Dolmens was an ancient burial ground.
A UNESCO World Heritage site, there are over 440 dolmens here, on an area that measures more than 20 acres. The place is in South Korea, and there are two more similar sites nearby.
26. The Deer Stones
While most standing stones on this list are close to one another, the surreal deer stones are largely scattered across several parts of Mongolia and Siberia, and often in small groups.
But they mostly all have one thing in common: almost everyone is decorated with strange carvings of flying deer. The biggest of them measures in at a height of around 4 meters (13 feet).
No one's really sure what these flying deer represent, or why they've been carved on so many stones.
27. Knowth
This place is massively overlooked and underrated.
Home to a quarter of all the rock art in Europe (and no, you didn't read that wrong!), Ireland's Knowth is close to Drogheda, and not too far from Dublin.
The petroglyphs at this burial site feature images of spirals, sundials, and lunar maps, along with lots of strange patterns. If you're interested in Neolithic art or stone carvings, Knowth is genuinely a must-visit.
28. Drombeg Stone Circle
Located in the Republic of Ireland, the Drombeg Stone Circle is one of County Cork's most famous attractions.
The most-visited standing stone site in all of Ireland, it's made up of 17 standing stones, all in a tightly-packed small circle.
Once a burial ground, the place is pretty alluring and atmospheric—and because it's perched on the top of a small hill, it offers great views. It's also known as 'The Druid's Altar.'
29. Nabta Playa
As we've already covered, Nabta Playa is thought to be the oldest stone circle in the world.
Found in southern Egypt, the stones aren't too big, but it's an incredible historical site. It's thought to be the world's oldest astronomical complex and was used to anticipate the region's monsoon season.
Some of the stones are standing, while others are flat on their backs.
Are There Standing Stones in America?
Yes, there are a small few examples of ancient standing stones across the USA.
There are way fewer than you'll find in many other parts of the world, but some of the most famous standing stones in the USA include Salem's Mystery Hill, Wyoming's Bighorn Medicine Wheel, and California's Hemet Maze Stone.
You can find way more information on some of the USA's weird stone formations in this Atlas Obscura article.
The USA is also home to lots of Stonehenge replicas, and modern-day standing stones and stone circles. They're made exclusively to represent ancient standing stones and don't have any use or significance beyond that.
Are the Outlander Stones Real?
Not really. They're vaguely based on real historical and archeological sites, but they're otherwise completely made-up.
They're based on a mishmash of Callanish Standing Stones (on Lewis and Harris), and Clava Cairns (the ones next to Inverness).
But no matter which real-life stones they're based on, the Outlander standing stones definitely aren't real. They were actually made from styrofoam (and not thousands of years ago).
The place where the characters go to see the stones is called 'Craigh na Dun,' which doesn't exist either. Instead, the scenes were shot at Kinloch Rannoch, in Perth and Kinross.
Final Thoughts and Further Reading
Hopefully, we've covered all your questions and brought you everything you need to know about standing stones and stone circles in the UK (and beyond!).
If you want to know anything else about some of the UK's most significant and important sites, check out our articles on the UK's highest waterfalls, tallest mountains, and longest rivers.
Thanks for reading, you lovely person, and we'll see you next time!
Being a Digital Nomad: Tips, Tricks and Places
Do you want to be a digital nomad?
If you do, maybe you don't know where you might want to live. Or how to live there. Or whether you need a visa. Or how to make friends in the scary sprawl of a brand-new city. Or how to stay productive while you travel. Or how to find an apartment. Or whether this lifestyle really is for you. Or… I'm sure you get the idea.
But with some insight and experience, it's not as difficult as you think. So in this book, I've gathered my 6 years of digital-nomadding experience… and I've used it to answer all your questions, soothe all your fears, and get you on your way. After reading this, you'll realise being a digital nomad is much easier (and much more possible!) than you think.