Arizona is famous for its desert vistas, towering saguaro cacti, and hot summer days. Although much of the Grand Canyon State is a desert landscape and sits at a lower elevation, the northern and eastern parts of Arizona are more mountainous and have higher elevated areas. Generally, the higher elevation an area has, the more likely it is to get snow in the winter.
Even long-time residents of this desert state haven't ever seen snow, which makes you wonder- does it even snow in Arizona?
Does It Snow in Arizona?
Yes, it does snow in Arizona! It may surprise some people to learn that parts of Arizona do get quite a bit of snow every year.
Flagstaff is northern Arizona's largest city and is also the snowiest city in the state; the city and surrounding mountains can get up to 101 inches of snow a year! Flagstaff's record year was in 1972-73 when they received a whopping 210 inches of snow!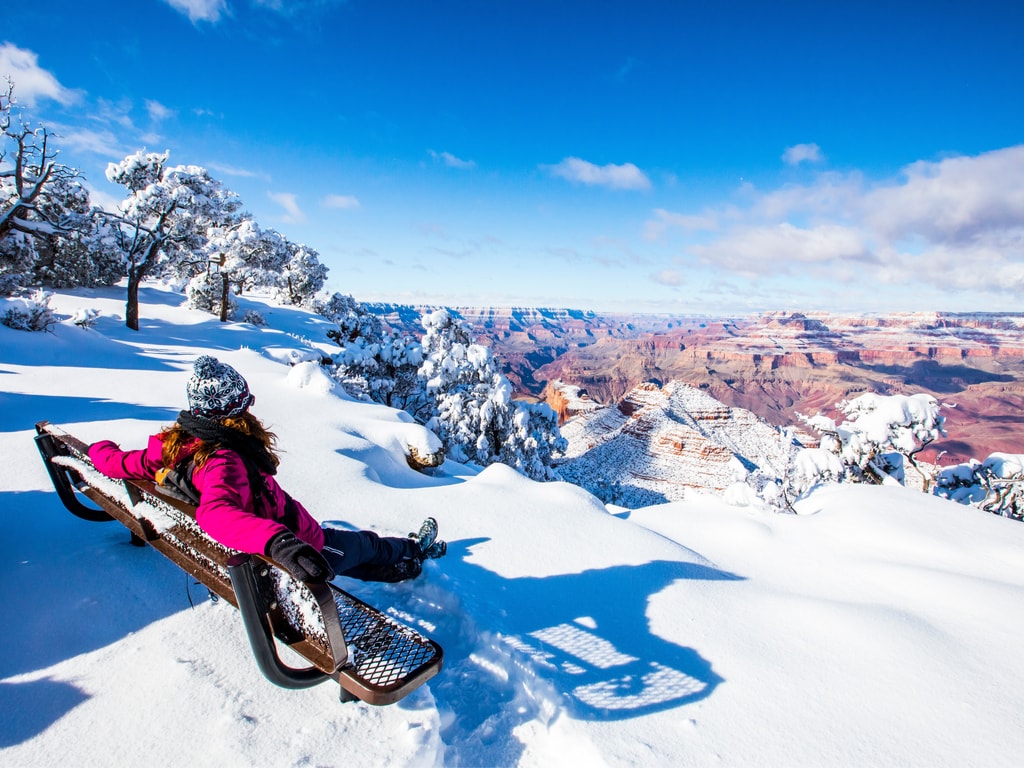 How Often Does It Snow in Arizona?
Each year, you can count on snow to fall for about 34 days of the year in Flagstaff; in other smaller cities that are relatively high in elevation like Payson and Prescott, there is an average of 5-6 days a year of snowfall. Snow can fall any time starting November and has even happened as late in the year as April.
Where Does It Snow in Arizona?
Flagstaff in northern Arizona and the White Mountains in the eastern part of the state both get plenty of snow every year, and some other lesser-known areas might surprise you. Southern Arizona doesn't get left out of snowfall; Mount Lemmon near Tucson can get up to 180 inches (4.6 m) of snow annually, and there's even a ski resort up top. You could easily go from warm desert sun to cold ski resort in less than an hour!
Other mountains in southern Arizona will get snow occasionally, but it takes perfect conditions and huge storms to make it happen. If you look at a map of Arizona and draw a diagonal line from the southeast corner to the northwest corner, all of the area top of that line gets much more snow than the bottom half. The Mogollon Rim and other plateaus make up the mountains north and east of Phoenix, and the higher elevation leads to more precipitation in the form of snow.
Where Does It Snow the Most in Arizona?
Snowbowl Ski Resort on Humphrey's Peak near Flagstaff sees on average 180 inches of snow a year, and up to over 330 inches in really good years! In the White Mountains near the New Mexico border, 80-100 inches of snow is the norm, and the alpine environment makes it feel like you're in the mountains of Colorado instead of Arizona!
Does It Snow in the Desert?
High deserts in Arizona such as Page and the south rim of the Grand Canyon can see frequent snow, and seeing the white against the red rocks is always a special sight. Other areas such as the Superstition Mountains east of Phoenix, Four Peaks mountain, and the Coronado peaks in southern Arizona can all see a dusting of snow as well, although it tends to melt pretty quickly.
Sedona also sees a light dusting every other year or so, and many photographers and adventurers flock to the area to photograph the iconic red rock cliffs covered in white. This is also a great time to visit the normally busy Sedona, as most people tend to avoid the colder weather. If you're tough and dressed well, it's well worth the visit in winter.
Does It Snow in Phoenix?
Snow in the Phoenix city limits is extremely rare, but it has happened! The most snow that has fallen in Phoenix was way back in 1937 when one inch blanketed the area for a day. In 1990, almost a half-inch fell as well, but the record is unlikely to ever be broken.
In the hilly areas on the outskirts of Phoenix that are just slightly higher in elevation such as Cave Creek, east Mesa, and Fountain Hills can see a small amount of snow every few years, and it's always a big deal to residents when this happens!
Can I Ski in Arizona?
Absolutely! Skiing is possible in Arizona. Snowbowl Ski Resort in Flagstaff is a personal favorite for myself and many native Arizonans; they have slopes for all levels of skiers and snowboarders and provide lessons for all ages and levels as well. It is by far the most popular and you can easily make it a long day trip from Phoenix.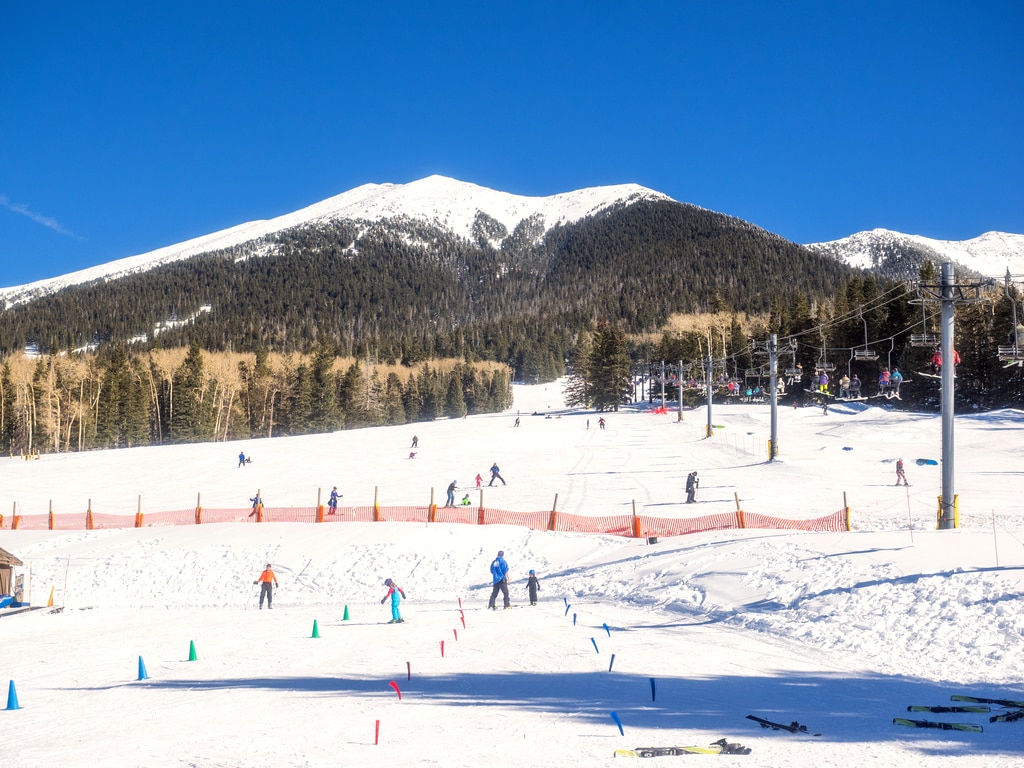 Sunrise Ski resort near Greer is another great option, although it is a little farther from Phoenix and would make a better weekend excursion.
Mount Lemmon Ski Valley is smaller than the other resorts but is a decent option for those that live in Tucson. For other snow sports like snowshoeing and cross-country skiing, there are a few locations near Flagstaff and on top of the Mogollon Rim that are perfect for these activities.
Check out my full guides on the best ski resorts in Arizona and the best ice skating rinks in Arizona.
How Cold Does It Get in Arizona?
For much of the year in Arizona, the temperatures soar above 100° F. That doesn't mean it can't get cold here! The lowest temperatures have been recorded in Hawley Lake at an incredible -40° F/C, back in 1971! The coldest it has ever gotten in Phoenix was 17° in 1950, which is more than downright chilly for the desert-dwelling residents.
Many people "snowbird" in Arizona during the winter due to our mild temperatures and mostly sunny weather. Compared to the rest of the country, Arizona is lovely between October and May, so it's no wonder people travel cross-country to spend those months here!
Conclusion
Parts of Arizona see the full spectrum of seasons, especially winter, and get up to several feet of snow every year! In Flagstaff especially, it's a winter wonderland and many outdoor sportspeople travel north to take advantage of the snowy conditions.
Since Arizonans are used to dry and sunny weather, many of us are not experienced in winter weather driving, so be cautious, go slow, and brake early!
Winter in Arizona is the best time of year, and visiting the snow in the high country is one of the favorite past times of my family and many other families from the Phoenix area.
Explore Arizona
Still wanting to learn more? Dive in our Arizona Travel Guides and discover the best places to visit, interesting things to do, budgeting tips, comfortable accommodation, and everything you need to plan your perfect trip in the state.