Top 9 Ice Skating Rinks in Arizona
Winter is fast approaching, and with that comes all of the fun winter season activities that involve cold, snow, holidays, and all things holiday cheer. Ice skating is just one of those activities, and it is a winter tradition that goes back hundreds of years.
Arizona is primarily a desert state, with only half of the state getting reliable snow levels and cold weather during the winter months. Even in the Valley of the Sun with our mild winter weather, we've gotten creative with our skating rinks both indoor and outdoor so that everyone young and old can enjoy this classic winter activity.
That's why when it comes to finding the perfect place to enjoy a day of ice skating, Arizona has no shortage of options. From family-friendly community rinks to world-class facilities that host national and international competitions, there's something for everyone.
To help you find the perfect spot to enjoy some time on the ice, I've compiled this list of the top 9 ice skating rinks in Arizona. Whether you're a beginner or a seasoned pro, you're sure to find a rink that's perfect for you.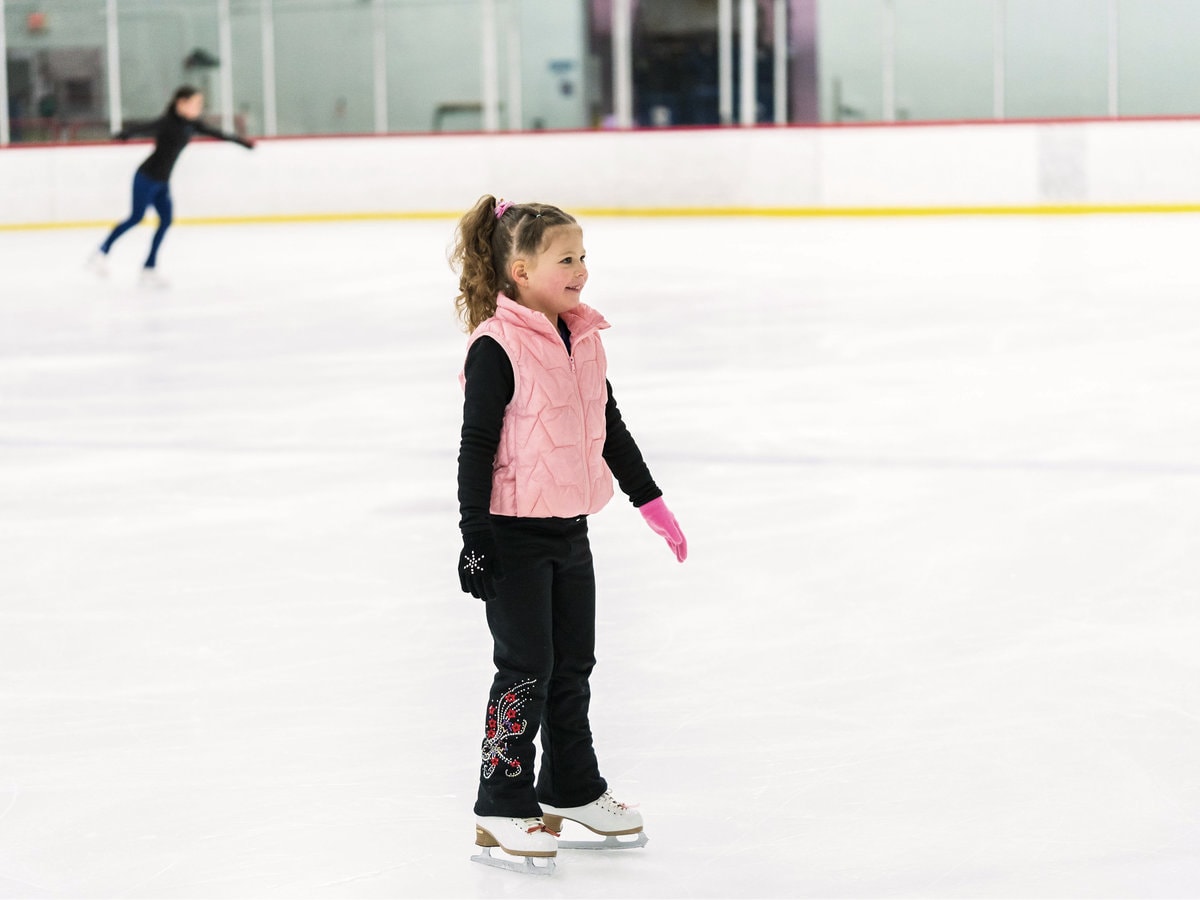 Best Ice Skating Rinks in Arizona
Here is the map of the best ice skating rinks in Arizona:
All of the outdoor skating rinks are seasonal and have limited space, so always check ahead to make your reservations or buy tickets only for an easier experience. Group rates may apply as well, so get your family together and make some memories!
1. CitySkate Holiday Ice Rink, Phoenix
Think of the famous Rockefeller Center skating rink, but just on a smaller scale. The circular rink surrounds a fabulous sparkling Christmas tree that towers over the skaters.
Downtown Phoenix turns into a mini winter wonderland the day after Thanksgiving when the CitySkate rink opens for business and continues through the new year.
The CitySkate Holiday Ice Rink is located outside, and is real ice! Even if you're a beginner or advanced skater, you'll be able to enjoy this ice skating rink with your friends and family.
Grab some hot cocoa afterward or get a photo with Santa, who makes regular appearances near the ice rink all day long!
2. Ice Skating on the Farm, Queen Creek
Schnepf Farms is family fun central year-round, but especially in the winter months! They have a Polar Express-style miniature train, plenty of bounce houses for the little kids, tons of eats and treats, and of course, outdoor ice skating!
Enjoy all the best activities and traditions that come with the Christmas season, all in one family-friendly place!
Ice skating is part of the general admission, and the covered ice rink is open rain or shine! Enjoy some casual skating or engage in races with your friends. Several playful hockey games are held throughout the season, for all ages.
Schnepf Farms is a family-owned working farm in Queen Creek, and they really make every visit special for everybody all year long; Christmas time is especially magical and their outdoor ice skating rink keeps you "dreaming of a White Christmas"!
3. Winter Wonderland Ice Rink, Mesa
Downtown Mesa is usually pretty calm during most of the year. Still, during the winter holiday season, things really pick up with their Merry Main Street celebration, including the Winter Wonderland Ice Rink.
The real ice covers 6,000 square feet of space, which is plenty big for large groups to enjoy! Tickets are bought on a time slot basis, keeping the crowds low and the fun high!
Tickets can be bought in advance for a one-hour time slot, and trust me, one hour is plenty! If you haven't skated before on real ice like the Winter Wonderland Ice Rink, it can be very tiring and you'll be ready for some hot cocoa by the time you're done.
Enjoy shopping at the boutiques and shops on Main Street, especially if you're looking for unique gift ideas!
4. Skate Westgate, Glendale
Westgate Entertainment District is a sprawling complex of restaurants, shops, and sports arenas that house the Arizona Cardinals (football) and Phoenix Coyotes (hockey).
Every winter, Fountain Park in the center of Westgate is turned into a winter wonderland, with an outdoor ice skating rink, Christmas trees, lights, live music, and visits with Santa Claus.
The skating rink at Westgate is made of real ice and is the perfect size for beginners and advanced skaters alike. The lights that are strung over the ice rink and the Christmas trees towering on all sides create a truly magical, sparkly atmosphere.
You can get a head start on the holiday season with extended open dates and hours.
5. Desert Ice Skating Rink, Scottsdale
The Fairmont Scottsdale Princess Resort is one of the top luxury resorts in the entire state, and they go all out for their winter holiday celebrations.
With the ultimate Santa experience, the Princess Express mini train, holiday character appearances, a real ice rink, and even a brand new 70-foot ice luge slide, there is no shortage of family fun to be had here. Your kids will never forget the incredible time they had at "Christmas at the Princess".
The Desert Ice Skating Rink rewards you with views of the surrounding Sonoran Desert, beautiful starry skies over Phoenix, and 6 million twinkling holiday lights throughout the resort.
This classic winter tradition might be hard to find in the desert southwest, but the Fairmont Scottsdale Princess Resort lets you speed around on your ice skates in style.
6. AZ ICE, Gilbert
If you want to enjoy ice skating year-round, indoor skating rinks are your only option in the Valley of the Sun (and the rest of Arizona). With a few scattered around the valley, you'll be bound to find one close to you.
AZ ICE Gilbert is such one ice skating rink/arena, with two separate ice rinks for figure skating, hockey games, and more.
New to skating? AZ ICE Gilbert offers a one-time free class, where you get a 30-minute group class, skate rental, and public skating session afterward (if available).
There are also paid class series for your little kids, which is perfect for those aspiring hockey players and figure skaters.
Public skate sessions are scattered throughout the week, so always check the schedule before you go!
7. Jay Lively Activity Center, Flagstaff
Heading up north for a winter holiday, but there's no snow on the mountains? (It happens). Make a stop at the Northern Arizona University campus and grab a skate pass at Jay Lively Activity Center.
The NAU Ice Jacks play all their home hockey games here as well as use the rink for their practices, but there are public skate times available throughout the week as well.
Flagstaff is a veritable winter wonderland when the conditions are right, and the Jay Lively Activity Center allows you to experience all the winter sports in just one weekend if you wanted to!
Ski or snowboard at nearby Snowbowl Ski Resort, cross-country ski at the Nordic center, or stay inside out of the elements and test your ice skating skills at the NAU ice rink.
8. Ice Den, Scottsdale
Ice Den Scottsdale is the practice arena for the Phoenix Coyotes, Arizona's pro hockey team. Throughout the month, there are open skate times (although they do require that you reserve your spot in advance, for crowd control).
This is one of the better ice rinks for skaters to learn figure skating or hockey, with top-of-the-line ice conditions and learn-to-skate classes for all ages.
The Coyotes Ice Sports Pro Shop has professionals on hand to help you with any repairs or rentals for hockey gear, figure skating gear, or getting you fitted for your first pair of skates!
Public skate sessions are usually held on Saturday evenings and Sunday afternoons, so book your time in advance to enjoy skating on a pro ice rink!
9. Oceanside Ice Arena, Tempe
Utilized by athletes from the Arizona State University women's hockey team, ASU figure skaters, and the surrounding community, Oceanside Ice Arena is a pro-level indoor ice arena.
So-named because it is near the water park Big Surf (one of the best water parks in Arizona), Oceanside Ice Arena does not currently have any open skating available to the public, as its daily schedule is full of hockey practices, lessons, and more.
Oceanside Ice Arena has been the home of the Desert Youth Hockey Association for almost 40 years, spurning the careers of countless hockey players from their youth.
Although Arizona is a desert state and hockey isn't as popular here as it is in other northern states, many people are interested in getting their kids involved in this high-energy sport. Oceanside Ice Arena occasionally holds public skates in the summer when the ASU hockey teams are out of season.
Conclusion
Ice skating is a timeless winter activity that is a perfect way to ring in the holiday season. Or, if you're feeling particularly festive in the middle of July, you can head to any of the indoor ice rinks throughout Arizona and enjoy a few hours of pretending to be a figure skater in the Olympics.
Ice skating can be done by both young and old, beginner and experienced, with fun had by all. I particularly enjoy the Winter Wonderland Ice Rink in downtown Mesa, probably because it's my home town and I have made good memories at the Merry Main Street celebration year after year.
Whichever ice rink you choose to enjoy, make the most of it by dressing for the occasion, purchasing tickets in advance for convenience, and making memories with your friends and family!
Explore Arizona
Still wanting to learn more? Dive in our Arizona Travel Guides and discover the best places to visit, interesting things to do, budgeting tips, comfortable accommodation, and everything you need to plan your perfect trip in the state.