Top 10 Highest Mountains in the UK
I love hiking, I love mountains, and I love hiking up mountains.
Because I'm from the UK, and because I've lived lots of my life in the region, I've tackled plenty of the area's best, biggest, and loftiest mountain hikes.
In this article, I've given you a little taste, with information on the top 10 highest mountains in the UK. I've given you some speedy stats on each one (including how big they are and where you can find them), along with a more detailed description. And at the end, I've added a bumper FAQ for all your mountain-related questions.
Before we get started, here's a little spoiler for you: all of the 10 highest mountains in the UK are actually found in Scotland.
Let's go!
Top 10 Highest Mountains in the UK
The list below shows the 10 highest mountains of the UK ordered by their relative height.
| | | |
| --- | --- | --- |
| Order | Mountain Name | Height |
| 1 | Ben Nevis | 1,345 meters / 4,413 feet |
| 2 | Ben Macdui | 1,309 meters / 4,295 feet |
| 3 | Braeriach | 1,296 meters / 4,252 feet |
| 4 | Cairn Toul | 1,291 meters / 4,236 feet |
| 5 | Sgòr An Lochain Uaine | 1,258 meters / 4,127 feet |
| 6 | Cairn Gorm | 1,245 meters / 4,084 feet |
| 7 | Aonach Beag | 1,234 meters / 4,049 feet |
| 8 | Aonach Mòr | 1,221 meters / 4,006 feet |
| 9 | Càrn Mòr Dearg | 1,220 meters / 4,002 feet |
| 10 | Ben Lawers | 1,214 meters / 3,983 feet |
Table of the Highest Mountains in the UK in Order
1. Ben Nevis – 1345 Meters, 4413 Feet
You've probably already heard of Ben Nevis. The most famous mountain in Scotland, and maybe the most famous mountain in the UK, it's one of the most well-known names in the big hill hall of fame.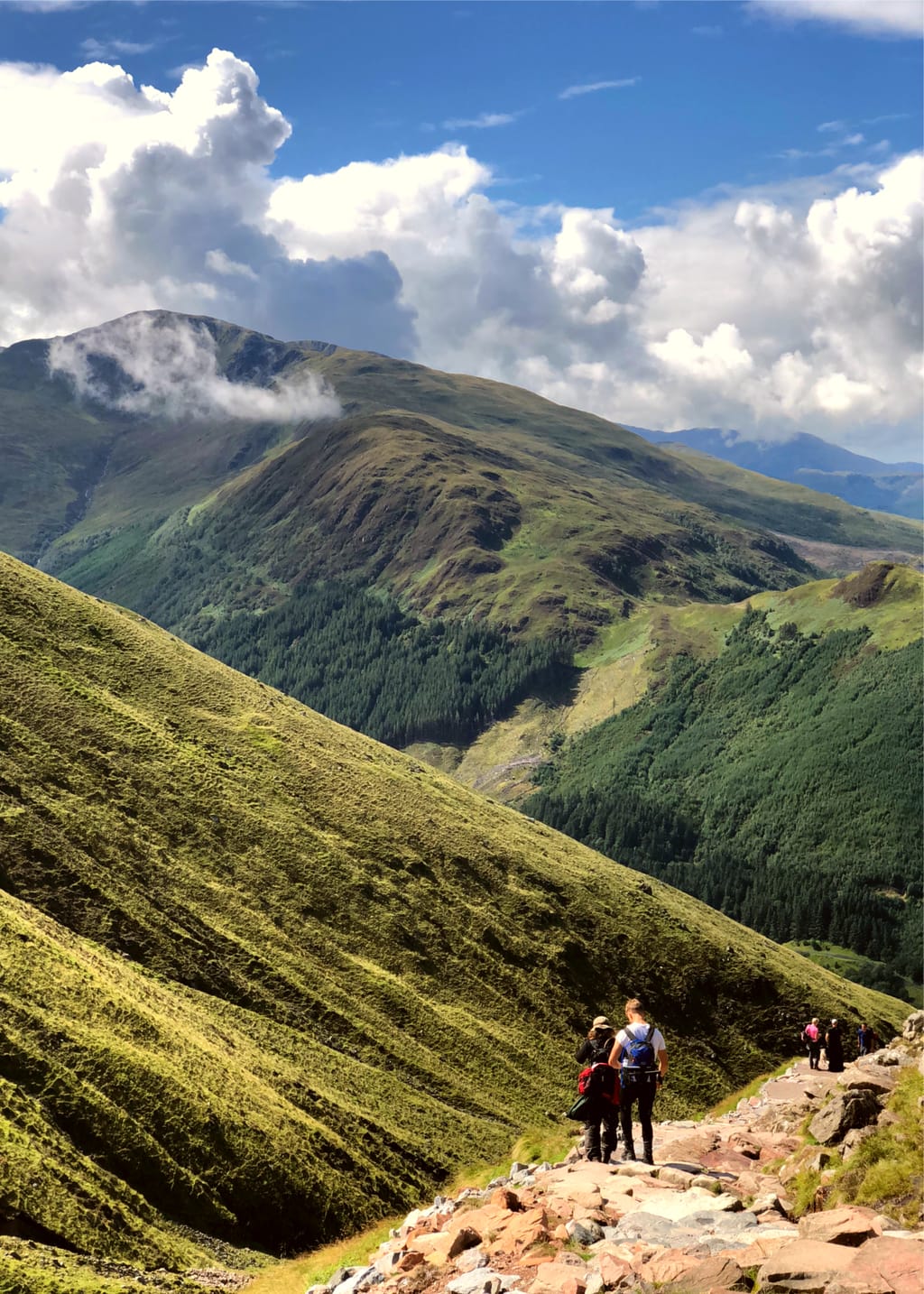 But even though Ben Nevis is famous, its surroundings aren't particularly beautiful. It's good, but compared to lots more UK mountains, it's not that good. There are way better mountains to climb than this one, with much better landscapes and scenery. So if you want great views, give Ben Nevis a miss.
That said, if you're a pure completionist who likes ticking off the tallest, best and longest, you'll probably still want to complete it.
Even though it's not my favorite mountain in the UK, Ben Nevis is still a great challenge, and you still get some pretty good views. And on top of that, it's really accessible and relatively easy (assuming you take the easiest route up).
2. Ben Macdui – 1309 Meters, 4295 Feet
Sitting inside the biggest national park in the UK (that's Cairngorms National Park, in case you're curious), Ben Macdui is a massive peak set inside an area with lots and lots and lots of massive peaks.
But despite that, it's surprisingly accessible. Right in the middle of the national park, it's a pretty popular ascent, and it's really beautiful, surrounded by little lochs and lots more summits.
Again, like Ben Nevis, there are plenty of routes up Ben Macdui, but the easiest and most popular is from the Cairngorm Ski Center, which sits at around 600 meters (1,968 feet), and has a car park and funicular. From here, you can start loads of hikes (including up Cairn Gorm mountain itself, but more on that big boy later).
On the way up to the summit of Ben Macdui, you'll pass Loch Etchachan and Loch Avon, both of which are beautiful—and you can even summit Cairn Gorm on the way if you fancy it!
Top tip: be careful at the top of Ben Macdui. A bit like Ben Nevis, the plateau at the top is very flat and very big, making navigation tricky. Pay attention and make sure you don't get disoriented once you hit the summit.
3. Braeriach – 1296 Meters, 4252 Feet
Lots of the mountains on this list are pretty under-the-radar. And this is one of them.
Most people probably haven't heard of Braeriach. But if you're reading this, you have now. Lucky you!
Also in the Cairngorms National Park, and located just west of Ben Macdui, you can see these two summits from one another.
Some people reckon this is the best peak in the entire Cairngorm range. It's not my favorite, but it's definitely one of the most diverse. On the way up, you get pine trees, heather, tiny lochs and loads more. Most notably, you'll see lots of 'corries' dotted along the hike, little divots that usually have year-round snow. Yep, even in summer!
4. Cairn Toul – 1291 Meters, 4236 Feet
Just south of Braeriach is Cairn Toul (Ben Macdui, Braeriach and Cairn Toul actually make a cute little triangle), another of the lesser-known Cairngorms.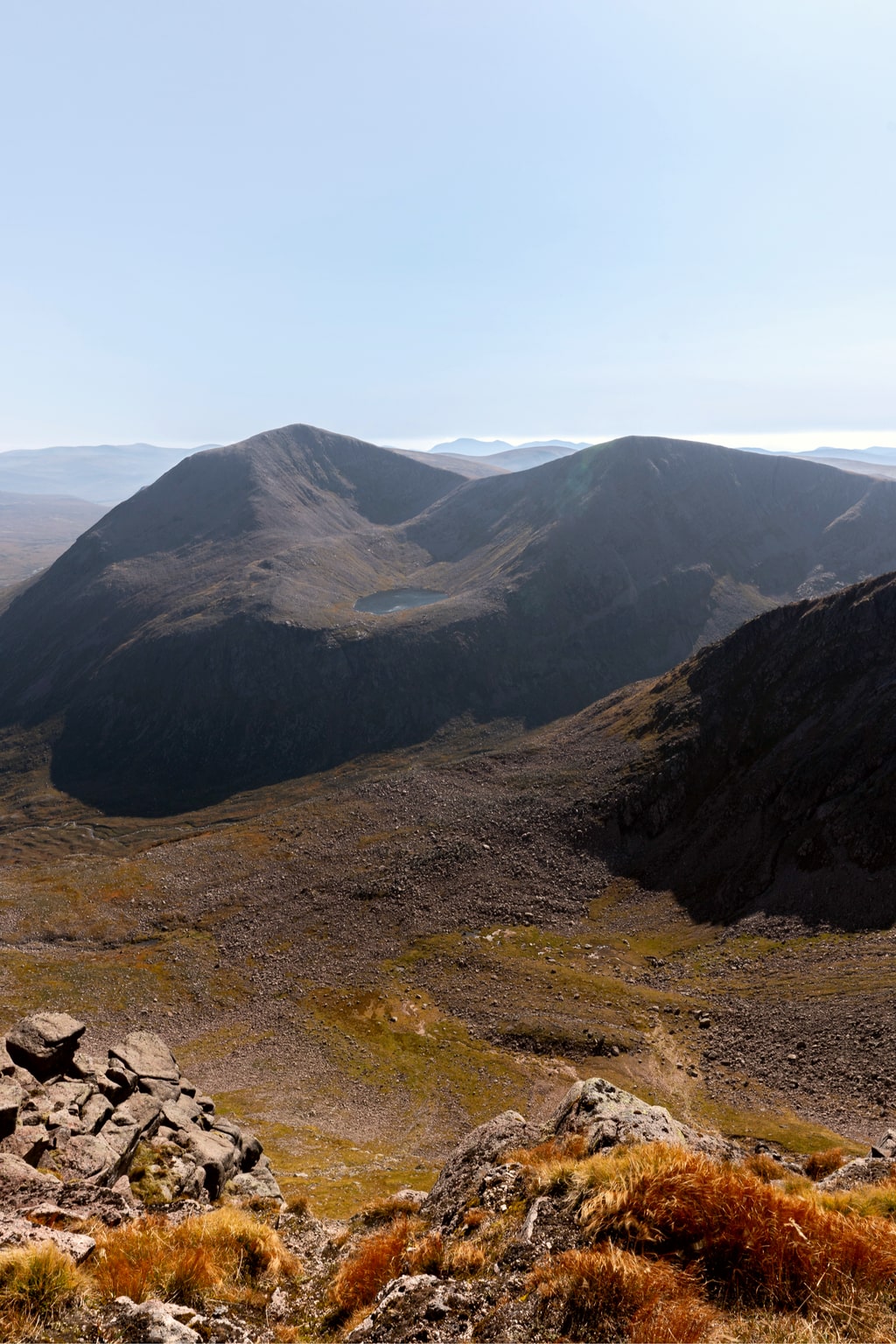 Again, you can hike up to the summit of this one from the Cairngorm Ski Center, if you want a relatively speedy one-day ascent. But if you want to tackle it from a lower level, you'll probably hike over two days. This two-day trip is a popular but challenging trip for serious hikers and people who like long wanders.
For these overnight trips, Corrour Bothy is a comfy and convenient hideaway to the south of the mountain. On your first day, make your way to the bothy—and on your second, make your way up the mountain from the bothy, and then back down.
➡️ Bothies are rudimentary charity-managed cabins designed for free stays in the wilderness, if you didn't know that already. Read my full guide about What is a Bothy and everything to know on the topic.
If you want a really good adventure, you can tackle both Cairn Toul and Braeriach on a two-day trip while overnighting in Corrour Bothy. Lots of people come to the western Cairngorms for multi-day, multi-summit hikes, and this is one of the most famous and popular.
5. Sgòr an Lochain Uaine – 1258 Meters, 4127 Feet
Another mountain, another massive peak in the Cairngorms.
Just west of Cairn Toul, most people who climb either Cairn Toul or Sgòr An Lochain Uaine climb the other on the same day, because they're so close to one another, and there's little elevation change between them. So you can bag two of the UK's biggest peaks in one easy sweep. Go you!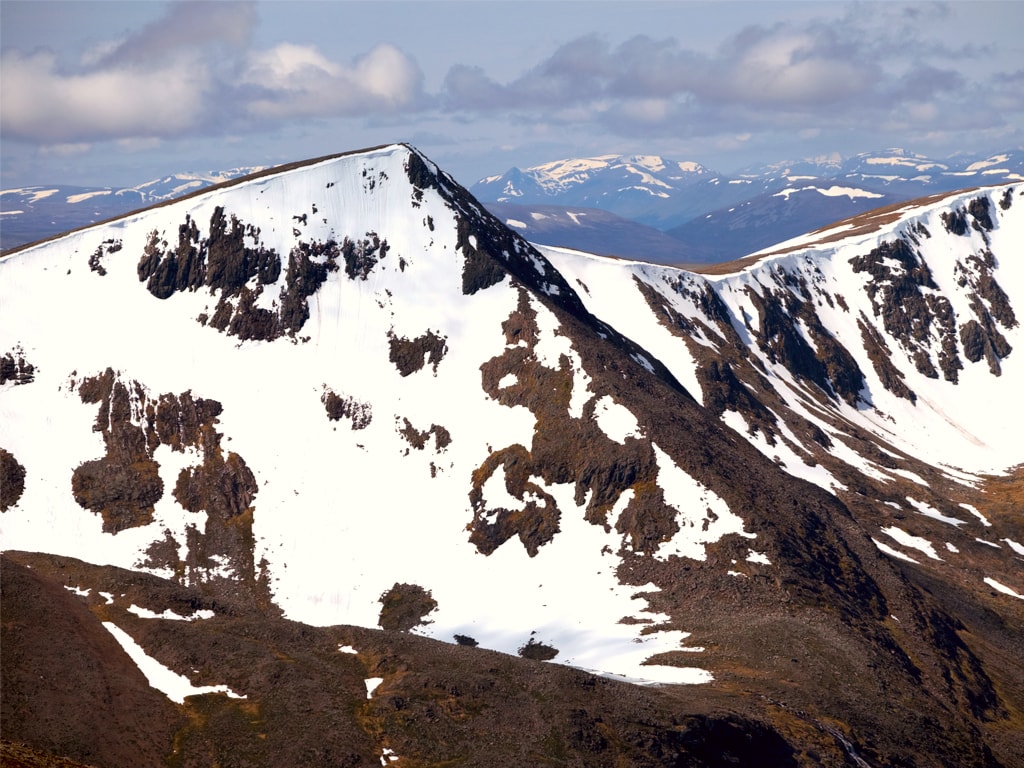 Equally, if you want to clamber up Sgòr An Lochain Uaine from the north, you can easily add in an en-route ascent of Breariach.
One of the most remote mountains on our list, Sgòr An Lochain Uaine is a good choice if you want to enjoy an isolated hike. Cairn Gorm, Ben Macdui and Ben Nevis are all really popular, and often really busy, but Sgòr An Lochain Uaine isn't either of those things.
Again, depending on which way you're walking, you might want to overnight in Corrour Bothy on your way up Sgòr An Lochain Uaine.
6. Cairn Gorm – 1245 Meters, 4084 Feet
After Ben Nevis, Cairn Gorm is the next most famous mountain on our list.
As you've probably guessed, it lends its name to the Cairngorm National Park, the place we've already mentioned about ten million times.
It's a pretty busy peak (probably the most busy peak in the entire Cairngorms National Park), but it's great. North of Ben Macdui, most people hike up Cairn Gorm from the Ski Center. So if you're looking for an easy hike, or if you're traveling with kids or whatever, this is a great option. It'll only take you 3 or 4 hours to get there and back (and likely even less).
If you're not so short on time, I totally recommend extending the walk by heading down to Loch Avon when you're done, one of my favorite mountain lochs in Scotland. Alternatively, you can combine a Cairn Gorm ascent with an adventure up Ben Macdui.
7. Aonach Beag – 1234 Meters, 4049 Feet
Alright, we're finally heading away from the Cairngorms to explore other mountains in Scotland. So wave that region goodbye.
Now, we're heading back towards Fort William, where we imaginarily climbed up Ben Nevis. East of Ben Nevis, you have Aonach Beag, the next lofty peak on our list.
Just like Cairn Gorm, it's another good option if you're looking for a relatively easy wander, because you're with kids, or you're lazy, or you don't really like hiking.
This easy route is from the top part of the area's so-called 'Mountain Gondola,' a cable car that takes hikers to a high point of 650 meters (2,133 feet). From here, you can quickly and easily clamber up both Aonach Beag and Aonach Mòr, but more on that second mountain coming up next.
8. Aonach Mòr – 1221 Meters, 4006 Feet
That Mountain Gondola I just mentioned… it actually runs up the lower part of Aonach Mòr's north face, very close to Aonach Beag.
So for an easier hike than the one I've just outlined above, you can hike up to the summit of Aonach Mòr from the upper part of the Mountain Gondola track. Again, if you're looking for great views and a high summit without having to put too much effort in, Aonach Mòr from the Mountain Gondola is a good choice.
If you like bigger challenges and smaller crowds, you can instead head up the mountain from the south by starting in Glen Nevis.
Whichever way you tackle it, the views from the summit of Aonach Mòr are brilliant. You're surrounded by big peaks (including Ben Nevis), and you can see down into Fort William and its surrounding lochs.
9. Càrn Mòr Dearg – 1220 Meters, 4002 Feet
Also close to Fort William, Càrn Mòr Dearg is sandwiched between Aonach Mòr and Ben Nevis.
There's actually a ridge that connects Càrn Mòr Dearg to Ben Nevis, which offers one of the most impressive (and most challenging) ways of summiting the tallest mountain in the UK. It's a difficult ascent, but if you're comfortable with scrambling and scree, it's a brilliant adventure.
Whether you go up Ben Nevis or not, Càrn Mòr Dearg is great. Vastly underrated, it's one of my top picks on this list. It's much quieter than lots of the other peaks in the area, and it offers great views of Ben Nevis and its surroundings.
Fun fact: in winter, skiing here is great.
10. Ben Lawers – 1214 Meters, 3983 Feet
Ben Lawers isn't a family friend or a person you knew from school, even though it might sound that way. Instead, it's the only peak on our list you'll find outside of Fort William and the Cairngorms.
Because of that, it's a great choice for anyone seeking underrated adventures in a lesser-known and lesser-visited part of the UK. Compared to the other regions on our list, this area is much less popular.
The walk to the top of Ben Lawers is surprisingly easy, because the car park (or at least the car park most people access the peak from) sits at around 300 meters (984 feet), giving you a nice little head start.
From the top, you get great views of Loch Tay (one of the best lochs in Scotland—you should definitely explore it), endless ridges, and Beinn Ghlas, which you'll probably summit on your way up Ben Lawers.
Frequently Asked Questions About the Highest Mountains in the UK
Final Words and Further Reading
That's everything you need to know about the top 10 highest mountains in the UK.
Thanks for reading!
If you want to know anything else about outdoor adventures in the UK, check out our guides to the biggest forests in the UK, skiing in Scotland, top 10 longest rivers in the UK, top 10 highest waterfalls in the UK, the best hikes in Scotland, the best lochs in Scotland, and the best walks in Northumberland.
If it's a UK outdoor adventure, we've probably already covered it. We have guides on hiking, cycling, skiing, beaches, multi-day adventures, and more. So stick with us!
Being a Digital Nomad: Tips, Tricks and Places
Do you want to be a digital nomad?
If you do, maybe you don't know where you might want to live. Or how to live there. Or whether you need a visa. Or how to make friends in the scary sprawl of a brand-new city. Or how to stay productive while you travel. Or how to find an apartment. Or whether this lifestyle really is for you. Or… I'm sure you get the idea.
But with some insight and experience, it's not as difficult as you think. So in this book, I've gathered my 6 years of digital-nomadding experience… and I've used it to answer all your questions, soothe all your fears, and get you on your way. After reading this, you'll realise being a digital nomad is much easier (and much more possible!) than you think.