Top 17 Best Lochs in Scotland You Should Visit
Scotland has a ridiculous number of lochs (that's 'lakes', if you don't speak Scottish), with more than 30,000 dotted around the nation.
Because there are such a massive number, it's hard to find the best ones.
I've only visited a tiny portion of Scotland's lochs. But of the ones I know, choosing the best Scottish lochs is still a hard task. So choosing the best from the entire nation is basically impossible.
But in this article, that's exactly what I've done anyway. And after endlessly deliberating, this is what I've come up with. I've probably left off loads of your favorites, but I've left off loads of my favorites too. I hope we can both get over it.
Anyway, here are the ones I've selected — I reckon they're the 17 best lochs in Scotland:
1. Loch Ness
Scotland's most famous loch by an absolutely massive margin.
It's also Scotland's most voluminous loch by a massive margin, but more on that in our FAQ later in the article. Make sure to check our top fascinating facts about Loch Ness as well.
According to local folklore (and you probably already know this), the place is home to the Loch Ness Monster (or Nessie, as some people call her). Though most people don't believe the myths anymore, a small few simpletons still do.
The best way to explore Loch Ness is on a road trip. It's 36 miles (58km) in length, so a drive around the entire loch measures in at more than double that. Go for a drive, and stop off at some of the best sites and sights along the way (Urquhart Castle, Drumnadrochit and Fort Augustus are 3 of my favorites).
Controversial disclaimer: I don't think Loch Ness is special at all. It's too big to appreciate, and it's nowhere near as beautiful as lots of Scotland's other lochs. If you only have time to visit a small few lochs, leave Loch Ness off your list.
2. Loch Lomond
The most famous Scottish loch after Loch Ness, Loch Lomond is part of Loch Lomond & The Trossachs National Park.
It's also Scotland's largest loch (if we're measuring by surface area), so there's loads to enjoy. My favorite way to explore the loch is by hiking up to some of the peaks that surround it, for the best panoramic views. Some of the best hikes are to the summits of Ben Lomond, Ben Bowie and the easy and accessible Conic Hill.
Other fun things to do include kayaking, canoeing, boat trips, pony trekking and loads more.
If you're traveling with kids, Loch Lomond is the best loch in Scotland—it has a huge number of family-friendly attractions and activities, and lots of nice towns and villages along its shores. Tarbet and Balloch are two of the best and most well-equipped.
Fun fact: Loch Lomond has 49 islands within it (but most of them are really really tiny).
3. Loch Katrine
Just north east of Loch Lomond, and also inside the same national park, Loch Katrine is a good choice if you want accessible but not quite as busy as Loch Lomond.
It's most famous for its boat trips, which take visitors around various parts of the loch. If you want to enjoy excellent scenery without having to put much effort in, Loch Katrine is one of the best lochs in Scotland.
One of my favorite things to do here is cycle. I love cycling anywhere, but Loch Katrine is made for it. Around almost the entire perimeter of the loch, there's a small road, which is well-paved but not too busy. Go to Katrine Wheelz at Trossachs Pier, get yourself a bike, and go for an explore.
For good panoramas of Loch Katrine, my favorite hike is the relatively easy clamber up nearby Ben A'an. But there are plenty more!
Fun fact: most of Glasgow's drinking water comes from Loch Katrine.
4. Loch Maree
Here's where things get exciting, because we're starting to go remote. For me, most of Scotland's best lochs are on the west coast, all quiet, dramatic and hidden away.
Loch Maree is in the Torridon/Gairloch area, north of Skye and south of Ullapool. It's my favorite region in Scotland. One of the bigger lochs in this part of the nation (the largest north of Loch Ness), the iconic North Coast 500 takes you right along its southwestern shores.
There are a huge number of hikes in this area, all with great views of Loch Maree. My favorite is up Beinn Alligin, but Slioch is probably the most popular. For low-level adventures, hire a canoe or a kayak.
Use Gairloch as your base for exploring Loch Maree. You'll fall in love with the place—and its lochs and beaches.
5. Loch Carron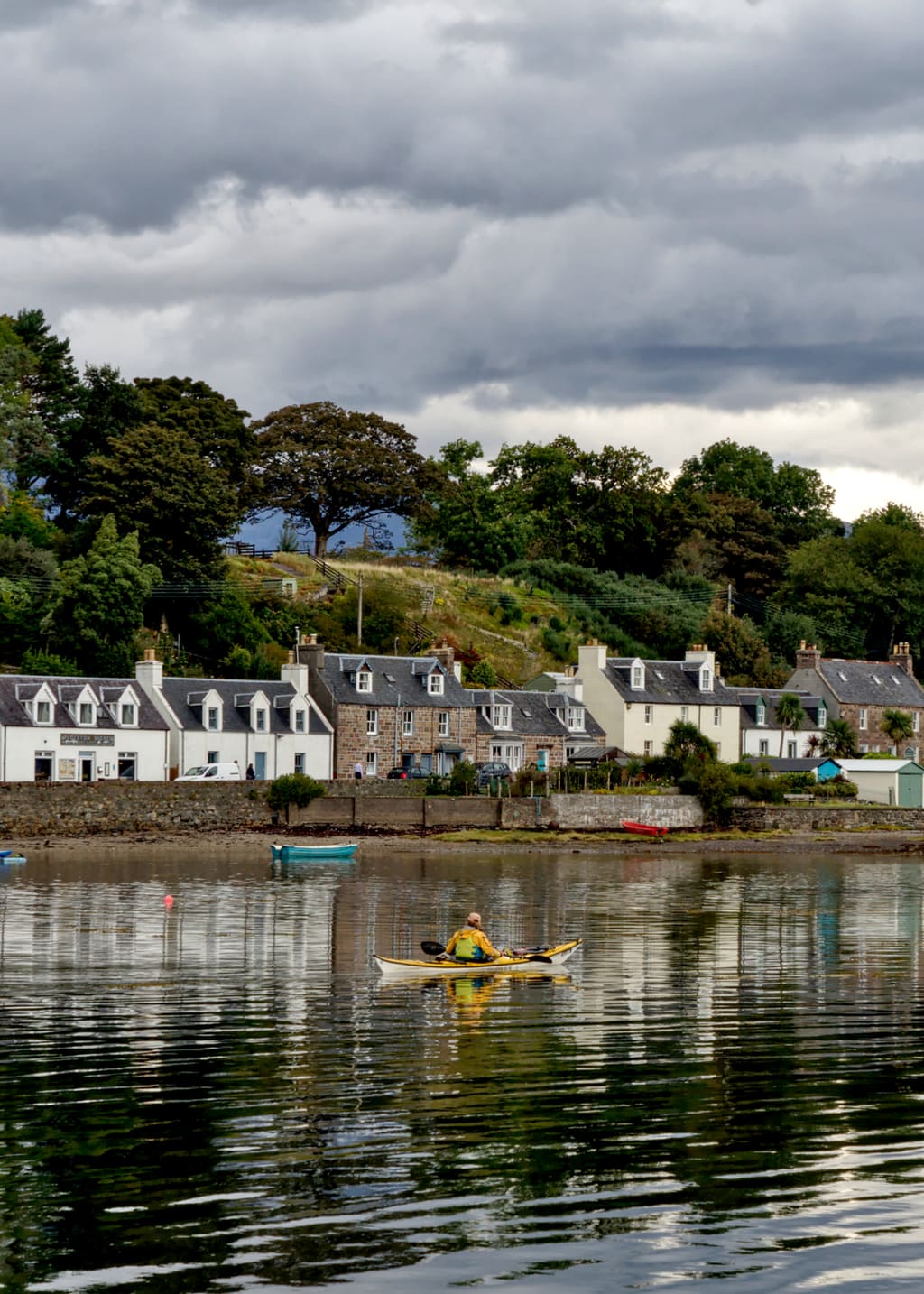 Just south of Loch Maree, and also on the best part of Scotland's west coast, is Loch Carron.
One of the most well-loved under-the-radar lochs in Scotland, it's an entry-level loch for people looking beyond Ness and Lomond for loch-shaped adventures.
If you're the type of person who likes enjoying lochs by drinking a coffee beside them, rather than hiking, swimming or hiring a boat, Loch Carron is for you. Along its shores, there are loads of lovely cafes and eateries, perfect for lazy tourists who don't fancy much extra action. Some of the best are at the tiny settlement of Lochcarron (not to be confused with Loch Carron, the actual loch).
Again, you can explore almost all of the loch by bike, on a road that skirts around the perimeter (or you can do it in a car, whatever you prefer).
6. Loch Duich
Possibly my favorite loch in Scotland, Loch Duich is just a few miles south of Loch Carron.
I can't even fully explain why I love this place, but I just do. I sort of feel like it's all of Scotland's best things, all mixed up and dotted around the shores of one loch. You get fisherman, charming villages, beautiful views, a diverse landscape, a brilliant castle (Eilean Donan), towering mountains and really friendly locals. Every time I come here, I always end up making friends.
On one of my Loch Duich visits, a man asked me to rent the caravan he keeps in his garden. I was on the way to Skye, so I didn't have time, but I wish I had.
My favorite activity around Loch Duich is the lengthy hike along the ridges of the Five Sisters of Kintail. One of my favorite walks in Scotland, it gives you ridiculously good views of Loch Duich along its entire length.
7. Loch Coruisk
Just west of Loch Duich, you have the Isle of Skye.
And sitting inside the Isle of Skye, you have Loch Coruisk, one of the most remote lochs on our list.
Unless you want to walk for a long long time, you can only access the place on an organized boat trip from Elgol, a tiny village in the south of Skye. But once you arrive, you get one of the best lochs you've ever seen. Dramatic, remote, quiet and beautiful, it's unbelievably alluring.
Even better, it's one of the best places in Scotland to see wildlife. If you visit during the right season, you can see puffins, basking sharks, minke whales, dolphins and occasionally even killer whales.
Pro tip: the boat trips usually only run in the warmer months, so check before you set off.
8. Loch Clair and Loch Coulin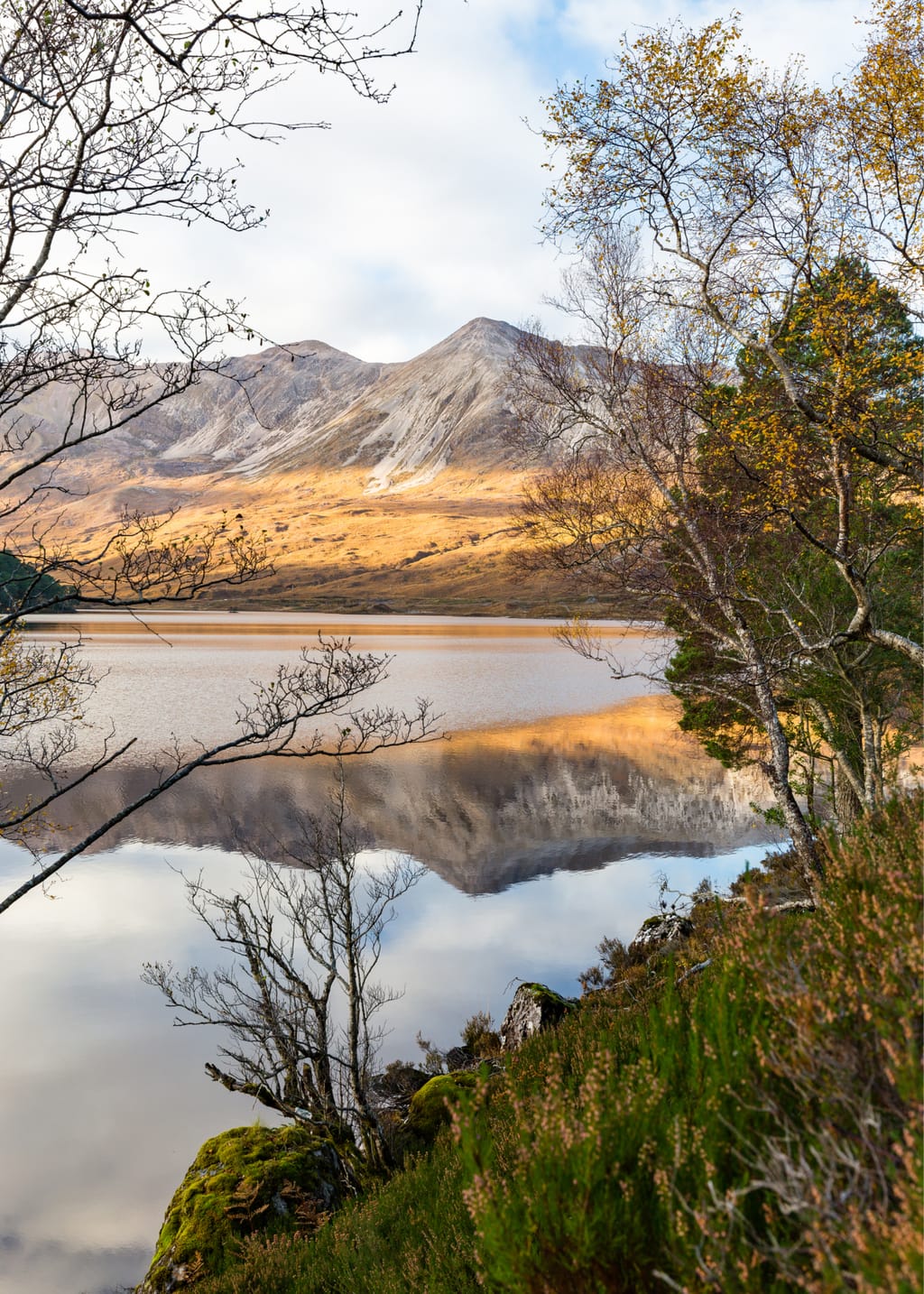 I've grouped these two together because they're next-door neighbors. Sometimes they borrow sugar off each other, and look after each other's dogs and stuff.
Really though, they're connected to one another, and they make for a lovely low-level walk. If you want to wander around the entire perimeter of two lochs without any ascents, descents or other exercise-related challenges, the walk around Loch Clair and Loch Coulin is one of Scotland's best.
And because it's such a quiet area, you probably won't see anyone else. Nestled right in the heart of the Torridon region, and perfect for walking, relaxing and swimming, they're two of the best lochs in Scotland. And even better, they're massively underrated.
9. Loch Shiel
If you want to hit one of western Scotland's best lochs without venturing too far north, Loch Shiel is the one for you.
The fourth-longest loch in Scotland, loads of people head here for hiking, picnics, and taking photographs. But it's probably most popular with birdwatchers, who come to catch sneaky peeks at falcons, kestrels, eagles, sparrowhawks, ospreys and more.
And because it's close to Fort William and Glencoe, it's a massively popular stop for people in the area.
Harry Potter fans, listen up: right at the northern tip of Loch Shiel is the Glenfinnan Viaduct, one of the most popular Potter-related attractions on the planet. You can explore it on foot, or on one of the world-famous Jacobite Steam Train trips. From these train trips, you get incredible views of the loch.
10. Loch Morar
Just north west of Loch Shiel is Loch Morar.
The deepest loch in Scotland (with a lowest point of 310 meters/1,015 feet, if you're interested), it's massively popular with fishermen, who come here to catch hefty portions of trout and salmon.
Although it's pretty big, famous and central, no major roads run along its shores, so it's always surprisingly peaceful and serene. For a big loch with relatively few crowds, it's a brilliant choice.
It's also a good option if you like low-level walks. There are lots of excellent hikes here, but none of them are massively challenging or particularly lofty. My favorite is the 5-mile (8km) wander from Bracorina to Tarbet—it's pretty easy, but the views are incredible.
There are some really lovely towns and villages on and around the shores of Loch Morar, including Morar and Mallaig. They're both good bases for more adventures, and they're both nice places to visit.
11. Loch Affric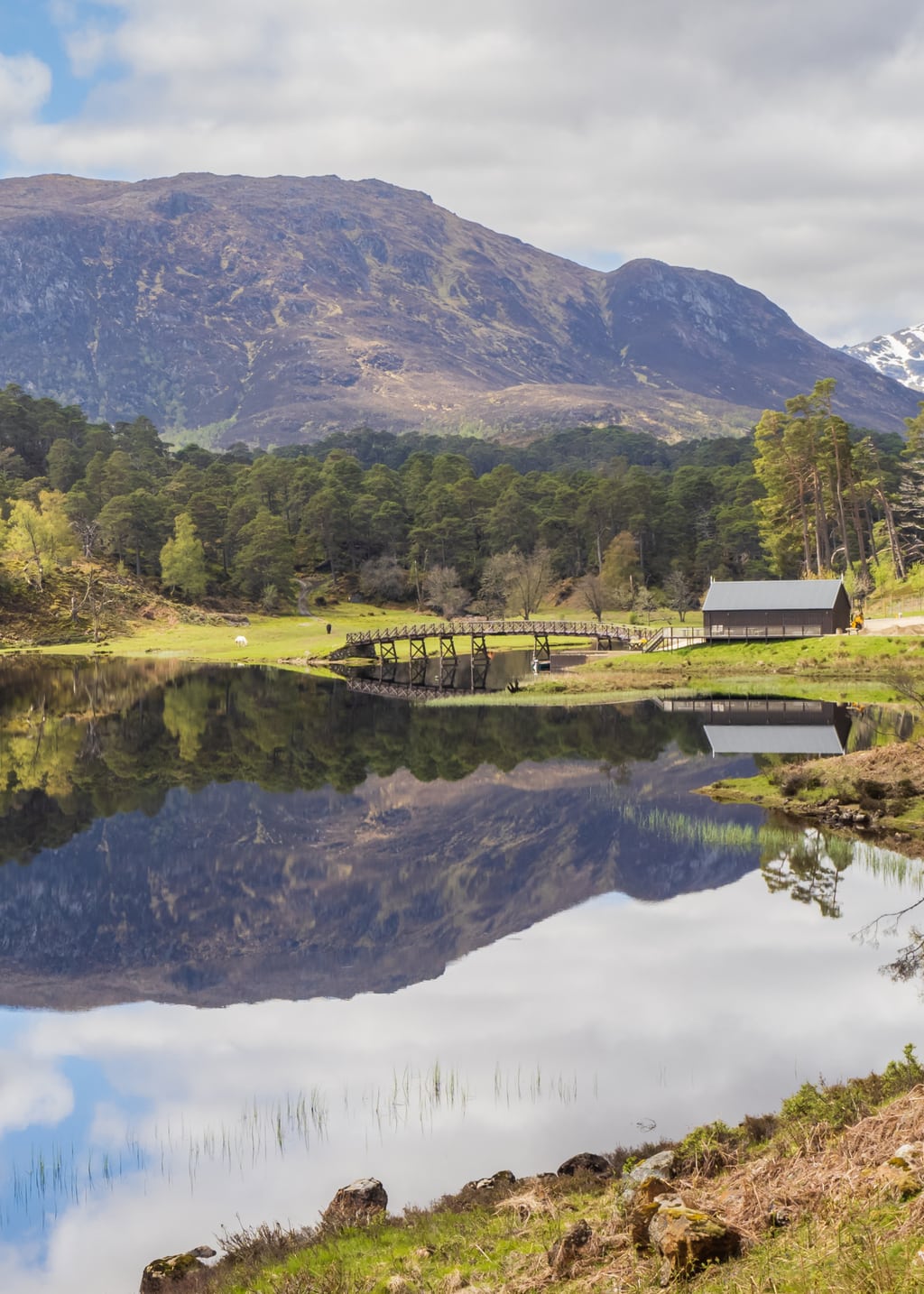 Much more beautiful than nearby Loch Ness, it's our good old friend Loch Affric.
Halfway between Loch Carron and Loch Ness, it's most well-known as a wildlife spot. You can find ospreys, eagles, red deer and red squirrels here, while loads of fishermen (just like lots of the lochs we've already featured!) come for the huge numbers of trout.
Because I'm not interested in fishing, I prefer the views from above. My favorite panoramic view of Loch Affric is from the peak of Càrn Eige, a challenging 1,183-meter summit with brilliant vistas.
Another great trail is the Loch Affric circuit, which takes hikers around the entirety of the loch. The whole loop measures in at around 11 miles (18km), but it's absolutely worth the trek.
Part of the wider Glen Affric (that's the Affric Valley if you're not from Scotland), the loch is surrounded by forests, rivers and plenty of scenic spots.
12. Loch Awe
Awe by name, awe by nature.
Scotland's longest loch at around 25 miles (40km), Loch Awe is easily one of the best lochs in Scotland. But it's surprisingly underrated, and not enough people know about it.
Because of that, it's a good choice if you're looking for somewhere serene, but with plenty to do. Top activities along Loch Awe include kayaking, canoeing, motorboating and explorations along the tracks and trails of Inverliever Forest, which lies right on the banks of the southern shore of the loch.
At Loch Awe's northern end is Kilchurn Castle, one of the nation's most famous ruins.
Just west of Loch Lomond & The Trossachs National Park, Loch Awe is also a good choice if you're looking for a loch that isn't too far north.
13. Loch Fyne
Most lochs are famous for how they look. But Loch Fyne is most famous for its food.
The longest sea loch in Scotland (meaning it stretches from the sea into the mainland, sort of like an inlet), the loch produces huge amounts of seafood. The oyster beds are famous around the world, but loads more tasty treats come from its depths.
The most iconic eatery here is right at the northern tip of the loch. Imaginatively-named Loch Fyne Oyster Bar serves up some of the best seafood you've probably ever eaten. But there are way more great eateries along the lengthy banks of the loch.
Loch Fyne doesn't just offer things you can stuff in your big fat greedy mouth—it's also a pretty beautiful place, popular with sailors, hikers, cyclists and more. Divers flock here from around the UK for seals, dolphins, sharks, wrecks and reefs.
14. Loch Assynt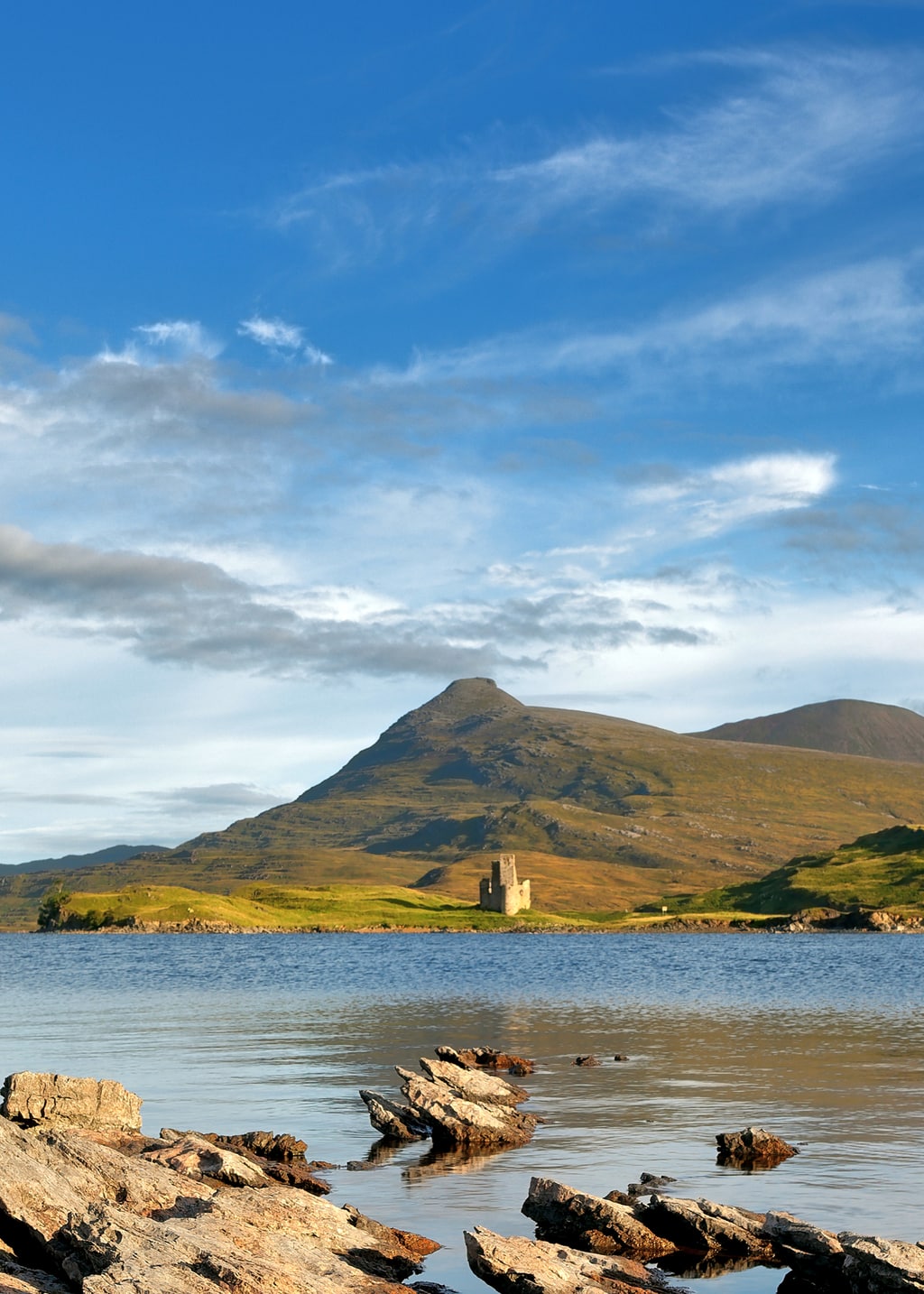 Another loch along the North Coast 500 route, Loch Assynt is (relatively) famous for the fortress perched over its shores. The atmospheric ruins of Ardvreck Castle are one of the most popular photography spots in northern Scotland.
Unlike some of the other lochs we've featured, there isn't a huge amount of infrastructure here. But if you like remote adventures in beautiful places, you'll love Loch Assynt. People come here to fish, camp, swim, and enjoy a massive slice of serenity—so if you like getting out into the middle of nowhere to enjoy untainted nature, you'll absolutely fall in love with the place.
If you like hiking, tackle the nearby three-peak Quinag walk, one of my favorite hikes in Scotland. On the southern part of the walk, you get great views of Loch Assynt.
15. Loch an Aigeil and the Surrounding Lochs
This little region is one of my favorite parts of Scotland.
When you're driving the North Coast 500, there's a direct northern-heading road (A894) that goes right from Ardvreck Castle to Kylesku Bridge. But instead of taking the direct road, you can instead take a huge detour following the roads A837 then B869.
It extends your journey from 8 miles (13km) to 34 miles (55km). But it's the best detour you'll ever take—you pass loads of beautiful scenery, including lots of tiny lochs. One of the cutest is Loch an Aigeil, but there are literally (and I mean literally in the literal sense) hundreds more.
For me, this detour is a perfect summary of northwest Scotland's landscape. It's like west Scotland in miniature, and it's one of the best drives in the country. Go slow, stop a couple of times, have a dip, and enjoy one of the most beautiful parts of Scotland.
As a juicy little bonus, the first part of the detour takes you along the northern shore of Loch Assynt.
16. Loch Lurgainn and Loch Bad A' Ghaill
Right underneath Stac Pollaidh (one of the best hikes in Scotland, and probably my favorite) are Loch Lurgainn and Loch Bad a' Ghaill.
Two of the best under-the-radar lochs in Scotland, they're outrageously beautiful. There's not much to do at either of them, but you'll want to look at the views forever. So take a picnic.
The standard Stac Pollaidh car park is actually on the shores of Loch Lurgainn, so you'll see the loch along your drive. But once you reach the peak, you get brilliant views of both.
Once you've finished your hike, they're both brilliant spots for swimming, wild camping and taking photographs. I've never wild camped here, but I always tell myself I should.
17. Loch Broom
Another sea loch, Loch Broom is most famous as the home of Ullapool. The charming tourist-heavy fishing town lies right on the shores of the loch, so some of the best views are from the town itself.
Head to the western and southern edges of the town, and you'll see boats, peaks and fisherman. It's one of my favorite views in Scotland, and it'll make you fall in love with Ullapool in the same way everyone else does.
For a better panorama, head up to the top of Meall Mòr, which measures in at around 270 meters (885 feet). A steep but short wander, the views are brilliant.
If you'd rather fish than hike, Loch Broom is a top pick. People come here to catch mackerel, haddock, pollack, skate and more.
Fun fact: just to the west of Loch Broom, there's another loch called 'Little Loch Broom.' And no, I'm not joking.
Frequently Asked Questions About Lochs in Scotland
What is a 'loch' in Scotland?
Simple: a loch is just a lake. There's absolutely no difference between a lake and a loch, except that one word is Scottish, and the other is English.
The word is originally Gaelic, and though few people in Scotland actually speak Gaelic, a small few words still remain (and 'loch' is one of them).
How were the lochs of Scotland formed?
Most of Scotland's lochs were formed because of glacial activity. It's all pretty complicated (and I'm definitely not a geology expert), but in short, here's what usually happens:
Large lochs are caused by massive glaciers. These massive glaciers carve out U-shaped valleys. When the glaciers melt and the rivers filling these valleys are cut off by this same glacial activity, a large loch is formed.
A smaller loch is usually created after a glacier forms on the side of a mountain. As the glacier grows, the hole hosting it widens and expands. When the glacier eventually melts, a small loch is left behind.
How many lochs are there in Scotland?
There are more than 30,000 lochs in Scotland. And no, you haven't read that wrong. Some sources say it's even bigger, clocking in at almost 32,000.
(I haven't counted them all myself, so I'm not quite sure what the real number is).
Some of the smallest are absolutely tiny—so much so that the five biggest (that's Ness, Lomond, Awe, Morar and Shiel) hold around a third of all the nation's loch water.  
Fun fact: small lochs are actually called 'lochans,' but few people actually use that word.
What is the most famous loch in Scotland?
Loch Ness is the most famous loch in Scotland, by a long, long way.
The most voluminous loch in Scotland, the most-visited loch in Scotland, and the one associated with the legendary Loch Ness monster, Loch Ness is famous for loads of reasons. Even people who know nothing about Scotland have heard of Loch Ness.
What is the largest loch in Scotland?
If you're measuring by volume, Loch Ness is the largest loch in Scotland, with a hefty volume of 7,452 million cubic meters.
To put that into context (cos I don't know what it means either), you could take the water from every single lake in England and Wales, and add it all together, and you still wouldn't have as much water as Loch Ness.
If you're measuring by surface area, Scotland's largest loch is Loch Lomond. It has a surface area of 71 square kilometers (27.4 square miles). To put that into terms all travel writers and lazy researchers love, that's nearly 1,000 soccer fields.
What is the deepest loch in Scotland?
The deepest loch in Scotland is loch Morar. At its lowest point, it drops down to 310 meters (1,015 feet) below its surface (almost one quarter of the height of Ben Nevis). It's the deepest body of (non-sea) water in all of the British Isles.
Can I swim in Scotland's lochs?
Yep, you're allowed to swim in all Scotland's lochs. The smaller lochs are usually more popular for a swim, because they're quieter, less polluted and easier to get in and out of. As we've covered, loads of people exercise in Scotland's lochs, using them as places to swim, fish, kayak, canoe, paddleboard and loads more.
For wild swimming, lots of Scotland's lochs are massively popular.
What is the best time of year to go see the lochs in Scotland?
All year is good, but the best times to go see the lochs of Scotland are from March to May, and in September and October. Even the winter months can be great if you take the right clothes.
If you visit Scotland's lochs between June and August, there'll be loads of midges. Probably the most irritating insects on the planet, they live and breed near water, and they absolutely love ruining summer. Because of midges, lochs in summer are nowhere near as fun.
Final Words
That was a hard task, but I had 30,000 to choose from, and I tried my best.
On a different day, I might give you a different answer. But for now, I reckon they're the 17 best lochs in Scotland. Thanks for reading!
Want to know anything else about outdoor adventures in Scotland? We have loads more on our site, including helpful guides to the best castles in Scotland, the best hikes in Scotland, the best coastal walks in Scotland, and all the reasons you should visit the nation.
Whatever you want to know about Scotland, we have it right here on our site.
Being a Digital Nomad: Tips, Tricks and Places
Do you want to be a digital nomad?
If you do, maybe you don't know where you might want to live. Or how to live there. Or whether you need a visa. Or how to make friends in the scary sprawl of a brand-new city. Or how to stay productive while you travel. Or how to find an apartment. Or whether this lifestyle really is for you. Or… I'm sure you get the idea.
But with some insight and experience, it's not as difficult as you think. So in this book, I've gathered my 6 years of digital-nomadding experience… and I've used it to answer all your questions, soothe all your fears, and get you on your way. After reading this, you'll realise being a digital nomad is much easier (and much more possible!) than you think.