Best Hikes in Scotland: 15 Top-Rated and Breathtaking Trails
For top-quality hiking, outdoor exploring and incredible landscapes, Scotland is one of the best countries on the planet.
It's remote and rural, it's sparsely populated, it's packed with mountains and you're allowed to walk, wander and camp basically wherever you like. (because of the Scottish right to roam).
The country also has an insane amount of diversity, with towering mountains, marshy swamplands, deserted beaches, ancient ruins, tiny islands, modern cities, endless lochs, friendly locals and much more.
In this guide, we've assembled the best 15 hikes in Scotland. We've included city jaunts, mountain passes, quiet beaches, long-distance epics and some of the best walks in the world.
Looking for a hike? Grab your boots, pack your sandwiches and join us – today, we're exploring the best walks in Scotland…
1. The West Highland Way: Best Long-Distance Hike in Scotland
Scotland's first official long-distance hike is also Scotland's most popular long-distance hike.
Measuring in at 151 km / 94 miles, the West Highland Way is a good entry-level long-distance jaunt, as it's relatively short and it isn't too challenging. The route is a south-to-north trek which takes hikers from Milngavie, near Glasgow, to Fort William, near the foot of Ben Nevis.
If you want a practical introduction to some excellent Highlands highlights, this is a phenomenal option, taking in moors, valleys, lochs, peaks and charming towns and villages. It also offers excellent infrastructure, with lots of places to eat, drink and sleep along the way, and plenty of helpful waymarking (which, in Scotland, is a bit of a rarity).
But this isn't just some boring beginners' walk. Even for experienced hikers, there are plenty of inspiring ascents, descents, views and vistas. The West Highland Way is basically a perfectly-packaged long-distance walk, and it's an excellent option for anyone of any ability. Most people complete the entire thing in anything from 4 to 8 days.
When you've finished (and if for some reason you want to keep walking), you can tackle the nearby Ben Nevis, but more on that lofty challenge later.
Check out my complete guide: the West Highland Way Hiking Guide
The West Highland Way is so well-loved that it's inspired and popularized a huge number of other long-distance trails throughout the nation. Some of the best include the Great Glen Way, the Fife Coastal Path and the Rob Roy Way, which brings us to…
2. The Rob Roy Way: Most Scottish Long-Distance Hike
Don't worry – this list isn't all long stuff, I'm getting to the shorter hikes next.
But until then, let's look at another excellent long-distance option.
Named after a Scottish folk hero, the Rob Roy Way follows the paths and tracks used by Rob Roy MacGregor, a famous Scottish outlaw.
It's therefore an excellent introduction to various facets of Scottish history. But it's also a great introduction to various Scottish landscapes and regions, as it cuts an ambitious diagonal route from Drymen (in Loch Lomond & The Trossachs National Park) to Pitlochry (right on the cusp of Cairngorms National Park).
The shortest route clocks in at 128 km / 79 miles, though some people take a slightly longer detour in the middle of the hike, which beefs things up to 155 km or 96 miles.
Most people tackle the Rob Roy Way over anything from 4-8 days. Again, the views are excellent, and it's a great option if you want a long-distance walk which ventures beyond the western stretch of Scotland.
Check out my complete guide: the Rob Roy Way Hiking Guide
3. Stac Pollaidh: Best Short Hike in Scotland
Okay, the walk up and around Stac Pollaidh isn't that short. So I'm sort of lying.
But the panoramic payoffs are way bigger than the effort required to get them, so if you're the sort of person who likes to get maximum views for minimum effort, climb Stac Pollaidh.
The summit sits at a lowly 612 meters or 2008 feet. So I know what you're thinking. You're wondering how such a low-level summit can offer such astonishing views. But it can. From the top, you can see distant peaks, massive lochs and one of the most impressive mountain ranges in Scotland.
It's genuinely one of the best views in the whole of Scotland.
The entire walk is 4.5 km / 2.8 miles, it only takes around 2 or 3 hours, and while there are some steep sections, it's generally a gradual climb. In the meantime, the views change constantly, so you'll spend more time staring than walking.
If you're feeling lazy, you can make the walk a little shorter by walking out exactly the way you walked in, which chops off both some time and distance.
Stac Pollaidh is probably my favorite hike in Scotland. Oh, and it's pronounced "Stack Polly".
If you're looking for other short-but-beautiful hikes that require (relatively) little effort, try Ben A'an in Loch Lomond & The Trossachs National Park, or Old Man of Storr on the Isle of Skye.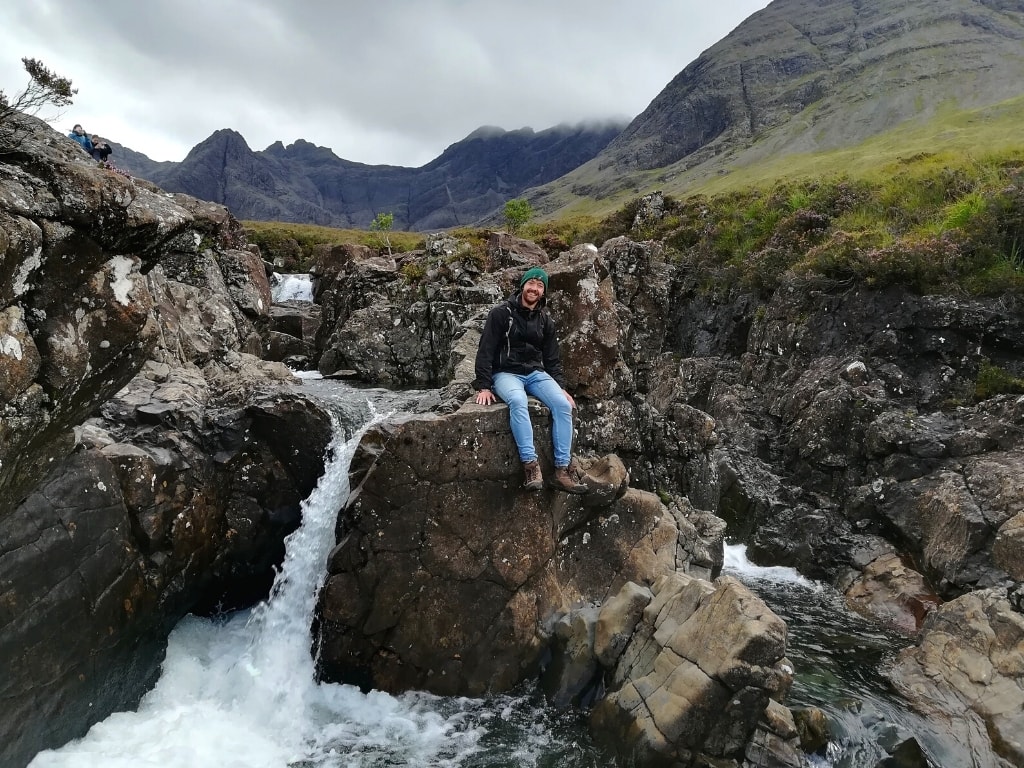 4. Ben Nevis: Most Famous Hike in Scotland
Look, let's be honest – Scotland's tallest mountain isn't its best mountain.
In truth, it's actually nowhere near as impressive as lots of the country's better hikes, and lots of locals will tell you to tackle other treks instead.
But you haven't really 'done' Scotland until you've done Ben Nevis, so most completionists can't leave it untouched. It's absolutely the most famous, iconic mountain in the nation, and even if the views or the climb aren't as interesting as many other Scottish hikes, it's still a hefty challenge, with the summit looming over Scotland at 1345 meters or 4400 feet.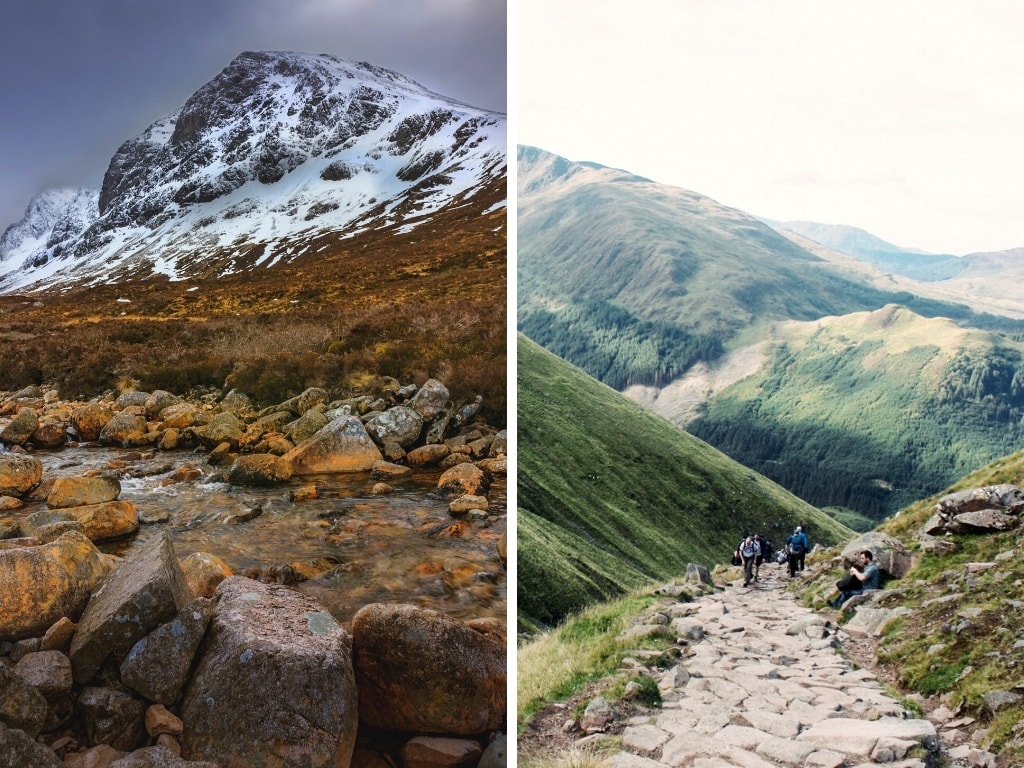 There are various paths up to the peak of Ben Nevis, but the so-called tourist trail is the easiest and most frequently-used. This path is around 17 km / 10.5 miles and takes around 8 hours, but other routes offer various lengths, views and levels of challenge.
The tourist trail is lengthy but absolutely doable, which makes it massively popular among casual first-timers. But if you've never before climbed a mountain, take precautions, and wear and pack the right stuff. You don't want to be one of those people calling mountain rescue in flip flops and a golf visor.
5. Five Sisters of Kintail: Best Ridge Walk in Scotland
A challenging, remote, difficult day walk, the Five Sisters of Kintail isn't as popular as lots of the other entries on this list, but it's a local favorite for challenge seekers and keen hikers.
A 14 km / 8.7 miles challenge which takes around 9 hours, the walk crosses five peaks (hence the name), and offers dramatic views of surrounding lochs. It's a classic ridge-based jaunt, as the intimidating ridge looms in front of you for the entirety of the trek.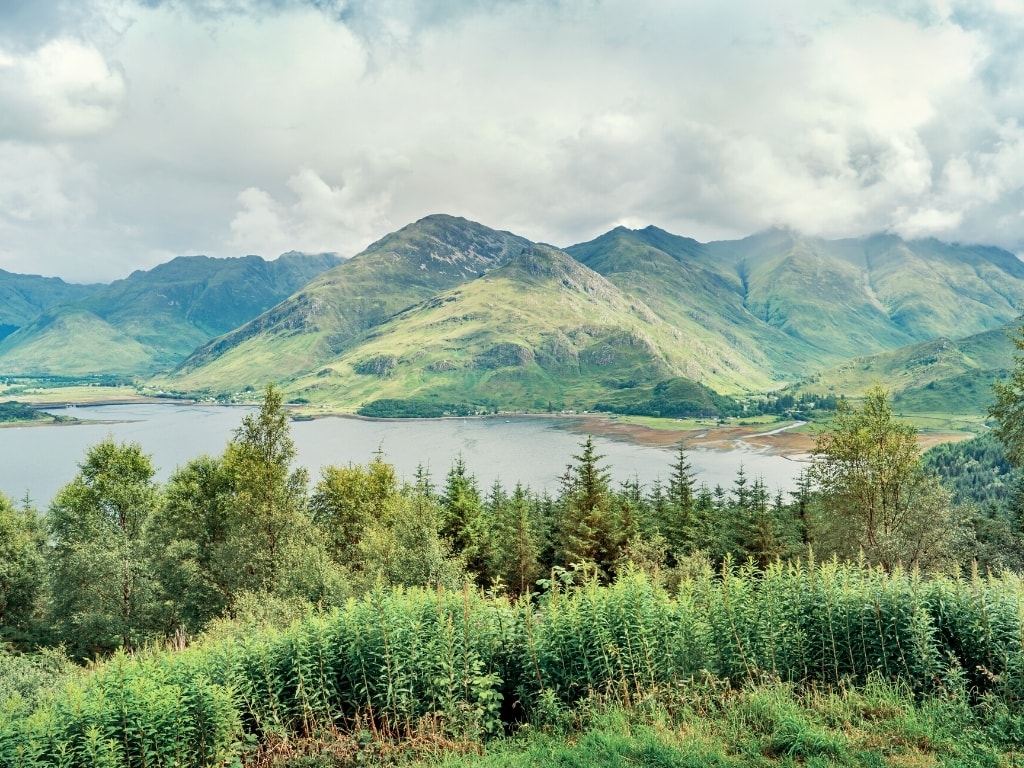 This one's a little different to most other day walks on the list, as the route doesn't take you back to your starting point. Instead, you walk from one end of the ridge to the other, and need to return to the starting point by catching a bus or thumbing a lift.
Glen Shiel, where the walk is located, is one of the most underrated regions in Scotland. It's hugely remote, insanely beautiful, and a great choice for anyone keen on picturesque hidden gems.
If you're looking for more Scottish ridge walks, you should also check out Aonach Eagach and An Teallach.
6. The Arran Coastal Way: Best Coastal Hike in Scotland
The Arran Coastal Way is one of the best hikes on the Isle of Arran and one of the best coastal walks in Scotland. It takes hikers around the entire circumference of Arran, over a distance of 105km. It's an excellent way to get fully acquainted with the entire island of Arran.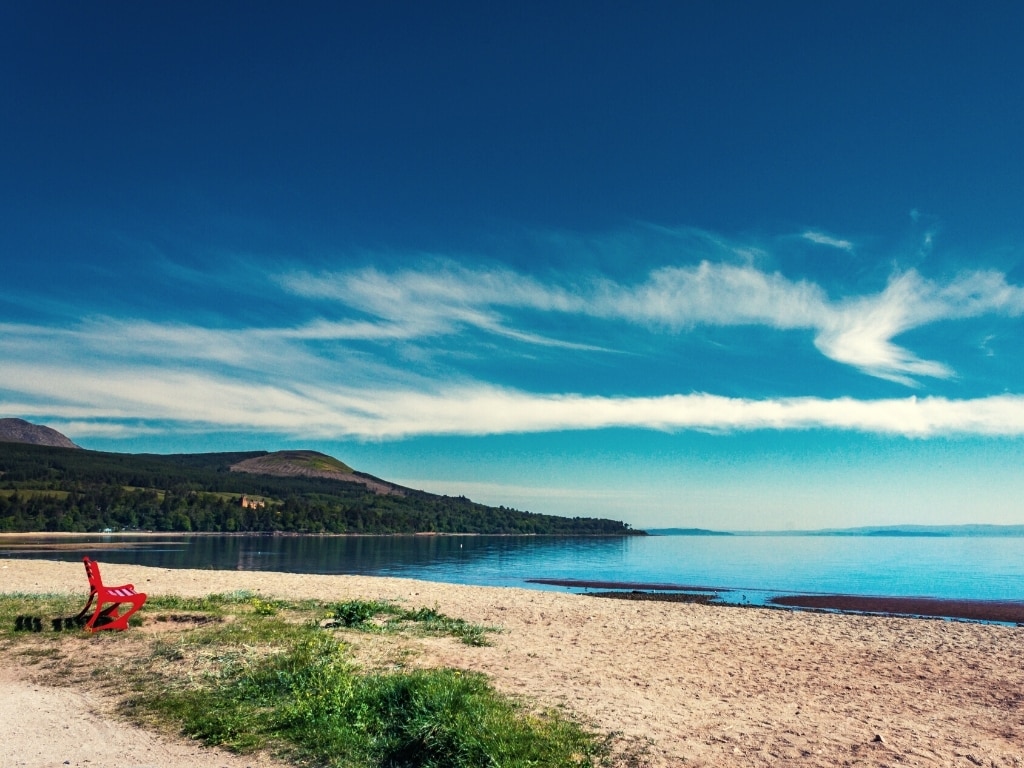 Most people complete the entire thing in anything from 4-7 days.
If you don't want to tackle this hike over multiple days and you'd rather just attack a single stretch in one day, the part from Sannox to Lochranza (or vice versa) is 15.5 km / 9.3 miles, and many locals say it's the best bit.
Arran is known as 'Scotland in miniature', as it's a diminutive little microcosm of everything that people love about the nation. The island has jagged mountains, serene beaches, craggy outcrops, friendly deer, remote homes, tiny villages, charming towns, smiling locals, crumbling homes and plenty more.
If you don't have time to explore all of Scotland, just visiting Arran instead is genuinely an excellent option.
If you're looking for other hikes on Arran, try Goatfell, the towering mountain which sits in the middle of the island. It's the most popular walk on Arran, and it's the island's highest peak. Some people even throw in a Goatfell ascent as part of their Arran Coastal Way.
7. Suilven: Best Unusual Hike in Scotland
One of the most iconic, well-known and recognisable mountains in Scotland, Suilven's unmistakable mass rises from the peaty bogs which surround it. Measuring in at 731 meters / 2400 feet, it's one of most inaccessible mountains in Scotland.
But not because of its height.
It's so inaccessible because it's 9 km, or 5.6 miles, from the nearest road.
The walk up and down the mountain only takes around 3 or 4 hours, but because you need to walk 9 km / 5.6 miles before you start the actual climb itself, it's a much more difficult and unusual challenge than people first expect.
Because of the long walk from road to base (and the long walk back when you've clambered down), the entire hike clocks in at anything from 8 to 10 hours.
It's a strange climb of curious contrasts. The vast majority of your distance is made up of two long flat slogs, which sandwich a very steep ascent and descent.
Once you've climbed down and re-reached the base of Suilven, it's a long way back to that road. It's a strange physical and mental challenge, but it's incredible, and it's absolutely worth the effort.
If you like solitude, you'll love Suilven.
8. Arthur's Seat: Best City Hike in Scotland
If you're a hiking purist, you probably don't consider this a proper walk. It's more of a gentle city jaunt.
But not everyone likes hardcore hikes, so let's not be pretentious.
If you only like short hikes, or only have time to visit Edinburgh (or just can't really be bothered for anything more intense), Arthur's Seat is a fantastic option. From top to bottom, you can complete the whole hike in a laid-back 2 hours, while it measures in at around 5km (depending on where you start and finish).
Arthur's Seat looms over the nation's capital, right in the heart of the city, making it a popular summer spot for families, couples, runners, walkers and picnickers. The peak sits at a tiny 251 meters / 823.5 feet, it's part of Holyrood Park and it's an ancient volcano.
For a city center hike, this is a surprisingly excellent jaunt. If you're in Edinburgh during good weather, absolutely don't skip it, even if you are pretentious.
9. Beinn Alligin: Best Torridon Hike
Also known as Ben Alligin, this Torridon walk takes in three summits, and is arguably the easiest of the three famous ridge walks in the region (the other two being Beinn Eighe and Liathach).
Torridon is a remote, barren wilderness which, for many people, is the Highlands in summary. Remote, jagged and staggeringly beautiful, Torridon is packed with massive sandstone mountains, even bigger challenges and very few signs of life. If you like quiet stretches of nothing but adventure, Torridon might just be your favorite part of Scotland.
The Beinn Alligin hike is challenging but very achievable, with only some mild scrambling required. The highest point is at around 900 metres / 2953 feet, the entire loop is around 10 km / 6.2 miles, and the whole walk will take you around 6 or 7 hours.
10. The Cobbler: Most Unusually-Named Hike in Scotland
You can't eat it, you shouldn't bake it and it's not gonna fix your shoes.
But you can climb it.
Lumpy, jagged and ridiculously distinctive, The Cobbler is one of the most recognizable summits in the whole of Scotland. Part of Loch Lomond & The Trossachs National Park, it's an 11 km / 6.84 miles walk, it takes around 5 hours, and the highest point sits at 884 metres / 2900 feet. Sometimes known as Ben Arthur, it's a great option if you want a slightly-shorter walk with incredible views.
Summiting on a big old rocky lump which juts out from the horizon, the path up The Cobbler is fairly easy and accessible, making it an excellent option if you don't want anything too challenging or strenuous. It's also one of the most famous hikes in Scotland, so it's a good one to bag.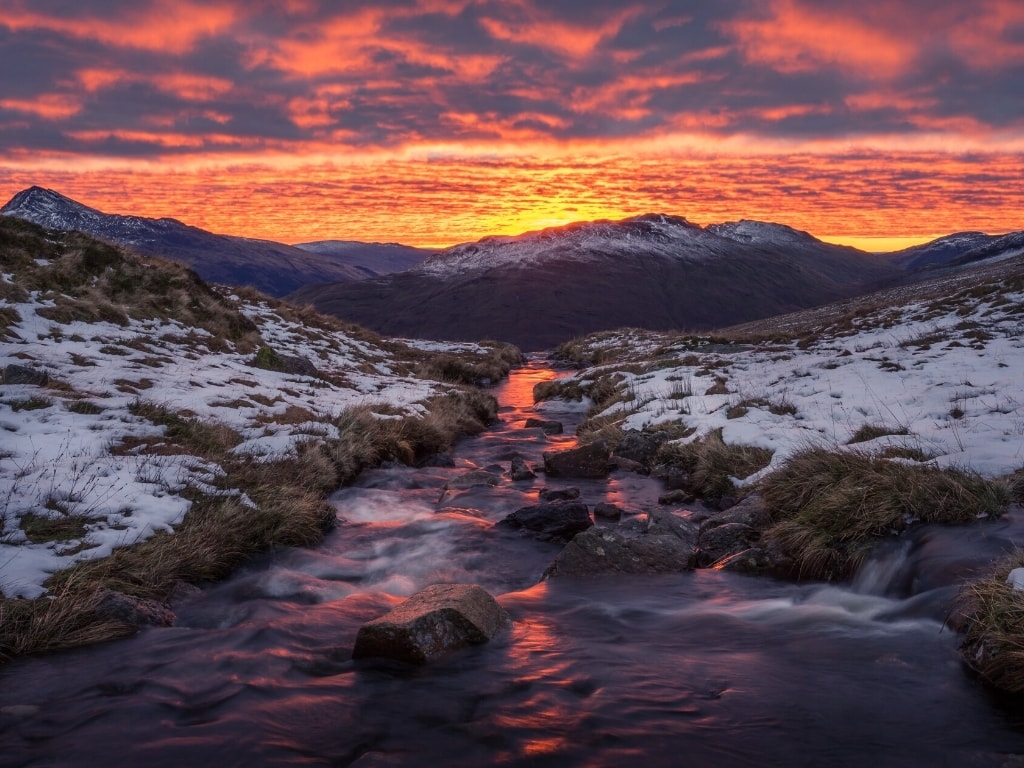 11. Pap of Glencoe: Best Glencoe Walk
Yeah, this is a controversial one. Glencoe is one of the biggest hiking hubs in Scotland, so only an idiot would nominate a specific Glencoe walk as the region's absolute best.
Well, hello, my name's Paul and I'm an idiot.
The Pap of Glencoe is a phenomenal peak at the end of a phenomenal hike. The walk is packed with diversity, the hike is an excellent challenge, and the summit views are vast, expansive and incredible.
As a physical hiking challenge, the Pap of Glencoe has a bit of everything. You get flat sections, steep lung-busters and everything in between. The last section is steep scrambling, and sits at just about the limit of what you can attempt without any specialist gear.
The Pap of Glencoe's peak measures in at 742 meters / 2434 feet, it's a 7 km / 4.3 miles walk, and it'll take you around 4 or 5 hours. But don't let those measly stats fool you, because this is a proper challenge, with rough sections, steep ascents and vertiginous drops.
Other hikes in and around Glencoe include Buachaille Etive Mor, Bidean Nam Bian and plenty more. If you only have time to visit one area in Scotland for hiking, the areas in (and near) Glencoe and Fort William are excellent. Yes, they're busy, touristy and not particularly remote, but the entire region is diverse, sprawling and accessible.
12. Cairn Gorm: Most Underrated Hike in Scotland
The Cairngorms National Park is the biggest national park in the UK, but it's (weirdly) often overlooked when people plan a Scottish hiking trip.
I'm not sure why that is.
Maybe it's because it's not in the Highlands. Maybe it's because it's in the east. Or maybe it's because the country is just so stacked with other excellent hiking opportunities.
Whatever the reason, consider hiking in the Cairngorms. The most famous mountain in the region (which lends the area its name) is the unsurprisingly-named Cairn Gorm.
To call the Cairn Gorm hike 'underrated' is a bit of a lie. Sorry for lying to you (again). But while Cairn Gorm is massively well-known, it's also massively overlooked, and lots of keen hikers just haven't bothered to do it.
But Cairn Gorm is great. It measures in at 1245 meters / 4085 feet, it's an excellent introduction to the region, and it's very accessible. The most common route up Cairn Gorm is from the nearby mountain base ski center. The loop via this route is 11 km / 6.84 miles and takes around 5 hours – and because you start at a ski center, you're not ascending from sea level.
Other excellent hikes in Cairngorm National Park include summits of Ben Macdui and Braeriach, which are both even higher than Cairn Gorm.
13. Galloway Forest Park: Best Under-the-Radar Hiking Area in Scotland
Okay, this entry is a bit of a cheat, because it's not one walk.
But this is my list, so you're just gonna have to get over it! If you don't like it, make your own 🙂
I've included the Galloway Forest Park (and its surroundings) as an entire region as the area is a little bit of an outlier. The vast majority of Scotland-visiting hikers head straight to the Scottish Highlands, and completely ignore the southern parts of the nation.
But the southern stretches of Scotland are packed with great hikes too.
If you're looking for something unusual, obscure and untouched, consider hiking in Galloway Forest Park. Some of the best walks include Corserine, Cairnsmore of Carsphairn and the Rhinns of Kells.
14. Achmelvich Bay: Best Beach Walk in Scotland
If you want to completely eschew mountains in pursuit of a gentle beach-only walk, a stroll along Achmelvich Bay is an excellent option.
Close to the diminutive village of Lochinver, Achmelvich Bay is one of the most secluded, serene, quiet beaches in the UK. For many people, a detour here is the highlight of the entire North Coast 500.
This gentle jaunt isn't a difficult walk nor a lengthy one, but if you like beach walks, you've probably never done a better one than this.
Other wander-worthy coastal areas in Scotland include Melvich Beach, Eyemouth, Plockton's coast and any beach on an island.
Surprisingly, Scotland is actually one of the world's best beach destinations. You won't get a tan here, but if you like rugged landscapes, remote shores, rocky cliffs and seaside strolls, you'll love Scotland.
15. The Scottish National Trail: Best Scottish Hike for Absolute Maniacs
'Hey Paul, all of these walks are tame and you're pathetic for even recommending them. I want something unnecessarily hardcore. I want to cry. I want to be in pain. I want to hike for millions of miles with absolutely no respite.'
Okay kid, I've got something for you.
A lengthy trek which clocks in at a hefty 864 kilometres or 537 miles, The Scottish National Trail is a gargantuan challenge. It runs from the Scottish border town of Kirk Yetholm up to the northerly point of Cape Wrath. Ridiculously difficult and ridiculously lengthy, most people do this in short stretches, while some punishment-lovers attempt it all in one go. If you decide to do the latter, it'll likely take you around 6 weeks.
If you want a slightly shorter challenge, consider the Cape Wrath Trail, the last part of the Scottish National Trail.
Before You Go
I know, I know, I've left off loads of excellent hikes. But unless there's some list on the internet called 'best ten million hikes in Scotland', that's always gonna be the case.
If you want any more information on Scotland, stick with us. We have city guides on Edinburgh and Glasgow, tips on what not to do and what not to say, a detailed guide on why there are no trees in Scotland, a review on the top reasons why you should go to Scotland, and much more. Whatever you want to know about Scotland, we've got it right here.
Being a Digital Nomad: Tips, Tricks and Places
Do you want to be a digital nomad?
If you do, maybe you don't know where you might want to live. Or how to live there. Or whether you need a visa. Or how to make friends in the scary sprawl of a brand-new city. Or how to stay productive while you travel. Or how to find an apartment. Or whether this lifestyle really is for you. Or… I'm sure you get the idea.
But with some insight and experience, it's not as difficult as you think. So in this book, I've gathered my 6 years of digital-nomadding experience… and I've used it to answer all your questions, soothe all your fears, and get you on your way. After reading this, you'll realise being a digital nomad is much easier (and much more possible!) than you think.