Top 10 Best National Parks in Alaska
Alaska is one of the world's last truly wild places. It can be a harsh land with inhospitable weather, but it also offers infinite space, spectacular vistas, towering peaks, and big glaciers.
The various Alaska reserves and national parks safeguard more than 60% of its immense wilderness. Due to Alaska's size, its 60% accounts for more than half of the total area of all National Parklands in the US.
Despite the harsh winter environment, Alaska's wilderness is home to a diverse range of animals, including brown bears, wolves, caribou, and musk oxen. Visits to the Last Frontier will also give you an opportunity to spot killer whales, bald eagles, and (my favorite!) sea otters.
So in this guide, I've brought you the absolute crème de la crème in the region, the 10 best national parks in Alaska.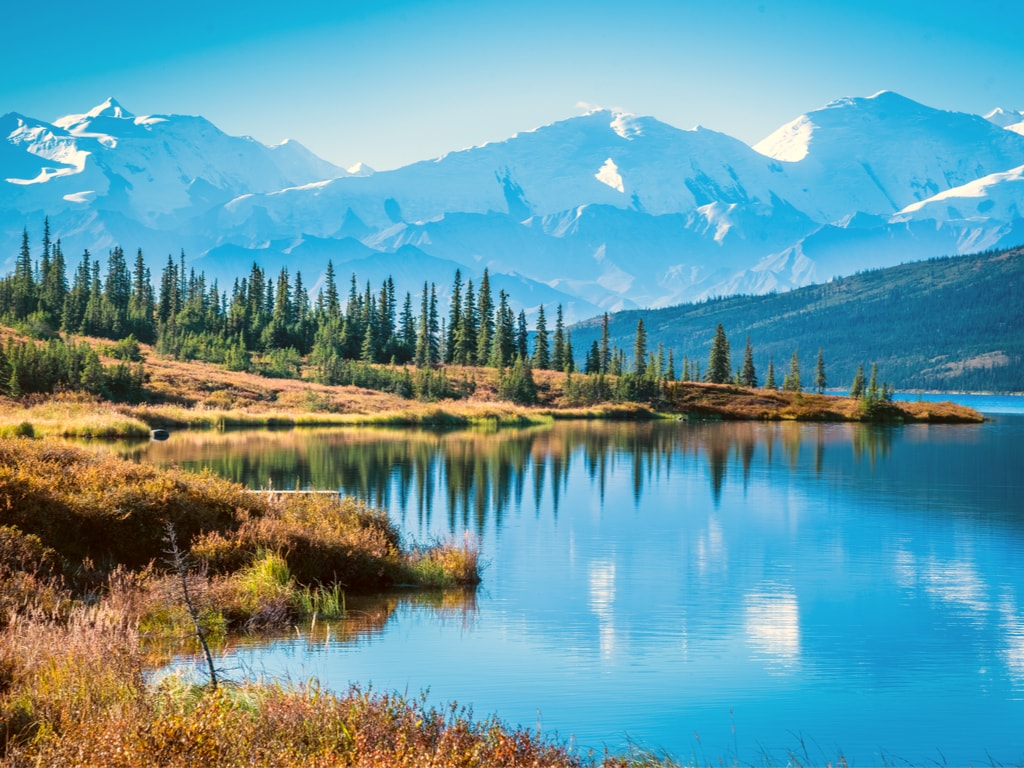 The 10 Best National Parks in Alaska You Should Visit
1. Bering Land Bridge National Preserve
The Bering Land Bridge National Preserve is one of America's most remote national parks, located on the Seward Peninsula in northwest Alaska. The only way to reach it is by boat or by bush plane as there are no roads leading into the preserve.
The preserve protects a small sliver of the land bridge that once connected Asia to North America 10,000 years ago when people first migrated to the continent. Most of it, once thousands of miles wide, now lies beneath the waters of the Chukchi and Bering Seas.
Today, the preserve provides unrivaled access to some of America's most remote wild places and a rich history of Alaskan Native cultures, both past and present. Camping, bird viewing, hunting, gathering, trapping, and fishing are all options for exploring the land.
2. Denali National Park
Denali is one of Alaska's most beautiful national parks, and it contains Mount Denali, North America's highest peak. Backpacking in Denali National Park is a once-in-a-lifetime opportunity if you have time. Start by getting your permit and learning about camping safety in bear country at the Ranger station.
The husky demonstration is something that should not be missed if you are a dog lover. It's a free, daily program that lasts roughly 30 minutes.
The summer season, roughly from June through August, is ideal to visit the park. Give yourself at least a few days (especially if you plan backpacking). Also, keep in mind, Mt. Denali is only visible about 1/3 of the time. The longer you stay, the more likely you are to view it.
Activities: Hike, camp, bike, flightseeing, birdwatching
Famous for: Legendary wildlife
Wildlife: Bears, wolves, moose, Dali sheep, caribou, birds
How to get there: Car, train, or bus
When to visit: May to mid-September
Where to stay: Denali Park Hotel, Aurora Denali Lodge
3. Kenai Fjords National Park
Kenai Fjords National Park, located in the state's southern region, is one of Alaska's most spectacular parks. It is well worth visiting if you enjoy glaciers, wildlife, and breathtaking beauty. The best way to see the Kenai Fjords is to travel to Seward, the park's closest town.
Exit Glacier is the most well-known feature in Kenai Fjords National Park, and it is also the park's only drive-to attraction. Exit Glacier has a nature center, camping spots, and numerous hiking trails, some of which lead all the way to Harding Ice Field!
However, most people do not go on a road trip to see the Kenai Fjords. They come to enjoy a boat tour of the gorgeous fjords, which are home to some of the most stunning wildlife in North America. The fjords are home to orcas, humpback whales, seals, puffins, and various other animals.
Activities: Kayaking, camping, fishing, hiking, cross-country skiing
Famous for: Most popular Alaskan park
Wildlife: Bears, beavers, river otters, coyotes, whales
How to get there: Cruise, car, train, or plane
When to visit: Summer months
Where to stay: Spruce Lodge, Harbor 360 Hotel Seward
4. Gates of the Arctic National Park and Preserve
There are no roads or paths into the Gates of the Arctic National Park, which covers an area of 8 million acres. The only way to survive here is to live in harmony with nature, as indigenous peoples have done for thousands of years, coexisting with caribou, wolves, grizzly bears, and shaggy musk oxen.
Floating one of the region's six wild rivers, including the John River, Noatak River, Kobuk River, Alatna River, Tinyaguk River, and Koyukuk River, is one way to explore the Gates of the Arctic. Hiking in from Dalton Highway — the nearest road to the Gates of the Arctic barrier – is another option for getting inside the park. However, hiking in this remote and difficult area is not for the faint of heart.
Prepare to rely on your own navigation and survival abilities, accept the silence and loneliness, and be surrounded by the larger-than-life, stunning scenery, regardless of how you enter the park. Another option is to join an organized trip if you don't feel up to the challenge of exploring the Gates of the Arctic on your own.
Activities: Hiking, kayaking, whitewater rafting, fishing, birdwatching
Famous for: Protecting the habitat of the western arctic caribou
Wildlife: Bears, wolves, caribou, Dall sheep, birds
How to get there: Fly or hike
When to visit: Summer months
Where to stay: Billie's Backpackers Hostel, 7 Gables Inn & Suites
5. Wrangell – St. Elias National Park
Wrangell-St. Elias National Park is the largest of Alaska's national parks, and it is also the United States' largest National Park, covering 13 million acres. Mountain peaks, volcanoes, and glaciers are all featured here.
Of the 16 tallest mountains in the U.S., nine are found in Wrangell-St. Elias National Park. The Nabesna Glacier in the park is the world's longest non-polar valley glacier. Some of the park's mountain ranges are also volcanic, such as the Wrangell range. The last eruption of Mt Wrangell took place almost a century ago, and it left behind a vast lava field.
Unlike the majority of Alaska's national parks, Wrangell-St. Eliss is accessible by car. A rough road runs through the park, linking Chitina, which is just outside the park, to McCarthy, a tiny village, and Kennicott, a nearby ghost town. Hiking, packrafting, ice climbing, and multiday expeditions to the Wrangell-St. Elias area are all available through Kennicott Wilderness Guides.
Activities: Hike, flightseeing, whitewater rafting, ice climbing
Famous for: Having one of the largest active volcanoes in the U.S.
Wildlife: Wolverines, lynx, river otters, coyotes
How to get there: Drive or fly
When to visit: May through September
Where to stay: Wrangell Mountain Lodge, Blackburn Cabins
6. Lake Clark National Park
You can see Lake Clark National Park across the river from Anchorage, but Port Alsworth, a little village of just over 150 people, is the best place to start exploring the park. There are no roads in the park. Thus the sites can only be reached by air taxi.
Lake Clark is a brown bear haven. Every spring, hungry bears emerge from their winter hibernation to eat on clamps and salt marsh vegetation on the mudflats of Cook Inlet's coastline. Chinitna Bay, Crescent Lake, Silver Salmon Creek and Shelter Creek, and Tuxedni Bay are ideal places to see bears in Lake Clark National Park.
Hike some of the spectacular paths through the pristine Alaskan wilderness if you have extra time in the park. The Tanaluan trail system has the most popular and well-maintained routes, such as the Tanalian Falls and Kontrashibuna Lake Beaver Pond paths. It's best to hire a guide if you want to go off-trail trekking or go on an overnight hike.
Activities: Kayak, fish, hike
Famous for: Stunning natural beauty
Wildlife: Dall sheep, caribou, moose, bears, wolves
How to get there: Fly
When to visit: June through October
Where to stay: Homer Inn & Spa, Land's End Resort
7. Katmai National Park & Preserve
Brown bears can be found in Katmai National Park and Preserve in southern Alaska. Katmai boasts the world's biggest protected brown bear population, believed to number over 2,200, making it one of the greatest spots in Alaska for bear watching. The region likewise protects the Valley of Ten Thousand Smokes. There are up to 18 volcanoes in the park, seven of which have been active since 1900.
Katmai National Park is a photographer's and animal enthusiast's dream. Along with the river and Brooks Falls, there are wildlife watching platforms. There are other options to go fishing, hiking, or on a tour to visit the volcanoes of the Valley of Ten Thousand Smokes.
The park is about 290 miles southwest of Anchorage on the Alaska Peninsula. The park is not accessible by road. The only way to get to the park is to fly from Anchorage to King Salmon and visit the park by floatplane or boat.
Activities: Hiking, camping, bear watching, flightseeing, hunting
Famous for: Pristine waters for fishing
Wildlife: Bears, moose, wolverines, river otters, red fox
How to get there: fly or boat
When to visit: June through September
Where to stay: Aquamarine Suites, Shelikof Lodge
8. Glacier Bay National Park
Glacier Bay National Park has several classifications, including UNESCO Biosphere Reserve and World Heritage Site. The park can only be explored by boat, foot, or small plane due to its isolated position and the fact that it is basically roadless. The cruise ship is the most convenient and popular way to see Glacier Bay. Several cruise lines visit Glacier Bay during the summer as part of their Alaska cruise itineraries.
If you aren't cruising, make your way to Gustavus, a little town that serves as the park's gateway. You may drive to Bartlett Cove, which is at the Glacier Bay entrance, from here.
The full-day boat cruise of Glacier Bay is the most popular activity. You'll sail to the bay's far end to observe several tidewater glaciers, the most stunning of which being Margerie Glacier. This active glacier is prone to caving, so keep an eye out for falling ice!
Hiking, flightseeing, tent camping, fishing, kayaking, and wildlife watching are other activities available in the park. While out on the water, keep your binoculars accessible in case you see sea lions, harbor seals, sea otters, or whales.
Activities: Kayaking, hiking, flightseeing, beachcombing
Famous for: Glaciers!
Wildlife: Bears, wolves, whales, deer, bald eagles
How to get there: Boat or fly
When to visit: July and August
Where to stay: Historic Skagway Inn, Aspen Suites Hotel
9. Kobuk Valley National Park
Kobuk Valley is known for massive herds of caribou that span the valley on their annual migration, as well as the world's largest active sand dunes. Hiking and camping amid the sand dunes is a fantastic experience.
The park can be reached by boat, air taxi, or hiking in the summer. Air taxis, snowmobiles, and the good old trek are all available in the winter. It is simpler to explore Kobuk Valley on an organized expedition, as it is with most of Alaska's remote National Parks.
You can find tours that help you fish, dune trek, raft, mush, or simply hike within the park.
Activities: Boating, camping, wildlife viewing, hiking, flightseeing
Famous for: Desert-like sand dunes
Wildlife: Moose, bears, river otters, muskrats, red foxes
How to get there: Fly, dogsled, or snowmobile
When to visit: Summer months
Where to stay: Candlewood Suites, Golden North Inn
10. Sitka National Historical Park
Sitka National Historical Park is the state's smallest national park, at just 113-acres. However, it is Alaska's oldest nationally designated park, established in 1890.
The park is a significant place for Tlingit and Russian history. It is home to original Tlingit and Haida totem poles tucked in a rainforest of huge Sitka spruce trees, all within easy walking distance of downtown Sitka.
The Sitka National Historical Park Visitor Center houses Russian and Tlingit relics as well as a theater where a film on the area's history is shown. You'll also find the Totem Trail in the park. It is a mile-long trail that passes through Sitka spruce and western hemlock trees, with 18 Tlingit and Haida totems. Visitors can take a self-guided tour, or they can join a ranger-led walk to explore the trails.
Activities: Learn, hike, and see totem poles
Famous for: Showcasing Tlingit and Russian history
Wildlife: Shrews, deer, mink
How to get there: Walk or drive
When to visit: All year
Where to stay: Aspen Suites Hotel Sitka, Sitka Hotel
Alaska National Parks: Frequently Asked Questions
The Beauty of Alaska Awaits
​​Remember, Alaska's parks and wilderness areas are truly wild and often remote places. In some, it is possible to go days without seeing another human being. Always approach travel in this part of the country with the idea that you're on your own.
You won't have cell coverage, and satellite phone service isn't always reliable in locations with high mountains. In most of these parks, there are no established services, trails, or amenities, and access is nearly always exclusively by boat or small plane. Yet, if you are willing to brave the elements, you will be rewarded with an adventure of a lifetime.
For more Alaska guides check out these posts: