Is Kutaisi Worth Visiting? 13 Reasons to Go
Is Kutaisi worth visiting? Yes, it absolutely is. Below are 13 reasons why.
Kutaisi is friendly and welcoming, it's much more "real" than Batumi and Tbilisi (whatever that even means), and I reckon it's the best Georgian city-based base for outdoor adventures.
And right now, as I write this, I'm living in Kutaisi. So I must think it's alright.
Coming up, much more information on why.
Grab some khinkali and come join the party—here are all the reasons Kutaisi is definitely worth visiting…
1. Because It's Just a Bit More Real Than Tbilisi and Batumi…
I love Tbilisi. I used to live there. One day, I'll probably live there again.
I also love Batumi, and I also plan to live there one day.
(I know, I have lots of big plans).
But Tbilisi and Batumi are pretty touristy.
In comparison, hardly anybody visits Kutaisi (even though it's the third-biggest city in the nation). So if you want to see how a real Georgian city functions, get yourself here.
You'll see old-school markets, old-school faces, dilapidated architecture, and loads of post-Soviet throwbacks. There's no pretense or pomp here—there's just a rugged city that'll be happy to have you.
2. … and You Won't See Many Tourists
If you're a pretentious little hipster like me, you probably love telling people you've been to places that no-one else visits.
Well, get yourself to Kutaisi, and you'll be able to add another of those places to the list.
(I'm half-joking, obviously. But if you like places where you don't feel like just another tourist being shuffled from one mediocre famous site to another, you might just love Kutaisi).
3. Cos It's One of the Most Historical Cities in the World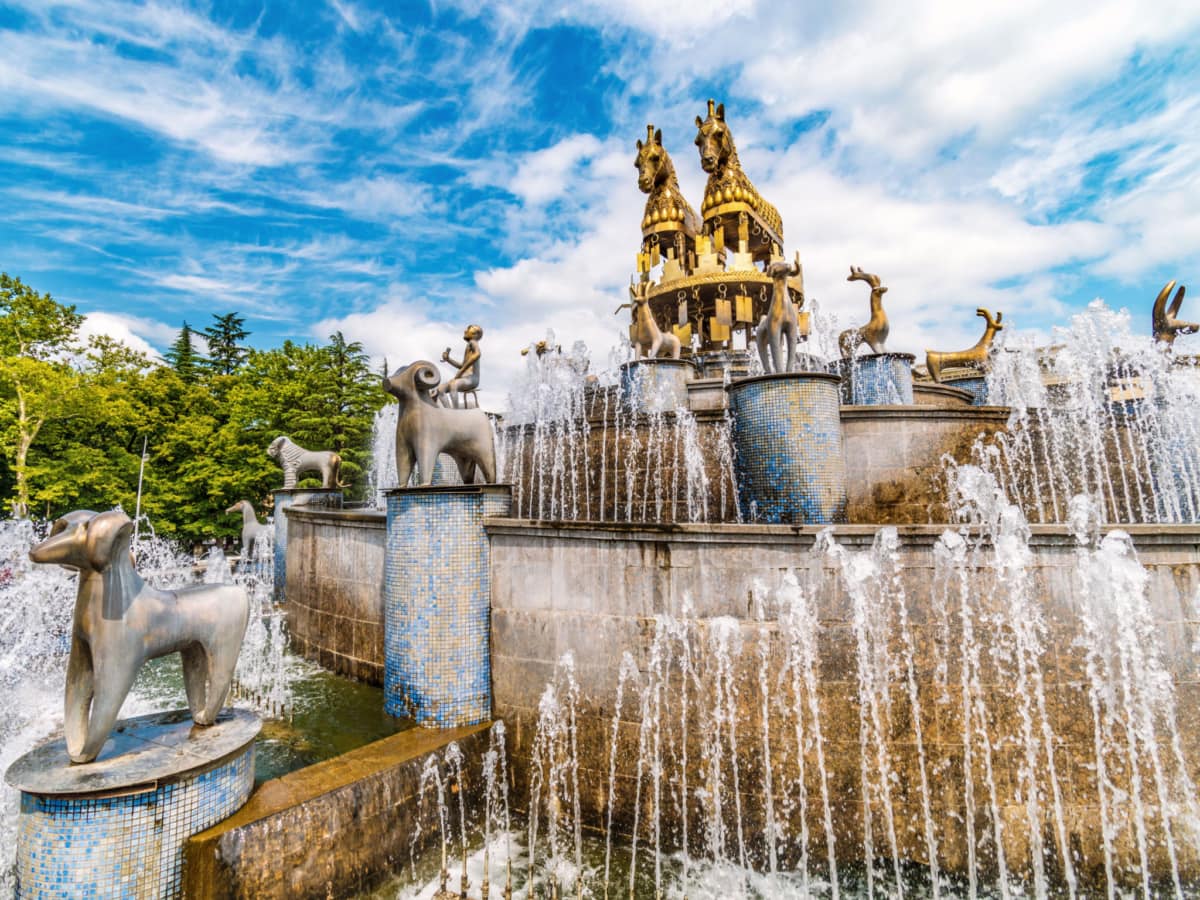 Kutaisi is one of the oldest continuously-inhabited cities in the world, and has a surprisingly lengthy and significant history that not many people seem to know about.
Back in the 5th and 6th centuries BC (more than 2,500 years ago!), the place was the capital of Colchis.
Remember Jason and the Argonauts, those old-school sailors and explorers?
Well, Colchis was where they were headed to get their grubby little mitts on the golden fleece, which lived here along with Medea.
Was the tale real? Was it not real? Who knows, but it's pretty interesting either way—and it's all acknowledged by the Colchis Fountain, right in the center of the city.
4. It's the Best Outdoor-adventure City-base in All of Georgia
Controversial, I know. But also correct.
Georgia is brimming with outdoor adventures, and has more concentrated diversity than any other nation I've been to.
And there are loads of great bases dotted around the nation. But of the three big cities (I use the term 'big' loosely), Kutaisi is the best of them.
From here, you're close to loads of great outdoor adventures. Within just a few hours (or often a lot less), you can explore caves, canyons, multi-day hikes, strange sites, lofty villages, abandoned sanatoriums, remote ancient monasteries, and loads more. For me, the sort-of-nearby mountain region of Svaneti is the highlight of them all.
I won't get into too much detail here, cos we've already covered this stuff in our bumper guide to the best things to do in Kutaisi. But if you want to spend your Georgian city-time outside of cities, Kutaisi is where you want to be.
5. For Getting Knee-deep in Some Religious Relics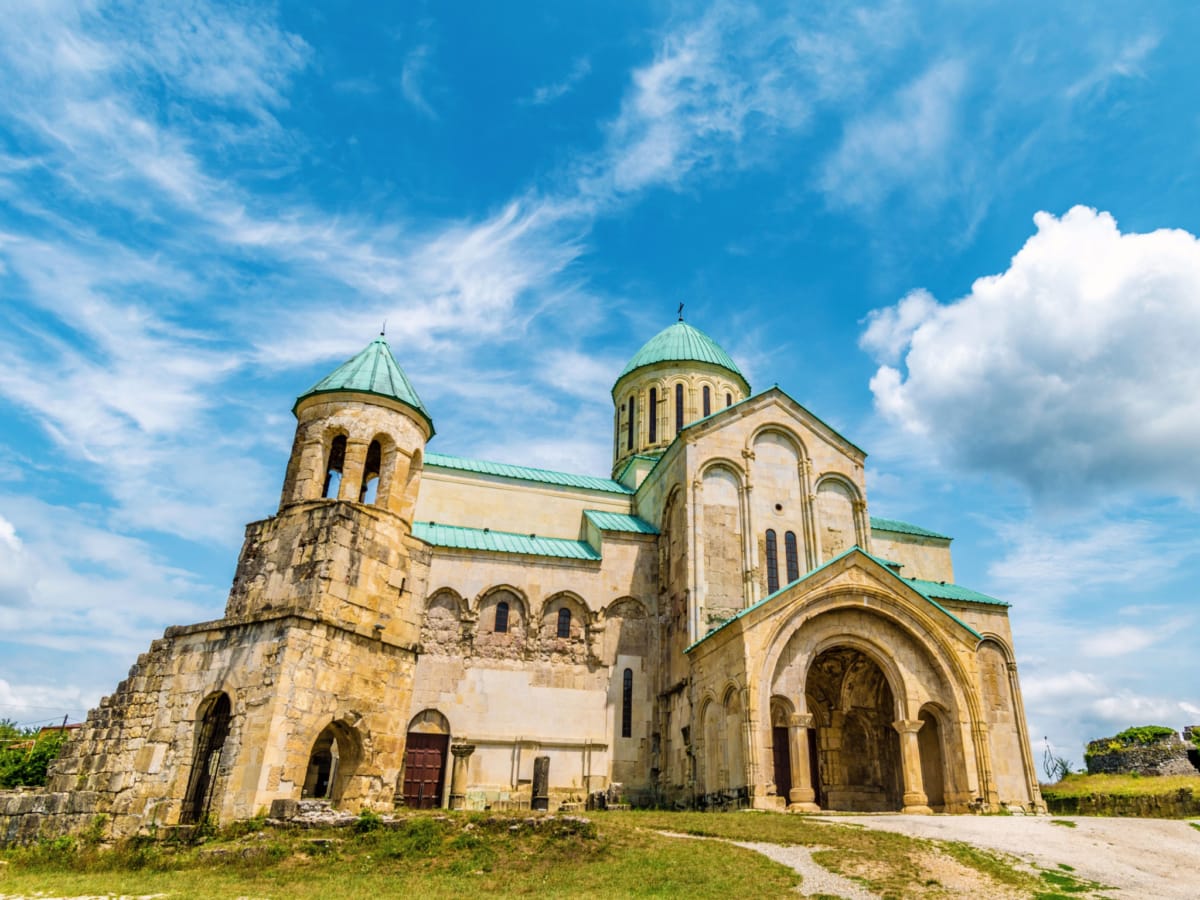 Kutaisi has (and is surrounded by) some of Georgia's most famous religious sites.
Outside of the city, the two best-known sacred sites are the monasteries at Motsameta and Gelati.
In the city itself, you can spot the Holy Annunciation Temple and St. George Church, among others.
But the most famous of them all is the meaty Bagrati Cathedral, which sits high above the center of Kutaisi. Built more than 1000 years ago, it was once one the UNESCO list, but was removed due to its recent restoration (oooh – controversial!). Anyway, the insides and outsides are impressive, and it offers some pretty good views of the city (it's a good sunset spot).
If you want to explore the three most famous (and impressive) religious sites in and around the city, check out this tour of Gelati, Motsameta, and Bagrati. It's convenient and affordable, and it comes with some interesting local insights. Best of all, it'll save you the hassle of trying to organize it all yourself, cos transport can be tricky.
6. To Munch on a Whole Range of Hyper-local Food…
You probably don't know much about Georgian food.
You probably also don't know that loads of Georgian classics (apparently) hail from the region that Kutaisi sits in (that's the region of Imereti, in case you're interested).
The area is famous for fresh flavors, with a big focus on fruits, vegetables, and herbs. I don't know which foods are actually from this part of Georgia (cos I wasn't born here 1,000 years ago), but local Imeretians reckon their region is responsible for pkhali (minced-up vegetables mixed with walnuts), mchadi cornbread, and chicken in fruit sauce.
Imereti also offers its own varieties of (super-salty) cheese, and khachapuri (bread stuffed with cheese).
Whatever the case, Imeretians are super proud of their food, and they always serve up hefty portions of it. Eat as much as you can.
7. … and to Head to the Khinkali Depot of El Depo
Khinkali (big dumplings stuffed with various ingredients, but usually meat) aren't actually from the Kutaisi region.
And they're not quite as common here as they are in other parts of the nation.
But if you want to munch on the best khinkali in the city (or at least munch at the most well-known khinkali spot in the city), you absolutely need to get yourself to El Depo. It's super casual and welcoming, it's open 24/7, and it's a must-visit. Everyone comes here, everyone loves it.
For more drool-worthy stuffed-inside-dumplings treats, here's our guide to the all best khinkali in Kutaisi.
8. To Stare at Some Bizarre Architectural Feats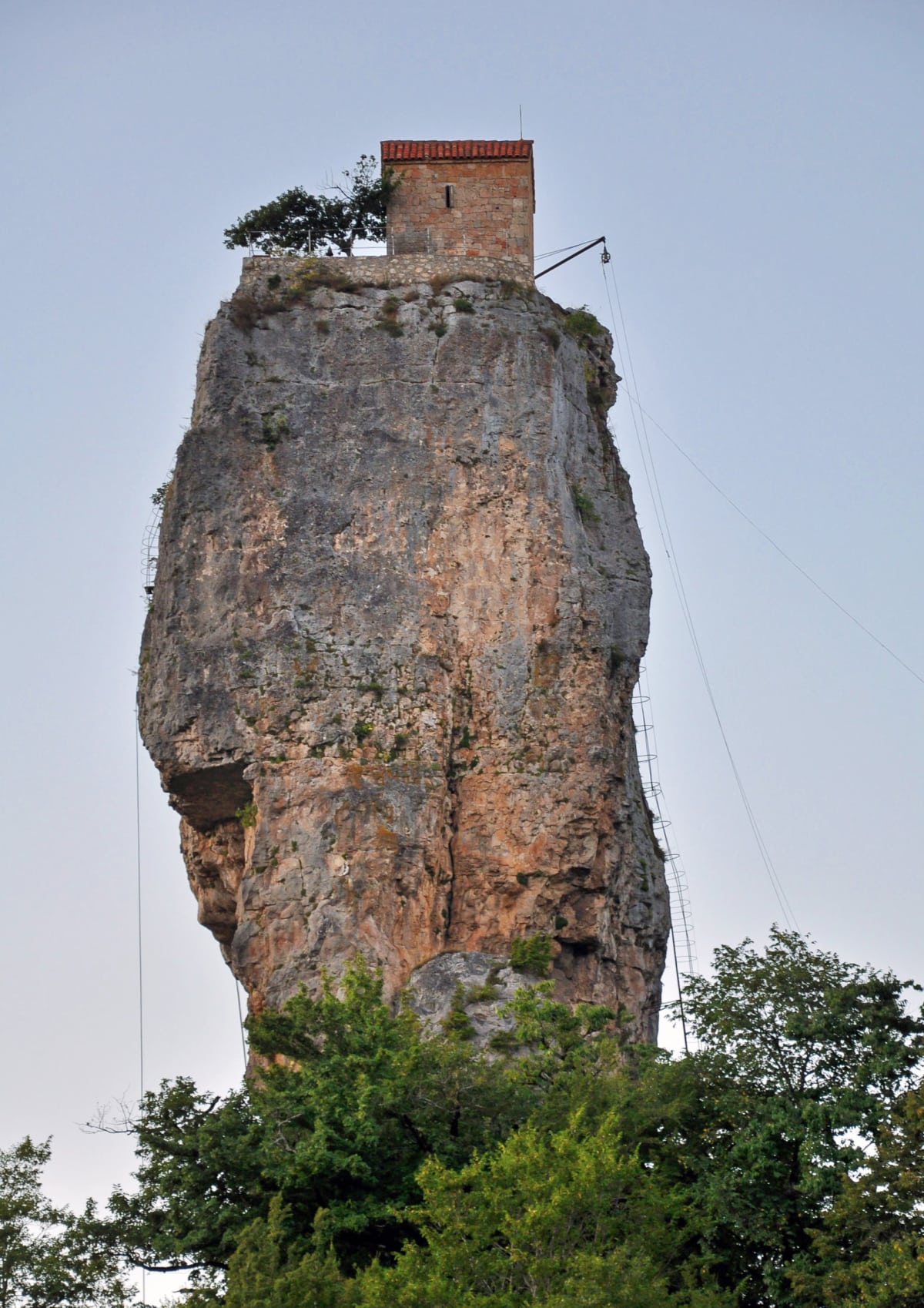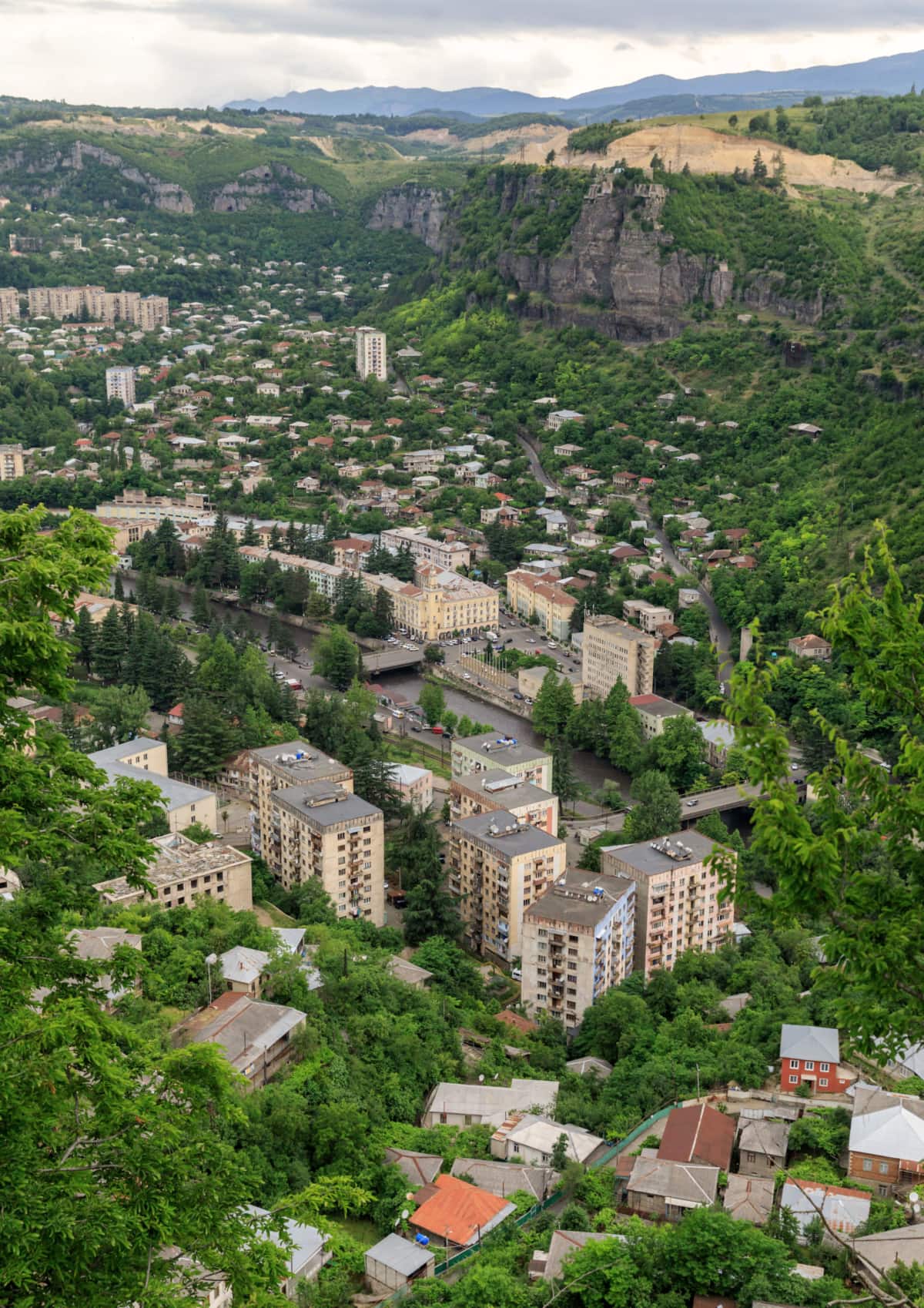 Georgia is weird. And dotted around the country, you'll find lots of weird sites.
Two of the weirdest of them are close to Kutaisi.
The first of them is Katskhi Pillar, a lone limestone column measuring in at 40 meters (130 feet), and visible high above the area. And that would be strange enough, but here's the really strange part: on top of the column, there's a tiny monastery, where one monk lives alone.
The second is Chiatura, an odd post-Soviet town built in and around a deep gorge. Here, cable cars are used as public transport, cos there's no other convenient way to get around some parts of the city.
To experience them both (and some other fun stuff), check out this jam-packed tour. It's a nice way of seeing (and learning about) both places without wasting time, or having to plan and negotiate transport.
9. Cos People Are Super Friendly
All Georgian people are friendly.
But wherever you go in the world, people in bigger cities are pretty much always less friendly than people in smaller cities.
So if you visit Tbilisi (and don't get me wrong, you totally should visit Tbilisi), you'll think "hey, Georgian people aren't quite as friendly as people told me they were." Well, welcome to lesson 1 of 'how capital cities work.'
But if you go to Kutaisi, you'll think "shiver me timbers, Georgian people really ARE as friendly as people told me they were!". Welcome to lesson 1 of 'how smaller cities work.'
Make a real effort to interact with locals. You'll enjoy yourself.
10. Because Cheap Flights Are on the Agenda
Zoom zoom!
Because cut-price Wizz Air flies in and out of the city, Kutaisi is (often) the cheapest access point for reaching Georgia.
Thanks to pesky ol' Covid, the airport doesn't offer as many direct flights as it once did, but it's still a great base for flying affordably in and out of the country.
And if you're gonna be there for a flight, you might as well explore the place, no?
11. To Wander Around the Green Bazaar
Kutaisi's Green Bazaar is a retro throwback, full of fruits, vegetables, other groceries, and loads of wrinkly old faces. If you like shopping in 'authentic' markets, you'll love it.
Don't expect people to speak much English, but expect people to be friendly and welcoming—and expect some of the cheapest eats and treats you've ever bought.
Georgia has a big focus on seasonal stuff, which is one of my favorite things about the nation. So you'll see different fayre depending on when you visit.
As a nice bonus, the Green Bazaar is right in the center of the city. In Tbilisi, you have to go to the outskirts to see markets like these. In Kutaisi, you don't.
12. For Just Getting Lost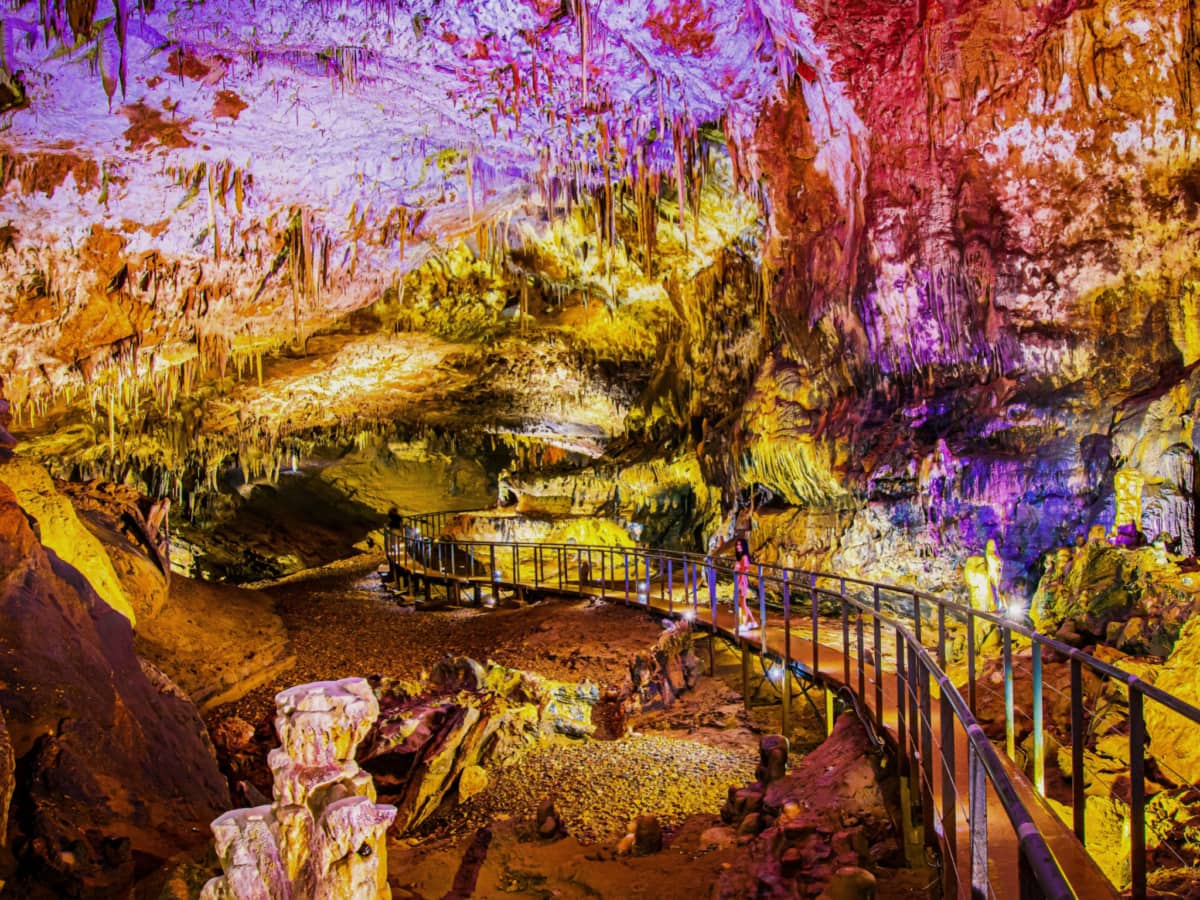 The very center of Kutaisi is very small. Explore it, enjoy it, get immersed in it.
But you should also just get lost. There aren't a huge number of 'sights' in the city, so the real highlights of any Kutaisi wander are often the things you accidentally stumble upon. Go for an aimless wander, and thank me later.
That said, there are of course some great spots in the Old Town, and they're all better with a bit of context. To see them, and the eerie and illuminated out-of-town Prometheus Cave, this tour is great. It's especially good if you want some historical facts and local insights.
13. Cos You Might Meet Me
Big lol!
Seriously though, if you find yourself in the city, send me a message. I'll show you around. It might be fun.
Before You Go
So, is Kutaisi worth visiting?
As you've hopefully worked out by now (or I haven't done my job properly), I reckon it absolutely is.
Go for a few days, explore a more authentic side to Georgian-city life, and take some day trips. If you only have time to hit a couple of spots, make them the Green Bazaar, and some nearby hike (I recommend trekking in Svaneti).
For more information on visiting Georgia, check out our guide to all the things Tbilisi is famous for.
Thanks for reading, and we'll see you next time!
Being a Digital Nomad: Tips, Tricks and Places
Do you want to be a digital nomad?
If you do, maybe you don't know where you might want to live. Or how to live there. Or whether you need a visa. Or how to make friends in the scary sprawl of a brand-new city. Or how to stay productive while you travel. Or how to find an apartment. Or whether this lifestyle really is for you. Or… I'm sure you get the idea.
But with some insight and experience, it's not as difficult as you think. So in this book, I've gathered my 6 years of digital-nomadding experience… and I've used it to answer all your questions, soothe all your fears, and get you on your way. After reading this, you'll realise being a digital nomad is much easier (and much more possible!) than you think.