What is Tbilisi Famous For?
What exactly is Tbilisi famous for?
One of my favorite cities in the world, and my current home, there are lots of things Georgia's capital is known for and associated with. So in this quick guide, I've covered them all.
Expect cultural quirks, sumptuous cityscapes, unique oddities, and a few sneaky surprises.
Below, we've brought you 17 things Tbilisi is famous for—so bring your passport and come join the fun!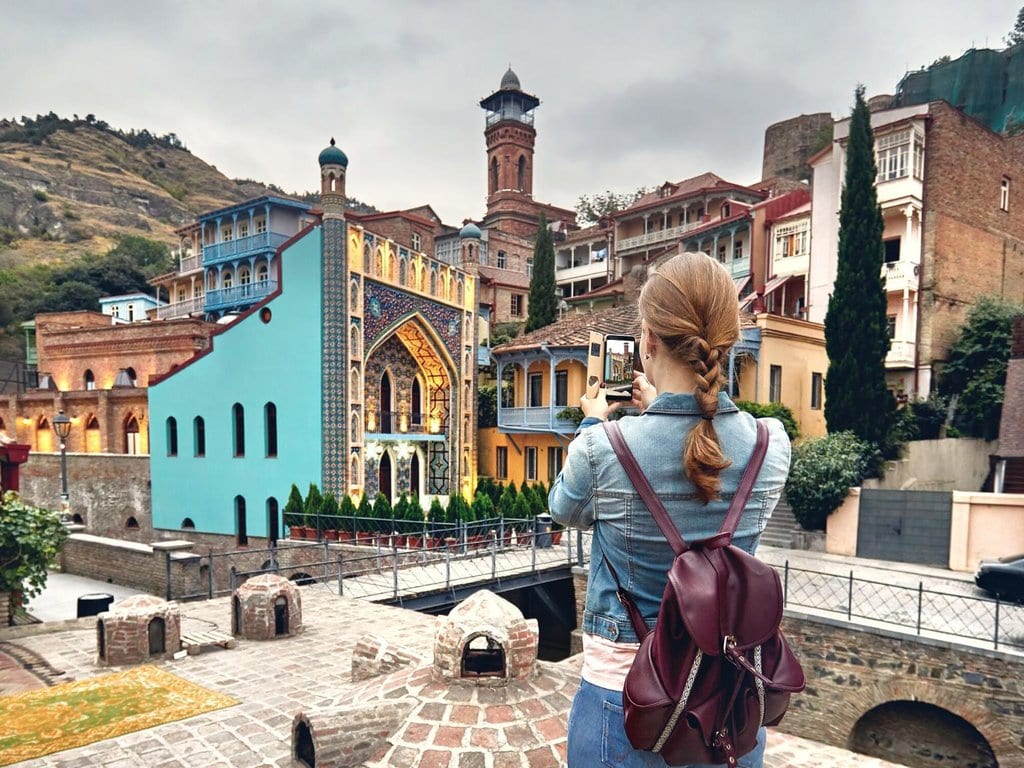 Are you planning your trip to Tbilisi?
If you're traveling to Tbilisi, you want to make sure you have accommodation and tours booked ahead of time! Check out our top-rated tours and hotels to help you plan! (Click the links for photos and details)
🚕 Book your private transfer from Tbilisi airport to your hotel
🇬🇪 Top Tours & Activities in Tbilisi
🛏️ Best Hotels in Tbilisi
🚗 Looking for the best way to rent a car in Tbilisi? Click here to check rental car rates for Tbilisi!
1. For Its Endlessly-Charming Old Town
The heart of the city, Tbilisi's old town is ridiculously alluring and endearing.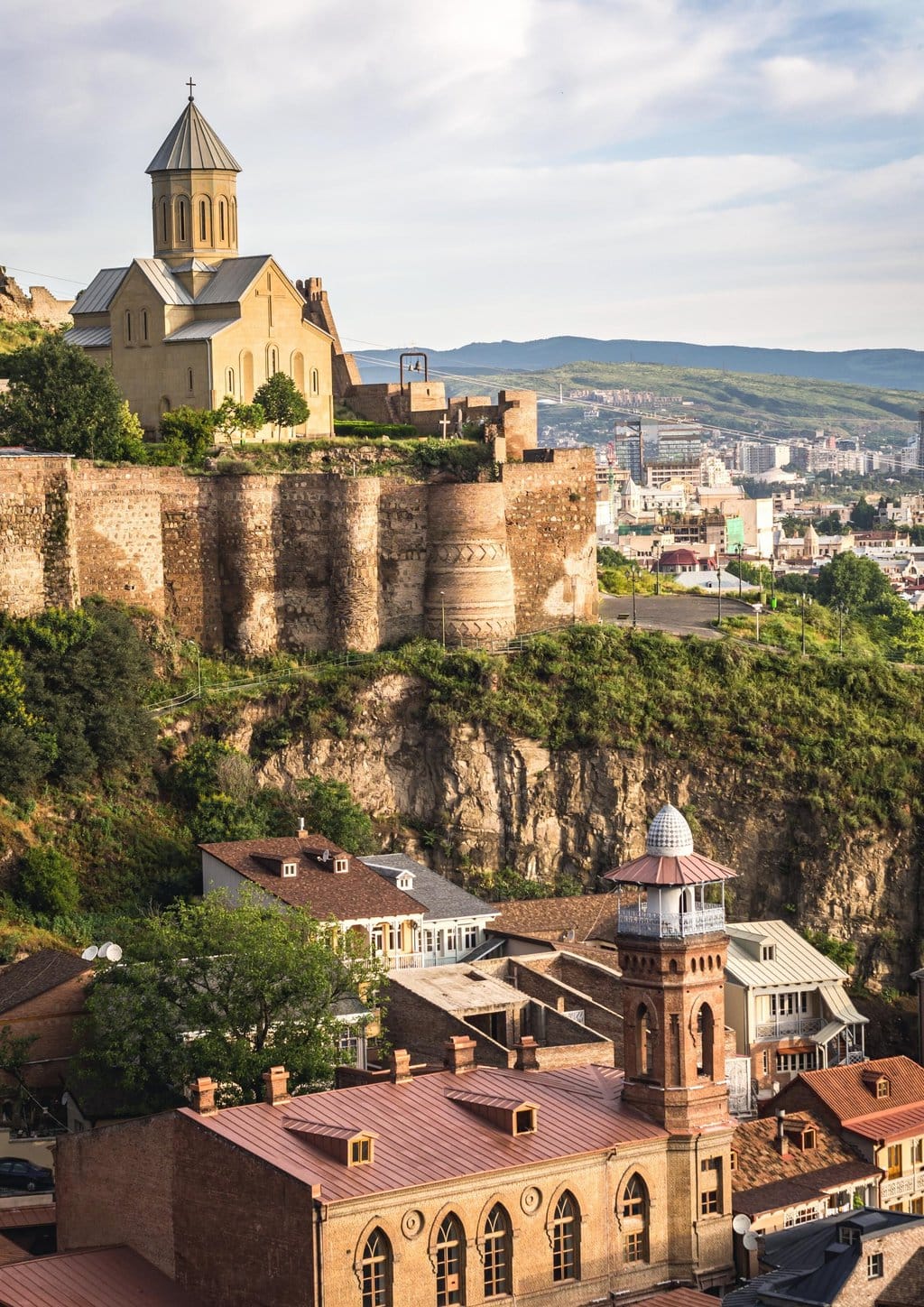 Yeah, I know that's usually the case for every single city in existence… but there's something special about Tbilisi, and I can't quite articulate what it is.
A knockabout collection of crumbling homes and unusual architecture, Tbilisi's old town is a labyrinthine mishmash of loads of lovely stuff.
On any wander around it, you'll always discover something new—and you'll constantly be amazed by the curious contrast of various architecture, influences and styles.
2. Khachapuri and Khinkali
Georgian foods don't all start with the letter 'k'—but its two most famous foods do.
Khachapuri is a cheese-filled bread-based 'snack,' which is actually bigger than most meals. Khinkali are dumpling-style parcels of dough-covered treats, filled with meat, mushrooms, potatoes, cheese, or whatever else locals might feel like stuffing in them.
Both are tasty must-tries, and some of the best things I've ever eaten.
But Georgian food is also way more than that. Expect great meats, salads, breads, beans, fruit, vegetables, and a surprising amount of hyper-modern stuff. Khachapuri and khinkali are hugely famous—but the rest of Georgia's meals and morsels are severely underrated.
3. Because It's Surrounded by Mountains
Tbilisi sits in a valley, and it's bordered by nearby mountains on all sides.
For a fun day out, you can easily go hiking in any of these super-accessible mountains (some of which are basically in the very center of the city).
The most well-known hike is up Mtatsminda Park, a family-friendly funfair which looms over the city. But you also have mountains around Turtle Lake and Lisi Lake, and some great hikes in neighboring towns and villages such as Kojori and Ghoubani.
That said, the whole nation is a towering feast of mountain-packed adventures… but we'll come to some of the distant peaks soon.
4. For a Beautifully-Liberal Immigration Policy
If you like nations where you can enter the country with no fuss and no fretting, you'll absolutely love Georgia. The vast majority of people need no visa to enter… and most people can stay for one year with no visa, no complications, and no stress.
It's perfect for both short-term and long-term stays, and more countries should be this way.
Of course, you don't necessarily need to visit Tbilisi to benefit from Georgia's brilliant immigration policy. But if you're in the nation, you should definitely visit the place.
Unsurprisingly, lots of remote workers take advantage of this policy, which brings us to…
5. Lots and Lots of Digital Nomads
Don't worry, I absolutely hate that phrase too (even though, allegedly, I am a so-called digital nomad).
When you work remotely while traveling, it can be difficult to find bureaucracy-free countries that will let you stay for a while. But as I've covered in my last point, Georgia is one of those countries.
Unsurprisingly, when most remote workers flock to Georgia, they flock to Tbilisi, so the city is brimming with lots of digital nomads, all plinking around on their laptops in various cafes and co-working spaces.
If you're a remote worker, this is one of the best cities on the planet.
6. Mega-Friendly Locals
Georgian people are some of the friendliest people in the world. They're smiley, hospitable, welcoming and kind, and they'll treat you just like a local.
Georgian people especially love it when you try to attempt a little bit of their language. I only know about 50 words, and that seems to impress most people.
If you want to meet even friendlier folks, head to the rural parts of Georgia. In the remote mountain villages, you'll be given food, rides, and invitations into family homes.
7. Some of the Best Nightlife on the Planet
Like I said, I've been living in Tbilisi for a few months… and I plan to spend a lot more time here in the future.
When I decided to come live here, nightlife was one of the biggest draws. Here, techno is like some sort of religion, and it's closely associated with notions of freedom, unity and self-expression (which are quite important things in a still-pretty-conservative country).
So a night out in a techno club here isn't just like a normal night out. Instead, it feels like you're part of some important revolutionary experience, and it's totally unmissable.
Make sure you at least check out both Bassiani and KHIDI.
8. Lots of Hip Hangouts
Even if big techno parties aren't necessarily your thing, you can still find lots of kooky, quirky hangouts in Tbilisi.
You get tucked-away speakeasies, rickety teahouses, nightlife venues in abandoned buildings, restaurants inside homes, and lots more unique and unusual stuff. If you like finding weird venues to spend your time, you'll love Tbilisi.
Some of my favorites include Black Dog Bar, Makulatura, Warsawa, Coffee Lab, Erti Kava, Ambavi, and Kvart's Coffee.
But the most famous of them all (and another of my favorites) is coming up next…
9. For Fabrika, One of the Most Bohemian Venues Known to Man
The hippest of all the hip hangouts, Fabrika is sort of everything and nothing all at the same time.
Is it a hostel? A cafe? A co-working space? A courtyard with lots of bars, coffee houses and eateries? A former Soviet sewing factor? One of the most interesting places in the whole city?
It's actually all of those things and much more… so you'll always find something interesting (and someone interesting) here.
And for some reason, everybody has heard of the place. One of the most famous venues in the city, I'd heard of Fabrika before I even moved to Tbilisi.
So do yourself a favor and book some nights in Fabrika.
10. For Being the Capital of an Outdoor Adventure Paradise
Alright, we've already covered the mountains in Tbilisi.
But there are way more mountains in other parts of the nation, featuring some of the most interesting hikes I've ever wandered along—and some of the prettiest, most unique and most welcoming villages I've ever visited.
The most famous regions are Kazbegi and Svaneti (the former is reachable in half a day from Tbilisi, while the latter is brimming with traditional tower-filled villages). But other must-visits include Borjomi, Racha and Kakheti.
Tbilisi is a great base for lots of stuff… but it's also a great base for hikes and adventures around the entire nation.
11. Stinky Sulfur Baths
You know those famous Turkish baths that everybody knows about?
Well, Tbilisi has some sulfur baths of its own. I'm not really sure if there's some major difference between Turkish baths and Georgian ones, but (as an ignorant foreigner), I'm going to assume they're basically the same.
Anyway, they're popular, pretty and stinky, and lots of them are right in the heart of the old town.
Famous Russian writer Alexander Pushkin wrote about these baths… so when I said they were famous, I wasn't even lying. In 1829, he scribbled the following: "never before have I seen neither in Russia nor in Turkey anything that can surpass magnificent Tiflis baths."
12. Endless Street Art
Tbilisi has a pretty big reputation for world-class street art, with murals, tags and oddities lurking on every corner.
Most of the biggest and best stuff is centered around Fabrika (that hipster hub I've already talked about), and the neighborhood of Marjanishvili, where Fabrika lives.
But you'll see graffiti all over the city, ranging from portraits to political statements to leftfield contemporary stuff.
One particularly famous artist has daubed and scribbled images of lambs all over the city. So while you're strolling about, see how many of them you can find.
13. Because It's Rapidly Emerging As a Great Place to Visit
When I first came to Tbilisi, around 6 years ago, there were very few tourists here—and most of them were only in the city temporarily, while en-route to the nation's mountains.
Now, there are way more tourists in Tbilisi, from all over the planet. Word is spreading that Tbilisi is a great place to visit, and a great place to live.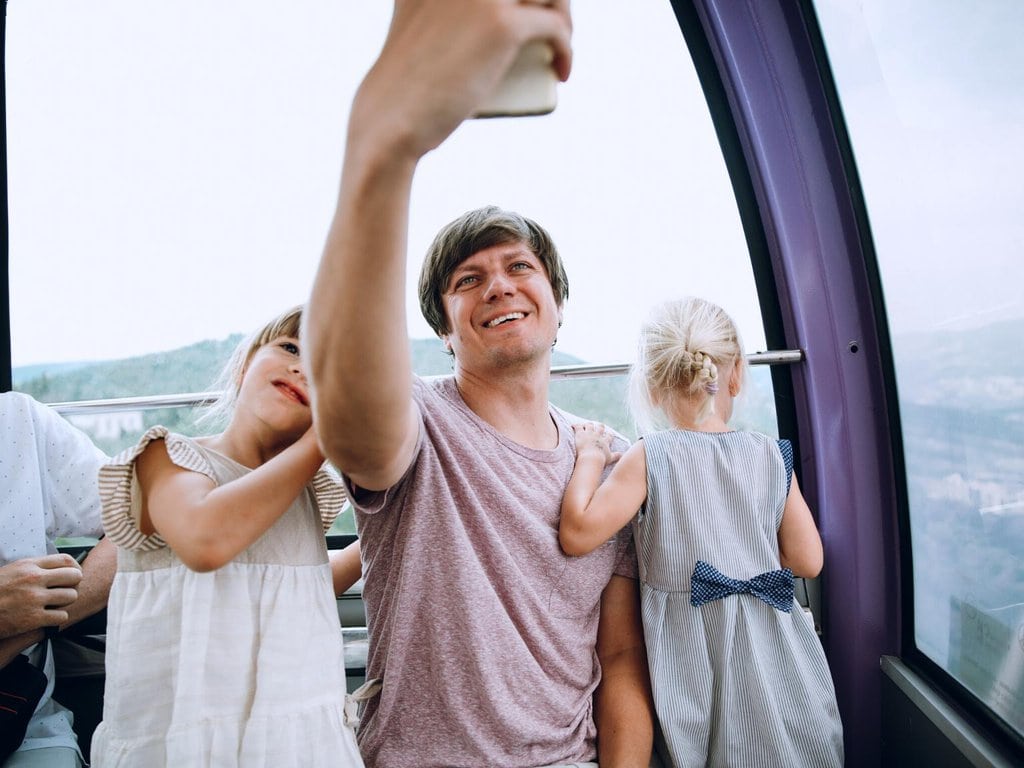 So while Tbilisi isn't quite as popular as Rome, or Paris, or Istanbul or whatever, it one day might be. So get here before everybody else does, and while the prices are low and the charm is high.
14. Boundless Balconies
Tbilisi is absolutely stuffed with balconies, and lots of them are old-school rustic wooden ones.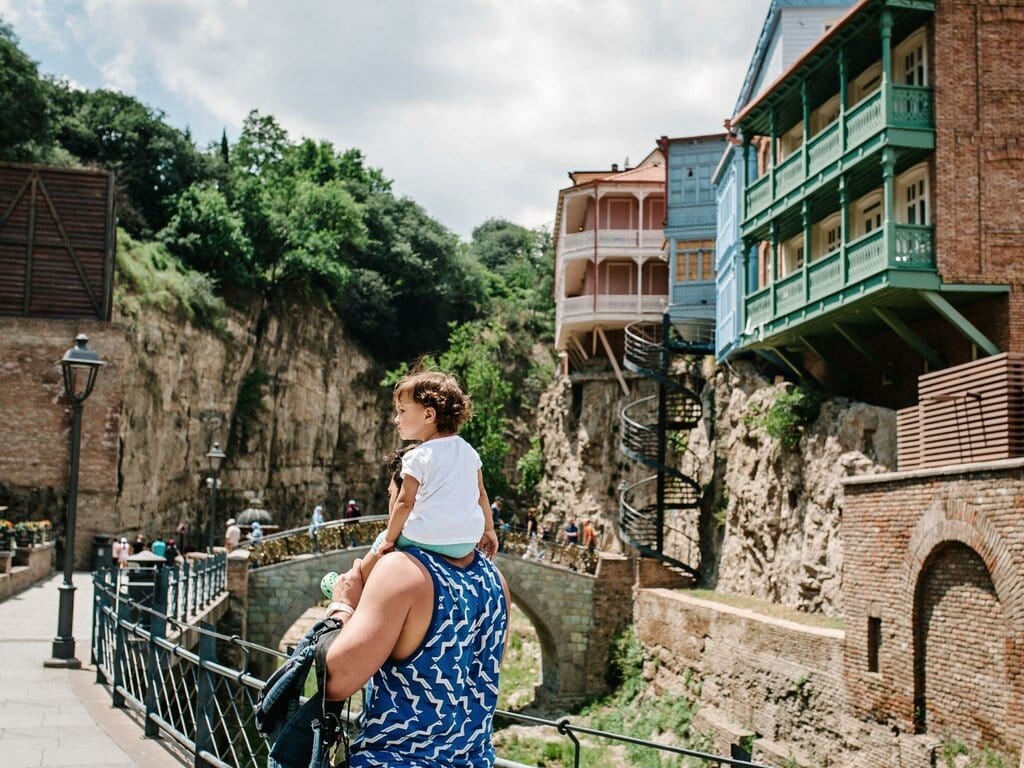 But whether they're retro or modern, loads of them have nice views, thanks to the vertiginous layout of much of Tbilisi's city center. If you like slurping on a drink while enjoying some nice balcony-side vistas, you'll find loads of great spots in Tbilisi.
Some of my favorite balcony views include the panoramas from 144 Stairs, Nair Nairi, and Restaurant Funicular (inside Mtatsminda Park)—but there are probably millions more I don't know about.
15. Dogs, Dogs, and More Dogs
Yeah, I know, lots of cities have stray dogs.
But Tbilisi has way more than most places… and if you've visited the city, you'll have noticed how many of the cute critters there are.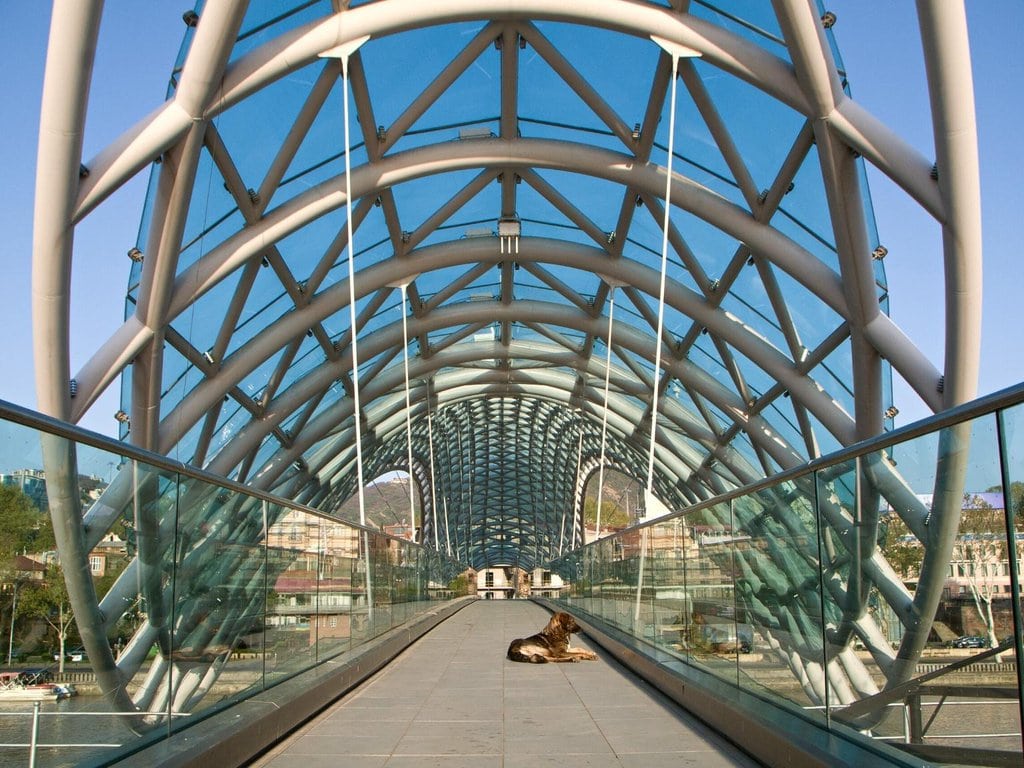 Instead of being irritating enemies (which is how the strays are treated in some countries), Tbilisi's street dogs live harmoniously with its human residents. Everyone feeds the dogs, everyone loves the dogs, and everyone wants to adopt every last one of them.
Tbilisi's lovely street dogs massively add to the charm of the city, and they're absolutely iconic.
16. An Unusual Language
Georgian is a niche little language. Full of strange sounds and crowded consonants, only around 4 million people speak the language… and it even has its very own alphabet, which you won't see in any other place on the planet.
The script has 33 letters and no capital letters, while the language has borrowed lots of words from Persian, Turkish and Arabic.
It sounds like no other language I've ever heard, with lots of clicks, hard stops, and unusual consonants… and one day, I promise I'll learn to speak it better.
17. Being a Big Place in a Little Nation
In most nations, the capital city is the most populous city… and often by a long way.
But Tbilisi takes that to another level, and it's pretty well-known for being way bigger than any other Georgian settlement.
There are around 3.9 million people living in Georgia as a whole. But get this—1.1 million of those people live in Tbilisi… which means that around 30% of the nation's entire population live in its capital.
In Tbilisi, you'll always find people from various parts of Georgia… great for getting tips on where you can travel next.
What is Tbilisi Famous for? Final Thoughts and Further Reading
And just like that, we've come to the end of our guide… and the end of our fact-packed information on the top 17 things Tbilisi is famous for.
If you want to know anything else about Georgia's enigmatic and alluring capital, check out our guides to the most beautiful parks in Tbilisi, the best places to visit in Tbilisi, and all the reasons you should visit the city.
Also, make sure to read my complete safety guide about Georgia. If you ever wondered if is Georgia safe to visit, then you should read that article.
Thanks for reading, and we'll see you soon!
Being a Digital Nomad: Tips, Tricks and Places
Do you want to be a digital nomad?
If you do, maybe you don't know where you might want to live. Or how to live there. Or whether you need a visa. Or how to make friends in the scary sprawl of a brand-new city. Or how to stay productive while you travel. Or how to find an apartment. Or whether this lifestyle really is for you. Or… I'm sure you get the idea.
But with some insight and experience, it's not as difficult as you think. So in this book, I've gathered my 6 years of digital-nomadding experience… and I've used it to answer all your questions, soothe all your fears, and get you on your way. After reading this, you'll realise being a digital nomad is much easier (and much more possible!) than you think.