Relatively speaking, Phuket is one of the most-visited cities on the planet.
With over 9 million visitors per year, Phuket has more visitors per square mile per day than any other tourist destination on the globe (source). In short, Phuket is popular, busy, and very accustomed to dealing with tourists.
The vast majority of these 9 million visits per year are very safe and completely trouble-free.
I've been to Phuket three times myself, and it's incredibly friendly, safe, welcoming and warm.
But if that's not enough for you, the rest of this guide will unpack Phuket's safety in full, with lots of tips on how you can stay safe in one of Southeast Asia's most varied destinations.
In this article, we've brought you all the tips and pointers you need to make sure your Phuket trip is 100% safe. We've compiled lots of information, facts and FAQs to keep you safe, secure and smiling!
For a safe, stress-free trip to Phuket, we've got you covered.
Let's dive in! 🇹🇭
Is It Safe to Travel to Phuket?
Yes, Phuket is absolutely a safe place to visit.
Of course, you need to take precautions and use common sense, but Phuket overall is a very safe place to be a tourist.
Thai people are very friendly, and the police are very vigilant with regards to tourists, which helps to ensure that the vast majority of travelers' visits are very safe. Because tourism brings so much money to the Thai economy, tourists are very well cared for and very well looked after.
Incidents of crime against tourists are very low, and muggers are rarely a problem. Violent crime against tourists is very rare.
There are some scammers in the city, but that's the main problem you'll experience – and the tips in this guide will keep you safe from them!
Here we go – everything you need to know about staying safe in Phuket…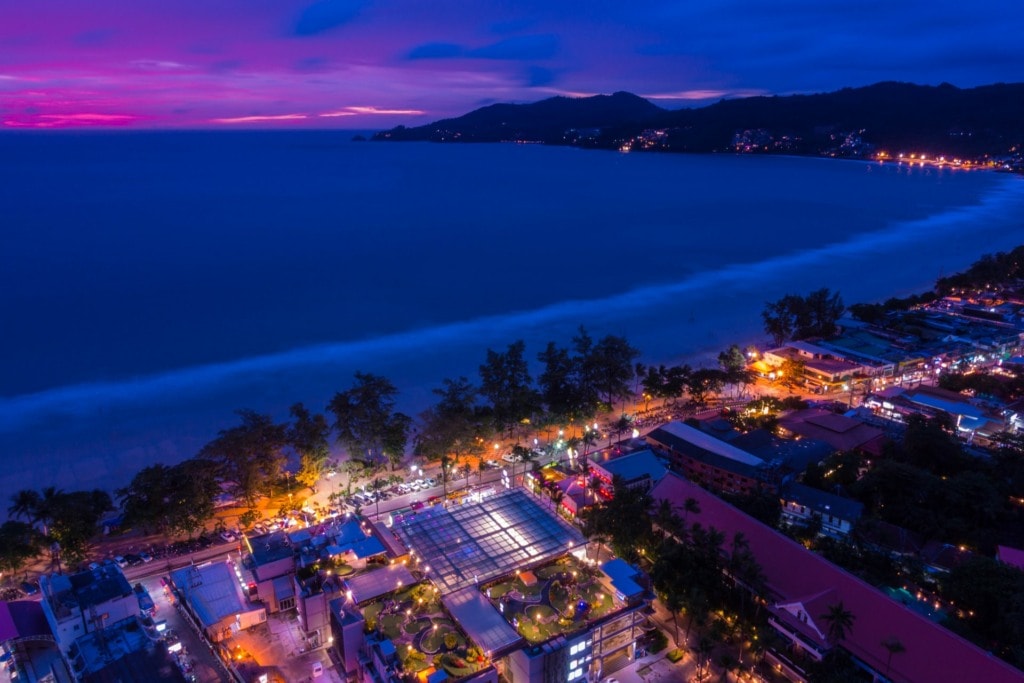 Is It Safe to Travel Alone in Phuket?
Yes, traveling alone in Phuket is very safe. Traveling anywhere in Thailand is very safe – hundreds of tourists travel solo in the nation every day. Thailand is the home of solo-traveling budget backpackers in Southeast Asia.
But of all the places to travel solo in Thailand, Phuket is one of the safest and best.
Here are some great reasons why:
Language: lots of people in Phuket speak excellent English, so you'll never have to go far to find an English speaker.
Infrastructure: Phuket is built on tourism. It's one of the most-visited places in the whole of Southeast Asia. If there's one place where it's very normal and very safe to be a tourist, it's here – you'll be one of tens of thousands.
People: Thai people are known for being friendly, and they're particularly friendly in Phuket.
Other tourists: there are endless amounts of other tourists in Phuket. Within minutes of arriving in Phuket, you'll have some brand new friends who'll be there to help you out and have your back. It's outrageously easy to make new friends in Phuket.
Ease: it's very easy to travel in Phuket. Ridiculously easy. I wouldn't recommend taking a first-time solo trip on a hiking holiday in Tajikistan, but Phuket I definitely would recommend.
If you're a first-time solo traveler, Phuket is an excellent choice. If you're a seasoned solo-traveling veteran, you'll find solo travel in Phuket very easy.
Is Phuket Safe for Female Tourists?
Yes, Phuket is absolutely a safe place to visit as a solo female.
Relatively speaking, Thai men are very respectful towards women. You'll experience little catcalling or unpleasant attention, and you'll find most Thai men to be very friendly and respectful. If you experience any unwanted attention, it's more likely to be from the foreign male tourists who visit Phuket for its pretty seedy nightlife scene.
Because there are so many tourists in Phuket – and because the nightlife scene means that the area is never particularly quiet – you'll rarely find yourself alone, even at night. That said, you should make sure you don't walk alone in unlit areas at night. But that's of course the case anywhere.
You can also easily find female dorms in many of Phuket's hostels.
You should exercise the same precautions which you would exercise anywhere, but compared to lots of other tourist destinations – popular and otherwise – Phuket is a very safe place for female solo travel.
If you want to enter temples, you might be asked to cover your shoulders or upper legs, but that's often sometimes the case for men too. For these situations, you should carry a lightweight scarf to make sure you aren't denied entry. As a woman, it's also important to know what touching monks isn't recommended.
A note here: lots of Phuket's tourism – especially in Patong – is geared around go-go bars and other similarly-seedy establishments. Though none of these venues are unsafe, they can be a little sleazy, so steer clear if that's something which might make you uncomfortable. Though lots of tourists travel to Phuket specifically for these bars, many others – men and women alike – find them a little uncomfortable.
It's unacceptable that solo female travel can provide greater challenges than solo male travel, and hopefully that won't always be the case. But while it is, Phuket is an excellent option for all solo female travelers.
Is Phuket Safe to Visit with Your Children and Your Family?
Yes, Phuket is a very safe place to travel with kids.
But though it's safe, you should stay away from the nightlife scene in Patong. Again, it's pretty seedy and sleazy, so it's not suitable for kids.
But aside from this area, Phuket is an excellent place to travel with children. It has lots of fun attractions for kids of all ages. Though the Phuket travel scene is largely dominated by both backpackers and older men, there's plenty here for kids and families.
Some of the best kids' attractions include the exciting and interactive Phuket Trickeye Museum (which isn't really a museum at all), Patong Surf House, Splash Jungle Water Park and the bizarre Upside Down House.
Aside from all of the above, there's also the excitement and adventure offered by any tropical beachside destination. You've got great beaches, an elephant sanctuary and island-hopping boat trips. In short, Phuket has lots of stuff that kids will love – and adults will love most of it too.
Though the traffic, roads and pavements can be a little chaotic, Phuket is very safe for kids.
Can You Drink the Water in Phuket?
No. Tap water in Phuket isn't drinkable.
Instead, you should buy bottled water. It's cheap, it's everywhere, and it's safe.
Alternatively, you can get a filtered water bottle from Amazon and reuse it as much as you want! Here's a great one.
Pharmacies in Phuket
It's incredibly easy to find pharmacies in Phuket, as it is in the vast majority of Southeast Asia. This part of the world seems to have a boundless love for pharmacies, and you'll typically find at least one on every street. If you're traveling from Europe, you'll likely be surprised by just how many pharmacies there are.
Pharmacies in Phuket are very safe and reliable. Because Phuket has lots of tourists, pharmacists are accustomed to foreigners, and accustomed to dealing with the types of medical complaints which foreigners often suffer from.
Most pharmacy staff speak at least a little English, so you don't have to find a specific English-speaking pharmacy.
In Phuket, you'll find pharmacies of all descriptions – from chain brands such as Boots and Watsons, to pharmacies inside supermarkets and shopping malls, to small family-run joints. They're all reliable and they're all equally helpful.
Most pharmacies in Phuket are easy to spot – they typically have a blue or green sign along with white writing. They'll typically also have some sort of medical sign on their store front and lots of pill packets in their windows – so it doesn't take a genius to work out which stores are pharmacies.
Thai pharmacy regulations are probably pretty different to what you're accustomed to at home, which means two things:
Firstly, it means that drugs which are heavily-regulated elsewhere are pretty easy to get in Phuket. It's not uncommon to be offered heavy-duty pain relievers and other strong medications. If you are offered any of these, take them with caution, and only follow recommended dosages.
Secondly, it means that drugs which might be easy to get back home may not be quite as easy to get in Thailand. If you require any daily medications, bring them with you. Though you might be able to buy them in Phuket, there's no guarantee.
Emergency Numbers in Phuket
Here are all of the emergency numbers you need to know for Phuket:
Police: 191
Ambulance: 1554
Tourist Police: 1155
If you want a guarantee that the person you call will be able to speak English, you should call the tourist police. If this line is busy, ask an English-speaking Thai person to call the regular police number on your behalf.
All three Phuket emergency numbers listed above are open 24 hours a day.
How to See a Doctor in Phuket
In Thailand, there is no culture of General Practitioners. Instead, locals go either to the pharmacy, or directly to a hospital or clinic.
If you have a small medical problem or issue in Phuket, it's best to go to a pharmacy and speak to a pharmacist. Because lots of medications are readily available over the counter, a pharmacist will pretty much always be able to offer you some medication to solve any small problem you're suffering from.
If your condition is more serious, forget about going to a clinic, as doctors may not speak English.
Instead, you should go to a hospital. In the whole of the southern coastal area in Thailand, Phuket's hospitals are the best, so you'll be in the best place for good treatment. Lots of Thai locals from the surrounding areas of Krabi and Phang Nga come to Phuket for treatment because the hospitals are of such good quality.
Phuket has two types of hospitals – private and public. There are three private hospitals in Phuket and four public hospitals.
Public hospitals, which offer cheaper treatment, are used pretty much exclusively by Thai locals, though doctors can sometimes speak some English.
If you want a guarantee of seeing an English-speaking doctor – along with a guarantee of a very short queuing time – you should visit a private hospital. But be warned: largely designed to accommodate foreigners and rich locals, these hospitals can be expensive.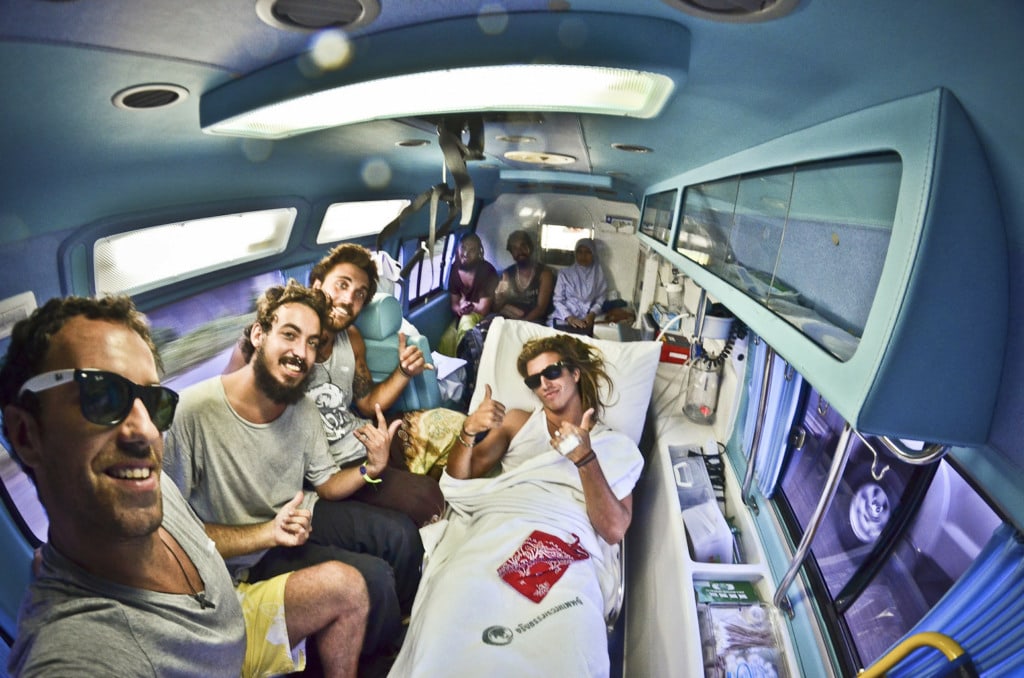 Terrorism in Phuket
There is a small threat of terrorism in Phuket. In 2016, Phuket was targeted in a terrorist attack, while other parts of the country have been targeted by terrorists on a small number of occasions.
This is of course a concern, and is of course profoundly troubling for those involved.
But that shouldn't deter you from traveling. Let's be realistic: the chances of a terrorist attack occurring in Phuket are very small. The chances of a terrorist attack occurring in Phuket while you're there are even smaller. And even if it did, Phuket is a pretty big place, so there's little chance it would even affect you.
Terrorism is a small concern in Phuket, but no more than that. Don't let it deter you from visiting.
Criminality in Phuket
There is some criminal activity in Phuket, but it's way less frequent or dangerous than the crime you might experience in many other popular tourist destinations.
Muggings and robberies are rare, but there is one particular method of robbery which you should be aware of: bag snatching. This is the most common method of robbery, and while all tourists are targeted, females are targeted slightly more often. What happens is this: criminal scooter drivers ride past tourists and use a razor to slice the carry handles of over-the-shoulder bags. They then quickly drive off with the bag, and are very rarely caught.
In order to avoid this, you should wear a backpack rather than an over-the-shoulder bag.
You should also be aware of pickpockets, though they aren't too much of a problem in Phuket. To avoid pickpockets, keep your belongings in your front pockets, make sure your belongings are tight and secure, and be especially vigilant in busy areas.
Don't get involved in illegal drugs in any way. There are many shady characters on the busy nightlife streets who, though physically harmless, will surreptitiously offer you the option of drugs.
There are two dangers here
The first is the drugs themselves. They're unlikely to be safe, and they're unlikely to be what the seller is insisting that they are. You don't want to be using a substance which you buy on the street.
The second problem is this: the person selling the drugs may well be an undercover police officer. If they are, and if you show interest in what they're allegedly selling, you could get yourself in huge trouble. Drug-related sentences in Thailand are very lengthy and very strict. Don't get involved.
Use ATMs with care and caution. Though it's not yet a huge problem in Phuket, credit card fraud is on the rise. Credit card fraudsters place credit card skimmers above ATM slots, which take your details and store them, leaving these fraudsters able to steal your credit card details. If it looks like anything has been attached to any ATM slot, don't use that ATM. It's best to use indoor ATMs in order to avoid being the victim of this con.
Common Scams in Phuket
The biggest problem you're likely to encounter in Phuket is scammers. Phuket has lots of chancers and touts who are keen to make a quick buck. Though they're usually pretty harmless, you don't want to end up losing some of your money to a scammer.
Here are some common Phuket scams you should be aware of:
Tuk tuk scams: if a tuk tuk driver tries to drive you anywhere except your chosen destination, refuse. It doesn't matter what reason they give you, this detour will absolutely be part of a scam.
'This is closed' scams: similar to the above: if someone outside of an attraction is telling you that the attraction is closed, don't listen to them – it's part of a scam.
Jet ski rental scam: this is a pretty big problem in Phuket. You rent a jet ski. You have fun on that jet ski. When you return the jet ski, you're told that you've damaged it. And fines can be hundreds of dollars. Sadly, there's only one way to avoid this scam: don't rent a jet ski in Phuket.
Motorbike rental scam: pretty similar to the above, but with a twist. Dodgy scooter agencies will ask for your passport as your deposit for renting a scooter. Don't be an idiot – don't give them your passport. If a rental place won't accept a small amount of cash as a scooter deposit, rent your scooter elsewhere.
Timeshare scam: this one is more annoying than money-sapping, but you should still avoid it. If someone offers you a scratchcard or a part in any other sort of competition where you might win a stake in a timeshare, don't bother. You'll end up whisked away to some boring lecture where you'll waste your vacation time listening to a dumb scammer.
Ladyboy photo scam: you're walking in a nightlife area. Some of the Phuket ladyboys – which the area is famous for – offer to take a picture with you. Cool. But after the picture is taken, they'll try to charge you a few dollars. In short, don't accept the offer.
Ping pong show scams: if someone tries to take you to a ping pong show, or something similar, don't go. When you leave, you'll discover that the supposedly cheap drinks you were buying all cost a huge amount. Don't go to any of these seedy behind-closed-doors shows or venues.
The gem scam: if anyone tries to sell you gems, take you to gems or tell you about gems, don't get involved. You'll wind up buying worthless gems for worthy money.
Family help scams: you make friends with a beautiful woman at a bar. Over the course of the night, you get closer to one another. She tells you she needs some money because she's sick, or a family member is sick, or her elephant/buffalo/dog is sick. It might be true, but it probably isn't.
Though you should be aware of all these scams, don't let them ruin your fun, or deter you from visiting Phuket. Be mindful of them, but don't focus on them. Though scammers are a small issue, most visits to Phuket are entirely untainted by them.
Are There Any Current Political Tensions in Phuket?
On occasion, protests do take place in Thailand, and as of 2020, these are relatively frequent. But they're pretty much all centered in Bangkok, and even those are pretty non-disruptive.
Yes, demonstrations can occur in any part of the world at any time, but there's currently little reason to fear any political tensions or protests in Phuket.
Check for current advice before you travel anywhere, but at the time of writing, there are no protests to fear in Phuket. If any do occur, you should stay away from them.
Bad Areas and Neighborhoods in Phuket
There aren't any particularly dangerous or unsafe areas in Phuket. You should be cautious in unlit or badly-lit areas, but there aren't any specific regions or neighborhoods you need to avoid.
However, there are three areas where you should be cautious:
Nightlife areas: though these areas are safe, they're often visited by scammers and pickpockets. Be wary of both, keep your belongings in a logical place and don't accept any offers which seem too good to be true.
Roads: Thailand's roads are notoriously perilous. And the ones in Phuket are some of the worst. Crossing on foot can be dangerous, so be careful. Driving on the roads is even more dangerous, but more on that later.
Beaches: tourists sometimes drown in Phuket, especially during the monsoon season from May to October. Don't be one of them. Only swim in depths you can handle, don't swim on any beaches with (literal) red flags, and don't swim under the influence.
Safe Areas to Stay in Phuket
You don't have to worry about staying in a particularly safe area in Phuket. Because there aren't any areas to avoid, you can stay anywhere. Stay in a well-reviewed accommodation in a well-known, well-lit area, and you'll be fine.
Is It Safe to Drive in Phuket?
No. Don't rent a car in Phuket, unless you're a maniac on the hunt for some nightmarish adventures. Phuket's roads are busy, dangerous and chaotic, and they're full of gung-ho drivers.
Phuket's roads are at worst dangerous, and at best stressful.
If you do decide to rent a car in Phuket, ensure you have all the correct documents, and only rent from a reputable agency. But, like I say, we don't recommend it.
There is of course lots of value and convenience in having your own private car. If you want one, hire one which comes with a driver, so you don't have to worry about safety or navigation. It's a surprisingly affordable option, and it's a great way to tick off lots of sights and sites without crashing into a wall.
If you really want to be in charge of your own vehicle, you should hire a scooter instead of a car. Though renting your own scooter is also mired in peril, it's marginally safer than driving your own car – Thailand's roads are much more suited to two wheels than four.
If you hire a scooter (which you should only do if you're experienced and adequately-insured!), make sure you wear a helmet and rent from a reputable agency.
Is Public Transport in Phuket Safe?
Yes, public transport in Phuket is very safe, and it's a great way to get around. You have three options:
Buses: affordable but pretty easy to use, public buses in Phuket are a great option if you want to get around on a budget. Buses can be flagged down anywhere, so you don't even need to go to an allocated bus stand.
Tuk tuks: iconic, garish and endlessly fun, these small, open-air cage-like vans are a unique experience, and you've never truly visited Thailand until you've ridden in one of them. Make sure you agree on a fee before you depart, and absolutely make sure you haggle – tuk tuk drivers (but especially tuk tuk drivers in Phuket!) will try to overcharge.
Mototaxis: two-wheeled motorbike taxis! These are a great way to get around affordably if you're traveling solo. Faster and cheaper than a tuk tuk, mototaxis can be spotted by looking for drivers wearing numbered vests. Again, make sure you agree on a fee before you set off.
Is Uber Safe in Phuket?
Uber doesn't exist in Phuket!
In Thailand, locals instead use Grab, an app which is very similar to Uber. It's basically identical, but much more affordable.
But there is one big difference – with Grab, you can book both cars and scooters, the latter of which can be a very fun – and very affordable! – way to get around. Grab scooter drivers will always have a spare helmet for you, and they're typically very safe drivers.
Are Taxis Safe in Phuket?
Taxis in Phuket are safe, but they're often very expensive, wth drivers who will try to overcharge you. It's always easier to use Grab. With Grab, you know your fee before you depart, and you know exactly where you're going, which makes it a much more reliable and affordable option than using on-street taxis.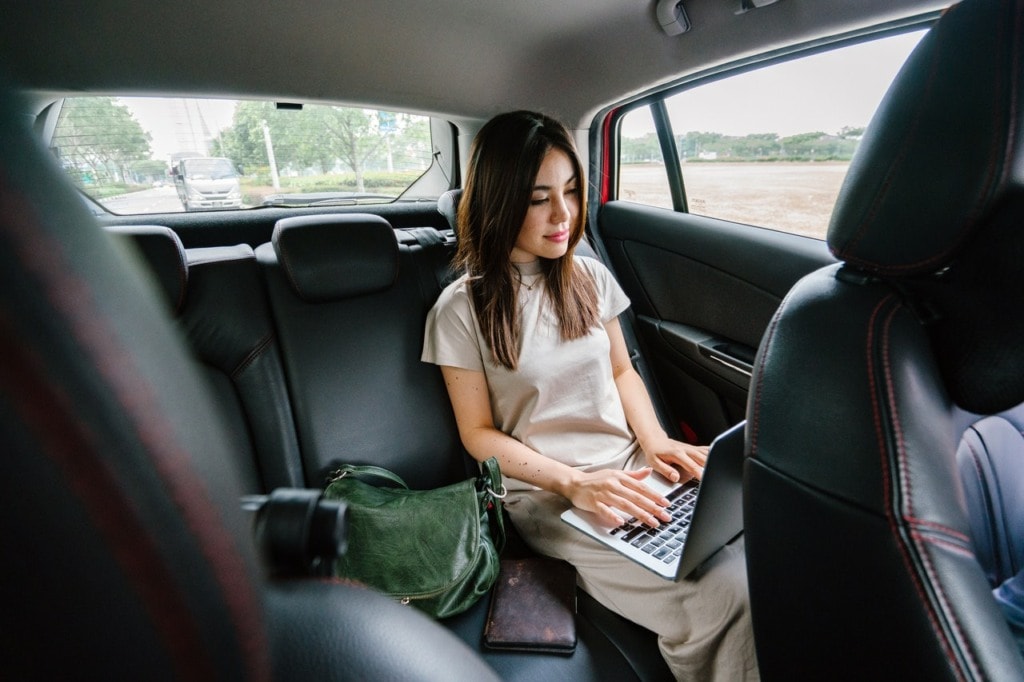 Is Phuket Safe to Live in?
Yes, Phuket is a very safe place to live.
It's becoming an increasingly popular place for expats, with many retirees flocking to the shoreside destination for an easy life. With great weather, great beaches and great prices, it's a pretty good place to live.
But more than that, it's safe – people are friendly, crime rates are low and there are no particularly unsafe neighborhoods or areas.
The only real problem is roads. Thai roads can be very dangerous – and Phuket roads are some of the most dangerous roads in Thailand. Assuming you're wary and vigilant when on and around roads, Phuket is a very safe place to live.
How to Protect Your Money and Documents in Phuket
In Phuket, you should simply use the same tactics which you would use in any vacation destination. Here's how to protect your cash and important documents while you're in Phuket:
Don't always carry all of your cash. Instead, leave some safely locked away back at your hotel.
Don't keep all of your money in one place while it's on your person. Keep some in one pocket, some in another pocket and some in a money belt. If any money gets lost or stolen, it will only be some of your money, rather than all of it.
Always carry your ID/passport with you, but never keep it in the same place as your cash. Cash is disposable, but ID absolutely isn't, especially your passport.
Consider carrying a fake wallet with fake expired papers. If you get robbed, you can simply hand this over instead of your real wallet. Though this is a pretty big precaution, some cautious travelers might find it a comfort.
How to Protect Your Belongings in Phuket
Again, you should simply use exactly the same measures which you would use on any vacation:
Never leave your bags unattended, anywhere.
Always lock your important documents and belongings in a safe in your hotel. If there is no safe in your hotel, speak to the staff at your hotel about safe alternatives.
Top Safety Tips to Follow when You're in Phuket
Don't use normal taxis. Instead, use Grab. It's much more affordable, much more reliable, and there's no chance that you'll get ripped off.
Be careful with alcohol. In Thailand, alcohol can be way stronger than you'd expect, and there's lots of cheap, expensive alcohol everywhere, especially in Phuket. You should also be wary of people trying to spike your drinks.
Lots of the red light areas in Phuket are busy. And though they're mostly safe, be very careful of accepting the offers of any touts – you'll usually get ripped off.
Don't swim on any beaches which have red flags, and don't go far out from the shore. Some tourists drown in Phuket. Be especially careful if you've drank any alcohol.
Carry and use some good mosquito spray. Phuket has lots of mosquitoes, and some of them can carry very unpleasant diseases. Always take a good insect repellent with you.
Be very aware of the common method of bag robbery, in which robbers cut over-the-shoulder bags off of the shoulders of the people they rob. You can easily avoid this by always wearing a two-shoulder bag instead of a one-shoulder bag.
Be very careful if you rent and ride a scooter. We don't recommend it, but if you absolutely want to do it, make sure you have previous experience, wear a good helmet and rent from a reputable company.
Traffic can be very dangerous for pedestrians. Ensure you're careful when you're crossing the road.
Tsunamis are a very unlikely but very possible risk in Phuket. Look out for any tsunami warnings and be aware of any protocols you'll need to follow in the event of one.
Don't rent a jet ski. If you do, you'll likely be hit with a very big and very unfair fine, as the person you're renting it from will pretend that you've damaged the jet ski.
Before you set off on any tuk tuk ride, always agree on a price. If you don't, you'll likely get ripped off.
… and speaking of tuk tuk drivers, don't let them drive you anywhere except your agreed-upon destination. They might try to take you to a tourist office or some other scam-centred destination. Don't allow them to.
Thai currency can be a little hard to understand at first. Familiarize yourself with it so that you don't accidentally end up handing over too much cash.
Don't disrespect the Thai royal family or any of its members in any way. This can be a huge crime in Thailand, and can result in jail time.
Stay well away from monkeys and street dogs. Rabies is prevalent in Thailand.
Be aware of the phone numbers we've listed earlier in this article. If you have any problems, calling the tourist police is your best option.
Don't get involved in any conversations about timeshares. If you do, you won't have your time shared – you'll just have it wasted.
If you're a woman, don't bathe topless. It's not a culturally-acceptable thing to do in Thailand.
The most important tip of all – have fun!
Final Thoughts
Phuket is one of Southeast Asia's most popular beach destinations. And though there are some things you need to be wary of while you visit, the vast majority of visits to Phuket are very safe and without any problems at all.
For even the most inexperienced of travelers, Phuket is a great place to visit. English is widely spoken, the tourist infrastructure is excellent, and locals are incredibly accustomed to dealing with travelers and tourists.
Assuming you use common sense, your Phuket trip will likely be completely without incident. Stay in a safe, well-lit accommodation, be cautious of unlit areas at night, and stay away from scammers.
Exciting and adventurous but easy to travel within, Phuket is one of Southeast Asia's most interesting but accessible destinations. Full of great food, great beaches and smiling faces, you'll likely have one of the best – and safest! – trips of your life. Enjoy!
Being a Digital Nomad: Tips, Tricks and Places
Do you want to be a digital nomad?
If you do, maybe you don't know where you might want to live. Or how to live there. Or whether you need a visa. Or how to make friends in the scary sprawl of a brand-new city. Or how to stay productive while you travel. Or how to find an apartment. Or whether this lifestyle really is for you. Or… I'm sure you get the idea.
But with some insight and experience, it's not as difficult as you think. So in this book, I've gathered my 6 years of digital-nomadding experience… and I've used it to answer all your questions, soothe all your fears, and get you on your way. After reading this, you'll realise being a digital nomad is much easier (and much more possible!) than you think.