The Most Popular Outdoor Activities in the USA
Illustrated Study Findings
In this article, we've unpacked and analyzed bundles of research and information on the most popular outdoor activities in the United States.
But let's be clear – this is not your average top 10 activities guide.
This article is based on precise reports published after multiple years of survey-based research conducted by the eminent Outdoor Foundation.
In this article, you'll learn about US outdoor participation, the 10 most popular outdoor activities in the US, the 5 fastest-growing outdoor activities in the US, and much more.
Like exercise, adventure and outdoor activities? You'll love this article.
Let's get started!
---
Top 10 Most Popular Outdoor Activities in the USA
Throughout 2019, for their most recent report, the Outdoor Foundation studied the participation of various sports and activities, to see which were the most and least popular, and to see if they could notice any emerging trends.
According to their most recent findings, here are the top 10 most popular outdoor activities in the USA in 2019:
And here's how those figures and activities compare to previous years:
The study unpacks various different factors, trends and demographics which might influence why these numbers look the way they do. Here's a short analysis of each one:
1. Running
Running is by far the most popular outdoor activity in the USA. Over 61 million US citizens did some recreational running in 2019. That's 20.2% of all US citizens aged 6 and above, up from 19.2% of all US citizens in the previous year.
Running is universally popular, as (unlike many other outdoor activities) you don't need lots of specialist equipment, you can do it anywhere, and there aren't any prohibitive costs.
Because of those reasons and more, since 2010, running has been the most popular outdoor pursuit in the USA, but 2019 has been its most successful year yet. In 2019, it was the most popular outdoor activity in the following demographics:
African Americans (17.3% participated in some running)
Asian Americans (25.5% participated)
Hispanic Americans (21% participated)
Young adults aged 18-24 (a hefty 32.2% participated)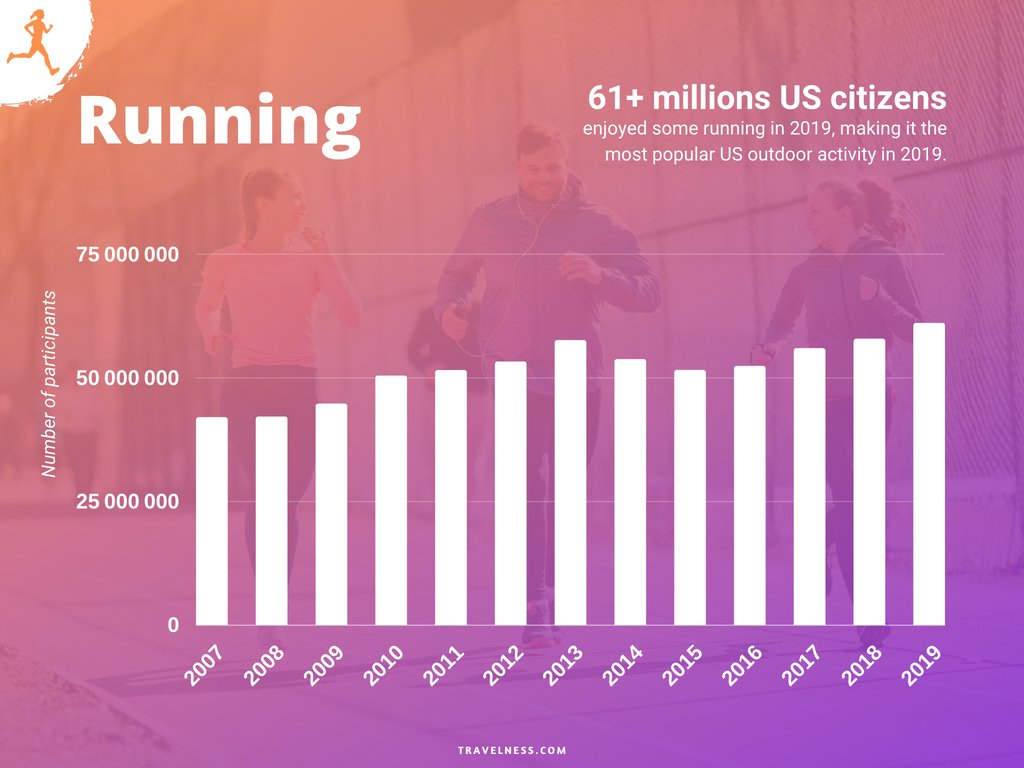 2. Fishing
Fishing is consistently a very popular outdoor pursuit in the USA. It was actually more popular than any other outdoor activity in 2007, 2008 and 2009.
In 2019, 50.1 million (16.6% of) US citizens partook in some fishing. It was the second-most popular outdoor activity for White Americans, with 17.9% of them getting involved.
While lots of outdoor pursuits are high-octane intense affairs, fishing is a gentler option for older people, those with disabilities, and anyone who wants to enjoy a relaxing outdoor activity near rivers or lakes. For these reasons and more, fishing is a popular pastime around the world.
As part of the study, all non-participants were asked about the activities they would perhaps like to get involved with (a non-participant is defined as someone who has not been involved in any outdoor activity in the measured 12-month period).
Interestingly, many non-participants were hugely interested in the prospect of fishing, and lots of them listed it as the thing they'd most like to try. The following non-participant demographics listed fishing as the #1 pursuit they'd most be interested in:
Those who earn under $25,000 per year
Those who earn between $25,000 and $49,999 per year
Those who earn between $50,000 and $74,999 per year
6-12 year-olds
13-17 year-olds
People aged 65+
It seems that fishing has the potential to be much more popular if those in the above demographics can find a way to access the activity.
3. Hiking
In 2019, 49.6 million (16.4% of) US citizens did some hiking, an outdoor adventure which has steadily and consistently grown in popularity since 2007, when that same figure sat at only around 10.8%.
Hiking was the most popular outdoor activity among White Americans (with 19.4% of them getting involved) and the second-most popular outdoor activity among Asian Americans (with 20% getting involved). It was also the second-most popular outdoor activity with those aged 18-24 (with 22% getting involved).
It's difficult to know exactly why hiking has recently undergone such a rapid surge in popularity, but here are some of the most commonly-attributed factors:
The rising popularity of mindfulness, and the related desire to get closer to nature
A growing awareness of local hiking routes and long-distance hiking routes
A millennial preference for experiences over objects
Increased accessibility, with better waymarking and infrastructure
4. Bicycling
This category covers road biking, mountain biking and BMX biking, which partially accounts for such a large number of participants. In 2019, 48.8 million (16.1% of) US citizens participated in some type of cycling.
Cycling participation has remained pretty level since 2007, with around 42 million enjoying the pursuit that year.
In 2019, cycling was the most popular outdoor activity for US citizens between the ages of 6 and 17, with 25.6% of them getting involved.
We can probably expect these cycling numbers to have increased rather a lot in 2020. During the Coronavirus pandemic, lots of people have been buying and riding bikes, which will likely translate into higher participation numbers in the 2020 figures.
5. Camping
41.7 million (13.8% of) US citizens did some camping in 2019.
This category includes car camping, backyard camping, backpacking and RV camping, meaning there's lots of appeal for various demographics. Since 2012, camping numbers have remained pretty steady, after a semi-significant drop from the years before.
Just like with fishing, lots of non-participants expressed interest in the potential of camping. Most non-participating demographics who listed fishing as the most interesting pursuit also listed camping as the second-most interesting pursuit. The five demographics who listed camping as the second-most interesting outdoor activity are:
Those who earn under $25,000 per year
Those who earn between $25,000 and $49,999 per year
Those who earn between $50,000 and $74,999 per year
Those aged 6-12
Those aged 13-17
Again, it seems that this activity comes with affordability barriers. If camping and fishing could be more affordable and inclusive, people in these demographics might be tempted to engage with both activities.
6. Wildlife Viewing
20 million (6.6% of) US citizens engaged with wildlife viewing in 2019. This is a steep drop from the numbers who engaged with camping, which clocked in at fifth. It's pretty clear that the first five entries on this list are much more popular than all other outdoor pursuits.
Interest in wildlife viewing has remained pretty steady since 2007, with very few (and only very small) increases and decreases. It was a slightly more popular pastime in 2007 and 2008 than the following years, but not in any significant way.
Broadly speaking, wildlife viewing is more popular amongst older people. Perhaps marketing towards younger people might be a fruitful pursuit for industry bodies in the wildlife viewing sector.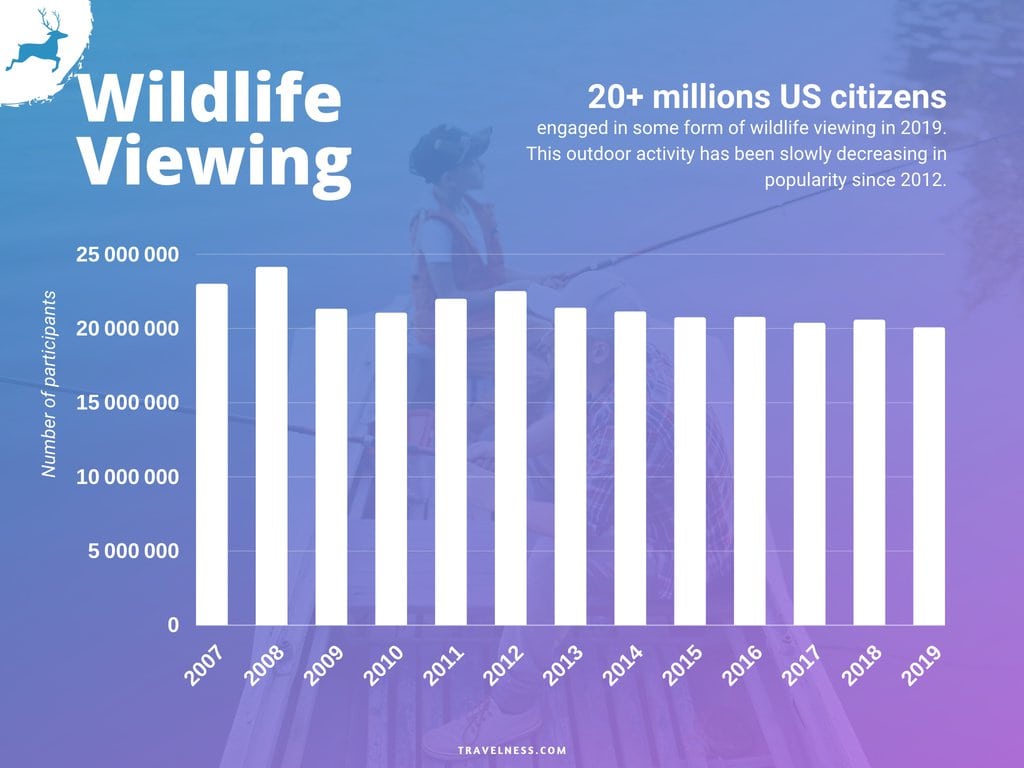 7. Hunting
15 million (5% of) US citizens engaged in some type of hunting in 2019. Again, hunting numbers have remained very stable, with no huge increases or decreases. Of all the outdoor activities in the top 10, hunting's popularity (between 2007 and 2019) has remained the most stable.
Rifle hunting is consistently the most popular hunting choice, while handgun shooting is consistently the least popular hunting choice. Bow hunting and shotgun hunting are sandwiched between the two.
As environmental awareness increases, some experts are predicting that the popularity of hunting might soon begin to dwindle, but the figures don't reflect that expectation.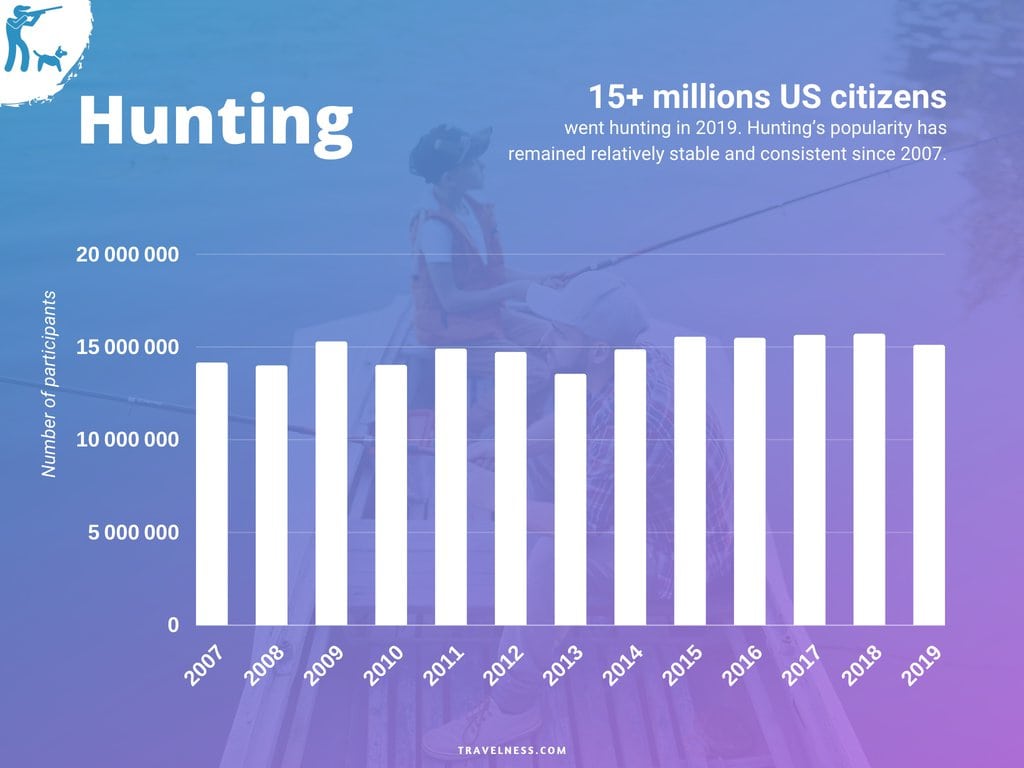 8. Skiing
14.8 million (4.9% of) US citizens did some skiing in 2019, the exact same percentage as that recorded in 2018. This figure includes downhill skiing, freeskiing and telemark skiing, but not cross-country skiing.
These skiing statistics across all age groups have only been recorded by the Outdoor Foundation since 2018, so it's difficult to observe any long-term trends.
That said, cross-country skiing figures have been recorded across all age groups since 2007, and these figures have increased slightly over the past 3-4 years. If that pattern indicates an increasing popularity across all types of skiing, we can expect all skiing figures to rise in the future.
But even if we can observe and expect a general long-term upward skiing trend, we can predict a big dip in skiing figures for 2020, when the Coronavirus pandemic closed lots of ski resorts and ski facilities.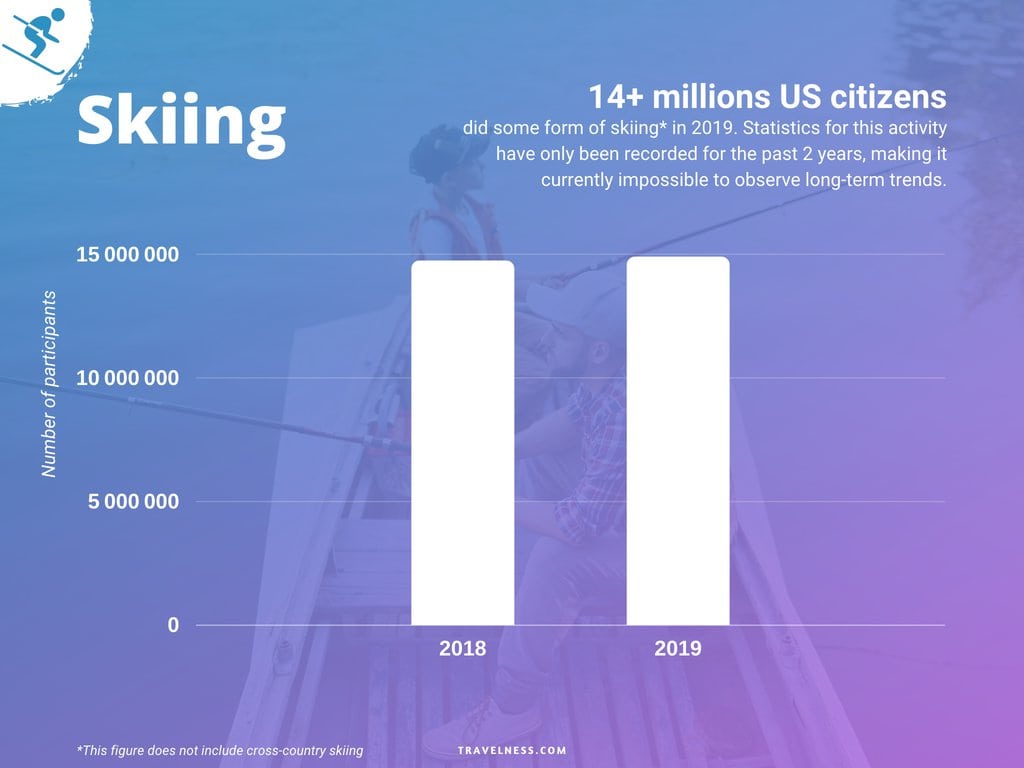 9. Birdwatching
12.8 million (4.2% of) US citizens engaged in birdwatching in 2019, an activity which has recently increased in popularity.
From 2007 to 2016, there was a gradual decrease in birdwatching participation, but that participation has slowly increased again since 2016. 2019 was the busiest birdwatching year since 2015.
Again, it's possible that an increase in environmental awareness (along with a massive boom in wildlife documentaries) has kickstarted the recent resurgence of bird watching.
2020 was likely a very good year for birdwatching, as people have begun to pursue alternative hobbies during the Coronavirus pandemic. Because you can birdwatch basically anywhere, it's a good pastime when your movements are largely restricted to your local area.
10. Kayaking
11.3 million (3.8% of) US citizens were involved in recreational kayaking in 2019, which was its most popular year yet.
The popularity of kayaking has been steadily increasing for a long while, with numbers growing almost every year from a relatively measly 5.07 million people in 2007.
In less than 15 years, the number of US kayakers has more than doubled, making kayaking one of the most emerging outdoor adventures in the US.
Here are some of the possible reasons why kayaking is becoming more popular:
It's becoming more well-known and trendy, and no longer has the reputation of being some sort of elite, prohibited venture
The costs of equipment are significantly dropping
According to some statistics, most kayakers are female (while most outdoor activities are dominated by men), making the sport seem very accessible.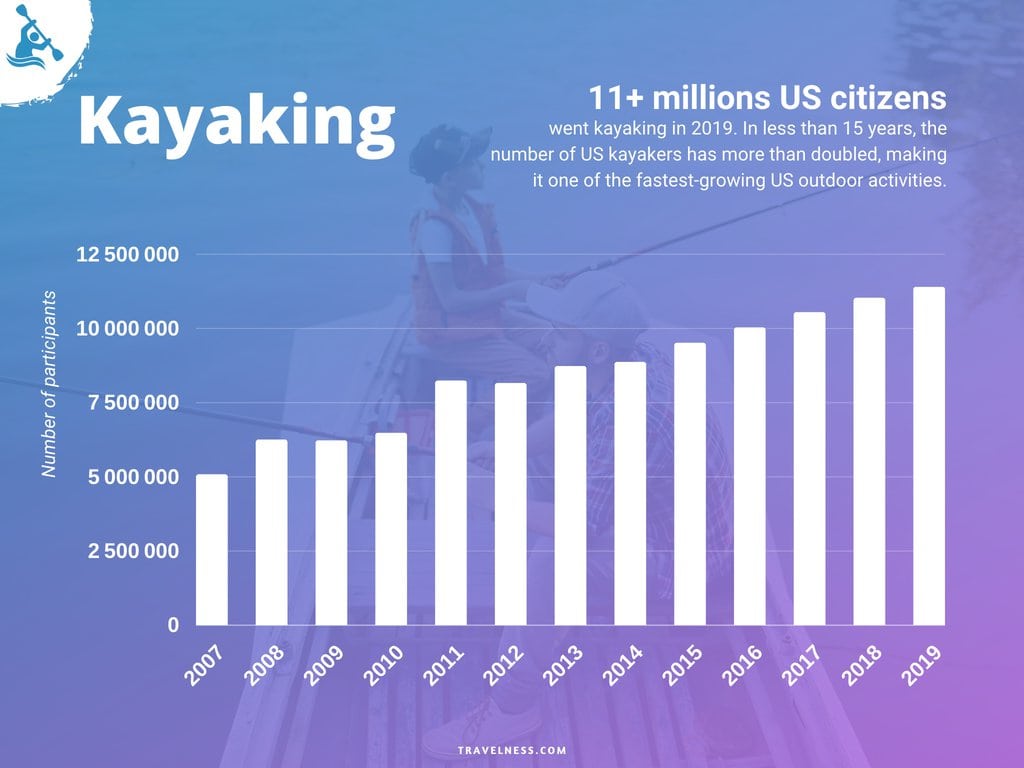 ---
Top 5 Fastest-Growing Outdoor Activities
Here are Travelness, we are hugely interested in observing outdoor activity trends and patterns, and drawing attention to which activities are growing or shrinking in popularity.
It's an interesting insight into which activities are regaining popularity, which once-popular pursuits are dropping off, and which trendy new pastimes are on the rise. There are always some pretty surprising results, and that's the case this year as always.
Here are the 5 fastest-growing outdoor activities in the USA:
1. Snowboarding
In 2019, snowboarding participation experienced a massive increase of 9.4% from the previous year, growing from 7.12 million to 7.79 million. Snowboarding was even more popular back in its glory days of 2011, but it has recently undergone a relatively large resurgence.
Like with skiing, snowboarding will have suffered in 2020, as lots of snowboarding venues and resorts have temporarily closed because of the Coronavirus pandemic. It's possible (and hoped) that this will cause a massive surge in snowboarding numbers once the pandemic is largely over.
2. Winter Fat Biking
Winter fat biking saw an 8.8% increase from 2018 to 2019, with participant numbers growing from 1.44 million to 1.56 million.
If you haven't heard of winter fat biking, it's not as weird as it sounds. It's basically just riding a bike in deep snow – and because you're riding in deep snow, your tyres need to be fat. But whatever it is, it's one of the trendiest new kids on the exercise block, and while participant numbers are still pretty low, they're growing very swiftly.
The Outdoor Foundation didn't start tallying numbers for winter fat biking until 2018, so we'll have to wait a while to see if this strong upward trajectory continues.
3. Kayak Fishing
There was an 8.4% increase in US kayak fishing from 2018 to 2019, with numbers surging from 2.53 million participants to 2.74 million participants.
In 2010, the first year when the Outdoor Foundation started tracking numbers for kayak fishing, there were only 1.04 million US participants, so numbers are rapidly and consistently shooting up.
Kayak fishing has increased in popularity year-on-year since, with the exception of only one year, when it dropped very slightly. This upward trend in kayak fishing corresponds with a general upward trend in all types of kayaking, as mentioned earlier.
4. Running
We've already discussed the rising popularity of running earlier in this article, but it's very interesting that such a basic, everyday, accessible activity is growing in popularity.
This is perhaps a great indication that the pursuits of exercise and outdoor activity are further seeping into the general subconscious, as people flock to exercise in the most accessible way they can.
As already noted, finances sometimes provide a barrier to outdoor exercise access, but that's rarely a problem with running, which might partially account for its surge in popularity.
From 2018 to 2019, there was a 5.5% increase in the number of US runners. Though this is a relatively modest increase in terms of percentage, that figure represents a massive increase of more than 3 million people, from 57.8 million to 61 million.
Though running didn't see the biggest percentage increase of all the outdoor activities, it saw the biggest increase in terms of sheer numbers of people.
5. Hiking
There was a 3.8% increase in US hikers from 2018 to 2019, a surge from 47.8 million to 49.6 million. For a while now (as mentioned earlier), hiking has been growing rapidly in popularity.
And this rapid and consistent growth shows little signs of slowing down, with figures increasing hugely since 2015, and relatively quickly from 2007 to 2015. Many experts claim that hiking is more popular than it's ever been, both in the US and many other countries.
---
Methodology & General USA Outdoor Participation Statistics
At the end of 2020, the influential and inspiring Outdoor Foundation published their annual Outdoor Participation Report, an analysis of the various outdoor activities undertaken by US citizens.
In their comprehensive annual reports, they seek to discover emerging outdoor trends, and use this research to make informed suggestions on how they and others can encourage US citizens to enjoy and engage in more outdoor exercise, activities and adventure.
They conduct their studies across various different demographics (including age, race, gender and financial situation), and investigate outdoor activities both emerging and time-tested. For their most recent study, which we've analyzed in this article (source), the Outdoor Foundation conducted online interviews with 18,000 people aged 6 and over. They used these results as a general representation of the entire US population.
Here are some of their general findings from their most recent report, which indicates emerging trends from 2019:
Around 50.7% of the US population participated in at least one outdoor activity in 2019. That's around 153.6 million people, representing a 1.2% increase on the previous year.
46.2% of these outdoor activity participants were female, while 53.8% were male. This represents the smallest gender gap on record, while female representation continues to slowly grow, from a 43% share in 2009.
Youth participation is experiencing a huge decrease, falling across the board for both girls and boys. 77% of all 6-17 year-olds were involved in some outdoor activity in 2019, but that figure sat at 91% in 2012.
Black Americans and Hispanic Americans remained less likely to engage in outdoor activities than White Americans and Asian Americans.
A lack of finances often seems to be a huge barrier for many people who don't (but would like to) get involved in some outdoor activities.
Frequency of participation is reducing, as people who explore the outdoors are doing so less often.
There has been a sharp decline in people claiming that going outdoors is one of their favorite things to do.
---
Final Thoughts
Generally, organizations working in the outdoor industries need to consider how they can make outdoor activities more accessible, affordable and appealing to a wide range of people.
How can we peel kids away from the likes of TikTok and into some running shoes? How can we make camping and fishing more affordable and accessible? How can we encourage ethnic minorities to more readily and regularly engage in outdoor activities? How can we make outdoor activities more appealing to the general population?
These are all huge questions for the outdoors industry.
It's sad to say this but regarding physical and outdoor activities perhaps an unlikely savior has emerged in the form of the Coronavirus pandemic.
If one good thing has come from the pandemic, it's that many more people are embracing the physical and mental benefits of outdoor activities. Perhaps the pandemic has presented us with an opportunity to utilize, explore and celebrate this growing interest, and presented us with a chance to make people healthier, happier and fitter.
Because of the Coronavirus pandemic, we can probably expect a big surge in the 2020 numbers, which should arrive at the end of 2021.
Once the pandemic is just a distant memory, hopefully it will have left us with massively-increased numbers of outdoor activity participants – and hopefully people will continue exploring and enjoying lots of outdoor adventures and activities.
Being a Digital Nomad: Tips, Tricks and Places
Do you want to be a digital nomad?
If you do, maybe you don't know where you might want to live. Or how to live there. Or whether you need a visa. Or how to make friends in the scary sprawl of a brand-new city. Or how to stay productive while you travel. Or how to find an apartment. Or whether this lifestyle really is for you. Or… I'm sure you get the idea.
But with some insight and experience, it's not as difficult as you think. So in this book, I've gathered my 6 years of digital-nomadding experience… and I've used it to answer all your questions, soothe all your fears, and get you on your way. After reading this, you'll realise being a digital nomad is much easier (and much more possible!) than you think.