How To Get From Paris Airports To City Center – The Definitive Guide
You choose the perfect best time to travel to Paris, you have touched down in the airport after an anticipatory flight, you know exactly how many days you will spend in Paris, passport stamped and luggage collected – but one question remains: how do you get from the airport to Paris?
Your first proper 'travel' in the city sets the tone for the rest of the trip, so every experienced traveler knows to research the most efficient and cost-appropriate way to reach downtown.
This article will guide you through the commute between your airport of choice and Paris.
Whether you land at Charles de Gaulle airport, Orly airport, or far away Beauvais (for low budget airlines), we've got you covered!
Read up on transportation options, both public and private, and be assured that there are plenty of access routes.
Of course, there are some questions to keep in mind as you browse this guide. Which airport is the closest to your base of stay? Are you traveling on budget or does comfort reign first? What time do you arrive at the airport; will public transport be available or do you have to arrange for private transfer?
The answers to these questions will help you narrow down the best fit travel for you.
Let's get started!
How to Get from Charles De Gaulle Airport (CDG) to Paris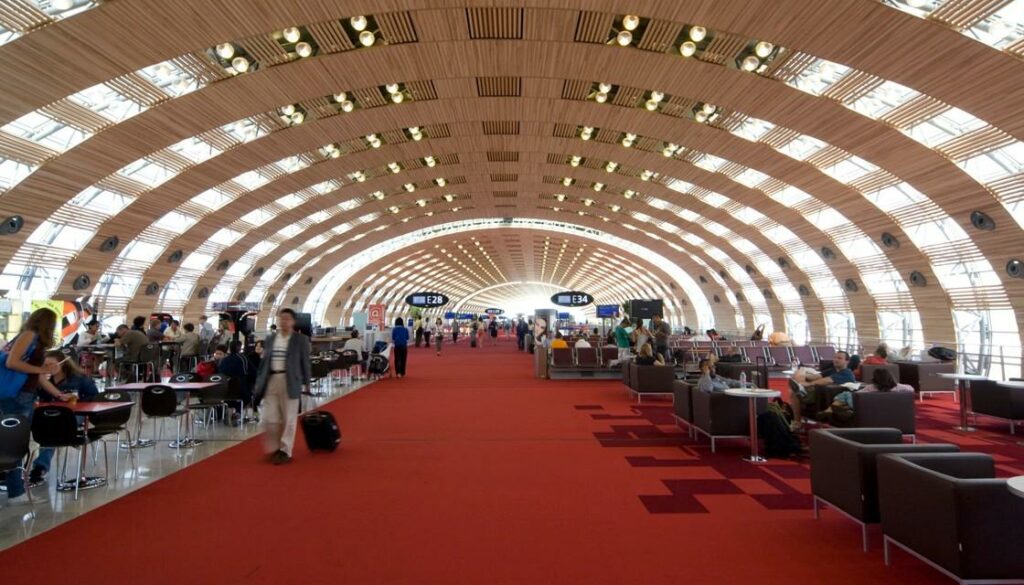 Enjoy no fuss travels between this major international airport and Paris city center with a quick browse of the official airport-city access reference. As the most used transportation hub, the airport provides direct city links via several modes of transport:
Roissy Bus – If you have a lot of luggage and are staying by the Paris Opera, Roissy Bus takes you from airport straight to the Opera. Convenient and affordable, you can purchase tickets at an automated machine at the bus stop for €11.50. Available from 5:15 AM to 12:30 AM, the bus runs at a frequency of 15 to 20 minutes. It takes between 45 minutes to 1.5 hours depending on traffic.
Train – Taking the train is by far the most direct and cost-effective method. The RER-B line reaches its first Paris stop (Gare du Nord) in 30 minutes, followed by the stations of Chatelet-Les Halles, Saint-Michel Notre-Dame, Luxembourg, Port-Royal, Denfert-Rochereau and Cite Universitaire. These stations connect to the Metro if you're not staying by them. Running between 5 AM to 11:50 PM, these trains cost €10 for a single journey. The RER ticket can be used for your metro transfer as well.
Note: Be careful there might be pickpockets. It is also a good idea to have change on you as ticket windows don't open until 6 AM; you'll have to purchase through the automated machine if you land earlier.
Taxi – Don't expect a taxi ride to be anything less than €50. Make sure to check the official site for designated taxi stands as other private cars may approach you at much higher cost. Depending on rush hour, travelling by taxi can take up to an hour.
Private Transfer – Those travelling with children or in big groups may consider signing up for a private transfer package. Covering a meet-and-greet at the airport, English-speaking drivers and direct airport to hotel movement, it is hassle-free. Simply make sure you have a mobile or printed voucher at hand to show the driver during pick up.
Depending on the amount of luggage you have and your place of stay, we recommend either the Roissy Bus or RER-B.
How to Get from Orly Aiport to Paris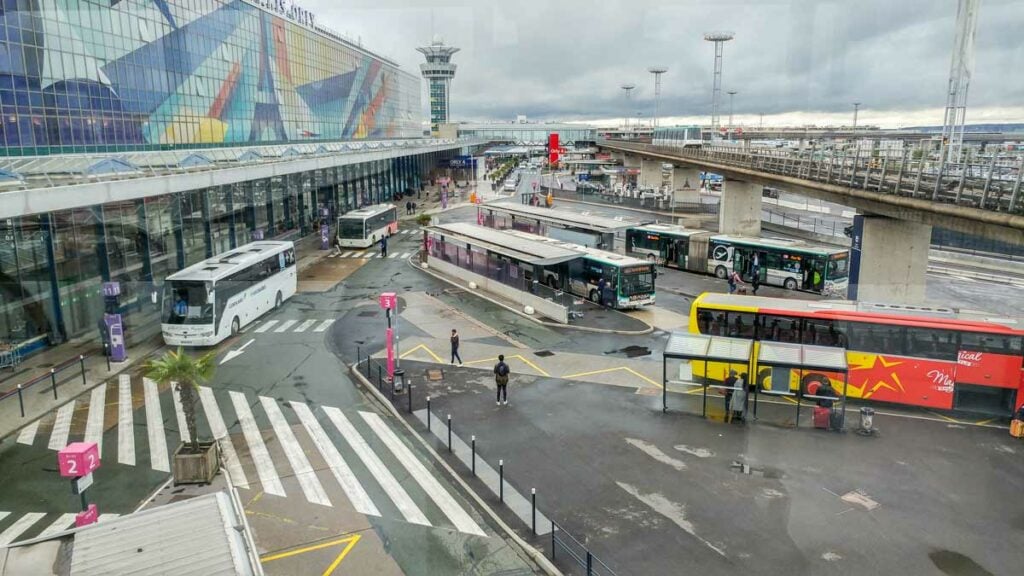 While Orly Airport is the closest to Paris city center (just 9 miles away!) it's older status means the travel route isn't quite as straight forward. Check out the official website for the most updated routes, but we've summarized everything you need to know below:
Orly Bus – At €8, you can take the Orly Bus that links the airport's two terminals (Orly-Sud and Orly-Ouest) with Denfert-Rochereau Metro and RER station. Running from 6 AM to midnight at a frequency of 10 minutes, the bus ride takes up to 30 minutes. You can transfer to buses, metro lines 4 and 6, and RER-B.
Train – There are two trains you can take; the RER-B and RER-C. Tickets cost around €12 for the former but commute time is only a little over 30 minutes, with trains running between 6 AM to 11 PM. Note that you have to take the Orlyval tram to Antony station of RER-B; the line itself makes multiple stops in Paris. The RER-C option is relatively cheaper at €6.25, covering both the "GO C Paris" shuttle bus that will take you to Pont de Rungis-Aeroport d'Orly station and actual RER ride.
Taxi – A more direct way downtown is to take taxi, which would cost approximately €35 to €50 and a ride between 30 to 90 minutes. Not all taxis take credit card so make sure to check before boarding. For more information on designated taxi stands, refer to the airport's official webpage.
Private Transfer – Private Transfer is another option if you prioritize comfort and efficiency over budgeting. Select a package here for your choice of vehicle, complete with an English-speaking driver and airport hall pick up. Simply book online, retain a copy of the voucher and show up for a smooth transfer from airport to hotel.
We highly recommend taking the train as these RER lines stop at major stations. For group/family travel or if you have many/heavy luggages, however, private transfer is the best compromise.
How to Get from Beauvais Airport to Paris
If you're flying in from another city in Europe on a low-budget flight, you'll most likely land at Paris Beauvais-Tille Airport.
Passengers on RyanAir and Wizzair flights have a long commute into city center to look forward to.
Since there is no direct train links and taxis are ruled out because 50 miles on meter will empty your wallet, your only option is to take the bus.
The airport's shuttle connections will take you between Porte Maillot (Metro and RER line 1) and the terminals. Note that the bus departs from Beauvais 20 minutes after each flight arrival, and tickets are available at the airport and on the bus.
Tickets cost €17 and the ride is between 75 to 90 minutes.
Frequently Asked Questions About Paris Airports

How Many Airports Does Paris Have?
Paris has 2 major international airports and a third one further out from the city. The former include Charles De Gaulle and Orly airport, managed under a single portal.
Charles De Gaulle Airport (CDG) is around 40 minutes north of Paris, encompassing three terminals that mostly serve flights between Paris and North America, as well as inter-European flights.
Orly Airport is smaller but closer to Paris, located south of the city at half the distance. Two terminals combined into one, it operates with four main zones.
The last airport, Paris Beauvais-Tille, is located around 90 minutes north of the city. It is mainly used by low-cost airline companies such as RyanAir and Wizzair, overseeing flights to other European cities.
Which Airport is Closer to Paris City Center?
Orly airport is the closest to Paris city center, located just 9 miles away. Without traffic, you can reach town in 20 minutes. By direct bus it could take up to half an hour, while other services that make drop-offs at Montparnasse, Eiffel Tower, and Arc de Triomphe can take longer. Taking the RER requires 30 to 40 minutes of travel.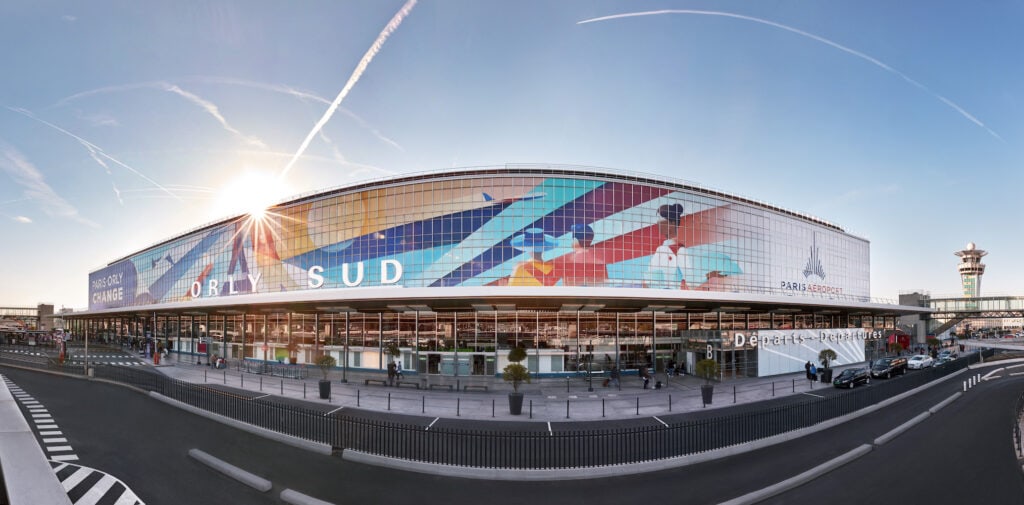 Charles De Gaulle airport is second closest, about 16 miles away from downtown. Bus services connect the airport to Opera Garnier, Porte Maillot, Eiffel Tower and Gare de Lyon between 45 to 60 minutes. To minimize travel time, take the RER as it reaches city center as fast as 25 minutes, although you do have to lug your luggage around. Still, it is much closer to city center than Paris Beauvais-Tille airport, which is some 90 minutes away via direct commute.
What About Uber?
If you're aiming for convenience and budget-cuts by taking Uber, think again! Uber isn't a practical option from Paris airports for two main reasons: accessibility and cost.
Uber rides don't have access to Taxi Parking slots, meaning you will have to reach the very outside of the airports to be able to call one. With your luggage in tow, it's not the most convenient transfer. It also means waiting longer for an Uber to arrive whereas private transfers and taxis are available inside the airport.
It is easy to assume that Uber costs less than taxis do, but what people have to realize is that Uber price depend on peak hours and car sizes available. Getting on an Uber during rush hours could cost twice as much as the usual going rate, and larger vehicles are more expensive rides than smaller models. If you're travelling solo, consider if it is really the most cost-effective way to travel; bigger groups on the other hand may benefit as costs are split between the people.
As private transfers and taxis have fixed rates, Uber might turn out to be more expensive going from airport to city center. On the other hand, those already within Paris city borders can easily substitute one of the other. Taxis and Uber cost approximately the same when downtown.
Thoughts on Private Transfer
If comfort is your first priority, opt for a private transfer.
There is no denying its hassle free service, as private transfers are allowed within airport boundaries for easy pick-up. As you will meet the pick-up operator directly at the airport hall, there is no need to seek out the station or loading bay. You can also expect quality service between getting picked up at the airport hall to arriving at your destination; feel free to ask any questions about the city or follow-up procedures.
This high quality service extends to having an English-speaking professional driver. Many regular taxi drivers don't speak English, so this is definitely a relief for first-timers! You can also cater your ride to group size. There is a roster of vehicle options available to suit your needs.
For those travelling in from Charles De Gaulle Airport, enjoy a hassle free meet-and-greet service with this private transfer deal. Similarly, Orly Airport offers a comfortable private transfer experience with various vehicle options. They will take you directly to your choice of accommodation. With these packages, you'll find private transfers that are reasonably priced and at great value.
Don't forget to book your trip back to the airport as well.
To Wrap Up
Landing in a foreign country doesn't have to be terrifying if you plan ahead. We've learnt that the trick is to ensure a smooth first commute – in this case, figuring how to get from the airports to Paris city center. Lucky for us, all three airports are accessible by public transportation at reasonable cost and commute time.
Passengers flying into Charles De Gaulle and Orly airports benefit from their international connections as major air traffic mean the need for easier access. As such, Charles De Gaulle has the most direct routes between airport and city via direct bus and train lines. While Orly Airport requires at least one transfer between bus and train, its close location allow half the travel time. Of course, those who are willing to splash out can always take a taxi or private transfer for a hassle-free trip.
There are some things to keep in mind when it comes to minimizing transfer troubles. Your choice of accommodation for one, can determine if the Roissy Bus, Orly Bus, RER-B or RER-C are better fit. The amount of luggage you carry will also affect travel convenience. If you're travelling in a big group, consider how a private transfer will keep the group together while cost is split between several parties. It is often best to book your accommodations alongside your flight so that you can plan around the arrival and departure commute.
As a complementary information, you should probably read the guide on How much spending money for Paris you need.