11 Best Slot Canyons in Arizona
Exploring a slot canyon can be an incredible, unforgettable experience. The narrow spaces, impossibly tall cliffs, interesting geography, and natural history all combine to create an otherworldly place. Arizona has its fair share of beautiful slot canyons, formed over eons by the relentless power of water to carve canyons through the rocky soil.
Of course, like anything worth doing outdoors, there's always a little bit of a risk when hiking in slot canyons. Number one rule: always, always check the weather forecast before entering one of these canyons; a rainstorm a few miles away can easily create a dangerous flash flood that sweeps through slot canyons without warning (read more Arizona hiking tips here).
Okay, now that the safety tip is out of the way, read on to find out the best Slot Canyons in Arizona and why you should make exploring a slot canyon a part of your Arizona experience! Be sure to always be prepared with plenty of water, food, a first aid kit, and other outdoor essentials for your adventure.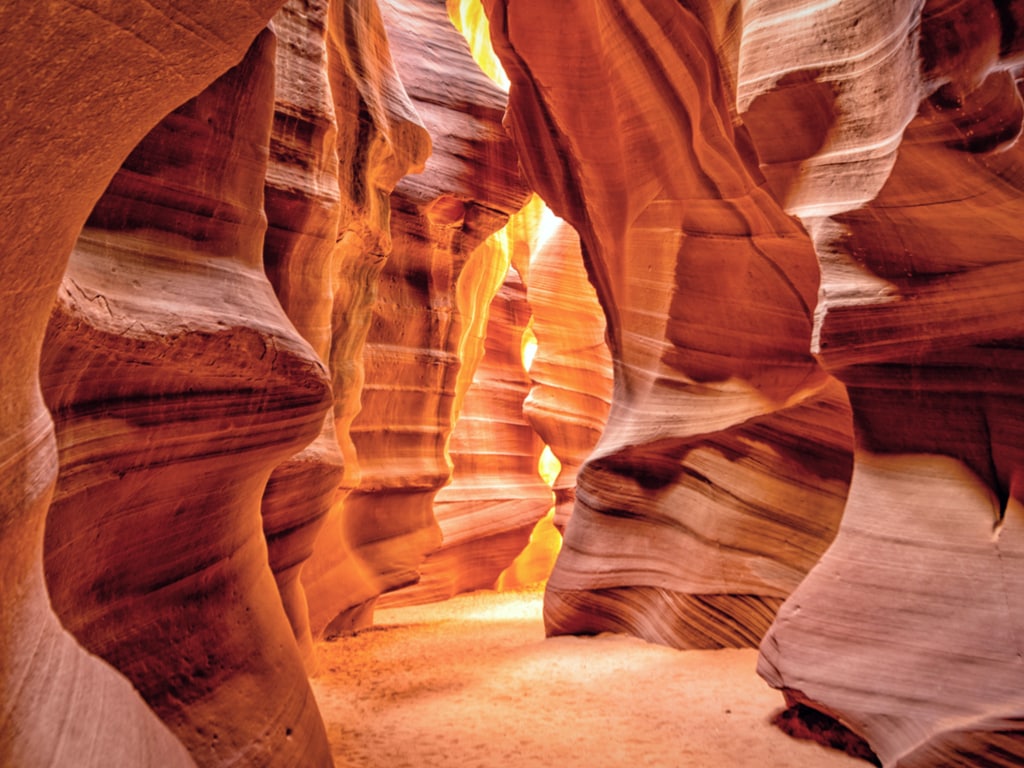 1. Antelope Canyon
By far the most famous of all the slot canyons in Arizona, and maybe the world, Antelope Canyon is split into two parts: Upper Antelope and Lower Antelope.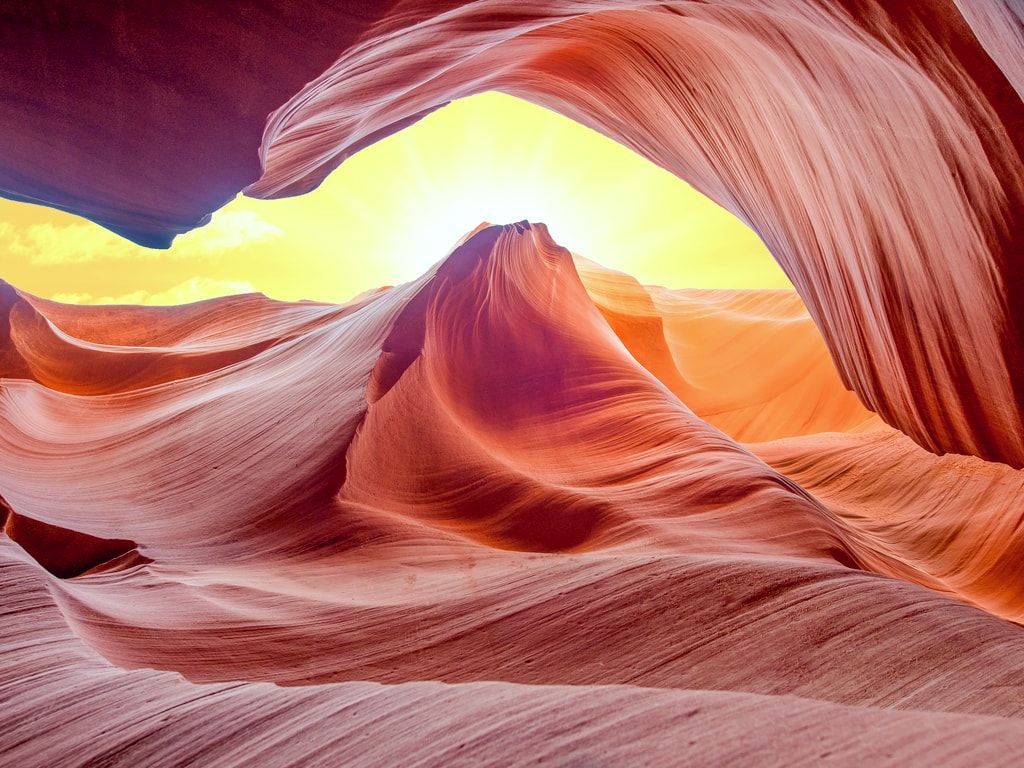 You must have a reservation with a tour group in order to hike through these canyons, planning ahead will give you an experience you'll never forget.
Here are the best tour you should take:
Discover the Upper Antelope Canyon with a very knowledgeable (and very friendly) guide. The tour is highly rated with more than 500 positive reviews.
Explore the Lower Antelope Canyon and take stunning photos (the guide will help you with that!) in this incredible adventure. Also very highly rated with several hundreds of positive reviews.
The sharp angles and wild shapes of the red sandstone walls of Antelope Canyon are breathtaking and unique, and glancing upwards gives you a scale of how incredibly complex this canyon system is. The Upper section is 660 feet (200 m) long and is more frequently visited, since seeing Upper Antelope Canyon involves no climbing on ladders or rocks. The Lower stretch of Antelope Canyon is twice as long at 1,335 feet (407 m) long and you'll have to scale some ladders to access it, but it is worth the extra effort!
One of the best features of slot canyons is the fact that you get to see and touch sandstone and rocks that are millions of years old! The consistent work of flash floods over millions of years carved Antelope Canyon with its famous rugged edges and you can see the layers of sandstone as you trek through. The slot canyon itself is 120 feet deep and at its narrowest point can be only 3 feet wide! In some spots, the sun does not reach the canyon floor for up to 6 months at a time.
Antelope Canyon is part of a larger slot canyon system near Page, Arizona; the unique geography of this part of the state allows for floods to create deep and narrow winding fissures through the soft, red sandstone rock.
2. Waterholes Canyon
Located only a few miles from Antelope Canyon, Waterholes Canyon is made up of several different sections that all branch off into different directions. A tour guide reservation is also required to see all parts of Waterholes, as it is located on Navajo land. All combined, the forks of this slot canyon stretch over 13 miles of narrow passages, cliffs, and sandy wash areas.
The lower canyon requires more difficult maneuvering, with several spots dropping enough to need rappelling equipment. The upper sections are a little more accessible to all levels of hikers and tourists, but still require some minor climbing over boulders and squeezing through narrow sections. One area in the middle fork of the Upper Canyon is so narrow, the sun never reaches the sandy bottom!
The colors, layers and incredible wall formations of Waterholes Canyon rivals those of Antelope Canyon, with the added bonus of being less crowded. Just like the other slot canyons in the area, all of the sandstone that you see at the bottom of Waterholes Canyon is anywhere from 8-100 million years old! Wandering through this slot canyon is like stepping back in time.
3. Canyon X
So named due to the "X" shape created by the canyon walls that you'll see if you look upwards at a specific spot in Canyon X, this canyon is another beautiful but lesser-known slot canyon near Page.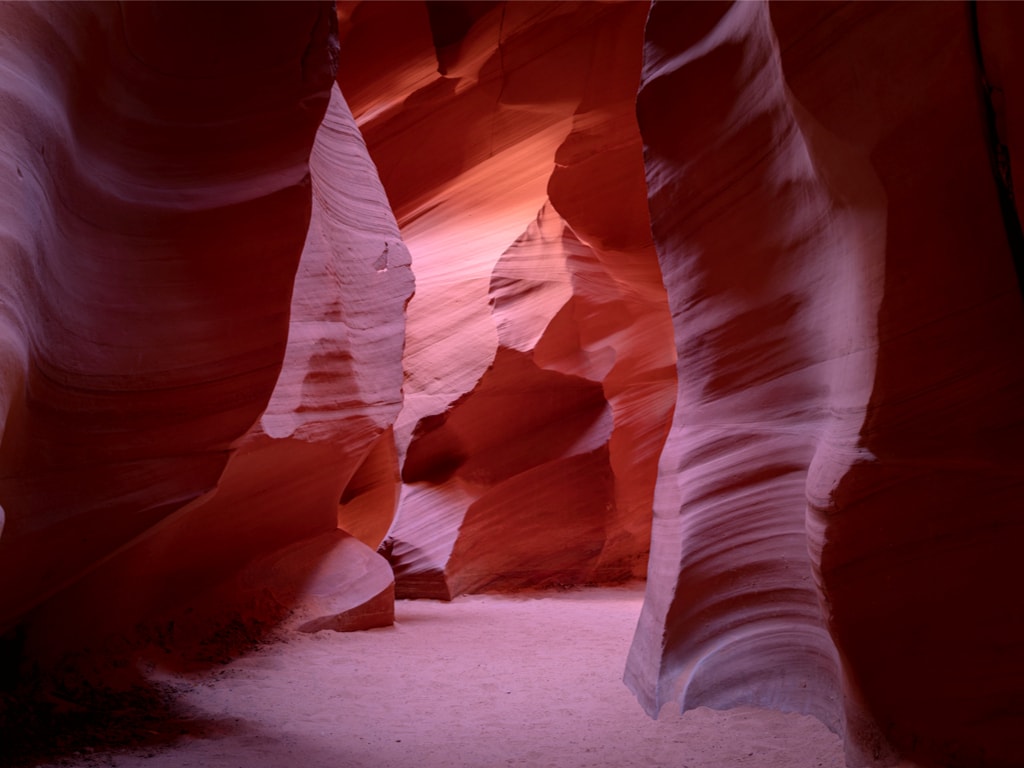 If you want to tour Antelope Canyon but want fewer crowds and more opportunities to hone your photography skills, Canyon X is for you. It is part of the Antelope Canyon complex but is farther down the canyon than the other busier sections.
Only one tour company takes small groups into Canyon X: Taadidiin Tours.
They will drives you and others in your group to the entrance, and guides allow you to take your time and will point out all the most photographic spots. The Navajo tour guides are also knowledgeable about the local history and geology of the area.
The tour takes about 1.5 hours overall, and there aren't any ladders or other difficult obstacles to maneuver. Young children are also allowed in this canyon, making this a better choice for a family trip. The red sandstone walls and breathtaking sunbeams breaking through the dust make Canyon X a favorite for photographers.
More information about the tour here.
4. Cathedral Canyon
Yet another slot canyon near Page (I told you there were many!), Cathedral Canyon is another great alternative for those who want to skip the crowds around Antelope Canyon. Cathedral Canyon also has some beautiful rock formations with names such as Pucket Rock, The Four Sisters, and Thumb Rock.
There is a pretty tight squeeze through a narrow section, followed by a single 10-foot ladder that you need to descend in order to get into this slot canyon, but other than that it is fairly easy walking through Cathedral. There are some large boulders you may have to crawl under, as they are wedged tightly between the canyon walls.
The soft sunlight on the dark red canyon walls, combined with the more quiet atmosphere that you'll find here compared to other slot canyons in the area makes Cathedral Canyon a welcome alternative to Antelope Canyon. Getting to the mouth of the slot canyon requires a gentle half-mile hike.
5. Apache Trail Canyon
Moving on from the majestic red slot canyons of Page to the rugged gray mountains of the Superstition Wilderness, the Apache Trail Canyon is created by an unnamed tributary of Mesquite Creek. The narrow canyon is about a mile long but about 600 feet of it is a "true" slot canyon, with very narrow passages about 30 feet deep.
Apache Trail Canyon is a little wilder than the previously mentioned slot canyons. There are no tour guides, there are no bathrooms, and you'll have to find your own way through. It is best to approach this slot section from downstream, and while there isn't a permanent trail there are some rock stacks (cairns) that can help lead you in the right direction.
There are some semi-permanent pools throughout this slot canyon, but in the dry season, it should be easily traversed. This scenic canyon is full of rugged boulders, moss-covered rocks, and huge cottonwood trees. The entire canyon should only take an hour or two to complete, and you can take your time as there are rarely crowds in this area. For those who love to explore the Superstition Mountains, this is a must-do!
6. Jackass Canyon
This is an adventurous way to get to the Colorado River, starting just south of Lee's Ferry and ending in Marble Canyon, which is also the very edge of Grand Canyon National Park. You are required to get a permit from the Navajo Reservation to hike through Jackass Canyon, so be sure to buy that ahead of time!
The canyon starts out as a wash near Highway 89A heading towards Navajo Bridge, and you'll park just past milepost 532. Start out hiking down the wash, which drops fairly quickly into the canyon. You'll come across a 30-foot drop about a mile in, but there are fixed ropes there to assist your climb down.
You'll be picking your way through Jackass Canyon around giant boulders, pools of standing water, and up and down small dropoffs. Eventually, Jackass Canyon opens up into the massive Marble Canyon with the mighty Colorado River. The sheer walls are incredible and rise up to dizzying heights. The entire hike is about 5.5 miles round trip, and you'll be mesmerized by the geology of the cliff walls as you descend through this slot canyon. You'll come back out the same way you went in.
7. Salome Creek – "The Jug"
For adventurous hikers and those looking for some rappelling practice, hiking the Jug should be on your list! The trail quickly drops you down into "The Jug", or the slot canyon that Salome Creek has formed over millennia. You'll be in the water most of the time, so plan your attire accordingly. However, this water is definitely not drinkable, so bring your own! After you traverse The Jug, a trail will climb with switchbacks out of the canyon back to your vehicle.
The best feature of this slot canyon is the waterfall towards the end; you'll either need to jump if the water is deep enough, or rappel with your own gear! It's about 30 feet high, and the rocks are usually slick with algae so climbing down without ropes is not recommended. If you don't want to jump or rappel, you can simply turn around and make your trip an "out and back" instead of a loop.
You can also hike to the waterfall from the other direction, which will take you to the base of the falls and the pool below. This can be a great alternative for those who want to see part of The Jug, but you will miss out on a lot of the slot canyon section. Either way, The Jug on Salome Creek is a great desert slot canyon with a little more adventure than others.
8. Deer Creek Narrows, Grand Canyon National Park
Deer Creek Narrows requires quite a bit more planning and hiking to get to, but that doesn't make it any less worth it. Deer Creek Narrows is a short slot canyon in Grand Canyon National Park and ends as Deer Creek dumps over a magnificent 150-foot waterfall to meet with mighty Colorado. Deer Creek Narrows should only be attempted by or with experienced rappellers.
There are 4 rappel sections that vary in height from 15 feet to over 180 feet! The last rappel is the big one, taking you down Deer Creek Falls (you'll definitely want a wetsuit!). Luckily, you don't have to climb back up all of these cliffs you just want down, as there is a trail nearby that will take you back up to the campsites.
While much shorter than other slot canyons on this list, Deer Creek Narrows has no shortage of exciting features and makes for an adventurous trip. The total length of the actual slot canyon is only 0.4 miles (500 meters) but the entire hike to get to it, and back to your vehicle, is about 20 miles round trip! Nothing worth doing in the Grand Canyon is ever easy; most people choose to do this hike and canyon in 2-3 days.
9. Paria Canyon
One of the most magnificent slot canyons in the entire country, this entire canyon traverse is 38 miles long! The sheer cliff walls can reach up to 800 feet high, cut deep into the Navajo Sandstone by the Paria River over millions of years. Most hikers who travel through Paria Canyon do it in 4 days, and permits are required to camp overnight.
Paria Canyon is one of the biggest canyons on this list, but can still get narrow in spots. Depending on the time of year, the water can get up to thigh-deep in spots. You'll want to plan your trip carefully, as flash floods and high water can be an issue during early spring and monsoon season!
Paria Canyon actually starts in Utah but quickly crosses the border into Arizona; most hikers choose to start in Utah as it'll be mostly downhill from there. The canyon ends at Lee's Ferry on the Colorado River, making it easy to shuttle back to your vehicles. Paria Canyon was designated a protected wilderness area in 1984, and the deep red cliff walls that you'll be touching and seeing along your route are up to 100 million years old!
For those wanting a multi-day trip through one of the most beautiful slot canyons in the country, plan a trip through Paria Canyon and it'll surely be one of the most memorable adventures of your life! Arguably one of the best features of Paria Canyon is Coyote Buttes, a couple of incredibly huge natural arches.
10. Pumphouse Wash, Oak Creek
Near Sedona, which is famous for its red sandstone rock formations and mountains, runs the beautiful Oak Creek. A tributary of Oak Creek runs through Pumphouse Wash, a rugged slot canyon that can be traversed as an out-and-back. While most of nearby Sedona vivid red sandstone, in Pumphouse Wash you'll find more cream-colored and rugged Coconino sandstone.
Getting here is pretty simple; you'll head north on 89A out of Sedona and park just north of the bridge near mile marker 388. The drainage that you see under the bridge is Oak Creek and Pumphouse Wash, and you'll start your journey here. It gets its name from an old pumphouse nearby, that was used by the pioneers in the late 1800's to bring fresh water uphill.
Avoid Pumphouse Wash on rainy days and during the spring runoff, as you may come upon high water or a flash flood, which will definitely ruin your trip! There isn't necessarily a trail down this slot canyon, but just continue boulder hopping and route finding through the canyon until you come to a confluence with another canyon around mile 2.6. This is a great place to turn around and make your way back out for a lovely day hike through Pumphouse Wash.
11. Arizona Hot Springs Canyon
This slot canyon holds an extra treat for hikers- a series of hot spring pools, the perfect way to relax after your trek through Arizona Hot Springs Canyon. The hike is fairly easy, although there is a 17-foot ladder that you must ascend in order to get to the hot springs. Round trip, the hike through Arizona Hot Springs Canyon and back to your vehicle is about 5 miles.
Throughout the canyon, the steep walls are nearly vertical and in some spots, can be as close as 6 feet apart! The hot springs are obviously the main draw of this slot canyon, and the springs pump water from underground at a rate of about 30 gallons per minute. The water is the perfect hot-tub temperature of 111 degrees year-round.
The canyon walls are unusually colorful, with shades of red, yellow, purple, and pink surrounding you on all sides. You'll climb up and down several small dry falls on your way to the hot springs, but you shouldn't need any special gear beyond your regular hiking gear. You'll also be rewarded with views of the Colorado River and several areas of an ancient lava flow.
Frequently Asked Question About Slot Canyons in Arizona
What is a slot canyon?
A slot canyon is defined as a narrow canyon, often with walls that squeeze down to only a few inches wide. There are many slot canyons in northern Arizona and southern Utah, as the layered rocks there are more easily eroded. The bottom of a slot canyon is usually sandy, a creek bed, or very rocky. The walls of these canyons are sometimes nearly vertical, and the highest can reach up to 800 feet high!
How are slot canyons formed?
They are made primarily by flash floods and creeks that carve through softer rock like sandstone and limestone. They take thousands to millions of years to form. Water may be constantly present in the bottom of a slot canyon, or they can be dry year-round except for occasional floods.
How many slot canyons are there in Arizona?
As far as slot canyons that are accessible and easily explored, there are around 12-15 slot canyons in Arizona; however, some have yet to be explored or mapped and even more are inaccessible to humans without difficult rock climbing best left to the professionals. There could be hundreds of slot canyons in Arizona just waiting to be discovered!
Are there any slot canyons near Phoenix?
Apache Trail Canyon is the closest slot canyon near Phoenix, being less than an hour away. Due to most of Arizona's slot canyons being on the Colorado Plateau and around Page, you'll have to drive around 4 hours from Phoenix to see them.
Are there slot canyons in Sedona or nearby?
Yes! Pumphouse Wash is a slot canyon near Sedona, located off 89A between Sedona and Flagstaff. The end of the trail on the West Fork of Oak Creek also takes you to a semi-slot canyon, wider than most slot canyons but still with beautiful colored steep walls.
Where should you fly to visit Arizona slot canyons?
If you're looking to fly into major airports, Phoenix or Las Vegas are your best bets. Each is almost exactly 4 hours to Page, which is where most of the slot canyons are found. Arizona Hot Springs Canyon is located near the Nevada-Arizona state line, so flying into Las Vegas would make sense. The other slot canyons on this list are accessible by car from Phoenix. Other small airports in the areas include Flagstaff, Page, and Mesa.
Conclusion
Slot canyons are incredible feats of nature – steep, almost vertical walls that can get as close as 1-2 feet in width in spots that are carved over millions of years by flash floods and creeks. It's no wonder that people flock from all around the world to see Arizona's otherworldly slot canyons in person.
From the ultra-famous Antelope Canyon and its nearby sister canyons to lesser-known slots like Apache Trail and The Jug, Arizona has such a variety of slot canyons that you may never have time to see them all!
There are few sights more beautiful than sunbeams from 100 feet above, peaking through the narrow openings to the sandy washes below. There's a reason that photographers travel to Arizona's slot canyons to try to capture their beauty, but even a picture cannot quite translate how breathtaking these canyons are. You definitely need to see them in person to appreciate the splendor of Arizona's slot canyons!
Explore Arizona
Still wanting to learn more? Dive in our Arizona Travel Guides and discover the best places to visit, interesting things to do, budgeting tips, comfortable accommodation, and everything you need to plan your perfect trip in the state.