12 Best Day Trips From Phoenix
Phoenix, Arizona is a sprawling city with surrounding suburbs; the entire valley covers 517 square miles. Surrounding this desert valley are mountains in all directions, with many opportunities for day trips from the city.
Whether you want to spend a day exploring ghost towns, or going on a long hike, or skiing in the snowy mountains, there is a day trip for everyone. There's so much to explore and discover in the Grand Canyon State, and much of it is contained in the areas surrounding Phoenix.
As a lifelong resident of the Phoenix Valley, I have done several of these day trips to enjoy all that central Arizona has to offer. Just by driving only an hour or two, you can experience numerous hikes, restaurants, museums, and other points of interest.
1. Sedona/West Fork Oak Creek Trail
Although there is so much to do in Sedona, the West Fork of Oak Creek is by far one of the most popular and beautiful hikes in the entire area. It is mostly shaded and follows a beautiful creek for the entire hike.
With it being so popular, try to get there early! The trailhead is 2 hours from Phoenix, and the gate opens promptly at 8 am, so plan accordingly. Being one of the first on the trail is more than worth the effort to get there, as the quiet atmosphere and green shade trees are at their best with fewer people around!
After you hike, either the full trail to "the subway" or whatever distance you please, stop in Sedona for dinner at any of the delicious restaurants. Hideaway House is a local favorite, as the back balcony gives you an excellent view of Oak Creek and the iconic red rocks of Sedona.
On your way back to Phoenix, stop for dessert at Rock Creek cafe, where they have their famous pies sold whole or by the slice. Its location right off of I-17 makes this an easy and quick stop for the best pie in the southwest.
2. Jerome
A quick jaunt up the I-17 to US-260 west will take you to Jerome, Arizona. A former mining town turned ghost town turned tourist attraction, Jerome is a great destination for anyone interested in Arizona's history. Jerome was known as "the wickedest town in the West" due to its abundant saloons and gambling at its height during the mining boom.
There are several museums to visit here- the Mine Museum, the mansion at Jerome State Historic Park, Jerome's Sliding Jail (it moved downhill about 225 feet on its own!), and Gold King Mine all provide plenty of interesting facts and education about the history of this ghost town.
Get a bite to eat at one of the few noteworthy restaurants in town, like the English Kitchen (now Bobby D's BBQ) that claims to be the oldest restaurant in Northern Arizona. Or grand a burger at The Haunted Hamburger, with its ghost town theme.
The quirky atmosphere in Jerome makes this a bucket list location for artists and musicians, and on weekend nights you'll hear live music pouring out of the doorways of the saloons and restaurants. Enjoy the street art too, but be aware you'll be climbing a lot of stairs- since Jerome is built on a hillside, old crumbling cement steps are everywhere!
Jerome is well worth the drive for a day trip full of history, museums, restaurants, and art.
3. Payson/Pine
Nestled at the foot of the Mogollon Rim plateau, these two towns and the surrounding areas have unlimited potential for a fun day trip. Only an hour from Mesa, Payson is becoming a hub for coffee shops, restaurants, and cabins to rent for a relaxing weekend.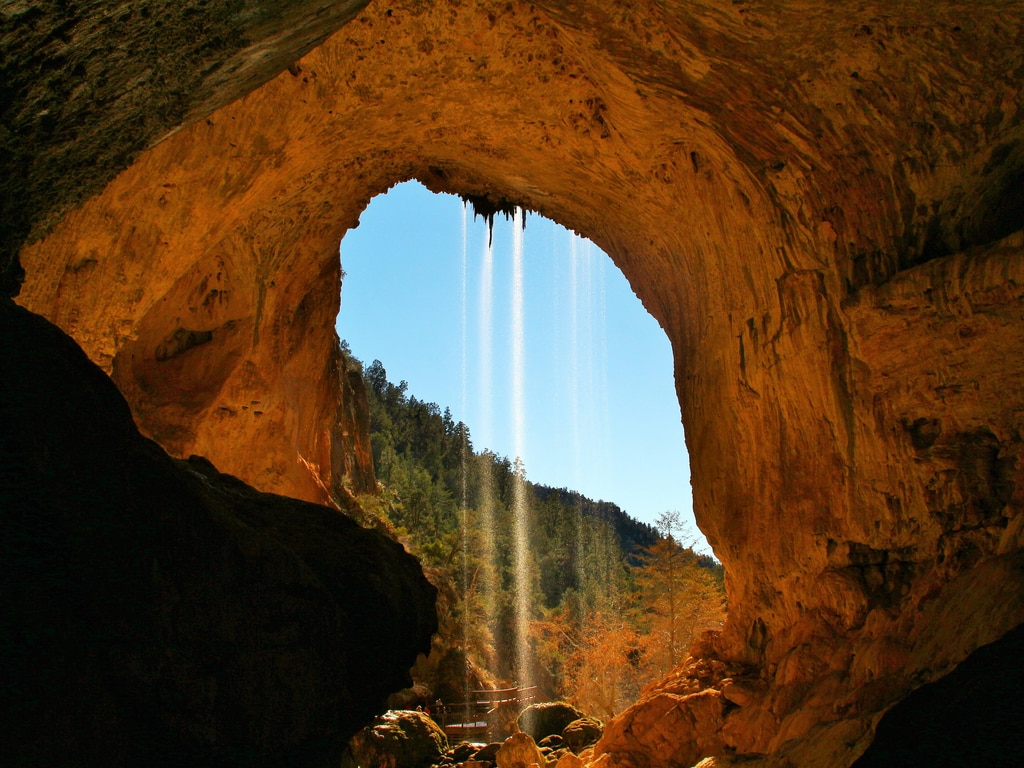 Just outside of town, Water Wheel Falls is a great summer hike with swimming holes and crisp water to cool off on those hot Arizona days. Horton Creek is another favorite hike, with 8 miles round trip taking you to a freezing cold spring with some of the freshest water around.
Common Grounds Coffee Shop is a local favorite; be sure to order their unique lavender latte. Along the main strip through Payson, you'll find the usual chain restaurants but also some mom-and-pop cafes and steakhouses.
Between Payson and nearby Pine is Tonto Bridge State Park, where a short hike will take you down to the creek and a natural travertine bridge that is thought to be the largest of its kind in the world. During wetter seasons, waterfalls from the stone walls cascade in shimmering streams.
There are a few pizza spots in Pine, with the most delicious being at the Old County Inn; stop by here after hiking a few miles from Pine Trailhead and you'll have the perfect day trip. The thrift store in Pine is also a fun place to shop, you'll never know what you will find here!
Payson and the surrounding areas are perfect for a day trip from Phoenix to escape the heat and enjoy the cooler mountain weather.
4. Canyon Lake/Tortilla Flat
Less than an hour's drive from Phoenix lies Canyon Lake, a popular place for boating, swimming, kayaking, paddleboarding, fishing, or just relaxing on one of the beachy shores. The lake itself spreads out among steep canyon walls, and you can easily explore some of the smaller side canyons on a kayak or paddleboard.
For the best water for wakeboarding or water skiing, get there first thing at sunrise! The water is glassy smooth and usually has a pleasant temperature year-round. Or for a private beach experience, take your boat back into one of the several coves and set up for the day on one of the sandy shores.
After spending your day at the lake, you'll probably be pretty hungry! Head on down the road past Canyon Lake to Tortilla Flat, and grab a table at the Tortilla Flat Saloon. They serve American and Mexican food and it'll certainly hit the spot after a day in the sun.
One of the best ways to survive a hot day in Arizona is at the lake, and Canyon Lake certainly delivers!
5. Flagstaff
A little longer of a drive from Phoenix, but it is more than worth the trip! The best part about Flagstaff is the variety of things to do year-round.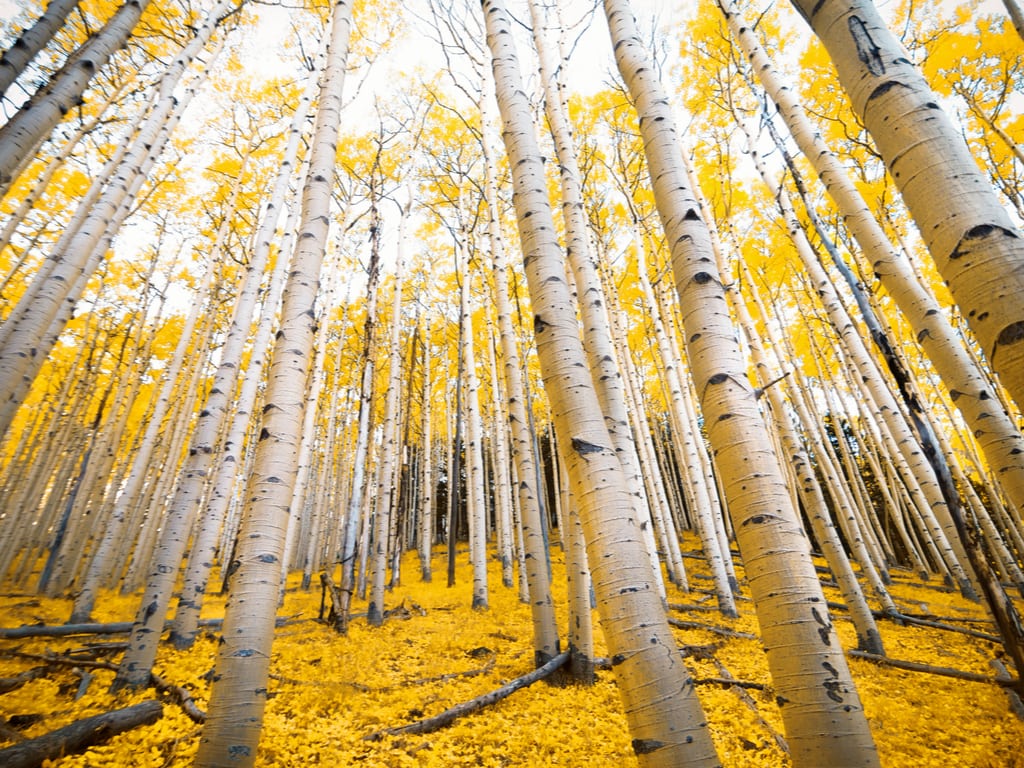 In the winter, Snowbowl Ski Resort is the place to be! This resort is located on the flanks of the tallest mountain in Arizona, Humphrey's Peak, and gets plenty of snow every winter that turns it into a winter wonderland. With plenty of runs for skiers and snowboarders of all levels, Snowbowl is the perfect place for beginners and veteran snow sporters alike.
In the warmer seasons, hiking is the go-to activity for visitors to Flagstaff. The 10-mile Humphrey's Peak trail will take you to the top of Arizona's highest peak, and the Inner Basin Trail meaders through the most beautiful stands of aspen trees. Try hiking in the months of September and October to enjoy the golden fall colors!
Downtown Flagstaff is full of restaurants, unique gift shops, and bookstores. Make sure to grab dinner at either Pizzacletta or Diablo Burger, both are personal favorites and very popular with visitors to Flagstaff. Enjoy dinner and drinks after a long day in the mountains.
6. Tucson
As the second-largest city in Arizona, Tucson has plenty to offer. It's only an hour and a half drive from the Phoenix area and makes for a great day trip for any outdoor or indoor activities.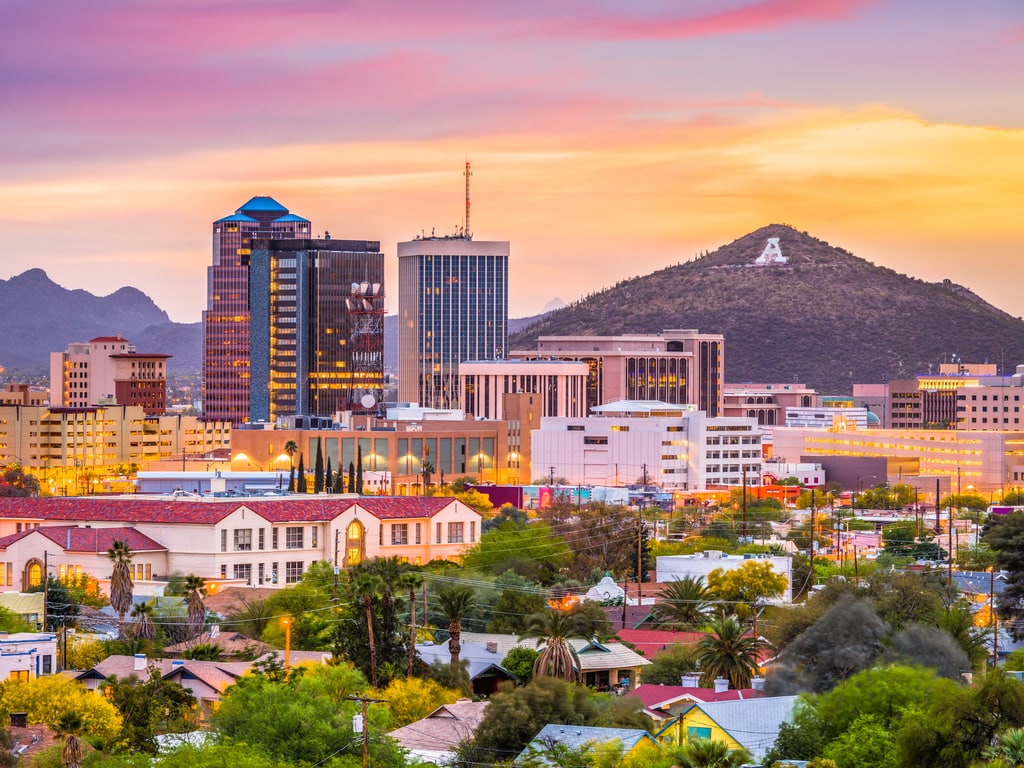 Split into two areas on either side of Tucson, Saguaro National Park is the perfect destination for hiking, viewing wildlife, and enjoying the tall cacti for which the park is named. Stop into the visitors center and learn all about the park's flora and fauna from one of the rangers.
Mount Lemmon is also nearby, with almost limitless miles of mountain biking and hiking trails. In the winter, there is even a small ski resort on top with enough snow for 21 runs and 200 acres of skiable terrain.
There are well over a dozen museums in Tucson that definitely capture the essence of the Southwest, and the Pima Air and Space Museum is especially interesting and educational. The San Xavier del Bac Mission is a beautiful example of historic architecture as well. Art enthusiasts will definitely enjoy the several art museums and galleries that are around downtown Tucson.
Like any good city, Tucson also has various restaurants but it is most known for its Mexican food. Enjoy a dinner of street tacos or burritos after a day full of hiking and sightseeing. Tucson truly does have something for everyone.
7. Picacho Peak State Park
Located just far enough from Phoenix to make a quick day trip, topping out on Picacho Peak is a challenge for any outdoors adventurer. The foothills of the peak are especially famous for their wildflowers in the spring when the hillside is spectacular in different shades of yellow and orange.
This hike is not for the faint of heart. It starts climbing immediately from the trailhead, taking you up 1,000 feet in the first mile. Most people stop here at the saddle, for continuing on requires steady feet, balance, some upper arm strength, and a set of sturdy gloves.
Once you reach the saddle, the trail becomes pretty rocky as you traverse the ridgeline. There are cables to hold onto on some of the more treacherous parts, which is why gloves are a must. Once you reach the top, enjoy the views! Avoid this trail during stormy weather, as it is pretty exposed.
After your adventure, continue on to Tucson to hit up a restaurant there for dinner, or head back towards Phoenix to shorten your day trip. Either way, Picacho Peak is worth every minute.
8. Montezumas Castle National Monument
Less than two hours from Phoenix outside Camp Verde, these ancient ruins were built by the Sinagua people over 1500 years ago. The dwellings sit up high in the limestone cliffs, and a ⅓ mile loop trail will take you to a lookout area to view them from afar. In order the preserve the ruins, visitors are no longer permitted to climb up to the dwellings.
Nearby is Montezuma's Well, about 11 miles by car from Montezuma Castle. It is a natural spring-fed lake contained within limestone cliffs. Due to the high levels of carbon dioxide in the water, there are no fish here but there are several species of plants that are only found in this well. The ancient people who lived in the area used this as a water source for hundreds of years.
About 40 minutes away is Tuzigoot National Monument, another ancient dwelling built by the same group of people about a thousand years ago. The trails take you much closer to this hilltop dwelling, giving you a more intimate look at these ruins. Adding these ruins to your trip to the Camp Verde area makes for an educational and interesting day trip.
9. Cibecue Falls
If you're looking for a waterfall hike close to home, Cibecue Falls is your next destination. These falls are located on Apache land, so swimming isn't allowed in the pool below the falls, but it is still such a beautiful sight that it makes the journey worth it.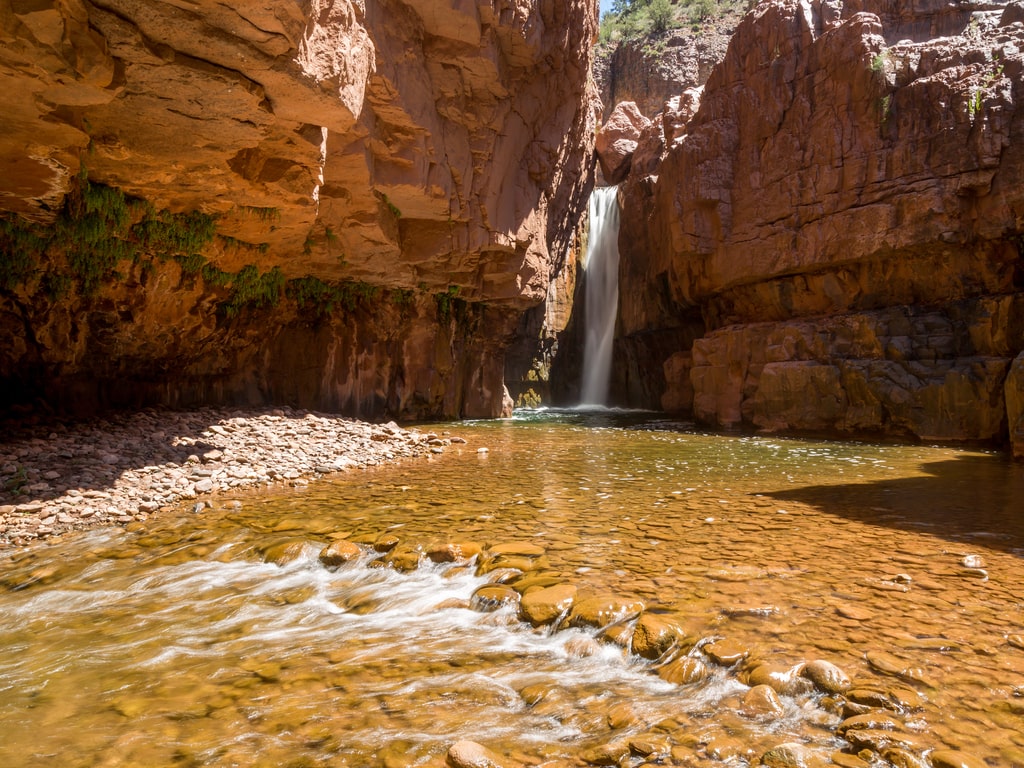 Getting here requires a permit and some driving on a rough dirt road, which you'll turn onto from the bottom of Salt River Canyon. Once at the trailhead, it's a three-mile round trip hike to the falls and the trail crosses the creek several times, so wear shoes that can get wet!
The falls will be at their best after heavy rain, or during the spring runoff. Avoid this area during thunderstorms, as flash floods can appear without warning! Be sure to obtain the correct permit beforehand, and enjoy this part of Arizona with respect for the wilderness.
10. Salome Jug
Another water hike perfect for those Arizona summer days, the Salome Jug is truly unique in that you are almost exclusively hiking in the creek for a section of the hike. Come prepared- sturdy water shoes and plenty of drinking water are required for a safe adventure.
The trail starts on the road, drops down into the creek, and follows it for about a mile, culminating in a waterfall that you either rappel down or jump from the top into the pool below. Then you traverse the trail back to your car. Overall, this hike is about 6.5 miles with almost a mile of it in the water.
The best time to do this hike is after heavy rains (but not during! Always watch for flash flood weather). This will ensure the water is deep enough to jump into at the end! At less than 2 hours from Mesa, this is an excellent day trip option for those wanting a little more adventure with their hike.
11. Kartchner Caverns State Park
This is another day trip option that is a little farther from the Valley (just over 2 hours) but well worth the drive. With an RV park and campground reservations, you could also easily turn this into a weekend trip.
This huge cave system was only brought to public knowledge in 1988 when the owners of the private land that the caverns were located on sold it to the state of Arizona with the intention of creating a state park for preservation. They knew about the spacious caverns for 10 years before they sold it!
There are thousands of travertine formations found in this cave system, and they have taken many years of slowly dripping water to form. For this reason, you can only access the caves through guided tours, and you are cautioned not to touch the walls or formations.
There are two main "rooms" in the cave available for tours- the Rotunda Room and the Big Room. Each takes about an hour and a half to complete the guided tours. If you have small children or pets or are claustrophobic in small spaces, consider visiting the Discovery Center to learn about the caves in a more comfortable environment.
If you've ever wanted to safely explore caves and see geology that can only be found here, making a visit to Kartchner Cavern State Park should definitely be on your list.
12. Prescott
The city of Prescott is becoming increasingly popular for retirees and vacation homes, but you don't have to live here to enjoy it! Only 2 hours from Phoenix, Prescott has plenty to offer for those looking for adventure or relaxation.
Watson Lake, located just outside the city, is lined by large boulders that are popular with climbers. There's a trail that follows the entire shoreline, giving you a scenic look at the entire lake. The water is perfectly calm for kayaking and paddle-boarding. Swimming isn't allowed here, but fishing is another popular water activity that anyone can do, even from shore!
For trail runners, hikers, and mountain bikers, Prescott is a great location with miles and miles of trails for all to enjoy. The Prescott Circle Trail is an 80-mile loop that surrounds the entire city of Prescott and the surrounding terrain. Another popular trail system is Thumb Butte, with several distances available for all levels.
After you spend the day tiring yourself out on the trails or the water, stop by downtown Prescott for dinner. Several mom-and-pop cafes and restaurants offer delicious fare close to Heritage Square. There are also museums and curios shops in this area of downtown as well.
Prescott is an easy getaway for a day trip to escape the heat a bit and enjoy some nature and the downtown atmosphere that this city in the pines has to offer.
Conclusion
Phoenix and its surrounding suburbs are one of the fastest-growing areas in the country and for good reason- the sheer amount and variety of adventures, hikes, activities, and interesting tourist attractions make the Phoenix area an appealing place to live.
The Phoenix valley is all desert, and It's always good to get out of town for the day for an escape up to the mountains on hot summer days. Day trips out of the valley can take you on memorable adventures, scenic drives, and challenging hikes. If you prefer to sleep in your own bed, day trips are the way to go.
Any of the day trips on this list are sure to give you an escape to remember!
For more adventures in Arizona check out these related articles:
and more on our website ..
Explore Arizona
Still wanting to learn more? Dive in our Arizona Travel Guides and discover the best places to visit, interesting things to do, budgeting tips, comfortable accommodation, and everything you need to plan your perfect trip in the state.