Ha Giang Loop: Everything You Need to Know
In this article, we've unpacked everything you need to know about the Ha Giang Loop.
One of the best outdoor adventures in Vietnam, it's a rough, rugged and exciting road trip through northern Vietnam's history, tribes, mountains and valleys
Want to know what you should pack? What you'll experience? What you'll see? How long you should go for? Why you should do it? What my favorite parts are?
We've covered it all, so rev up that scooter and join us – we're going on an adventure baby!
What is the Ha Giang Loop?
The Ha Giang Loop is one of the best road trips in Southeast Asia, taking riders on a 350km loop in the northern Vietnamese mountains near the border of China.
The loop takes you to some of the most remote regions in the nation, through and beyond ethnic villages, tribal settlements, barren valleys, limestone peaks, towering mountains, cascading waterfalls, winding roads and smiling faces.
Ha Giang is lots of things. It's the name of both a border province and a small town, but it's also home to one of Vietnam's best adventures. The region is south of China, north of Hanoi and east of Sapa.
A few years ago, Ha Giang province was one of the last great unexplored regions of Vietnam. That's not really the case anymore, so don't listen to the people telling you that this area is some sort of untouched, tourist-free paradise.
That said, it's much less explored than other northern Vietnamese highlights such as Sapa, Hanoi and Halong Bay, and it's still beautiful no matter how popular it might or might not be.
How Long Does It Take to Do the Ha Giang Loop?
Most people do the whole thing in four or five days, and that's usually what's recommended, as it gives you enough time to see the highlights and enjoy the trip at a decent pace without being bored or rushed.
Later in this article, I've included a suggested 4-day itinerary.
But you can do the Ha Giang Loop as quickly or as slowly as you like. Most people think 4 or 5 days is the sweet spot, but some languid meanderers do it in a week, while speed-junkies in a hurry sometimes complete it in 2. I wouldn't do it that quickly or slowly, but it's your trip!
Is the Ha Giang Loop Dangerous?
No. It's not inherently dangerous, but it can be if you don't properly plan or prepare.
The main thing to consider (if your priority is staying safe) is how you should tackle the loop. Lots of people, for example, ride a rented scooter (that's what you'll call a small automatic motorbike while you're in Vietnam) around the whole loop, which can be an incredible adventure.
But if you don't have any experience riding a scooter or a motorbike or whatever, that's probably a stupid idea.
Here's what can be dangerous about the Ha Giang Loop:
The steed: like I said, if you ride a scooter without any experience of riding a scooter, you're asking for trouble. When I was on the Ha Giang Loop, I saw a guy nearly die because he had absolutely no scooter-riding experience. So be careful and all that.
The roads: some of the roads are in really bad shape, with potholes, gravel, dirt tracks, roaming animals and careless drivers. To put that into context, they're not as bad as, say, central Asian roads, but they're nowhere near as good as western European roads.
The length: you might get tired. And if you get tired, you'll get complacent, meaning you're more likely to make mistakes. I took the Easy Rider option (more on that in a minute) and I nearly fell off because I fell asleep. Woops. And I wasn't even driving.
Also remember that you'll often be driving on and around steep, rocky cliffs with no barriers. But just don't drive over the cliffs, and you won't need a barrier.
Anyway, the most important thing is: don't let any of that stuff put you off.
The Ha Giang Loop is an incredible adventure, and you can't live your life being scared of everything. The people who say this is one of the most dangerous places ever are massively exaggerating.
Don't worry about all that safety stuff – just think about how you should tackle the Ha Giang Loop. If you choose the right style of traveling, you'll stay safe.
And that brings us to…
What Should I Ride on the Ha Giang Loop?
The vast majority of people (like, basically everyone) ride the Ha Giang Loop on a scooter. There are two ways you can do this: you can either ride a rented scooter yourself, or take an Easy Rider, where you hire a local expert with their own scooter, and ride on the back of it as a passenger.
If you don't fancy doing either of those things, you can do the Ha Giang Loop from within the (safer but more boring) confines of a jeep. You can also consider hitchhiking or using public transport.
1. Renting a Scooter for the Ha Giang Loop
If you decide to drive a rented scooter all by yourself like a big boy, make sure you're experienced. But I've said that a million times now, so assuming you are, you can quickly and easily rent one in lots of places in Ha Giang. This is massively convenient, as you can rent your scooter in Ha Giang before simply returning it to wherever you rented from as soon as you've finished the loop.
Renting a scooter is ridiculously cheap, clocking in at somewhere between $5 and $10 per day (but usually on the lower end of that scale). On top of that, you'll spend a couple of dollars a day on gas. A full tank costs between $3 and $4.
In case you didn't already know, Vietnam is cheap.
It's best to get an automatic scooter, as they're usually easier to drive, they're easier to maintain (if anything goes wrong) and they just make the whole trip simpler. All rental places will offer automatics, as that's what most people drive. You'll probably be given some sort of Honda, as that's what basically everyone drives in Vietnam.
Don't worry too much about the specification of your scooter, as the rental ones are all basically the same. Instead, just make sure you're renting from a trusted, reputable agency. QT are usually very reliable and trustworthy and they're a big favorite among backpackers.
You can also ask in your hostel or guesthouse if you're looking for a bespoke recommendation for somewhere to rent a scooter.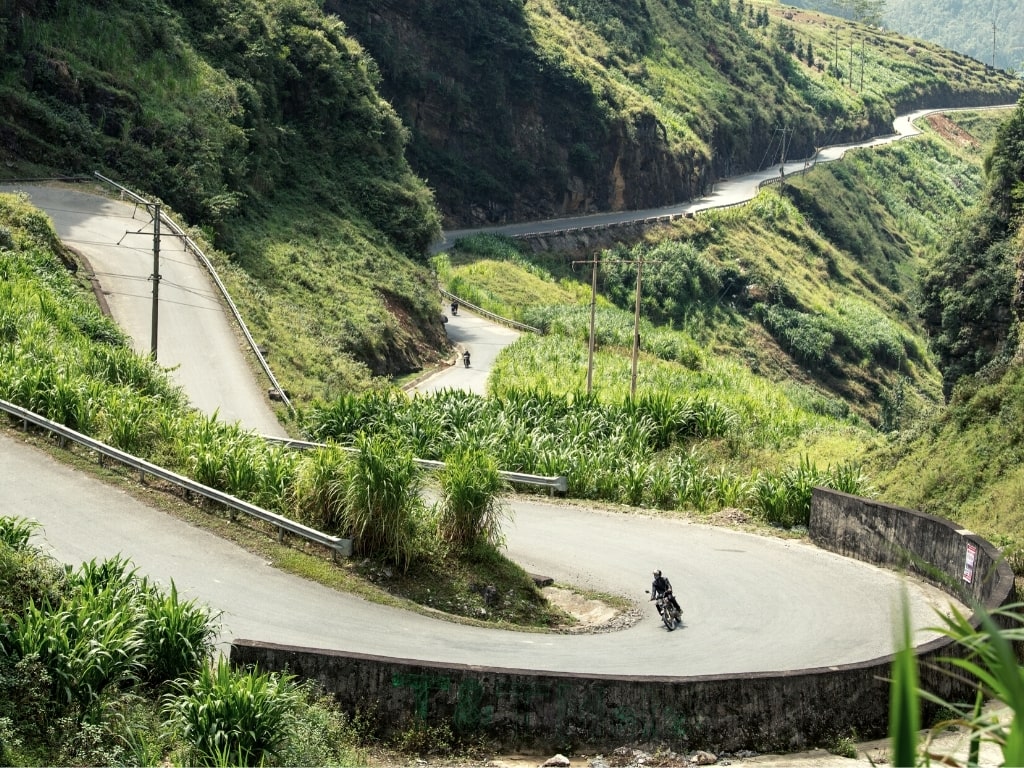 2. Taking an Easy Rider on the Ha Giang Loop
This option is just a little less popular than a drive-your-own-scooter adventure, but it's safer, more reliable and in some ways better.
On an Easy Rider, you don't drive your own rented scooter. Instead, you hire an experienced, scooter-owning local, from an agency or a guesthouse or whatever, and you ride on the back of their scooter.
This option doesn't give you the same sense of freedom and adventure which you get from riding your own scooter, but it still has plenty of advantages: it's more reliable, you get lots of local knowledge, and you can spend more time enjoying the views and vistas (instead of having to worry about driving, navigating or looking at the road).
This option is a little more expensive than riding your own scooter, but it's still surprisingly affordable. You can usually find a 4-day all-expenses package for around $130, but I've covered prices in more detail later.
If you're taking an Easy Rider, don't worry about the type of scooter you're riding. If the driver trusts it, you should trust it.
You can organize a Ha Giang Easy Rider trip in Ha Giang or Hanoi (and sometimes even in other northern destinations, but Ha Giang or Hanoi is usually best). There are lots of agencies and guesthouses in both Ha Giang and Hanoi where it's very easy to make Ha Giang Easy Rider plans.
3. Renting a Jeep for the Ha Giang Loop
Look, let's be honest, this is the most boring option. But if you're scared of scooters, or unable to ride one, or you're traveling in a big group or whatever, it's definitely a possibility.
The views are still great, as most Jeeps are open-topped, allowing you to enjoy the views without restriction.
You can organize a Ha Giang Loop Jeep in both Hanoi and Ha Giang, but it's best to organize it in Hanoi. If you arrive in Ha Giang before you've arranged anything, you might have to wait a couple of days while a Jeep is prepared for you.
Riding a Jeep on the Ha Giang Loop is a pricey option, and usually costs somewhere between $200 and $300 per person, depending on who you rent from and how many days you tour for. Here's a fantastic and reputable agency, but you can also probably find a cheaper option if you shop around in person when you arrive in Vietnam.
Riding the Ha Giang Loop by Jeep is not at all a popular choice. It is an option, but you're unlikely to see any Jeeps during your time on the Ha Giang Loop.
4. Hitchhiking the Ha Giang Loop
Don't bother, you'll just be wasting your time.
I love hitchhiking. It's my favorite method of travel and I've done it all over the world, but it's just not a recognized thing in Vietnam. People don't understand what you're trying to do. Instead, they just call you a cab or drive you to a bus station or give you a bus company's number or whatever.
If you like this spontaneous, ragtag style of travel, you could instead consider doing the Ha Giang Loop on public transport, as you'll always find some sort of bus, car or minivan winding its way from one village to another.
And that's a good adventure, but on jam-packed buses and minivans, you won't get good views… so it's not a good idea.
Some people even cycle the Ha Giang Loop, but that's (unsurprisingly) not a particularly popular choice.
How Do I Get to Ha Giang?
That depends where you're traveling from, but most people arrive in Ha Giang from Hanoi. If you are, it's ridiculously easy to get a bus. These buses are very affordable and very frequent.
Overnight sleeper buses from Hanoi to Ha Giang are the best option, as they help you to maximize your time. You can sleep while you travel, and you save on a night of accommodation, perfect for budget backpackers. If you don't fancy traveling overnight, you can also get day buses from Hanoi to Ha Giang.
There are many departures from Hanoi to Ha Giang every day. Most buses take around 6 or 7 hours and cost around $12, or a little less.
If you aren't keen on coming from Hanoi, your other main option is to travel from Sapa to Ha Giang. There are typically two minibuses a day serving this trip. They're both daytime trips (leaving in the morning) and they both cost around $7.
Recommended Itinerary for the Ha Giang Loop
Like I said, you should tackle the Ha Giang Loop over four (or maybe five) days, which is about average. It's definitely what I recommend, and it's what most locals and travelers would recommend too.
If you're on a tour, such as an Easy Rider or whatever, your itinerary will be decided for you, so you don't even need to think about it. But if you are taking an Easy Rider, insist on a four-day journey rather than any of the other options.
If you're driving your own scooter, you're free to decide absolutely everything for yourself, you lucky lucky person. Here's my recommended four-day self-driving itinerary:
Day 1 – Ha Giang to Yen Minh
Distance: around 90km – from the red pin to pin number 1 on the map above
Obviously, you'll start your trip in the town of Ha Giang, where you'll return three days later. For the first few kilometres of your trip, you'll wind through the townscape of Ha Giang, passing humble homes, smiling kids, roadside food stalls and distant mountains.
As your day winds on, those distant mountains become nearby mountains, as you begin your ascent up into the peaks and passes of the limestone karsts which dominate the landscape. You'll be introduced to the towering peaks, limestone paddies, hairpin bends and vertiginous drops which'll mark the rest of your trip.
The three notable highlights of today are Bac Sum Pass, the sprawling views of Heaven's Gate, and the local favorite of the Fairy Mountains, two boob-like round hills which jut out from their flat surroundings. Make sure you stop at all three.
After an excellent day of riding, you'll be welcomed by your first homestay, where you'll experience generosity, hospitality and seemingly-endless servings of fantastic food.
Day 2 – Yen Minh to Dong Van
Distance: around 85km – from pin number 1 to pin number 2 on the map above
Days 2 and 3 definitely offer the best views, and things get going quickly, with great panoramas as soon as you leave Yen Minh and climb upwards to Tham Ma Pass. This place is one of my favorite parts of the entire trip. The views are great, the hairpin-packed ascent is fun, and stopping at the top allows you to see the sprawl of the road you've just tackled.
The small parking lot here is a great place for taking in the views.
This parking lot is also a popular hangout spot for friendly local children, who like high-fiving, kicking balls around and making friends with travelers. The more cynical kids might ask for money, but just play with them or something instead.
On this day, you also pass through one of the biggest traditional Hmong villages in the local area (lots of the people in this region belong to the Hmong tribe).
Some tourists seem to love these places, but I find them ridiculously boring. If you want to immerse yourself in local life, just chat to people, smile at them and be sincere. You don't need to walk into someone's house and take photos while they pretend they like making clothes.
You'll also reach the Vietnam/Chinese border today. This area, Lung Cu, offers excellent views of both Vietnam and China, and has a huge, iconic flag tower. Close by, it's possible to find a little hole in the fence to quickly jump into China, but it's illegal, so don't say I told you to do it. You're on your own here kid.
Day 3 – Dong Van to Du Gia
Distance: around 85km – from pin number 2 to pin number 4 on the map above
Lots of people reckon this section is the best part of the Ha Giang Loop, but I think day 2 is marginally better. Whatever you think, the ride from Dong Van to Du Gia is brilliant, and the obvious highlight is the area of (and around) Ma Pi Leng Pass (pin number 3 on the map). During this stretch, you ride along and around Nho Que River, for some of the best views of the entire trip.
You also pass various viewpoints, roadside food stalls and rocky outcrops along this stretch, perfect for stopping and enjoying the vistas.
Further along, you'll reach Nham La viewpoint, with unending panoramas of rice terraces and tea plantations. You'll then descend steeply into Du Gia, which brings you wide-open views and your last rural stopover of the trip.
Day 4 – Du Gia to Ha Giang
Distance: around 90km
Today, you'll return to Ha Giang, completing your loop. It's the least exciting day of driving, and most riders smash through the last stretch quickly, with very few stops.
But before then, make sure you stop at Du Gia Waterfall. It's a little off the proper path, but it's one of the most popular stops along the loop. Try to get here as early as you can – by mid-to-late morning, it's packed with people, which makes it much less impressive.
After that, the drive back to Ha Giang is nice, but it's not as good as the stuff you've already seen.
For me, the general highlights of the Ha Giang Loop outshine any of the specific moments. These general highlights are:
Roaming animals: you'll often have to stop or swerve for packs of dogs, buffalo, kids and all sorts other animals. If you were commuting to work, a big herd of buffalo might be annoying. But on the Ha Giang Loop, it's just fun.
Friendly kids: they all like high-fives, making friends, playing football, laughing and smiling. Spend some time with them.
Stopping for food and drinks in the middle of nowhere: you'll drink cans of soda on towering mountains. You'll eat meals in people's homes. You'll share candy with locals.
Cultural insights: along the entire loop, you'll see and meet lots of farmland, farm workers, local tribes, friendly families, traditional clothes and more. The scenery is great, but so too are the insights into local life.
Endless viewpoints: I've included a small number of recommended viewpoints above. But don't just stop at recommended viewpoints – there are loads of unnamed ones where the views and vistas are equally great. Stop as often as you like and wherever you like.
When is the Best Time to Do the Ha Giang Loop?
It's best to do the Ha Giang Loop any time from September to April. This period is the dry season, making the experience better, the locals friendlier and the roads safer. But it can get very cold, especially in December and January (and especially at night)
If you want to see the iconic yellow rice fields of Ha Giang (which you've all seen in photos), try to visit in September or October, when they're looking their best. In February and March, you can see the blossoms of spring, with lots of colorful wildflowers mingling with Ha Giang's rugged landscape.
From May to August, the area can be ridiculously wet, so it's best to avoid it. You'll be wet and miserable, and you'll probably fall off your bike.
What to Pack for the Ha Giang Loop?
You don't need much. You just need warm clothes, a small backpack and whatever else you might usually carry on a 4-day trip.
On an Easy Rider, you'll be provided with a helmet and pads for protecting your knees and elbows. If you're riding your own scooter, make sure you remember your scooter (obviously) along with a helmet, gloves and some protective gear.
It's best to wear long-sleeved clothes which cover your arms and legs, so you don't get road rash if you end up falling off. And wear good shoes (not flip flops).
Here are some other things you might want to pack (no matter how you're riding):
Snacks
Portable charger
Bathing stuff for exploring Du Gia Waterfall
First aid kit
Map
Sunglasses
Sunscreen
Shower gel and other toiletries
Cash (you won't find many ATMs)
A tent and sleeping bag, if you prefer to camp
Where Should I Sleep on the Ha Giang Loop?
You'll find lots of places to stay along the way.
If you're traveling as part of an Easy Rider group, all of your accommodation will be planned, prepared and booked for you, so you don't need to use your brain in any way. All of your accommodation costs are also factored into your tour price, making things nice and easy.
If you're making your own way, here's my top tip: don't book any accommodation in advance. Now I know what you're thinking – what if everywhere is fully booked!? What if I freeze in some village because I can't find anywhere to sleep!? What if I end up homeless and have to start a new life in Ha Giang!?
None of that will happen. There are plenty of accommodation options along the way, with loads of homestays and hostels. And even if you can't find a proper homestay or hostel, some local person will let you stay in their spare room for a fair fee.
If you travel without any pre-bookings, you can be much more spontaneous and free, as you never have a fixed place to be. If you choose to hurry you can, if you choose to spend some time with the buffaloes, you can too. It's the best way to travel.
Where and What to Eat on the Ha Giang Loop
Food along the Ha Giang Loop is incredible.
In your homestays, you'll be given incredible meals for both breakfast and dinner. These meals are usually buffet-style bonanzas, with lots of excellent local food. No matter how much you like eating, you won't be able to finish everything you're offered. Vietnamese people are hugely generous, and they'll always give you plenty of food and lots of great drinks.
Every single hostel and homestay will feed you, so you don't have to worry about sourcing food. Most offer the above service, but a small few cheaper options might just have a small on-site cafe, where you'll be able to get great meals.
For lunch, you'll just eat at roadside food stalls and small humble cafes. Here, you'll get great Vietnamese dishes for a dollar or two.
How Much Does the Ha Giang Loop Cost?
It's cheap. Ridiculously cheap.
If you ride with an Easy Rider, you won't have many different expenses. The Easy Rider tour cost will usually cover your driver, scooter, fuel, accommodations, travel to and from Ha Giang (most likely from Hanoi) and morning and evening meals in your accommodations. So if that's how you're traveling, you won't have many more expenses. Here's what you should expect:
Easy Rider package: around $150 if you shop around and book in-person, or around $200 if you book a well-known package online.
Other meals and snacks (per day): around $4
A tip for your driver and tour organizer: don't be a tight-fisted stinge-master, just tip them. The drivers and tour guides are usually lovely, helpful, fun and friendly. Offer them around 10% of your tour cost (so around $15 or $20).
Over four days, for an Easy Rider trip, that's an estimated grand total of somewhere between $180 and $240
If you ride your own scooter, it's a much cheaper venture. You general costs will be:
Accommodation (per night): around $12 (this will usually also include both your dinner and breakfast)
Scooter rental (per day): around $8
Gas (per day): around $2
Lunch and snacks (per day): around $4
Bus to the region: around $12 (depending on where you're riding from)
Bus out of the region: around $12 (depending on where you're riding to)
If you're self-driving for four days, that's a grand total of around $120.
Top Tips for the Ha Giang Loop
Pack warm clothes. Yeah, I know I've already said this, but warm clothes are seriously important. I'm from notoriously-cold Newcastle, in northern England, and even I was cold. Really cold. At night, I was sleeping in four layers with two blankets.
Wear good shoes. You don't want to drive in flip flops.
Get your bike (or driver or both) from a reputable agency. You don't want to be riding with an unreliable steed.
Have fun. That's it, nothing more to add here.
Other Road Trips in Vietnam
Other popular jaunts in Vietnam include:
Hanoi to Ho Chi Minh City: the ultimate scooter trip in Vietnam, lots of tourists ride north to south (or south to north, whatever they prefer) in a massive 1600km near-traverse of the nation. If you want an excellent adventure and in-depth insights, it's perfect.
The Hai Van Pass: this is just a short stretch, but it's the most famous piece of road in Vietnam. Measuring in at 21km, it's part of a mountainous coastal drive between Da Nang and Hue.
Hanoi to Ninh Binh: if you're looking for a short trip for a first-time solo scooter session, this 100km journey takes you between two of Vietnam's best northern destinations, and it's a simple stretch on well-maintained roads.
Enjoy!
The Ha Giang Loop is one of the best adventures in Southeast Asia. If you like mountains, road trips, local culture, small villages, friendly locals, great food, excellent landscapes or boundless freedom, you'll love the Ha Giang Loop.
Want to know anything else about traveling in Vietnam? Stick with us – we have plenty of articles on our site, including articles on the best cities in Vietnam, the best places in Vietnam, things the nation is famous for, and so much more.
Whatever you want to know about Vietnam, we have it on our site.
Being a Digital Nomad: Tips, Tricks and Places
Do you want to be a digital nomad?
If you do, maybe you don't know where you might want to live. Or how to live there. Or whether you need a visa. Or how to make friends in the scary sprawl of a brand-new city. Or how to stay productive while you travel. Or how to find an apartment. Or whether this lifestyle really is for you. Or… I'm sure you get the idea.
But with some insight and experience, it's not as difficult as you think. So in this book, I've gathered my 6 years of digital-nomadding experience… and I've used it to answer all your questions, soothe all your fears, and get you on your way. After reading this, you'll realise being a digital nomad is much easier (and much more possible!) than you think.