10 Best Dog Parks in Arizona (by a local)
There is no shortage of parks in Arizona that were built for kids and adults alike to enjoy, but what about our four-legged family members? Dog parks are a great way to let your pets socialize, get some exercise, and learn new skills. Taking your dog to one of Arizona's dog parks from a young age can help them become more friendly to other dogs and learn important social skills as they grow.
So what are the best dog parks in Arizona? Let's find out!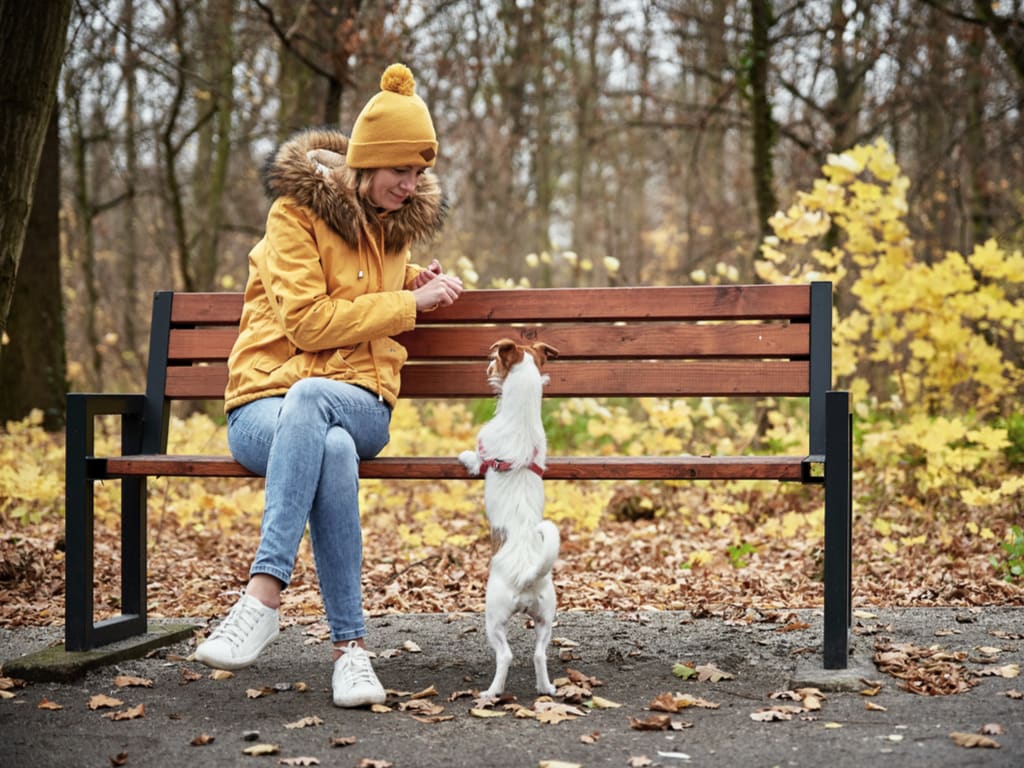 1. Cosmo Dog Park
Located conveniently near San Tan Mall and the Loop 202 Freeway, Cosmo Dog Park features a swimming pond, beach area, jumping dock, and a huge grassy area. Your furry friend will also enjoy climbing obstacles where they can test their athletic skills. The pond area is a favorite for water-loving dogs, who will be happy to swim and play fetch in the water for hours!
There is a separate area fenced off from the main grassy play yard reserved for small or nervous dogs, perfect for your lap dogs and those who may be shyer and prefer some calmness away from the bigger dogs in the main area. There is also a handy hose-down area, to wash all the slobber and pond water off your four-legged friend after an afternoon of play.
2. Quail Run Park Off-Leash Dog Area
With plenty of shade trees, buckets of clean water for thirsty pups, and plenty of places to sit for dog owners, this is a popular dog park in northeast Mesa that is accessible even in the hot summer months. Just like most dog parks, there's a small/nervous dog area that is adjacent to the main park.
If you prefer to also stay active while your dog plays, the perimeter of the park inside the fence is long enough for a lovely stroll. The abundance of trees gives a lot of shade, which is surprisingly hard to come by in Arizona. Bags to pick up your dog's waste are provided, making it easy to keep the park clean for others.
Also located at Quail Run Park is a playground for kids of all ages, baseball fields, soccer fields, and restrooms. This is truly a park for every member of your family to enjoy, including the four-legged ones!
3. Shawnee Dog Park
Easily one of the best and definitely one of the largest dog parks in the Phoenix area, Shawnee Dog Park is about 5 acres and has regulars that come every day for some romping under the shade trees. The most unique part of this dog park is the agility equipment; a series of tunnels, ramps, jumps, and a seesaw can help your dog feel like he's competing in his own agility competition!
For owners with dogs who like their space and room to run, you'll definitely want to bring your pet to Shawnee Dog Park. There's so much room, your dog will feel like he's running free with no fences to stop him! (Of course, it's fenced in just as a safe dog park should be.)
"Pooper-scoopers" are provided so owners can do their part to keep the park clean, and low water fountains are placed around the park so your pet can quench their thirst. The fences surrounding the park are 6 feet high, meaning even your dog is an escape artist, you can be assured that he'll stay safely inside the park.
4. Desert Vista Dog Park
Located in the scenic retirement community of Fountain Hills, Desert Vista Dog Park consists of 3 acres of grass with covered ramadas and water fountains for the dogs. In the summer, fellow dog owners will bring large plastic kiddie pools for the dogs to cool off in.
There are a few covered ramadas to provide shade and benches, which is crucial to enjoy any park in Arizona. The small dog area is fenced off to give the little ones a place to play with pups their own size. The locals all know each other and both you and your dog will be sure to make new friends at Desert Vista Dog Park.
🐶 Address: 11800 Desert Vista, Fountain Hills, AZ 85268
🐶 Hours: 6 am – 9 pm
5. Thorpe Bark Park
Headed up north to Flagstaff with your furry family members in tow? Make a stop at Thorpe Bark Park, where your dog can frolic in the shade of the towering pine trees. There is a variety of agility equipment, including A-ramps, tunnels, and climbing obstacles.
If you have a winter-loving pup, Thorpe Bark Park will be their new favorite place, especially after a big snow storm. There are few things more fun for dogs than playing in fresh snow, and Flagstaff has plenty of it!
There are also benches and shaded seating for pet owners, as well as bathrooms nearby. Flagstaff itself is a very dog-friendly city, and Thorpe Dog Park is a wonderful added bonus. The only downside to this dog park is it can get muddy after rain or snow, but I don't think your dog will mind!
6. Sedona Dog Park
With a backdrop of the stunning Sedona red cliffs, this may just be the most scenic dog park on this list. There are three separate areas: one larger flat area with space for fetch and tag, and two more rugged "hiking" style play areas (one is designated for small/anxious dogs). The more natural-style play areas allows the dogs to explore among the natural flora of this region.
Since this is high desert and contains Sedona's famous red sand, you should fully expect some dirty but happy dogs at Sedona Dog Park. If your dog has white fur, they might end up looking like Clifford the Big Red Dog by the end of the day! Enjoy the views as your pets enjoy exploring all that this dog park has to offer.
7. RJ Dog Park at Pecos Park
RJ Dog Park is fairly basic but contains all that is needed for a great dog park experience- tennis balls, a wide open space, shade trees, water fountain, and friendly dogs and owners alike. This clean, grassy dog park has two separate areas for large and small dogs, so be sure to pick according to your dogs size to keep things safe for everyone.
This dog park was named in memory of K-9 Officer "RJ" who died in the line of duty. There are 2 full acres of grassy area, plenty of space for all the dogs to enjoy themselves. The water fountain is a favorite in the summer, and your dog will absolutely love cooling off between bouts of fetch.
8. Chaparral Dog Park
A local favorite, Chaparral Dog Park has three separate fenced play areas that are rotated regularly for maintenance, so you'll always have a clean and well-maintained playground for your beloved pets! There is so much space, even the most active dog will get enough exercise to tire himself out.
Your pet can stay cool in the water fountain, play in the tunnels, enjoy the company of other dogs, and rest under the large shade awnings. Chaparral Dog Park is Scottsdale's most popular and highest rated dog park, and for good reason! The park is always clean, the grass is always well-kept, and your dogs will leave feeling happy (and tired).
9. Ivan's Spot Dog Park
Out of the several dog parks in the Tucson area, Ivan's Spot is the clear favorite. With a double-gated fence (making it hard for dogs to accidentally escape), plenty of space for running free, and concrete obstacles for climbing and exploring, this dog park will be sure to give your dog the energy output he needs.
There's a walking path that surrounds the park, as well as shaded seating inside the play area. The fellow dog owners here are especially friendly, as Ivan's Spot is located inside a neughborhood and is frequented by locals. Separate large and small dog spaces makes this a safe space for any breed and size of pup. Named after Ivan, a Tucson K-9 who died in the line of duty, this dog park is the perfect tribute to that brave, good boy.
10. Tempe Sports Complex Dog Park
One of the most popular dog parks in the Phoenix Valley, the Tempe Sports Complex Dog Park provides 2 acres of grassy area, perfect for dogs that need to run, run, run! Your dog will love socializing with other pups, and you'll love chatting with other pet owners while the "kids" play.
A favorite feature of this dog park is the dirt track that winds around the inside perimeter of the fence, making a nice track for you to get your steps in while your dog plays. There are plenty of small bags and garbage cans to assist you with keeping the dog yard clean for everybody, so be sure to do your part and pick up after your pet!
Your dog will have the time of his life running around this spacious dog park, and the shaded awnings plus dog-level water fountains will help keep them going for hours! This park is usually more crowded in the early mornings and around sunset, so plan accordingly if your dog doesn't love crowds.
🐶 Address: 8403 S Hardy St, Tempe, AZ 85284
🐶 Hours: 6 am-10 pm
Conclusion
For many dogs, daily exercise is a must. In an age where many families live in apartments or have small yards, dog parks have become an invaluable resource to get your pets much-needed outdoor time. With room to safely run free off-leash, dog parks have always been very popular with pet owners all over Arizona.
Most dog parks in Arizona are fairly basic; as long as there is a large open space, water fountains, tall fences, and shade, your dog will be ecstatic to play at any of the parks on this list.
Some of these Arizonan dog parks even go above and beyond to create a stimulating and exciting play space for your dog, such as Cosmo Park's swimming pond and Quail Run Park's agility course.
For big dogs, small dogs, social dogs, shy dogs, and everything in between, any of these Arizona dog parks can provide whatever your four-legged family member needs.
For more Arizona guides check out these resources: