Top 12 Best Beaches in Arizona
For a landlocked state, Arizona still manages to feature some excellent beaches on the shores of our rivers and lakes. Freshwater "beaches" have the advantage of no scary sharks, no salt water in your eyes, and no dangerous waves.
Roll up your beach umbrella, pack your cooler with cold drinks, put on your swimsuit, and come enjoy one of Arizona's refreshing beaches! Beat the crowds by enjoying one of the lesser known sandy shores, or enjoy the party at a popular weekend getaway.
Not all of the "beaches" on this list are like what you would find along the ocean coast, but all provide refreshing water and beautiful sandy shores. Whatever your preference, any of Arizona's beaches will provide a serene place to sunbathe, launch your boat, camp, or simply relax and read a book.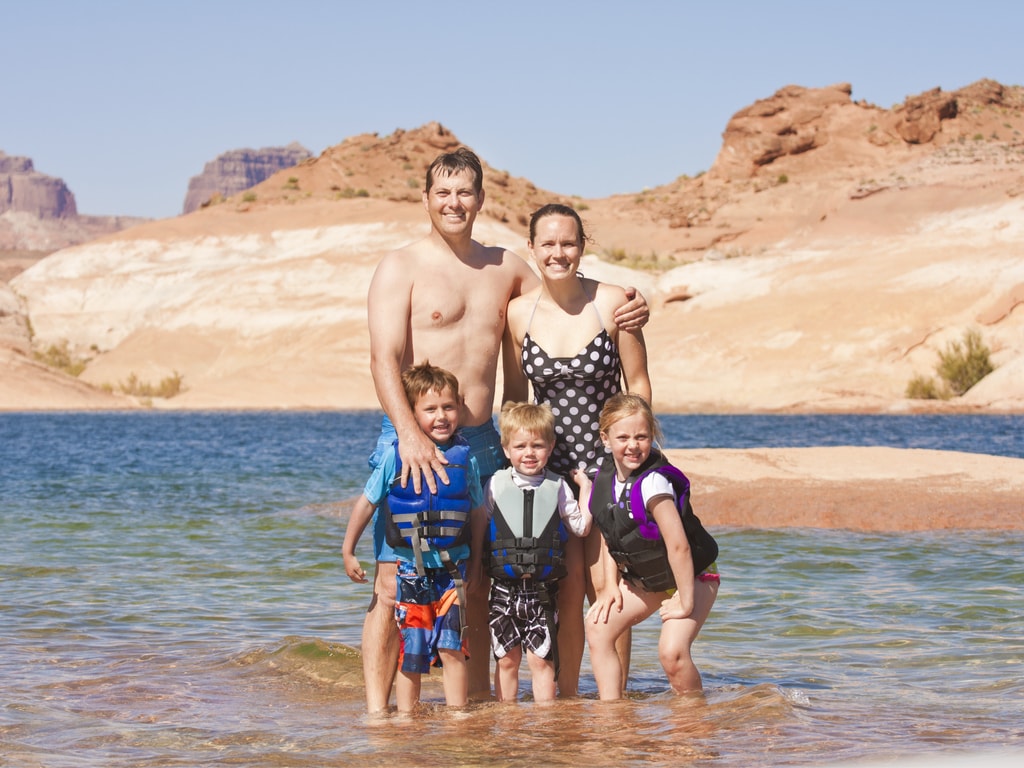 1. Lone Rock Beach
Having camped here a few times in my youth, Lone Rock Beach on Lake Powell holds many fond memories. The sand is fine and soft (although hot on summer days!), the water is cool and refreshing, and the Milky Way at night is unbelievably stunning.
Located on the Arizona side of Lake Powell, Lone Rock beach stretches on for a few miles, giving you plenty of space for even the largest of camping groups. You can launch your boat from one of the several marinas, and drive it right up to your campsite.
If you aren't into camping, get a hotel room in the nearby city of Page, then drive to the parking lot and take the walk down to the lake's shore. Lone Rock Beach stretches on for a couple miles and has plenty of room for privacy. There are some pit toilets scattered throughout that are frequently serviced, and even a cold outdoor shower to rinse off the sand.
Lone Rock Beach is a great destination for a longer camping trip, a place to stop your boat for some sunbathing, or a relaxing walk along the sandy shores.
Location: Lake Powell, AZ
Entrance Fee: $14 per vehicle per night
Dogs Allowed: Yes
2. Buddha Beach, Sedona
Are you looking to connect with nature, perhaps on a spiritual level? Do you study chakras, the energies of the earth, and feel an innate draw to the red rocks of Sedona? If you answered yes to any of these, Buddha Beach is a must-visit.
To get here, enter Crescent Moon State Park and take the trail towards Red Rock Crossing. After taking in the iconic view of Cathedral Mountain, continue along Oak Creek until you come upon cairns- small stacks of rock that look similar to tiny Buddhas.
The sandy and shady area of the creek here is Buddha Beach, and the water is cold and refreshing on a hot day. To those who study the energies of nature, this area is known as a powerful vortex, or a place where energy converges. Be mindful of people who are meditating here, and maybe try your own hand at yoga or meditation at Buddha Beach.
This is a hidden gem of Sedona, but one that is peaceful, beautiful, and can help you reach into the spaces of your mind and find healing.
Location: Sedona, 1 mile along the Red Rock Crossing trail on Oak Creek
Entrance Fees: $10 per vehicle
Dogs Allowed: Yes, on leash
3. Lake Havasu State Park and London Bridge Park
These two parks are close together, on the beautiful shores of Lake Havasu. Also known as "Arizona's Playground", the turquoise-blue waters of Lake Havasu are perfect for swimming, boating, and anything else you can think of to do on the water.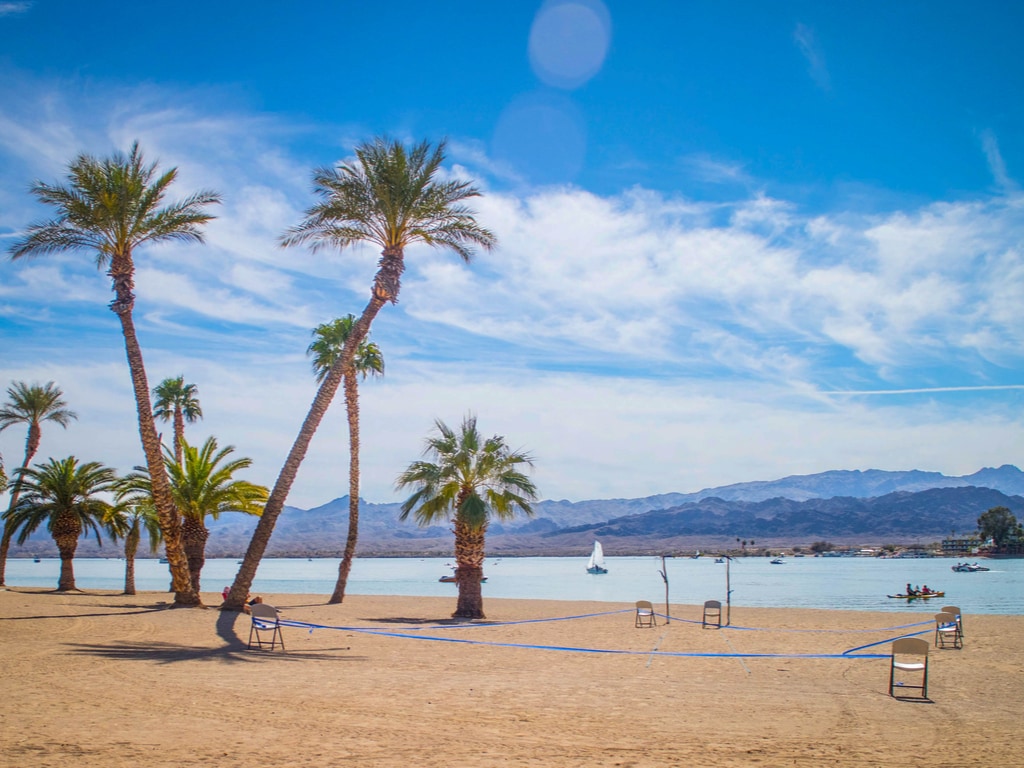 There are more than 450 miles of shoreline at Lake Havasu, and many miles of these shores are perfect sandy beaches. Many are only accessible by boat, creating pristine and private mini beach getaways.
Lake Havasu State Park and London Bridge Park both provide long stretches of warm sand, with plenty of room to set up your umbrella and relax. The water is calm and in the summer, can reach upwards of 80 degrees. Much more inviting than the cold and rough waters off the west coast!
Both of these parks offer amenities aplenty, from a fully enclosed dog park, to RV and tent camping sites, and even hiking trails, white sand beaches, and full service restrooms. Rent a cabin for easy access to the beach every day, or take your boat from one of the launch ramps and find your own hidden cove.
Location: Lake Havasu, AZ
Entrance Fees: $15-20 depending on the day
Dog Friendly: Yes
4. Pebble Beach Recreation Area
As the Salt River winds towards Mesa and Tempe, it passes through Saguaro Lake. Between the lake and Granite Reef Dam, there is a long stretch of river that is popular for kayaking, tubing, swimming, and paddle boarding.
As it passes under the Bush Highway bridge, on either side of the bridge are sandy river banks, known as Pebble Beach. This stretch of beach is perfect for swimming, as the water isn't too deep or swift here. Set up your umbrella and beach chairs and enjoy the relaxing sound of running water.
On weekends Pebble Beach can get tremendously busy, so for a more peaceful experience, try to make your "beach" trip on a weekday. The water is refreshingly cool year round, perfect for cooling off on those 100 degree days.
Rent a tube through the Salt River Tubing company; they will shuttle you to the start of the tubing section, and you can stop at Pebble Beach about halfway through for a picnic or a break from the sun. The bridge provides some nice shade, but be sure to slather on that sunscreen!
Be on the lookout for the wild horses, especially in the early mornings. Enjoy watching them swim and eat river grasses, but keep your distance.
Location: Salt River, just a few miles outside Mesa
Parking Fee: $7 day pass
Dog Friendly: Yes
5. Butcher Jones Recreation Area
Just a few miles past Pebble Beach on Bush Highway, you'll see the turnoff to Butcher Jones beach. Located on Saguaro Lake, this beach boasts wonderful shade in the afternoons from the nearby cliffs and water that gets gradually shallow, perfect for a family beach day.
The beach itself is only about a hundred yards across, so on weekends the free space can dwindle pretty quickly. As with any popular water-based location in Arizona, for a more quiet experience, the weekdays are the way to go.
Since the parking lot is so close to the beach, this is the perfect place to launch your kayaks, paddle boards, or canoes to explore the shores of Saguaro Lake. Butcher Jones Recreation Area is also a no-wake zone, meaning you won't be tipped over by the wake from a passing speed boat.
Many athletes use this calm cove to practice their long distance swimming, and the buoys make a great out-and-back course. With no sharks or other scary sea-life to worry about at this beach, it's a much safer option than open ocean swimming!
Location: Saguaro Lake
Parking Fee: $7 Day Pass
Dog Friendly: Yes
6. Acacia Day Use Area
This isn't your usual perfect sandy beach (it's a bit more rocky) but it is still a great place to spend a long summer day. Located at Canyon Lake, Acacia Beach area is a popular place to set up for a day of kayaking or paddle boarding on the lake. Paddle around for an hour or so, then come back to relax in the shade of your umbrella.
On weekdays, you might have this whole beach to yourself! There are also covered picnic tables, bathroom facilities, and the parking lot is a short walk from the water. The water depth here is perfect for young ones learning how to swim. The water is near perfect temperature, and feels especially good on a sunny summer day.
Canyon Lake has some fun side canyons and alcoves, great for exploring in a kayak. You can even try your luck fishing from the beach if you wade in a few feet. Enjoy this no-wake zone with the family, and remember to always pack out what you bring in!
Location: Canyon Lake
Parking Fee: $7 Day Pass
7. Roosevelt Lake Beach
Located conveniently off of Highway 188 on the northwest end of Roosevelt Lake, this beach is fun and unique, in that you can camp directly on the beach! If you get there early enough, you can claim some beachfront property of your own.
Roosevelt Lake is huge, and this area of the lake has small alcoves that would be perfect for exploring on a kayak or paddle board. Launch out on your watercraft right from your campsite. Bring a telescope if you have one, as the night sky is dazzling with billions of stars.
The water stays shallow for quite a few feet out from the shore, so this makes for a safer place for families with young children. Remember to always watch kids carefully around water, and having them wear a lifejacket could help ease some of your worry.
Location: Roosevelt Lake
Parking Fee: $7 Day Pass
8. Cattail Cove State Park
Another beautiful Lake Havasu beach, the soft white sands at Cattail Cove are reminiscent of even the nicest beach in California. Of course, you won't get the big waves, salt water, or sea-life that you might get in the ocean, but what you do get is calm and refreshing waters year round.
There are campsites directly on the beach, and even a small dog beach area for your furry friends to enjoy the water safely. Sit under the shade of your umbrella or bring a small awning, and enjoy watching the speed boats and other watercraft going by.
Enjoy kayaking, paddle boarding, or swimming right from the shore at this tranquil beach. The bathroom and shower facilities at Cattail Cove are always clean and well-kept.
This beach getaway would rival any coastal beach for quality of the sand and water, and it is family and pet friendly.
Location: Lake Havasu
Fees: Day use ($10-15) or overnight parking ($15-20)
9. Arizona Telephone Cove
On the southernmost end of Lake Mohave lies a tranquil beach called Arizona Telephone Cove. The water is clear and crisp, and the beach itself has clean sand and even a few shade trees. Getting here is a little more off the beaten path, meaning you'll be facing less crowds than at other beaches on this list.
This is a day use only beach, however the Katherine Landing Campground is a short drive away. The parking lot is close to the shore, making it easy to launch a kayak or paddle board from the Telephone Cove. The white sands of this beach make it feel like you're on the coast instead of a lake.
There is a Nevada side and an Arizona side, since Lake Mohave straddles the border between the two states. The Davis Dam at the far southern edge of Lake Mohave is a short drive away, making it possible to experience both sides of the lake in one day! Taking your boat across (the lake is less than half a mile across at this point) is also an option.
For those that want to enjoy Lake Mohave but avoid some of the crowds at the more popular parks and beaches that the lake provides, Telephone Cove is the perfect choice.
Location: Southern Lake Mohave
Fees: None
Dog Friendly: Yes
10. Centennial Beach
Yet another "beach" along the Colorado River, this is the southernmost beach on this list. Located in Yuma, Arizona, the US border with Mexico is only a few miles away. The Colorado River here isn't at its usual wide open flowing waters, rather it is split into various smaller streams and canals.
Centennial Beach is located on one of these smaller fingers of the Colorado, and the river is only 200 feet across at this point, a far cry from its widest stretch. Despite less water surface, Centennial Beach is still a worthwhile beach to visit.
The water is clear and refreshing, making this a popular destination for Yumas extremely hot summer days. There's a boat launch here, as well as white sandy stretches of shoreline, and plenty of room for sunbathing and swimming. The water flow is slow here, so no need to worry about being swept downstream into Mexico!
Location: Yuma
Fees: None
Dog Friendly: Yes
11. Rotary Beach
Another local favorite for water-goers who live near Lake Havasu, this beach is also a full-on park- with 40 acres of grassy areas, playgrounds, tennis and basketball courts, as well as plenty of beautiful sandy shoreline.
There are even six sand volleyball courts right on the beach itself, as well as bocce ball courts, a two-mile running path surrounding the park, and even a playground specifically designed for children with special needs! This is definitely a family-centric park.
The beach area itself has a section blocked off with buoys just for swimming, and a boat ramp nearby. There's plenty of space to set up your beach umbrella, get some sun, and read a good book. There are even covered picnic tables available for reservations. Whatever your activity, Rotary Park is the perfect place for it!
Location: Lake Havasu
Fees: None
Dog Friendly: No
12. Wahweap Beach
Another Lake Powell destination, Wahweap Beach and swimming area has more amenities than aforementioned Lone Rock Beach. The RV/Campground is located about a ¼ mile from the beach itself, but it is only a short pleasant stroll to enjoy the water. There are bathrooms, fire rings, showers, laundry, and even Wi-Fi at the campground!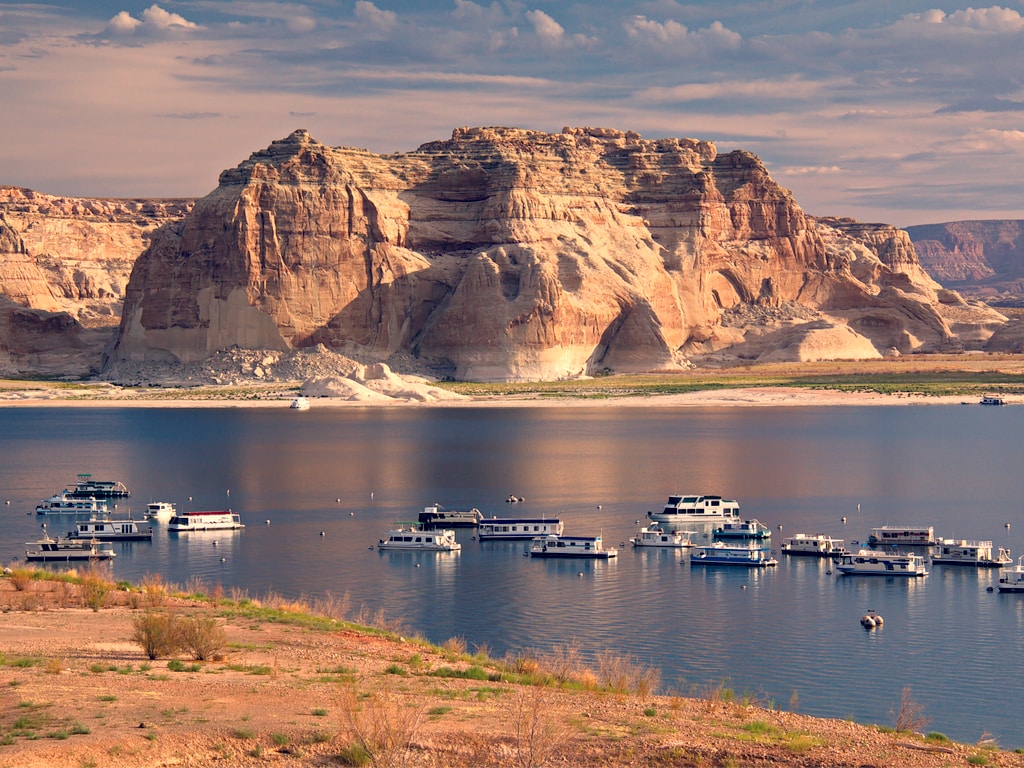 There's even a restaurant and gift shop, saving you a drive into the nearby city of Page for dinner. You can rent any type of watercraft from Wahweap Marina, making Lake Powell accessible for even those who don't have their own gear.
The beach itself is slightly rocky, so wearing water shoes is recommended. The water is the perfect temperature in the summer, great for cooling off from the desert sun. The depth is very gradual, making Wahweap Beach perfect for those less comfortable in deeper waters.
With no big waves, restrooms nearby, and plenty of space for all, Wahweap Beach is a great location for families.
Location: Lake Powell
Fees: $35 for 7-Day Pass
Dog Friendly: Yes, on leash
Conclusion
The only sure way to enjoy the scathing Arizona summers is to get in the water. With over 120 lakes and several large rivers, there is plenty of shoreline for all to enjoy. For a beach-like experience, seek out any of the destinations on this list.
The best part or enjoying Arizona's beaches? No scary waves, no deadly sea creatures, and no dangerous currents! For these reasons, staying local instead of making the hours-long trek to the coast of California is an easy choice. So pack your cooler, lay out your beach blanket, slather on the sunscreen, and enjoy all that Arizona's beaches have to offer!
You can also check our guide on the best swimming holes in Arizona, the best water parks in Arizona, as well as our guide on the most beautiful waterfalls you can find in the state.