11 Best Natural Hot Springs & Mineral Pools in Georgia
For almost an entire year, I've been living in the country of Georgia, so I've (obviously) spent lots of time adventuring around the nation.
The place is famous for hikes, mountains, monasteries, friendly people, stodgy food, and being a cultural crossroads on this part of the planet. But aside from all that stuff, it also has lots of springs and thermal pools.
So in this guide, I've brought you the 11 best natural hot springs & mineral pools in Georgia. I've covered city-center stuff, remote gems, and lots of bubbling baths.
Slip into your bathing suit and come join the fun!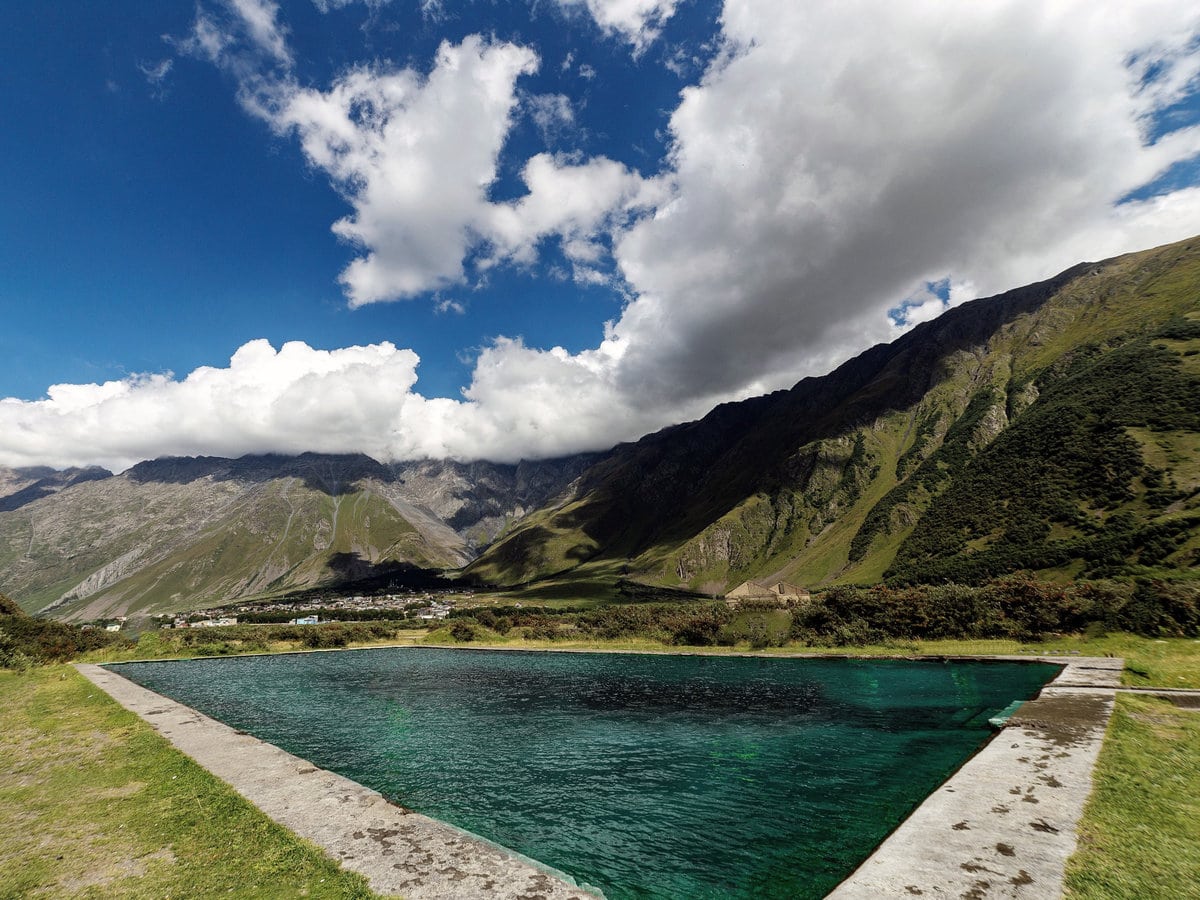 1. Chreli Abano
The most famous baths in Tbilisi are also the most famous baths in the entire nation.
In one part of Tbilisi's iconic Old Town, you have Abanotubani, which literally translates to 'bath district.' Unsurprisingly, this place is home to lots of baths—there are currently around 10 separate venues in the little eggy area.
Of them all, Chreli Abano (also known as 'Orbeliani') is the most famous… and prettiest.
It's a very touristy spot, and this is where most short-term travelers head if they're searching for a bath in Tbilisi. So you get good service, great facilities, and English-speaking staff. But because of that, it's also not the most 'authentic' bath experience in Georgia (whatever that even means).
They offer countless types of massages (some of them pretty unusual), and they have many baths of different sizes; but I found no public rooms there.
If you want luxury and nice aesthetics, head here. But if you'd prefer something a little more no-frills and unpretentious, I recommend the next spot on our list instead…
2. Bathhouse Number 5
For a much more local, laid-back, authentic (and affordable!) experience, this is a way better option than Chreli Abano.
If you want a place with both private and public baths, head here. One of only two public baths left in the city, it's massively popular with locals, and visiting is a good insight into what Tbilisi's public baths would have been like back in the day. If you want the full busy experience, go in the evening, when the place is usually at its busiest.
Despite the retro atmosphere, it's relatively clean and welcoming, and it also has a sauna. They have no cold pool, but they have showers with cold water.
If you want a private bath, you need to book. But if you want to use a public bath, you can just turn up unannounced.
3. Lisi Lake Baths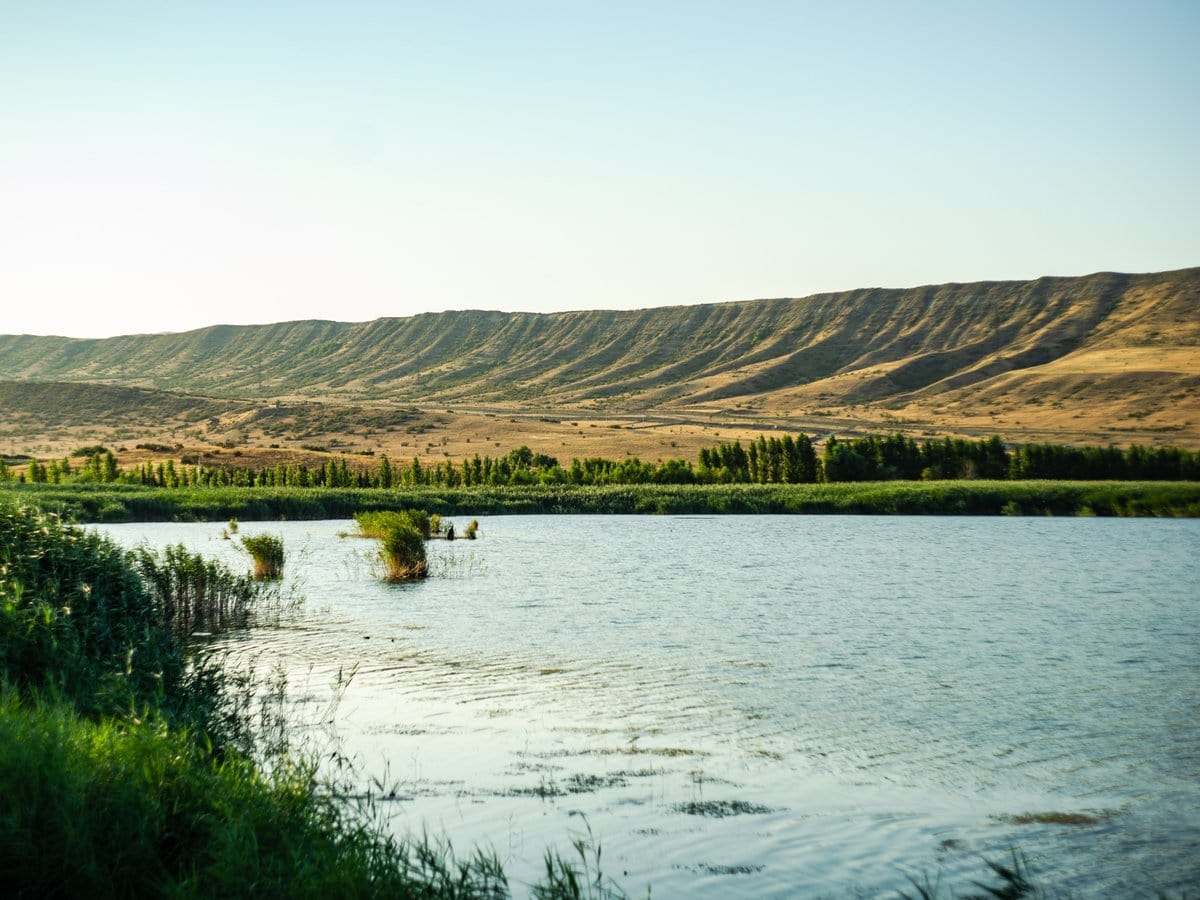 One more Tbilisi option (I'll move beyond the nation's capital soon, I promise), this place is in a more remote part of town… so it's a good option if you want to get all outskirty, and away from the bulk of the city's tourists.
Lisi Lake (and the area surrounding it) is one of my favorite parts of Tbilisi. Sitting in the northwest of the city, it's super pretty, and there are nice places to eat, drink, walk, and make friends with the local shelter's abandoned dogs.
But most importantly for you, Lisi Lake is also home to some baths. Much like Bathhouse Number 5, this place is pretty rudimentary, but that's what I like about it. They have dry saunas and basic baths, and they offer rough massages and scrubs (in proper Georgian style!)
When you're done, I totally recommend exploring the hills and hikes of Lisi Lake. A good place to start is the ridge that runs west from the northern part of the lake.
4. Borjomi Outdoor Baths
Pretty Borjomi is most well-known for its eggy atmosphere and sulfuric smells.
The home of famous Borjomi water (well, it's famous in Georgia), hill-backed Borjomi sits in a valley, and it's one of the most popular weekend getaways for Tbilisi's residents.
Here, you get multi-day hikes, lots of forests, and a nice small-town atmosphere. But you also get three outdoor baths, just on the outskirts of the place.
They're nothing super special, but they're in a pretty area, and their basic build is part of their charm. The three baths are of slightly different temperatures, but none are particularly warm. They're usually pretty busy, but you don't need to book in advance.
There are no private rooms.
To get to the baths, you can take public transport or a taxi. But the forested walk to them is my favorite way to get here—it's simple and flat, and it's a rewarding way to reach them.
5. Dikhashkho Sulfur Geyser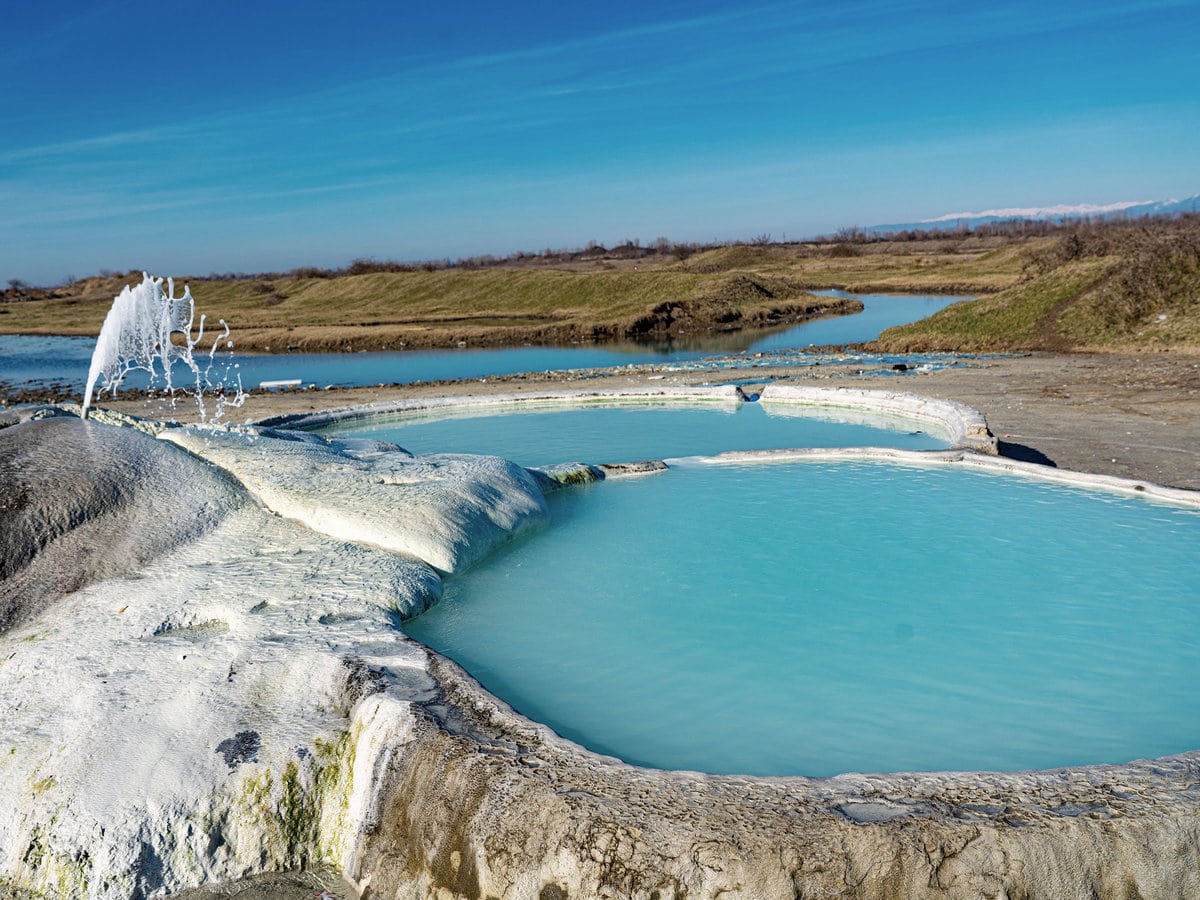 The most Instagrammable entry on our list, Dikhashkho Sulfur Geyser is little more than a natural pool in the middle of nowhere.
Recently, this place has become massively famous—and when you see it, you'll realize why. One of the strangest pools in the nation, it looks like some sort of lumpy alien life form, and it's completely remote.
Fed by a geyser that sprays into the two naturally-formed pools, this is as natural as Georgian's hot spring experiences get.
South of Kutaisi, there's an east-to-west road running through some tiny towns and villages (including Amaghleba, Salkhino, and Vani). Running north of that road, there's a narrow dead-end dirt track (which can get very wet and holey) that runs to this unusual geyser.
En-route, you'll wonder if you're even heading in the right direction.
Because these baths are so remote, they're very basic… there's a small wooden changing room here, but little else.
6. Tskaltubo
Sitting just northwest of the nation's third-biggest city, Tskaltubo is a popular day-trip option from Kutaisi.
The partially-abandoned town is most famous for its abandoned sanatoriums… and lots of tour groups visit these places. Back in Soviet days, this was one of the most famous baths districts in the whole of the USSR, and people would travel pretty far to come here.
Some parts of the once-popular town are now in a strange state of disrepair… and walking around all the abandoned buildings is pretty fun. Ornate and massive, these places are beautiful in a sort of weirdly-desolate way.
But they're not all abandoned: a couple of venues have survived.
Balneoresort Tskaltubo (also known as both 'Bathhouse Number 6' and 'Stalin's Bathhouse') is the best of them all, and it's surprisingly luxurious. They have no public baths… and instead of being a normal bathhouse, it's a self-styled "medical and rehabilitation spa center," with various different treatments.
7. Sairme
One hour south of Kutaisi (and around one hour north of Akhaltsikhe), you have the luxury hotel resort of Sairme.
Pretty different to every option we've featured on this list, Sairme is a pretty posh place. One of the biggest thermal resorts in Europe, it's a hulking behemoth of a complex, and it's a great place to treat yourself for a couple of days.
Located "in a mountainous subtropical zone," the complex is made up of 3 hotels and 342 rooms. In the complex, you'll find thermal waters, a swimming pool, a wet sauna, a dry sauna, medicinal treatments, a salt room, and more.
But beyond all that, the place offers much more, including outdoor pools, bicycle rent, table tennis, trampolines, jeep tours, the longest zipline in the Caucasus, and much more action and adventure.
I recommend to stay here at least 2 or 3 nights to completely enjoy the resort. You can see the rooms photos and the guests reviews on the resort page on booking.
8. Torghva Bath
If you're looking for adventurous experiences, you've found one.
In the northeast of Georgia, you'll find Tusheti National Park, one of the nation's (many) adventure havens. It's full of peaks, passes and panoramas, and there's plenty of walking and wandering to be enjoyed.
But here's the most interesting part: there's only one way to get to the national park, by a winding vertiginous road that's famous as one of the most dangerous on the planet (source). Steep, narrow and unpaved, it sits on the edge of a lengthy series of cliffs.
And perched on a part of that road, you'll find Torghva Bath, one of the most basic entries on our list. There's not much here except a small changing room and three vaguely-warm baths… but the views are excellent, and getting here is one of the best adventures that Georgia has to offer. Hugely recommended!
9. Nokalakevi Springs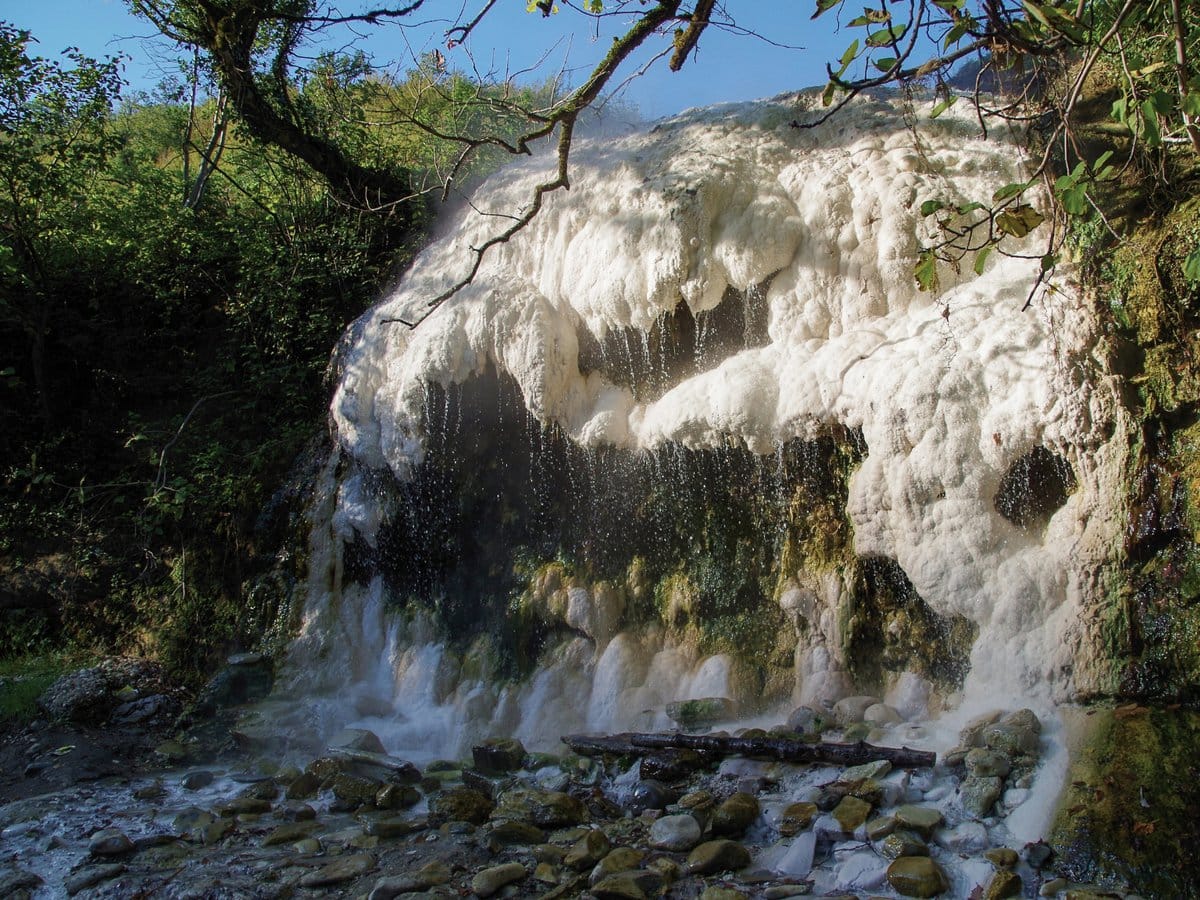 Another natural spot, Nokalakevi Springs is around one hour west of Kutaisi.
Here, a geyser spurts out of the ground, shooting hot water over a hill and into the cold river beneath it. The water is surprisingly hot, and its mineral deposits have formed a weird sort of crusty white blob that hangs over the river.
Some locals reckon that the place has some sort of healing abilities. Whether it does or not, it's fun to dip between the hot water of the springs and the cold water of the river.
A super basic place, there are no changing facilities or any of that stuff… it's no more than a geyser over a river.
10. Russian Banya, Batumi (Русская баня на Горе)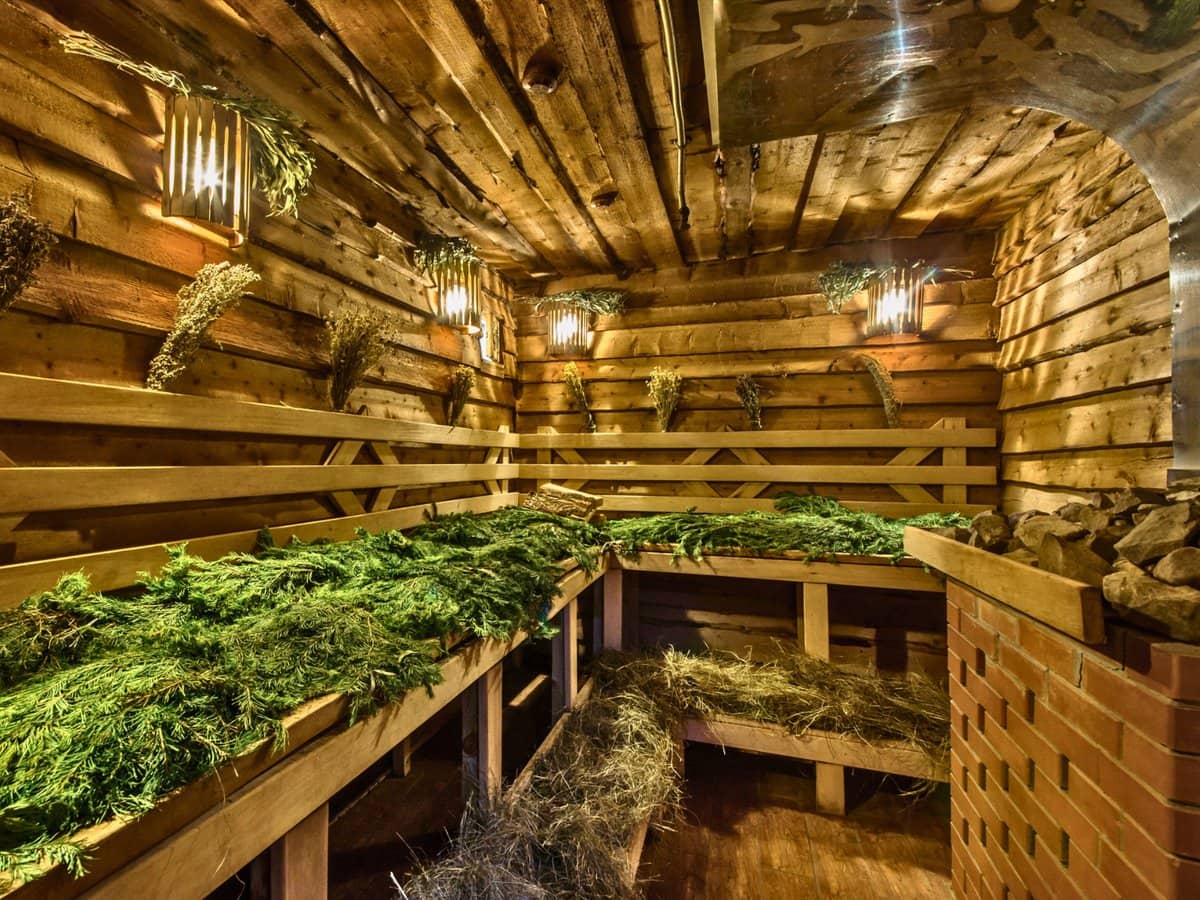 Okay, this isn't actually a hot spring or a mineral pool. But if you're into both of those things, you'll also be into this. I hope you can forgive me for the misleading inclusion.
I reckon this is the best banya-style place in all of Georgia… and there are plenty of them to choose from!
At this banya, you get hot rooms, cold rooms, massages, scrubbing, barbecues, tasty lime tea, and plenty more great stuff. Wooden and retro, it's a real throwback, and it's popular with lots of older locals. Just like they should be, the hot rooms are very hot, and the cold rooms are very cold.
Very traditional, this is perfect if you're looking for a slice of old-school fun in an otherwise modern city. It's in the center of Batumi, so you don't need to travel very far to find it.
11. Pansheti Swimming Pool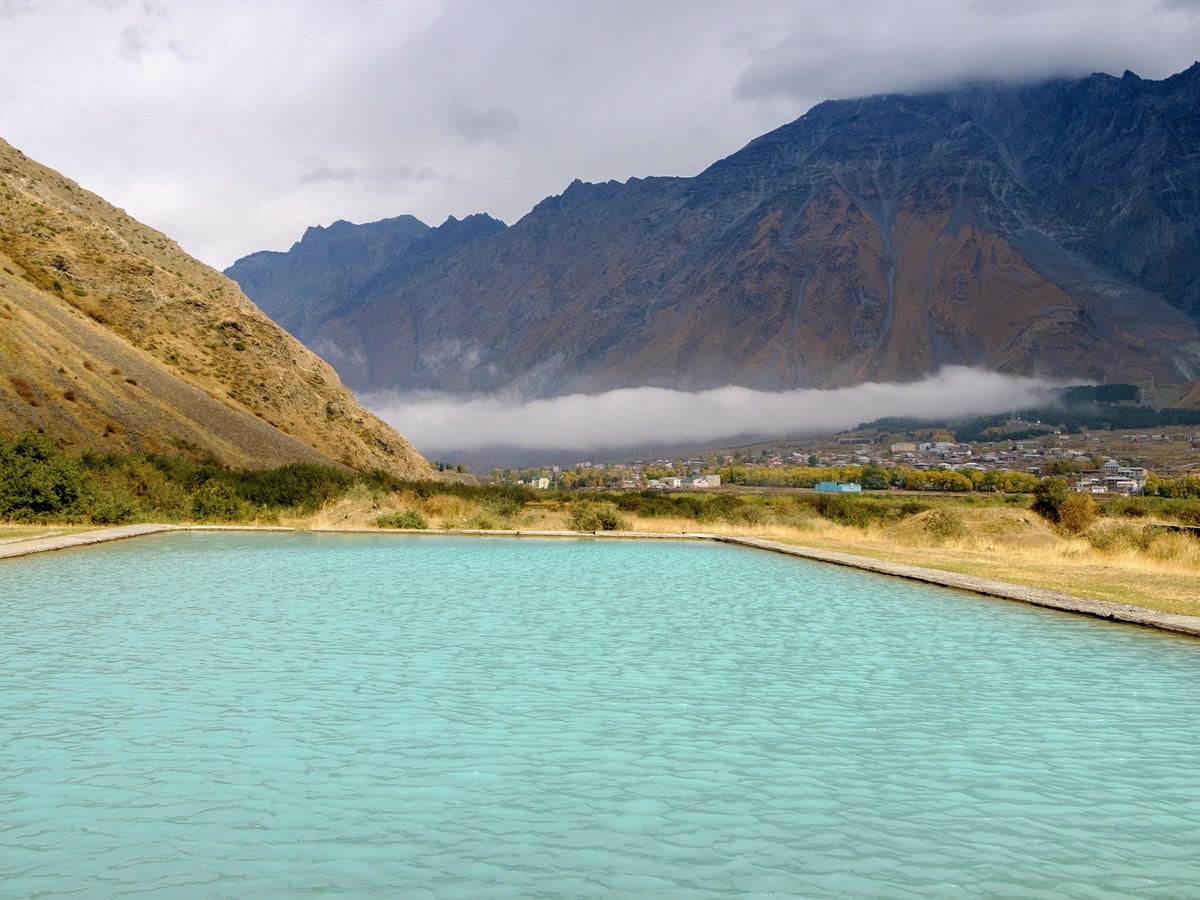 Our last entry is a bracingly-cold one. While most of the watery entries in this list are hot (or a mixture of hot and cold), Pansheti Swimming Pool is among the chilliest dips you've probably ever had.
The place is right beside Stepantsminda, the most famous mountain town in the nation. Cross the town's only bridge and head south for around 1.5 miles (2.5km), and you'll easily find the place.
There are no facilities here, but the mountain views are lovely (and the place usually has some pretty horses lurking around).
And although Stepantsminda is a super-touristy place, this swimming pool is always pretty quiet and calm. Perfect if you're looking for something a little different!
Before You Go
And just like that, we've bubbled and bathed our way to the end of our guide to the best natural hot springs and mineral pools in Georgia.
If you want to know anything else about exploring the nation, check out our jam-packed three-day itinerary for Tbilisi, the top things the city is famous for, and the 17 reasons I love the place.
And for more strange stuff, here's our guide to the unique and unusual Chronicle of Georgia.
Thanks for stopping by, thanks for choosing Travelness, and make sure you hang around for much more!
Being a Digital Nomad: Tips, Tricks and Places
Do you want to be a digital nomad?
If you do, maybe you don't know where you might want to live. Or how to live there. Or whether you need a visa. Or how to make friends in the scary sprawl of a brand-new city. Or how to stay productive while you travel. Or how to find an apartment. Or whether this lifestyle really is for you. Or… I'm sure you get the idea.
But with some insight and experience, it's not as difficult as you think. So in this book, I've gathered my 6 years of digital-nomadding experience… and I've used it to answer all your questions, soothe all your fears, and get you on your way. After reading this, you'll realise being a digital nomad is much easier (and much more possible!) than you think.