The Chronicle of Georgia: How to Visit, Tips, & More
Tbilisi has some of the strangest city-center attractions I've ever seen… including a giant sword-wielding woman, a wonky clock tower, and the eggy domes of some sulfur baths.
But probably the oddest of them all is Georgian Stonehenge, the monolithic 'Chronicle of Georgia' giant which looms over a big reservoir in the east of the city. One of the best places to visit in Tbilisi.
And in this speedy blog post, I've brought you everything you need to know about this hidden gem.
Welcome to our complete travel guide to the Chronicle of Georgia!
What is the Chronicle of Georgia?
The Chronicle of Georgia (or History Memorial of Georgia) is a monumental sculpture complex in Tbilisi, Georgia. It was designed by Zurab Tsereteli and erected in 1985 but was never fully finished. The monument sits at the top of a large set of stairs and is made up of 16 pillars that are between 30-35 meters tall. The top half of the monument features kings, queens, and heroes while the bottom part depicts stories from the life of Christ. The Chronical of Georgia is an important monument in the Georgian culture and is worth visiting.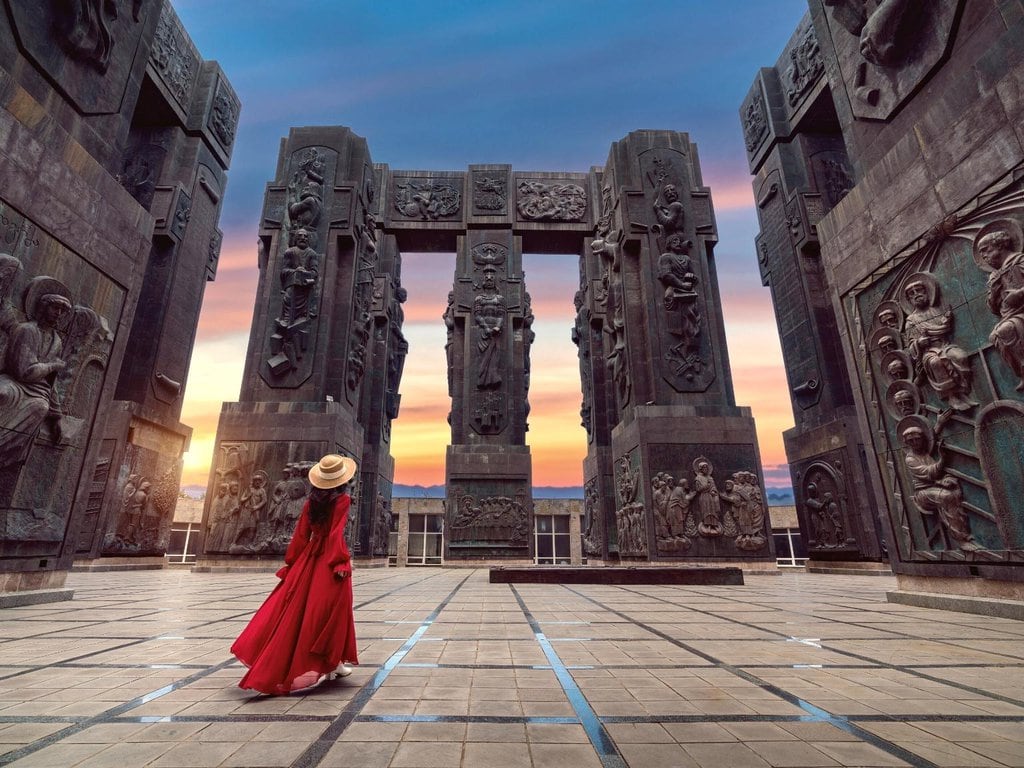 Made up of 16 lofty pillars, lots of kooky carvings, and storied history, the towering Chronicle of Georgia is one of the oddest sights in the city… and it's slowly becoming more popular with tourists and travelers.
It was designed by Zurab Tsereteli, a famous Georgian sculptor who was born in Tbilisi back in the 1930s.
The work started on this beefy behemoth in 1985. However, the monument was never finished because the Soviet Union collapsed a few years later and funding ran out. Officially, it's still under construction, though it looks pretty finished to me, and it's still impressive regardless.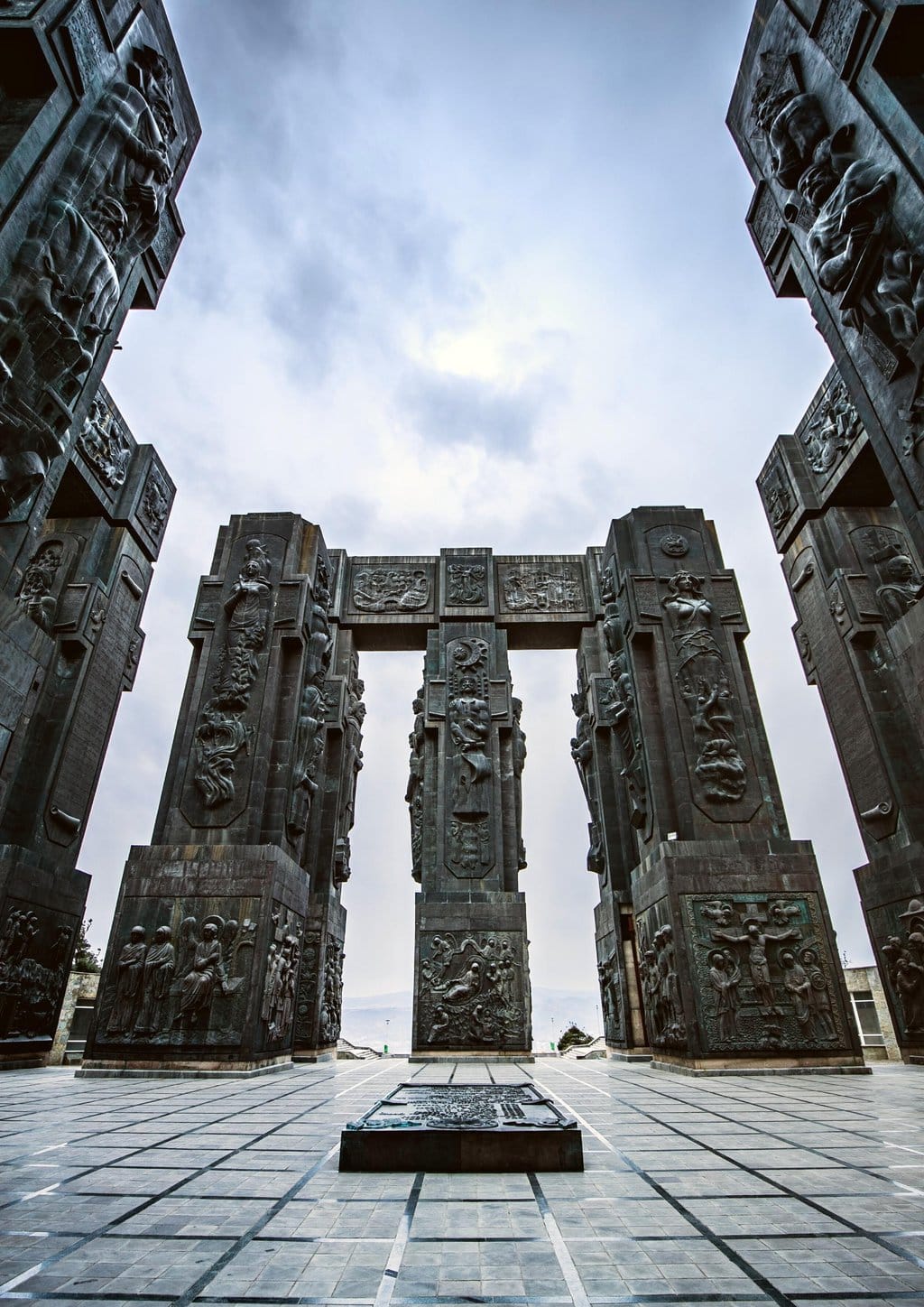 The mammoth monument sits high on a plateau at the top of some lengthy flights of steps. When you wander from top to bottom (depending on where you start from) you'll gain between 70 and 170 meters (230 and 560 feet) of elevation.
It sits at the northwestern point of the sprawling Tbilisi Sea, which actually isn't a sea at all. Instead, this massive body of water is a reservoir, but some Georgians (and some maps) refer to it as a sea anyway. Yeah, I'm confused too. Welcome to Georgia.
The Chronicle of Georgia was built to honor two separate but concurrently-occurring occasions: 2000 years of Christianity in Georgia, and 3000 years of Georgian sovereignty.
Because of that, the pillars (as you've probably worked out for yourself) feature characters and figures who were significant in the formation of Christianity, and in the formation of Georgia.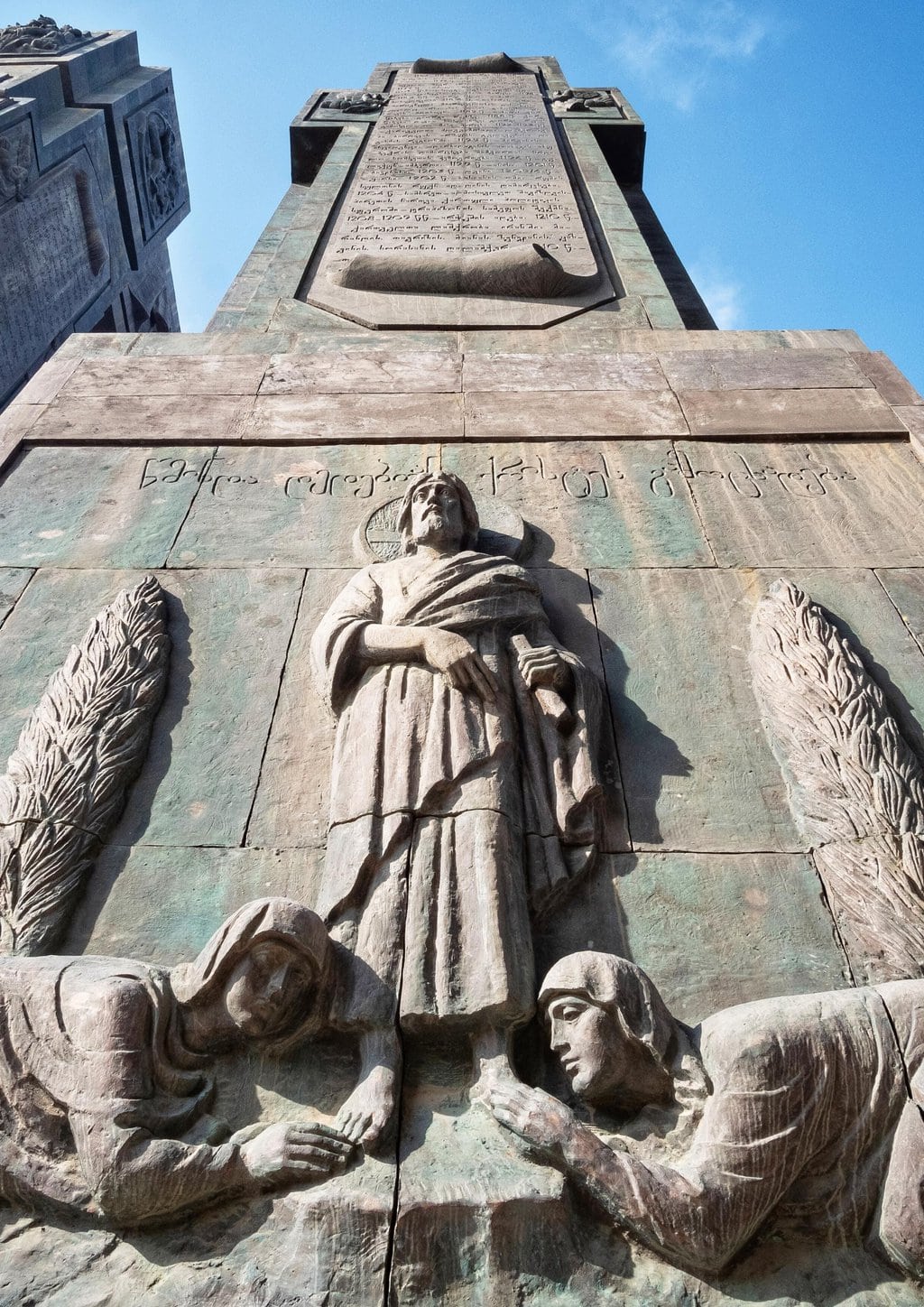 So when you're wandering around the Chronicle of Georgia, you'll see images of Jesus Christ, the apostles, some regional saints, Jesus' family and friends, some Georgian kings and queens, and other local heroes. There's not much information on all of the featured figures… so if you want to learn about them, it's best to book a tour—but more on that later.
The pillars also depict some of the most important moments from Jesus Christ's life, including Palm Sunday, the last supper, and the resurrection.
Because the monument sits high above the city, it's visible from miles around. But it's also visible from miles around because its pillars are massive. They all measure in at between 30 and 35 meters (that's between 100 and 105 feet, for you Americans).
As you can probably tell by now, I 100% think the Chronicle of Georgia is worth visiting. It's not quite as popular as it should be, but I reckon it's one of the most impressive places in the city… so I definitely recommend it.
5 Top Reasons Why You Should Visit the Chronicle of Georgia
How to Get to the Chronicle of Georgia from the Center of Tbilisi
Because the Chronicle of Georgia isn't very far from the center of the city, you have lots of options for getting there.
Before you decide which option is for you, it's important to know that any public transport options will require some walking after you get out of your bus or metro or whatever. Some of these routes are on tarmac, but others are mini trails that cut through woods and fields. So check maps.me carefully before you set off.
None of these trails are challenging, but if you don't like uphill walking, you might wind up crying and complaining. So if that's you, it's probably best to skip the public transport and use some kind of car. More on that later.
If you want to take the metro, your nearest stops are Ghrmaghele station and Guramishvili station. Guramishvili is one station closer to the city center, while Guramishvili is slightly closer to the monument. Both routes involve around 170 meters (560 feet) of ascent after you get out of the metro.
If you prefer to take the bus, the best option (in my experience) is the 333 from Station Square. From where the 333 drops you off, it's only a 10-minute walk to the Chronicle of Georgia—and there's not too much uphill walking.
For using both the metro and the bus, you'll need to have a pay-as-you-go travel card. You can't pay for public transport with cash, and you can only pay by bank card if you have a Georgian bank card (which you probably don't). You can get these travel cards from any of the central metro stations in the city.
If you have access to your own car, you can obviously drive to the monument. Around the Chronicle of Georgia, there are lots of places to leave your car… but the closest you can park is on the western side of the complex. Pass the place marked as 'Shota's Mountain' on Google Maps, and you'll see a parking lot to your right. From here, it's only a tiny walk to the monument.
If you don't have access to your own car, you can take a taxi—and you can get this taxi right to the foot of the monument, perfect if you're a big fat lazy baby who doesn't like walking. If you book your ride on an app (Yandex and Bolt are both widely used in Tbilisi), the ride will cost you the equivalent of around $3 or $4 (USD), depending on which part of the city you travel from.
You can then ask your driver to wait for you while you look around the monument…and when you're done, your driver can take you right back to the heart of the city. Perfect!
Your final option (and the best option by far especially if you're short on time and want to squeeze lots of action and activity into your trip) is to book a tour. Lots of Tbilisi tours include visits to the Chronicle of Georgia as part of their itineraries. And here are my recommended ones:
Private Tour to Sabaduri Forest and Chronicles of Georgia: Alternatively, this much-more-adventurous package takes you to some of the region's lesser-known gems (including the Chronicle of Georgia, obviously). Other highlights include Sioni Lake, Sabaduri Forest, and the excellent national park bear shelter. 🎟️ Check the latest prices, customer reviews, and more details
Both tours give you lots of information and context about the Chronicle of Georgia… so they're the best way to see the place if you're interested in history and heritage (especially since there are no information boards or any of that stuff at the Chronicle itself).
But, crucially, both tours take you to lots of places on the outskirts of the city… you won't be able to cram this much action into your trip without taking a tour. So book one of them as they're totally worth it!
Pro Tips and Things to Know Before Visiting the Chronicle of Georgia
The Chronicle of Georgia: Final Thoughts and Further Reading
And just like that, we've covered everything you need to know about the Chronicle of Georgia!
If you want to know anything else about exploring Tbilisi, check out our guides to all the things the city is famous for, the top 17 reasons I love the place, a selection of the best museums in Tbilisi, and our action-packed three-day itinerary of excitement and adventure.
Thanks for stopping by, you handsome hero… and we'll see you again soon!
Being a Digital Nomad: Tips, Tricks and Places
Do you want to be a digital nomad?
If you do, maybe you don't know where you might want to live. Or how to live there. Or whether you need a visa. Or how to make friends in the scary sprawl of a brand-new city. Or how to stay productive while you travel. Or how to find an apartment. Or whether this lifestyle really is for you. Or… I'm sure you get the idea.
But with some insight and experience, it's not as difficult as you think. So in this book, I've gathered my 6 years of digital-nomadding experience… and I've used it to answer all your questions, soothe all your fears, and get you on your way. After reading this, you'll realise being a digital nomad is much easier (and much more possible!) than you think.