15 Best National Parks and Monuments in Arizona
Growing up in Arizona, we were taught in elementary school about the ancient history of this state and the many different cultures that once called Arizona home, as well as the descendants of those ancient people that still reside here. We also learned about our national parks, places that were set aside by the government years ago to preserve uniquely wild and exotic places.
Now, in my adulthood, I enjoy continuing those learning experiences by visiting some of these places and experiencing the diverse cultures, ruins, and natural formations that the Grand Canyon State has to offer.
Time to add to your bucket list with these national parks and monuments that make Arizona one of the most richly historic and adventure-filled states in the Southwest.
1. Grand Canyon National Park
The first time you stand on the rim of this vast empty space in the ground, it's hard to actually comprehend the size and scale of it. A whopping 18 miles across at its widest, a vertical mile deep, and nearly 300 miles long, this national park lives up to its name.
Located in northern Arizona, Grand Canyon National Park sees almost 6 million visitors a year, making it the second most visited park in the country. There is so much adventure to be found here, making it the perfect destination for families, adventurers, rafting enthusiasts, and hikers.
There are dozens of trails that criss-cross the canyon, with most of them taking you down to the mighty Colorado River. Be cautious when you hike in the Canyon- remember what you walk down, you have to climb back out!
Book a trip with one of the many river guide companies, to tackle the rapids on the Colorado River and see more of the park than you possibly can on foot. The water is always a chilly 52 degrees, as it comes out of the bottom of Glen Canyon Dam.
Not a fan of hiking, but still want to drop below the rim to experience this wild place? Mule trains take tourists down the trails, and these sure-footed animals are comfortable with the drop offs and switch backs, so they're very trustworthy!
Why You Should Visit?
There's an adventure waiting for everyone at the Grand Canyon. Hundreds of miles of hiking trails, river rapids for adrenaline junkies, dozens of lookouts on the north and south rims, and beautiful historic lodges all make for an unforgettable trip. Stay in Flagstaff for a 1.5 hour drive to the south rim, or book a room at one of the lodges on the north rim or nearby Jacob's Lake.
2. Saguaro National Park
One of the three national parks in Arizona, Saguaro National Park is actually split into two parts, to the east and west of Tucson. There are 170 miles of trails combined in both sides of the parks, and several picnic areas as well.
The proximity of the park to the city of Tucson makes this park perfect for day trips from Tucson and morning hikes through the towering saguaros. Each side also has a paved wheelchair-accessible looped trail to make it easier for all to enjoy the park.
In the east side of the park, there are backcountry campsites that you can hike into, however there are no car camping or RV camping sites at either side of the park. Both districts of the park also have a visitors center with bookstore, restrooms, water fountains, and maps.
Why You Should Visit?
If you want the beauty of the desert with a chance to spend some quiet time among the famous saguaro cactus, this national park is your perfect getaway. With less crowds than other parks in Arizona, this is a great locale for those who want a peaceful weekend. Stay in Tucson for easy access to either side of the park.
3. Petrified Forest National Park
Good news, dog lovers! This is one of the few national parks that allows pets on the trails, always on a leash of course.
Petrified Forest National Park doesn't quite sound real; the "forest" is actually ancient trees that turned into stone over millions of years after being buried in mineral-rich mud and deprived of oxygen that prevents the usual decay. There are acres of rocks that are still in log shape, scattered around the landscape.
This park is also unique in that you can hike off trail. The desert here is arid with very little vegetation, meaning there is little chance of damage to the ecosystem by wandering footsteps. There's even a newly-opened area called Red Basin that is allowing hikers for the first time.
If you want to witness an incredible night sky, grab a backcountry backpacking permit and take in the Milky Way in some of the darkest skies in Arizona.
Why You Should Visit?
This is a haven for geology enthusiasts, and several old ruins are also a highlight for archeologists as well. The unique landscape with the petrified trees scattered throughout makes for an unforgettable experience. The nearby city of Holbrook provides several options for overnight trips, or make plans to camp in the backcountry by obtaining a permit beforehand.
4. Canyon De Chelly National Monument
Pronounced "Canyon de SHAY", this canyon is located in northeastern Arizona near the Four Corners region. This beautiful canyon is best known for its towering spires and sheer red cliffs, especially the famous Spider Rock. It is on the Navajo Nation Reservation, and as such you cannot go into the canyon itself without a guided tour.
The ancient Pueblo and Hopi people made this place their home, and their ruins still exist in alcoves found throughout the canyon. It is also a fertile place for farming and livestock, and about 40 Navajo families still live within the park boundaries.
The striking red cliffs of Canyon de Chelly National Park make it a wonderful destination for a road trip due to its many lookout areas. There is also one public trail that allows visitors to hike down below the canyon walls before climbing back out.
Why You Should Visit?
This is one of the few national parks on Indigenous Lands, which gives you the unique experience of learning about their ancient customs and home from the Navajo people that live there. It's a bit off the beaten path, but it is a truly spectacular place. There are several motels and lodges in the nearby town of Chinle to accommodate your trip.
5. Sunset Crater National Monument
The mountains in and around Flagstaff were created by ancient volcanoes, and Sunset Crater is no exception. This crater was formed over 1,000 years ago by lava spewing from the earth, and it flowed into the surrounding area to create vast lava fields.
There are several hiking trails that start out on the main road. Off-trail hiking is not allowed, as the landscape is fragile and the lava rocks can be very sharp. Pets are only allowed on one of the trails, so be sure to check with rangers at the visitors center.
This park is conveniently close to Flagstaff, making this a perfect half-day excursion if you're spending the weekend there. The skies here are very dark at night, making this a great place to camp for those who love astronomy. There is one campsite just outside the park, Bonito Campground, and it is on a first-come, first-serve basis.
Why You Should Visit?
Visiting this monument gives you a chance to experience ancient lava fields and flows up close, and allows you to learn more about the geology of northern Arizona. Take the scenic drive and enjoy the views, or schedule a guided interpretive program to learn more about the park's unique landscape. Stay in Flagstaff to easily enjoy this monument, at one of the many dispersed camping sites in the forest nearby or at one of the hotels in town.
6. Montezuma Castle National Monument
This monument gives you the chance to see historical ruins that are built up high on a cliff side. The incredible architecture doesn't seem possible, especially since it was built hundreds of years ago without any cranes or mechanical equipment of any kind.
Montezuma Castle is located near Camp Verde, Arizona, between Phoenix and Flagstaff. The ruins were once inhabited by the Sinagua people, and the surrounding area is a riparian oasis that allowed them to live there for many years.
Nearby is Montezuma Well, a natural limestone sinkhole that is filled by an underground spring, which releases 1.5 million gallons of water a day! This was the main water source for the Sinagua people, who used the outflow as irrigation and built a sophisticated canal system.
Why You Should Visit?
The Montezuma Castle sits about 90 feet up a cliff, is 5 stories tall, and consists of more than 20 rooms. It is a true feat of engineering, and was only accessible by a series of ladders. For historians and those who love to dabble in archeology, this monument leaves plenty to discover and learn. There are great hotels nearby in Camp Verde, which is close to the interstate.
7. Vermilion Cliffs National Monument
Driving by the Vermillion Cliffs along the Arizona and Utah border can be an almost spiritual experience. The cliffs rise up out of the ground suddenly to dizzying heights and are vivid shades of red, yellow, and white.
The giant California Condors, with a nearly 10 foot wingspan, have made this place their home after a heroic effort by conservationists. Other animals that live among these cliffs include other large birds of prey, bighorn sheep, mountain lions, and mule deer.
Nearby is Marble Canyon (the beginning of the Grand Canyon), the north Rim of the Grand Canyon, Navajo Bridge, and the city of Page, Arizona. This area is also the location of the famous "The Wave", a sweeping sandstone formation that you can only get a permit to hike to by lottery system.
Why You Should Visit?
One of the most scenic and deep slot canyons, Paria Canyon and nearby Buckskin Gulch are both popular through-hikes for canyoneers. The variety of other hikes and activities in the area make this a great destination for the adventurous types. Stay in Page, AZ or Kanab, UT depending on what part of the monument you wish to enjoy.
8. Navajo National Monument
Another well-preserved ruin site, Navajo National Monument features three ancient dwellings: Keet Seel, Betatakin, and Inscription House. Built by the Pueblo people in the 1200's, these three sites are all situated inside huge alcoves, or caves in the cliffside created by wind and rain erosion.
Due to its location on Navajo Nation land, you can only see the dwellings up close through a tour by a local Navajo guide. There is a 1.3 mile loop trail that is self-guided and wheelchair accessible that takes you to an overlook.
The dwellings at Navajo National Monument were most likely abandoned due to extreme drought; the area is already arid and a tough place to live even in decent rain seasons.
Why You Should Visit?
Learning more about Arizona's ancient peoples and discovering the many archeological sites and artifacts can help you appreciate the modern-day posterity of these people. By visiting these historic sites, we can gain more respect for the Navajo lands and their culture. Navajo National Monument is a treasure of Arizona history. This is a more remote national monument, and it is about 1.5 hours from Page; there are also two campsites here that are a first-come, first-serve basis.
9. Horseshoe Bend
Easily one of the most photographed places in Arizona, Horseshoe Bend is located just outside Page, AZ. The parking lot and the trail to the lookout is newly remodeled, making this wheelchair and stroller accessible.
Most people spend less than an hour at this landmark, but the views are iconic. The river makes a nearly 180 degree bend here, giving the canyon a horseshoe-like shape. There is a small section with a fence, so if you're scared of heights, stick to that part of the lookout.
The other areas have no fence at all, and a sheer drop of 1,000 feet can make people feel a little dizzy near the edge. Be especially careful with children at Horseshoe Bend, as the edge is not always obvious!
Why You Should Visit?
Come for the incredible views and especially an unforgettable sunset as the sun sets behind Horseshoe Bend. This is an easy stop during a road trip between Arizona and Utah. Only two miles south of Page and a few miles from Glen Canyon, this is an easily accessible landmark for those staying nearby.
10. Tonto National Monument
This is another one of Arizona's many ancient ruins and dwellings. Located in the Salt River Valley, Tonto National Monument is near water year-round, which was essential to the survival of those that built it.
Similar to Montezuma, these ruins are situated in an alcove on a cliffside. The multiple houses and sites were built by the people of the Salado culture, who were known for their colorful pottery and textiles.
The monument itself is fairly accessible from the road, and a short hike on a paved trail will take you to the lower cliff dwellings. There's also a visitor center that can give you more information on the history of the area.
Why You Should Visit?
Tonto National Monument is less than a 2 hour drive from the East Valley, making this the perfect day trip for those who want to view historical sites and learn about the ancient cultures in Arizona. Seeing these ruins in person can give you a deeper appreciation for the engineering achievements of the people who used to live here.
11. Meteor Crater National Landmark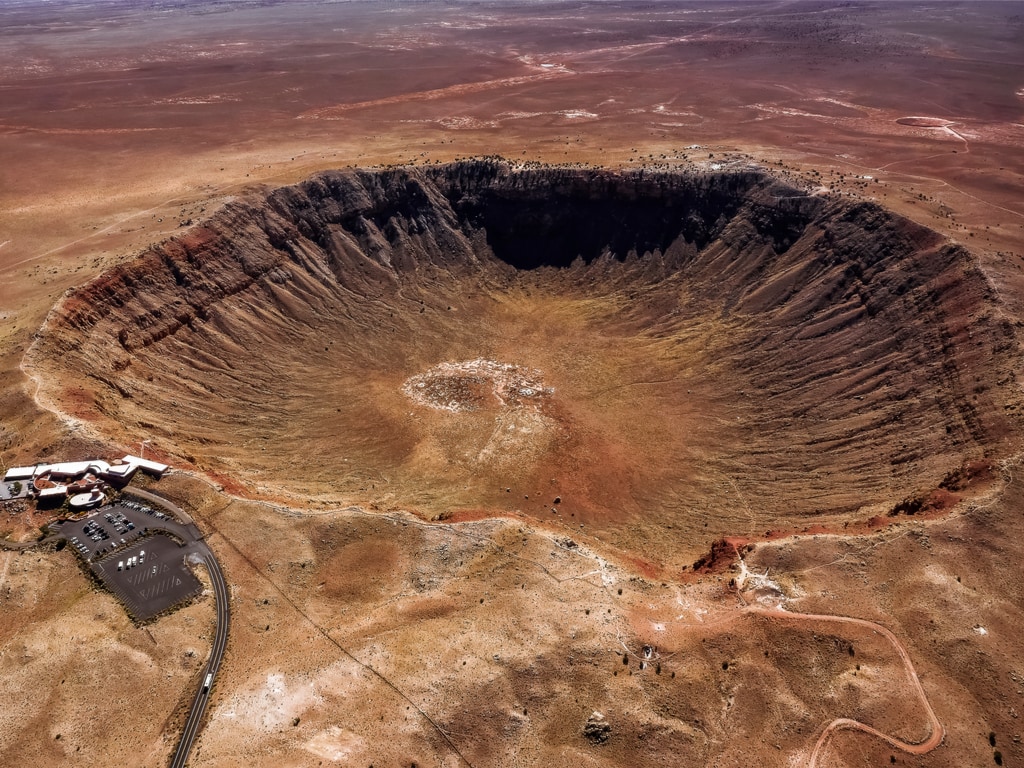 Created by a 150 foot long meteor that slammed into northern Arizona, Meteor Crater is 550 feet deep and over a mile across. Standing on the edge, it is hard to fathom how much of a force was needed to create such a huge hole in the ground.
There is a visitor center on the northern edge of the crater, with an indoor viewing area, outdoor viewing area, and a small dog park for those who have pets. There are also hiking trails that follow the edge of the crater. Inside the visitor center there is also a 4D theater showing a video detailing the collision 50,000 years ago.
I cheated a bit here because the Meteor Crater is not technically a National Park or a monument, but it was designated as a National Natural Landmark in 1967 and is absolutely worth the visit.
I even wrote a dedicated guide about it: Arizona Meteor Crater Guide.
Why You Should Visit?
Large, intact craters like this are rare, so seeing one in person should definitely be on your bucket list. The features at the visitor center are also geared towards kids who have an interest in space. Located near Winslow, AZ and only 45 minutes from Flagstaff, this is another fun short side trip for anyone visiting northern Arizona.
12. Glen Canyon National Recreation Area
Prior to the construction of Glen Canyon Dam, this area was an expansive network of slot canyons that went on for miles. Now, after the dam, the whole canyon is filled by the waters of Lake Powell. Downstream from the dam is Marble Canyon, where rafters start their Grand Canyon rafting adventure on the Colorado River.
Lake Powell is an immensely popular playground for boating enthusiasts. There are miles of side canyons to explore on boat, and several hidden hikes and rock features that take some research or luck to find.
Rainbow Bridge is also located near Glen Canyon Recreational Area, but can only be accessed by boat or by hiking trail with permission from the Navajo Nation. This 290 foot tall natural arch rock formation is sacred to the Navajo people, so please always be respectful when you visit.
Why You Should Visit?
Glen Canyon Recreational Area has adventure for everybody- boating, hiking, camping, kayaking, paddle boarding, river rafting; the possibilities are endless. The proximity to Page with its many hotels makes it easy to turn your visit into a weekend trip.
13. Chiricahua National Monument
Known as the "wonderland of rocks", the prevailing feature of Chiricahua National Monument are the rock towers, some of them rising hundreds of feet into the air. They look fragile, but are surprisingly stable. They are made out of volcanic rhyolite rock from an ancient volcanic eruption, and erosion over the eons has revealed the towers for us to enjoy.
There are also a few springs in the area, providing water for all the visitors. The climate here is fairly mild year round, although just like anywhere else in Arizona, it can get hot in the summer. There's a range of activities available to everyone, including hiking, camping, stargazing, picnicking, and scenic drives.
There's also a local ranch that has been in use for close to a hundred years, called Faraway Ranch. There are guided tours available year-round.
Why You Should Visit?
With one campground (by reservation only), 17 miles of hiking trails, a gorgeous scenic drive, and guided tours at the Faraway Ranch, there is an activity for everyone at this monument. Chiricahua National Monument is also a haven for geology enthusiasts due to its unique rock formations. This is another fairly remote area, and staying in nearby Wilcox is a good option for those who don't wish to camp.
14. Walnut Canyon National Monument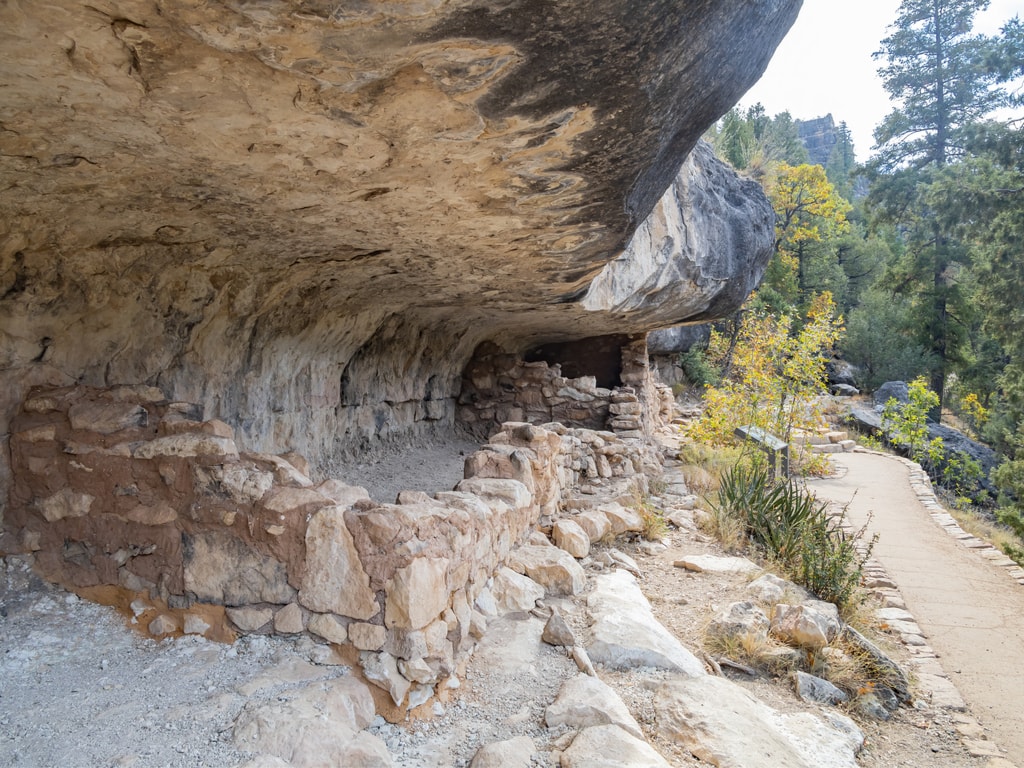 This is one the few national monuments that have ancient ruins that allow you to stroll among the dwellings, essentially walking in the footsteps of those who built them over a thousand years ago.
Walnut Canyon National Monument is only 7.5 miles east of Flagstaff, making it a perfect add-on to your weekend Flagstaff getaway. The Island Trail leads down to the ruins, and takes you right next to about 25 rooms with views of others across the canyon.
Why You Should Visit?
Walnut Canyon National Monument is one of the few ancient dwelling sites that you can walk next to and even touch the walls. The proximity to Flagstaff makes it a convenient stop for travelers who are interested in history and learning more about the people who built them.
15. Wupatki National Monument
This monument area is different from the other ancient dwellings on this list; where those were all built into alcoves or in deep canyons, Wupatki dwellings are all out in the open plains. About 800 years ago, the main pueblo was one of the largest and richest settlements around.
Several different cultures occupied this dwelling place over the years, and it was fully abandoned by the year 1250. Since then, the pueblos have stood sentinel over the Colorado Plateau as a reminder of the people who lived there.
There are 3 short hikes available to the general public that take you to several different archeological sites. There is also a longer, multi-day excursion that is led by a guide, and you can only snag a spot through a lottery system as group sizes are limited. This strenuous hike will take you to Crack-in-Rock Pueblo, a remote area within the monument.
Why You Should Visit?
One of the many ancient dwelling sites in Arizona, Wupatki National Monument is by far the biggest and most expansive. Two of the shorter trails are wheelchair accessible, making this a great option for people of any ability. Seeing these pueblos in person should be on any history buffs list. The Wupatki ruins Visitor Center is less than an hour drive north of Flagstaff, so would make a great day trip from there.
Conclusion
Arizona has a rich history, with many different peoples and cultures passing through over the last two thousand years or more. Some were incredible engineers, building pueblos and dwellings up high in cliff sides that would make the Egyptian pyramid-builders proud.
The three national parks in Arizona offer dozens of adventure and learning opportunities like days-long hikes, river rafting, exploring waterfalls, incredible star gazing, and fantastic geological formations. Spending time in any of the National Parks or National Monuments throughout the state gives you a greater appreciation for Arizona's ancient history, both natural and archeological.
Read next: Most Beautiful Botanical Gardens in Arizona
Explore Arizona
Still wanting to learn more? Dive in our Arizona Travel Guides and discover the best places to visit, interesting things to do, budgeting tips, comfortable accommodation, and everything you need to plan your perfect trip in the state.