Top 10 Most Beautiful Botanical Gardens in Arizona
Botanical gardens can feel like an oasis from the hustle and bustle of the city. When you step among the flowers, plants, and other flora, you can almost feel a hush come over your surroundings. Gardens have historically been a place of peace and quiet, and if that's something you feel like you're missing (who isn't?), visiting a botanical garden should be in your near future.
In Arizona, not every plant can thrive here in the harsh desert environment. With the right mix of soil, location, water features, and sprinkler/watering systems, horticulturists around the state have been able to nurture botanical gardens for everyone to enjoy.
Botanical gardens tend to be grown for display or even for scientific research, and all of them are destinations for those who appreciate greenery, roses, other flowers, trees, and really any kind of plant you can think of. In Arizona, you'll also usually see a variety of cacti that grow locally here and from around the world.
1. Desert Botanical Garden
By far the most popular botanical garden in the state, the Desert Botanical Garden is located close to the Phoenix Zoo and Papago Park. Its central location to Mesa, Tempe, Gilbert, Chandler, Scottsdale, and Phoenix make this garden a convenient place to visit. Different variations of rare and interesting cacti are the focal point of this botanical garden, as well as varieties of flowers, roses, and trees.
One of the best features of this garden is the multitude of benches to rest on and water stations to fill your water bottles, making this an accessible and pleasant way to spend even a warm summer day. Instead of one big loop, the Desert Botanical Garden is split up into several smaller trails so you can customize how long you want to spend here.
The Sonoran Desert Loop features cacti, trees, and other greenery that are commonly found in the deserts of Arizona. There is even a rare crested saguaro; instead of rising to a rounded tip, the top of the saguaro spreads out into a crest formation.
The Maxwell Wildflower Loop trail is best viewed in the spring during the height of the blooming season, and the stunning colors of the wildflowers are sure to boost your spirits. The Plants and People of the Sonoran Desert loop trail serves to educate on the relationship between the ancient people who made Arizona their home and the way they utilized plants and trees to build houses, grow food, and make clothing.
In another small loop, you can see a huge variety of herbs and edible plants that are grown and displayed here. The Butterfly Pavillion is open twice a year, and visitors can walk among the thousands of butterflies as they flit around your heads in search of pollen and a mate!
The Desert Botanical Garden is one of the top-rated in Arizona, and for good reason; the variety of desert plants and cactus here keeps your interest from the minute you walk through the gates. The pleasant atmosphere and proximity to most of the cities in the East Valley make a visit here a must-do for all garden enthusiasts.
2. Fountain Hills Desert Botanical Garden
The Fountain Hills Botanical Garden isn't as large or impressive as the previous garden on this list, but it is still worth the walk around if you are already in the area. Sandwiched between two neighborhoods, this small plot of land has been set aside for the enjoyment of all who visit or live in this retirement town.
The half-mile loop wraps around this small park, and placards help to educate visitors on the different kinds of local flora. Cactus of all varieties, desert-dwelling trees, and shrubbery are all found here.
While this garden is small, it's most often described as quiet and peaceful, making this a great stop for those looking for a little escape from the usual busyness of life. There is a limited amount of parking, but the Fountain Hills Desert Botanical Garden is rarely busy, so you might just have it to yourself.
3. Queen Creek Botanical Garden
The star of this garden is the old Dutch Mill, an original building that was deconstructed and imported from Europe, then reconstructed here in the brand new Queen Creek Botanical Garden! It is the only operational industrial-age watermill in the American Southwest and you can watch up close as it grinds grains and cracks pecans.
This botanical garden only opened recently in 2020 and is still growing today. What started as a health journey by one of the founders, Lonnie McCleve, has now turned into a venture into Agriscaping, or using all edible plants as landscaping. Queen Creek Botanical Garden is currently home to many kinds of fruit trees and plants, vegetable plants, and more.
Since it is still new, the garden is still establishing its full potential, but the ultimate goal is to educate visitors on sustainable food production by utilizing landscaping. By spring of 2022, Queen Creek Botanical Garden hopes to have its fruit orchard up and running. As of right now, you can pick and eat other fruits, vegetables, herbs, and edible flowers that are in season.
The demonstration garden is especially exciting to those who want to learn how to start their own agriscaping venture in their own yards. Horticulturists are available to answer your questions and teach you about different soils and gardening techniques.
Children are especially welcome here, and there are activities and hands-on exhibits to help them learn about gardening, horticulture, and healthy, sustainable living. Along with the edible gardens, there are water features scattered throughout the 10-acre plot and even a pond that is open to catch-and-release fishing some mornings.
The Queen Creek Botanical Garden is one of a kind and is an exciting addition to the southeast Valley. As it continues to grow and expand, I do not doubt that this will be one of the premier gardens in all of Phoenix metro!
4. Boyce Thompson Arboretum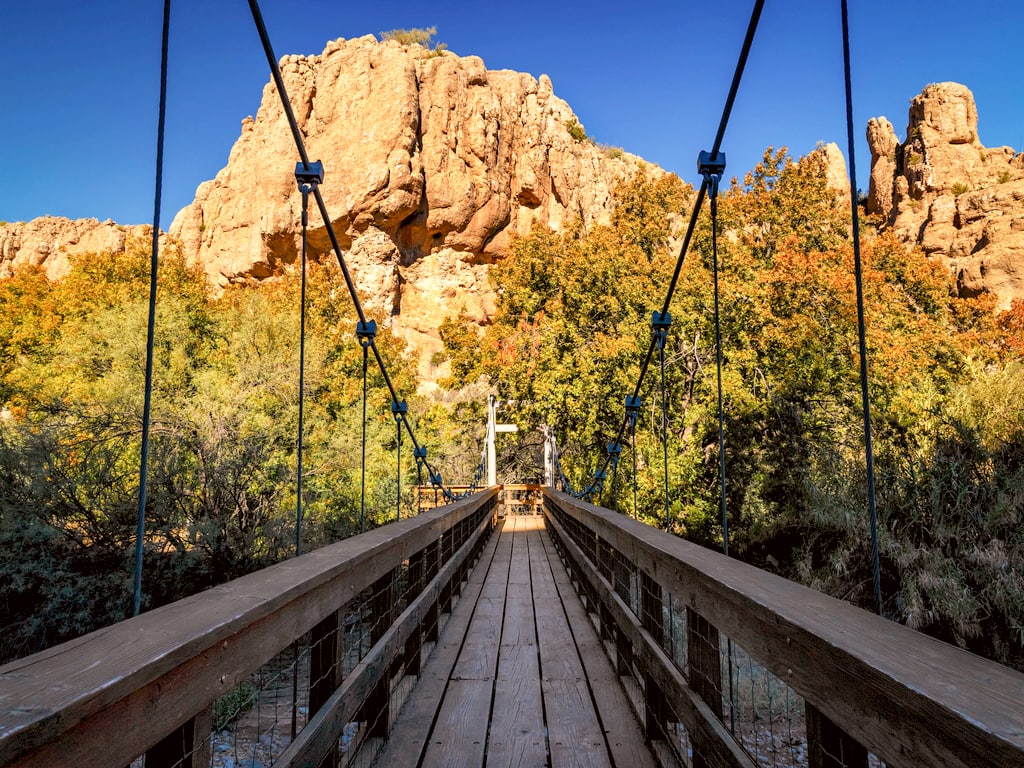 Located in the shadow of square-topped Picketpost Mountain and near the small mining town of Superior, Boyce Thompson Arboretum is a local favorite. The beautiful cultivated plants, trees, and cacti are nestled among native Sonoran Desert plants.
The Arboretum is open year-round and is especially pleasant in the autumn months when the cottonwood trees turn brilliant shades of yellow and orange. In spring, the cacti bring forth their blooms, while the huge variety of desert wildflowers are stunning and colorful. Summer, although hot, is still a great time to visit and walk among the flora.
Boyce Thompson Arboretum is huge- it covers 343 acres of land, with almost 5 miles of trails winding throughout. If you're looking for variety, you'll find it here- Boyce Thompson showcases almost 4,000 different species of plants.
This botanical garden is Arizona's first and oldest botanical garden and holds collections of desert plants, trees, and cacti from around the world. You can take guided tours throughout the botanical garden, where knowledgeable guides can teach you about every plant here.
Boyce Thompson Arboretum also serves as a nursery, and they hold sales every few months. You could get yourself a piece of the desert for your home or yard to remind you of the beauty found here.
5. The Japanese Friendship Garden of Phoenix
Japanese friendship gardens are usually found in big cities around the country, and Phoenix is no exception. This garden is named RoHoEn, and although it may be small, the peacefulness and quiet that you can find here are welcome in the middle of the city.
It's just big enough for a stroll, but there are benches to sit on and reflect, a koi pond with large koi fish imported from Japan, water features, and a tea house. All of the design, features, stonework, and construction are all donated generously by the people of the City of Himeji in Japan as a token of friendship.
Tranquility is hard to find amid Phoenix, but RoHoEn has made a peaceful environment that is easily accessible. The tradition of creating relaxation-inducing landscapes is centuries-old, and this garden does that extremely well. Try to refrain from loud laughter or talking while you meander through the garden, so as not to disrupt other people.
There are events throughout the year that allow you to immerse yourself in Japanese culture, including meditation classes, full moon viewing in the garden, martial arts demonstrations, flower art, and learning how to freshly grind matcha using a stone miller.
6. Glendale Xeriscape Garden
The Glendale Xeriscape Garden is located next to the Glendale Public Library, and the most exciting feature of this botanical garden is the live peacocks that wander freely here. Xeriscape landscaping is utilizing local plants and cacti instead of lawns and grass, and especially using plants that don't require a lot of water to thrive.
This botanical garden showcases local Sonoran cacti, mesquite trees, and wildflowers during the blooming season. The library nearby has a rainwater collecting feature that then funnels the water underground towards the garden.
This xeriscape garden serves primarily as means for educating visitors on how to create their own xeri-landscaping at home, and there are placards located throughout the garden showing you how to conserve water and create a lovely desert landscape of your own.
This is a great addition to the library nearby and adds on even more educational opportunities for families.
7. Arizona Botanical Gardens and Cactus Shop
This is less of a botanical garden and more of a nursery with a huge variety of cacti for sale. They've been in business for over 30 years, and have experience in hundreds of different species of cactus.
The setup at Arizona Botanical Gardens and Cactus Shop is aesthetically pleasing, with well-organized displays and rows of all kinds of sizes, colors, and varieties of cactus. The best time to visit is in early summer when most of the cacti have their brilliant blooms on full display.
There aren't many botanical gardens outside of Phoenix metro, so I made sure to add this family-owned nursery to the list in case you find yourself on a road trip soon. Their knowledge and expertise in the field of xeriscaping and cacti make it worth a visit, even if you aren't in the market for a new cactus.
8. Tucson Botanical Garden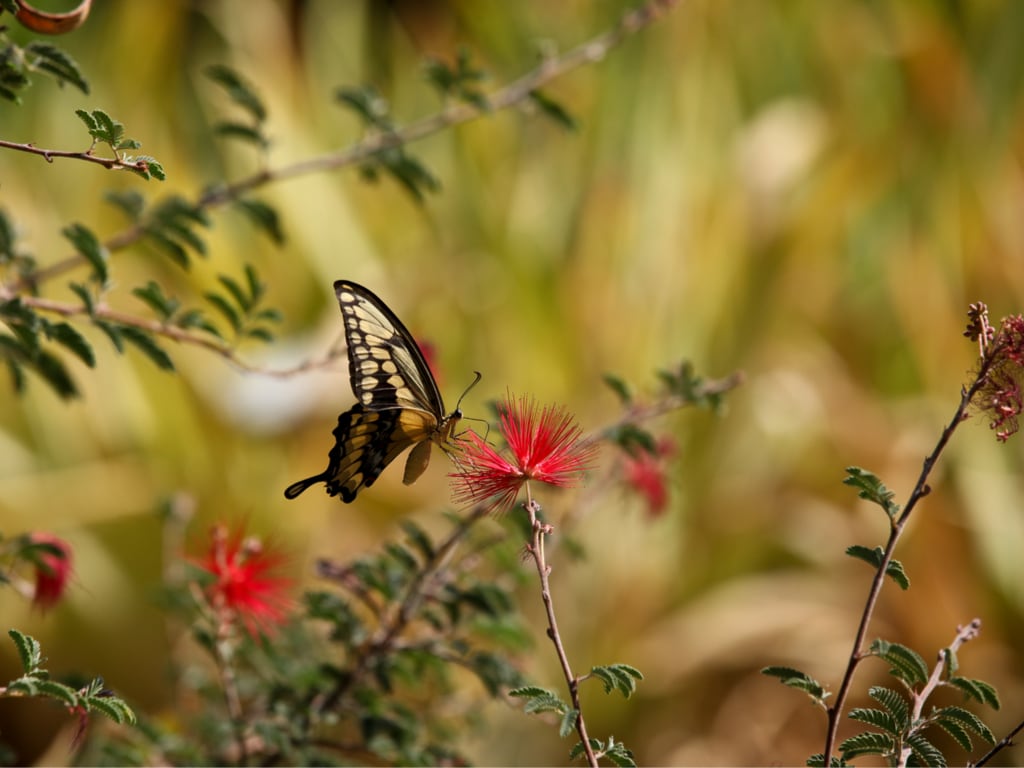 This isn't your usual botanical garden; there are also art displays and exhibits, community events, and more. The Tucson Botanical Garden was founded in 1964 by Harrison G. Yocum, a local horticulturist and collector of rare plants. He started the garden in his front yard and eventually started charging admission. His botanical garden changed locations a few times before finally settling into a space in the middle of Tucson.
Take a garden tour while you're here, as experts walk with your group throughout the Tucson Botanical Garden and educate you about the huge variety of plants they have on display. Or reserve a spot in the edible trees tour that is offered through the fall months, to get ideas for your own orchard at home.
The gift shop at the Tucson Botanical Gardens offers unique gifts, plants, and specialty items from local artisans and small businesses. After you enjoy the 5.5 acres of the botanical garden, consider stopping into the Butterfly Magic exhibit (during the months of Oct-May) for some extra magic and to see more beautiful blooms.
The Tucson Botanical Garden is charming and unique as far as botanical gardens go, with creative displays that include old cars and beautiful fountains, and other features. Finish your visit with lunch at Edna's Cafe for a perfect morning.
9. Carefree Desert Gardens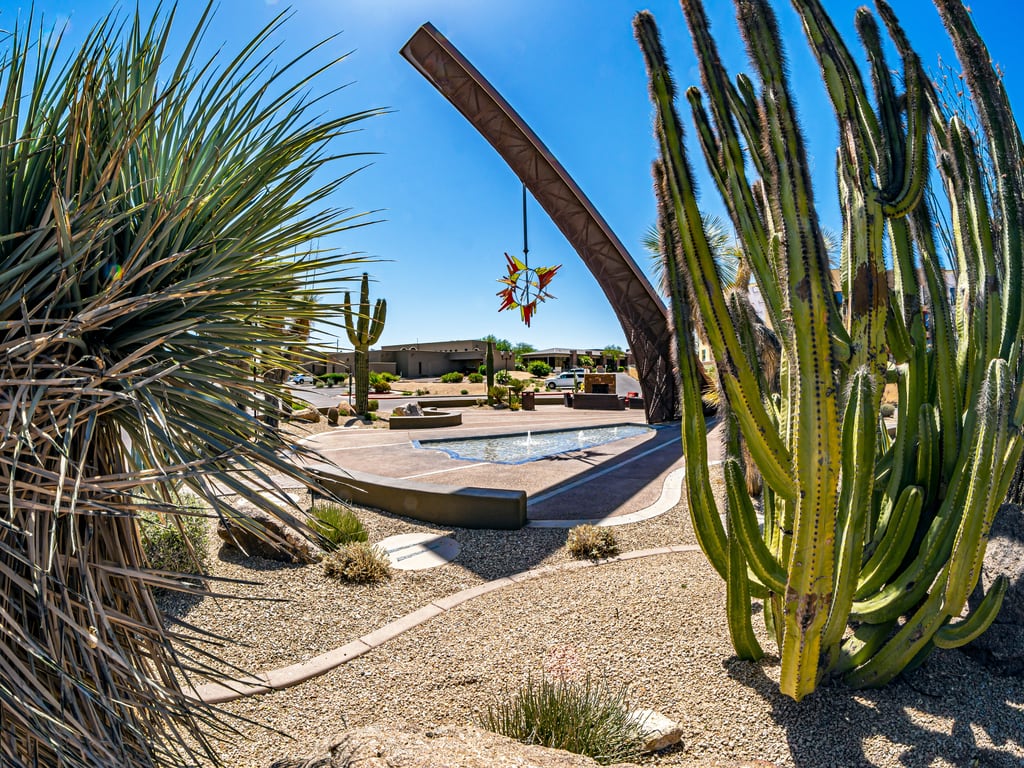 Situated on four lovely acres near downtown Carefree north of Phoenix, this botanical garden is surrounded by fun shops and also contains a children's playground and splash pad. A huge sundial, the largest in the United States at 72 feet long, is also a defining feature of the gardens.
There is a stage in the middle of the Carefree Desert Gardens for local musicians to show off their talents with weekend shows. The kid's playground and splash pad ensure that family members of all ages can enjoy the gardens.
The botanical garden consists of all native Sonoran plants and features towering saguaros, prickly pear, cholla (also called jumping cactus), barrel cacti, and many other thorny plants. The mesquite and palo verde trees help to create a calm atmosphere and be sure to take a rest on one of the benches to enjoy the tranquility.
Carefree is a small town just north of Phoenix with hometown vibes. The downtown scene is lively, and the location of the Carefree Desert Gardens along pedestrian-friendly Easy Street makes this an easy detour for those enjoying downtown Carefree.
10. The Rose Garden at MCC
The Rose Garden at Mesa Community College is an impressive collection of over 9,000 rose bushes. MCC has recently expanded the gardens, and the beautiful colored flowers are cultivated by the Mesa-East Valley Rose Society. The garden is a collaboration between the society and the college and has been a welcome addition to Mesa since its inception in 1997.
The Rose Garden has the distinction of being the largest rose garden in the southwest states and has over 300 different varieties. The roses are best viewed in the spring and fall when the roses are at their fullest bloom and the colors most vivid.
You can do your own self-guided tour, or join a guided tour that winds throughout the roses, where expert rose-tenders can teach you about growing and tending to the beautiful flowers. The Rose Garden is open to the public for free and is available 24/7 for those who need a respite from the craziness of the world.
Conclusion
Arizona may be dry, hot, and seemingly inhospitable to all plants for most of the year, but there are a surprisingly incredible variety of plants that not just grow, but thrive here! Horticulturists have spent countless hours under the desert sun to cultivate beautiful botanical gardens for us to enjoy.
Species of cacti, trees, grasses, wildflowers, bushes, and other flora make the Sonoran Desert their home. Most of these plants thrive in low-water environments and grow well wherever they are planted. Visiting any of Arizona's botanical gardens is sure to give you some quiet time for introspection, or help you to learn more about the plants that grow in Arizona.
Put on your walking shoes, grab your camera, and enjoy the tranquility that can be found within Arizona's botanical gardens.
Related articles:
Explore Arizona
Still wanting to learn more? Dive in our Arizona Travel Guides and discover the best places to visit, interesting things to do, budgeting tips, comfortable accommodation, and everything you need to plan your perfect trip in the state.