26 Best Places to Visit in Tbilisi
For the past few months, Tbilisi has been my brand-new home.
And as an unsurprising consequence of being here, I've spent lots of time exploring Georgia's capital city. So in this guide, I've brought you all my favorite places to hang around… with a big juicy list of the 26 best places to visit in Tbilisi.
Included in this mish-mash mixture, we have history, heritage, ancient sites, cafes, clubbing, outdoor adventures, oddities, antiques, and your very own face painted on a coffee cup. Come join the fun!
Are you planning your trip to Tbilisi?
If you're traveling to Tbilisi, you want to make sure you have accommodation and tours booked ahead of time! Check out our top-rated tours and hotels to help you plan! (Click the links for photos and details)
🚕 Book your private transfer from Tbilisi airport to your hotel
🇬🇪 Top Tours & Activities in Tbilisi
🛏️ Best Hotels in Tbilisi
🚗 Looking for the best way to rent a car in Tbilisi? Click here to check rental car rates for Tbilisi!
1. Fabrika
Probably the most famous venue in the whole of Tbilisi, Fabrika is a whole load of different things all crammed into one area.
A graffiti-covered hipster haven, Fabrika is mainly a hostel and a cafe. But it's attached to a courtyard… and surrounding that courtyard, you have lots of cool and quirky eateries, bars, cafes, hangout spots, and more.
If you like nightlife, socializing, and exploring kooky venues, you'll love the place. No matter what time you visit, it's always busy… and you'll always find something to do, and someone to do it with.
Most people hanging around Fabrika are pretty happy to make friends, so it's an especially good place to visit if you're traveling solo.
From around 10 am until 8 pm, you'll find Fabrika people eating, slurping coffee, and working on their laptops.
But after 8 pm, the place transforms into one of the city's hippest and hottest nightlife spots. If you're on the hunt for interesting venues, this is one of the best places to visit in Tbilisi—you can't visit the city without spending a few hours here.
To discover more interesting places and hidden gems in Tbilisi you can take this great tour that includes Fabrika in its itinerary.
2. Bassiani
Next up, is another nightlife spot… and one of the best, biggest, and most interesting techno clubs on the entire planet.
I totally understand that this sort of thing isn't for everyone… but Tbilisi's techno scene is intrinsically tied to concepts of freedom, cultural revolution, and self-expression. So a night in Bassiani doesn't just feel like a standard party—instead, it feels like you're participating in some sort of important and unmissable cultural shift.
So even if nightclubs aren't usually what you're into, I still recommend spending a night in Bassiani. Dark and dingy but alluring and enigmatic, the place is located underneath a sports stadium, in the murky depths of an old swimming pool.
People genuinely come from all over the world to attend parties at this place. Usually, the events start at midnight, but don't get busy until around 3am—and the dancing often keeps going until late morning or early afternoon.
3. Orbeliani Baths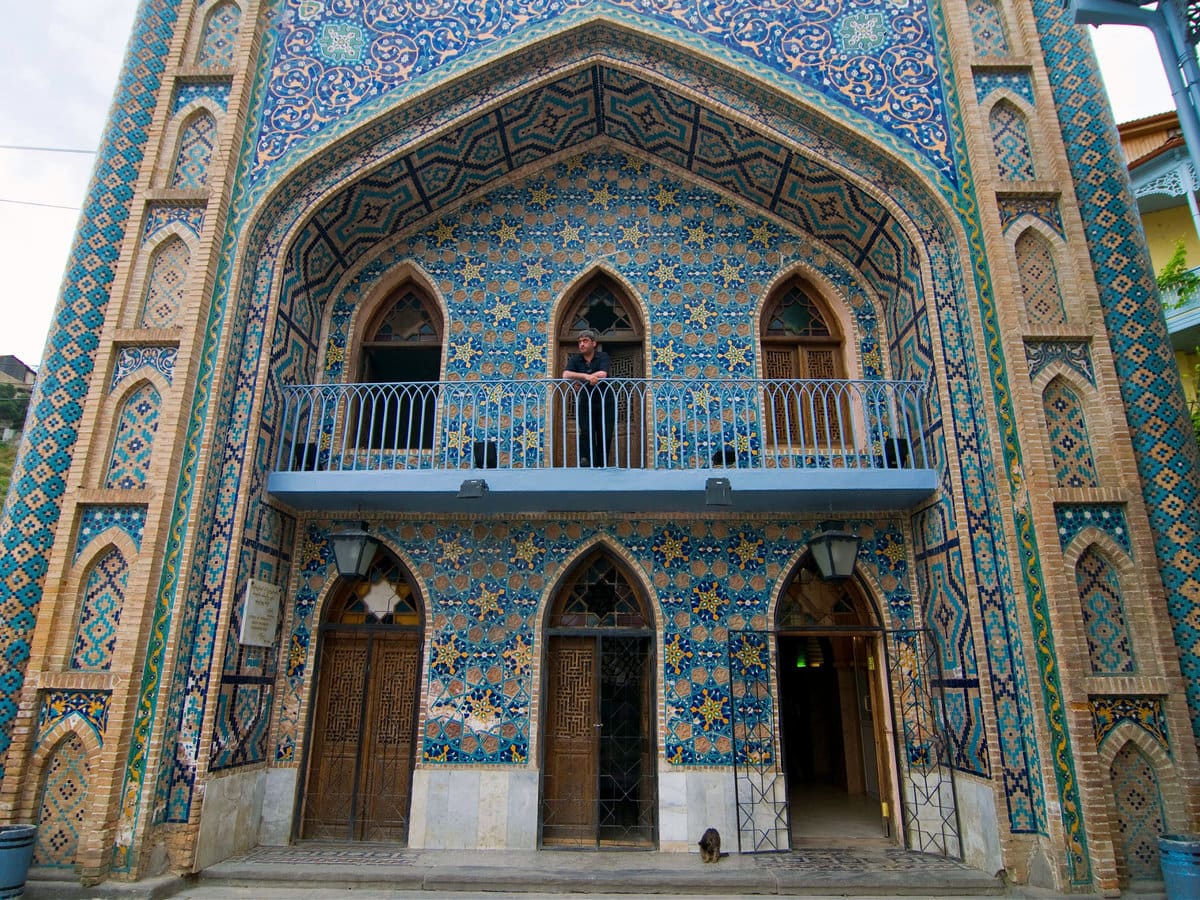 Okay, now onto something a little more relaxing. After all the late-night partying, you'll probably want to spend some time chilling.
And Tbilisi's sulfur baths are the perfect solution. The city is full of various baths (many of them centered in and around Abanotubani, a small part of the Old Town), but the most famous is Orbeliani (also known as Chreli-Abano).
Yes, it's pricey and touristy, but let's face it… you're a tourist.
Inside, you get massages, exfoliations, English-speaking staff, excellent service, and some surprisingly high-end touches. They only have private rooms, and you always need to book in advance.
If you want something a bit more authentic (and with more locals than tourists), there are lots of options nearby, so just wander around the little baths district and see whichever you find most appealing.
But for the best local (and public) experience, the #1 option I know of is No.5 Sulfur Bathhouse. It doesn't have a website, which I think tells you all you need to know about the place.
4. Leghvtakhevi Waterfall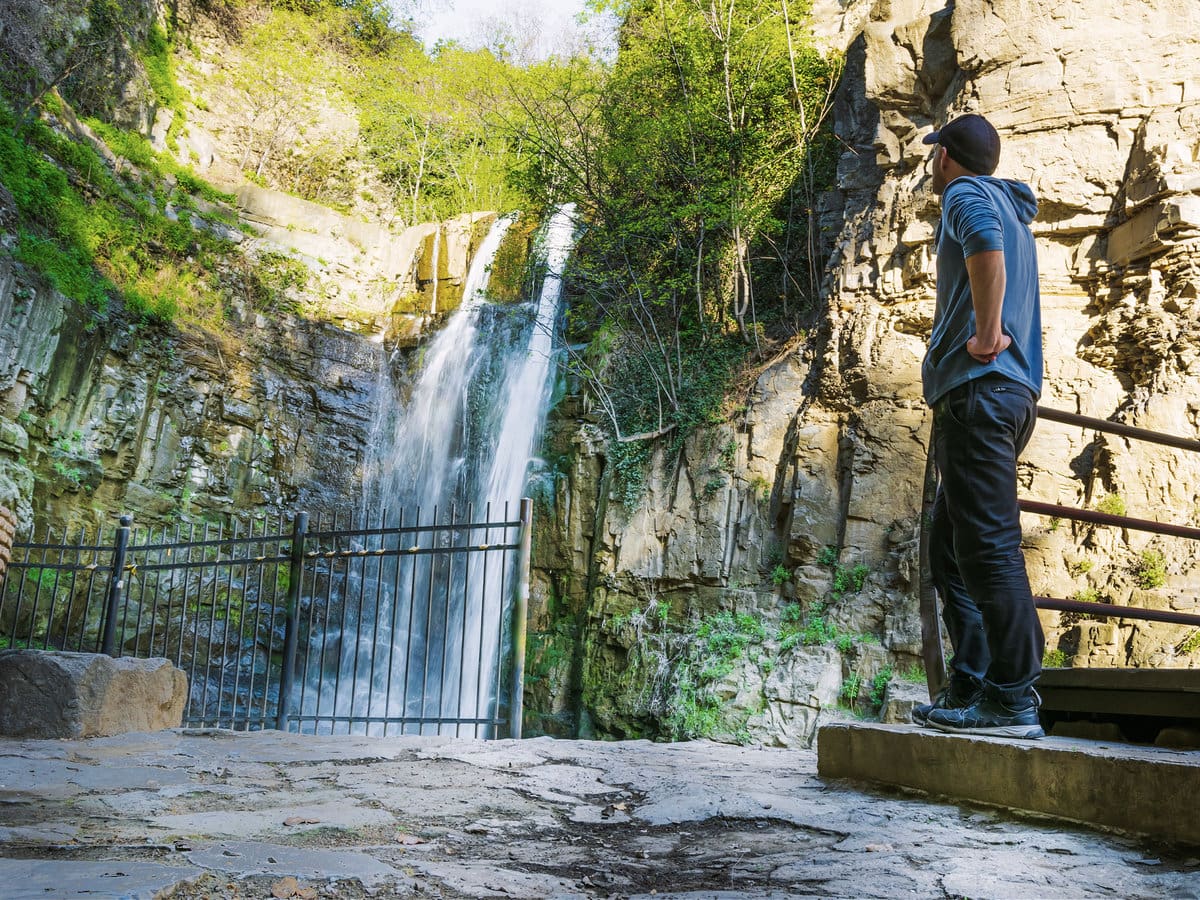 Just beyond the baths district described above, there's a pretty waterfall.
I don't think I'd ever seen a city-center waterfall until I saw this one, and its tucked-away location is an interesting little surprise.
Wander beyond the dome-lidded baths and their eggy smell, and you find a narrow path that runs along a thin strip of a river. Follow the river for around 5 minutes, and you'll eventually see Leghvtakhevi Waterfall.
Measuring in at 22 meters (72 feet), it's not massive, but it's still pretty impressive.
5. Mtatsminda Park
In and around Tbilisi, there are lots of great green spaces where you can have some excellent outdoor adventures.
The most famous of them all is Mtatsminda Park, which looms over the city and dominates its skyline. Home to a ferris wheel, a small theme park, lots of nice walks, and some great places to eat and drink, it's a popular retreat for families.
Of all Tbilisi's outdoor areas, it's the most accessible, touristy and urbanized. So if you're into remote escapes with a few other people, you might not like it.
That said, the walk up to the park from the Old Town is pretty, the views from the top are great, and there are some relatively nice trails leading from the park to various other places (including Turtle Lake and Mother Georgia, but more on them later).
On your way up to Mtatsminda, make sure you stop at the Pantheon, a cemetery with lots of famous Georgians.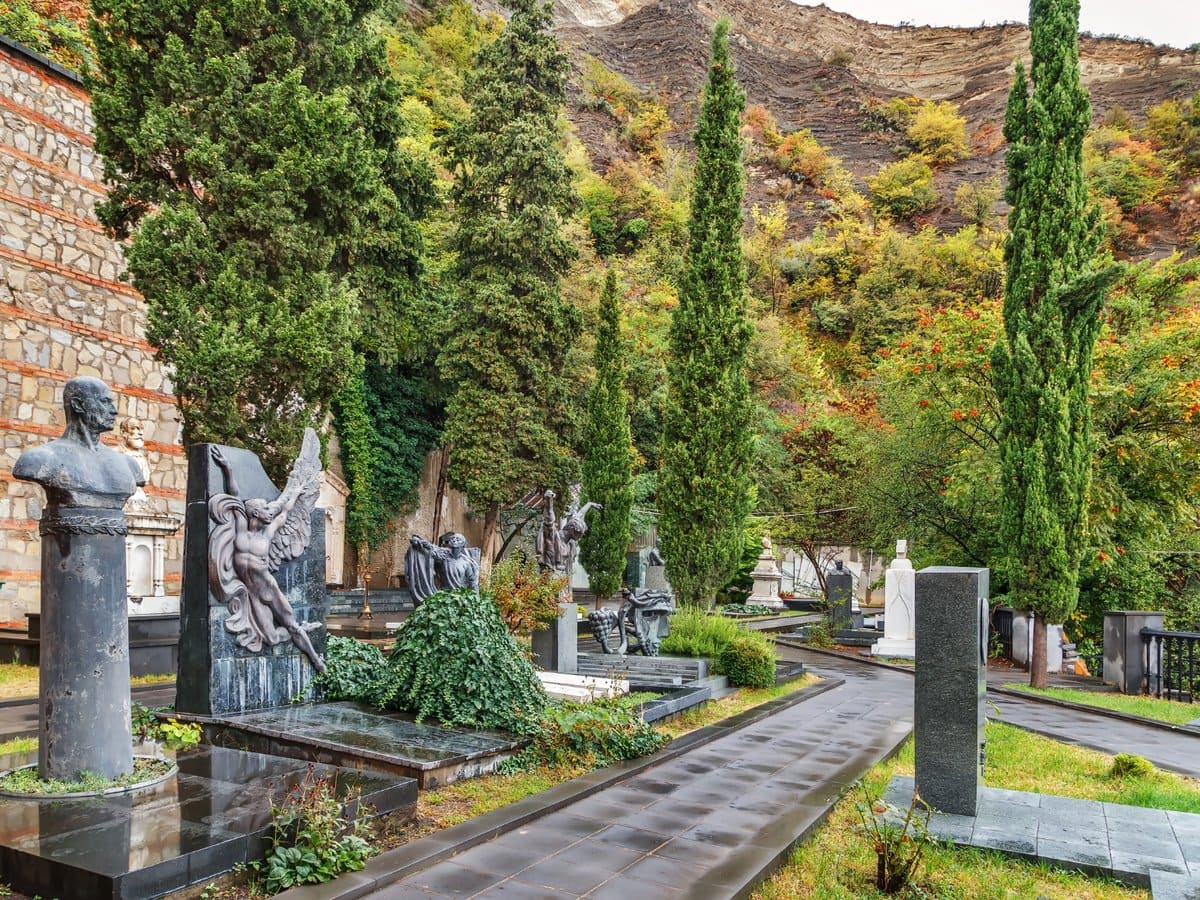 When you get to the top of the park, go to the Funicular Restaurant for the best hot chocolate you've ever had. And then if you want an even bigger walk, you can follow the trail that leads from Mtatsminda Park all the way to Narikala Fortress.
6. Turtle Lake
A little more interesting and adventurous than Mtatsminda, Turtle Lake is a decent compromise between adventurous and accessible.
At the shores of the lake, there are some restaurants and cafes with great views and good food and drink. My favorite is Buri BBQ—they do excellent and affordable BBQ-style food, along with great live music nights.
Along the shores of Turtle Lake, you also get playgrounds, ice cream stalls, boat hire, swimming spots, sunbathing areas, and even a zipline.
Then heading away from the lake, there are lots of pretty good hiking trails, taking you to Mtatsminda Park, endless viewpoints, the center of the city, and lots of other places.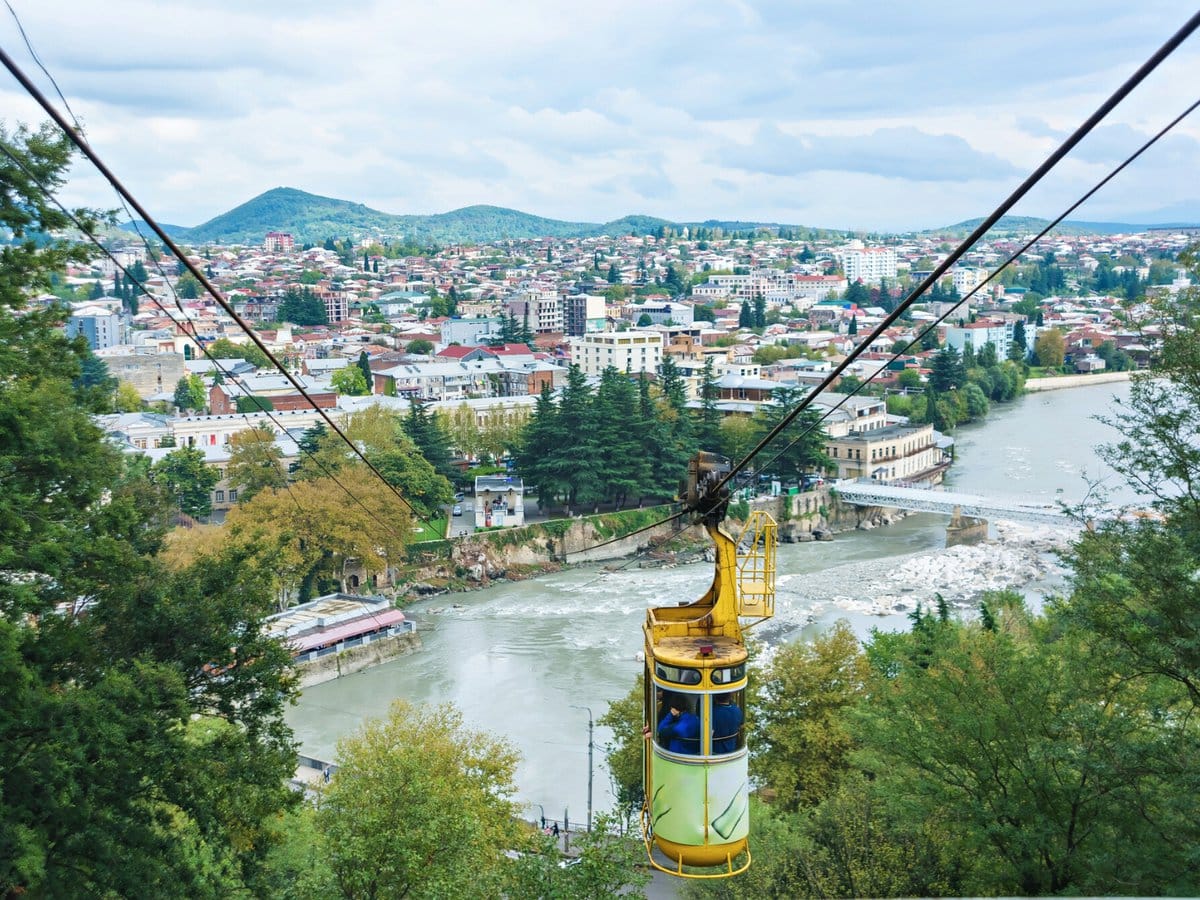 When you visit Turtle Lake, you should ride the cable car down (or up, or both). Retro and rugged, these cable cars are like old tin cans. If you're scared of heights, a ride in one of these cars will probably be your worst nightmare—but if you like a little adventure, it's a fun ride.
7. Lisi Lake
Of all the well-known outdoor adventures close to the center of Tbilisi, Lisi Lake is the most pretty, interesting and adventurous.
For a basic slice of fun, you can walk, run or cycle around the perimeter of the lake (which measures around 2 miles/3.2km). You get pretty views and an easy loop.
But if you want to do something a little more interesting, head along to the hills and ridges just west of the lake—from here, you can have some surprisingly remote adventures.
My favorite is to hit the higher of the two ridges that run west of the lake. Follow that ridge until you see a crucifix, and you'll enjoy some incredible views of the lake, the city, and much further afield.
Best of all, Lisi Lake is also home to one of the most wholesome and lovely places you've probably ever seen in your life. Which brings us to…
8. Dog Organization Georgia (D.O.G.)
I can't describe how much I love this place. If you like dogs, it's 100% one of the best places to visit in Tbilisi, and I recommend it to basically everyone.
Right in the middle of nowhere, D.O.G. is a dog shelter which takes care of some of Tbilisi's less-fortunate canine critters. Some of the shelter's furry residents are found, and some are handed in by people who can no longer take care of them… but they're all adorable and friendly.
But here's the best part: anyone can visit the shelter, and take the dogs for walks.
If you want to make friends with some cute canines, you'll fall in love with it, and you'll want to spend every day of your life here. Honestly, if I had more time, I would volunteer at the place.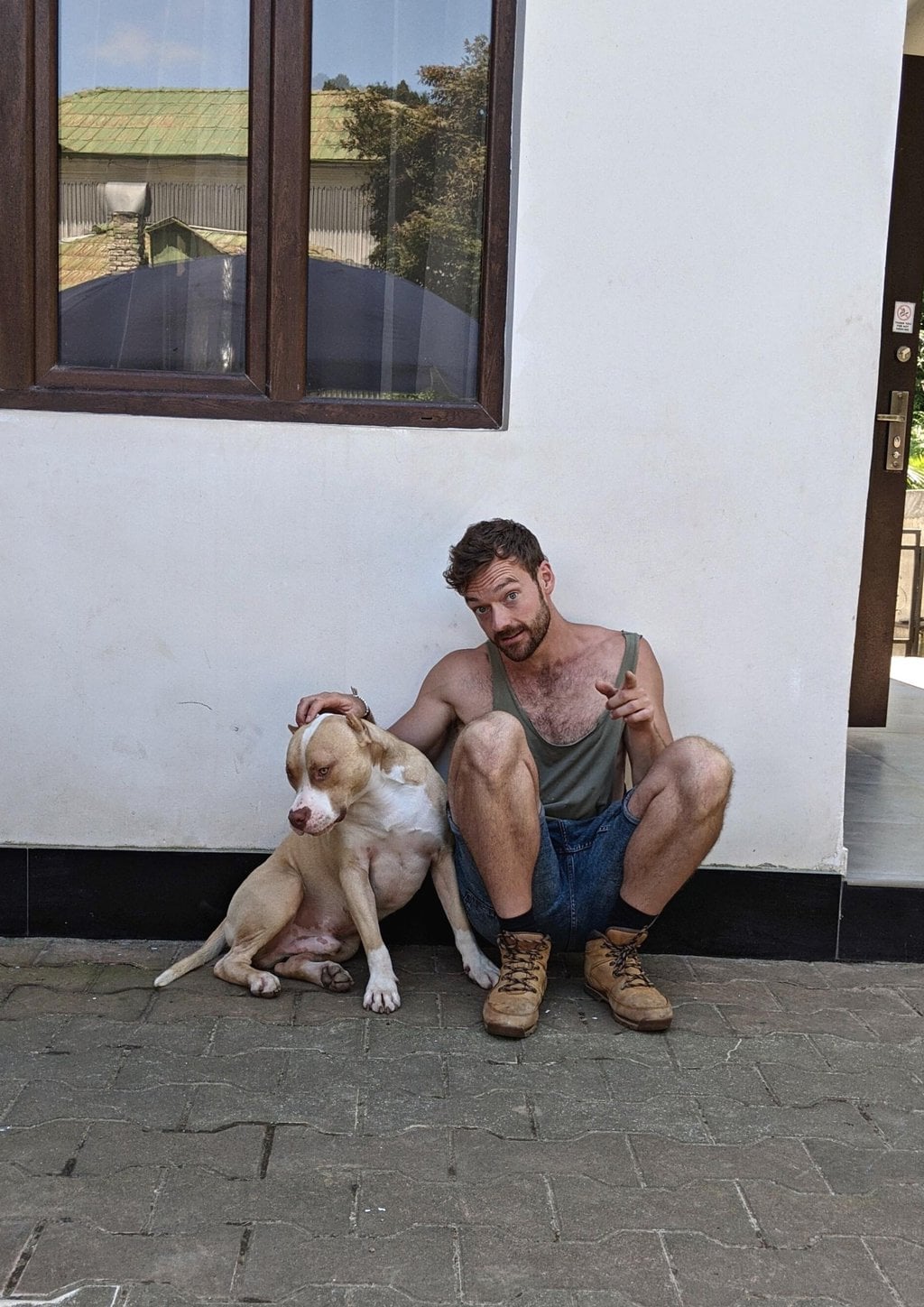 It can be a little difficult to find. But to get there, you want to follow the main road south of the lake. Take the first right after you pass the lake, then follow the dirt trail. When you hear the dogs barking, just follow the noise.
If you come here in warmer months, only take the dogs for short walks. They (understandably) can't handle the intense heat of Tbilisi's summers.
9. The Dry Bridge Market
If you're into antiques, oddities and collectibles (or just weird experiences), I promise you'll love the Dry Bridge Market.
One of the strangest markets I've ever seen, you'll find a ridiculous variety of bizarre stuff here. I'm not usually interested in all this type of stuff, and even I love it—I honestly don't think I've ever seen another place like this.
You do of course get some pretty normal stuff, such as paintings, antiques, vases, cutlery, crockery, books, postcards, posters, records and DVDs.
But beyond the everyday items, expect to find stuff as strange and varied as swords, old currencies (with communist symbols on them), wartime medals, drinking horns, ancient instruments, retro kids' toys, taxidermy animals, and a whole load of stuff you won't even recognize or understand.
Old-school and no-frills, most of the items are displayed on crumbling wooden tables with few frills and little flair. It's like shopping in Soviet times.
10. Tbilisi Sea
Northeast of Tbilisi's city center, you have Tbilisi Sea (which is actually a giant reservoir, and not part of a sea at all, but let's not fret over the details).
The biggest body of water near the city (and one of the biggest in the entire nation), there are plenty of things you can do here, and you can easily spend the entire day having endless fun.
On and around the reservoir, there are lots of bars where you can eat, drink, sunbathe, and lazily lounge around. The most popular is Tbilisi Sea Club, which has a pool, sun loungers, and a varied menu of meals and drinks.
But if you prefer something a little more relaxing (and affordable), you can just find some quieter stretches of sand at Temka Beach.
If you're traveling with kids, check out Gino's Paradise, a pretty good water park with rides, eateries, a lazy river, and even spa treatments.
11. The Chronicle of Georgia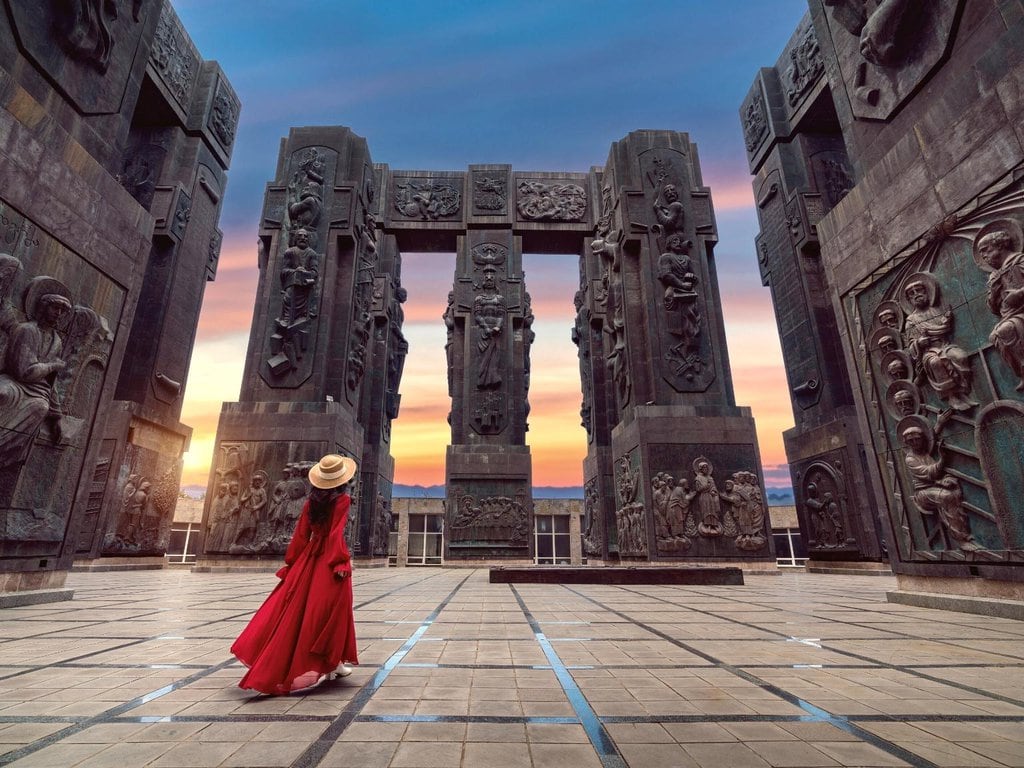 Right beside Tbilisi Sea, you have the Chronicle of Georgia.
A massive monument sitting high over the water, this place is really striking, interesting and unusual.
Built in 1985, it was never actually completed (that's Tbilisi for you), but its sculptures and carvings represent the history of Georgia and its people (along with some pictures of Jesus and other religious boys and girls).
Standing at 30 meters tall (that's 98 feet), it dwarves its visitors, and it's worth checking out solely for its size. And because it sits high on a plateau, it offers great views of Tbilisi Sea and the surrounding area.
Visiting at night is also pretty cool, when it's all illuminated.
12. Dedaena Park
For reasons I can't quite even work out for myself, I love Dedaena Park so much. It's nothing massive, and it's nothing special, but I think it's definitely the best city-center park in Tbilisi.
Popular with couples, kids, families, and groups of friends, it sort of has a bit of everything. Home to skateparks, seating areas, fountains, small bars and occasional food markets, it's a lovely place to spend a lazy Saturday or Sunday.
Take some food, a speaker and some friends, and enjoy lounging around in the sun. You'll meet friendly faces, hospitable locals, and lots of the city's ever-charming stray dogs.
Inside Dedaena Park, you also have Dedaena Bar. During the day, they serve casual drinks and food. But at night, it becomes one of the best nightlife spots in the city—pretty small and intimate, the venue can probably cram around 300 people into its tiny confines. But all of them dance until dawn.
13. Kvarts Coffee
Alright, here's one of the strangest entries on our list. If you like unique and unusual stuff, it's one of the best places to visit in Tbilisi.
Kvarts Coffee, from the outside, looks like a pretty small and standard coffee shop… and when you step inside, it also looks pretty normal.
But here's the twist: whenever you visit, there's always an on-site artist inside of Kvarts Coffee. And that artist has only one job: to scribble your face onto your coffee cup. So you order your coffee, you wait ten minutes, and then you slurp from a bespoke cup that looks just like you.
The coffee is tasty, the staff are super friendly, and the drinks menu is quite diverse for such a small place. They only have around 4 tables inside, so don't expect to hang around for too long.
14. The Ethnography Museum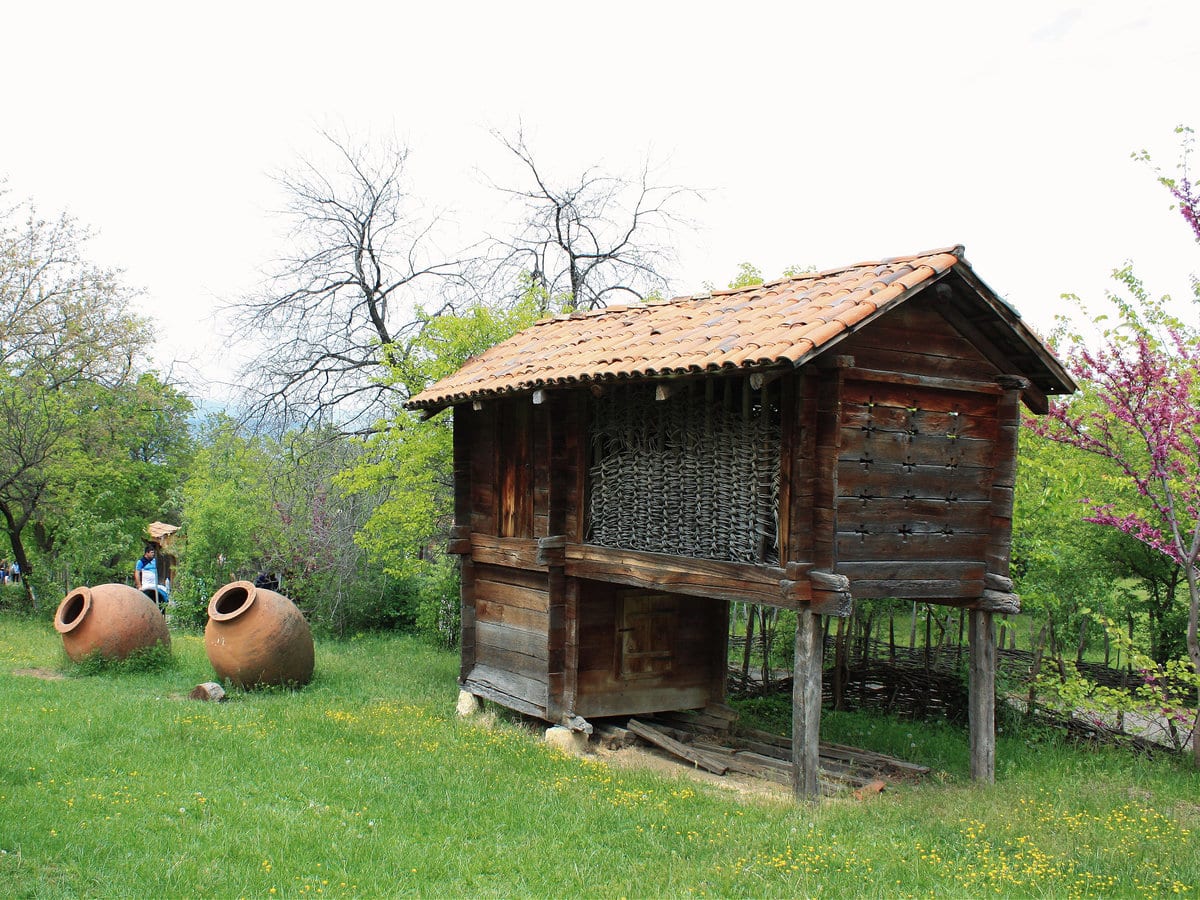 I'm not even remotely interested in museums. But of all of museums in Tbilisi, this is the most interesting.
An outdoor extravaganza featuring lots of old-style buildings and costume characters, the Open Air Ethnography Museum offers traditional dance, traditional sculptures, and insights into the way-back people and life of Tbilisi. With different buildings from different parts of Georgia, it's an interesting insight into different periods.
Inside each building, you'll find a guide—and each one usually speaks Georgian, Russian, and English.
Because the Ethnography Museum is on the way up to Turtle Lake, you can combine the two attractions into one bumper day of fun.
15. Narikala Fortress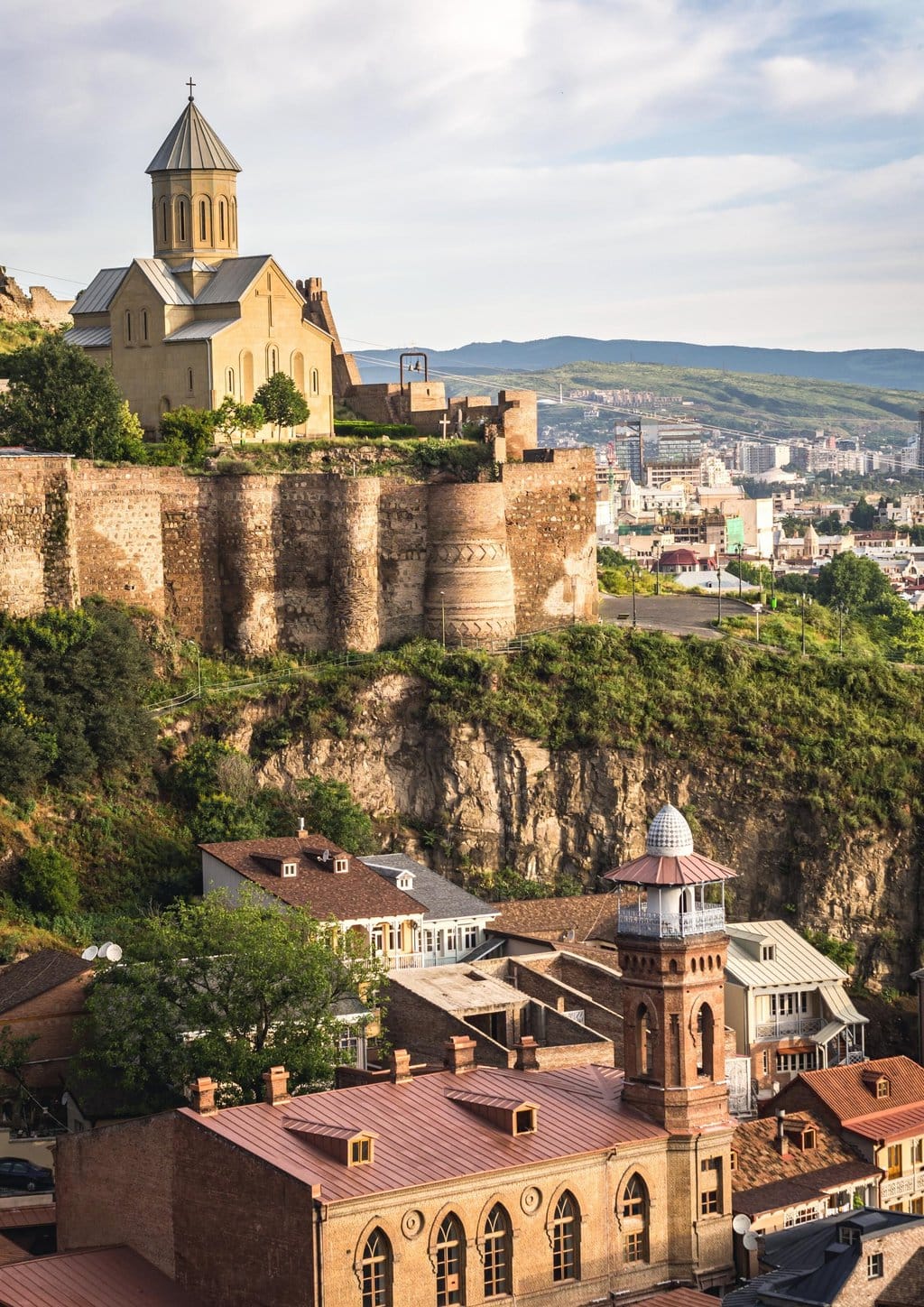 Perched right over the city, and dominating the skyline of the Old Town, it's Narikala Fortress.
With a history dating back to the 4th century, it's changed hands countless times. Most recently renovated in 1996, it's still a ruinous relic, but some parts are reasonably well-preserved.
Clambering around here is lots of fun—and it's a surprisingly big place. You get great views of the city, along with some places to buy snacks and souvenirs. At the top, there's a cable car running from the fortress to Rike Park (which is also a relatively decent place for a little wander).
If you want the same views but with a seat (and tasty food and drinks), check out 144 Stairs, a cafe just underneath the main part of the fortress.
16. Mother Georgia
Just a 5-minute walk away from the top of Narikala Fortress, it's big beautiful Mother Georgia.
Standing right over the city, this impressive woman represents the personality of Georgia and its people. In one hand, she clutches some drink, to welcome her friends, guests and visitors. In her other hand, she holds a sword, to fend off her enemies and invaders.
The views of her from below are great, as are the views of the city from the platform on which she stands. Measuring in at an impressive 20 meters (65.5 feet), she's been standing proudly over the city since 1958.
17. Tabor Monastery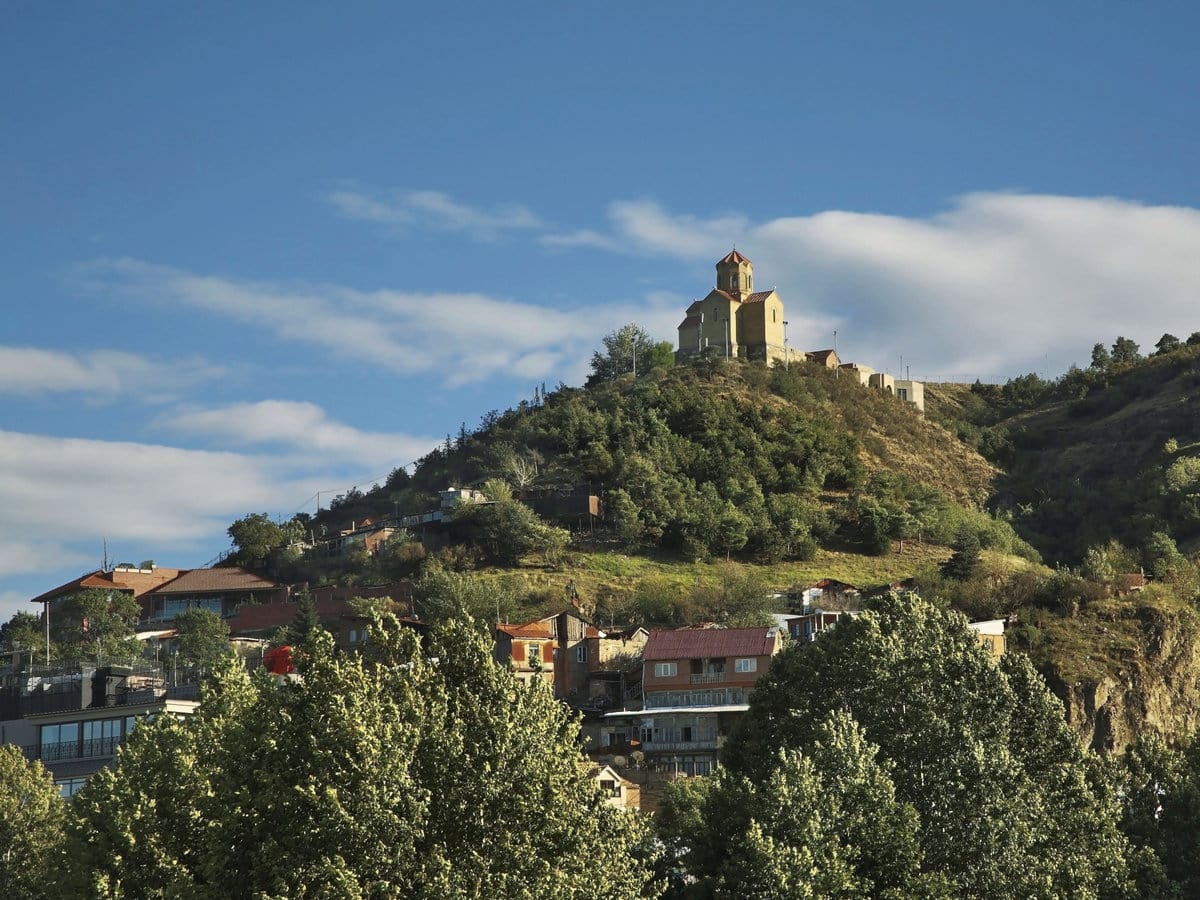 One of the most underrated spots in the Old Town, Tabor Monastery (and the ascent up to its top) offer some of the city's best vantage points.
Southeast of Mother Georgia, the Botanical Garden, Narikala Fortress, and many parts of the Old Town, there are hand-painted signs leading the way. En-route, you'll feel like you're walking through someone's garden, in a place where you shouldn't be walking… but no, that is the correct way, so just keep pushing on.
Because not many people visit the place, it's always pretty quiet; great if you're looking for a chilled-out place to sit around for a while.
Inside, the monastery is pretty sparse and austere, and it feels more 'real' than some of the city's other religious attractions. The monks who live here are friendly and welcoming (if you see them).
18. Tbilisi Botanical Garden
Sitting underneath the last three things I've just mentioned, Tbilisi Botanical Garden is a pretty place for a wander, and it's much bigger than most people expect.
Measuring in at 161 hectares (398 acres), it has a waterfall, some pretty bridges, lots of plants, some hiking trails, a Japanese Garden, a fortress, great little picnic spots, and even a zipline.
I'm not usually particularly interested in Botanical Gardens, but this place is nice. So if a miserable man like me thinks it's okay, then it must be good.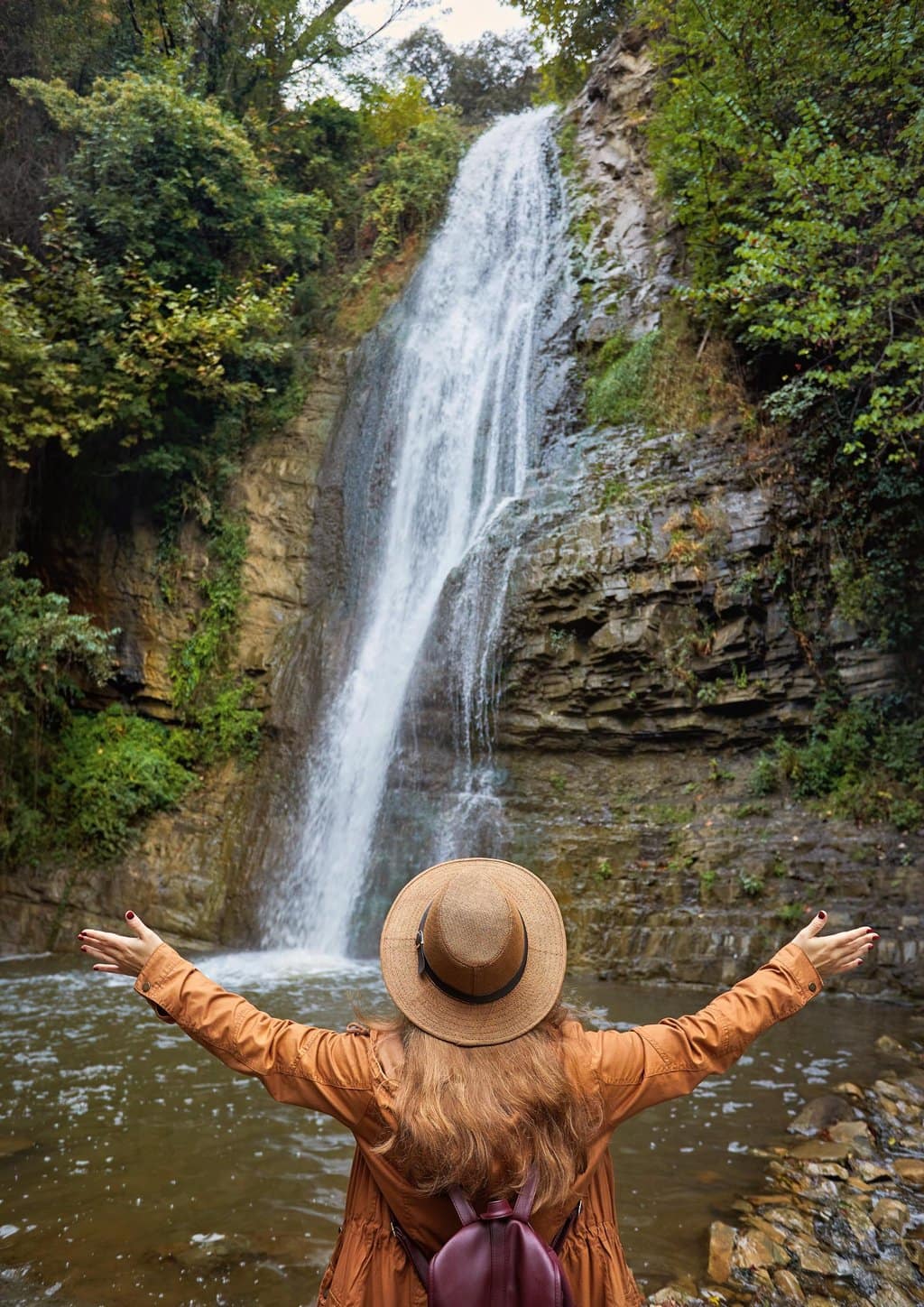 19. Deserter Bazaar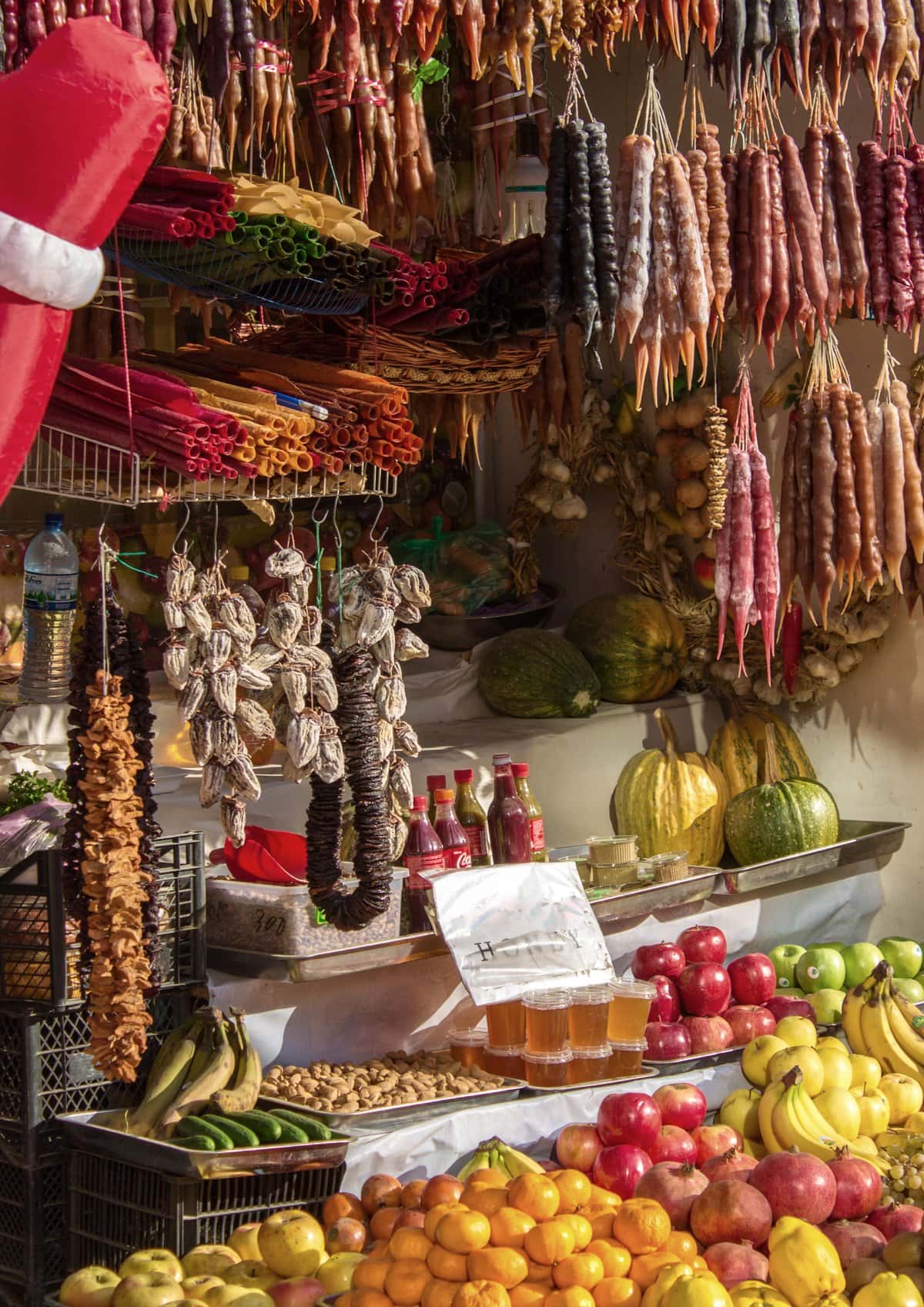 If you like walking around traditional local food markets, this is one of the best places to visit in Tbilisi.
It's a little more authentic than the Dry Bridge market. Although it does sell unusual stuff, it's less gimmicky. Instead, it's just a place where local people come to buy daily wares of various descriptions.
Absolutely huge, it's brimming with all the local food and drink you could ever hope to see. There's meat, fruit, vegetables, cakes, baked goods, Georgian specialities, local oddities, churchkhelas, pickled stuff, coffee stores, teashops, herbs, nuts, and everything else you can possibly imagine (plus loads of things you probably can't).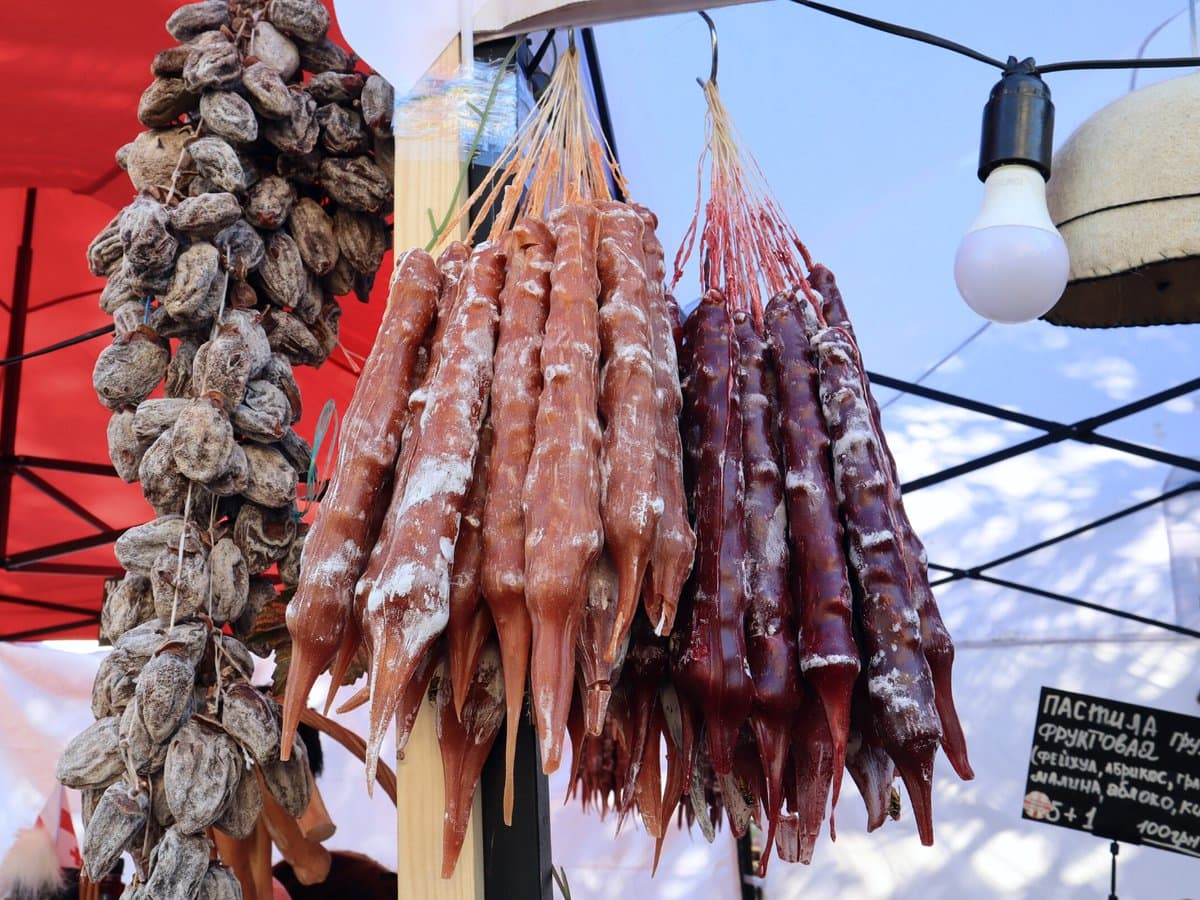 But you'll also stumble upon a vast miscellany of various different stuff, including electronics, sports trophies, clothes, homewares, antiques, candles, and plenty more.
If you're into markets, you could honestly spend a whole day just wandering around this place.
20. The Leaning Clock Tower
Imagine someone made a mini, ragged version of the Leaning Tower of Pisa from a variety of random materials, then put a clock on it.
You're now imagining the leaning clock tower in Tbilisi, which is one of the strangest architectural oddities I've ever seen. Built onto the side of a puppet theater, this clock tower is purposely wonky and disheveled, and it has a strange charm.
There's nothing much to do here, but I guarantee you'll want to snap some photos.
21. The Old Town
Lots of the places I've already featured make up the Old Town. So on a walk around the entire area, you'll see the baths, the clock tower, Mother Georgia, the fortress, and even parts of Tbilisi Botanical Garden.
But the real charm of a stroll around the Old Town is all the stuff you accidentally stumble upon. A ragtag muddle of maze-like streets, ancient buildings, various architectural styles, hidden-away secrets and old wooden balconies, it's hugely charming.
So, yeah, see all the famous stuff… but spend at least a couple of hours getting lost in Tbilisi's Old Town.
You'll see lots of strange and interesting things, and you'll chance upon things that even lifelong locals probably haven't seen.
22. National Gallery of Georgia
If you're interested in art, the National Gallery of Georgia is one of the best places to visit in Tbilisi. Most people reckon it's the best fine art venue in the city, and it's pretty hard to argue.
Sitting inside its confines, you get almost 30,00 pieces of art; many of them from famous Georgian painters and sculptors (including legendary Niki Pirosmanishvili). Aside from all the Georgian stuff, they also have exhibits (both permanent and visiting) from artists from around the world.
If you're really interested in all the art and history, you can book a guided tour (last time I checked, that costs 25 lari per person).
Right on the main street in Rustaveli, The National Gallery of Georgia sits inside a pretty building… and it couldn't be in a more central part of town.
23. Meidan Bazaar
Right in the heart of the Old Town, the Meidan Bazaar is another cool place for seeking out souvenirs, antiques, and lots of strange and unusual stuff.
Sitting underground, in its maze-like network of brick-built tunnels, you'll find drinks, spices, handcrafted clothes, musical instruments, snacks, sweets, rugs, house decorations, and lots more varied wares.
It's pretty touristy (with the prices to match) but it's still a cool place to visit. It sort of feels like a subterranean gift store, but in the best way possible.
24. The Holy Trinity Cathedral
Over the river from the Old Town, you have the city center district of Avlabari.
And at the loftiest part of Avlabari (and trust me, it is very lofty), there's the Holy Trinity Cathedral… one of the biggest, most significant and most impressive religious buildings in the entirety of Georgia. It's the third-biggest Orthodox cathedral on the planet, and you can see it from miles around.
The interiors are pretty impressive, but parts of the cathedral and its complex are still under construction. So while it's pretty good now, it'll probably be even better soon.
But the interiors aren't the best part. Instead, the best parts are the views you get from the cathedral and its surroundings. So make sure you have a vague wander in the general area for some great panoramas of the Old Town.
Yes, this is the same place as 'Sameba'. For whatever reason, the cathedral is known by two different names
25. The Peace Bridge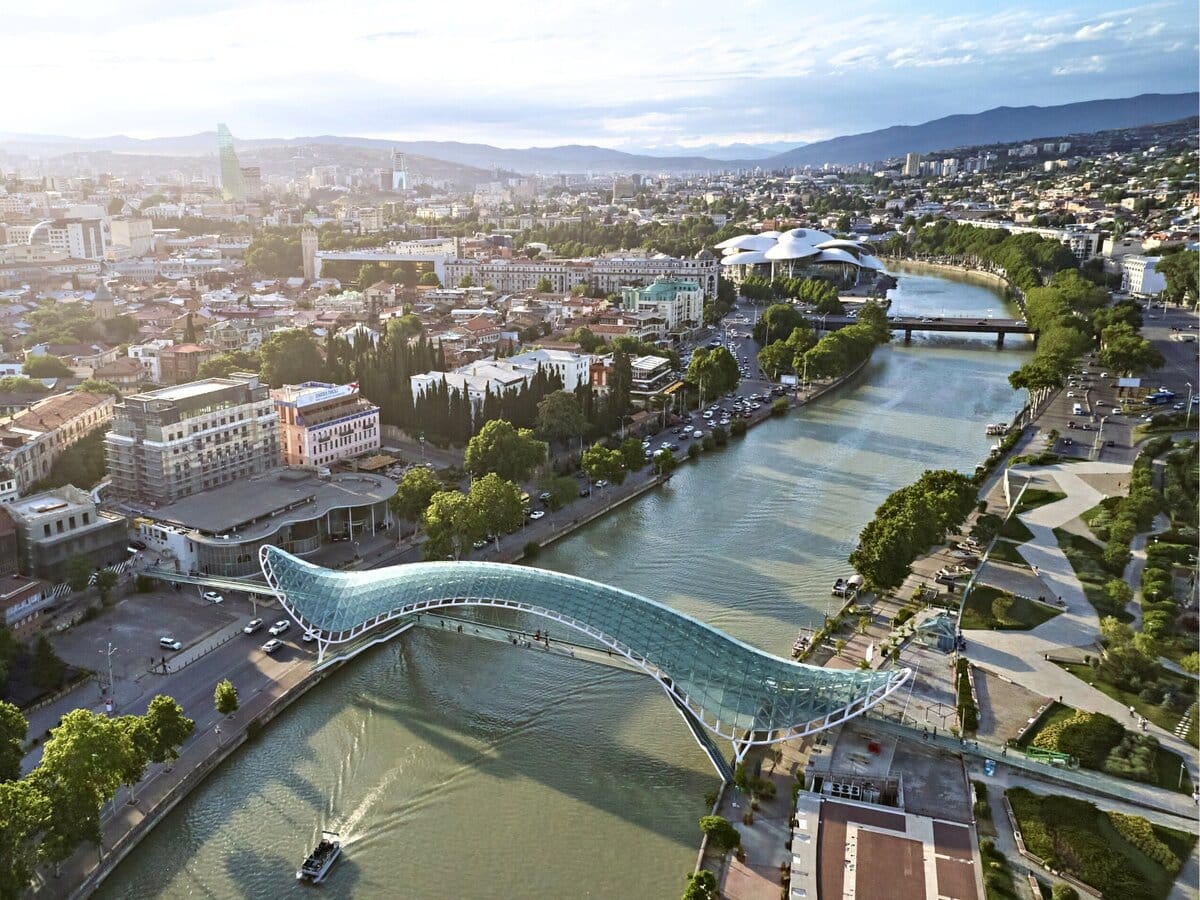 For me, there's nothing particularly special about this place… but most tourists seem to love it.
An ultra-modern bridge that spans over a part of the city's river, I guess the cool thing about the Peace Bridge is how it clashes so distinctly with the ragtag nature of the nearby Old Town.
So it's nice, and I recommend it, and you should visit because it's in the center of the city—but don't get too excited by the prospect.
It's best to visit the Peace Bridge at night, when it's lit up.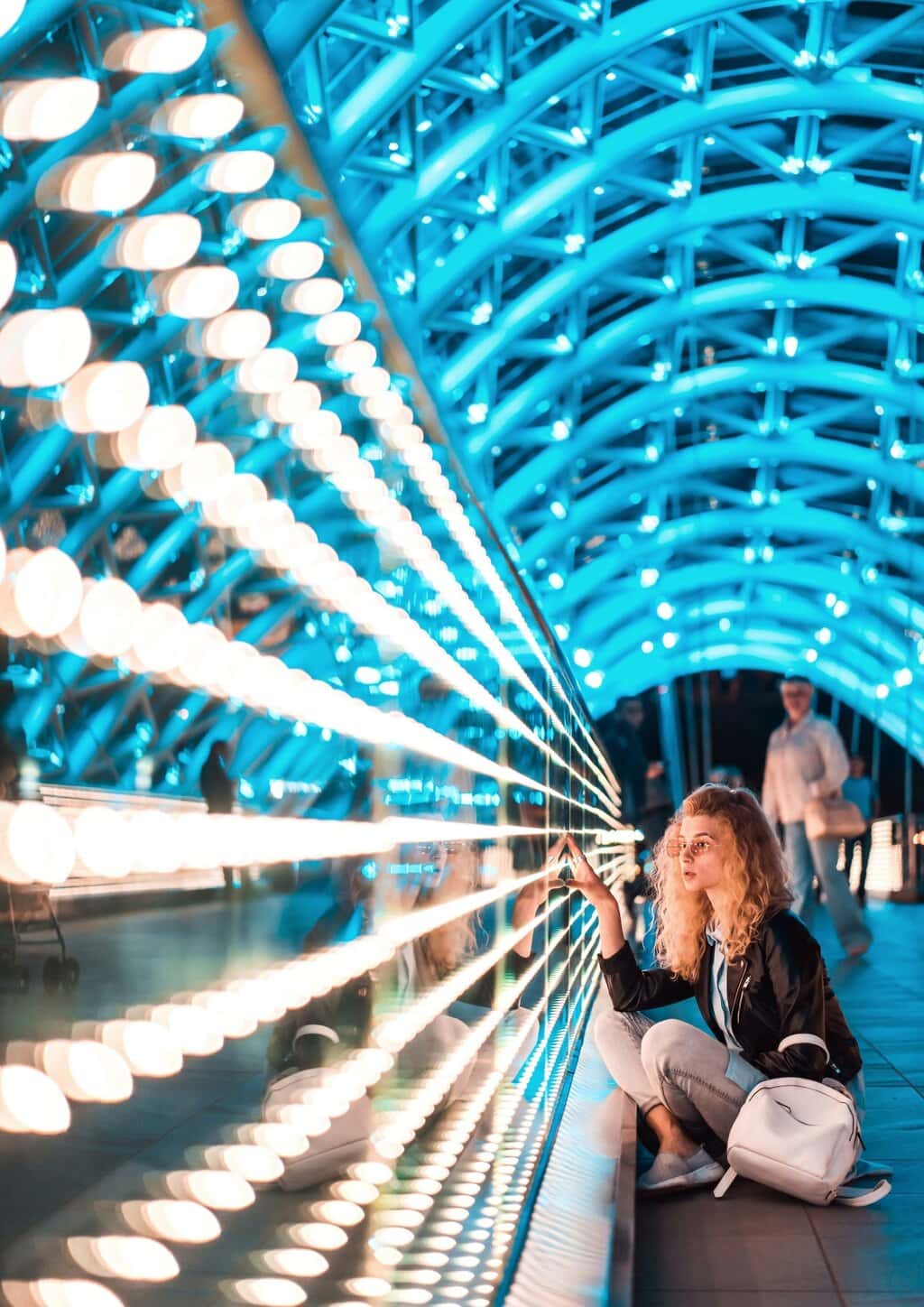 26. Metekhi Street Virgin Church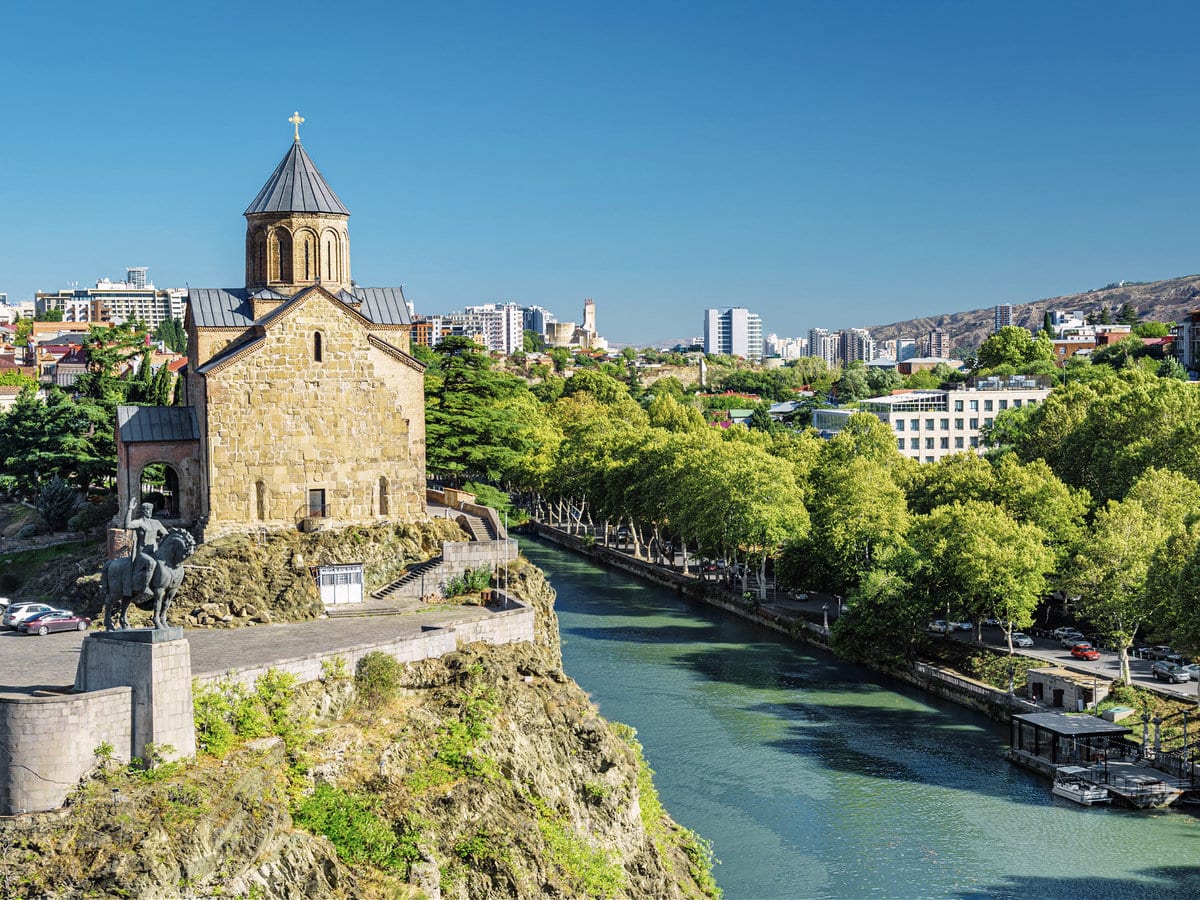 From the grounds of Metekhi Street Virgin Church, you get the best (or at least the most famous) view of the Old Town.
When you Google pictures of Tbilisi, there's one view that always pops up without fail. That view is with the river in the foreground, and the Old Town in the background… and it's the view you get from the grounds of Betlemi Church.
So to see that iconic panorama, this is exactly where you need to go.
When you're finished snapping your photographs, head inside the church. It's nothing particularly special, but it's pretty and peaceful.
Before You Go
And there they are—the 26 best places to visit in Tbilisi. Thanks for reading!
For more adventures, check out my selection of the best tours in Tbilisi and around.
Want to know anything else about Georgia's brilliant capital city? Check out our guides to the most beautiful parks in Tbilisi, everything Tbilisi is known for, and all the reasons you should visit the place. Also does it snow in Tbilisi and what to do on those days.
Thanks for stopping by, thanks for choosing Travelness, and we'll see you next time!
Being a Digital Nomad: Tips, Tricks and Places
Do you want to be a digital nomad?
If you do, maybe you don't know where you might want to live. Or how to live there. Or whether you need a visa. Or how to make friends in the scary sprawl of a brand-new city. Or how to stay productive while you travel. Or how to find an apartment. Or whether this lifestyle really is for you. Or… I'm sure you get the idea.
But with some insight and experience, it's not as difficult as you think. So in this book, I've gathered my 6 years of digital-nomadding experience… and I've used it to answer all your questions, soothe all your fears, and get you on your way. After reading this, you'll realise being a digital nomad is much easier (and much more possible!) than you think.