2 days in Edinburgh: The ULTIMATE Itinerary
One of my favorite cities in the UK, we've already covered Edinburgh in quite a lot of depth here at Travelness.
But if you need us to guide you along the city's steep roads and cobbled lanes, we've helpfully put this guide together… our comprehensive and action-packed 2-day itinerary for Edinburgh.
Want to know what to do? When to do it? What to eat? Which tours you should take? And how many more question marks I can cram into one measly guide? Coming up, all that and more—here's the perfect 2-day itinerary for Edinburgh!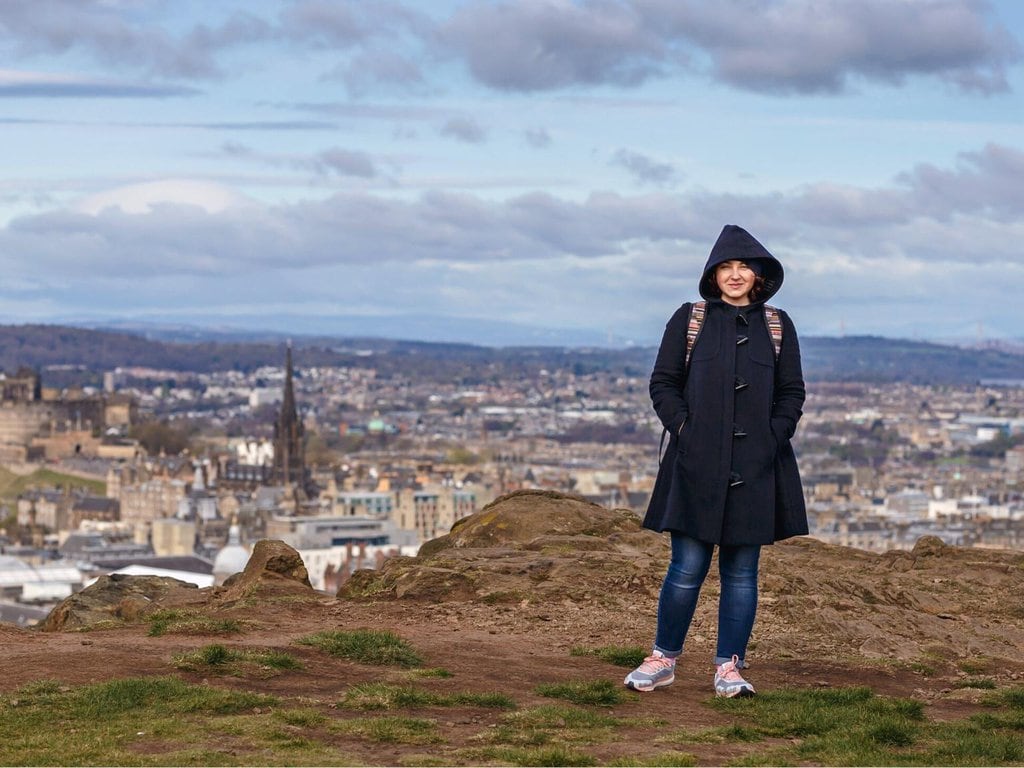 Where to Stay in Edinburgh for a 2 Days Visit?
Though Edinburgh is pretty small, it's best to stay right in the central stretch, so you can maximize your time, and stay in a charming place that you'll fall right in love with. Edinburgh's Old Town is where you'll find most of the major attractions we've featured in this guide, and it's the most beautiful part of the city by far.
Brimming with ancient architecture, cobbled lanes, and loads of lovely buildings, it's where you'll spend most of your time… so it makes sense to stay in or around this area. Here are the best hotels for your 2 days trip:
Ibis Edinburgh Center South Bridge: The best mid-range hotel in this neighborhood. Just a short walk from the Royal Mile, this place is right in the heart of the Old Town, and it's a nice compromise between luxurious and affordable. They have a nice courtyard and a great breakfast, and the place is less than a 10-minute walk from Edinburgh Castle.
Stay Central Hotel: I recommend this hotel instead if you prefer something a little more affordable. As you probably guessed from the name of the place, it's right in the middle of the city, and very close to the ibis we've just featured above. Funky, fresh, and modern, it's a colorful little place to stay, and it's super warm and welcoming. Hotels this affordable aren't usually this good.
Royal Mile Backpackers: If you're traveling solo, get yourself over to one of the best hostels in the city. Right in the middle of the Royal Mile, this is a perfect location. Best of all, it's a little more homely and cozy than your average hostel and a great place to make friends.
Stay in one of these 3 accommodations and you're up to a good start for your visit to Scotland's capital.
Best Things to Do in Edinburgh on a 2-Day Trip
Coming up later in this guide (jump to itinerary) I've included loads of details on all the things you should do, and how to do them… but some of the highlights in my much-anticipated 2-day itinerary of Edinburgh include:
Arthur's Seat: how inevitable! Possibly the most famous place on this list, Arthur's Seat is a pretty and accessible city-center hike giving you great views of Edinburgh and its outskirts. Don't miss it, even if you're not usually into this sort of thing.
Edinburgh Castle: Edinburgh is brimming with endless history and heritage, and lots of age-old places. Of them all, its gigantic castle is the most famous, and you can't visit Edinburgh without strolling in and around it. It sits high above the rest of the city.
The Royal Mile: the most famous street in Edinburgh, the Royal Mile runs from Edinburgh Castle to Holyrood Palace, two of the most famous sights in the city. And running along it, you get museums, souvenir stores, and lots of ancient architecture.
Leith: my favorite part of Edinburgh by a long way, Leith is Edinburgh's most up-and-coming district. A hub of gentrification, it's an alluring combo between hip and old-school. Different from the rest of Edinburgh, it has an atmosphere all its own.
The Water of Leith Walkway: a lovely riverside walk running all the way to Leith from Edinburgh's outskirts, this is a great alternative way to see the city, and it's one of my favorite things to do in Edinburgh. Pretty and charming, it's hugely overlooked.
Calton Hill: this viewpoint isn't as famous as Arthur's Seat, but it's almost as good. Sitting at 103 meters (340 feet), it offers views of Leith, Arthur's Seat, Holyrood Park, endless parts of central Edinburgh, and a half-finished version of Athens' Parthenon.
Lots of tours! Because you're on a tight schedule, I recommend taking advantage of some tours, so you can cram lots of stuff into your 48 hours. I've offered some recommendations for the best, most comprehensive, and most affordable.
… I've also included lots of chewing and chomping, with some tasty suggestions for what (and where!) you should eat and drink during your 48 hours in Edinburgh.
How to Spend 2 Days in Edinburgh?
Okay, here we go, the part you've all been rabidly looking forward to… The ultimate 2-day itinerary for Edinburgh!
Day 1: Central Edinburgh, the Royal Mile, and All the Famous Highlights
On day 1, you'll be hitting up lots of the city's most famous sights, including both Arthur's Seat and Edinburgh Castle. Between them, you'll stroll along the mega-famous Royal Mile, and you'll stumble across many more highlights along the way.
For pretty much all of today, you're right in the center of the city. All the stereotypical cobbled-lane photographs of Edinburgh and the beautiful scenery you've seen on Google—that's exactly what you'll be looking at.
Here is the map of your first day in Scotland capital city:
Coming up, I've given you instructions on exactly what to see and how to see it. But if you'd prefer to switch your brain to sleep mode, and get someone to plan everything for you, you can instead take a convenient guided tour.
This walking tour is a good place to start and gives you lots of the Old Town highlights in a great 2-hour burst. If you're feeling lazy (or if you want some context along with your wandering), I totally recommend it.
Breakfast on Day 1
For your first breakfast in Edinburgh, you have loads of options—but it's best to avoid the touristy places with terrible food. So head to one of these two places instead:
The Edinburgh Larder: a hip and cozy joint, this place serves up brunch-style eats and treats, and it opens super early. It's small, so make sure you book in advance.
Snax Cafe: if you prefer no-frills and no-fuss, head here instead. You get low prices, greasy-spoon style breakfasts, and some tasty traditional food.
After your big fat breakfast, here's what's coming up next…
Edinburgh Castle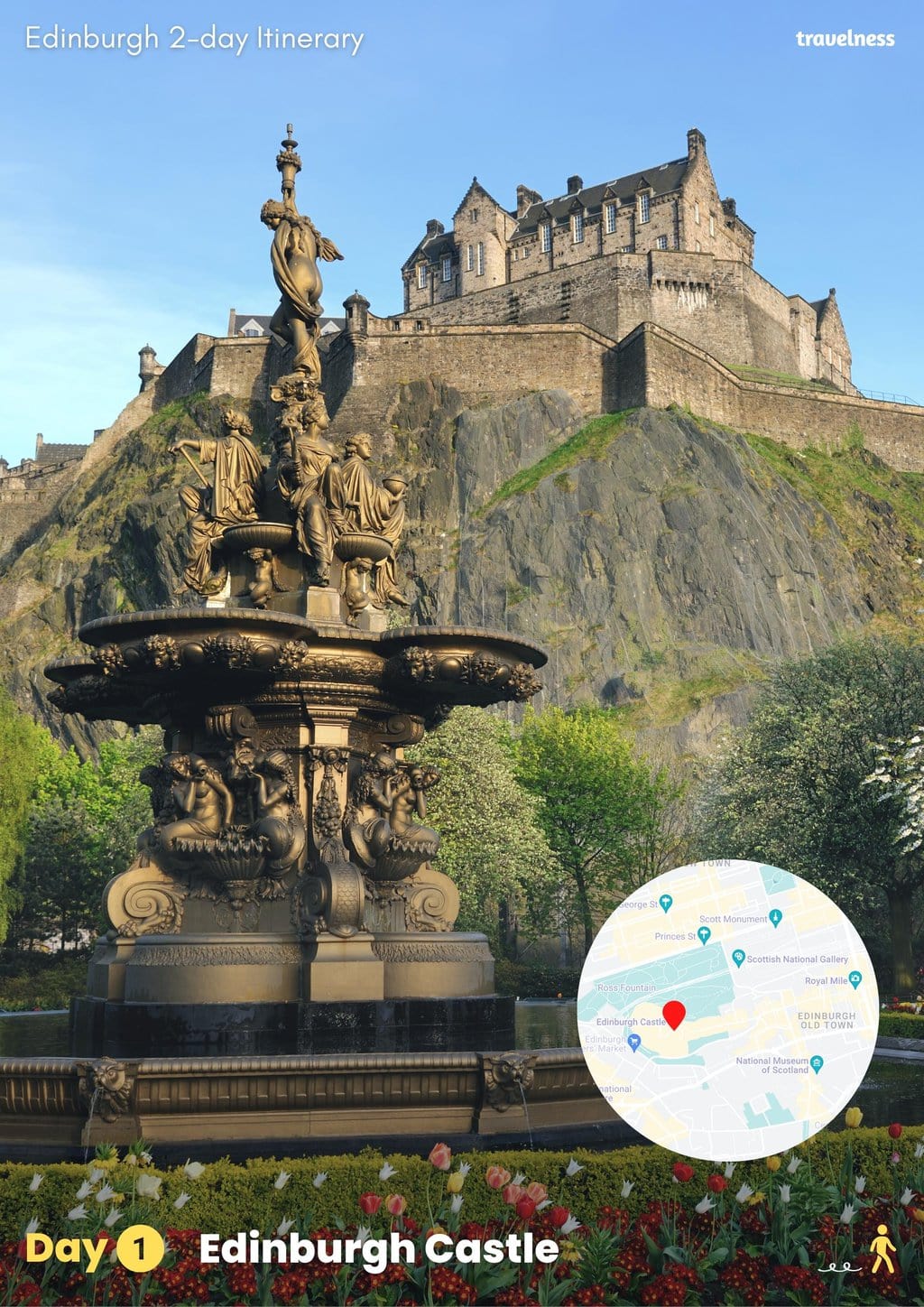 Let's get the party started with the most famous building in Edinburgh.
Looming high over the rest of the city on a big plateau, Edinburgh Castle sits on an ancient volcano, and it has excellent views of the city. Inside of its big thick walls, you get lots of information on history and heritage, along with loads of kid-friendly events and attractions.
The best way to see Edinburgh Castle is on a guided tour, so you can get lots of context and insight. Among other things, Edinburgh Castle has been a fortification, a prison, and a royal residence… so a tour is a good way to learn about all that stuff and more.
This 1.5-hour beat-the-queue session is brimming with loads of fun and facts, and it's one of the best ways to enjoy and experience Edinburgh Castle.
The Camera Obscura
Very close to Edinburgh Castle, you have this weird place. Is it a museum? A playground? A house of illusions? One of the weirdest attractions in the city?
In truth, the Camera Obscura is all of those things (and more!), and it's one of the most fun activities in Edinburgh. It's perfect if you have kids… or if you just like to behave like a big kid (god knows I do).
A five-floor extravaganza with more than 100 illusions, there's loads of stuff to enjoy. Some of the most famous exhibits include the mirror maze, the image-bending self-reflection mirrors, the so-called Kaleido Tunnel, and a food-covered table you can poke your head through.
They also have a top-floor terrace, with great views of the city.
Expect to spend a couple of hours here, whether you bring kids or not.
The Royal Mile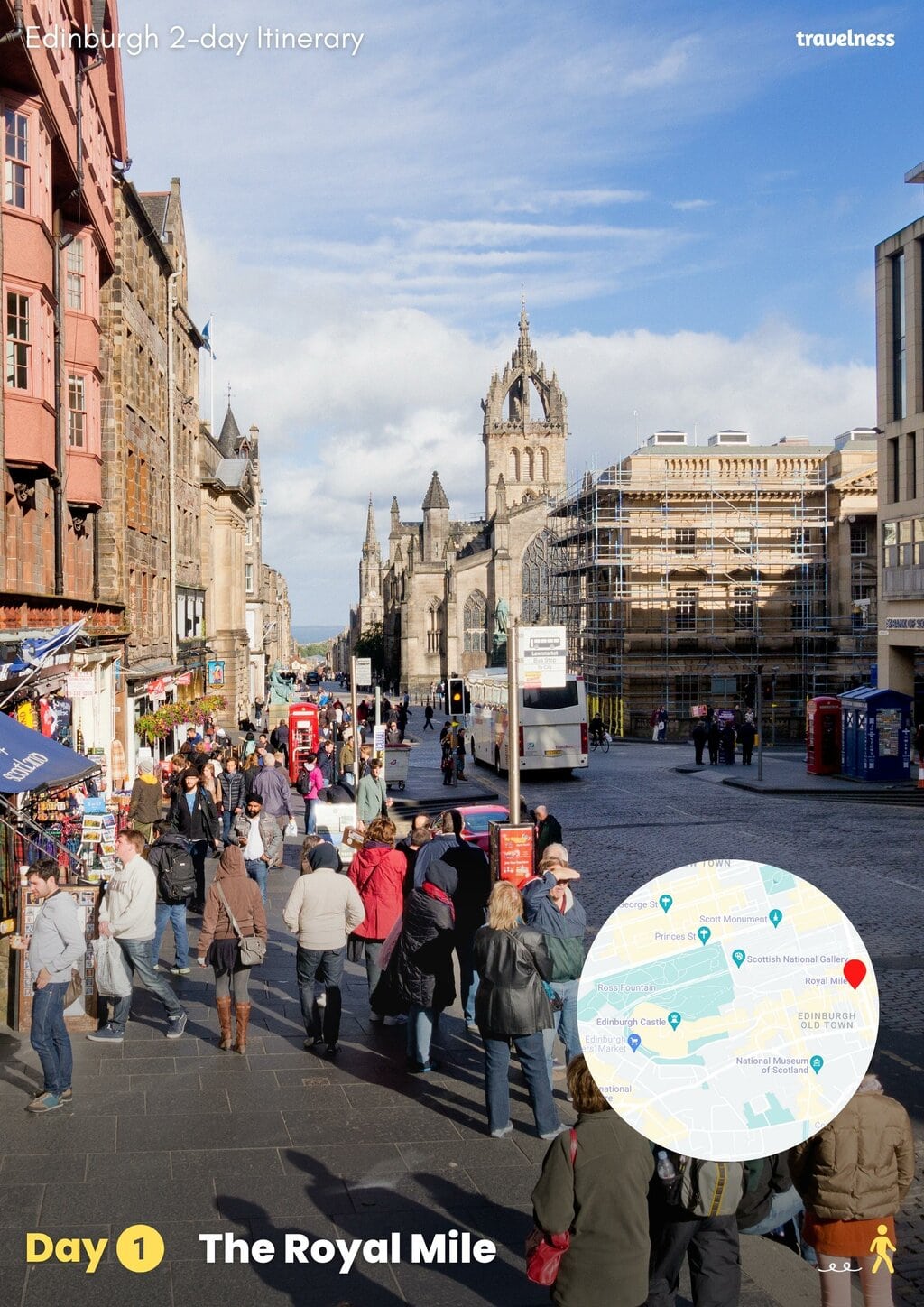 Before you move on to anything else, spend some time wandering around the souvenir stores, the tartan shops, and all the silly tourist stuff. Yeah, it's all a bit ridiculous, overpriced, and inauthentic, but that's the point. Probably.
Because you've been to the castle and the Camera Obscura, you're already in this area anyway… so have a wander, get a little lost, immerse yourself in the history, and soak up all the atmosphere and architecture.
By now, you'll probably want to eat some lunch. You'll wander past endless places, but my top recommendation is The Pakora Bar. Informal and affordable, they do tasty Indian snacks—and Indian food in the UK is incredible.
While you're walking around this part of the city, visit St. Giles Cathedral, the most important church in Edinburgh. With stained glass windows and a history dating back almost 1,000 years, it's definitely worth a quick visit. Conveniently, the walking tour we've already recommended will take you there!
Arthur's Seat and Holyrood Park
Even if you're not usually into hiking, you'll absolutely love Arthur's Seat.
An easy and accessible wander above the center of the city, it's much shorter and easier than most tourists expect.
Start in the northwest of Holyrood Park and go in a big loop, taking in lots of the area, including (of course) an excellent ascent up its most famous peak. The exact route is outlined here and includes 3 miles (4.8km) of walking and 279 meters (915 feet) of total ascent.
While you're in the park, you might want to visit Holyrood Palace, the Queen's official residence in Scotland. Highlights here include the luxurious interiors, the on-site ruined abbey, lots of royal history, and some really lovely gardens.
To skip some of the queues for Holyrood Palace, you can quickly and easily get your ticket here. The low price covers entry along with a useful multimedia tour (so you can understand all the stuff you're looking at). If you're interested in the stories and history of the British monarchy, or even if you're slightly curious, you'll love it.
Where to Eat on Day 1
Edinburgh has endless places for grabbing some tasty chow-down adventure, but here are some recommendations for your first day of gut-busting edible action:
The Urban Fox: on the western side of Holyrood Park, this trendy eatery is a nice combo between hip and laid-back. They serve up burgers, pub classics, nice desserts, and big portions… perfect after your hike up Arthur's Seat!
Sheep Heid Inn: right on the edge of Holyrood Park, this place is ideal if you're hunting for a proper pub experience. They do pies, fish and chips, pasta, Sunday roasts, and more, and it's all hearty pub-style fayre in a picturesque location.
MUMS Great Comfort Food: if you like laid-back places and no-frills comfort food, you won't find anywhere better than this. With sausages, potatoes, pies, haggis, and more, it's traditional Scottish food done the right way, and it's all packed with flavor.
Evening Activities for Day 1
Watch the sunset at Arthur's Seat: as I've mentioned, this place is the best viewpoint in the city… so, naturally, it offers the best sunset spot in the city. I love Arthur's Seat for sunset, locals love Arthur's Seat for sunset, and you'll love Arthur's Seat for sunset.
Hang around in Holyrood Park: Holyrood Park is way more than just the home of Arthur's Seat. Full of ridges, walks, lochs, picnic spots, and loads of great green spaces, it's a lovely place to spend a lazy evening. And tonight, maybe that's what you need.
Slurping on the Royal Mile: okay, the Royal Mile is touristy, but it's a nice place to have some drinks, and the atmosphere is infectious. Go for a wander, and hop into any venues that look fun. The Royal Mile Tavern is popular with both tourists and locals.
Silent Disco Adventure: a ridiculous (and ridiculously unique!) way to explore the parts of the city you've already been exploring. Some of these tours start at 6 pm, so they're a good way to kick-start your evening with some flamboyant moves and grooves.
Day 2: Leith, the Water of Leith, and Some Pretty Wandering
On day 2, things are gonna become much more under-the-radar, and you'll be spending most of your day outside the very central sprawl of the city.
Yeah, Edinburgh's central stuff is great… but today you'll discover lots of hidden gems and excellent stuff you've probably never heard of. It's always nice to explore some lesser-known stuff, so that's exactly what I'm bringing you big fat stacks of today. You're welcome.
And here is the itinerary map of your second day in Edinburgh: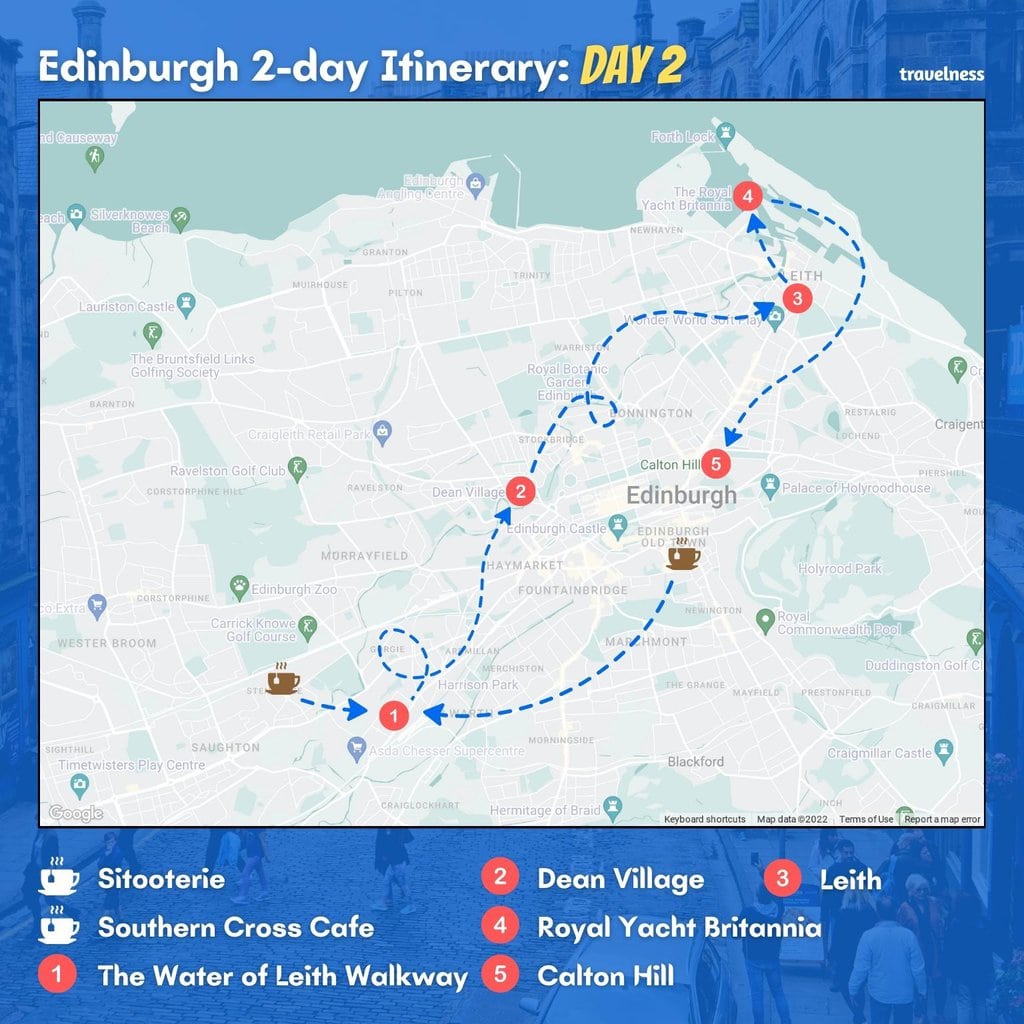 Breakfast on Day 2
On day 2, here's what you might want to get your mouth around before the action really starts:
Sitooterie: for reasons I'll explain in ten seconds, you'll be starting your day in the suburb of Slateford, west of central Edinburgh. This is the best place for breakfast there.
Southern Cross Cafe: if you'd rather eat in the city before you head out to Slateford, this cafe is right beside Waverley railway station, and it does lovely food.
After breakfast, you'll be hitting the following places and activities in the following order…
The Water of Leith Walkway
This gentle-but-pretty riverside stroll provides the backbone for your day, as it takes you to some of the highlights we've mentioned, along with some other great stuff.
The entire Water of Leith Walkway stretches for an impressive 13 miles (21km), so feel free to tackle as much or as little as you like—if you want to, you can make an entire day of this wander. I would do exactly that, and start in Balerno, right at the beginning of the route… but I know that's not for everyone.
So I instead recommend starting your walk at Slateford, which lies around 7.5 miles (12km) west of Leith (where you finish your stroll). To get here, you can take the train or bus from central Edinburgh, but the train is the easiest.
The walk from Slateford will bring you to both Dean Village and Leith itself (more on those places coming up soon), along with Saughton Park, endless riverside stretches, some nice cafes, parts of Stockbridge and Canonmills, and lots of friendly walkers and cyclists.
Here's a basic PDF map of the entire route.
By the way, if exercise is your thing, and you like exploring cities actively, check out this cycling loop guided tour of Edinburgh. Cycling is a great way to see Edinburgh and its outskirts, so I massively recommend it.
Dean Village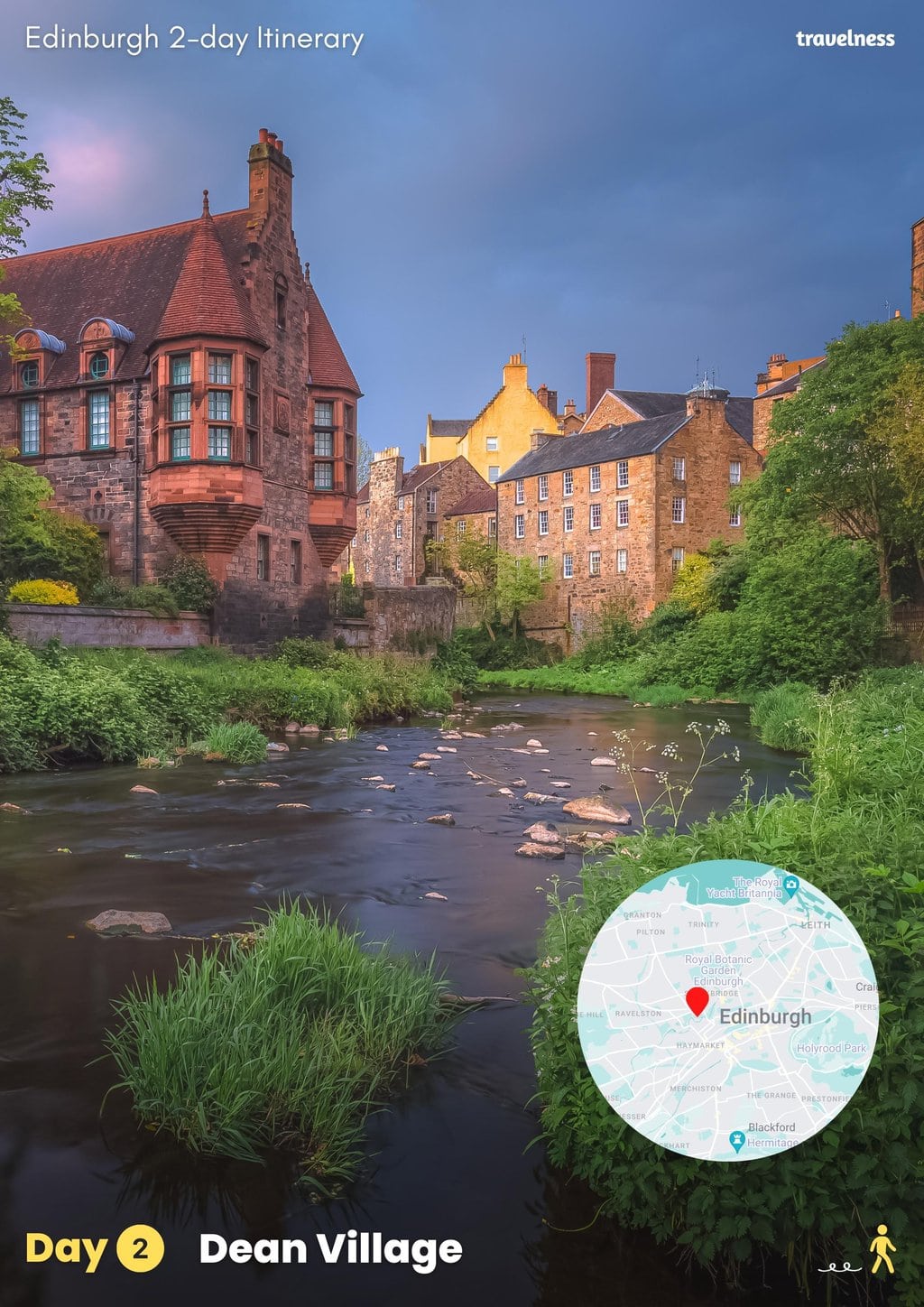 One of the prettiest and most underrated parts of Edinburgh, Dean Village is part of the city, but it genuinely feels like a little village of its own.
Once an important water-milling settlement, the tiny area is still brimming with millstones, old-school homes, and an outrageously charming atmosphere.
There's not a great deal to do here, but that's sort of the point. Just have a little wander, soak up the atmosphere, then move on to places bigger and busier.
Dean Village is around 3.7 miles (6km) from Slateford (the starting point I've recommended), which plonks it right in the middle of your walk. For that reason, it's a good spot for lunch. I recommend Cafe Braw: it's only a tiny detour, it's a very friendly place, and they serve sandwiches, salads, soups, and other laid-back lunches.
Leith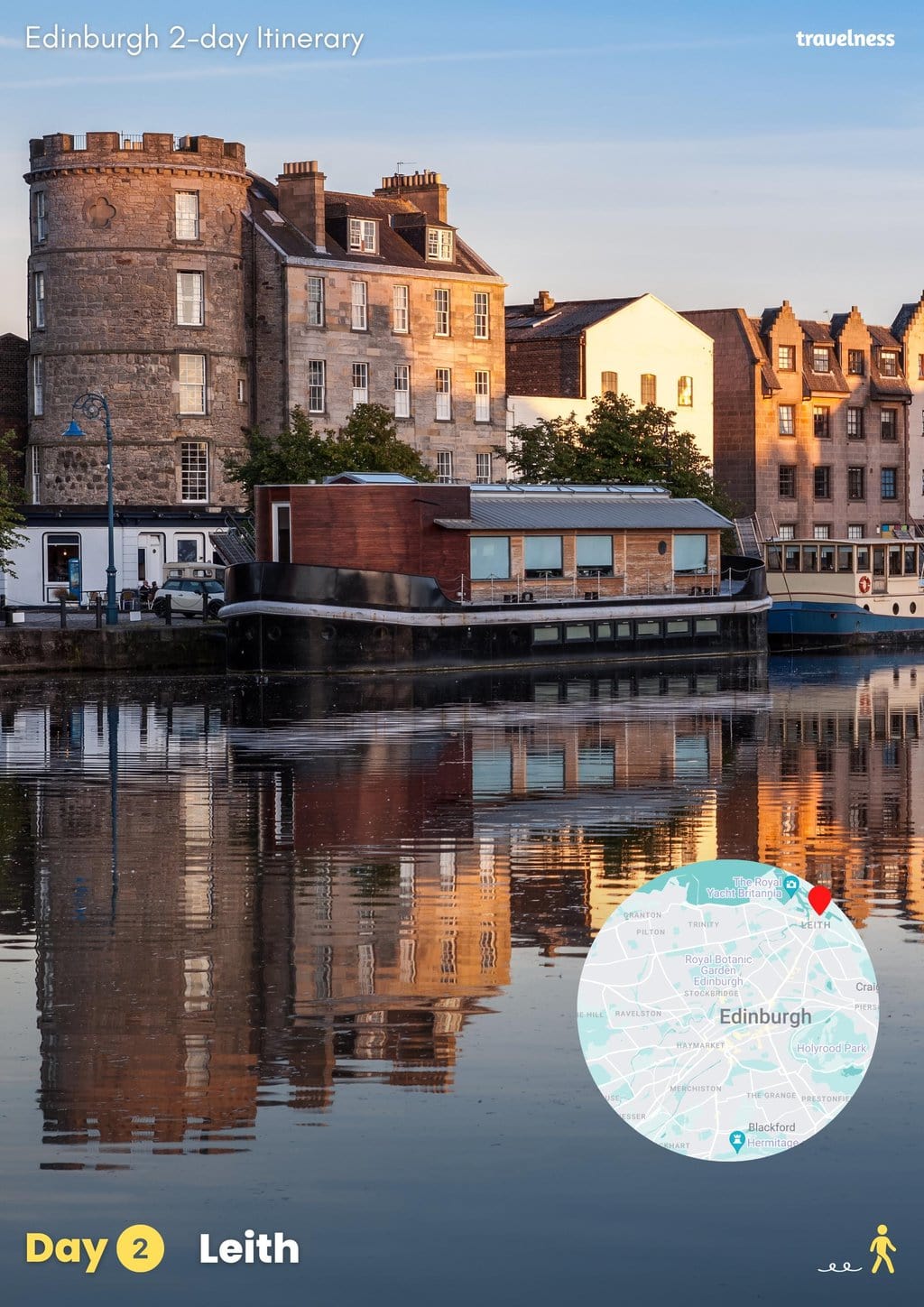 At the end of your walk, you reach Leith—and it's a great finale, with some pretty port areas, and lots of places to have some snacks and drinks.
I think Leith is the best part of Edinburgh—if I was going to relocate to the city, this is where I would live. Once a pretty notorious neighborhood, it's right in the middle of some redevelopment, and it's becoming one of the city's most sought-after places to be.
But while it's being gentrified, some pockets still retain the rough-around-the-edges feel, making Leith a nice mixture of trendy and 'real' (whatever that even means). It, therefore, feels authentic without pretense and welcoming without being touristy (which you can't say about many parts of Edinburgh).
A bustling port district, Leith is edgy and interesting, and the pretty waterside docks are a great place to sit and waste some time. If you're keen for some drinks and snacks with a view, head to the Innis & Gunn taproom, Teuchters Landing, or Malt & Hops.
And if you're in Leith while the brilliant independent Pitt street food market is happening, make sure you visit.
Royal Yacht Britannia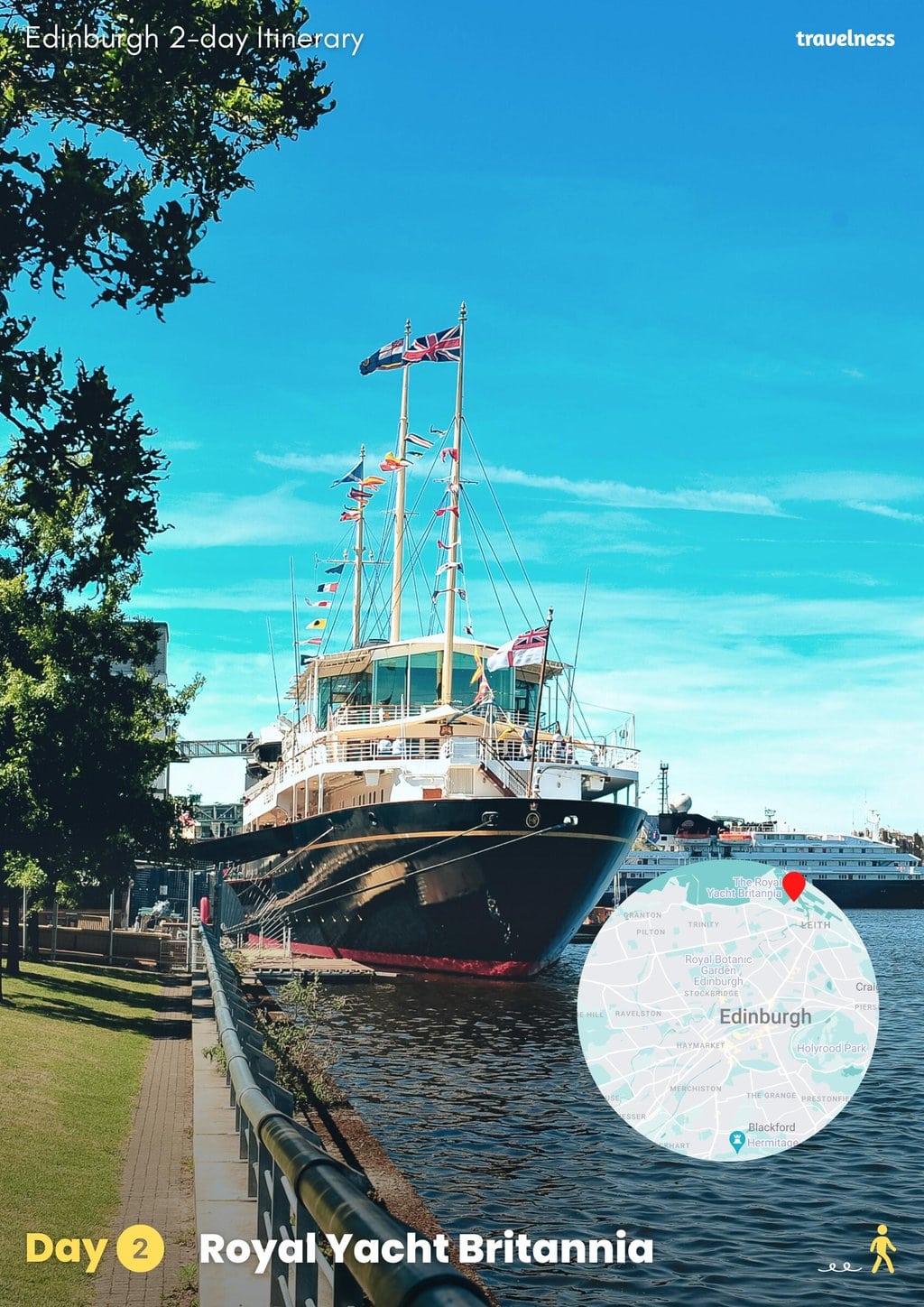 Sitting right on the water in Leith, you have the Royal Yacht Britannia. The former royal yacht of the Queen, it always wins loads of awards, and it's one of the most popular tourist attractions in the whole of Scotland.
The royal family used to travel all over the world on this beefy behemoth, which played host to honeymoons, celebrities, state visits, and family holidays. Over the duration of its royal life, it sailed more than one million nautical miles.
When you're done with all the onboard sightseeing, you can stop in the ship's Royal Deck Tea Room, with its lovely views and luxurious cream teas.
If you've decided to see Royal Yacht Britannia without visiting the rest of Leith (or the waterway), this hop-on-hop-off bus tour will take you right there.
Calton Hill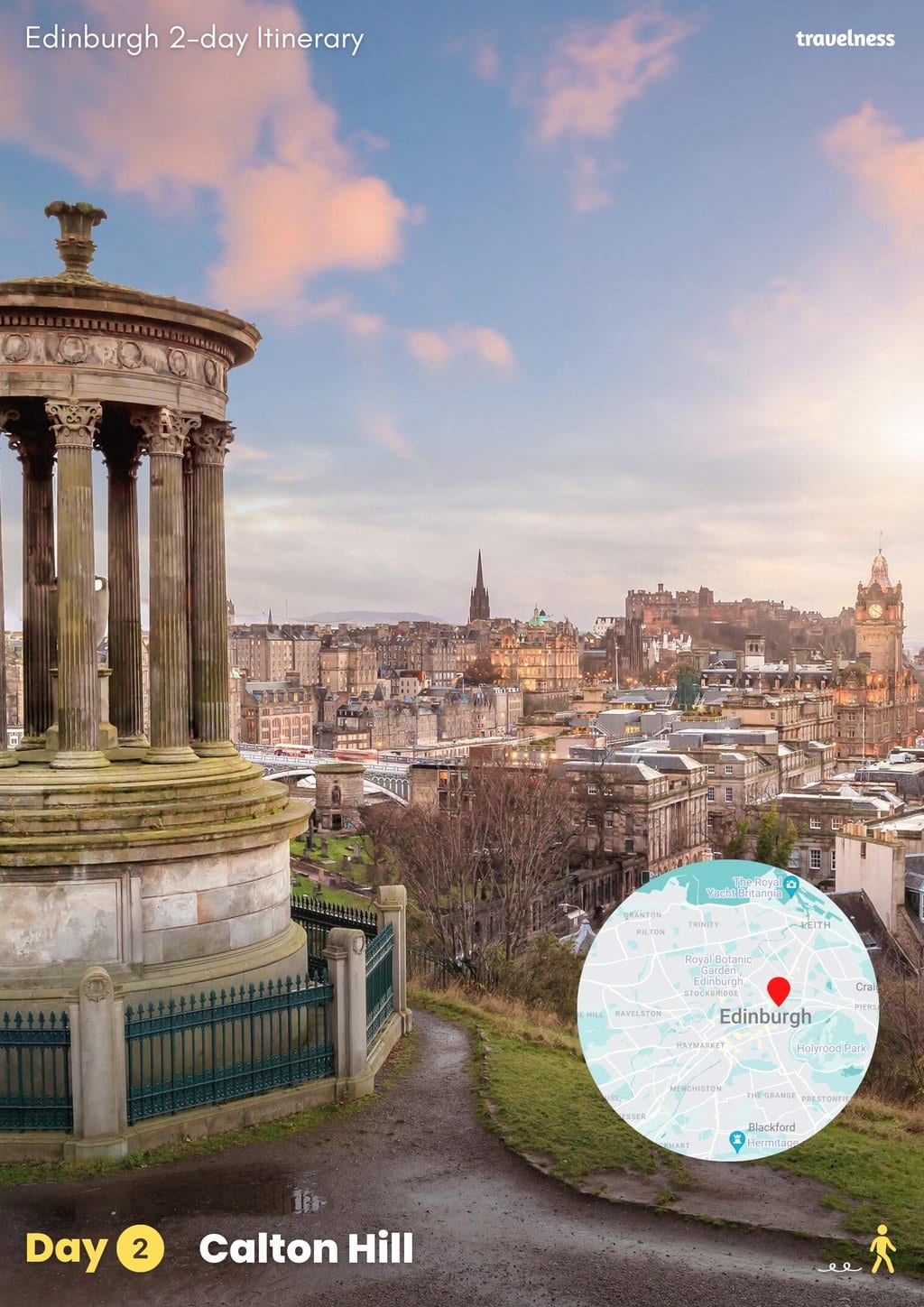 Alright, you're gonna head back into the center of the city for the last part of your 2 day Edinburgh itinerary. This is the perfect way to start saying goodbye to Edinburgh, with a great panorama of the area and its outskirts.
A gentler climb than the stroll up Arthur's Seat, this one's nice and relaxing (so please stop complaining that I'm making you do so much walking). It's a massive local favorite, and not enough tourists clamber up here… so you definitely should!
Begin your tiny trek at Edinburgh Waverley railway station, walk east towards the hill, climb the steps, and explore the summit of Calton Hill in a small circle. It's a short, easy walk, and it won't take you more than an hour (description here).
On your way up, you pass some interesting statues and monuments, along with some pretty viewpoints.
Where to Eat on Day 2
I hope that belly's ready for more meals and morsels! Here are some recommendations on where and what to eat…
The Perch: most eateries I've recommended are laid-back, no-fuss joints, cos that's what I know best for a short 2-days visit to the city. But if you want to treat yourself for your final Edinburgh meal, head here, just west of Calton Hill. It's a classy, cozy bistro with dim lights and big flavors.
Howies Restaurant: also quite classy, but with a big focus on seasonal, locally-sourced flavors and ingredients, this place is fantastic. Sitting in an early-19th-century building, they serve delicately-assembled plates of traditional Scottish fayre.
Down The Hatch Edinburgh: if you're tired of pub grub and Scottish food (though I'm not sure why you would be), here's something a little different for you. Serving up Canadian-style specialties, these big portions are unique, authentic, and super tasty.
Evening Activities for Day 2
Partying: you're leaving Edinburgh tomorrow, so let's make tonight a big one. There are endless places to choose from, but I recommend ending your night in The Hive, a sticky-floored funfest of late nights and pop tunes.
Sit around in Leith docks: if you'd rather do something a little more gentle, the shores of Leith's docks are a nice place to hang around in the evening. During good weather, you'll always find people chilling with friends, and enjoying some sipping and slurping.
Edinburgh Zoo After Hours: here's something really unique and unusual. Edinburgh Zoo is great during daylight (more on that later), but an after-hours tour gives you a different experience. Expect music, games, face-painting, nocturnal animals, and more. You should try it!
Tours and Activities to Try in Edinburgh
Edinburgh is one of the most tourist-heavy cities on the planet, with loads of different tours and activities you can try.
Aside from what I've already mentioned, here are some of the best ideas…
Getting Around in Edinburgh
Most of the time, you'll probably be getting around the city by foot. For a capital city, Edinburgh is surprisingly small, and most of the famous attractions are concentrated around one major area.
That said, Edinburgh's public transport is excellent and reliable, with a tantalizing combo of buses and trams. There's no metro system in the city, which surprises some tourists. Buses run 24 hours and are the easiest way to travel in and around the city. A day ticket is usually the best idea for saving money, but here's more information on all your options.
If you want to get around the city with some transport that also gives you lots of information and insight, consider a hop-on-hop-off bus tour, it's valid for 2 days and you can use it whenever you want. It also conveniently include admission tickets to Edinburgh Castle, to Royal Yacht Britannia, and to Palace of Holyroodhouse. So it's worth every penny!
There are taxis all around the city, but make sure you agree on a fee in advance, so you know exactly how much you'll be paying for your ride. If you prefer to use Uber, there are plenty of those big boys in and around Edinburgh too.
For getting from the airport to the city center, you can of course use public transport—but the best option for a good combination of affordability and ease is this (very cheap) Edinburgh Airport bus transfer.
If you want to make things even more comfortable and simple, you can use a pre-booked private transfer to drop you right at the door of your hotel, this is very handy especially if you have kids or many luggage (or both). But the bus transfer is what I recommend for most people.
Day Trips from Edinburgh
Edinburgh has a massive number of excellent potential day trips. If you want to spend one of your Edinburgh days exploring places outside of the city, here are my top recommendations:
Loch Ness, Glencoe & the Scottish Highlands Tour: most tourists in Scotland are keen to visit the Highlands, as they offer some of the most well-known beauty spots in the nation. This tour takes you to the best of them, with endless photogenic areas.
Glenfinnan, Mallaig & Glencoe: in a similar area to the tour above, but a little different. This tour takes you to the famous Glenfinnan Viaduct (most well known from the Harry Potter movies), and the pretty port town of Mallaig. For variety, this is fantastic.
Loch Lomond, Stirling Castle & The Kelpies: one of the most popular national parks in the UK, Loch Lomond is great. Stirling Castle is a massive insight into the history of the area, and the horse-shaped Kelpies are one of the nation's strangest sculptures.
Alnwick Castle and the Scottish Borders: this one's my favorite, because it's a little more leftfield, and it takes you to some lesser-known areas. You'll hit Alnwick Castle, Alnwick Gardens, Bamburgh Castle, and the rolling hills of the Scottish borders.
It's, of course, possible to visit all these places yourself, without the help of a tour. But because you're short on time, a tour is by far the easiest and most logical way to see as many nearby highlights as you possibly can.
For way more outside-of-the-city ideas, check out our massive guide to the 15 best day trips you can take from Edinburgh.
And if you love hitting the roads, check out my guide about the best road trips from Edinburgh.
Final Thoughts and Further Reading
And just like that, we've reached the end of our 2-day itinerary for Edinburgh. Thanks for coming along!
For much more information on Scotland's incredible capital, stroll on over to our guides on the best cliffs near Edinburgh, when exactly is the best time to visit, and whether or not the city is safe (spoiler alert: it is).
Thanks for reading, thanks for choosing Travelness, and we'll see you next time.
Being a Digital Nomad: Tips, Tricks and Places
Do you want to be a digital nomad?
If you do, maybe you don't know where you might want to live. Or how to live there. Or whether you need a visa. Or how to make friends in the scary sprawl of a brand-new city. Or how to stay productive while you travel. Or how to find an apartment. Or whether this lifestyle really is for you. Or… I'm sure you get the idea.
But with some insight and experience, it's not as difficult as you think. So in this book, I've gathered my 6 years of digital-nomadding experience… and I've used it to answer all your questions, soothe all your fears, and get you on your way. After reading this, you'll realise being a digital nomad is much easier (and much more possible!) than you think.