Top Majestic Cliffs Near Edinburgh
Scotland is famous for a lot of cool things, including its towering cliffs. But as you've probably worked out from relentless Googling, most of the nation's best ones are found in the far north and on the islands.
So you've been left with a problem—you're visiting Edinburgh, but you still want to see some cliffs.
Well that's okay. Wipe away those tears. Everything's going to be alright.
Yeah, you're not gonna see Scotland's best cliffs from Edinburgh, but you can still see some pretty good ones.
So in this guide, I've brought you the 6 best cliffs near Edinburgh. Some of them are pretty close, some of them are pretty far, but they're all way easier to visit from Edinburgh than the islands and the Highlands.
Here's a little disclaimer before we start: there might be cliffs I don't know about, dotted between the places I've mentioned. But I've only listed cliffs I've been to or ventured past. Sorry if I've missed your favorite, I promise I didn't do it on purpose.
To make things simple, I've listed these cliffs in order from closest to Edinburgh to furthest from Edinburgh. Here they are: the 6 best cliffs near Edinburgh!
1. Arthur's Seat
Distance from Edinburgh: 0 miles/0km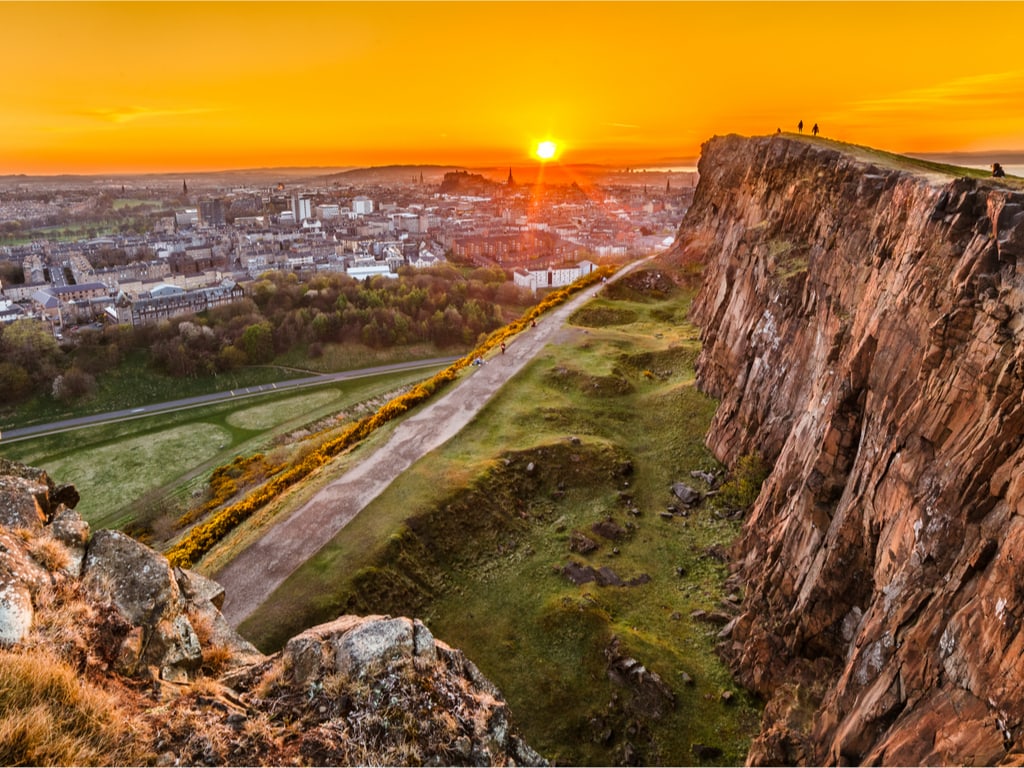 Alright, Arthur's Seat isn't really a cliff. But it's in Edinburgh's city center, and if you like cliffs, you're definitely going to like Arthur's Seat, so just work with me on this one.
A big lumpy peak that looms over the center of Edinburgh, Arthur's Seat is a popular hangout spot for families, friends, couples, and basically everyone else. A mini-mountain that's part of the much-bigger Holyrood Park, the area also offers chapel ruins, walking routes, cycling tracks, small lakes (or lochs, if you're in Scotland), lovely views and plenty more.
And get this—just west of Arthur's Seat's peak are Salisbury Crags, some 46-meter outcrops that are technically categorized as cliffs (see, aren't you glad you stuck with me!). You can wander along Salisbury Crags on your way up to the summit of Arthur's Seat, which measures in at 251 meters. The panorama from the top is one of the best city centre views in the UK, and it's a must-visit on any tour of Edinburgh.
Once an ancient volcano, now a popular picnic spot, Arthur's Seat is a lovely little slice of nature inside a busy city.
2. North Berwick
Distance from Edinburgh: 28 miles/45km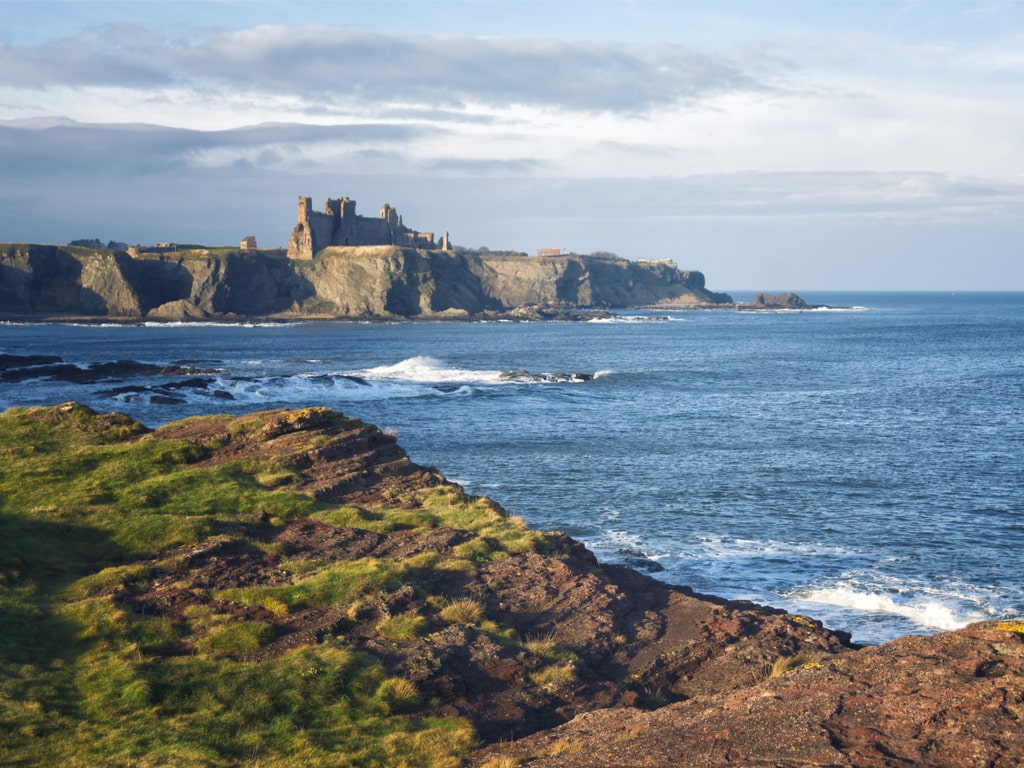 Okay, these ones are real sea cliffs. Sorry I've made you wait this long.
North Berwick is a pretty little seaside town, and it's only around 30 minutes from Edinburgh by train. A popular spot for a seaside getaway, North Berwick has sandy beaches, lovely cafes, and the world's largest colony of northern gannets (they're seabirds, in case you're wondering).
The cliffs you're looking for aren't in the town center, or on North Berwick's nearby beaches. Instead, you find them on a lengthy stretch between 3 and 5 miles (5-8km) east of North Berwick.
The main place you'll find these rocky cliffs is called… Seacliff. And, no, I'm not joking.
Here, you get small but pretty cliffs, a harbor (allegedly the smallest in the UK), and lots of pockets of peace and quiet. If you want to avoid crowds, Seacliff is a great choice.
The most dramatic cliffside views are slightly west of here, in the direction of Tantallon Castle, an underrated castle in a nation of famous castles. A large ruined fortress hanging over the precipice of a red sandstone cliff, it's atmospheric and alluring, and it's a great place to visit.
Seacliff's cliffs aren't the most sprawling or impressive, but they're plonked in a beautiful place, and too few tourists visit them.
3. St. Abbs
Distance from Edinburgh: 48 miles/77km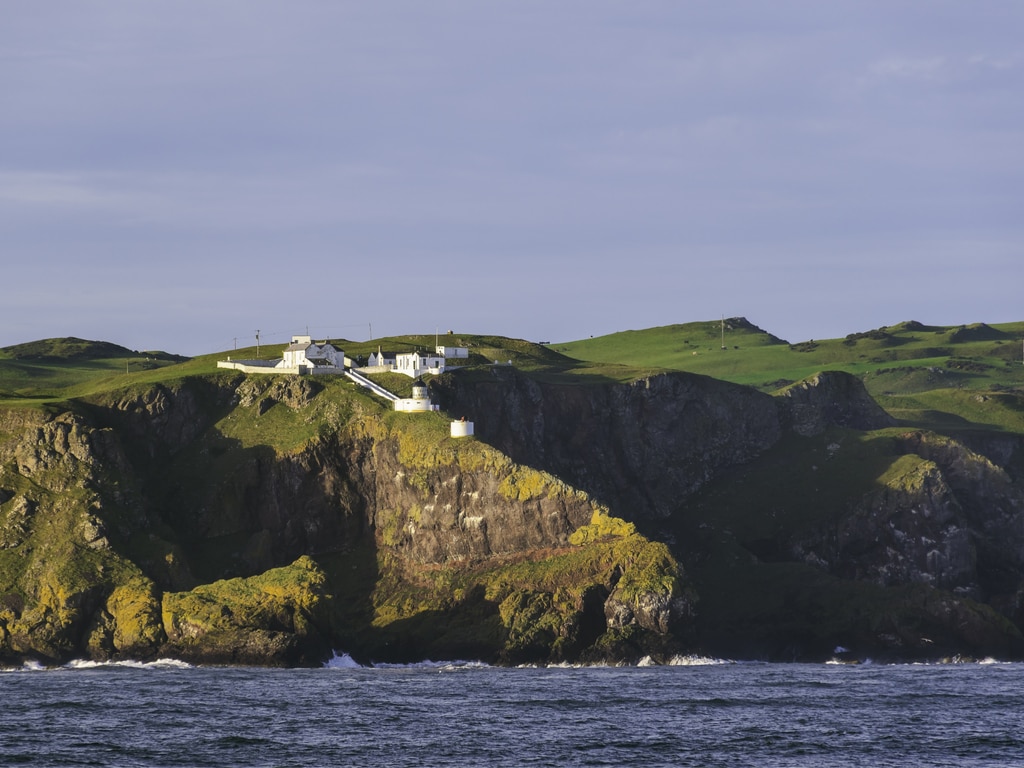 I absolutely love St. Abbs. For me, it's the best cliffy area in southern Scotland.
Here, you get wide vast cliffs, a famous lighthouse, a tiny coastal village, lofty sea stacks, massive seabird colonies, and some of the best panoramic cliff views I've ever seen.
For the best panoramas of the St Abbs cliffs, follow the road south leading towards Eyemouth. It's a steep climb, so it's best to do it in a car, but when you get to the top, you're looking right down onto the cliffs. It's one of my favorite views in Scotland.
If you've ever thought about doing the Coast and Castles bike ride, you'll get the exact view I'm talking about (if you cycle south to north). St. Abbs is so good that it's the best part of the whole route.
If you want to enjoy the 100-meter cliffs up close, go to the village of St. Abbs before heading on a path out west. Follow the route around the perimeter of a tiny loch before doubling-back on yourself and returning to the village for a jaunt measuring in at around 4 miles (6.5km). I reckon it's one of mainland Scotland's best clifftop wanders.
4. Eyemouth
Distance from Edinburgh: 52 miles/84km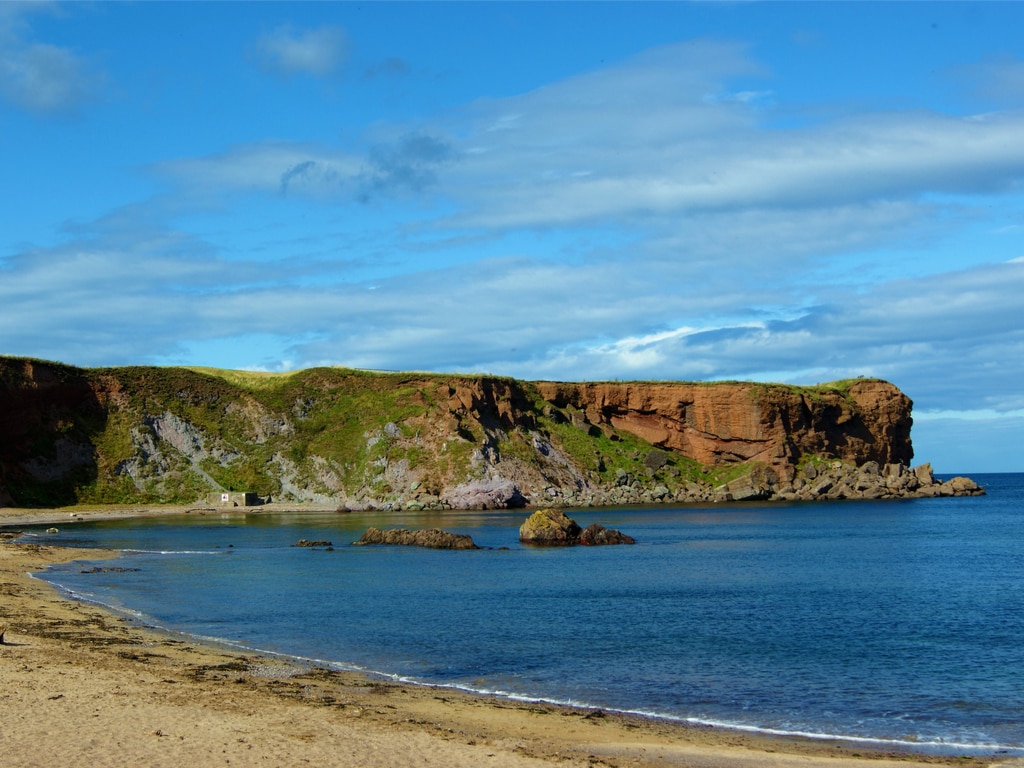 Remember that Eyemouth place I mentioned above? Well, it's next up on our list!
Eyemouth is a little different to St. Abbs. It's still a small settlement, but it's a relatively big place for this part of the world, with a population of around 5000 people.
Cute, charming, and with all the fun and flavor of a traditional British seaside getaway, Eyemouth is hugely popular with families who come here for vacations and weekends away. It has a great natural harbor, colorful boats, pretty homes, and lots of lovely places to eat and drink. It's the most famous seaside getaway on Scotland's southeast coast.
The cliffs here overlook sandy beaches and tucked-away coves. They're not the tallest, most scenic or most dramatic, but they're very pretty, and they're surrounded by a ridiculously-lovable town.
The best close-by cliffs are just to the west of the town center. They're pretty small, but they're craggy and attractive, and they're a great backdrop for Eyemouth's shores and sands. At these cliffs, there's a rickety little flight of stairs, so you can wander down to a secret spot at the foot of the cliffs.
For a great lengthy walk, you can combine Eyemouth and St. Abbs (and all of their cliffs!) by wandering between the two. The walk clocks in at around 4 miles (6.5km).
5. Arbroath Cliffs and Seaton Cliffs
Distance from Edinburgh: 80 miles/129km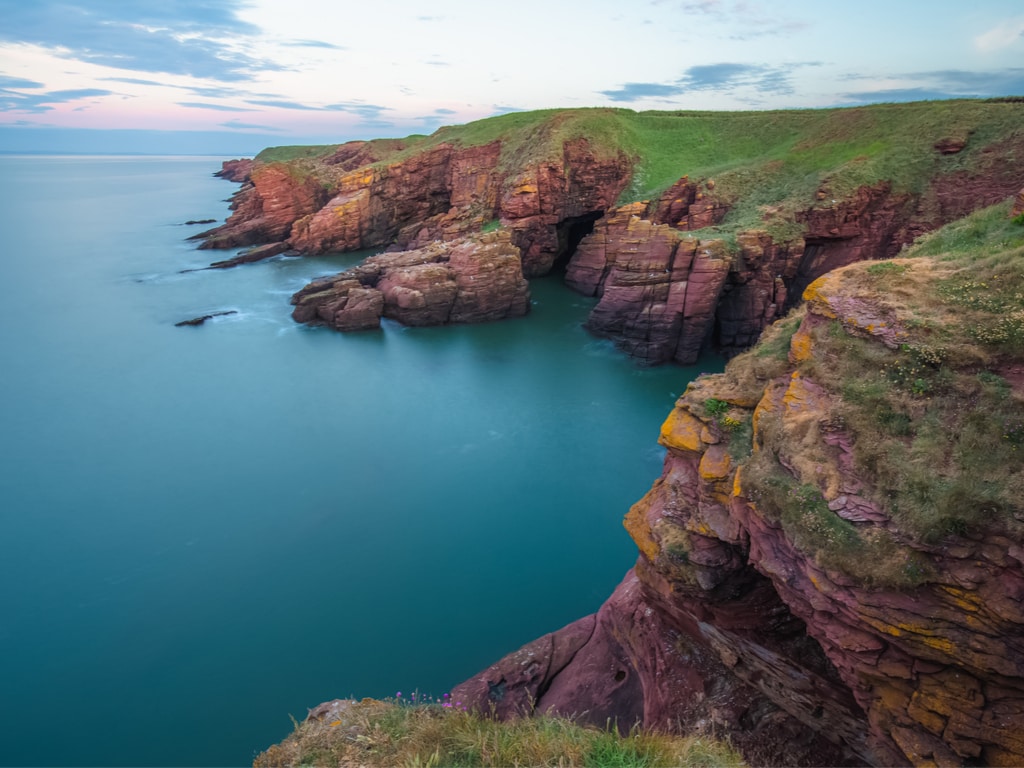 I've never quite been able to work out if Seaton Cliffs and Arbroath Cliffs are two names for the same place, or just two sets of cliffs that live next door to each other.
Either way, both of them are great. A big collection of red sandstone stacks, natural caves, slab-faced cliffs, wildflowers, deep inlets, and a rock-dotted ocean, it's a lovely place for a stroll. They're not the tallest cliffs on this list, but they have loads of varied features, so they're a great place to visit.
The best way to explore the cliffs is on a big walk from Arbroath to the tiny fishing village of Auchmithie. The wander from Arbroath to Achmithie (and back to Arbroath) measures in at a total of around 8 miles (13km). It's a long walk, but it's beautiful, it's a pretty popular route, and you get to see all the vivid and varied formations.
6. Bullers of Buchan
Distance from Edinburgh: 159 miles/256km
Okay, this entry's in Aberdeenshire, so it's not really close to Edinburgh. But if you're heading north, or if you don't mind traveling a big long way to see some of the best cliffs in Scotland, the Bullers of Buchan is brilliant.
The place is around 30 miles (48km) north of Aberdeen, and just south of the town of Peterhead, one of the biggest fishing ports in the UK. Both places are a good base for exploring the cliffs.
The Bullers of Buchan is actually a massive collapsed sea cave, which has formed a big hole in the ground surrounded by craggy cliffs and a natural archway. The cliffs measure in at about 30 meters, and they drop directly into the sea (rather than hanging over beaches).
There are loads of great walks in and around this area. The best of them is the trek from the Bullers of Buchan to the tiny village of Boddam. The one-way walk measures in at around 5 miles (8km), but for your return, you can ride a bus back to the Bullers of Buchan from Boddam. Along the walk, you get arches, stacks, endless cliffs, a big lighthouse, and dramatic peaks, pools and inlets.
The Bullers of Buchan is also a massively popular bird watching spot. Head here with some binoculars (or just your naked little eyes!), and you might spot puffins, kittiwakes, guillemots and more. Sometimes, you even get seals and dolphins here!
Final Words
Thanks for reading my quick guide to the best cliffs in and around Edinburgh.
Here's one final tip, before I leave you to go cliff-hunting: if you can, rent a car in Scotland. Public transport isn't great, especially in the remoter parts of the nation. Or, if you prefer, hitchhike. I've hitchhiked in Scotland hundreds of times—it's easy, people are friendly, and it turns remote places into accessible places if you don't have your own car.
And again, for the best cliffs in Scotland, try to head far north, and venture to the islands. For a little flavor of what you can enjoy, have a look at my guide to all the cliffs on the Isle of Skye.
If you want to know anything else about adventures in Scotland, we have plenty more on our site. Check out my articles on the best walks in and around Edinburgh, the best hikes in Scotland, the best coastal walks in Scotland, and my bumper guide to the North Coast 500.
Also have a look at my list of the top reasons why you should visit Scotland.
Whatever you want to know about Scotland, we have it right here on our site!
Being a Digital Nomad: Tips, Tricks and Places
Do you want to be a digital nomad?
If you do, maybe you don't know where you might want to live. Or how to live there. Or whether you need a visa. Or how to make friends in the scary sprawl of a brand-new city. Or how to stay productive while you travel. Or how to find an apartment. Or whether this lifestyle really is for you. Or… I'm sure you get the idea.
But with some insight and experience, it's not as difficult as you think. So in this book, I've gathered my 6 years of digital-nomadding experience… and I've used it to answer all your questions, soothe all your fears, and get you on your way. After reading this, you'll realise being a digital nomad is much easier (and much more possible!) than you think.