12 Mysterious Harry Potter Locations in Scotland You Should Visit
For Harry Potter fans, the UK is great—it's brimming with Potter-related locations, scenes, and sights, including waterfalls, viaducts, streets, valleys, lochs, castles, and plenty more.
And Scotland in particular is packed with plenty of them. So in this guide, we've brought you 12 Harry Potter locations in Scotland that every fan must visit.
If you're traveling with kids, they're all great choices. And if you're an adult who should probably grow up and stop taking an interest in fictional wizards, they're still great choices!
No matter who you are, how old you are, or how inappropriate your strange obsession might be, you're invited along on our trip. So hop on your broomstick, scribble a scar on your head, and bring that letter from Hogwarts!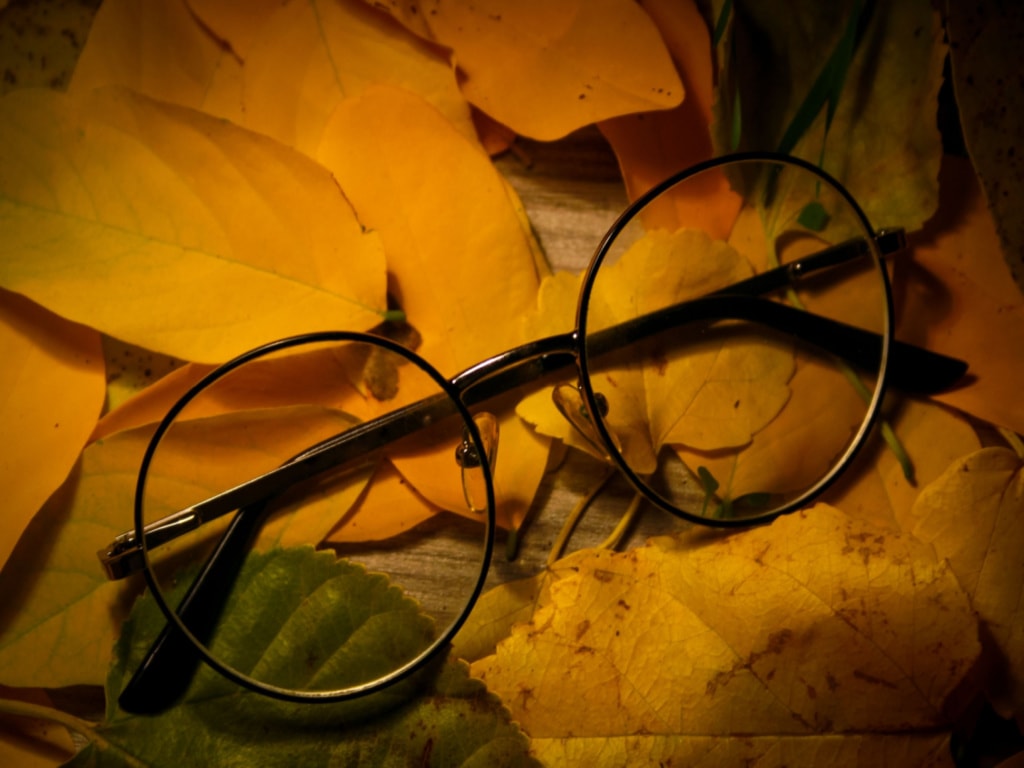 1. Elephant House Cafe, Edinburgh
This is probably the most well-known Harry Potter location in the whole of Scotland.
Famously, JK Rowling used to spend lots of time here, sipping on tea and coffee while scribbling away on her Harry Potter drafts. When the first Harry Potter book was published, she was in the habit of regularly writing in this cafe.
Because of that, this place is understandably known as the "birthplace" of Harry Potter.
The cafe doesn't make a huge deal of the Potter stuff—so you aren't gonna see anything mind-blowingly life-changing here (aside from a few photographs, and lots of Potter-related graffiti in the toilets).
But if you want to see the place where large parts of the first three books were written, the Elephant House Cafe is a nice little place to visit. And you even get to see the particular table where Rowling liked to sit!
At the time of writing, the Elephant House Cafe is temporarily closed due to fire damage. But it'll soon be back open again.
2. Victoria Street
Also found in Edinburgh, some people reckon Victoria Street might have been the inspiration (or at least one of the inspirations) for Diagon Alley.
A narrow, curved street very close to Elephant House Cafe, it's colorful, quirky and kooky, and it's not hard to spot the similarities to the franchise's most famous shopping street.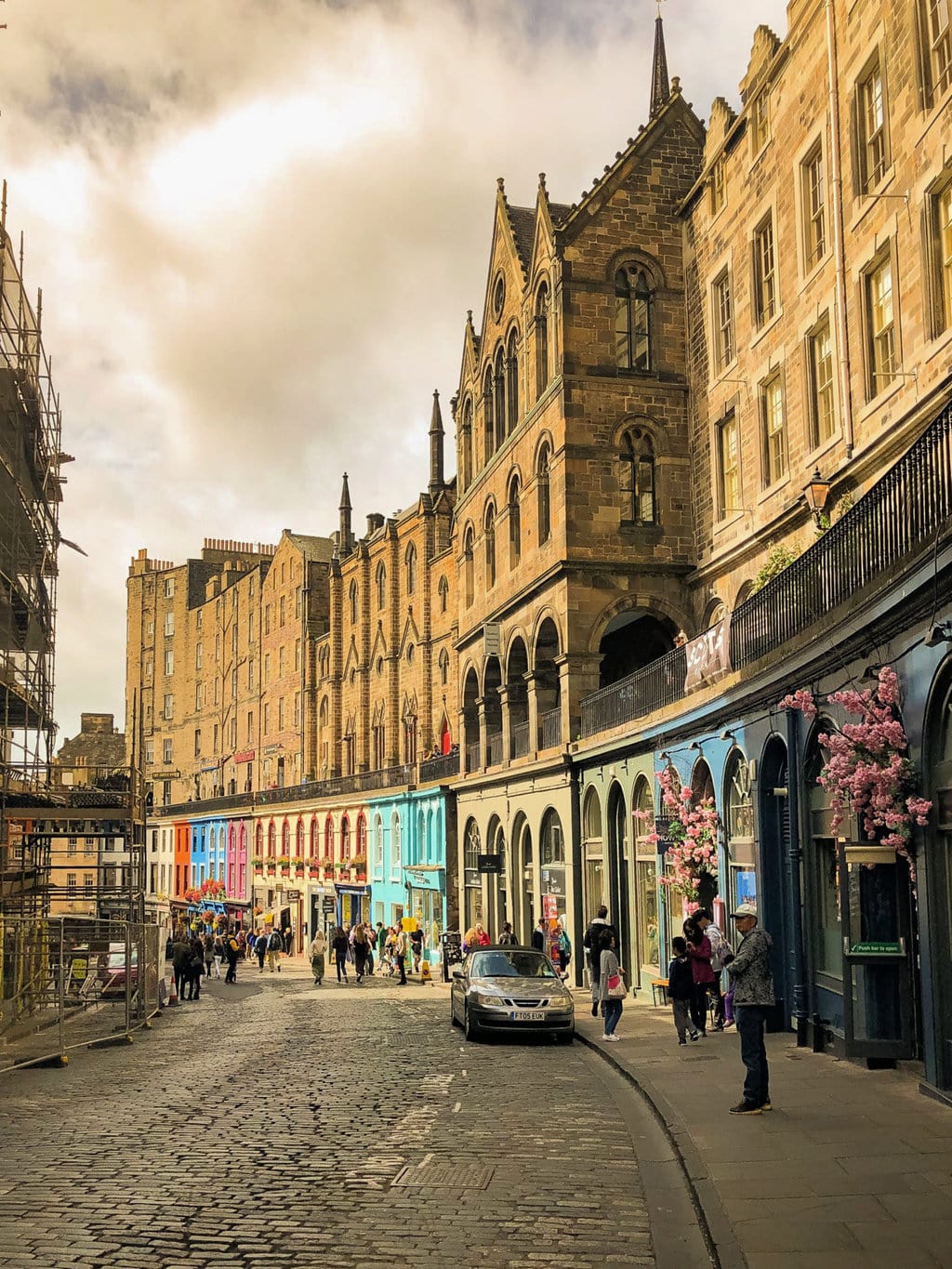 The street's most famous Potter-related store is Museum Context, which sells lots of themed goods related to the books and movies. Ever wanted to buy a massive Hedwig sculpture? A Dumbledore cup? Or a Gryffindor wax seal? No, me neither—but at Museum Context, you can buy all that ridiculous garbage and more.
If you're combining your trip to Scotland with a trip to England, the English city of York has some similar streets. And, if I'm honest, the streets of York look much more like Diagon Alley than the streets of Edinburgh. But this article isn't about England, so I'll stop going on about it now.
3. Greyfriars Kirkyard
One more Edinburgh option, this creepy cemetery is another popular Potter pilgrimage spot. 'Kirkyard' really just means 'church yard'… which, in turn, just means 'cemetery'.
JK Rowling allegedly took some inspiration from the gravestones in this place… so inscribed on the stones, you can expect to stumble upon surnames like 'Potter,' 'Moodie' and 'McGonagall'.
And get this—there's even a 'Thomas Riddell' gravestone, which may or may not be a reference to that man whose name I'm not allowed to say in case he haunts me or something.
Admittedly, this is a pretty big cemetery, so it's not easy to find the names you're looking for. So treat it like a treasure hunt—except with dead bodies instead of gold and jewels.
To save priceless time on your Scottish trip, and to learn many interesting facts and anecdotes, we advise you to take a guided tour of the place. This one is actually pretty cheap.
As a juicy little bonus, you can see some of the tallest parts of George Heriot's School from the inside of the cemetery… but more on that place later.
4. Glasgow University
Want to feel like you're wandering around the grounds of Hogwarts?
Well, here's some good news for you: Glasgow University bears a pretty big resemblance to the fictional education establishment. All gothic and gargantuan, it looks exactly like the sort of place where you might learn how to cast spells, fly, or do whatever else wizards do.
Inside the university, there's a famous courtyard—and it looks just like the courtyard where Harry and his pals first learn to fly their broomsticks.
Lots of people claim that parts of the Harry Potter movies were filmed at Glasgow University. But that isn't true. Most of the exterior Hogwarts shots for the first few Harry Potter movies were actually shot at Alnwick Castle, just south of the England-Scotland border.
You can actually spend a day in the castle.
In fact, If you're looking for a real treat, visit Alnwick Castle! Not only will you get to see some gorgeous architecture, but you'll also learn about all the popular films and TV shows that have been filmed there – including of course Harry Potter!
5. Goerge Heriot's School
Not quite as impressive as Glasgow University, but here's another educational institution that sort of looks a bit like Hogwarts.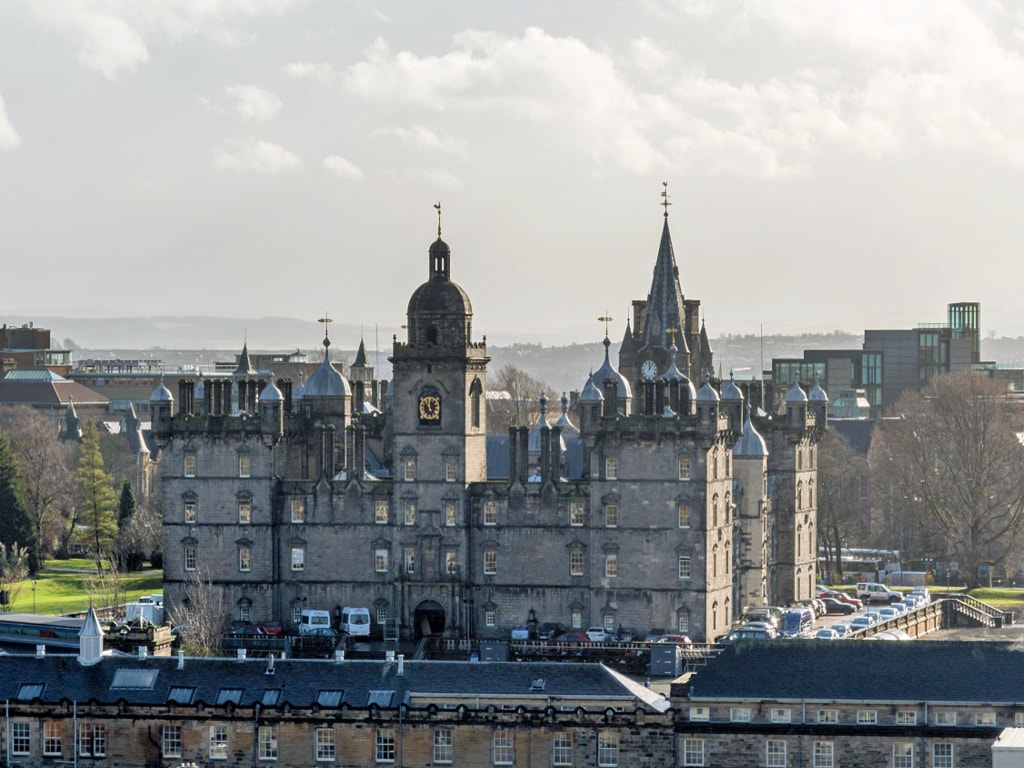 Especially if you squint and tilt your head and lie to yourself. But that's just my opinion.
A gated Romanesque behemoth of a building, George Heriot's School is right in the center of Edinburgh.
But although it's not situated at the end of a mysterious train journey, it shares some pretty compelling similarities to where Potter learned his tricks. It looks a lot like Hogwarts, and it has four towers and four houses. And on top of that, it's a pretty prestigious place.
Back in the day, people used to claim that this school was a direct inspiration for Hogwarts, but JK Rowling has since denied that claim. Rowling has always insisted that she imagined Hogwarts to be in Scotland—but it was never specifically intended to be George Heriot's itself.
6. The Glenfinnan Viaduct
The most famous outside-of-Edinburgh Harry Potter attraction in Scotland, the Glenfinnan Viaduct is iconic.
You know when Harry and his pals are making their way towards Hogwarts on the train, and they cross that sprawling viaduct? Well, that viaduct is actually the Glenfinnan Viaduct.
Completed in 1901, and with 21 arches, it sits at the northern end of Loch Shiel, west of Fort William. From in and around the tiny village of Glenfinnan, there are endless great views of the viaduct, but the best views are from above, rather than below—so follow the waymarked trail uphill from the main Glenfinnan car park.
Because it's super beautiful, the Glenfinnan Viaduct is a great place to visit even if you're not remotely interested in fictional wizards or boys with wands.
Before you visit, make sure you check the timetable—trains are pretty infrequent, and there's not much point in looking at a train-free viaduct.
It's of course possible to ride over the viaduct on a train, which brings us to…
7. The Harry Potter Express
Does any Scottish experience get any more Potter-related than this?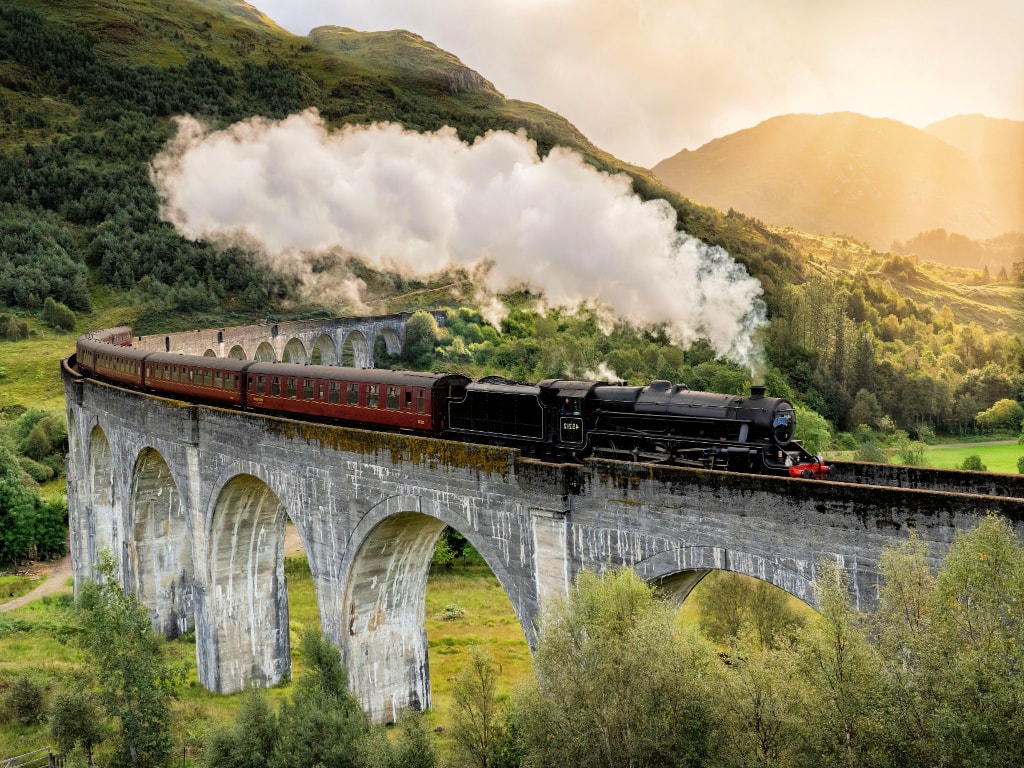 The Glenfinnan Viaduct is still completely functional, but here's the twist: it doesn't serve any commuter routes.
Instead, the only trains that now traverse the viaduct are experiential retro-style steam trains journeying between Fort William and Mallaig. For that reason, make sure you book up in advance.
Again, be aware that the schedule is pretty thin. There are four trains per day in summer and none at all during winter.
A lovely ride on an old-school steam train, the views are incredible, and it's great even if you're not pretending you're on the way to Hogwarts. Some people reckon this route is the best train journey in the world… and it's pretty hard to argue.
8. Loch Shiel
As I've already mentioned, the Glenfinnan Viaduct sits at the northern end of Loch Shiel.
But Loch Shiel has even more connections to Harry Potter, as the loch itself shows up in many of the movies (some people claim it's actually featured in all of the movies, but I haven't seen them all, so I don't really know how true that is).
You know that big so-called 'Black Lake' that sits close to Hogwarts?
For lots of scenes, Loch Shiel was used as the Black Lake—and it was used as the setting for the underwater stage of the Triwizard Tournament in Harry Potter and the Goblet of Fire. Apparently.
9. Glen Coe
One of my favorite areas in Scotland, Glen Coe is the nation's most well-known valley.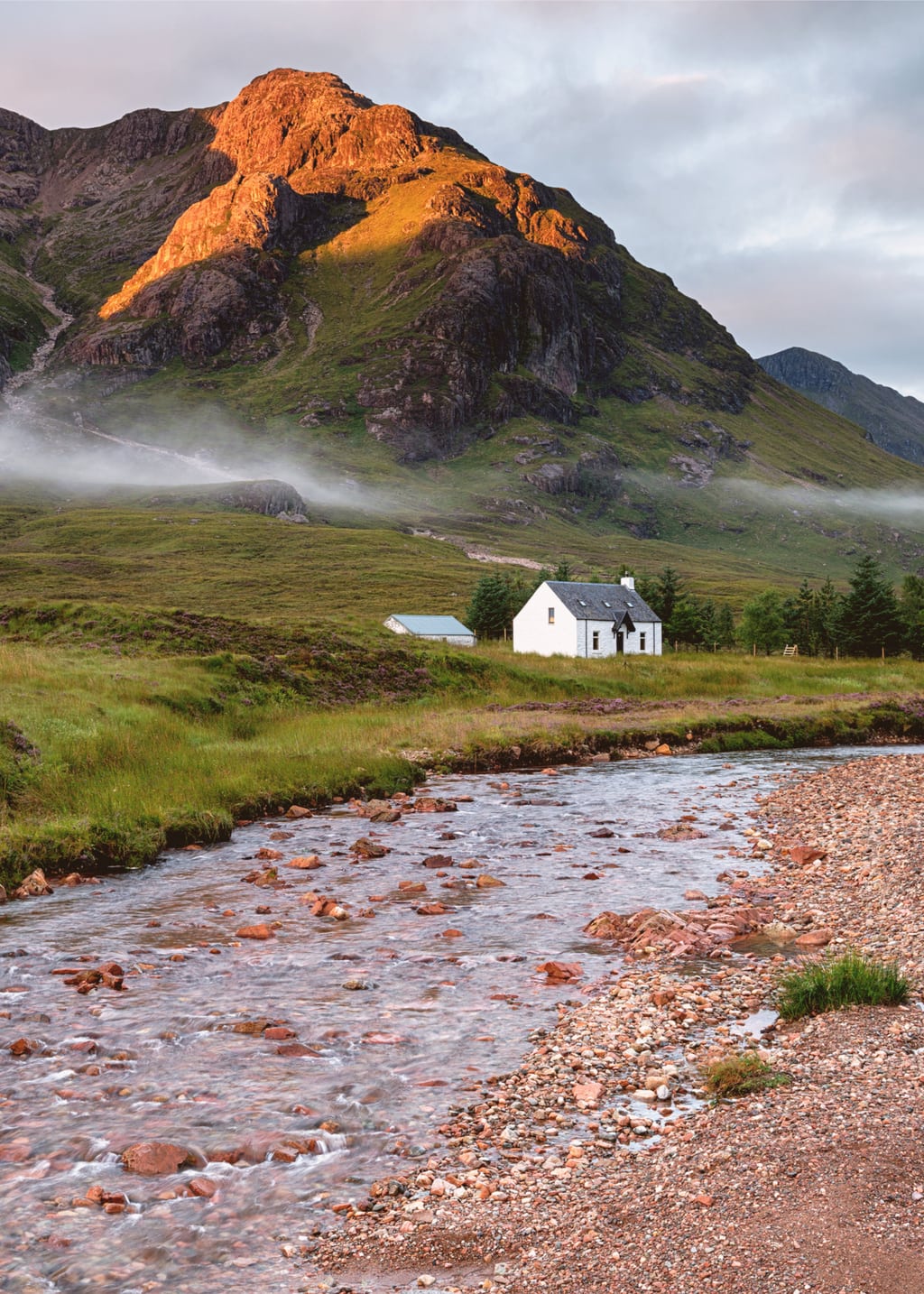 Massively famous for hiking, road trips, cycling, skiing, and other outdoor adventures, it's also featured in lots of Harry Potter movies.
You can spot Glen Coe in various different scenes, but you'll probably recognize it best as the setting for Hagrid's hut in Harry Potter and the Prisoner of Azkaban.
It was also used for the scene where Hermione punches Draco, and as the place where Buckbeak is chained up before he goes to wizard prison.
Even if you're not bothered about Harry Potter, you'll still love Glen Coe. It offers some of the best hikes in Scotland, and it's well-located for exploring many other parts of the nation, including Fort William, Loch Lomond, the Cairngorms, some great beaches, and lots of charming towns and villages.
Potter-related or otherwise, Glen Coe is one of the nation's best bases for lots of varied adventures.
10. Rannoch Moor
One of the wildest and most desolate parts of Scotland (well, apart from the far north), Rannoch Moor measures around 50 square miles (130 square kilometers). Featuring bogs, peaty landscapes, barren moors, and countless small lochs, it's home to lots of interesting animals.
But as you've probably guessed from its inclusion on this list, it's also related to Harry Potter.
In Harry Potter and The Deathly Hallows Part 1, the Death Eaters stop a train here and jump on it to see if they can find Harry Potter. That train station is located in Corrour, on the edge of Rannoch Moor.
Eerily bleak, it's one of the most remote train stations in Scotland, and it's no surprise that a Death Eater scene was filmed there.
Interestingly, that very same train station was used for the first Trainspotting movie… which is much more my type of thing.
11. Steall Falls
The second-highest waterfall in Scotland (and the second-highest waterfall in the UK), Steall Falls sits pretty close to Fort William (and pretty close to both Glen Coe and Rannoch Moor).
The waterfall has been used in the Harry Potter movies on two separate occasions. The first time, it's a backdrop for a quidditch game. And the second time, it's where Harry has a fight with the Hungarian Horntail dragon in the Goblet of Fire.
To find the falls, you need to park at the Upper Glen Nevis car park before embarking on an easy 2-mile (3.5km) wander through some pretty woods.
It's a great spot for wandering, walking and picnicking, so I totally recommend it… whether you like Harry Potter or not.
12. Harry Potter Tours
Okay, this isn't just one location. But if you really want to immerse yourself in the Harry Potter stuff in Scotland, this is arguably the best way.
There are lots of companies offering various types of tours. Some tours just take you to spots in Edinburgh, while others will take you to various parts of the nation (and some even take you south of the Scottish border, to some of the Potter-related locations in Northumberland).
The most well-known is probably The Potter Trail, a free-of-charge walking tour around Edinburgh's best and most iconic Potter-based sights.
But there are various more options, both paid and unpaid.
You can find some of the best here — or you can just wander around Edinburgh, and you'll find lots of people, companies, and agencies offering various Potter adventures.
Just make sure you take your tour with a reputable company, so you'll get a good experience crammed with facts, insights, and context.
Here are the tours we do recommend:
Harry Potter Locations in Scotland: Final Thoughts
There you are—now you're fully equipped for wandering around Scotland and pretending you're a wizard (while also pretending you're a fully-functional adult).
If you want to explore more leftfield guides to one of my favorite nations on the planet, check out our articles on what you shouldn't say to Scottish people, what you shouldn't do in Scotland, and all the best things to do during a Scottish winter.
Thanks for reading, thanks for choosing Travelness, and make sure you keep choosing us in the future. See you next time!
Being a Digital Nomad: Tips, Tricks and Places
Do you want to be a digital nomad?
If you do, maybe you don't know where you might want to live. Or how to live there. Or whether you need a visa. Or how to make friends in the scary sprawl of a brand-new city. Or how to stay productive while you travel. Or how to find an apartment. Or whether this lifestyle really is for you. Or… I'm sure you get the idea.
But with some insight and experience, it's not as difficult as you think. So in this book, I've gathered my 6 years of digital-nomadding experience… and I've used it to answer all your questions, soothe all your fears, and get you on your way. After reading this, you'll realise being a digital nomad is much easier (and much more possible!) than you think.