England Coast to Coast Walk: The Complete Guide
Thinking about walking from one end of England to the other? You're in the right place.
Unless you're walking it because your car's broken down; then you're in the wrong place. If that's the case, call a car recovery place instead.
But assuming you want to walk across the entire width of England for fun, we've got your back. We've included information on the famous Coast to Coast walking route along with tips, route suggestions and accommodation recommendations.
Get your hiking boots on and join us as we take you from one side of England to another. Here's our guide to the Coast to Coast walk:
What is the Coast to Coast Walk?
The Coast to Coast walk is a 293km (182-mile) multi-day hike in northern England which takes hikers (unsurprisingly) from one coastline to another. The route traverses England from west to east starting at the Cumbrian village of St Bees and ending at Robin Hood's Bay, which sits in North Yorkshire Moors National Park.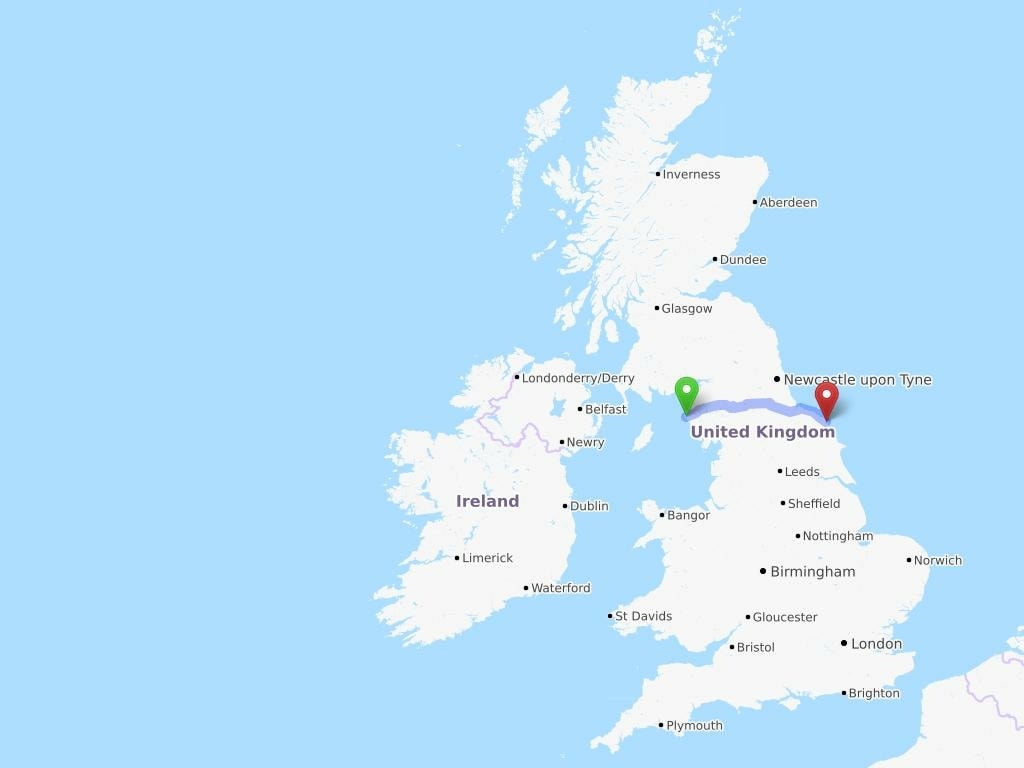 The walk was devised by Alfred Wainwright, a renowned British fellwalker. He was famous for walking, writing about walking, and having big fluffy sideburns.
If you're keen to cross the entirety of England by foot, this walk is absolutely the best choice. It obviously won't show you every part of the nation, but it packs in a huge amount of diversity into its relatively short distance.
For many people, the Coast to Coast walk is THE iconic English walk. If you're only ever going to embark upon one multi-day long-distance hike across England, go either for this one or the Pennine Way. Both are legendary English walks, and they're both brilliant (though admittedly often horrendous) challenges.
There are lots of variations of the Coast to Coast walk, but we're focusing on the most common route. That said, if you want to devise your own detours and deviations, you can – even Wainwright himself recommended doing so. And he's the expert, not me.
How Long Does It Take to Do the Coast to Coast Walk?
Most hikers tackle the trek in around 14 days or a little less. Anything between 10 and 14 days is considered pretty normal, while still presenting a hefty challenge.
But you can do it as quickly or slowly as you like.
If you love blisters, crying and limping around like an extra from a zombie movie, do it faster.
If you prefer to relax, go slower. It's your vacation, do what you want.
Should I Do the Coast to Coast Walk East to West or West to East?
Most people walk from west to east – and that's the way Wainwright recommended himself.
If you walk from west to east (that's from St Bees to Robin Hood's Bay), you won't have the wind blowing in your face for days on end, and you'll get the hardest part out of the way first. Walking from west to east is definitely the most sensible way to tackle the walk.
But not everyone likes being sensible. If you fancy walking in the other direction (if you live near Robin Hood's Bay, or if you're a maniac), you'll still enjoy brilliant views.
Coast to Coast Walk Route Description
Here's the juicy part you've all been looking forward to: the route!
Assuming you walk from west to east, you'll hit these three big areas in the following order:
The Lake District National Park: probably the most famous national park in the UK, the Lake District is known for (guess what?) lots of lakes. This section is the hardest part of the walk, and it's packed with endless uphills and downhills. During this part of the walk, you get stunning lakeside views and massive panoramas of village-dotted landscapes.
The Yorkshire Dales National Park: English countryside is renowned for endless stretches of bare, exposed, endless moorland. Looking for it? You'll find it here. During this part of your hefty adventure, you'll enjoy views of heather, flat landscapes and huge horizons.
The North Yorkshire Moors National Park: more moors, and even more remote, but this area undulates a little more than the Dales which come before it. The North Yorkshire Moors National Park crosses the Cleveland Hills, offering lots of mini peaks with excellent views.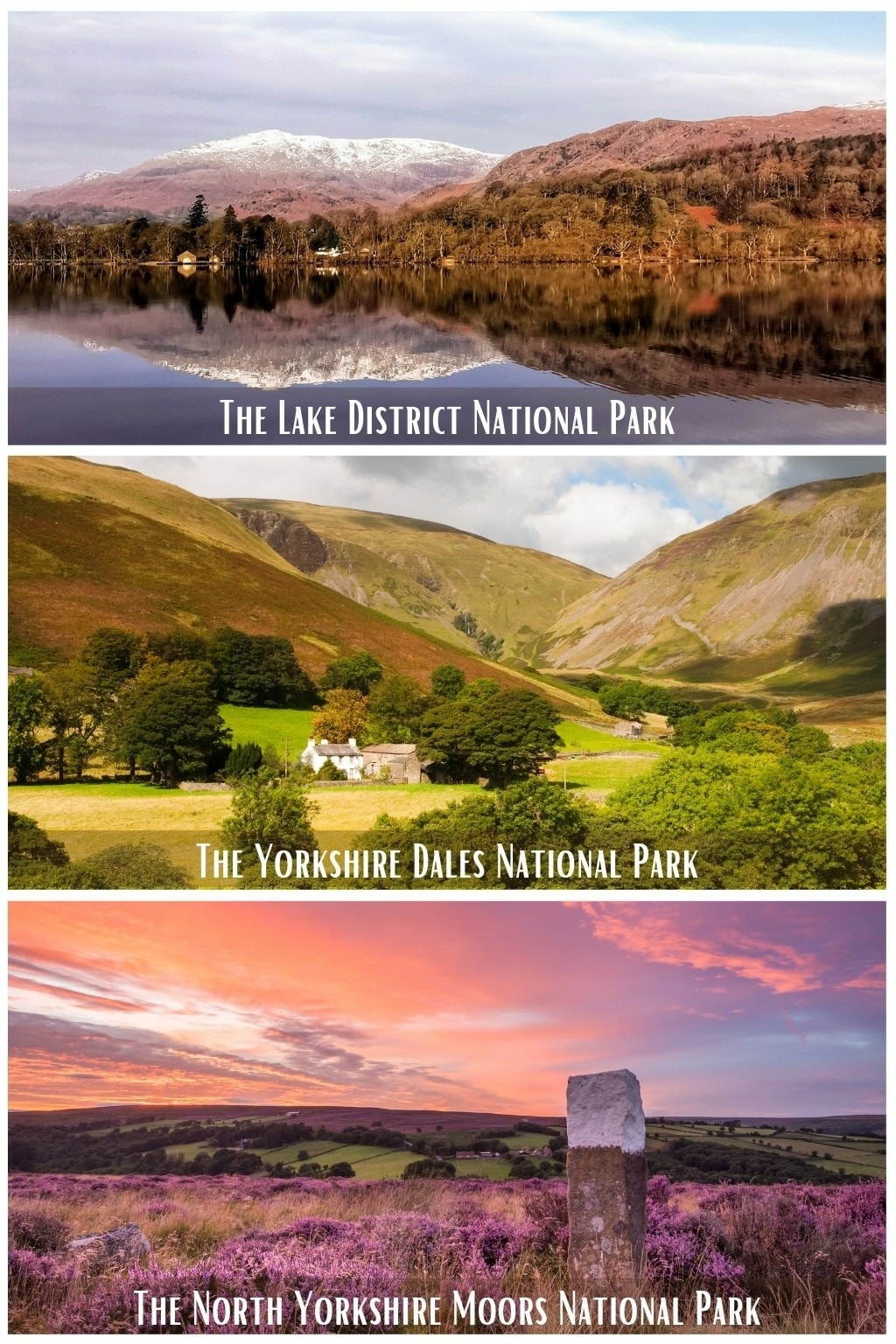 Between the Yorkshire Dales National Park and the North Yorkshire Moors National Park, there's a relatively flatter stretch which passes between the town of Richmond and the village of Ingleby Cross.
This section has lots of lovely towns and villages, so it's a little less barren and bleak than some other stretches of the route. Like charming towns and villages? You'll like this section best, though the entire walk offers lots of them both.
Coast to Coast Walk Facts
Coast to Coast highest point: Kidsty Pike, which sits at 780 meters, on the eastern side of the Lake District.
Coast to Coast world record time: in 1991, British ultramarathon runner Mike Hartley completed the entire route in 39 hours, 36 minutes and 52 seconds. No, you haven't read that wrong.
Coast to Coast founded: the walk was originally described in Wainwright's imaginatively-titled A Coast to Coast Walk, which he first wrote in 1973. But the book and the route have been revised many times since.
Total ascent: 6995 meters. Ouch.
Traditions: there are two Coast to Coast walk traditions. The first is dipping your boots in the sea at either end. The second (which is a little more romantic and symbolic) is to take a small pebble from St Bees and carry it all the way to Robin Hood's Bay. How quaint.
Why Should I Do the Coast to Coast Walk?
In short, for the views and for the challenge.
The views are ridiculously good, and the walk takes you through a huge range of diverse landscapes. If you want to get acquainted with a massive selection of the views and vistas on offer throughout England, the Coast to Coast walk is a good choice. It takes you through lakes, peaks, valleys, moors, hills, mining relics, cliff-backed coastlines, stone formations and charming towns and villages.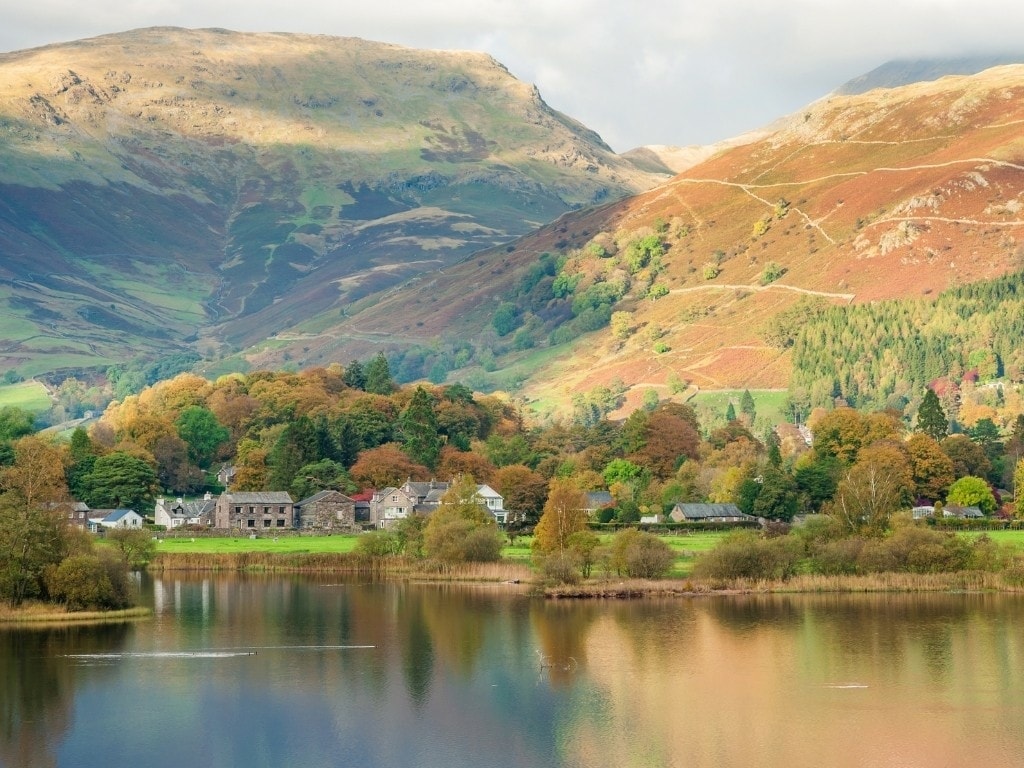 The Coast to Coast walk is also a gargantuan challenge, and that's of course part of the appeal. For some stretches, you'll hate your life, your legs, your feet and your choices. But you'll always be able to look back on the adventure with unjustified nostalgia, as you take pride in claiming that you loved every moment.
It's also excellent exercise (of course). Better than walking on a treadmill innit.
Another highlight of the Coast to Coast walk is the people you'll meet. England's northerners are infamous for the friendliness, and the rural ones are usually the friendliest of all. Like often-overwhelming generosity? Or farmers who'll let you camp on their land? Or accents you can't understand? You'll love the Coast to Coast walk.
What's the Best Time of the Year to Do the Coast to Coast Walk?
The best time to do the Coast to Coast walk is absolutely summer or spring.
Don't do it in winter. There will probably be lying snow, you'll be constantly cold, and lots of the conditions will be horrendously inhospitable. You also won't have much daylight at all, so your distance will be hugely limited by the sun. Pesky sun.
You should also avoid autumn (or fall, if you're from a country which uses a verb to describe a season). During this time of year, it'll likely be very wet, and the views will be probably be genuinely terrible (unless you like looking at mist)
Summer is of course a great time to attempt the walk.
But though the weather will likely be great, it might even be a little too hot. You'll also find that some parts of the route will be outrageously busy during July and August, as this period marks the school summer holidays in England. And where there are school holidays, there are always exasperated parents reluctantly dragging their crying kids along hiking trails.
Spring is typically the best time. Days are long, the weather is (usually) good and there aren't too many crowds. If you can choose any time of year, choose March or May.
Where Should I Stay on the Coast to Coast Walk?
If you're going to stay in proper accommodations along the Coast to Coast walk (rather than slumming it in a tent), you should book those accommodations in advance.
There are lots of places to stay along the entire stretch of the Coast to Coast walk, from swanky hotels to homely bed and breakfasts to renovated garage spaces. But most people overnight in hostels, since they're the most accommodating to customers who want to trail piles of mud around wherever they're staying.
Here are some of the best hostels along the Coast to Coast walk (from west to east):
If you don't like the idea of staying in hostels, consider pubs and bed and breakfasts rather than hotels.
Typically, hotels aren't particularly welcoming to mud-caked hikers – but there are lots of excellent pubs and bed and breakfasts which make for hospitable stays on the Coast to Coast hike. And pubs and bed and breakfasts are always a better way to get close to local culture and people anyway!
Can I Camp Along the Coast to Coast Walk?
Yes, you can camp along the entire route. And lots of people do.
I wouldn't though. Though I love camping, pitching up a tent is hardly an exciting prospect when you've just walked 15 miles for the tenth day in a row. And you're wet, cold and crying.
When you're spending every day walking, sweating and (probably) tolerating the misery of English weather, you'll want a warm shower, a comfortable bed and an easy night. And if you're camping, you won't get those things.
So camp if you like, but don't expect it to be a relaxing experience. Especially since it means you'll need to carry lots of extra gear.
But camping does offer some perks. Firstly, you don't need to book anything in advance, so it gives you spontaneity and freedom. Done five miles of walking and can't be bothered to move on because you've found a nice pub? If you've got a tent, you don't need to.
Camping can also offer a charming and quaint experience, as lots of farmers and pub owners will let you pitch up on their land for only a small fee.
A word on wild camping in England: it's not legal, but most people do it anyway. If you're a sensible, kind camper and you're respectful of the local area and its people, you're very unlikely to get into any trouble.
Where Should I Eat on the Coast to Coast Walk?
Pubs! You should absolutely eat at good old English pubs while you're on the Coast to Coast walk.
The entire walk is a brilliant way to get yourself acquainted with excellent English food. And even though English food has a reputation for being a stodgy beige mess, English food is actually pretty good (even if some of it is admittedly a big stodgy mess).
But if you can't justifiably eat big stodgy messes when you're on a hiking holiday, when can you?
There are lots of great pubs along the entirety of the Coast to Coast – and as is the tradition in England, most meals eaten in small towns and villages are eaten in country pubs. Try roast dinners, pies, pastries and cakes. And when you're on the coastal stretches, make sure you eat some fish and chips.
It's also important to note that though pretty much every village (no matter how small) will have some sort of store, some of the remote stretches between villages are frustratingly long. So always make sure you carry plenty of snacks.
Is the Coast to Coast Walk Difficult?
Yes, the Coast to Coast walk is difficult.
Even if you're a seasoned veteran of the walking game with a big fat badge in hiking, trekking and enduring bad weather, 293km is still a massive challenge.
No matter how fit you are, you'll probably get niggles along the way, from blisters to sore joints to shin splints to a bad back. I don't think anyone's ever completed the Coast to Coast without pains and injuries. If you do, let me know how.
The Coast to Coast walk is also a mental challenge.
If you're sore, you still have to walk. If it's raining, you still have to walk. If you're bored or tired, you still have to walk. Whatever happens, you still have to walk.
But it's these challenges which make the walk appealing. It's not an easy walk, but that's the point. If you want an easy walk, don't bother with the Coast to Coast.
To prepare for the walk, you should tackle a couple of smaller multi-day walks. Tackle two or three 50ish-mile walks over three or so days, and you'll be in a much better position to know if you and your body are capable of the entire Coast to Coast.
Do these practice walks while wearing and carrying exactly the same kit that you plan to wear and use for the entire Coast to Coast. Halfway through the first day of your Coast to Coast adventure, you don't want to realize that your allegedly waterproof coat isn't actually waterproof. Or that your shoes give you blisters. Or that your compass is smashed.
Aside from all the physical and mental stuff, navigating is also a bit of a challenge. Though the walk is hugely famous, it's still an unofficial jaunt, and isn't waymarked for its entirety. Weirdly, it's one of the longest unmarked trails in the whole of Europe.
Though some helpful locals have painted charming but rudimentary signs, and though there are some helpful waymarkers along the way, you absolutely need a good map and a good guidebook to complete the hike. Without them, you'll get lost, you'll cry and you'll wonder why you're not just sitting at home instead.
Which brings us to…
Recommended Coast to Coast Walk Guide Books and Maps
Here are some of the best guidebooks for the Coast to Coast walk:
If you want the assistance of the expert himself, go for Wainwright's original. This version has been updated and modified to reflect recent changes and recommendations, but it's largely based on Wainwright's own original work. It has charming hand-drawn route maps and the descriptive directions are both fun and helpful.
For many, this book is even better than Wainwright's updated original. It includes 109 large-scale maps and comprehensive descriptions. There's also lots of great information on places to stay and places to eat along with other helpful tips.
But though these books (and they're absolutely the two best books for the Coast to Coast walk!) have maps, these maps alone aren't enough. Because the trail isn't properly waymarked, you need a very comprehensive map with very comprehensive detail.
This is absolutely the best map for the Coast to Coast walk. Seriously. Don't even bother looking for anything else, because this is as good as it gets. The 1:25,000 scale offers huge detail, there are 72 pages, and there's a hugely thorough amount of information. It's not waterproof, but just buy a waterproof cover for it and you're golden.
What Do I Need to Pack for the Coast to Coast Walk?
Lots! Here are some of the essentials, along with our top recommendations from Amazon:
A compass: don't don't don't go on the Coast to Coast walk without a compass. You absolutely need a good compass and a good map to properly navigate.
A good water bottle: you're gonna need some water, so a good reusable water bottle is essential. This one has a straw, which is good for sipping on the go.
A Lifestraw or water purification tablets: realistically, you probably won't need these, but you never know. If you have no safe drinking water and you're nowhere near any, these can literally save your life.
First aid kit: cuts, blisters and small aches and pains are all pretty likely. A first aid kit seems necessary until you need it.
Hiking poles: give your knees some respite. No matter how good you think your knees are, the Coast to Coast walk (without hiking poles) will smash them to bits.
Playing cards or a chess set: you might have long evenings with little to do. These give you something to do. A good book is also a good idea.
Multi-tool: if you need to cut something open, crack open a bottle or fix something on the go, you'll need a multi-tool.
Travel towel: you don't want to carry around a huge, heavy, cumbersome beach towel for your entire trip. So carry this instead.
Sleeping mask: whether you're camping or sleeping in hostels, you'll need a good sleep. A sleep mask all but guarantees one. You don't want to walk around tired.
Battery pack: don't let your phone die. Or any of the other gear you're carrying.
Flashlight: you shouldn't need this, because you shouldn't hike in the dark. But if you do get unexpectedly caught in the dark, a good flashlight can be priceless.
Food: you don't want to go hungry, and some remote stretches of the Coast to Coast walk offer a stomach-rumbling dearth of places to eat and drink.
A good backpack: you won't get far with all this gear without a pack to put it all in. Make sure you use a backpack which performs well and fits in all of your stuff.
Good hiking boots: and make sure you've used them many times before the trip. Unused boots are blister-causing boots.
Clothes: please wear some clothes. No-one wants to see naked you walking around the north of England, no matter how sexy you think you are.
Waterproofs: carry a waterproof coat, waterproof trousers and a waterproof pack cover. At some point, you'll likely need them all.
Camping stuff (but only if you're camping)!
Sunscreen: no matter what you've heard about English weather, it can be sunny. Sometimes.
A big smile: when things get hard, you'll need it.
… and last of all, make sure you pack that book and map that we've already mentioned.
How Do I Break the Coast to Coast Walk Down?
Again, that depends upon how many days you'll be walking, but if you're planning your walk in day-to-day detail (rather than just winging it with a tent), you should walk from significant town or village to significant town or village.
That way, you'll always have somewhere great to replenish and refresh overnight.
If you've never before been on a long-distance walk, it's hard to know how many miles you should tackle per day – and that's one of the reasons why you should do a couple of smaller multi-day walks to prepare yourself.
But as a general rule, most long-distance walkers attempt anything from 10 to 20 miles per day, so hitting an average of around 15 miles per day is your best bet. You should plan to walk around 15 miles per day, and stay in a town or village each night. But because some areas are more remote (or less remote) than others, the distance of your days will vary.
But since it's your trip, you can break your walk down in any way you like. Want to stop walking for three-days mid-route? Do it! Want to alternate days of walking with days of not-walking? Do it!
Lots of walkers have rest days during the Coast to Coast walk. They spend these rest days eating, drinking, sightseeing, doing laundry and lazing around. Most importantly, they spend these days not walking. If that's your plan, some of the best places to have rest days are Grasmere, Kirkby Stephen and Richmond.
Don't take these rest days on Sundays – in many towns and villages, lots of places will be closed.
Is the Coast to Coast Walk the Same As the Coast to Coast Cycle Route?
No. There's a famous Coast to Coast cycle challenge in the north of England, and lots of people assume that these two challenges are in the exact same area, or that they follow the same route. But neither of those things are true.
The coast to coast cycle challenge takes cyclists from Whitehaven (which is very close to St Bees) to Tynemouth (or Sunderland, depending on which route challengers choose). So while the cycle route traverses a similar section of England, it's a very different route to the one offered by the Coast to Coast walk.
Coast to Coast Walk Top Tips
If you're not camping, book accommodation in advance. I'm pretty much always the type of person who likes winging a trip, but if you don't have a tent and you don't have a place to sleep, another day of walking isn't a very promising prospect.
If you're considering tackling the route between October and February, seriously reconsider. You'll probably have a terrible time. The weather will be awful and the days will be short.
Pack, pack and repack. Make sure you have everything you need, and make sure you try all of your kit out before you set off. You don't want to set off only to find that you've packed no food, you've got no socks and your boots don't fit.
I know I've said this a million times, but carry a good map, compass and guidebook. If you don't, you'll spend most of your walk wandering around lost.
Take a good camera. You'll be seeing some sights that you'll want to remember forever. Or at least some sights that you'll want to post on Instagram.
Here's my number one tip, and the most important tip of all… enjoy it! It's one of the most incredible adventures that England has to offer.
In Conclusion
… that's my guide to England's Coast to Coast walk!
One of the best walks in England, it's a legendary challenge – and for many, it's the classic English multi-day hike. Prep, plan and get on your way, and you'll have one of the best adventures of your life.
Want to know more about UK adventures and destinations? Stick with us. We've got guides on cities, hotels, road trips, restaurants, accents and some of the region's most unusual attractions. Sling that guide book in the bin – we're your guide book now baby!
Being a Digital Nomad: Tips, Tricks and Places
Do you want to be a digital nomad?
If you do, maybe you don't know where you might want to live. Or how to live there. Or whether you need a visa. Or how to make friends in the scary sprawl of a brand-new city. Or how to stay productive while you travel. Or how to find an apartment. Or whether this lifestyle really is for you. Or… I'm sure you get the idea.
But with some insight and experience, it's not as difficult as you think. So in this book, I've gathered my 6 years of digital-nomadding experience… and I've used it to answer all your questions, soothe all your fears, and get you on your way. After reading this, you'll realise being a digital nomad is much easier (and much more possible!) than you think.