Pennine Way: The Complete Guide
Infamously challenging, the Pennine Way is the gold standard of long-distance UK hiking trails. The big boy. The main event. The king of kings.
If you're looking to tackle a difficult and daring long-distance walk in the UK, you should consider the Pennine Way. It's tough, it's varied and it's a huge challenge – and most importantly, the views are unparalleled.
In our guide to the Pennine Way, we've included everything you need to know, from tips and route suggestions to accommodation recommendations.
Lace up your boots, sling on your backpack and pack some supplies. We're taking you along the Pennine Way, you lucky boys and girls.
What is the Pennine Way?
The Pennine Way is a British National Trail founded on April 24th, 1965. It goes from Edale (in Derbyshire, England) to Kirk Yetholm (in the south of Scotland). It measures in at around 430 km (270 miles), making it one of the longest and most challenging of all of the UK's officially-waymarked National Trails (source).
It was the first official National Trail, so many consider it to be the pinnacle of UK long-distance walks. In terms of physical challenges and varied views, you won't find a better UK walk than the Pennine Way.
Here is the detailed path on a map. The route starts at Edale (green pin) and end in Kirk Yethom (red pin).
Here are some more facts about the Pennine Way:
Pennine Way world record time: in July 2020, ultra-marathon runner Damian Hall completed the route in 61 hours and 34 minutes.
Founded: April 24th, 1965.
Total ascent: around 12,000 meters. That's a combined elevation higher than Everest.
Famous British fellwalker Alfred Wainwright (who founded the Coast to Coast walk) famously offered to buy half a pint of beer for any intrepid walker who could complete the entire walk in one trip. By the time he died, that promise allegedly cost him around £15,000.
Around 3,500 people complete the entire walk on an average year.
How Long Does It Take to Walk the Pennine Way?
Most hikers tackle the trek in around 16-21 days, but others take 30 days or more. Here's my top tip: however long you think it'll take you, plan a little longer.
Yeah, you might be capable of walking 15 miles in one day. But walking 15 miles every day for 20 consecutive days is a completely different prospect. You might pick up small niggles and injuries, and you'll probably need a couple of days to rest both mentally and physically.
If you want to make the challenge harder, go faster. If you want to make the walk easier and more relaxing, go slower. You can do it as quickly or slowly as you like. It's your vacation, so you're the boss. I'm not your dad.
To get an idea of how long it'll take, tackle some shorter multi-day walks. Do a couple of three-day walks or four-day walks, then you'll have a much better idea of how mentally and physically prepared you really are.
Some people tackle the Pennine Way over a period of years, doing small sections in manageable chunks over a long period of time. Others walk for two full months, but take a rest day every other day.
In short, there are countless ways to do it, but the traditional approach is in three weeks or a little less.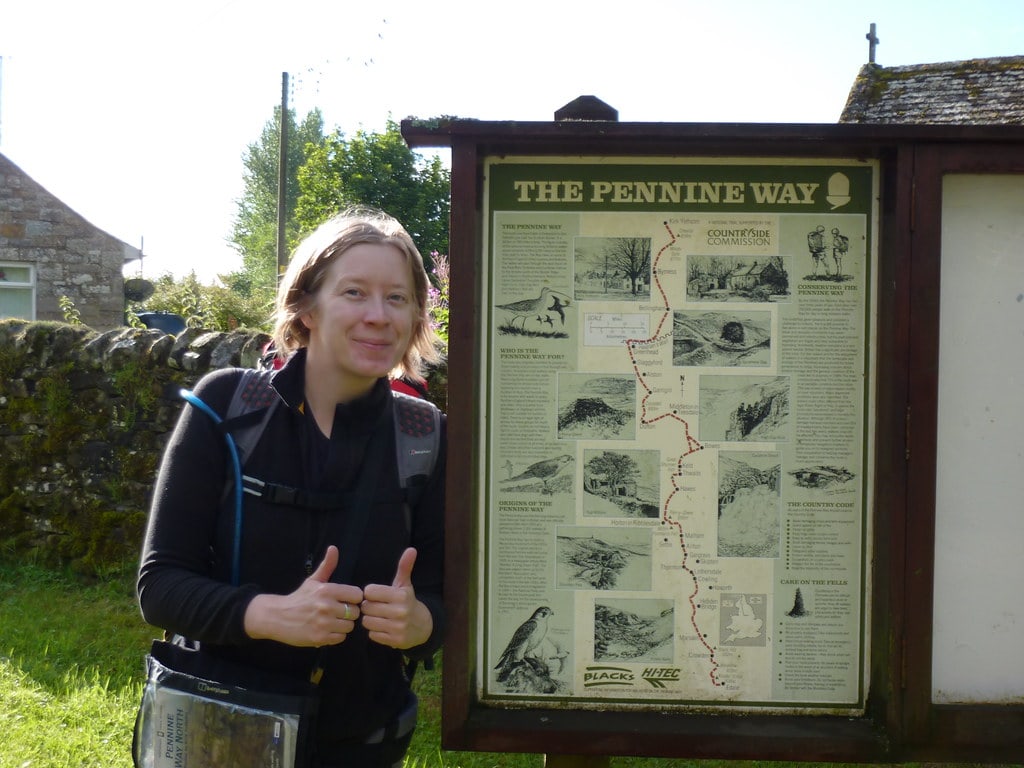 Which Direction is the Best to Walk the Pennine Way? North to South or South to North?
You should walk the Pennine Way from south to north (that's from Edale to Kirk Yetholm). You'll have the wind at your back, you'll have the sun behind you, and it's the way most hikers walk. Most guidebooks are written from south to north, so you'll find it easier to navigate if you walk in this direction.
That said, some people do walk from north to south, so you can attack the route in any way you like. Whichever way you go, it's an amazing experience with amazing views.
Pennine Way Route Description
Assuming you walk from south to north, here's what you can expect:
Peak District National Park: Edale itself is inside the Peak District National Park, so you're in exciting territory from the very beginning of the walk. Highlights of this region include Black Hill, Kinder Scout and Jacob's Ladder. It's a barren and remote area, and the first couple of days are some of the most remote on the entire walk.
Yorkshire Dales National Park: the second-biggest national park in England, this is the biggest national park you'll pass through during your walk. This stretch is packed with warm and welcoming villages, making it a great place for meeting locals and enjoying cute cafes and pubs. Highlights include Malham Cove and Pen Y Ghent.
North Pennines Area of Outstanding Natural Beauty: not a national park, but almost as good. With peaty moors and Cross Fell (the walk's highest point), lots of hikers consider this stretch to be the most memorable of the entire walk. Other highlights include High Force waterfalls and the iconic valley of High Cup Nick.
Northumberland National Park: the final stretch of the Pennine Way begins with Hadrian's Wall, one of the biggest and most impressive historical sites in the UK. The latter stretches of Northumberland National Park are by far the most remote and rural part of the walk. This stretch can also be massively challenging if the conditions and weather aren't great. As you leave Northumberland National Park, you enter the final few miles, which take you over the Scottish border, into Kirk Yetholm and onto the finish line.
Throughout the entire hike, you'll pass through lots of small towns and villages, all of which are quaint and quiet places full of warm welcomes and cosy cafes and pubs. For many hikers, these small towns and villages are some of the biggest highlights of the trip.
Here is a detailed Pennine Way itinerary with all the stops you'll be passing through:
Edale
Crowden
Standedge
Calder Valley
Ickornshaw
Malham
Horton-in-Ribblesdale
Hawes
Tan Hill
Middleton-in-Teesdale
Dufton
Alston
Greenhead
Bellingham
Byrness
Kirk Yetholm
What is the Highest Point on the Pennine Way?
The highest point on the Pennine Way is Cross Fell, which sits at a lofty height of 893 meters. Situated in the North Pennines, Cross Fell is famous for its high-pitched otherworldly soundscape, created by the harsh winds which smash off the surface of the mountain.
Why Should I Do the Pennine Way?
Most people take on the Pennine Way because it's an immense challenge.
For many, it's the ultimate in UK hiking challenges, so if you're keen to tackle a long-distance walk which will test you beyond your normal limits, go for the Pennine Way.
The terrain is challenging, the weather can sometimes be unpleasant and the length is huge. But because of all those things and more, completing the hike is hugely rewarding.
But aside from that, the views are incredible – and incredibly varied. You'll pass by moors, mountains, hills, towns, villages, rivers, waterfalls, valleys, countless sheep and some of the best scenery that the UK has to offer.
What's the Best Time of the Year to Do the Pennine Way?
The best times to do the Pennine Way are without any doubt summer and spring.
In these seasons, you'll get better chance of good weather along with longer days and much better visibility. Summer is a little warmer (maybe even too warm), and the trail will be very busy on the more popular stretches, so spring is usually the top choice. April and May are great times to attempt the Pennine Way.
If you attempt the Pennine Way in winter, there'll likely be lying snow, and the conditions will be horrible. You also won't get many hours of daylight. If you hike the Pennine Way in autumn (or fall, if you like using verbs as nouns), you'll get wind, rain and bad visibility. In short, you'll have a bad time. And you don't want to have a bad time.
Can I Wild Camp on the Pennine Way?
Officially, no. Wild camping is illegal in England, so it's not recommended.
That said, I still do it, and lots of other people do it too.
Here's what I reckon: don't be a bad camper, and you're gonna be okay. Don't leave any trash, don't be noisy, don't disrupt local people in the local area, and don't wild camp in one spot for more than one night. Don't make fires and don't leave toilet waste everywhere (unless you're a cow or a sheep).
If you're doing those things, you're being a good person, and you're solving all the problems which the law against wild camping sets out to solve.
Of all of England's National Trails, the Pennine Way is the best for wild camping. There are lots of remote stretches where you won't disturb anyone, and lots of inconspicuous areas where you won't attract any attention.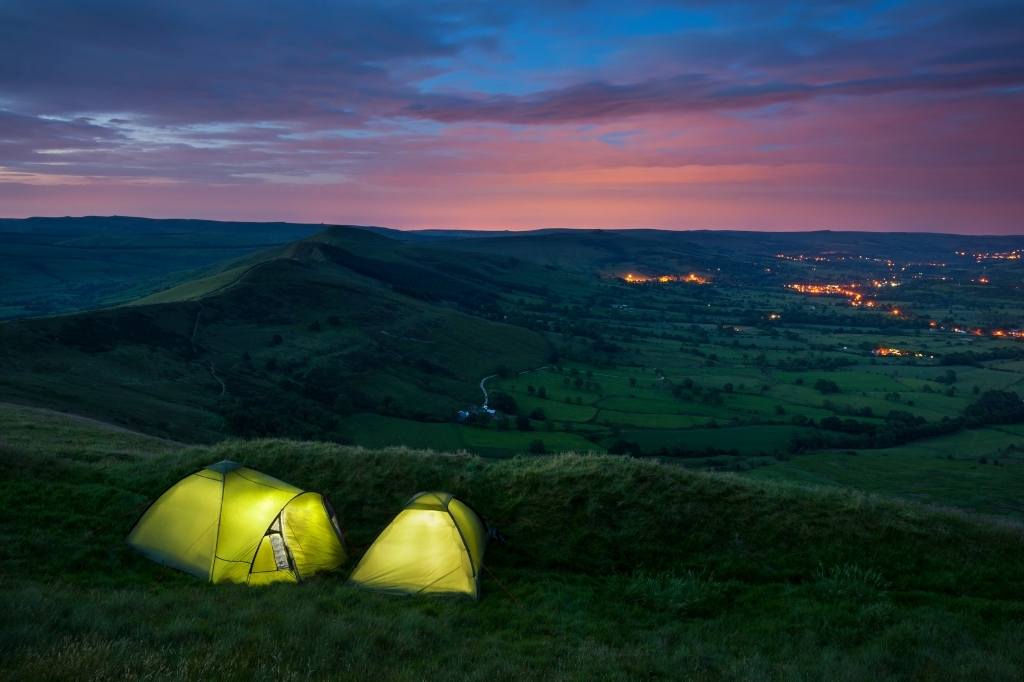 Campsites on the Pennine Way
Camping can be a great way to save money while you're on the Pennine Way.
But before you fall in love with the romantic notion of camping every night, it's good to think through the logistics.
Camping means less comfort and less luxury. It also means you need to carry all of your camping equipment for the entire walk, which will weigh you down and slow you down. Camping sounds fun until you have to carry your equipment nearly 300 miles along boggy rainswept moors.
If you're okay with all of that, camping can be great. Having a tent gives you lots of freedom and convenience, and it means you can travel spontaneously. Decided you only want to walk 1 more mile because you've found a nice pub? If you're not walking to a reserved bed at a hostel, that's fine – with a tent on your back, all your plans are your own, and you don't need to book or prepare anything in advance.
If you decide to camp along the Pennine Way, here are some of my top picks for campsites (from south to north):
You'll also find that lots of hostels, pubs, farmhouses and bunkhouses will let you camp on their land and use their facilities for an invitingly-tiny fee. In rural parts of England, this is very normal practice – so where you can't find a campsite en-route, just look for any type of basic accommodation, and you'll usually be able to camp there.
Pennine Way Accommodation for Those Who Don't Want to Camp
If you don't want to camp, there are plenty of other places to stay along the Pennine Way.
The best indoor places to stay are always hostels – you get cheap rates, warm welcomes and you'll meet lots of other hikers. Hostels are also well-equipped for (and well-accustomed to) long-distance walkers, so it's no problem arriving with muddy boots and muddy clothes.
Here are some of the best hostels along the Pennine Way (from south to north):
There are way more hostels on the trail, but these are a good place to start your search. If you're ever in doubt, any hostel managed by the YHA is a good bet. The YHA runs a brilliant network of hostels throughout England and Wales.
If you're hiking in spring or summer (and you should be), then make sure you book your accommodations in advance. Lots of them are mega popular, and they get booked out very quickly. You don't want to end up sleeping in a bus stop.
Where to Eat on the Pennine Way
You'll rarely struggle to find places to eat and drink along the Pennine Way.
The first 20 miles or so (from Edale to Crowden) is a little remote, and the last stretch of around 30 miles or so (from Byrness to Kirk Yetholm) is very remote. But apart from these stretches, you'll easily find enough places to eat and drink.
Some sections, such as large parts of the stretch through the Yorkshire Dales National Park, have lots of excellent eateries where you'll never struggle to find tempting meals and morsels.
You'll find pubs, restaurants, and cafes, but you'll eat the vast majority of your meals in pubs and cafes.
Lots of the food will be pretty unhealthy and stodgy, but you're on a long-distance walk, so that's alright. Treat yourself kid.
Though you'll rarely need to wander far to find a decent place to eat, you should always carry some snacks to fill your belly when you get a little desperate. Always make sure you have a good amount of snacks on you, and always replenish your snacky stockpile when you're running dry.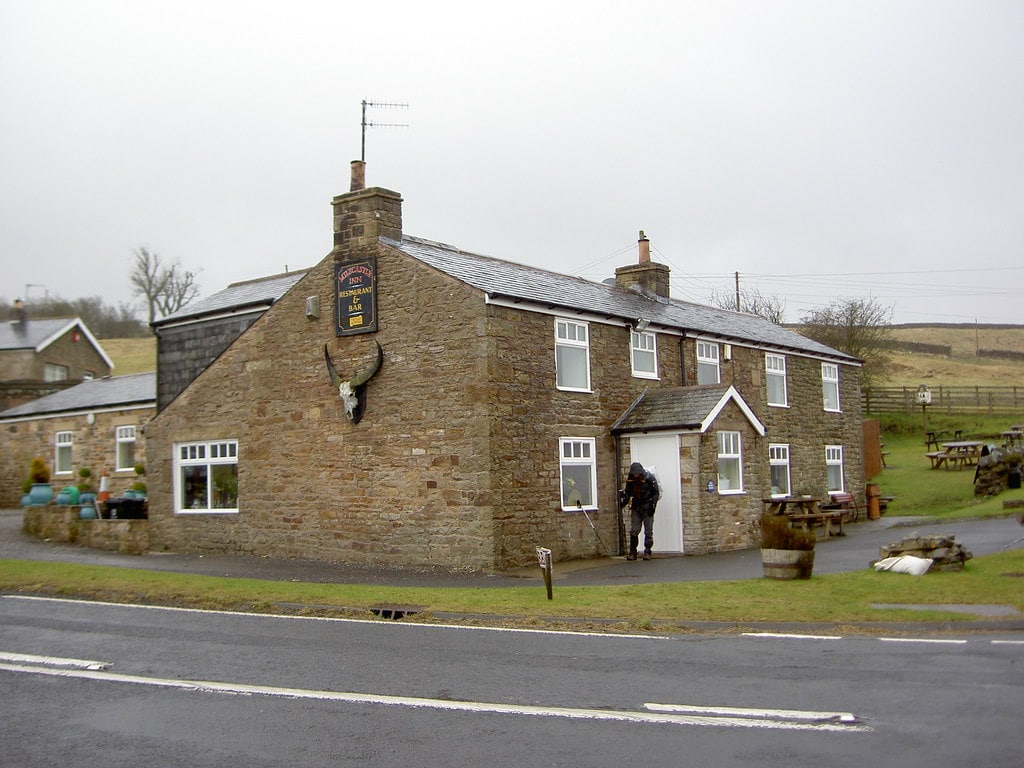 How Hard is the Pennine Way?
It's hard. And depending on the weather and the conditions, it can be very hard. Even if you're a very experienced walker, you'll still struggle – 270 miles is a huge mental and physical challenge. And even if you think you're well prepared, you're probably not well prepared.
Make sure you're aware of any niggles and injuries you might get along the way. Do you sometimes get a sore knee? You'll definitely get a sore knee on the Pennine Way. Do you sometimes get a bad back? You'll definitely get a bad back on the Pennine Way. Do you sometimes… I'm sure you get the idea.
For that reason, make sure you carry pain relievers, a first aid kit, and good shoes and hiking poles (you'll find my recommended gear down below in the article).
There's nothing hugely technical about the Pennine Way, but the conditions can sometimes be insanely boggy, especially in the higher stretches of barren, flat land. On some sections in Northumberland National Park, for example, the actual route can be so boggy that it's impassable, so you'll have to make small detours.
The Pennine Way is also a big mental challenge. Whatever happens, you need to keep walking. Whether the weather is bad, or whether you're in pain, or whether you're tired, you need to keep walking.
But for many people, this is all part of the appeal. Because if it's not physically and mentally challenging, what's the point?
You absolutely need to prepare. Take on two or three multi-day walks of around 50 miles or so, and you'll know whether or not you can handle it. These practice walks will also give you time to work out whether or not your equipment is up to the job. You don't want to get into day three of the Pennine Way only to realize that your boots, bag, compass and determination are all terrible.
Is the Pennine Way Signposted?
It's very well signposted, and you'll find lots of helpful markings along the way. They'll have either an acorn symbol, or the letters 'PW', or (unsurprisingly) the words 'Pennine Way'. And most of the time, these signs will be more than enough to guide you on your happy little way.
But these markings occasionally go missing, and they're sometimes so small that you'll struggle to spot them, especially in bad weather. So make sure you take a good map and a good guide book – and make sure you take a compass (and you know how to read it).
Recommended Pennine Way Guidebooks and Maps
Here are my two recommendations for Pennine Way guidebooks:
For many, this is the best Pennine Way book on the planet. With 312 pages of tips, places to stay, places to eat and lots of excellent directions, there's plenty to love. But the main event is the excellent mapping – there are 138 large-scale walking maps stuffed into this one.
Cicerone guidebooks are some of the world's best guide books, and this one is an excellent guide for anyone looking to tackle the Pennine Way. With detailed descriptions and small OS maps, it's perfect for navigation. It reads a little like a textbook, but it's otherwise excellent.
But make sure you also carry a proper map! This Cicerone one is a great pick. It's a booklet, so there's lots of detail and it's easy to carry, and the 1:25,000 scale offers a massive amount of information.
What Do I Need to Pack for the Pennine Way?
Lots! Here are some of the essentials, along with our top recommendations from Amazon:
A compass: you don't want to get lost you maniac. So take it, and make sure you know how to read it.
A good water bottle: you're gonna need some water, so an excellent reusable water bottle is an absolute necessity. This one has a straw, so you can sip quickly and easily on the go.
A Lifestraw or water purification tablets: there's very little chance you'll need these, but they're good to have in case of emergencies.
First aid kit: it's a long walk. At some point, you'll need one. Make sure your kit includes pain relievers.
Hiking poles: these are essential. Even if you don't normally use hiking poles, you'll soon realize why you need them for a walk of this length and this much elevation gain.
Playing cards or a chess set: good to keep yourself entertained innit.
Travel towel: packing light is essential. Carrying a travel towel (rather than a normal one) is one of the easiest ways to pack much lighter.
Sleeping mask: lots of exercise requires lots of good sleep.
Battery pack: you don't want your phone to die.
Flashlight: you really shouldn't be walking in the dark. But if you accidentally get caught in the dark, it's essential to have a good flashlight.
Food: always carry snacks, so you've got something to nibble on when you're tackling the more remote parts of the Pennine Way.
A good backpack: carry a very good backpack. If you don't, you'll hate yourself. You want your backpack to be comfortable, spacious, breathable and almost-unbreakable.
Good hiking boots: don't put your feet in bad boots. And make sure you've used these boots plenty of times – now isn't the time for a blister.
Waterproofs: carry a waterproof coat, waterproof trousers and a waterproof pack cover. At some point, you'll likely need them all, especially on some of the high moorlands.
Waterproof gaiters: you'll meet bogs, wet grass, bad weather and more bogs. You probably think waterproof gaiters are unnecessary, but they're really not.
Camping stuff (but only if you're camping)!
Sunscreen: no matter what you've heard about English weather, you might get some sun, especially if you're walking in summer.
A big smile: you'll need it.
… and lastly, make sure you pack that book and that map we've already mentioned.
How Do I Break the Pennine Way Down?
It's your trip, so it's up to you, but most walkers attempt the walk in around 16-21 days, tackling around 15 miles per day. That's a manageable though still challenging amount, which is why most walkers go for it.
You should walk from significant town or village to significant town or village as often as you can. If you do, you'll always have somewhere to sleep, eat and refresh yourself.
It's also a massively good idea to have some rest days along the way.
Where Are the Best Places to Have Rest Days on the Pennine Way?
There are lots of lovely towns and villages along the Pennine Way, and some of them are fantastic places to stop off and rest for a day or two.
Some of the best (from south to north) are:
Hebden Bridge: this charming market town isn't directly on the path, but a short detour into it is one of the Pennine Way's most common reroutes. Set in a valley, and a paradise for hikers, this is one of the most lovely towns in England.
Haworth: home of the Bronte sisters, this place is both historical and full of comfort and convenience.
Hawes: one of the highest towns in England, Hawes sits at around 260 meters above sea level. The home of Wensleydale cheese, it's a great little place for a rest.
Middleton-in-Teesdale: County Durham is awash with beautiful towns and villages, and this is one of the best.
Alston: the highest market settlement in England, this place sits at more than 320 meters above sea level. It's very remote, but it bustles with life.
Bellingham: the last stop before you hit real stretches of remote wilderness, the village of Bellingham is small but massively friendly.
Pennine Way Top Tips
If you're not camping, book accommodation in advance. I'm pretty much always the type of person who wings every trip in the world, but you don't want to end up sleeping in a shed or spooning a sheep.
Give yourself longer than you need, and plan shorter days than you think you need. All types of things might disrupt you – and some of them will.
Expect bogs. Even in the summer. Always expect bogs.
Don't be scared of cows. You'll see lots of cows. If you have any doubts about how you should behave around cows, read this.
Pack less than you think you need. Then pack less than that. You don't want to carry around unnecessary stuff for a month.
Don't attempt the trip between October and February. Seriously. I know you might think it's a good idea, but it isn't.
Take a good camera. If you haven't posted it on Instagram, you haven't been.
Carry Vaseline. You'll chafe. Or get nipple rub.
Most importantly, enjoy it!
Are There Any Other Long-distance Walks in the UK?
There are lots! Some of the most popular include:
The Coast to Coast: measuring in at 182 miles (293km), this hike takes walkers from England's northwestern coast to its northeastern coast. Unofficial and largely unmarked, this walk was put together by the legendary Alfred Wainwright, England's most famous (and most sideburned) fellwalker.
Hadrian's Wall: at 84 miles (135km), this is one of the shortest long-distance walks in the UK. It's also one of the most historical, as it follows the original route of Hadrian's Wall. On this route, you'll pass mile castles, ancient forts and walkers from around the world.
The Cleveland Way: another short one, this clocks in at 109 miles (175km). Almost circular, this walk skirts the perimeter of the North Yorkshire Moors National Park, packing in peaks, moors and incredible coastlines.
The Thames Path: this walk follows the route of the Thames river from its source all the way to the center of London. At 184 miles (294km), it takes walkers through lots of historic towns and villages, offering views which are very different to your average long-distance walk.
Offa's Dyke Path: measuring in at 177 miles (285km), this skirts the border between England and Wales, dipping in and out of each country. It's a coast to coast route offering hugely diverse landscapes and people.
Pembrokeshire Coastal Path: for 186 miles (299km), this route hugs (as you've probably guessed) the Pembrokeshire coast, which lies on the southwestern tip of Wales. Though it's a relatively small area, the coastline is packed with undulating landscapes, so you're constantly zig-zagging out of valleys, bays, beaches, estuaries and more.
West Highland Way: the most famous long-distance walk in Scotland, this one takes hikers from Milngavie (near Glasgow) to Fort William over a length of 96 miles (154km). It's a great way to get accustomed to some of the Scottish Highlands, and the views far outweigh the effort.
South Downs Way: at 100 miles (160km) and pretty flat, this one is relatively short and easy. It passes through and beyond charming villages, white chalk cliffs and rolling hills.
Cotswold Way: for 102 miles (164km), this walk takes hikers through countless historic sites, including stately homes, battle sites, Neolithic sites and more. The walk ends in Bath, which might just be the most historic city in the UK.
Glyndwr's Way: a near-loop through central Wales, this runs between Welshpool and Knighton, and joins up with a section of Offa's Dyke Path for those who want to complete an entire loop. It measures in at 135 miles (217km).
England Coastal Path: this one hasn't yet been completed, but it'll be absolutely mammoth when it is. When it's done, it'll be the longest official coastal route in the world, measuring in at around 2,795 miles (4,500km).
Rob Roy Way: situated in the southern Highlands of Scotland, this cuts across the country, running from Drymen, (which is also on the West Highland Way) to Pitlochry, in Cairngorms National Park. Depending on the chosen route, it's 77 or 94 miles (124 or 151km).
In Short…
… that's my guide to the Pennine Way!
The ultimate in long-distance UK walks, the Pennine Way is a hefty challenge which ranks among some of the best trails in the world. It's hard, it's painful and you'll hate your life – but it's one of the best things you'll ever do.
Want to know more about UK adventures or outdoor activities? Stick with us! We've got articles on cities, accents, cycle routes, other walking trails and some of the weirdest attractions that the UK has to offer. Whether you want to visit Glasgow, Edinburgh, Manchester, Newcastle or tackle one of the world's most remote road trips, we've got you covered!
Being a Digital Nomad: Tips, Tricks and Places
Do you want to be a digital nomad?
If you do, maybe you don't know where you might want to live. Or how to live there. Or whether you need a visa. Or how to make friends in the scary sprawl of a brand-new city. Or how to stay productive while you travel. Or how to find an apartment. Or whether this lifestyle really is for you. Or… I'm sure you get the idea.
But with some insight and experience, it's not as difficult as you think. So in this book, I've gathered my 6 years of digital-nomadding experience… and I've used it to answer all your questions, soothe all your fears, and get you on your way. After reading this, you'll realise being a digital nomad is much easier (and much more possible!) than you think.