Top FREE Things To Do In Paris
People tend to write off Paris as expensive, budget-breaking, home to the lavish; but it'd be wrong to say that everything has been tourist-inflated.
As a city that proudly celebrates its historical and artistic riches, Paris has made many top-tier sites accessible to the public. You can also take to the outdoors – Paris is full of sprawling green estates with individual attractions, and a lot of winding lanes that lead to hidden gems.
To give you an idea of where to start looking for free activities in Paris, we've prepared a list of the best free things to do that cover both well-known and lesser-known spots.
Sometimes the trick is simply to get the right timing down!
You don't have to be rich to travel well.

Eugene Fodor – One of the best travel quotes out there
1. Uncover the Secret Passages and Galleries of Paris
Paris is a city full of surprises, but did you know it's also hiding some hidden gems? Yes, now let me introduce you to its secret passages and galleries!
First, what are these mysterious places?
These covered passages were built in the 19th-century as shopping arcades. Today, they continue to host shops, restaurants, and cafes while offering visitors an enchanting glimpse into Parisian history.
But why should you visit them?
Exploring these passages offers a unique experience that lets you travel back in time. Marvel at their beautifully preserved architecture and indulge in some retail therapy at the quaint boutiques lining their walkways.
So, where can one find these hidden treasures?
Begin your journey at the Passage des Panoramas – possibly the most famous of them all. With its delightful eateries, it's the ideal place to stop for lunch or indulge in some people watching.
Afterward, take a stroll to Galerie Vivienne – one of my personal favorites! Its exquisite glass-roofed ceiling allows natural light to flood through the hallways while showcasing intricate mosaics on the floor – très chic!
Now it's time for more adventure! Head over to Passage Jouffroy and neighboring Passage Verdeau for more spectacular architecture and antique shops selling vintage goodies. Can you resist the temptation to purchase a small piece of Parisian history?
As you venture through these charming galleries, be sure to pause every now and then – simply take it all in. The blend of old-world charm and modern-day sophistication creates an unforgettable atmosphere.
So why not lose yourself within these hidden gems during your next trip to Paris? No ticket or reservation required – just follow your sense of wonder down these remarkable corridors. And who knows what stories you'll uncover along the way? Enjoy exploring!
2. Climb and Savor the Scenery from the Rooftop Terraces of Galeries Lafayette and Printemps
What if I told you that enjoying some of the best views of Paris doesn't require climbing countless steps or spending a single euro?
Look no further than the rooftop terraces of two iconic department stores: Galeries Lafayette and Printemps. Both located in the same area of Paris (in fact there's only a 2 minutes walk between them), they offer stunning panoramic views from their rooftops, absolutely free!
Why are these views worth your time? Imagine sipping a refreshing drink while gazing upon famous landmarks such as Montmartre, the Eiffel Tower, and the opulent Palais Garnier.
Additionally, as evening falls, watch how Paris lights up into a mesmerizing symphony of twinkling enchantment.
Here's what to do exactly:
Make your way to Galeries Lafayette Haussmann or Printemps Haussmann.
Take the escalators or elevators to the top floors (7th floor for Galeries Lafayette and 9th floor for Printemps).
Indulge in breathtaking vistas while taking plenty of photos and selfies as proof of your adventurous discovery!
While you're there, explore both rooftops' seasonal offerings. Depending on when you visit, you might find trendy pop-up bars and eateries offering unique culinary experiences.
Don't forget to add another layer to this memorable experience by exploring the shops within each department store! At Galeries Lafayette, take a moment to marvel at its intricate stained-glass dome. Over at Printemps, check out their refined selection of perfumes and exquisite designer pieces.
The fusion of fabulous vistas with an immersive retail experience confirms why visiting these rooftop terraces should definitely be on your free things to do in Paris list.
3. Take Free Cooking Classes
Food is such an intrinsic part of the culture – it encapsulates the city's geographical location, passing down of family recipes, dining practices, reflects social setting and more.
Instead of just praising local dishes at a Michelin-starred restaurant, take your cultural immersion further with a cooking class.
Hunt down your closest Parisian market to catch not only demonstrations of cooking techniques, but to be guided through the process of selecting fresh produce, preparing the ingredients and then whipping up gourmet dishes.
Make sure to do your research on when these open classes are available and where, and book in advance to guarantee a spot. You can take a look to the French Cooking Federation page for further information.
4. Visit Cathedrals
Definitely take your time visiting Paris' impressive religious sites, circling its exterior before delving into the various halls and chambers. Pay close attention to the decorative details; they are what makes these heritage architectures magical.
Notre Dame is perhaps the most defining cathedral from the Middle Ages, a gothic antiquity that has since been featured in various literature. Restorations have kept it in its original form with added elements, making it a hulking façade of square chapels, a spire, double aisles, and massive towers. Carvings and figures of Old Testament Kings guard the doors; the shining jewels are three 13th-century glass rose windows.
Sacré Coeur sits atop Montmarte in ivory curves, keeping to the Roman-Byzantine style with arched door and window ways and pointed domes. It has the largest mosaic ceiling in France to complement the tasteful carvings on the walls. Access the dome for stunning views of Paris, then wind down the hill to explore the dynamic district of Abbesses.
La Madeleine is styled after an ancient Greek temple, the pediment bolstered by massive Corinthian columns. While not one of the oldest churches by any means, its curious design draws much attention. Drop inside for a look at its famous organ, and bask in the dimly lit and simple space so different from its contemporaries.
5. Wander Around Cimetière Pere Lachaise & Cimetière Montparnasse
Next on our list of free things to do in Paris, we have not one, but two famous cemeteries: Cimetière Pere Lachaise and Cimetière Montparnasse.
Why visit a cemetery, you ask?
Well, these are no ordinary burial grounds. They are the final resting places of some of history's most famous figures and offer a serene, yet captivating experience.
First up, let's wander around Cimetière Pere Lachaise. This is the largest cemetery in Paris, and believe it or not, it's actually quite beautiful. As you stroll along its tree-lined cobblestone paths, you'll discover stunning sculptures, ornate tombs, and even some hidden gems.
But who can you expect to find here? The list includes literary legends like Oscar Wilde and Marcel Proust, as well as musical icons such as Frederic Chopin, Edith Piaf, and Jim Morrison. Quite the lineup, right?
Not too far away, you'll find Cimetière Montparnasse. This is my favorite of the two. Smaller and more intimate than its Pere Lachaise counterpart, this cemetery is also home to some impressive names.
Here, you can pay your respects to artists like Man Ray and Henri Cartier-Bresson, as well as writers like Charles Baudelaire, Simone de Beauvoir, and Jean-Paul Sartre. The french president Jacques Chirac is also buried here. Talk about a meeting of great minds!
Both cemeteries offer a unique opportunity to explore Parisian history and the lives of some truly remarkable individuals. So why not take a peaceful stroll, soak up the atmosphere, and maybe even learn a thing or two? After all, it won't cost you a single euro.
Remember to be respectful during your visit, as these are still active cemeteries.
Happy wandering!
6. Enjoy the Free Open-air Cinema of La Villette
Mix up your sight-seeing itinerary with some unique experiences. Make your way to the Parc de la Villette when dusk falls to enjoy an open-air cinema on fresh lawns.
The summer open Air Cinema Festival features both French and international films, some cult classics and other new releases by indie directors. Short films of the chosen film are also aired; they're shown in their original languages with French subtitles. You can find the complete airing schedule on the official website of La Villette.
Hire deckchairs and blankets and settle in for a laid-back night with snacks on hand.
7. Snag a Hoop at Pigalle Basketball Court
Coloring the alley between two drab apartment blocks is the 'art meets street sport' Pigalle Basketball Court.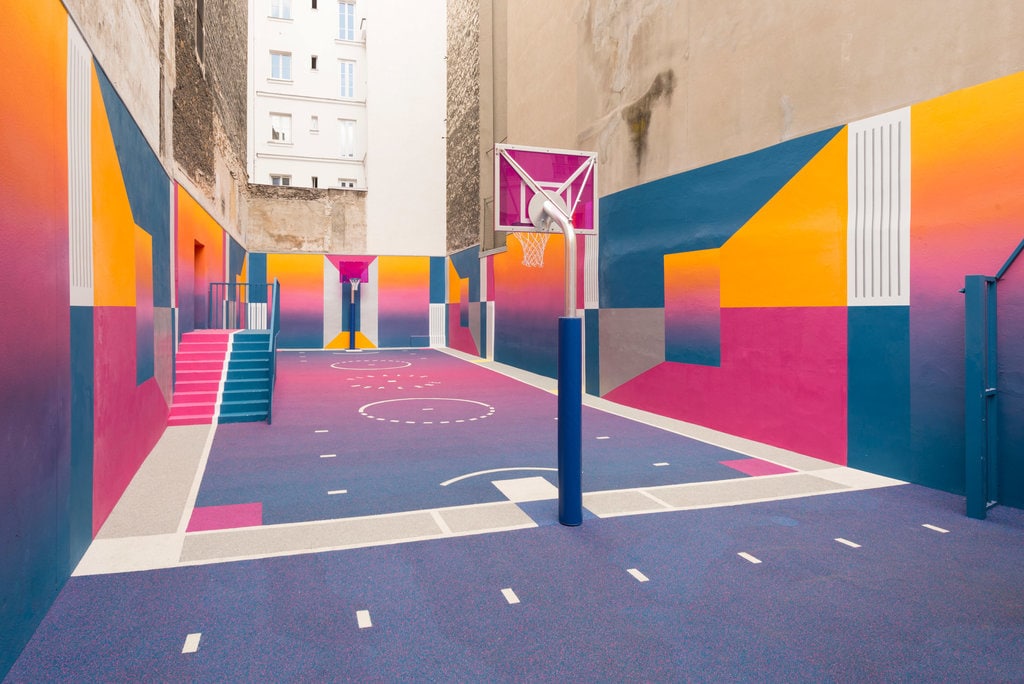 Combine your Instagram-worthy photo op with some light exercise! A sunset blend of purple, blue and yellow seeks to bring back a 90s inspired aesthetic while retaining the clean geometries of modern courts.
You'll find plenty of players throughout the week whether they're kids during break or adults playing pick up on the weekend so don't worry about not having company.
There are also many other free basketball courts under the hanging metro 6 for those who need to burn off some energy. Another court to note is the outdoor space of Lycee Charlemagne; if you've never played next to a 12th-century city wall, this is your chance!
8. Play Local Games Such As Petanque and Mölkky
Get ready to embrace the local Parisian vibe by indulging in their beloved traditional games – Petanque and Mölkky. Not only are these games fun, social, and free of cost, but they also offer a chance to mingle with locals, understand their culture better, and create lasting memories.
Petanque (the game of metal balls) is a quintessential French game that dates back to the early 20th century. It's a simple yet fascinating pastime that consists of throwing metal balls as close as possible to a small wooden ball called the "cochonnet." The game is played across all of France, with Parisians often gathering in parks and squares for friendly matches.
Join one of the many informal sessions or local tournaments happening around Paris. Some renowned spots for playing petanque include Jardin du Luxembourg, Place d'Italie, Les Invalides, and Place Dauphine. Don't worry if you're new to it; locals will happily teach you the rules while enjoying some light-hearted banter.
After playing petanque, take some time to explore the beautiful surroundings of these iconic locations. Stroll through Jardin du Luxembourg's lush gardens or marvel at Les Invalides' magnificent architecture.
Now on to Mölkky which holds its origin in Finland but has become popular among Parisians too. This outdoor skittle-throwing game involves knocking down wooden pins with a larger wooden stick called the "Mölkky." Combining strategy and skill, Mölkky allows players of all ages to participate in an engaging activity.
Keep an eye out for people playing Mölkky in public parks such as Parc des Buttes-Chaumont or Parc de la Villette or on the shores of the bassin de la Villette. Feel free to ask if you can join the game, as Parisians are generally welcoming and eager to share their hobbies. It's a great way to spend a sunny afternoon while learning a new sport from friendly natives.
Once you finish up with Mölkky, consider partaking in other leisure activities available at these parks. You can rent a rowboat at Parc des Buttes-Chaumont or discover artistic installations at Parc de la Villette.
By diving into the authentic Parisian experience with these engaging local games, not only will you have a fantastic time with new friends, but you'll also walk away with unique stories and memories to cherish for years to come. Happy playing!
9. Getting Lost in Paris on Foot
This goes without saying! Lose the map and let your feet guide you around the wide avenues and pebbled lanes of Paris.
There is nothing comparable to swinging around lampposts and wandering through a hidden enclave, meandering between lavish residential districts to stumble on artsy instagrammable cafés.
You will discover the quieter, unfiltered side of Paris that is often overshadowed by its grand landmarks.
There is only one way to truly understand a city, and that is to walk in the footsteps of those who live in it.
10. Relax at Public Parks
Some parks are made for the public, and that means unlimited access to fresh lawns and friendly company. Mostly, it is a chance for you to take breathers between major attractions and crowded squares, and maybe offer an opportunity to have a pleasant picnic in Paris.
Jardin du Luxembourg caters to various visitors by way of its varied sections: the French gardens, English gardens, geometric forest, orchard, apiary, and greenhouses. The sprawling lawns and stunning orchid and rose plots are well-loved by families and flower aficionados, whereas artists peruse the 106 statues dotting the park. Medici Fountain, the Orangerie, and Pavillon Davioud are other must-mentions.
Jardin des Tuileries is wedged between the Louvre, Place de la Concorde and Musée de l'Orangerie, making it a convenient pass-through for attraction hoppers. The gardens themselves are a heritage site that retained their 1664 French formal garden styling, its two ponds and sculpted lawns in perfect symmetry. Admire the Maillol, Rodin and Giacometti statues amid the hedges and enjoy the fairground rides of summer-season Fete des Tuileries.
Buttes Chaumont Park offers a uniquely hilly setting brushed up in greens. Other natural features have been added, caves and waterfalls adding texture to the indigenous trees and birdlife. A suspended bridge runs between divots for a spectacular view over the city, although it is only one of the many viewing spots on this steep park.
Bois de Vincennes brings the woods to you in the shape of Ecole du Breuil arboretum, the Jardin d'agronomie tropicale, Ferme de Paris and Maison Paris Nature. Modern-day entertainments are also present, including a mini-golf course, ping pong tables, slides and boat rides around the lake. There's even something for the historians; a medieval Chateau de Vincennes that is open every day. Summer visitors will be entertained at free events, Paris Jazz Festival, Festival Classique au Vert and more spicing up your stay.
11. Play Ping-pong in Parks
Of all the facilities and fun activities you can find in Paris' parks, ping pong is one of the most popular among locals. All you need are your bats and ping pong balls; almost all parks and gardens come with an array of ping pong tables.
For instance, the small park of Jardin Atlantique above the tracks of Gare Montparnasse is well equipped with a sporting complex, a combination museum and memorial, and the wave-like design of the garden's boardwalks and decks. You could simply pass by for its great views, or spend an hour or two training up your ping pong skills.
12. Free Museum Entry Every 1st Sunday of the Month
In a smart bid to encourage visitor traffic, Parisian museums are free the first Sunday of every month.
Take the chance to visit as many as you can – or hit up the ones with the priciest admission fee to reduce overall costs. Between some of the world's greatest art collections and historical exhibits drawn from archeological sites, you have overwhelming tidbits of information to pick at.
Some museums are also free for youths (26-year-olds and under) such as the Louvre and the Conciergerie! Remember to bring along your student ID for proof.
13. Walk the Seine at Sunset
Some of the city's most beautiful scenes aren't decided by angle but time.
Slow down your frantic exploration with a comfortable stroll along River Seine during sunset. As purple and soft shadows drape across the city, the sinking sun's warm glow across the water pauses busy feet and whirling minds.
Sometimes beauty is as simple as a river at sunset.
14. Experience the Magic of the Eiffel Tower Light Show for Free
Ah, Paris! The city of love and lights. But did you know you can enjoy some of its most iconic sights without spending a dime?
That's right!
Let's dive into the first must-see free attraction: the Eiffel Tower light show.
Picture this: you're standing in the Champ de Mars, a vast green space stretching out beneath the twinkling Eiffel Tower. As the sun sets, you can feel the anticipation in the air. What's about to happen?
The dazzling light show, of course!
Every evening, the Eiffel Tower puts on a spectacular show that lasts for five minutes. It kicks off at dusk and repeats every hour on the hour until 11:45pm. So, you have plenty of opportunities to catch this mesmerizing display.
Starting from September 2022, the Eiffel Tower light show's timing has been adjusted in an attempt to conserve energy. The lights are switched off at 11:45 pm and the last sparkle will be at 11 pm.
But, what's the best spot to watch it from?
Well, I recommend the Champ de Mars. Not only does this park offer an unobstructed view of the Eiffel Tower, but it's also the perfect spot to lay out a blanket, enjoy a picnic, and relax with friends or family.
Want a little insider tip? Try visiting on a weekday evening, as you may find it to be less busy than weekends. And don't forget to bring a camera to capture the stunning light show – trust me, you'll want to relive this memory over and over again!
If you're looking for a more unique vantage point, head to the Bir-Hakeim bridge, where you'll be able to see the Eiffel Tower light show with the Seine River in the foreground. It's a beautiful sight and a great photo opportunity, although a bit less comfortable. I personally prefer Champs de Mars, but you might think otherwise.
15. And Some Extra Tips to Keep Your Budget Small…
Definitely, invest in a Paris Pass; it will save you time and money on paid sites, activities, and transportation. Combining attraction passes, discounts, an unlimited travel card, and guidebook to help you navigate Paris' impressive list of tourist sites, it is an all-in-one deal. Learn more about it on our Paris Travel Tips guide!
Do employ the Hop-on Hop-off Big Bus. Not only will you be able to relocate from one site to another easily, it is also a free tour with plenty of bus-top views. You can choose which landmark to spend more time at and catch glimpses of others; check-off your to-see list with minimal fuss! It will also save on commuting costs as travel fees build up with every attraction you visit.
It is easy to overlook simple delights when we have come to expect that the best attractions have to be paid for. However grand or significant a heritage site may be, we should remember that the everyday spaces can be just as charming; and that there's no better way to learn one's culture by living in it. Something as casual as walking along the Seine can turn out to be beautiful if you look at it with the right eyes.