Top 10 Largest Museums in the World [2022 Edition]
The allure of travel lies with cultural intrigue and the promise of 'something different'; a hunger that can be partially satiated by the collections found in the largest museums in the world.
Taking you through the millennia that Earth has existed for, these incomparable galleries are an immense wealth of art, historical items and stories.
As many of these museums date back to the 1800s, visitors can expect a rich depth to its exhibitions.
You'll recognize some names that are both landmark and museum, such as Paris' iconic Louvre and the gala-hosting Metropolitan Museum of Art in New York City.
So in this article we compiled the 10 biggest museums in the world, ranked by area covered.
Let's start!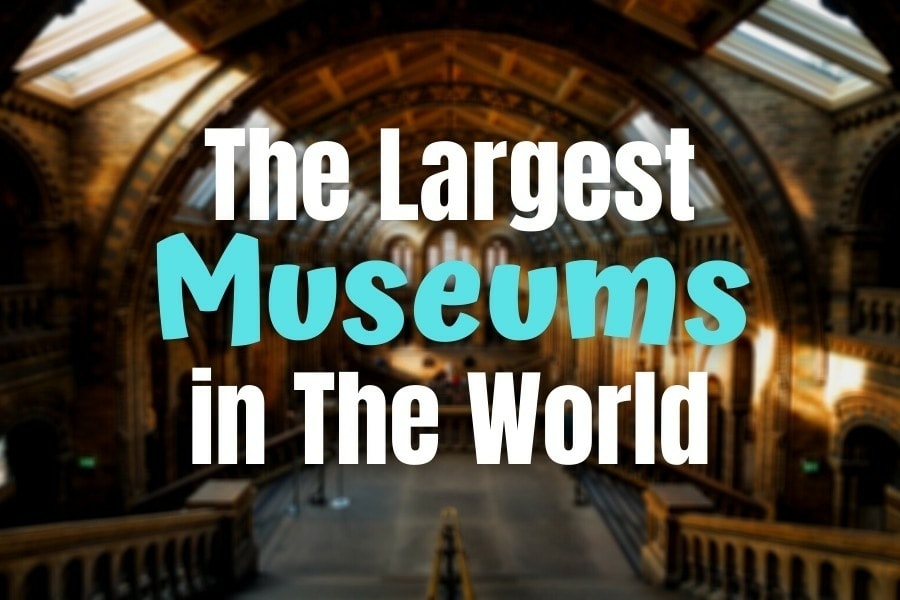 Top 10 Largest Museums in the World by Size
Starting with the gigantic Louvre, here's a closer look at the world's largest museums which many of them are also the best museums in the world.
1. The Louvre Museum
Country: France | Gallery Space: 782,910 sq ft / 72,735 m2
The Louvre, located in Paris France, is the largest museum in the world as it covers a total area of 72,735 square meters (782,910 square feet) of galleries space, as big as 280 tennis courts.
The Louvre is also the most visited museum in Paris and one of the most visited museums in the world.
This French museum is a familiar name and even more familiar sight in guide books and social media posts, often represented by its iconic glass pyramid. The Louvre museum and its building alone is one of the top reasons people travel to Paris.
The world's largest museum secured first place on the most visited list with 10.2 million visitors in 2018, which is one of the factors that makes Paris in the top 3 most visited cities in the world!
Before it became an art museum, the Louvre was originally a 12th century fortress turned royal residence in 1546. And as such the museum is a historical monument in its own right; remnants of medieval Louvre remain in the crypt to this day.
Its first exhibition primarily featured the royal family's collected paintings, which later expanded to the current 38 000 item roster. Covering prehistory to 21st century, the Louvre serves the distinct galleries of Egyptian, Near Eastern, Greek, Etruscan and Roman Antiquities; Islamic Art, Sculpture, Decorative Arts and other mediums make the rest.
Of its most famous art pieces are the Mona Lisa, the Venus de Milo and Winged Victory of Samothrace.
To explore the art collection of the Louvre and discover the famous museum and its galleries from the comfort of your couch you can get this fantastic book: The Louvre: All the Paintings (hundreds of 5 stars reviews on amazon) that is endorsed by the Louvre administration themselves! It has the complete collection, all the 3022 paintings on display in the permanent painting collection of the Louvre are presented in full color along with their stories.
2. State Hermitage Museum
Country: Russia | Gallery Space: 719,480 sq ft / 66,842 m2
Conceived some decades before the Louvre, Saint Petersburg's State Hermitage Museum was also a royal project, and is today the second largest Museum in the world.
Having acquired a series of paintings in mid-1700s, Empress Catherine the Great founded the museum which would later expand to a roster of three million items.
This massive collection spans a complex of six buildings along the Palace Embankment, including the stately Small Hermitage, Old Hermitage, New Hermitage, Hermitage Theatre and previous tsar-occupied Winter Palace.
Begin with the prehistoric wing with artifacts that track all over the former Russian Empire. Move on from nomadic arts to the modest collection of Egyptian features, which leads into the Classical Antiquities exhibition. Granite columns and painted stucco take on the Greek-revival style to match the intricate 4th-century mosaics, ancient pottery, engraved jewelry and more handcrafted works. Halls dedicated to the Italian Renaissance, Western European armory, Dutch Golden Age and Flemish Baroque are similarly grand. For finer details, scope out the German, Swiss, British and French fine art in the Winter Palace; Russian art gallery; and the sky-lit rooms of the Italian and Spanish fine art quarter.
3. Madras Museum
Country: India | Gallery Space: 710,418 sq ft / 66,000 m2
Characterized by a series of exquisite architectural facades and rounded structure of the attached Madras Museum Theatre, this 1851 museum complex was founded on the grounds of a British-built Pantheon.
The interior of the buildings are equally stunning, featuring stained glass windows and ornate woodwork, sculpted arches and stucco décor.
46 galleries are distributed across 66,000-square meters, theater space hosting complementary workshops and art lectures.
Cultural performances include Shakespearean plays and dramas.
Among the archaeological and numismatic collections are a diverse variety of artifacts, majority from the Roman Empire.
The galleries also display 2nd-century Buddhist sculptures and Hindu attributes, whereas the Anthropology Galleries track South Indian history.
Those seeking more local taste can spend hours trawling the National Art Gallery or the Bronze Gallery, which delineates hundreds of bronze idols from 1000 BC Asia.
Highlights include the Chola bronze sculpture of Ardhanarishvara, and Shiva as the dancing Nataraja.
4. National Museum of China
Country: China | Gallery Space: 700,000 sq ft / 65,000 m2
The National Museum of China is relatively new, having merged the separate entities of the Museum of the Chinese Revolution and the National Museum of Chinese History in 2003 – but has already peaked as the second-most visited museum in the world.
A clean, no-nonsense design that allows easy navigation, recent renovations has also tripled display space to 200,000-square meters.
China guards its historical treasures zealously, making this museum collection the single exhibitory space for rare artifacts.
Delving deep into almost 2 million years of history and sounding off at the last imperial Qing Dynasty, the galleries express a breadth of time that is almost impossible to imagine!
Marvel at jade burial suits, heavy ancient bronze-ware and gold-inlaid crafts work; Song ceramics and old currency is also part of the story.
Stone reliefs, jade pillows, lacquer boxes and inscriptions reveal much of dated customs.
In contrast, The Road to Rejuvenation exhibition presents recent Chinese history that tracks the founding of the Communist Party and subsequent growth under its leadership.
5. Metropolitan Museum of Art
Country: United States | Gallery Space: 633,100 sq ft / 58,820 m2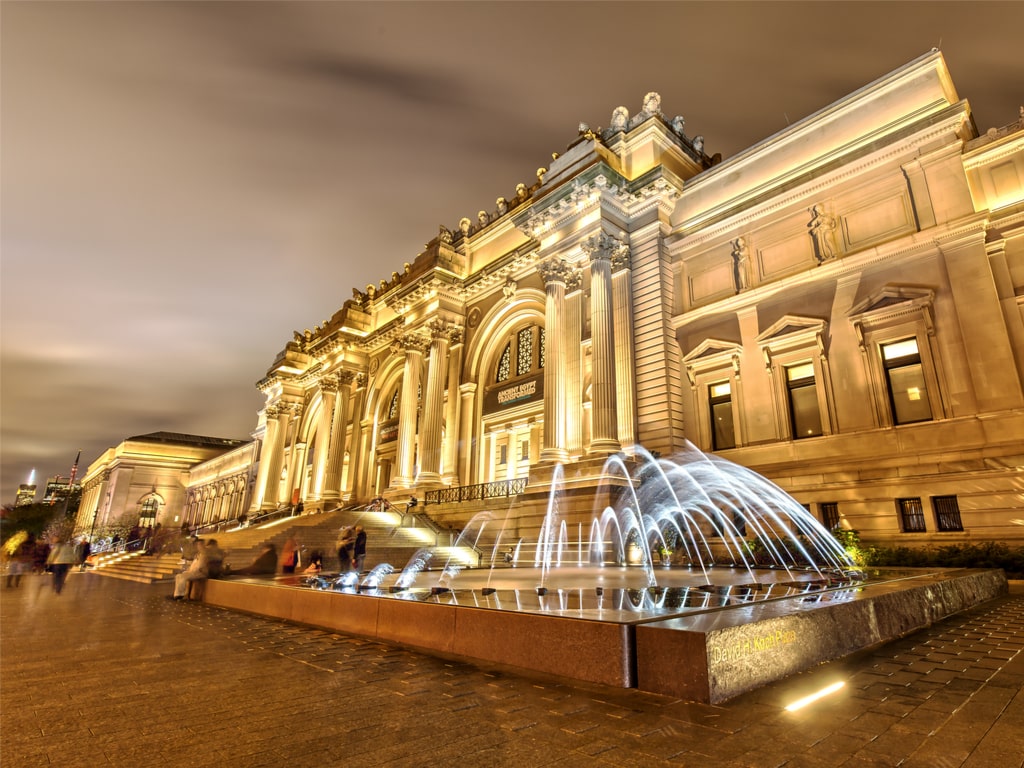 Fondly called "the Met", you might have heard of the New York's Metropolitan Museum of Art via media clamor of its yearly themed-gala. You may even have visited it.
But don't brush off its polished reputation as an avid collector of all things art, amounting to over 2 million works.
The most visited museum in the US is a natural 'next stop' after a run through Central Park. You should dedicate at least an afternoon to its 17 departments.
Classic and ancient Egyptian artwork is displayed alongside European paintings and sculptures; in another gallery are objects from the Neolithic Period up until the end of Late Antiquity.
You'll find indigenous Australian rock paintings and ceremonial tribal objects from Africa, and Buddhist idols.
American and modern art is a historical lesson in 18th to 20th century art.
The museum is also home to an incomparable collection of Islamic art, including religious manuscripts and decorative elements.
What make the Met really shine however are its miscellaneous galleries of musical instruments, period costumes and antique weaponry.
6. Vatican Museums
Country: Vatican City | Gallery Space: 460,000 sq ft / 43,000 m2
The oldest museum series on the list, the Vatican Museums was established in 1506 as the leading Christian art curator.
Rotating through 70,000 works of art that were amassed by popes, the buildings in question include the Pinacoteca Vaticana, Pio-Clementino Museum, Chiaramonti Museum, Gregoriano Etrusco Museum, Gregoriano Egiziano Museum and Vatican Historical Museum.
The Sistine Chapel located on the visitor route is another highlight, featuring a Michelangelo piece on its ceiling.
Some famous paintings featured are Raphael's Madonna of Foligno, da Vinci's St. Jerome in the Wilderness and Entombment by Caravaggio.
Modern artists with religious works such as Chagall, Dali, Picasso and Gauguin are their own gallery, while the sculpture museums display Renaissance and Roman statues.
The Vatican Historical Museum on the other hand, departs from the usual fare to showcase portraits of the Popes since 16th century. It also houses a collection of carriages and vehicles used by Popes and Cardinals.
7. Tokyo National Museum
Country: Japan | Gallery Space: 410,000 sq ft / 38,000 m2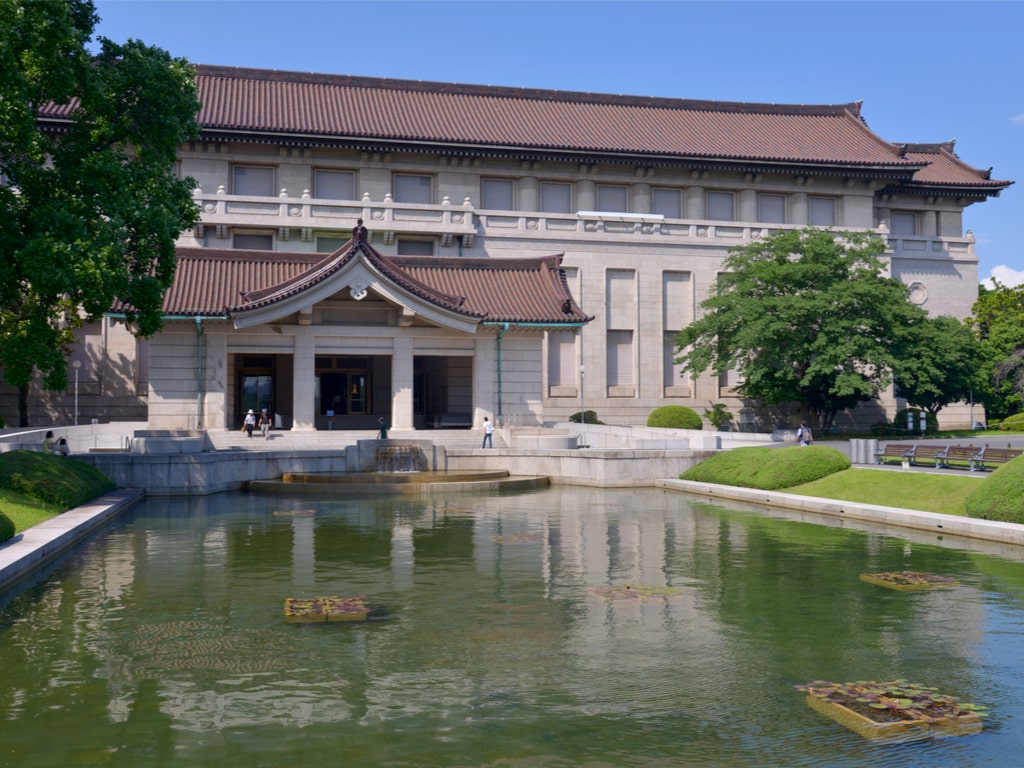 Tokyo National Museum takes over a large swathe of Ueno Park to become the largest art museum in Japan.
Welcoming an annual 2 million visitors, it caters with on-site restaurants, shops and outdoor exhibitions.
The themed galleries are hosted in different buildings, including the Honkan (Japanese Gallery), Toyokan (Asian Gallery) and one designated sole to hold relics from Nara's Horyu Temple.
Of the 110,000 artifacts, 87 are deemed National Treasures; they range from 12th century mandalas to religious manuscripts. You'll find that the museum concentrates on Asian artworks that reflect ancient and medieval culture, as well as art along the Silk Road.
Through the mediums of sculpture, lacquer-ware, ceramics and historical records, visitors will learn about the growth of Buddhism, art and cultural practices that have evolved over time.
8. National Museum of Anthropology
Country: Mexico | Gallery Space: 360,000 sq ft / 33,000 m2
Mexico's national museum has made it onto the list at 79,700-square meters, a monumental building designed by Vazquez, Campuzano and Alcerreca in 1964.
The core of the museum sparked when sculptures of Coatlicue and the Sun Stone were first displayed at the end of the 18th century, its stock growing exponentially despite the constant relocations and renaming.
While the museum is considered by some to be controversial, it is also a solid source of anthropological artifacts that date back to Mexico's pre-Columbian times.
The 23 exhibit halls cover items from pre-Columbian civilizations, divided into geographic categories that include the Gulf of Mexico, Toltec, Maya, Oaxaca, Mexico and more.
Alongside the Aztec Sunstone are Olmec stone heads, Mayan treasures, the replica of Pacal's tomb lid and comparison models of past Aztec territory and its contemporary layout.
9. Victoria and Albert Museum
Country: United Kingdom | Gallery Space: 330,000 sq ft / 30,658 m2
First conceived as an applied-art-and-science Museum of Manufactures in 1852, Victoria and Albert Museum had undergone much iteration before its landing on its final form.
Located within the "Albertopolis" cluster of landmarks associated with Prince Albert, it saw 4 million visitors in 2018. With 2.27 million objects, 145 galleries and covering 5,000 years of art history – the museum is still growing.
Look forward to art from a global perspective, the mixed-media collection of ceramics, textiles, costumes, furniture, sculpture, prints and so forth building a comprehensive timeline of ancient civilizations to present day living.
Victoria and Albert Museum also own the largest holding of Italian Renaissance items and post-classical sculpture outside of Italy, while its East Asian galleries celebrate ceramics and metalwork most. There's no denying that its main draw comes from a wide-ranging variety of items.
10. National Museum of Korea
Country: South Korea | Gallery Space: 291,600 sq ft / 27,090 m2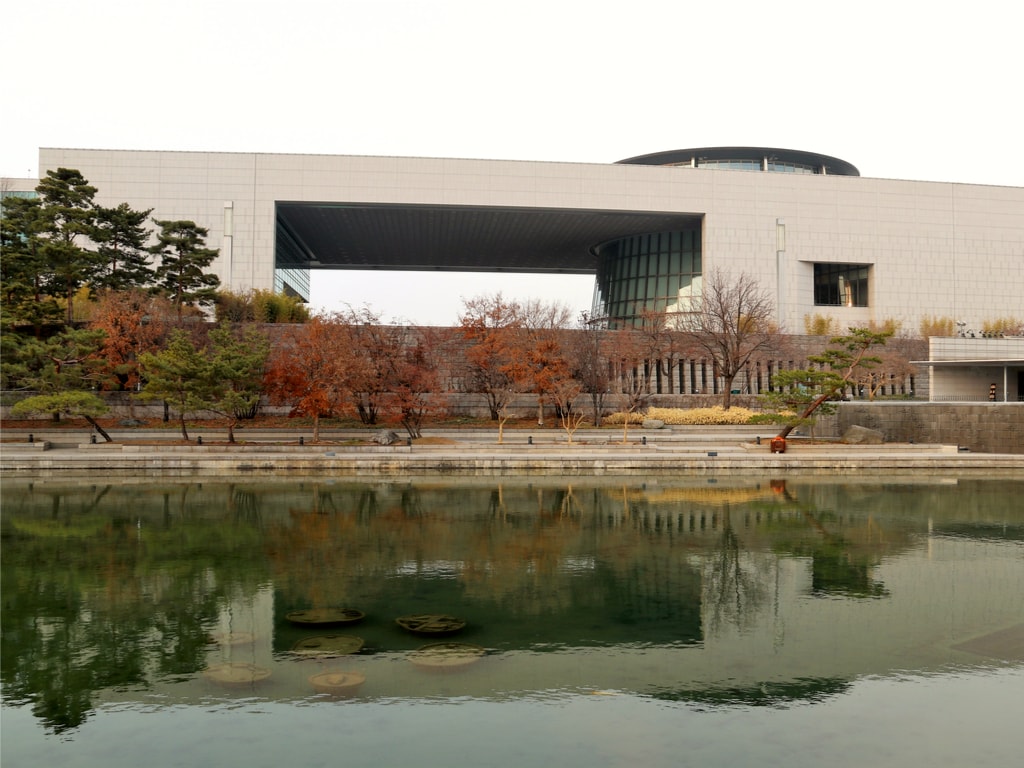 Unlike other national museums that showcase works unrelated to its country's culture and history, the National Museum of Korea is everything Korea.
Exhibition center and cultural organization in one, it builds educational programs around the various exhibitions.
Having relocated in 2005, the sleek building centers six permanent galleries: (1) Prehistory and Ancient History Gallery, (2) Medieval and Early Modern History Gallery, (3) Donation Gallery, (4) Calligraphy and Painting Gallery, (5) Asian Art Gallery, and (6) Sculpture and Crafts Gallery.
The first floor is a timeline of Korea's growth, spanning from Palaeolithic artifacts to the Joseon period.
Highlights include ancient royal ornaments, the Bangudae Petroglyphs and excavated items from Unfied Silla era. The outdoor garden also houses the national treasure of the Great Bell of Bosingak. The second floor is dedicated to art both traditional and religious, as well as pieces donated by private collectors. Sculptures, metalwork and more crafts work are found on the third floor.
It also hosts the Asian Arts Gallery which examines art along the Silk Road and how various cultures have intersected.
Table of the Biggest Museums in the World
Ranking
Museum Name
Area Covered
Location
1
The Louvre Museum
72,735 m2
782,910 sqft
Paris, France
2
State Hermitage Museum
66,842 m2
719,480 sqft
Saint Petersburg, Russia
3
Madras Museum
66,000 m2
710,418 sqft
Chennai, India
4
National Museum of China
65,000 m2
700,000 sqft
Beijing, China
5
Metropolitan Museum of Art
58,820 m2
633,100 sqft
New York, USA
6
Vatican Museums
43,000 m2
460,000 sqft
Vatican City, Italy
7
Tokyo National Museum
38,000 m2
410,000 sqft
Tokyo, Japan
8
National Museum of Anthropology
33,000 m2
360,000 sqft
Mexico City, Mexico
9
Victoria and Albert Museum
30,658 m2
330,000 sqft
London, United Kingdom
10
National Museum of Korea
27,090 m2
291,600 sqft
Seoul, South Korea
Largest museums in the world by area
Wrapping Up
It goes without saying that the largest museums in the world aren't just known for their size, but for the depth of their collections and dual role as a historical landmark.
It is interesting to note how museums came to be across the globe.
In Europe, museums blossomed out of private collections of royals or religious powers to showcase wealth (monetary and religious); in other countries where museums are founded by modern governments, the focus is on inherent cultural richness and proof of historical lineage.
Allocate a full day to exploring these vast museums, maybe even brush up on the story behind each one.
Spare some time examining the detail-work and design of these buildings as well, and contemplate how they fit into the local historical trajectory.
If you feel overwhelmed by choice, sign up for a guided tour! A tour guide can answer your questions and provide missing context.