Horton Creek Trail: Complete Guide, Map, & Pro Tips
Horton Creek is a popular 8.6 miles hiking trail in the Tonto National Forest 17 miles north of Payson in Arizona. It is a moderately challenging hike along Horton Creek with waterfalls and fabulous views through magnificent stands of pine.
Horton Creek Trail is a favorite hike for locals and road-trippers alike. This hike has it all: fresh spring water, towering pine trees, great weather, good trail conditions, and ease of access to the trailhead.
Located less than two hours from Mesa, Arizona, the Horton Creek Trail is a welcome escape from the heat of the Valley of the Sun.
The freshest, coldest spring water you've ever had in your life is waiting for you at the end of a pleasant 4-mile trek.
So bring your hiking boot, and let's explore the trail!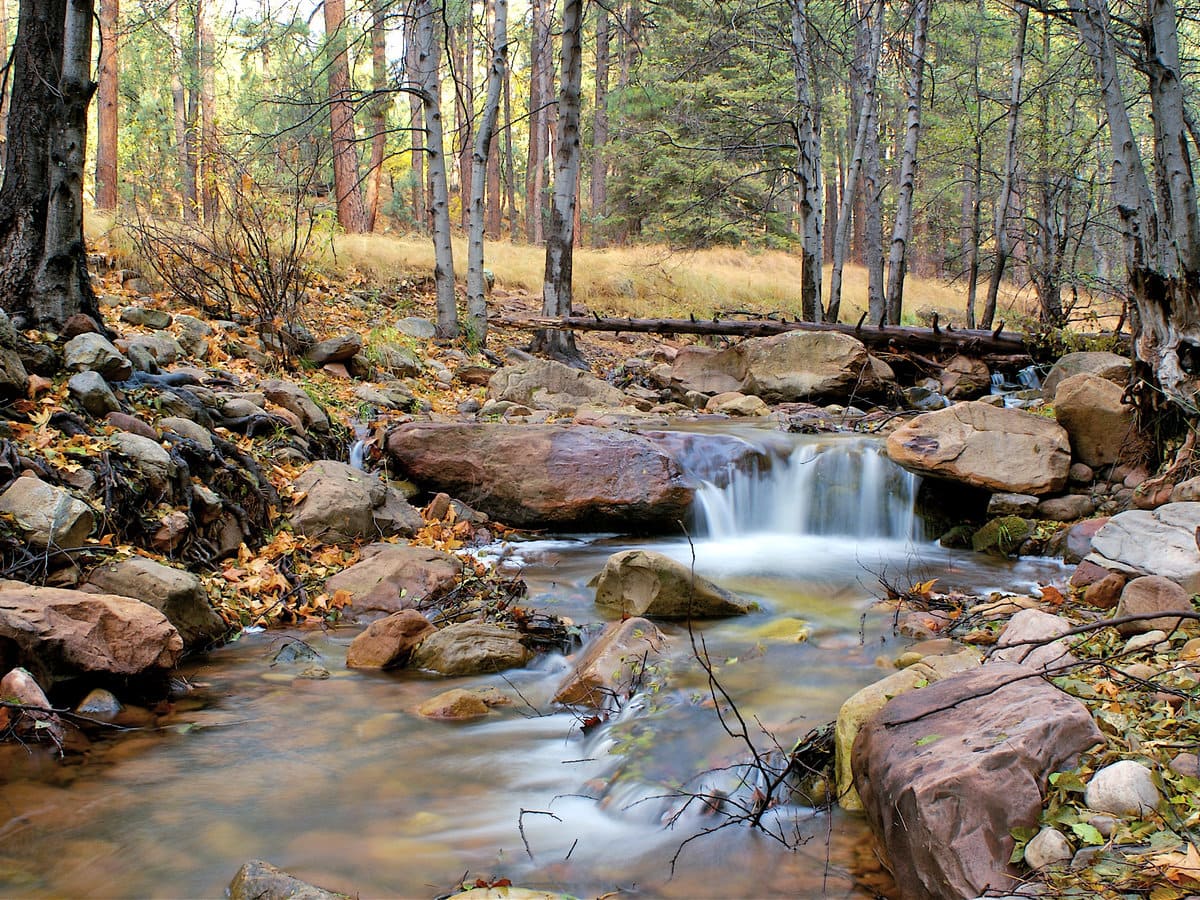 Horton Creek Hiking Trail: the Route Details
Getting to the Horton Creek trailhead from Mesa is fairly simple; take the Beeline Highway (AZ-87 N) to Payson, and then jump on 260-E from there. Sixteen miles out of town, you'll see a turn-off to the left for Horton Creek. Finding parking can be slightly tricky on weekends, but there are a few lots to choose from. You might have to walk a short distance to the actual trailhead.
The trail starts near the Tonto Creek campsites and is fairly flat and easy for the first mile. You'll find the creek soon enough, and the trail follows Horton Creek for the majority of the hike.
One of the best features of this hike is the tall trees that provide plenty of shade for the entirety of your hike, which can be hard to find in Arizona.
Horton Creek Trail is an out-and-back route, meaning you can make this hike as long or short as you want by turning around early.
I highly recommend making it all the way to the end, where the water gushes out of the ground, crystal clear and refreshingly cold. You can fill your water bottle* here for the trek back.
* I recommend getting a water bottle with a filtering system designed for hiking and outdoors. This one is a very good option.
The full route is 8.6 miles (almost 14 km), starts out flat for the first mile or so, and then climbs steadily from there. Over the hike, you'll climb about 2,500 feet overall in elevation gain, but there are not any super steep sections.
Due to the higher elevation here than in Mesa/Phoenix, you might find yourself out of breath, so be sure to take plenty of breaks!
Most people can complete Horton Creek Trail in 3-4 hours, depending on your walking speed and how long you spend on breaks. There are even places to camp if you wanted to enjoy a weekend in the pines, and many Scouting groups and families backpack into Horton Creek for an overnight adventure.
Horton Creek Hiking Trail: What to Expect?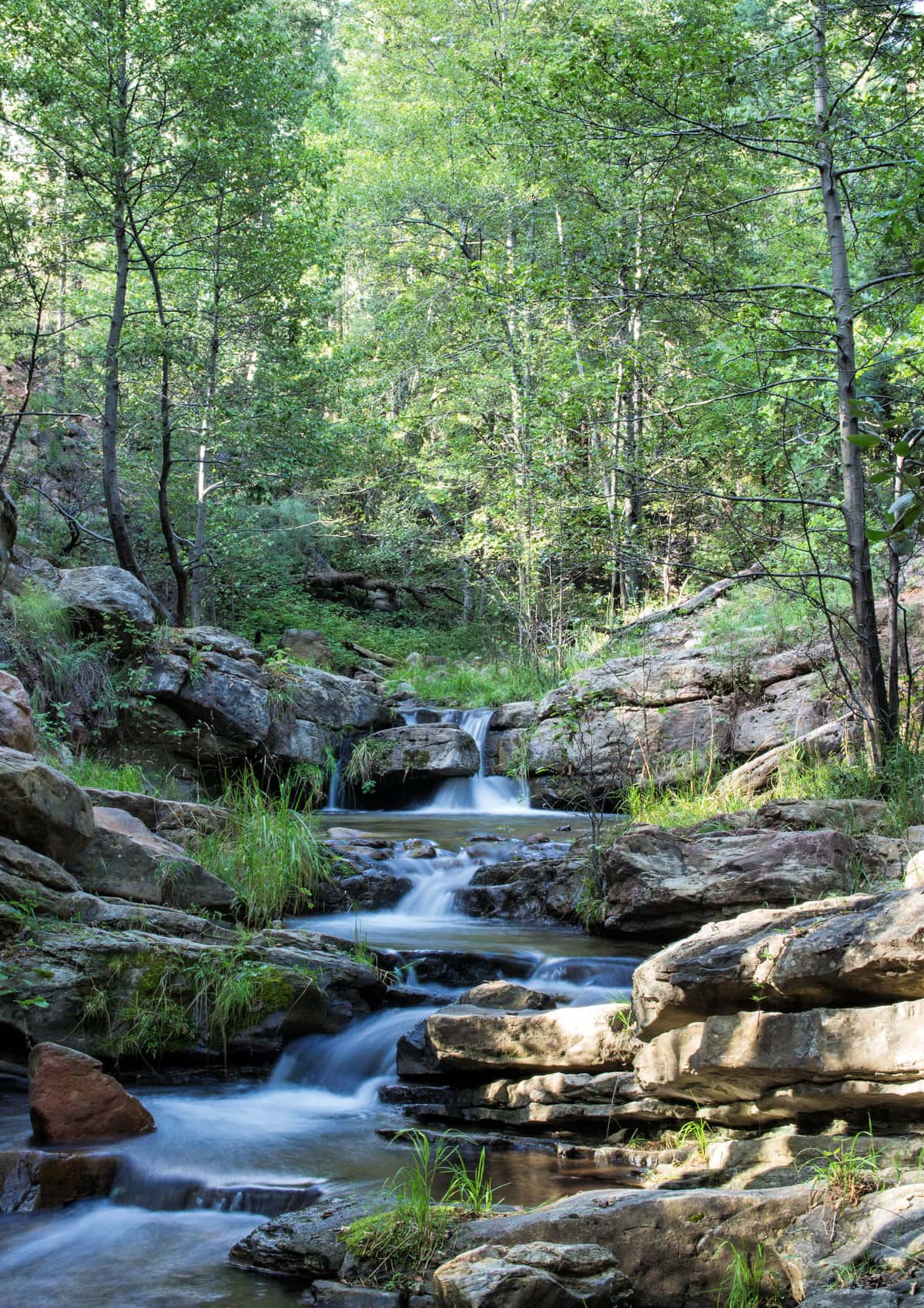 I've completed this hike twice in the past, once while backpacking overnight and again while carrying my then 8-month-old daughter. Each time was enjoyable with perfect weather and great trail conditions.
The trail is wide and easy to follow, ensuring that you won't get lost, but it is always a good idea to download the trail map beforehand.
There are campsites scattered along the way, just be sure to always follow Leave No Trace principles!
I'm a decently quick hiker and don't take too many breaks, and overall this hike took me 3 hours to complete, including time spent relaxing in the spring.
There are some rocky sections where you'll have to watch your footing, but the rest of the trail is packed with dirt and gravel. Beginner hikers can tackle this hike with plenty of water and breaks as needed.
Even though it is in the mountains, in the summer this hike could still be too hot for some.
On weekends, this hike is popular and can be crowded. Horseback riders also frequent this route, so give them plenty of room to pass.
Weekdays are the best time to visit Horton Creek Trail, with fewer crowds and more time to enjoy the peaceful quiet of the forest.
Where to Stay and How to Get Around?
Payson is the nearest town, with several small hotels and motels if you wished to stay in the area for a day or two. There are also several campsites at the trailhead that require reservations in advance or more backcountry-style campsites scattered along the Horton Creek Trail.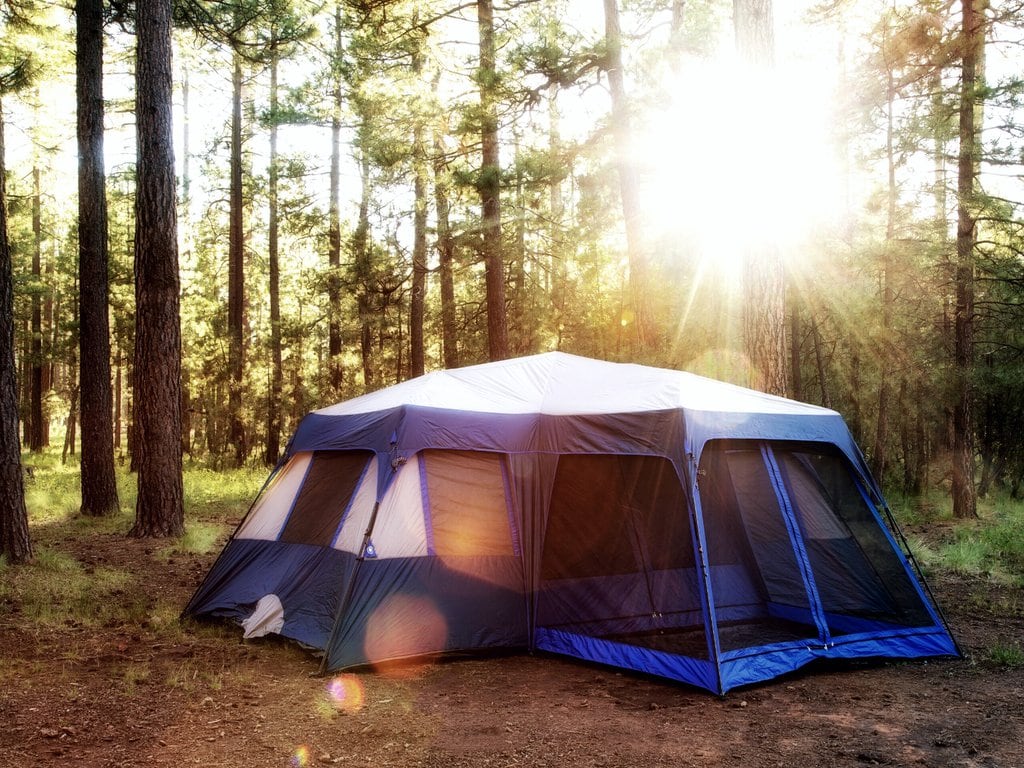 Look for fire rings from previous campers to find the good spots, but be cognizant of fire restrictions in the area.
There are no buses that service this area of Arizona, so driving by car is a must.
After your trek, head back through Payson and enjoy a meal at one of the several chain restaurants or mom-and-pop cafes in town. Five Guys Burgers, Fargo's Steakhouse, and Macky's Grill are a few favorites.
➡ Browse and choose the best accommodation here.
Resources, Guides, and Maps
Pro Tips for Hiking Horton Creek Trail
Nearby Routes You Can Tackle Next
The Highline Trail starts in Pine and follows the Mogollon Rim until coming out on top near the Rim Lakes area. Over 55 miles long, few people do the entire trail but there are many sections of it that are accessible by other trails.
The Highline Trail crosses near the end of the Horton Creek trail near the spring, and you can make a loop out of Horton Creek, Highline, and nearby Derrick Trail #33 for a 9+ miles hike.
Another 20 minutes past the turnoff to Horton Creek, Highway 260 will take you to the top of Mogollon Rim and you'll see Rim Lakes Road on the left.
Here, you'll find the paved and wheelchair-accessible Rim Lakes Vista Trail that follows the rim of the plateau for several miles. The views here are unmatched and are a must-see!
Before You Go
Hiking Horton Creek Trail should be on every Arizona hiker's to-do list.
Us Arizonans are so used to desert vistas and brown scenery, that hiking along the lush green of Horton Creek is a refreshing change. The towering trees provide plenty of shade for a more enjoyable trek.
The relative proximity to the Phoenix area makes Horton Creek Trail a great choice for a day trip.
Hikers of all ages and abilities can do this trail, or at least parts of it, and enjoy some of the best scenery and hiking that Arizona has to offer. This area offers a welcome respite from the soaring temperatures of the Valley and you'll find yourself daydreaming about the cool shaded trail year-round!
Read my next article to discover even more waterfalls days out: 16 Most Beautiful Waterfall Hikes in Arizona