11 Best Water Parks in Arizona
Everyone knows that Arizona is hot, and that's sometimes an understatement, especially in July and August. With temperatures soaring into the 110s, one of the only ways to keep cool and have fun outside in the summer is to be in the water.
Arizona has more than a few amusement parks, water parks, and splash pads, perfect for passing by those long, toasty summer days. With water slides, wave pools, diving boards, swimming pools, and kid-safe splash pads, there are activities at water parks for all ages.
Growing up, my siblings and I spent many a bright summer's day playing hard at several of Arizona's water parks near our childhood home. Read ahead to find a water park near you, put on a swimsuit and slather on the sunscreen and get ready to have some fun!
So in this guide, I've brought you the 11 best water parks in Arizona. (SPOILER: Some of them are Free!)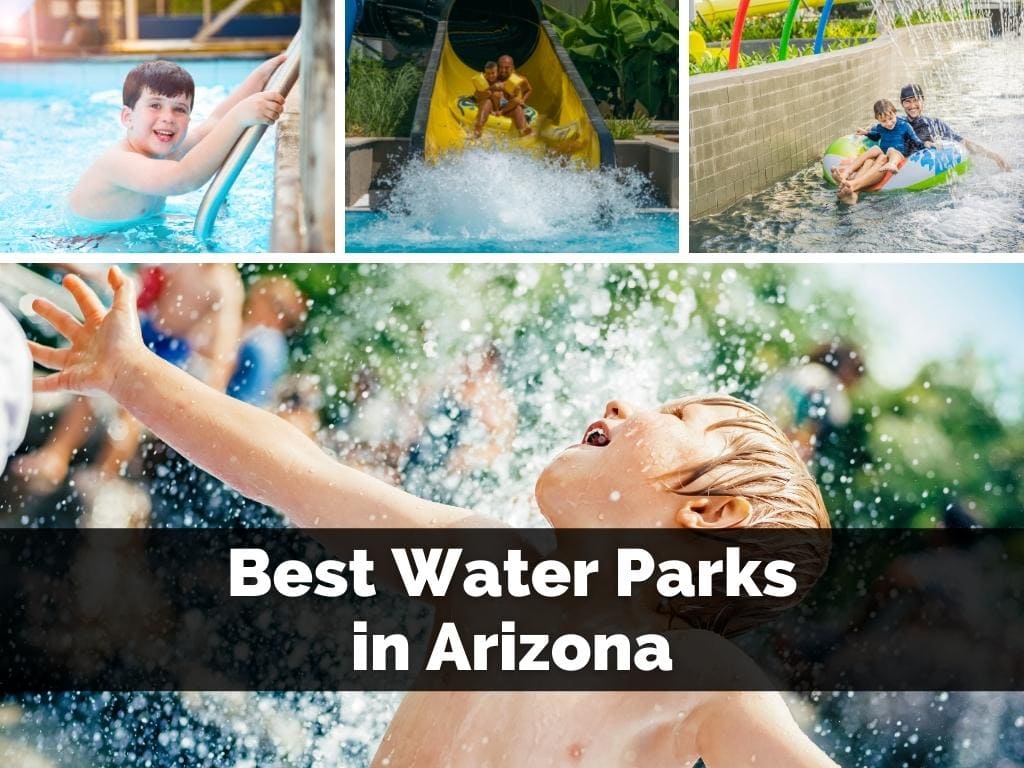 1. Golfland Sunsplash
One of the biggest and oldest water parks in Arizona, this family-owned park feels like an oasis in the desert on a hot day. Located in central Mesa, one section of Golfland Sunsplash is a mini-golf course (giving patrons something to do in the winter months), while the larger part is a sprawling water park with activities for all ages.
A favorite is the wave pool, where man-made waves sweep through the giant pool on a timed schedule, allowing you to try and ride them in on your tubes. Not much for adrenaline-pumping fun? Try the lazy river, where you can lay on your tube and float on the "river" that winds around the park, with no effort on your part.
A few attractions at Sunsplash are thrilling, including the first-of-its-kind water roller coaster called the Master Blaster, which uses water propulsion to push you up and down along a coaster-like water slide. Some slides drop you at a near-vertical angle (not for the faint of heart) and others that closely resemble the shape of a toilet bowl, where you eventually fall through the bottom into a pool below.
Sunsplash holds a lot of fond memories for me and my family growing up, and my personal favorite attractions are the wave pool and lazy river. There's also a toddler area for smaller kids to play safely, and cool obstacle courses for you to test your athletic skills.
2. Big Surf
Located in Tempe, Big Surf boasts the oldest wave pool in the United States and opened back in 1969. The park itself is pretty low-key, with your typical water slides, giant wave pool, toddler areas, and swimming areas. It's less crowded than Sunsplash, so if crowds are an issue for you, head to Big Surf!
There are several areas specifically for toddlers and younger, making Big Surf great for families with small children. Most of the attractions here are water slides, with varying lengths and steepness for all levels of bravery!
This is a great water park for relaxing while the kids play, with plenty of chairs, shady grassy areas, and beach-like sandy areas to set up and chill for the day. Safety is very important to Big Surf, and they have complimentary life jackets to kids younger kids for the wave pool.
3. Oasis Water Park
The Oasis Water Park is located at the beautiful Arizona Grand Hotel, and this 7-acre park is definitely worth the stay. With a wave pool perfect for kids and adults, one of the best lazy rivers in the state, and 8-story tall water slides, this hotel water park is an excellent choice for families with kids of all ages.
There are cabanas you can rent to relax by the pool, and an on-site grill as well. The gigantic hot tub can fit up to 25 people (although that comes more in handy in the winter months) and the lazy river is a favorite of all visitors.
You don't have to stay at the resort to enjoy the water park and amenities- day passes and cabana rentals are available to non-guests for a fee. Oasis Water Park has been rated as one of the top-10 water parks in the whole country and should be on every water park lovers list.
4. Great Wolf Lodge
Another fantastic hotel water park option is Great Wolf Lodge in Scottsdale. This is mainly marketed as a family-friendly resort, perfect for a weekend staycation. The best part of this park? The majority of the water attractions are inside! So if you forget the sunscreen at home, don't fret!
Most of the slides, pools, and water activities are geared towards children, but that doesn't mean the adults won't have fun as well; the Wolf Tail slide is near-vertical and sure to give you a thrill! The water is a constant 84-degrees, meaning you can enjoy Great Wolf Lodge year-round.
There are private cabanas you can rent for the whole day so the parents can relax while the kids play, and the food options are incredible and sure to satisfy any palate. The rooms in this resort are spacious and family-friendly, with fun details that are sure to keep the kids entertained. Great Wolf Lodge is the perfect option for families looking for a staycation with a convenient indoor water park.
5. Hurricane Harbor
Owned by Six Flags and therefore sure to bring the adrenaline, Hurricane Harbor is known as "Arizona's Most Thrilling Water Park" and lives up to that name! With rides with names like Anaconda, Bahama Blaster, Mammoth Falls, and Tornado, you're sure to have a fantastic time at this water park.
There aren't just rides and slides for the big kids, the little ones can get in on the action too! With water playgrounds, splash pads, and small slides, Hurricane Harbor is great for families with kids of all ages to play safely and most of all, have a blast!
Of course, no good water park is complete without a wave pool or a lazy river (always my personal favorite) and Hurricane Harbor delivers, with a relaxing lazy river that winds around the park complete with tipping buckets, waterfalls, and flowing water. The wave pool, called Hurrican Bay, has four-foot-tall waves prime for body surfing and riding in on your tube.
6. Mesquite Groves Aquatic Center
Many high or junior high schools in the Phoenix Valley have pools and small water parks on their campus, for the swim team in the school year and for families to enjoy in the summer months. Mesquite Groves Aquatic Center is part of Basha High School and is a much cheaper option compared to other water parks in Arizona.
The family play pool has a zero-depth entry (similar to a beach, just without the sand) and this is perfect for kids just learning how to swim and toddlers who just want to splash in shallow water. There's even a small lazy river, a few water slides, and a splash pad for the little ones.
Unique to this water park compared to others on this list is the 8-lane competitive swimming pool, which is primarily used by the Basha swim team but can also be used by the general public in the off-season. There's also a 725-gallon dumping bucket that almost feels like you're standing under a waterfall, perfect for older kids.
7. Founders' Park Splash Pad
This gigantic splash pad is 4,000 square feet of water features and plenty of fun! This splash pad is known for being clean, family-friendly, and has shaded ramadas and grassy areas to escape the harsh Arizona sun when needed.
There are restrooms nearby and drinking fountains, making this a convenient place to spend an afternoon with your kids. Bring a lunch and snacks, and they'll never want to leave! It is totally free and fully fenced in for everyone's safety (no toddlers escaping while your back is turned!).
Your kids will love all of the fountains and water features, including big dump buckets, sprinkler arches, and even a small water tower. Food and drinks are not recommended inside the fence, but there are picnic tables nearby to enjoy your lunch. Founders' Park is a great splash pad for moms with young kids, especially during those long summer months.
8. Mountain Valley Splash
One of the few water parks outside the Phoenix area, Mountain Valley Splash located in Prescott (an hour's drive north of Phoenix, great for a day trip) is open during the warmer summer months and boasts a zero-depth entry pool, competitive swim lanes, an interactive splash pad, and a 75-foot long spiraling water slide.
The splash pad is a little more exciting than your average splash pad, with water cannons and other water features that will leave your kids worn out by the end of the day. The lifeguards here take safety very seriously, another reason why parents will feel good about bringing their children to Mountain Valley Splash.
With this being the only public pool in town, it can get crowded on warmer days and weekends but you are guaranteed to have a good time no matter what! The concession stand is a nice touch- no hungry kids if you forget to bring snacks!
9. Slide Rock State Park
All of the water parks on this list are man-made, except for this one! Located on Oak Creek just outside Sedona, Slide Rock State Park is a favorite for Arizonans in the hot summer months.
The water is chillier than at the water parks and just like the name suggests, the rocks can be slippery at times, but that's half the fun! The erosion of the river carved a natural slide into the red rocks of the creek, creating a water slide and swimming hole made by nature.
Wear sturdy shoes and swimming clothes, and enjoy some fun in the refreshing waters of Oak Creek.
Slide Rock State Park can get very busy in the summertime, so either come on a weekday or during the spring and fall months; Arizona is still warm enough during the "off" season that you can still have a good time here!
Sedona is an excellent day trip option for those coming from the Phoenix area, and Slide Rock State Park should be on your itinerary.
10. Riverview Park Splash Pad
Another large splash pad that is a local favorite, Riverview Park is located in northwest Mesa near the Chicago Cubs spring training facility, shopping, and restaurants, and is a great picnic spot.
The splash pad itself is huge and fully fenced in, and is open for long hours year-round, perfect for those hot summer nights.
Kids will love the various misting, spraying, dumping, and water fountain features and will spend hours running back and forth, and the vast size of this splash pad ensures plenty of room for all. The playgrounds next to the splash pad are pretty epic by most playground standards, with huge climbing towers and tall slides.
Riverview Park is conveniently located near lots of shopping and the 202 and 101 freeways. Plus, even better, the splash pad is free! Family fun doesn't always have to come at a huge cost!
11. Quincie Douglas Pool
Surprisingly, there aren't too many public pool or water park options in Tucson, but Quincie Douglas Pool wins (if it were a contest) due to the water slide and splash area for the little kids. Like most public pools, the hours vary for when the water slide and other fun areas are open, so check before you go!
The price of admission is nice and low, making Quincie Douglas Pool a more affordable option for some families compared to other waterparks. The 144-foot-long water slide is swift and your kids will want to ride it over and over again. The splash pad is perfectly safe for smaller babies and toddlers, while the diving boards have varying heights for the older kids.
Enjoy the 8 competitive lap swimming lanes, and you can even enroll in swim lessons, synchronized swimming, or even rent out the pool for a family party or company event! The beach entry swimming area is another nice touch that makes this pool family-friendly.
Conclusion
Arizona's scorching hot summer days leads people to get a little desperate to stay cool, and playing in the water is one of the few ways to make it through with your sanity intact! Okay, maybe it's not that bad, but visiting a water park can make the heat a little more bearable.
Whether you're going for adrenaline-pumping water slides that drop at near-vertical angles, or taking your toddler to a kids-friendly splash pad, visiting any of Arizona's water parks is sure to make for a memorable day.
Wave pools and zero-entry swimming pools can make it feel like you're actually at the beach (just without the annoying sand), and laying out on a beach chair while reading a good book can just about transport you to a sunny California beach. A water park is a decent substitution for the beach (which land-locked Arizona is severely lacking in) and can be just as fun!
Grab your kids, grab your sunblock, throw on your swimsuit and sunglasses, and get ready for a good, splashing time!
Related Articles: