19 Best Beaches on the East Coast of Scotland
Let's be honest: most of Scotland's best beaches are sitting on the nation's west coast.
But despite what the majority of people seem to believe, you don't absolutely need to go to that side of the nation to find them—there are loads of lovely sands and shores tucked along the east coast of Scotland.
So in this sea-stuffed guide, I've brought you the best of them. Expect kid-friendly spots, secretive sands, well-known shores, and under-the-radar oddities.
Grab yourself a towel, pack some soon-to-be-filled-with-sand sandwiches, and come join the fun—here are the 19 best beaches on the east coast of Scotland!
1. Eyemouth Beach
🌊 Who'll like this beach best: Families, anyone seeking a southerly shore, and people who want lots of close-to-a-beach fun.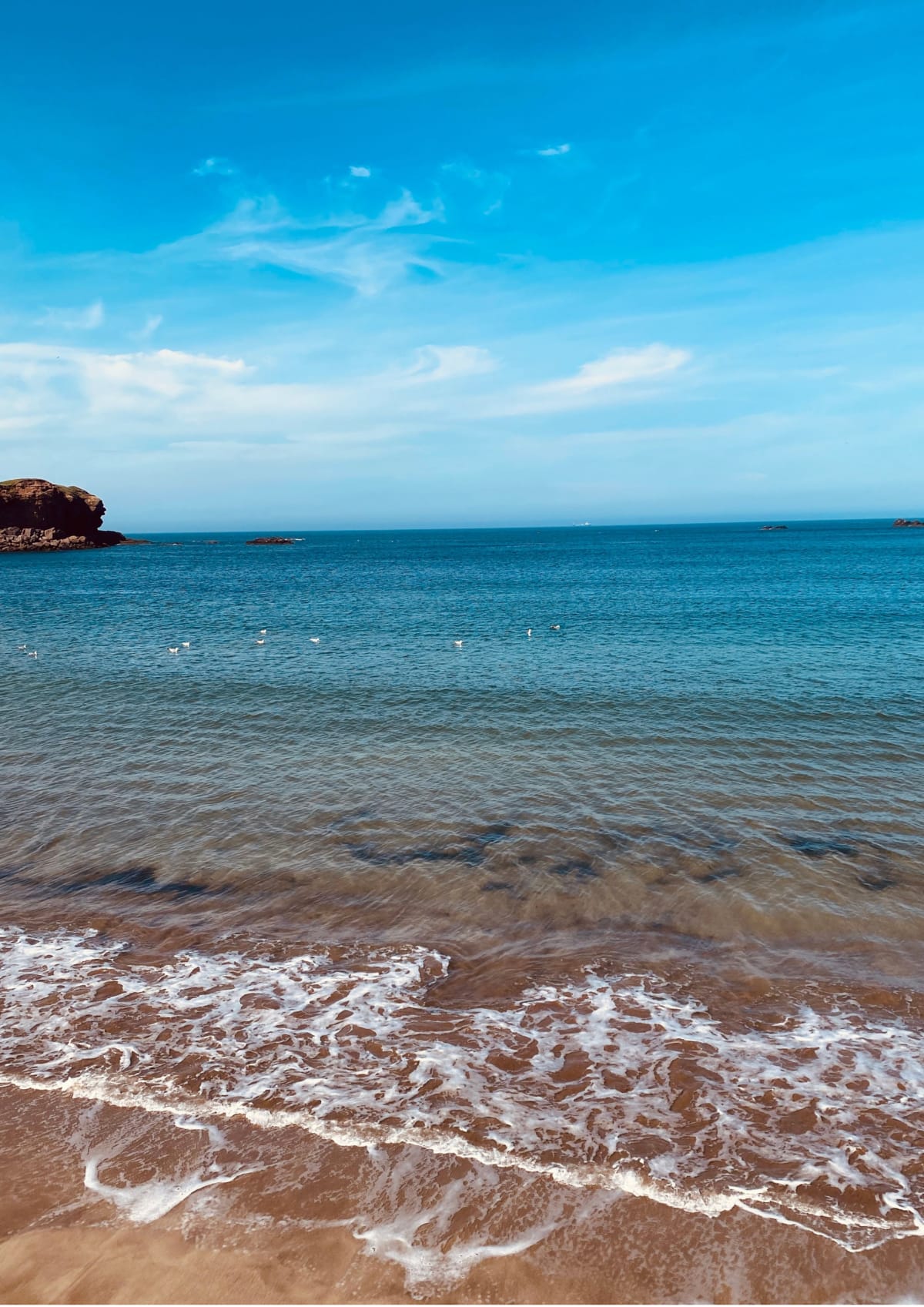 Let's get things started with the most popular southerly beach on the east coast of Scotland.
I love Eyemouth, and I love Eyemouth Beach.
The beach itself is wide and sandy, with plenty of space to splish about. It's not the best swimming spot (the waves can get pretty heavy), but it's good for rock-pooling and wandering.
But the best thing about this beach (and this is why Eyemouth is one of the most family-friendly vacation spots in southern Scotland) is its proximity to loads of fun. Highlights include seal-spotting (head to the harbor and you'll find a man who'll help you feed them), fish and chips, boat trips, family-friendly restaurants, the nearby nature reserve of St Abbs (with its big bird colonies), and plenty more.
Looking for a good beach with plenty of nearby action and adventure? Then this is one of the best beaches on the east coast of Scotland.
2. Portobello Beach
🌊 Who'll like this beach best: People who want a beachy escape that's basically inside Edinburgh.
Okay, this isn't necessarily one of the very best beaches on the east coast of Scotland.
But it's clean and pretty, it's surrounded by plenty of great stuff, and (best of all) it's only 3 miles (5km) from the center of Edinburgh… so you can easily walk here*.
*There are also LOADS of buses running from Edinburgh to Portobello Beach, if you can't be bothered for a wander. The 26 and 45 are usually your best options.
The beach measures in at around 2 miles (3.2km), and it's all sandy and wide. Perfect for sunbathing, swimming, building sandcastles, and letting your kids roam free. Close-to-a-big-city beaches aren't usually this clean and welcoming.
Other perks include endless nearby cafes, fun-filled amusement arcades, the nearby Kayaking and Sailing Club (they don't hire boats, but they offer courses. Sensible), a right-on-the-shore indoor swimming pool (with a Turkish bath), a pretty promenade, and cute walks in and around Brunstane Burn.
3. Musselburgh Beach
🌊 Who'll like this beach best: Bird spotters, people exploring the south of Scotland, and (again) anyone looking for an easy and accessible beachy escape from Edinburgh.
The center of Musselburgh Beach is only around 2 miles (3km) east of Portobello Beach… so you can visit them both in one day.
Sitting in the close-to-Edinburgh coastal town of Musselburgh, it's made of sand and shingles, and it's split in half by a knockabout tidal harbor. It's pretty similar to the beach at Portobello, but without as much on-shore fun.
Wander a little east from the beach, and you'll see Musselburgh Lagoons. Here, you'll find a bunch of mini ponds ('lagoons' is probably a bit generous), with loads of birds, both native and migrating. Plop yourself in one of the hides, and get your binoculars out.
And, obviously, have a wander around Musselburgh itself when you're done. It's home to Newhailes Estate, wanders along both Brunstane Burn and the River Esk, and some family-friendly eateries (the charming Harbour Cafe is great for a speedy lunch).
4. West Sands (in St Andrews)
🌊 Who'll like this beach best: Golf fans, seal-spotters, and warm-weather seekers.
The town of St Andrews is well-known for golf, history, and its hefty cathedral.
But people often overlook its proximity to loads of great beaches.
Of them all, West Sands is the best. It juts north out of the town, on a little peninsula heading into the sea. Measuring 2 miles (3.2km), the sandy shore offers close-to-the-town conveniences at its southern end, and a quieter atmosphere (and maybe some seals!) at its northern end.
Whichever side you pitch up at, it's good for swimming, wandering, and letting your kids (or yourself) run around.
And as a nice bonus, it's a great spot for nabbing warm weather. For some reason (I don't know the specifics, cos I'm not a scientist), this pocket of the UK is one of the region's warmest and least-wet places.
5. Carnoustie Beach
🌊 Who'll like this beach best: People who want to reach a beach by train, anyone with kids, and folks living in (or vacationing in) Dundee.
Pretty close to St Andrews, it's another of the best east-coast beaches in Scotland for anyone with kids.
Carnoustie Beach is sandy and spacious… so it's perfect for strolling, and even more perfect for building sandcastles.
But more importantly, it's close to loads of fun and conveniences. Because you're so close to the town of Carnoustie (and because Carnoustie is bigger than most people expect), you're within wandering distance of lots of shops, eateries, and stuff to do.
Right beside the beach, you'll find a play area and a paddling pool… and a bit further afield, you can explore Crombie Country Park, Monikie Country Park (home to ducks, kayaking, and loads more activities), and the nearby fun of Dundee.
Best of all, the beach is super easy to access—it's only a 5-minute walk from Carnoustie Railway Station… which is directly connected to loads of handy places, like Dundee, Aberdeen and Edinburgh.
6. Montrose Beach
🌊 Who'll like this beach best: Bird watchers, and people hunting for an underrated town.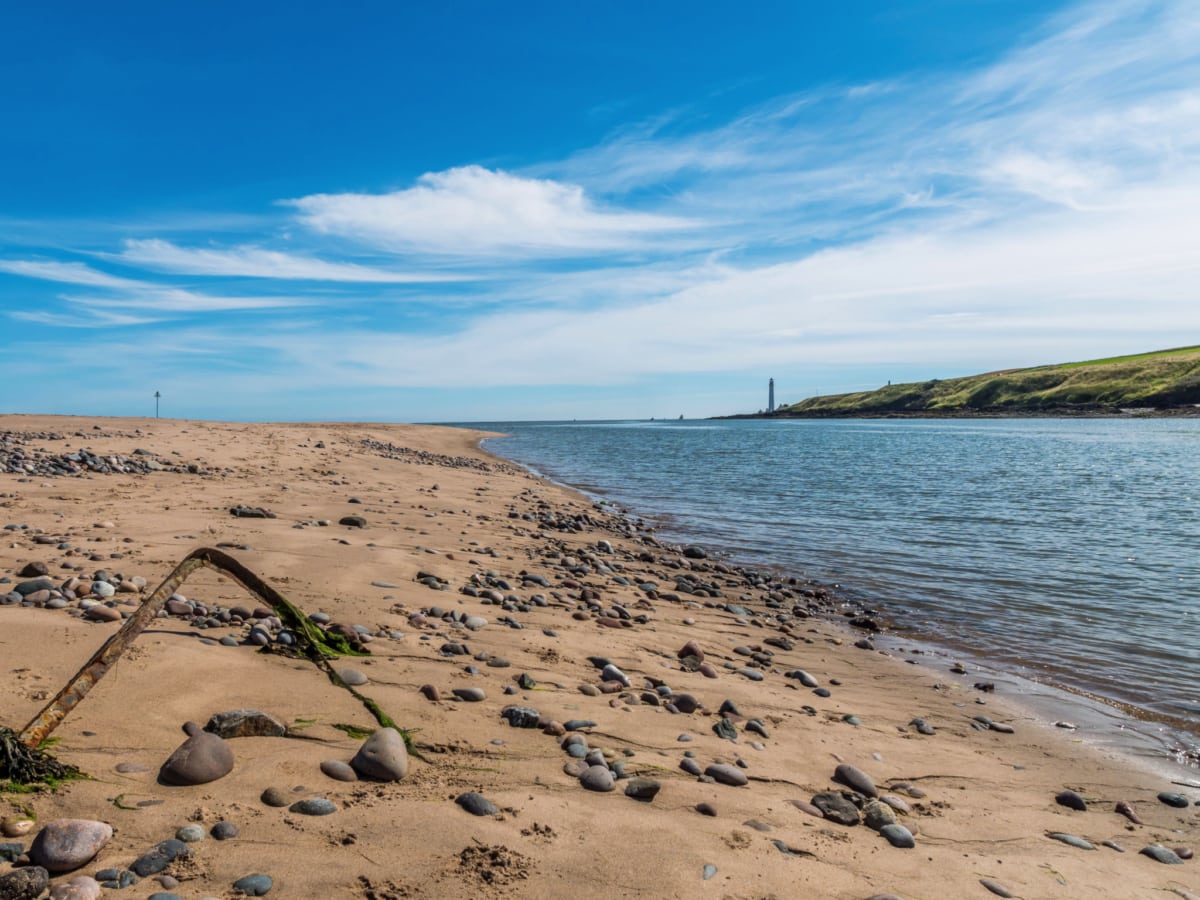 North of Carnoustie, Montrose is one of the most underrated and overlooked coastal towns in Scotland. Highlights here include a golf course, some decent cultural attractions (check out the local-history haven of Montrose Museum), and the very-nearby Langley Park Gardens.
But, obviously, Montrose Beach is on this list cos of its… beach. And on that beach, you get 3 miles (5km) of clean sandy shores, backed by high dunes. There's plenty of car parking, a kids' play area, and a little splash pool for children.
Most famously, the estuary where the South Esk River meets the sea here isn't a normal estuary—it instead balloons out to form an area locally known as 'The Basin.' And this basin is home to loads of water-loving birds, so bring your binoculars. To learn even more, head to the family-friendly fun of the Montrose Basin Visitor Center.
7. Stonehaven Beach
🌊 Who'll like this beach best: Harbor hunters, castle seekers, and anyone looking for a close-to-Aberdeen beach.
Heading slightly north up the Scottish east coast (again), Stonehaven Beach is one of my favorites on this list.
Stonehaven itself is brimming with action and adventure. A surprisingly-big town, it's surrounded by (and filled with) loads of fun…
… and most of its highlights are sitting on and around the coast.
The beach itself, which runs right along the front of the town, and is made of sand and shingle, measures in at around 0.7 miles (1.1km). It's popular with swimmers and sunbathers, while occasional surfers and kayakers also head here.
It's surrounded by plenty of visit-worthy stuff, including an old-school harbor, endless cafes (get yourself to The Cool Gourmet for a scone), Dunnottar Cliffs, the atmospheric ruins of Dunnottar Castle (one of the best castles in Scotland), and the clifftop wander from the beach to these ruins. Highly recommended!
8. Newburgh Seal Beach
🌊 Who'll like this beach best: People seeking a beach close to Aberdeen, and anyone who wants to stare at some seals.
Next, we're heading north of Aberdeen, to find a genuinely-unusual beach.
For the most part, beaches (let's be honest) are all pretty similar to one another…
… but this one really isn't.
Sitting in an estuary where the Ythan River meets the sea, you've probably worked out what makes this beach so special. That's right: seals!
The sands here are home to a colony of around 400 of the beefy boyz. Obviously, on a visit, you won't see them all—but there's a good chance you'll see a big bunch of them. Stare at them, take some photos, but don't get too close—you don't want to spook them, or get your fingers bitten off.
Less impressive, this beach is also home to a wide range of different birds, including diving terns, eider ducks, and oyster catchers.
9. Fraserburgh Beach
🌊 Who'll like this beach best: Seafood seekers, lighthouse lovers, and people who want a nice mix of varied attractions.
If you want a solid combo of loads of different perks, you'll love Fraserburgh Beach.
A nice balance between not-too-busy and not-too-quiet, it's long and sandy… and it stretches for around 2.5 miles (4km).
It's good for swimming, surfing, whale-spotting and dolphin-spotting, and it's popular with families. And behind the beach, there are dunes, reeds and marshes, which are home to a load of birds.
And on top of all that, the western end of the beach is basically inside Fraserburgh, so you're close to all the fun of the town. That fun includes a massive multi-faceted harbor, some of the best seafood in Scotland (head to the Captain's Table), and the shouldn't-be-fun-but-it-is Museum Of Scottish Lighthouses.
10. Findhorn Beach
🌊 Who'll like this beach best: People looking for a remote beachy escape from Inverness… and anyone who wants a long sandy stroll.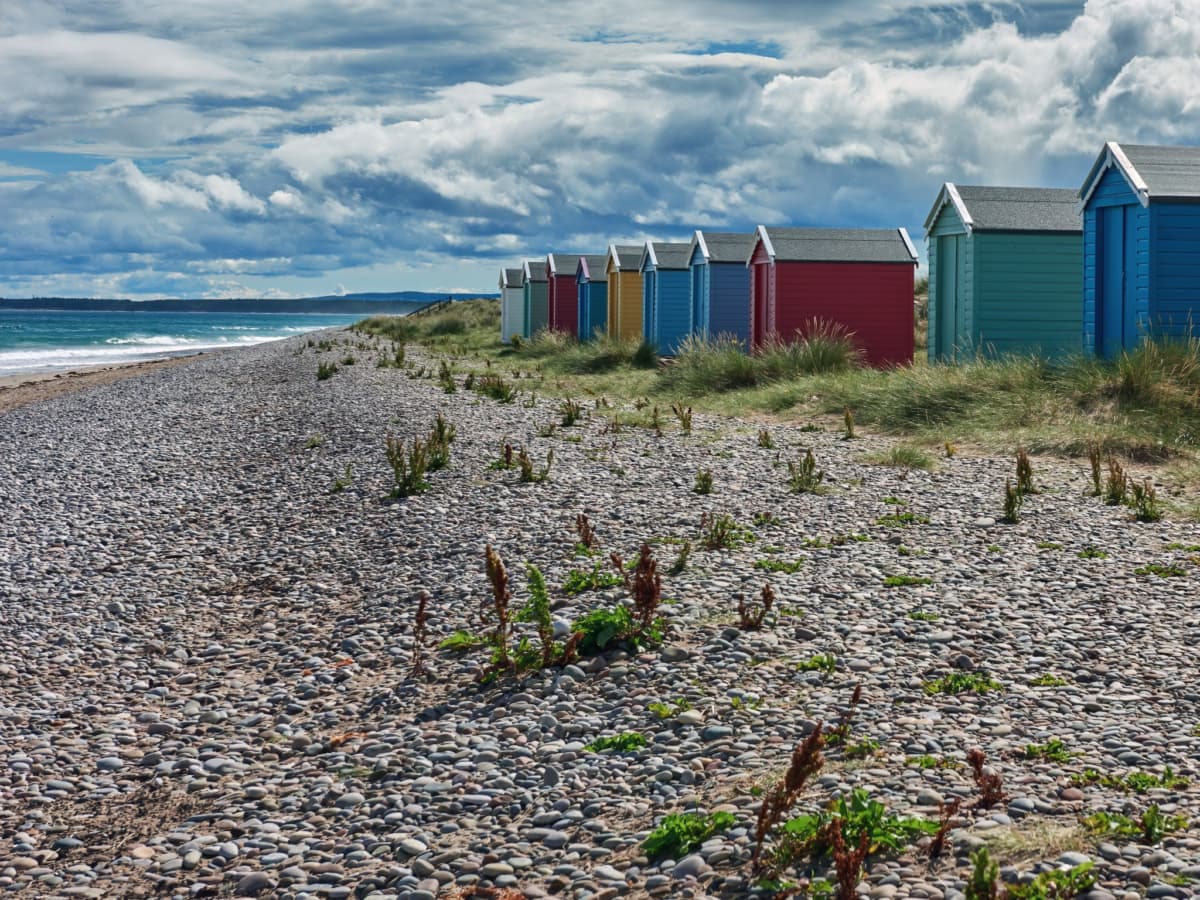 Around 30 miles (48km) east of Inverness, Findhorn Beach sits in the fishing village of Findhorn.
It offers a combo of sand and stones, and it's massive and spacious. There's not a huge amount to do here, but it's good for swimming and wandering—oh, and make sure you spot the brightly-painted beach huts.
If you want a long beach-based walk, you can stroll all the way from the western part of Findhorn Beach to the eastern town of Burghead (the route is around 6 miles/10km in total).
When you're done exploring in and around Findhorn, head to the nearby Captain's Table (no relation to the same-named restaurant in Fraserburgh). They serve up massive but expertly-made portions of hearty classics… like pizzas, burgers, and fish and chips.
11. East Beach, Nairn
🌊 Who'll like this beach best: Bird watchers, people living in (or visiting) Inverness, and anyone who wants to explore an underrated shoreside town.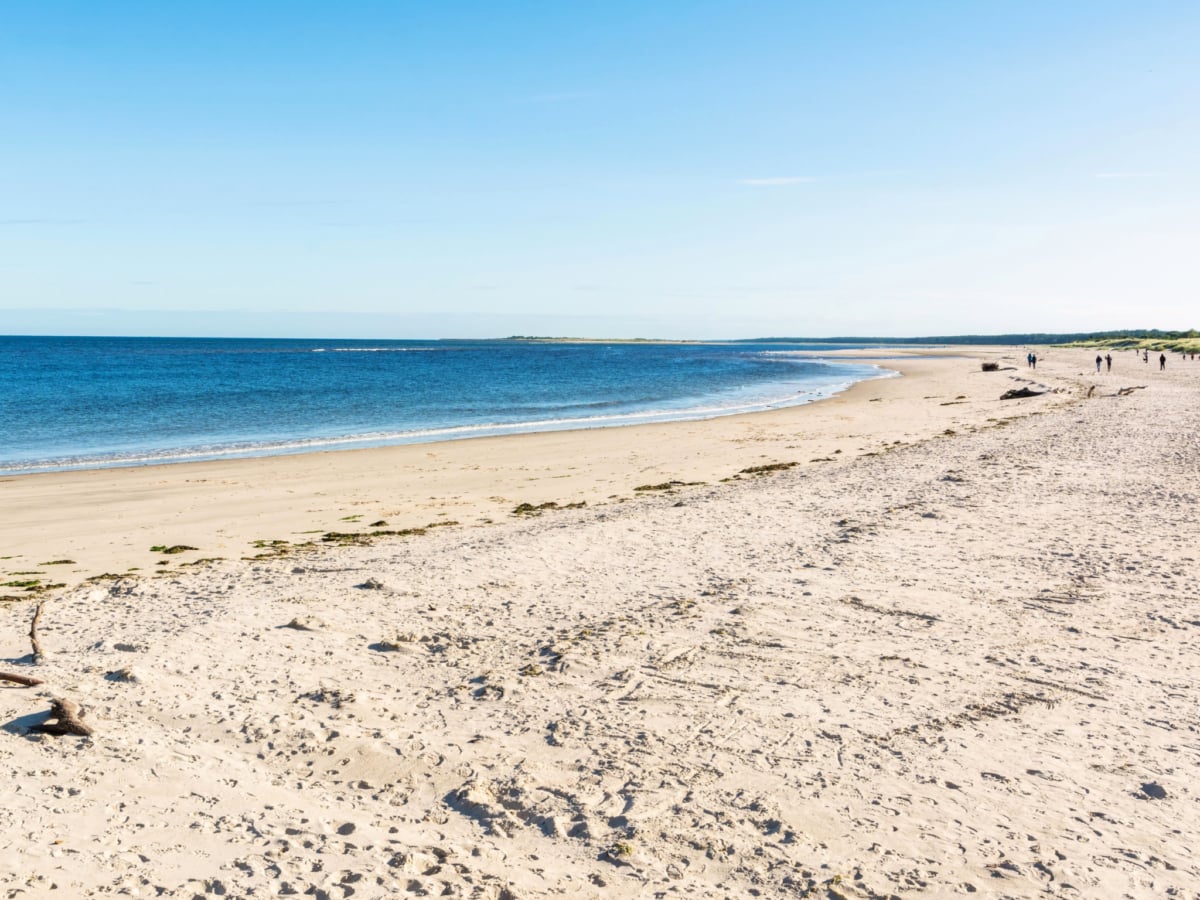 Another close-to-Inverness option, Nairn and its beach sit pretty much halfway between Inverness and Findhorn.
Nairn is an underrated place. Okay, it's not the prettiest town on the planet, but it's alluringly friendly, it offers boat trips, golfing, caravanning and camping, and it's home to the lovely lovely East Beach.
Clean, massive and sandy, this beach serves up loads of dunes, loads of families, and plenty of close-by places to munch on ice cream and fish and chips…
… and because East Beach is also an RSPB site, it's a good choice for spotting some birds.
When you're done at the beach, head to nearby Basil Harbour Cafe. Welcoming in an old-school no-frills way, it's (obviously) close to Nairn's harbor—and it serves up simple but tasty lunchtime treats.
12. Rosemarkie Bay
🌊 Who'll like this beach best: Paddleboarders, swimmers, and anyone who wants a close-to-Inverness beach.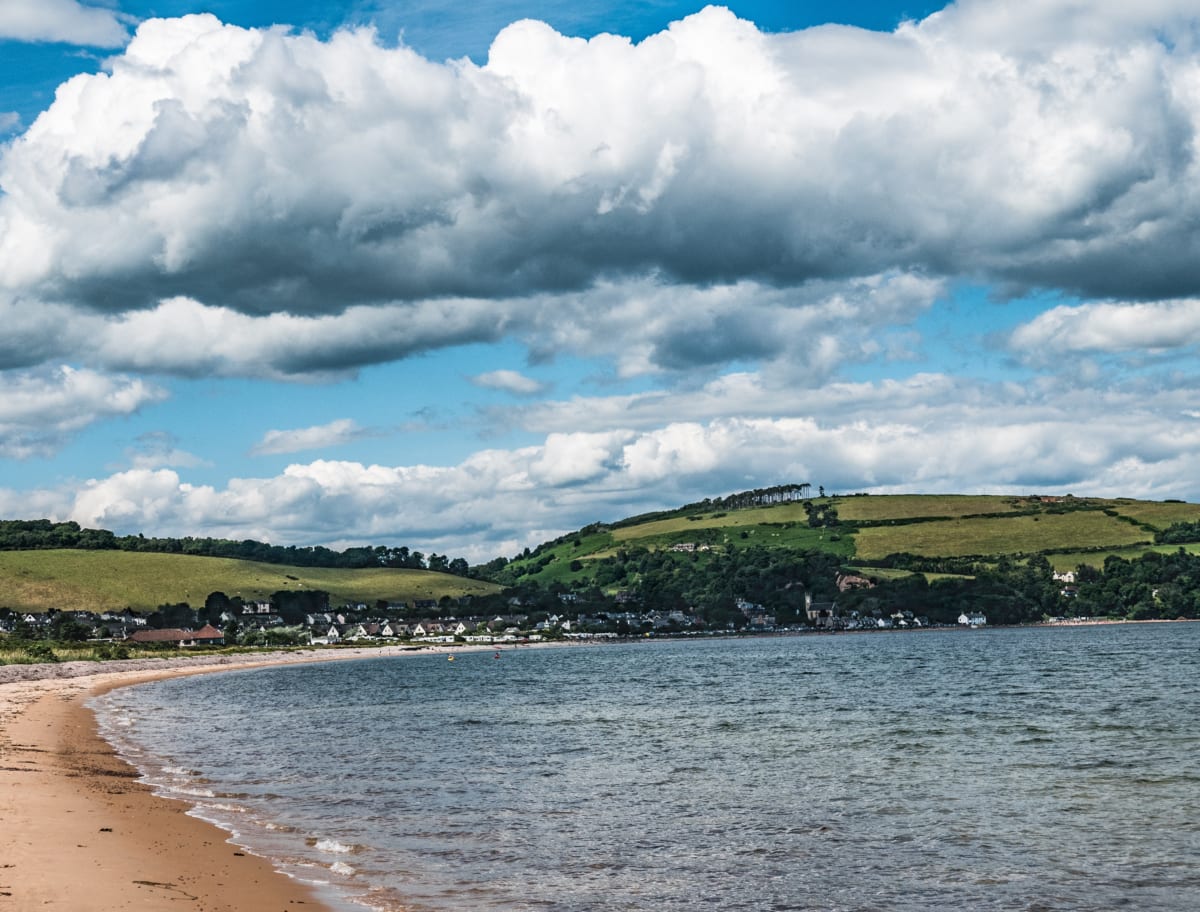 Just north of Inverness is the Black Isle (which isn't actually an island at all—it's just a peninsula, those pesky Scottish liars).
On a southeastern part of this peninsula, you'll find Chanonry Point, a jagged sharp outcrop with a lighthouse. Famous for dolphin-spotting and seal-spotting, it juts out from the little village of Rosemarkie…
… and running between Rosemarkie and the extreme tip of Chanonry Point is Rosemarkie Bay, which measures in at around 1.5 miles (2.5km).
Sandy and serene, it's well-known, but it's never too busy. It's good for swimming and paddleboarding, and it's close to the Fairy Glen Falls trail (not related to the Fairy Glen on the Isle of Skye), which brings you to a small but scenic waterfall.
If you want a serene shoreline without heading too far from civilization, this is one of the best beaches on the east coast of Scotland.
13. Portmahomack Beach
🌊 Who'll like this beach best: Anyone who wants to see dolphins (don't we all?), long-walk-to-lighthouse likers, and people who enjoy quiet beaches.
Strangely-named Portmahomack sits on the strangely-shaped Tarbat Peninsula, which lies north of the Black Isle.
And the village, as you probably could have worked out for yourself, is home to Portmahomack Beach. One of the most underrated beaches on the east coast of Scotland, it's a pretty good dolphin-watching spot.
Head north, past the tiny harbor, sit for a while, and there's a decent chance you'll see some dolphins (or at least some seals).
Apart from the animal action, other Portmahomack perks include rock pools (good for kids), relatively nearby Tarbat Ness Lighthouse (the tallest lighthouse on mainland Scotland), and the shoreline wander taking you all the way to it.
When you're done exploring, head to Carnegie Hall Cafe, one of the cutest eateries you'll have ever seen.
14. Embo Beach
🌊 Who'll like this beach best: Animal lovers, and anyone hunting for a quiet shoreline.
Also known as both Embo Sands and Coul Links (who knew beaches could be so confusing?), this is one of the best quiet beaches on the east coast of Scotland.
Sitting halfway between Inverness and the very north coast of the nation, there's not much to do here (the village of Embo itself is super small), but that's sort of the point. But it's sandy, duney, and pretty, and it's perfect for picnicking, swimming, and wandering. There are some little trails in the dunes, which kids enjoy exploring.
It's also a good spot for animal fans. Expect varied birds, critter-filled rock pools, and maybe even some dolphins.
Top tip: if you're a bit of an idiot, it can be tough to locate the entrance to the beach. But head to the northeast pocket of the town, and you'll find the little access road.
15. Golspie Beach
🌊 Who'll like this beach best: Seal seekers, anyone who wants a quiet beach, and folk who like exploring nearby walks.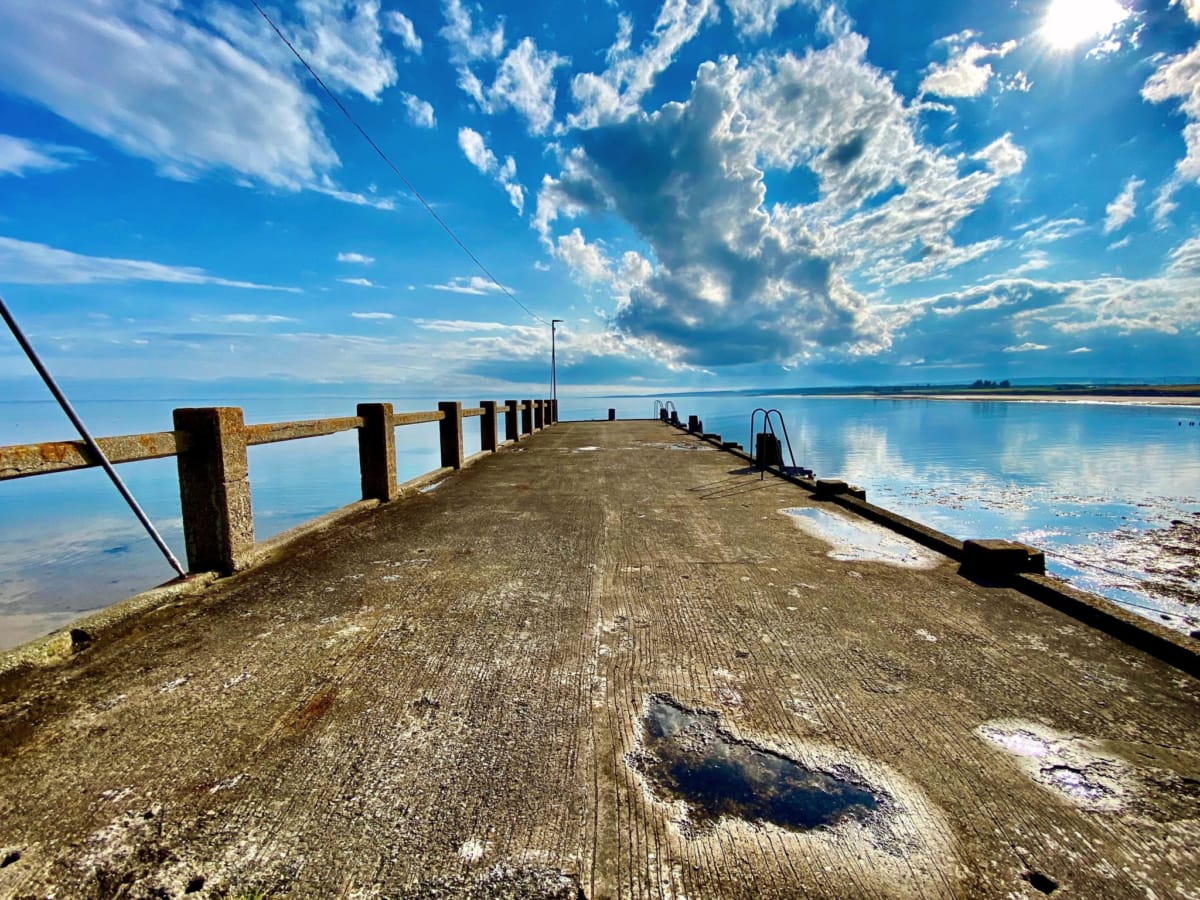 One of the most under-the-radar shorelines on our list, Golspie Beach is quiet and calm. You won't find much action here, and it's not much fun for families or kids.
But it's great for a stroll, it's (relatively) popular with dog-walkers, and you'll occasionally find a few wild swimmers (ie, they like swimming in nature—I don't think they're feral).
It's not the most seal-heavy beach in Scotland, but you might see some of the little fatties when you're strolling about here.
Nearby highlights include the Duke of Sutherland Monument (a quick but steep wander to the top, with lovely views of the surrounding area), Golspie Burn (also good for a walk, and home to a waterfall), and the massive (and massively popular) Dunrobin Castle & Gardens.
16. Brora Beach
🌊 Who'll like this beach best: Dog walkers, quiet-beach likers, and anyone who wants to watch for marine life.
Another of the quietest beaches on the east coast of Scotland, this one is pretty small.
It's made up of a narrow stretch of sand, and it's backed by low-level dunes, a bit of grass, and a golf course. So, again, it's not much fun for kids, but it's popular for a windy stroll, or a wander with dogs.
The village itself also isn't home to much fun or adventure—only around 1,200 people live here.
But if you're into wildlife, you'll love the place. Seals, whales and dolphins are regularly spotted from the shores… so plonk yourself down on one of the beach's benches, and wrap your eyes around them*.
*Check the correct season for whatever you want to watch.
17. Reiss Sands
🌊 Who'll like this beach best: Northern-Lights seekers, and people who like between-castle sandy strolls.
The very-northern part of mainland Scotland has a reputation for being all isolated.
And for the most part, that's true (as you've probably realized from our last few entries). But along some pockets of the eastern coast, there are some surprisingly-big settlements.
One of them is Wick, with its population of around 7,000 people…
… and around 4 miles (6.5km) north of Wick, you'll find Reiss Sands, popular with surfers and dog-walkers. It's split in half by a little river estuary, and it's a decent spot for nabbing summertime views of the Northern Lights (if you're lucky).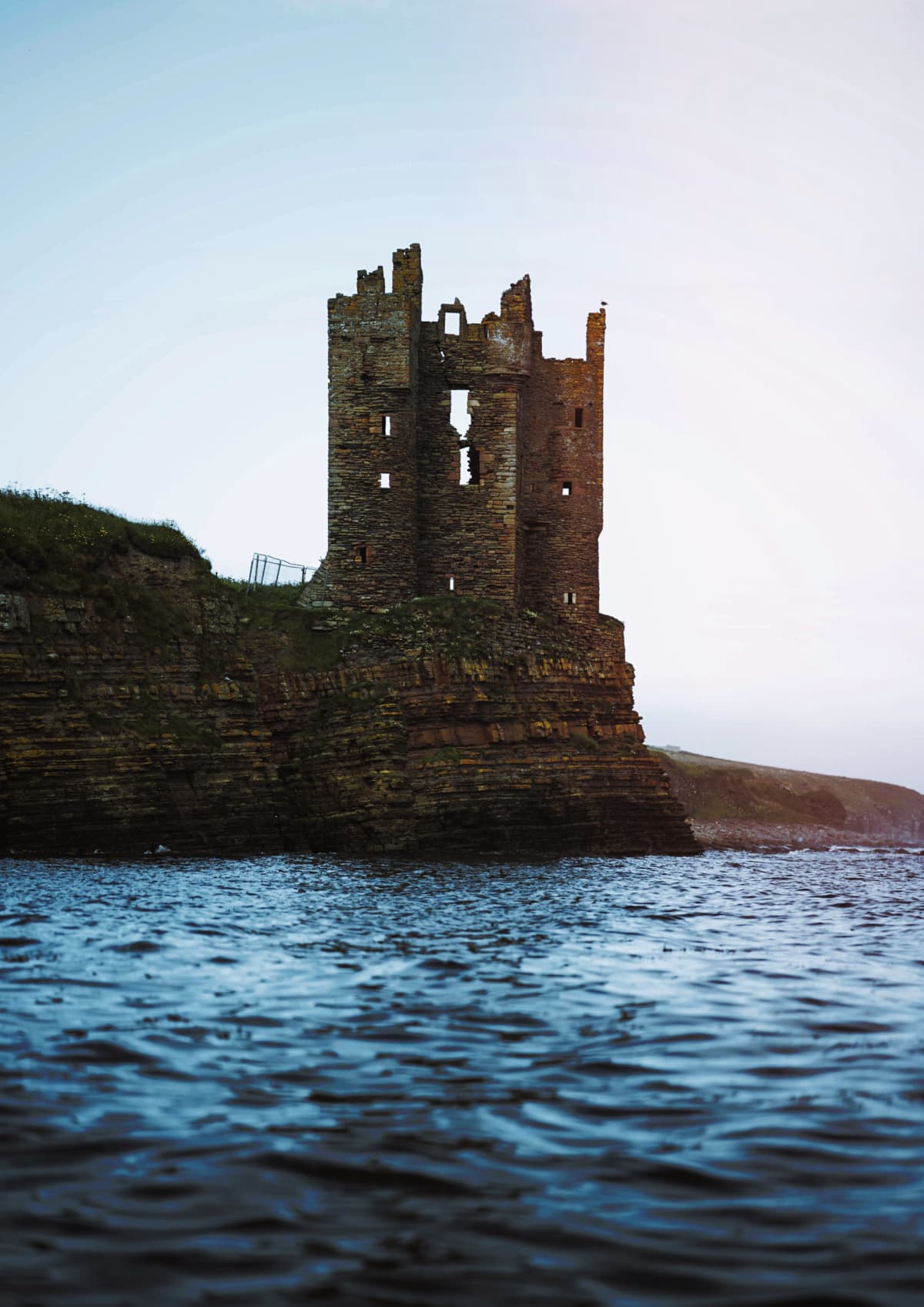 At Reiss Sands' southeastern end is Castle Sinclair—and at its northern end is Old Keiss Castle. They're both 16th-century ruins, they're both atmospheric and photogenic, and the 8-mile (13km) walk between them takes you along the entirety of Keiss Sands.
18. Newark Beach (Orkney)
🌊 Who'll like this beach best: Island hoppers who want to get all remote and rural.
Next, a beach that isn't even on mainland Scotland…
… but it's on the east coast of an island that sits close to the eastern part of mainland Scotland.
(so I hope you don't think I'm a big smelly liar by including it on here).
The Orkney Islands sit around 10 miles (16km) north of mainland Scotland—and because more than 70 islands make up the archipelago, you get plenty of beaches. But I reckon the best east-coast one is Newark Beach—a sandy isolated bay on the main island.
Come here for a swim or a stroll, and you'll (probably) see no-one else. But you will see lovely views of nearby Copinsay Island.
According to some legends, there were many 1890s sightings of a 'mermaid' here. But let's be honest: that was probably just a seal. Or a bin bag.
19. Skaw Beach (Shetland)
🌊 Who'll like this beach best: Anyone who likes going really really rural.
If you thought that last beach was too remote, this one'll probably make you have a nervous breakdown.
Way beyond Orkney, you'll find the Shetland Islands, which sit around 100 miles (160km) north of mainland Scotland…
… and because it's another archipelago, it's (again) home to some pretty great beaches.
Of them all, I reckon the best is Skaw Beach. Alright, there's not much to do here… but it's the most northerly sandy beach in Britain* (which is pretty unique), it's ridiculously peaceful, you'll sometimes spot seals, and the water is outrageously clear.
*This area is also home to the most northerly house in Britain, and the most northerly point of Britain's National Cycle Network Route 1.
Another good option for eastern Shetland sands (this time on the southern part of the island) is Levenwick Beach.
Being a Digital Nomad: Tips, Tricks and Places
Do you want to be a digital nomad?
If you do, maybe you don't know where you might want to live. Or how to live there. Or whether you need a visa. Or how to make friends in the scary sprawl of a brand-new city. Or how to stay productive while you travel. Or how to find an apartment. Or whether this lifestyle really is for you. Or… I'm sure you get the idea.
But with some insight and experience, it's not as difficult as you think. So in this book, I've gathered my 6 years of digital-nomadding experience… and I've used it to answer all your questions, soothe all your fears, and get you on your way. After reading this, you'll realise being a digital nomad is much easier (and much more possible!) than you think.