13 Most Beautiful Cities in Georgia (the Country)
For almost a year, I've been living in Georgia. A tiny little place, it's possible to explore lots of the diminutive nation in just a short few months.
So in this guide, I've put my otherwise-relatively-useless knowledge to good use, and I've brought you this… a list of the 13 most beautiful cities and towns to visit in Georgia.
Now before we get going, here's a big fat disappointing disclaimer: because Georgia is a small place with a small population, it's not actually home to many cities. And from the few cities it does have, not many of them are beautiful. So in this list, you will find beautiful Georgian cities. But you'll also find beautiful Georgian towns… and cities that are only beautiful from a generous perspective. It's the best I could do, and I hope you can forgive me.
Anyway, now that we've got that horrifying confession out of the way, here are the most 'beautiful' 'cities' to visit in Georgia…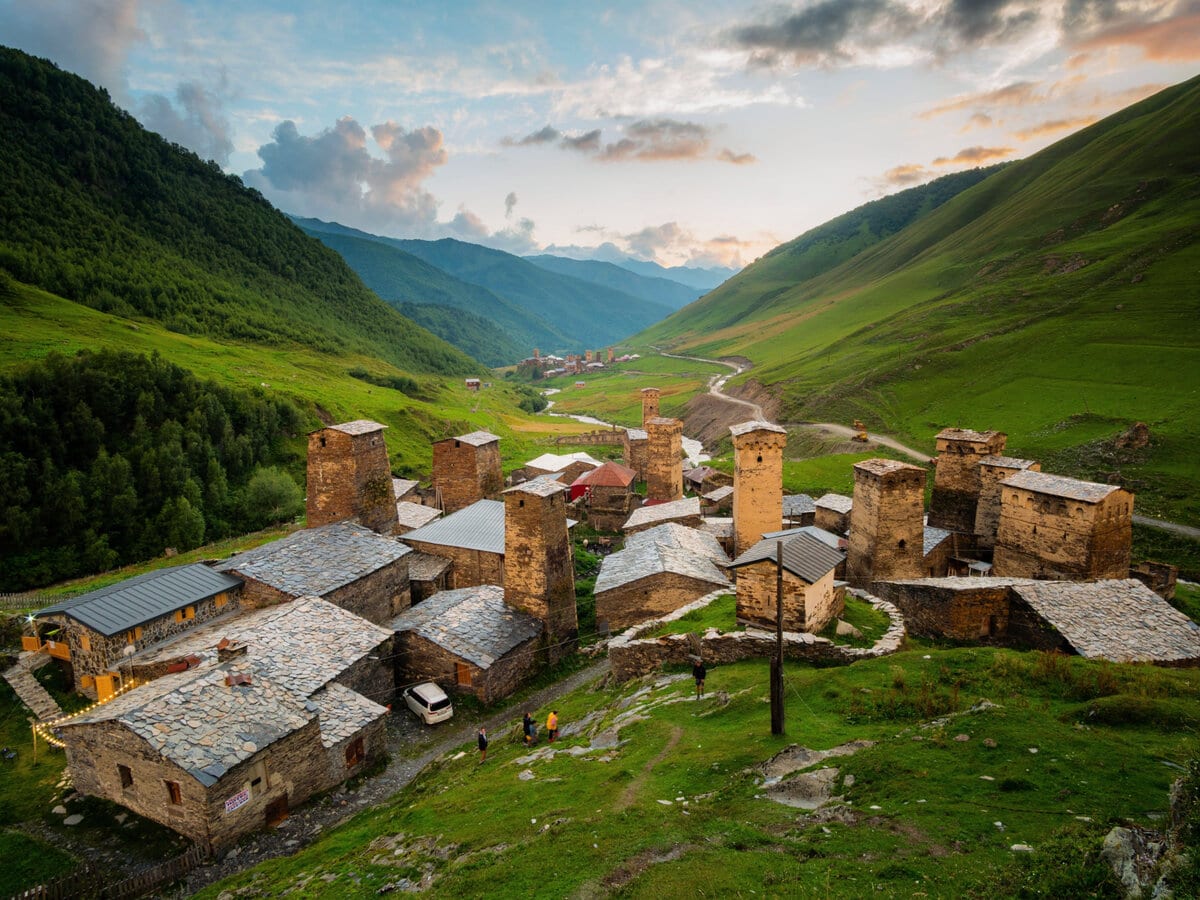 1. Tbilisi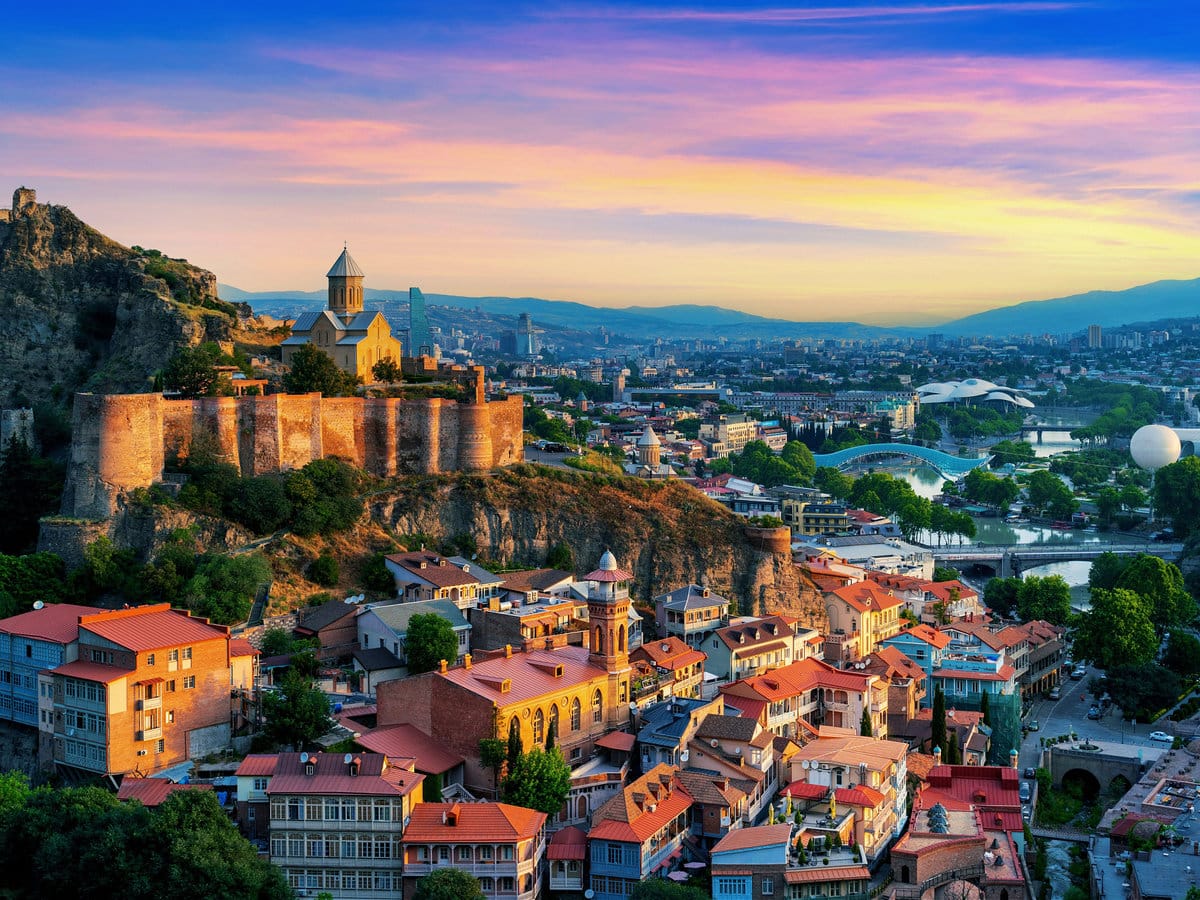 When you first wander around Georgia's capital, you probably won't think it's beautiful at all. There's a lot of construction, a lot of crumbling buildings, and a lot of ugly old apartment blocks.
But look beyond that a little bit (and know where to look), and you'll spot loads of beauty dotted around the city (and especially around its outskirts).
The prettiest part of the city center is undoubtedly the Old Town. Here, you'll find ancient Narikala Fortress, the looming figure of giant Mother Georgia, the eggy domes of the baths district, and loads of labyrinthine cobbled lanes.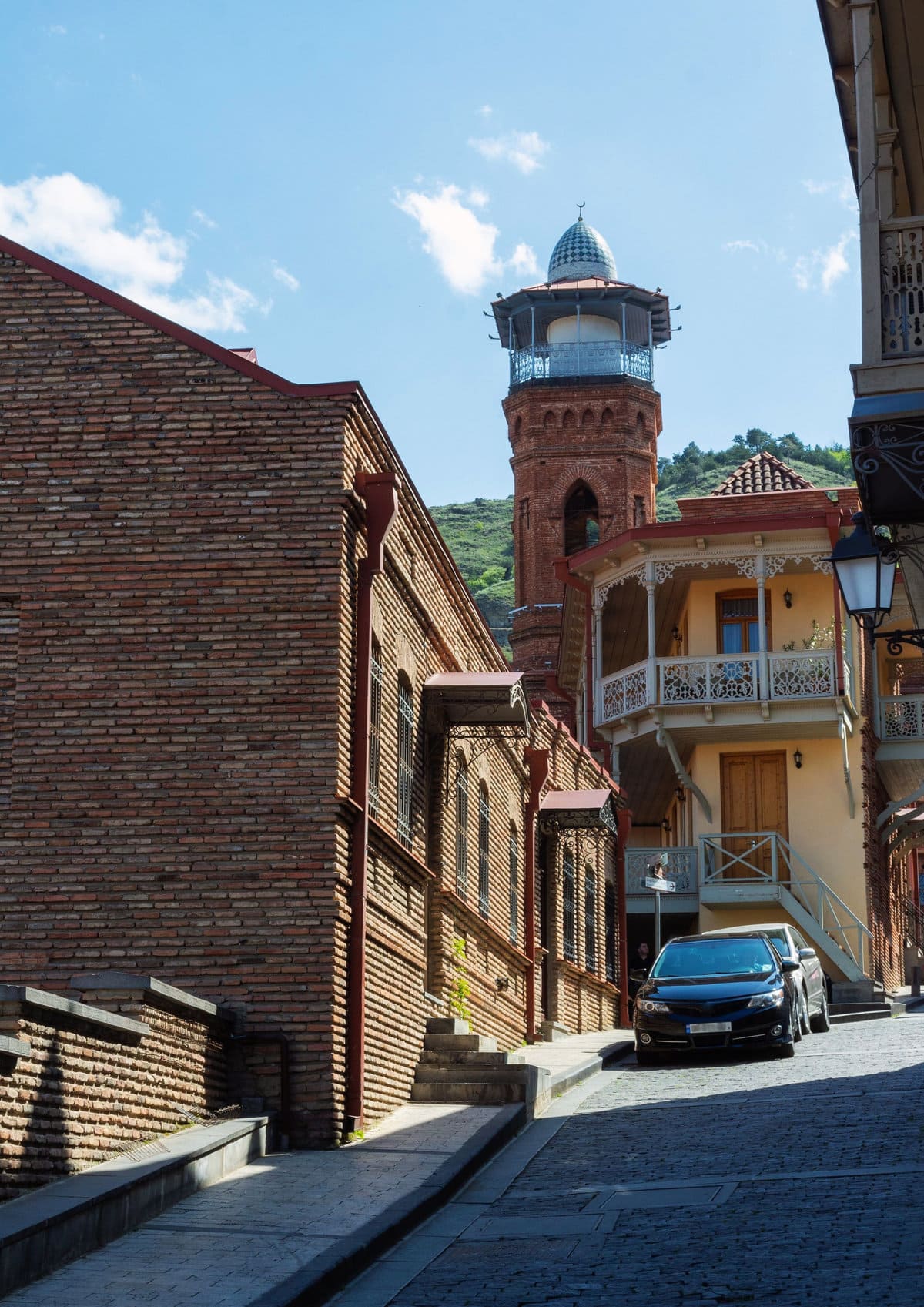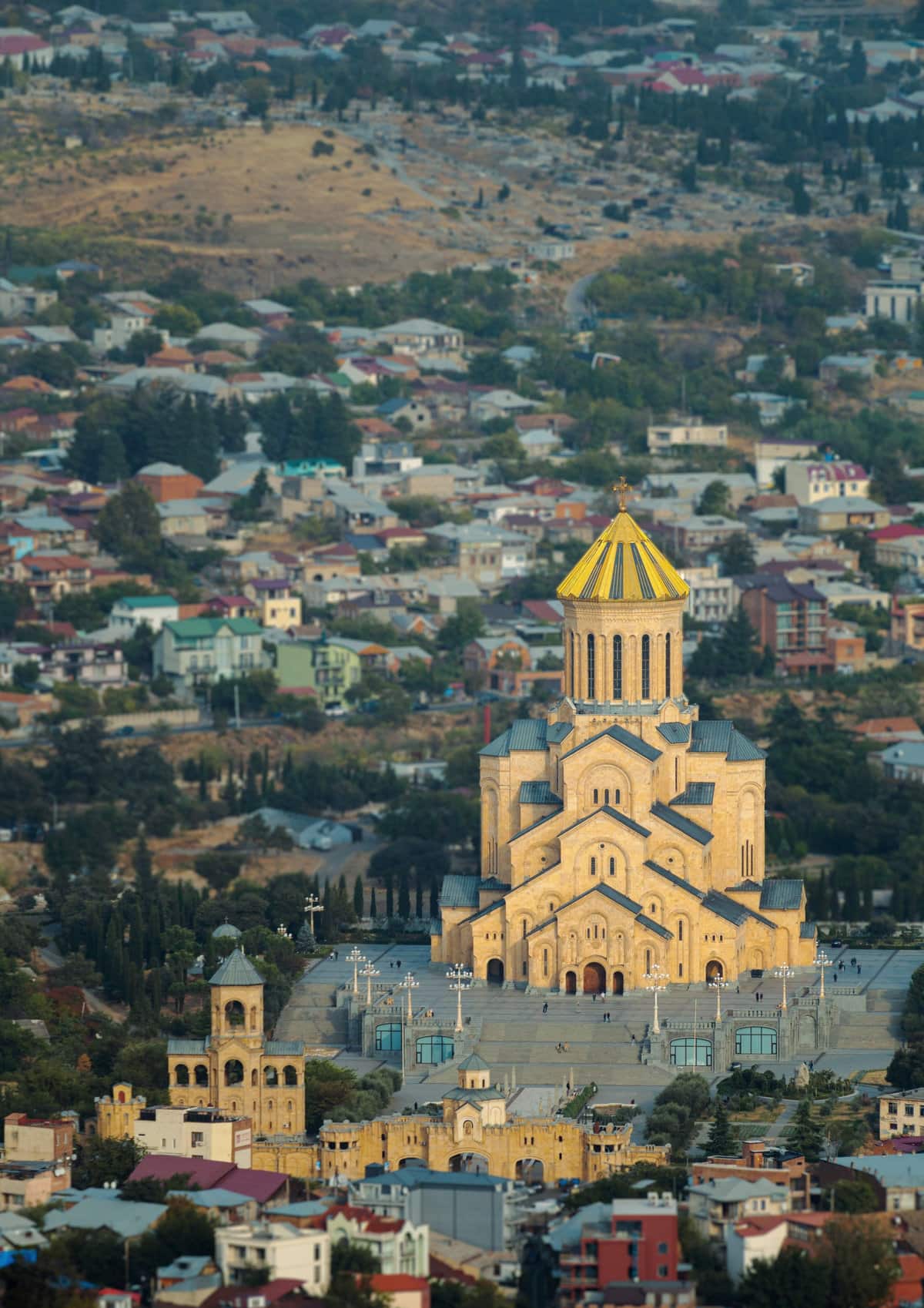 But make sure you also check out the mountainous outskirts. Have a hike above Lisi Lake, wander around the perimeter of Tbilisi Sea (which is actually a reservoir), and explore the family-friendly view-packed fun of both Mtatsminda Park and Turtle Lake.
To see some of the city-center highlights I've just mentioned, I recommend this excellent tour.
2. Batumi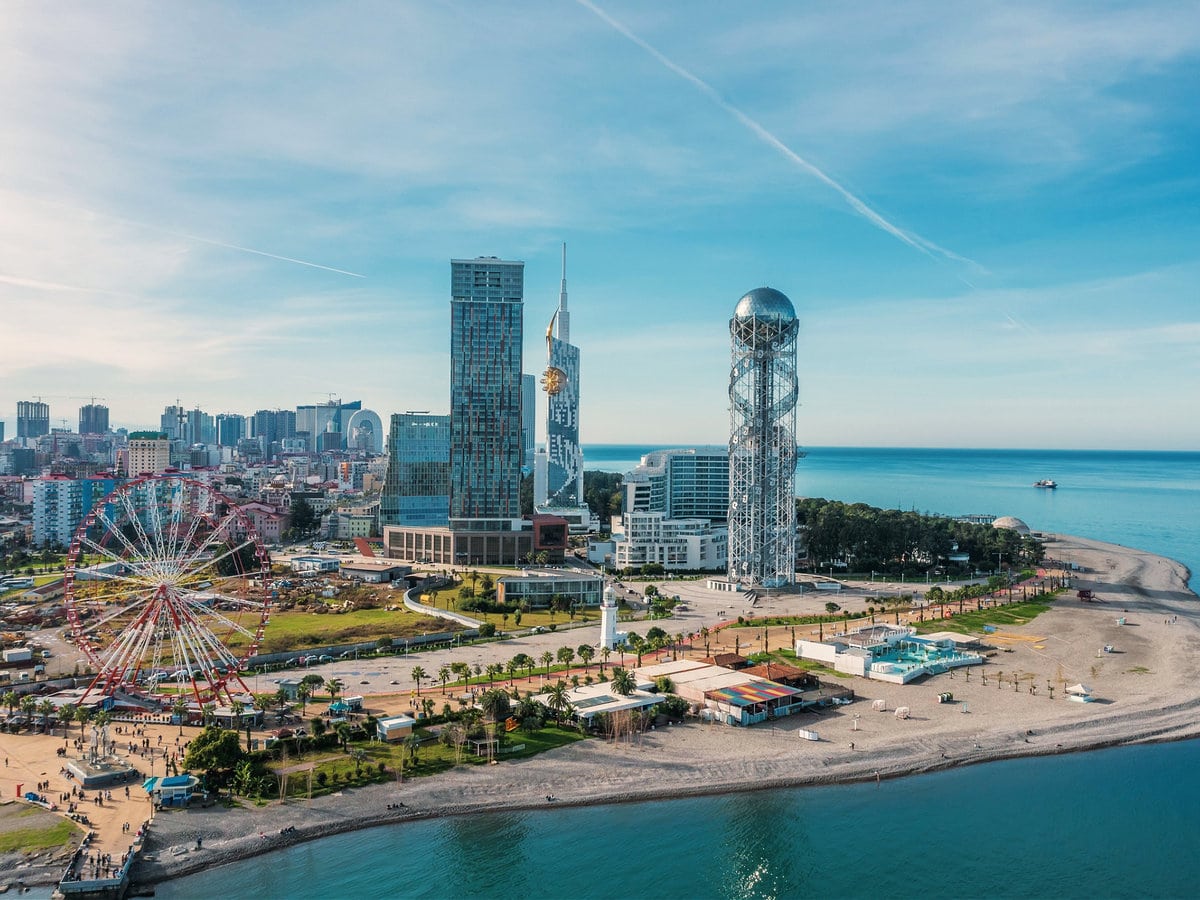 When I first moved to Georgia, most other foreigners told me that Batumi was ugly and mundane, and not at all worth visiting.
All of those people were wrong.
In truth, Batumi is beautiful for lots of different reasons.
First up, it has a big long coastline, with beaches, cafes, cycle lanes, pretty sunsets, and lots of accessible places to splash around in the sea.
Secondly, it has a strangely-alluring skyline. A futuristic attempt at grabbing the elusive horns of modernity, it's sort of garish, but it's also sort of beautiful.
And it also has an outrageously pretty Old Town which no-one ever seems to acknowledge. In and around this Old Town, you find low-rise streets, leafy squares, cobbled lanes, and loads of terrace-heavy places to eat and drink.
If you're in a hurry, here's a great way to see all the city's highlights.
3. Kutaisi
Alright, you've got to be pretty imaginative to pretend Kutaisi is pretty.
It's cozy, welcoming, packed with friendly faces, and much more 'authentic' than the two other cities we've listed so far… but it definitely isn't aesthetically inspiring.
That said, it's surrounded by loads of pretty stuff—and most people don't realize how great of a base it can be. Kutaisi offers plenty of under-the-radar beauty and adventure… and loads of it is super close to the city.
Start with Bagrati Cathedral, Gelati Monastery, Motsameta Monastery, and the Prometheus Caves. If you have time for further adventures, head to the cable-car town of Chiatura, and the strange monastery at Katskhi Pillar. Other excellent options include the canyons at both Okatse and Martvili.
4. Stepantsminda
Alright, our first non-city entry. But despite having a population of only around 1,500 people, this is usually the first non-city settlement that most tourists visit.
That's because it lies in a beautiful-but-accessible plateau in the massive mountain region of Kazbegi.
It's one of the nation's best bases for hiking, and it's surrounded by great trails, multi-day hikes, and (most importantly for you, cos you're reading this guide), lots of incredible views.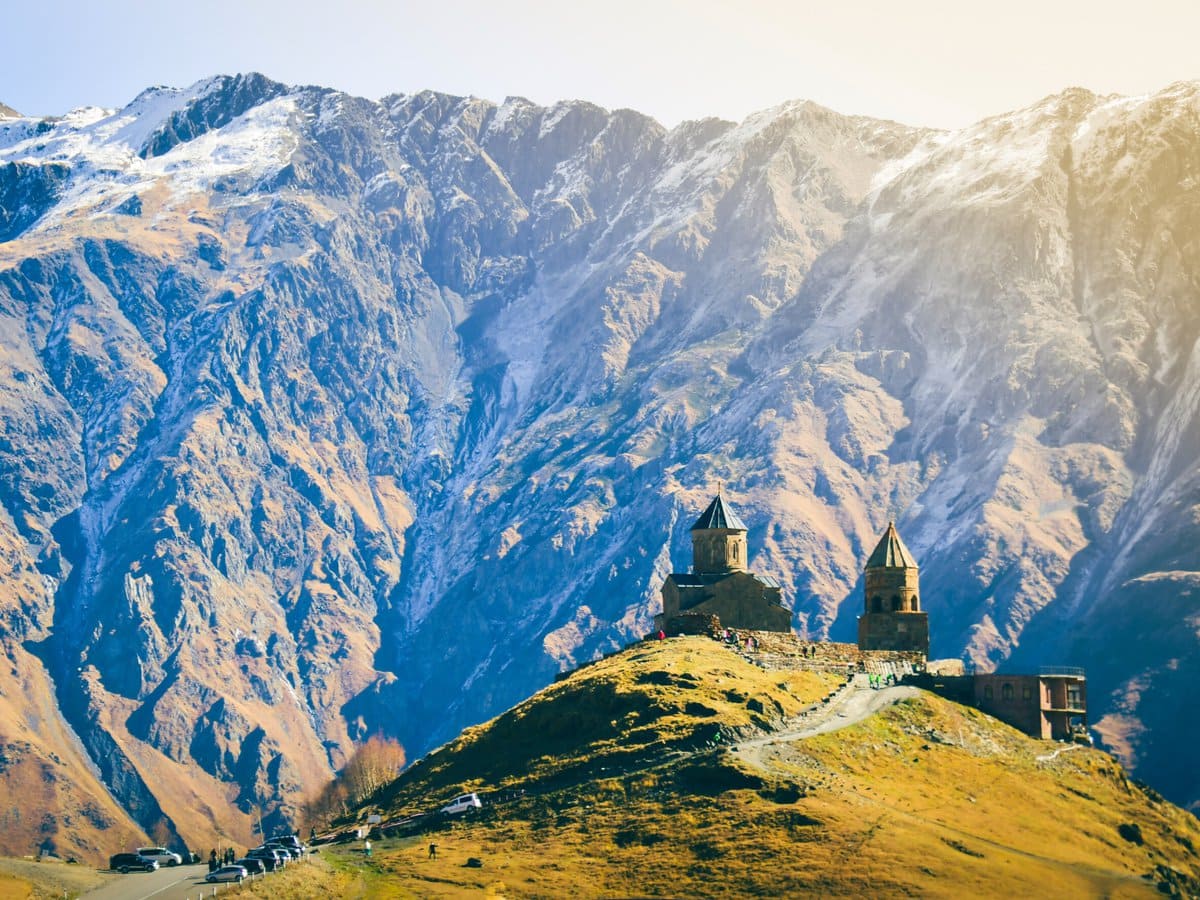 But it's also home to what some people reckon is the most beautiful place in Georgia. Gergeti Holy Trinity Church has to be the most photographed building in the nation. A traditional-style Orthodox church backed by mountains in every direction, it's outrageously attractive.
5. Tskaltubo
Around 25 minutes northwest of Kutaisi, Tskaltubo is strangely beautiful. If you're into abandoned buildings and urban exploration, you'll love the place.
It's famous for being the home of a whole bunch of abandoned sanatoriums, which were hugely popular during the Soviet Union. Now, these once-beautiful buildings are still sort of beautiful, but in an oddly-apocalyptic way.
Though the town itself isn't abandoned, lots of the sanatoriums are—while lots of them also house people who were once displaced from Abkhazia.
It's a strange place, but it has a unique beauty you won't find in any other part of Georgia… and it's one of the friendliest places I've ever visited. Although it's in a populated region, it has a rural, super-welcoming feel.
6. Sighnaghi
Another non-city, this is possibly the most beautiful settlement in all of Georgia.
Stuffed with cobbled lanes, 18th-century architecture, and a load of green gardens, Sighnaghi feels like it was carved out of Italy and inexplicably plopped into eastern Georgia. It has red-roofed buildings, colorful balconies, and endless cute places to eat and drink.
Sitting in the region of Kakheti, it's geographically pretty strange. Although it's in a mountainous region, the town doesn't sit in a valley. Instead, it sits high on a lofty plateau looking down into valleys, distant mountains, and lots of panoramas.
If you're looking for sheer beauty in terms of both area and architecture, you won't find much better than this.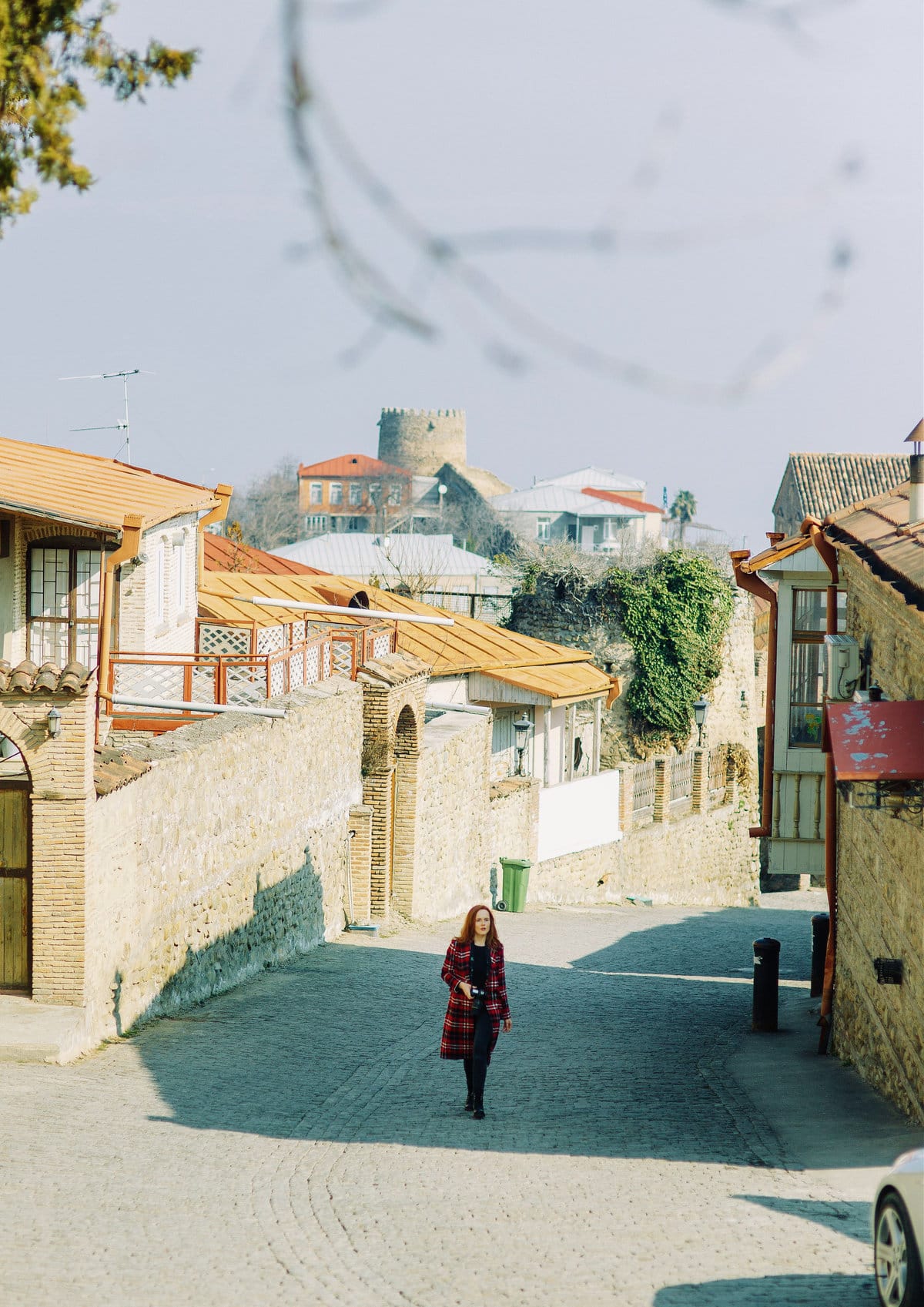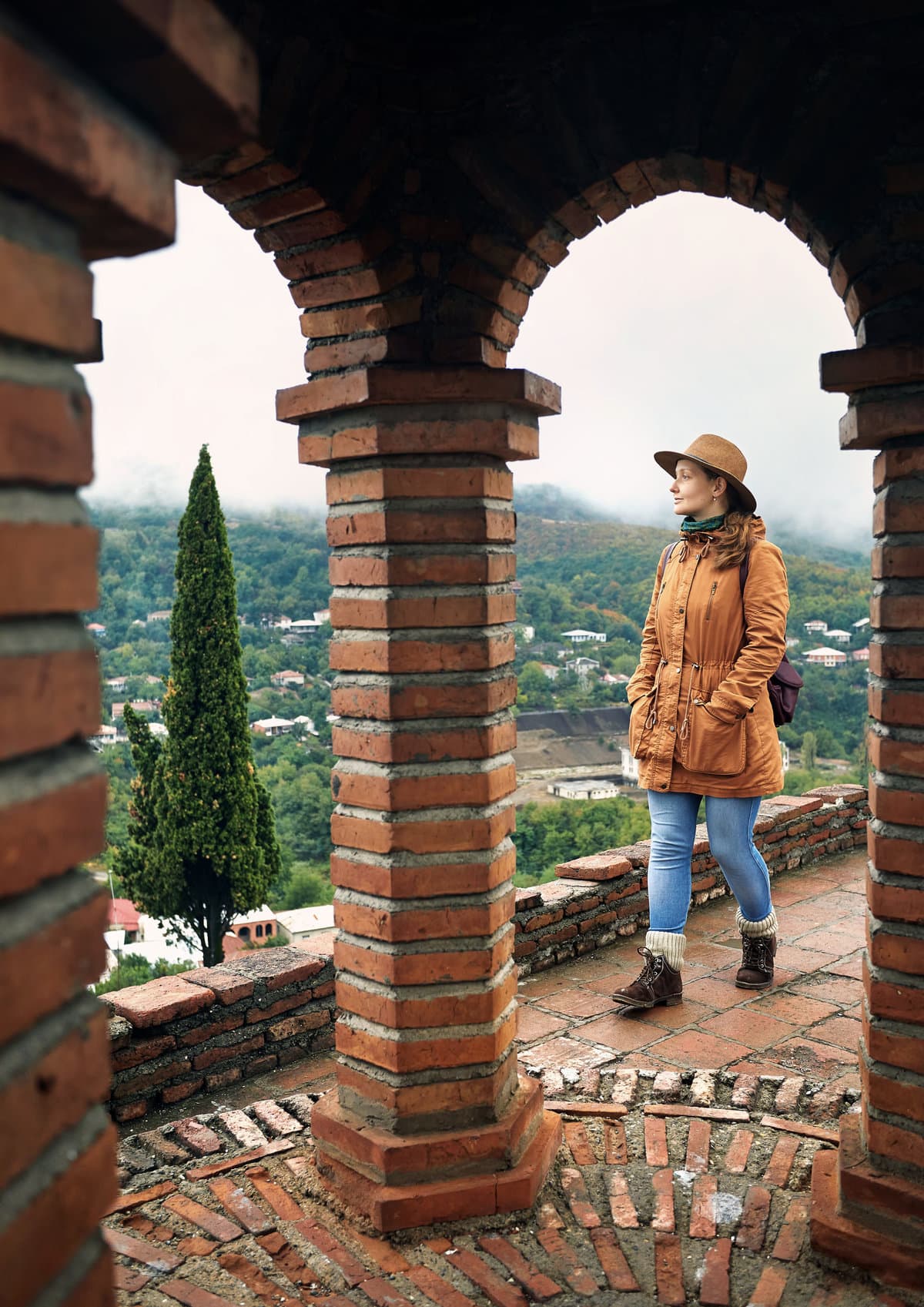 7. Mtskheta
The former capital of Tbilisi, Mtskheta is only a 35-minute drive north of central Tbilisi—and some of its sights have been officially recognized by the UNESCO.
It's most famous for Jvari Monastery, which sits high above the city on the precipice of a little mountain.
And though that's the most beautiful part of the city (with the most beautiful views of the city), there's plenty more to gawp at back at ground level. Get yourself along to Svetitskhoveli Cathedral, Samtavros Convent, the Old Town, and all the charming-but-tacky tourist stores.
Although it's close to Tbilisi, Mtskheta feels hugely different to its nearby neighbor.
8. Mestia
In lots of ways, mountain town Mestia is pretty similar to Stepantsminda.
Just like Stepantsminda, the town itself isn't hugely attractive… but all the stuff its surrounded by absolutely is.
You get mountains on all sides, with a huge number of places to walk and wander. I think this region (Svaneti) is the best hiking region in Georgia (and that's a pretty bold claim in a nation this mountainous). The hike to nearby Koruldi Lakes is a good place to start, but there are loads more options.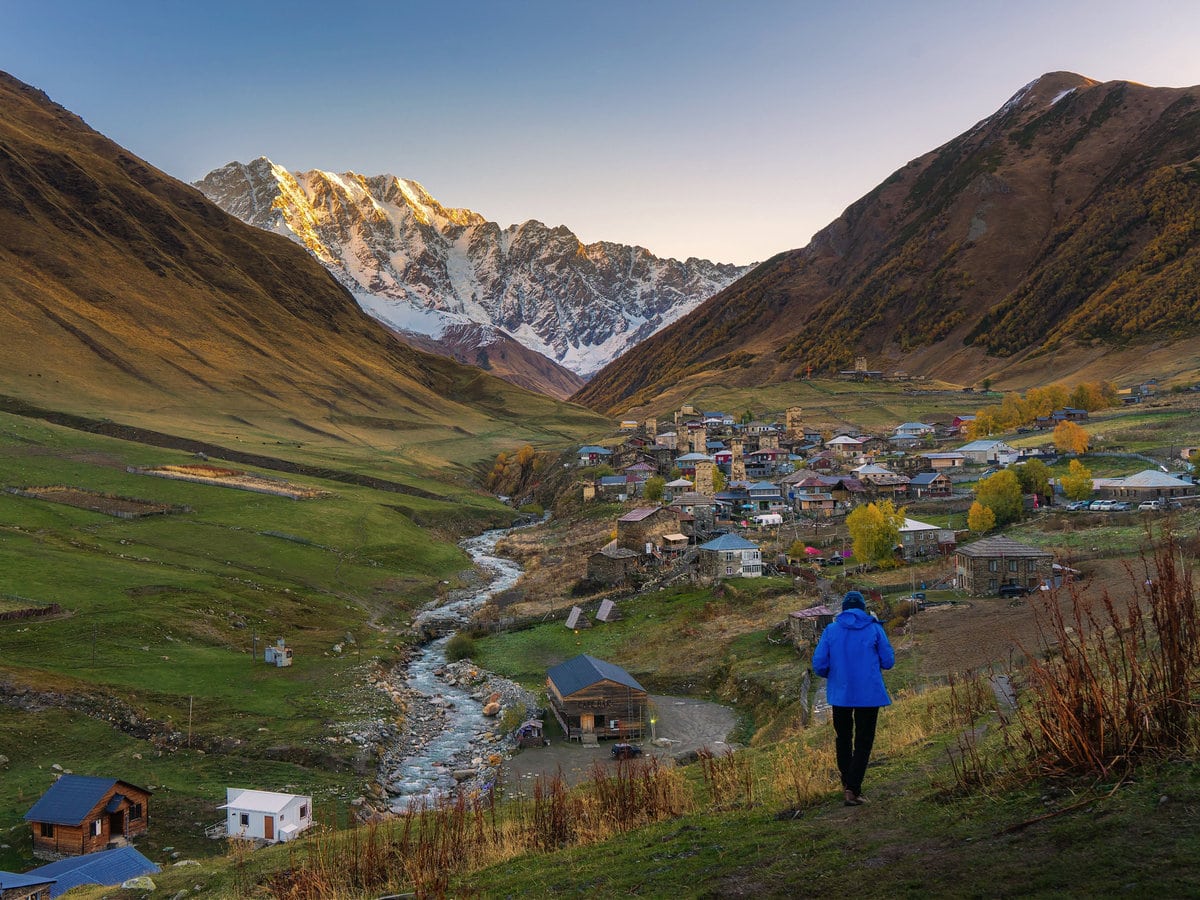 If you have time, you absolutely need to venture from Mestia to Ushguli, whether by car, or on the mega-famous multi-day hike.
9. Borjomi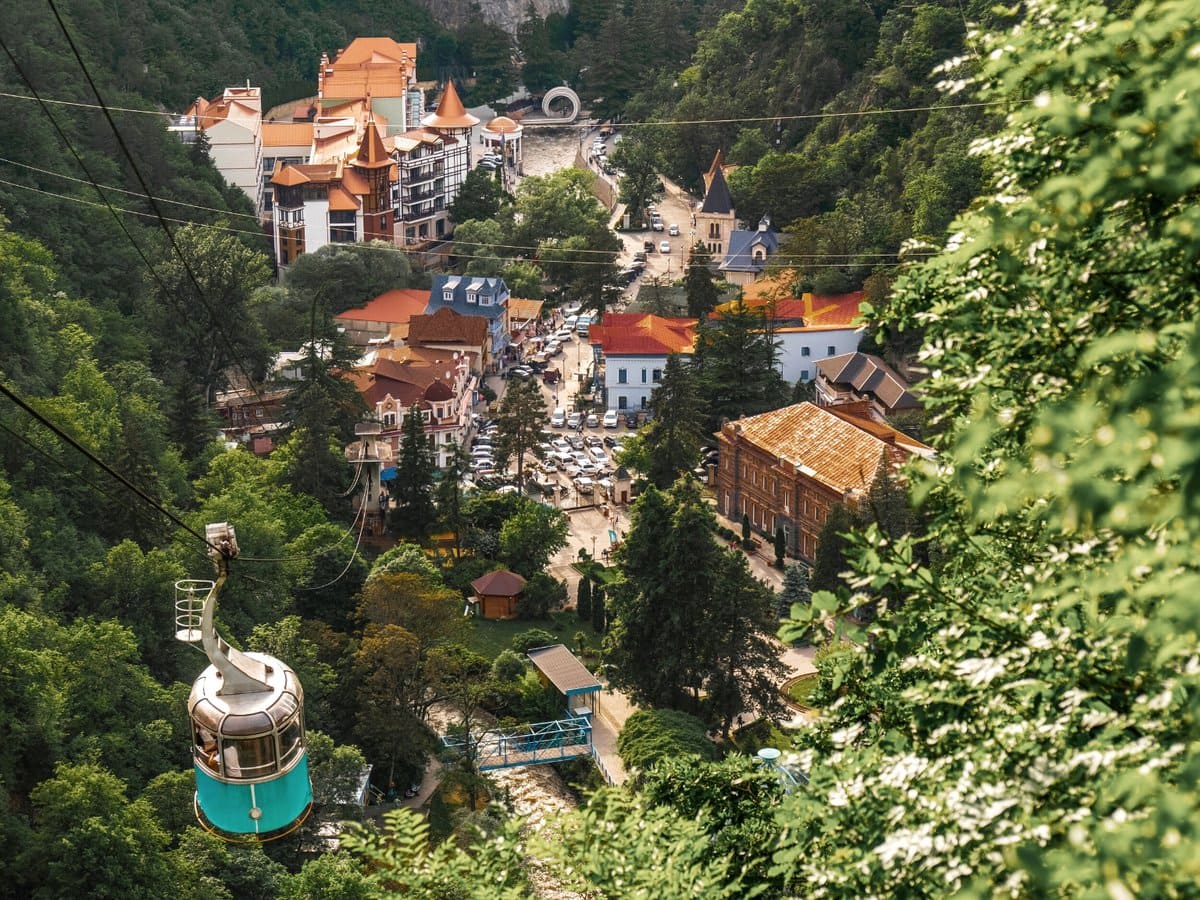 Borjomi is a good compromise between lots of different things: it's mountainous but well-equipped, it's adventurous but accessible, and it offers a good balance between touristy and local.
A mountain resort town a couple of hours west of Tbilisi, it's famous for being the home of Borjomi water, a sparkling mineral drink that's slurped all over the nation.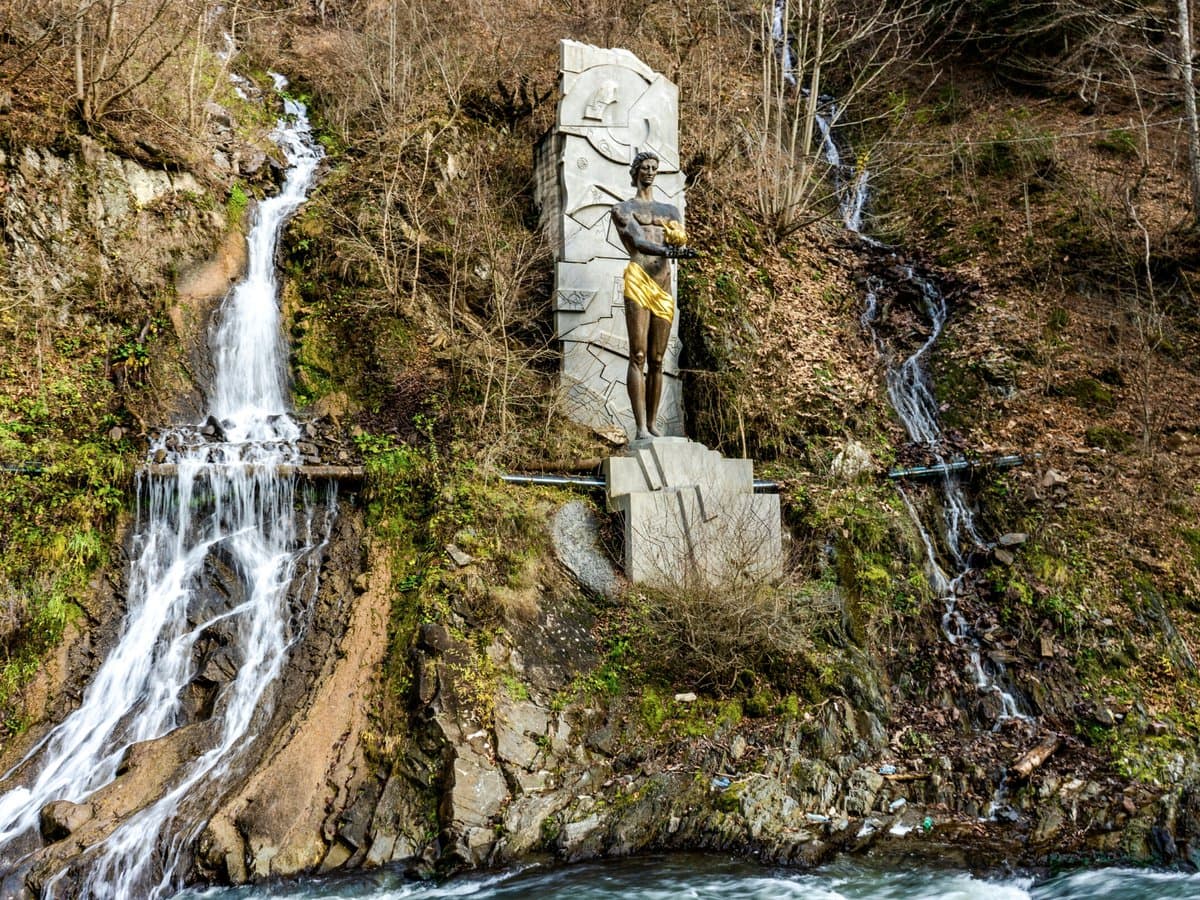 But it's also a great place for lots more stuff.
It has a lovely botanical garden, some outdoor thermal baths, a mountain-climbing cable car, and lots of excellent hikes both short and long. The Footprint Trail is a good place to start if you're hunting for a beautiful but accessible one-day wander.
10. Kobuleti
Just a short drive north of Batumi, you have the city of Kobuleti.
It's nowhere near as famous as its nearby neighbor, and the architecture doesn't offer the same hyper-modern cityscape as bold ol' Batumi.
But if you like nice beaches, this is where you want to come… the beaches here are way better than the beaches you'll find in Batumi. There's also a nice promenade running along a lengthy stretch of the beach, which is great for running and cycling.
You should also visit Kobuleti Nature Reserve, with all of its marshes, walks and birds.
All of that said, Kobuleti is only worth visiting in summer (or late spring). Any other time of year, it's super quiet… and you won't do much sunbathing in the snow.
11. Gori
Most people overlook Gori's beauty, because it's mainly famous for being the birthplace of Stalin (and therefore also the home of the Stalin Museum).
It's pretty, green, and backed by some small hills. And in the city itself, there are some beautiful things to see—make sure you check out the Old Town, the fortress (along with the great views from it), and the frescoes inside the Virgin Mary Cathedral.
You should also head to the lofty view of St. George's Church, just over the river and southwest of the city center.
Finally, make sure you visit the unusual but attractive ancient cave city of Uplistsikhe, which features the archaeological remains of some rock-hewn homes.
12. Akhaltsikhe
Another overlooked option, Akhaltsikhe sits pretty much exactly halfway between Tbilisi and Batumi.
The name of Akhaltsikhe translates to 'new castle,' so the place is unsurprisingly most famous for the massive hulking fortress of Rabati Castle (which was actually built in the 12th century, so I don't know what's so new about it).
Anyway, this huge renovated fortress is super beautiful, and it dominates the city and its skyline. It's one of the most impressive complexes in the whole nation.
But for other attractive views, you should also check out Rabati St. Marine Church, the lovely Old Town, and the seemingly-endless religious buildings dotted throughout the city.
If you have time, you should head to nearby Vardzia, another of Georgia's unusual ancient cave cities.
13. Zugdidi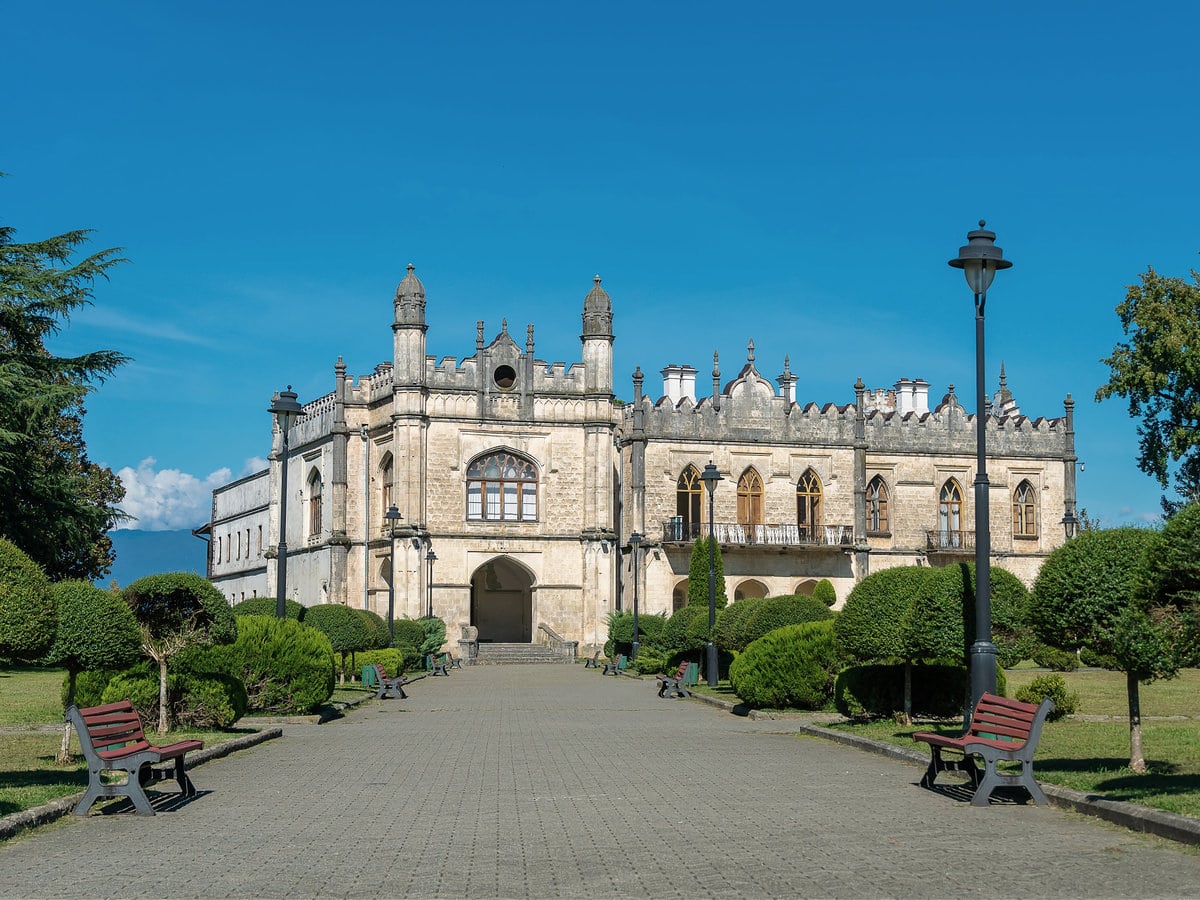 There's not a whole load of beauty inside Zugdidi (although the botanical garden is quite pretty, and Dadiani Palace is super attractive).
But because Zugdidi is the gateway to the Mestia/Ushguli area, it's a good place from which to find lots of beauty. Head northeast out of the city, and you immediately start ascending into the region's mountains. And as you go further from Zugdidi, it only gets better.
It's also a good place for exploring some of the Kutaisi stuff I've already brought you, including Okatse Canyon and Martvili Canyon. From Zugdidi, it's also easy to explore the black beaches of Anaklia, and the massive arch of beautiful Enguri Dam.
Before You Go
Alright, here we are—the end of our guide on the 13 most 'beautiful' 'cities' to visit in Georgia.
For more information on adventuring around one of my favorite nations on the planet, check out my guides on what Tbilisi is famous for, and all the reasons I love the place.
Thanks for reading, and thanks for visiting Travelness!
Being a Digital Nomad: Tips, Tricks and Places
Do you want to be a digital nomad?
If you do, maybe you don't know where you might want to live. Or how to live there. Or whether you need a visa. Or how to make friends in the scary sprawl of a brand-new city. Or how to stay productive while you travel. Or how to find an apartment. Or whether this lifestyle really is for you. Or… I'm sure you get the idea.
But with some insight and experience, it's not as difficult as you think. So in this book, I've gathered my 6 years of digital-nomadding experience… and I've used it to answer all your questions, soothe all your fears, and get you on your way. After reading this, you'll realise being a digital nomad is much easier (and much more possible!) than you think.