The 11 Most Beautiful Parks (and Gardens) in Tbilisi
For almost a year, I've been living in Tbilisi, Georgia's capital city.
And I've spent lots of the summer months wandering around its various green spaces. So in this guide, I've brought you a big juicy list of the 11 most scenic parks in Tbilisi.
Bring your picnic blanket, pack those sandwiches, and come join the fun!
Are you planning your trip to Tbilisi?
If you're traveling to Tbilisi, you want to make sure you have accommodation and tours booked ahead of time! Check out our top-rated tours and hotels to help you plan! (Click the links for photos and details)
🚕 Book your private transfer from Tbilisi airport to your hotel
🇬🇪 Top Tours & Activities in Tbilisi
🛏️ Best Hotels in Tbilisi
🚗 Looking for the best way to rent a car in Tbilisi? Click here to check rental car rates for Tbilisi!
1. Dedaena Park
This isn't the most famous, interesting, or even beautiful park in the city. But it takes the prestigious #1 spot simply because it's my favorite park in Tbilisi. Sorry for being biased.
It has fountains, endless friendly stray dogs, a skate park, occasional live music, occasional food markets, and lots of picnicking locals. I love coming here with friends, drinks, and a portable speaker, and sitting for a few hours.
It's also home to some nice places to eat and drink. For some evening fun, check out the new Rooster bar. It's a laid-back outdoor space with tasty drinks and sandwiches.
And to take the party further, check out Dedaena Bar, which sits inside the park. For daytime snacks and drinks, the stalls behind the bar serve up some tasty basics.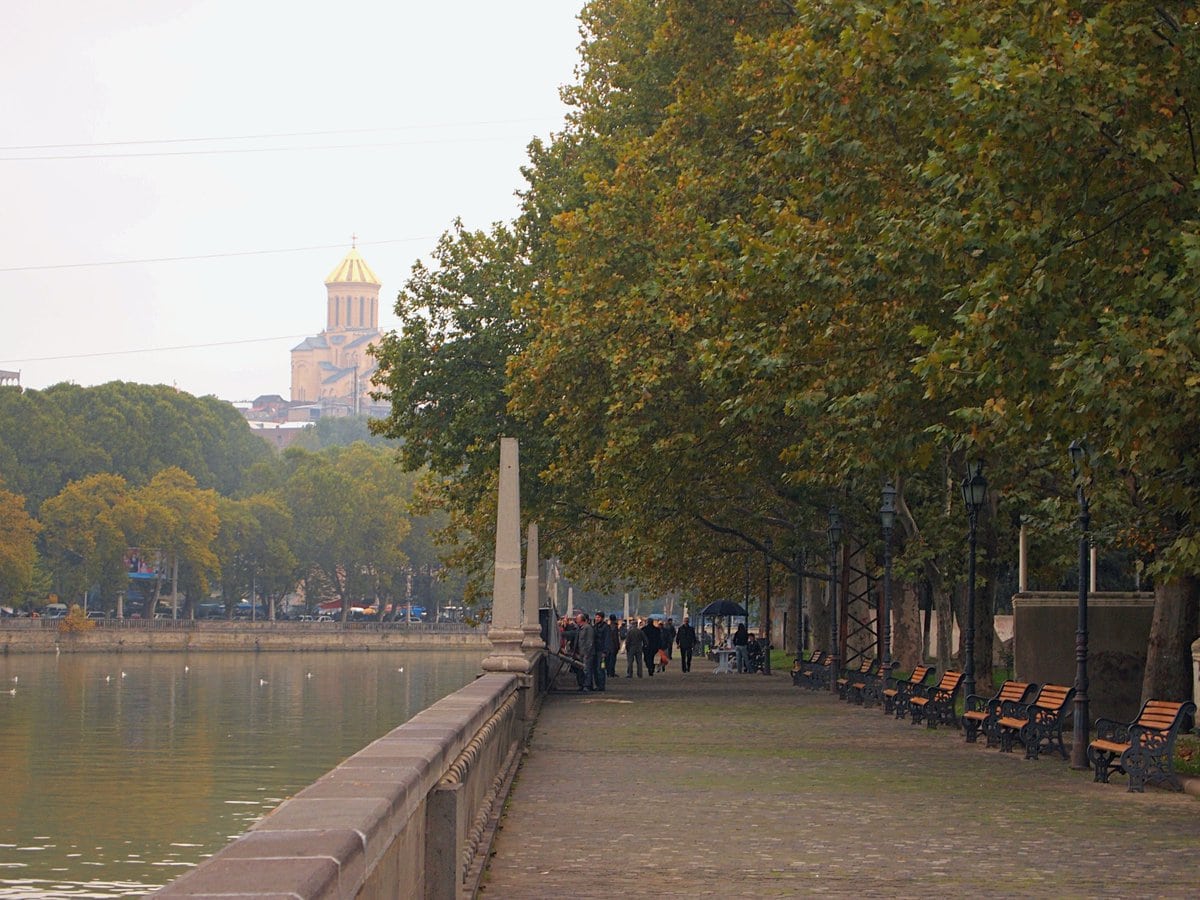 For relaxing in a simple but pretty park, Dedaena is great.
2. 9th of April Park
On the other side of the Dry Bridge from Dedaena Park, this little place is green and attractive… and because it's close to busy Rustaveli Avenue, it's ideal for escaping the city center bustle with a coffee and a book.
It's pretty good for families with young kids, and you always see little ones running around the park.
There's not a whole lot to do here, but it's peaceful, safe, and green, and it's home to some conveniently-placed toilets. It has a nice fountain, lots of benches and picnic spots, and some pretty shrubs and flowers.
And because it's brimming with big tall trees, it's a good option for finding some much-welcome shade in the horrendously-hot summer months.
3. Rike Park
Rike Park is just over the river from the Old Town, so it's super easy to access (since you'll be in this area anyway).
Wander west to east over the strangely-futuristic glass-walled Peace Bridge, and you'll find yourself here.
Landscaped and laconic, it's clean and comfortable. It's home to loads of flowers and benches, a few sculptures, and some strange architecture. It also has some nice views of the city—from here, you can see Narikala Fortress, Mother Georgia, and lots more well-known sites.
If you want to get a closer look at all that famous stuff, there's a cable car running from Rike Park to the top of Narikala Fortress. And, weirdly, the park is also home to the city's strange air balloon, which floats up into the sky and offers panoramic views of the city.
All in all, this is one of the best Tbilisi parks for tourists… so if you only have time for one park in the city, you should make it this one. I reckon it's prettiest at night, when the place and its surroundings are all illuminated.
4. Mziuri Park
I reckon this is the most beautiful city-center park in Tbilisi.
Most people don't realize how big Mziuri Park is… you can easily spend a couple of hours wandering around its colorful confines. The main entrance is in the upmarket neighborhood of Vake, but it also stretches a lot further north.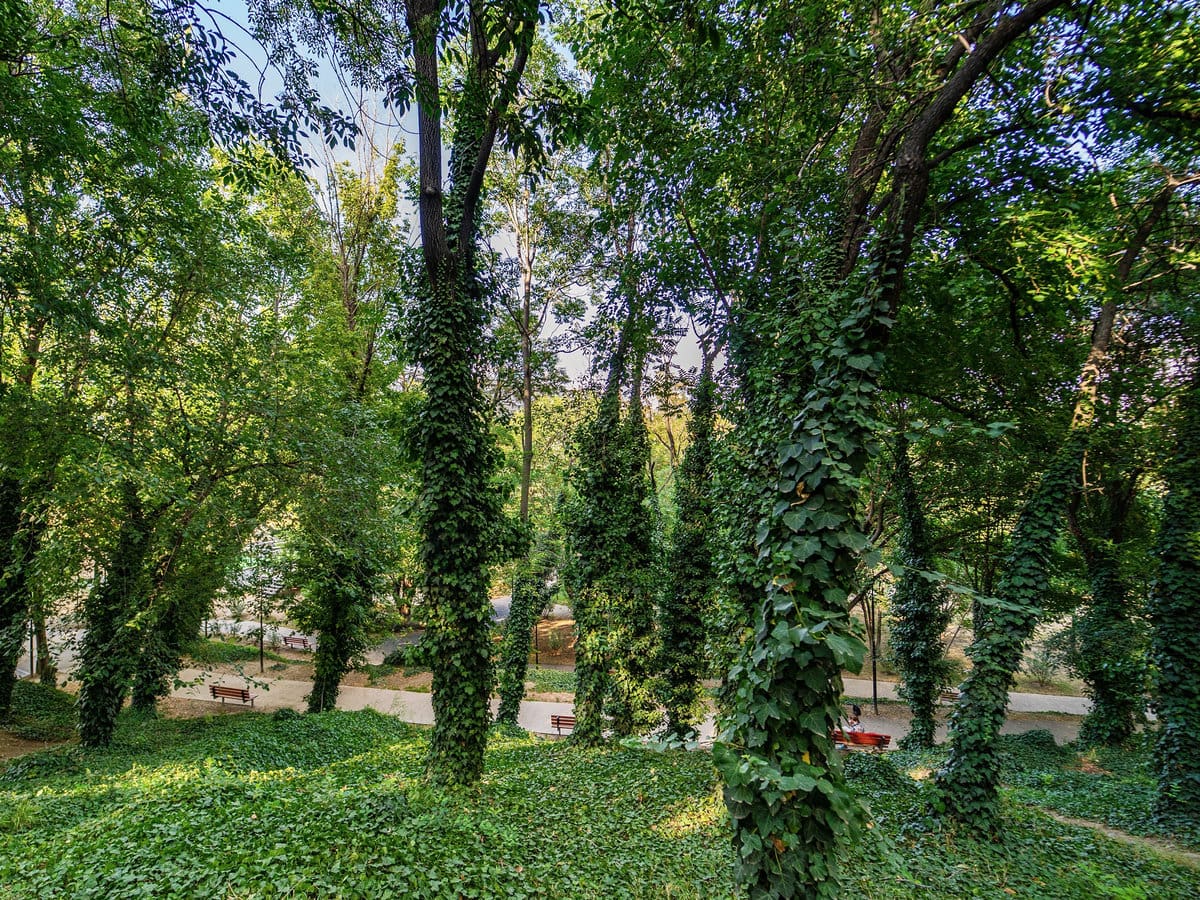 This park is especially good if you have kids—it has strange sculptures of kooky characters, a duck-filled lake, a skate park, a couple of play parks, a climbing wall, and lots of tucked-away picnic spots. There's also an amphitheater inside the park, which sometimes hosts festivals, performances, and other events.
And because it's a multi-layered funfest with lots of colorful and creative staircases, it's a nice place to get lost for a while.
In summer and late spring, the park is super beautiful and feels very different from the rest of the city. I totally recommend it.
While you're in the park, make sure you visit Mziuri Cafe, which sits inside the southern part of the place. It's relaxing and cozy, it has a nice outdoor area, and it serves up tasty portions of healthy food. On Mondays, they offer only meat-free meals.
5. Vake Park
Next up, another Vake option.
Right now, this place is undergoing a big fat bunch of ugly restoration. So as I write this, some parts of the park aren't in a great state—but, usually, it's one of the most beautiful parks in Tbilisi.
… because it's been under construction for a seemingly-endless period of many months, it hopefully won't be very long until its entirety is super beautiful again.
Anyway, it's a huge place, and it sits just to the south of the neighborhood's main road. It has lots of benches and fountains, and some nice tracks for cycling and running. It also has a basketball court, tennis courts, and a cable car running all the way up to Turtle Lake (but more on that place later). And right at the highest point of the park, there's a towering WW2 statue.
Vake Park is popular with families and picnickers, and the stairs are a well-known running spot for people who love punishing themselves by slogging uphill (including me).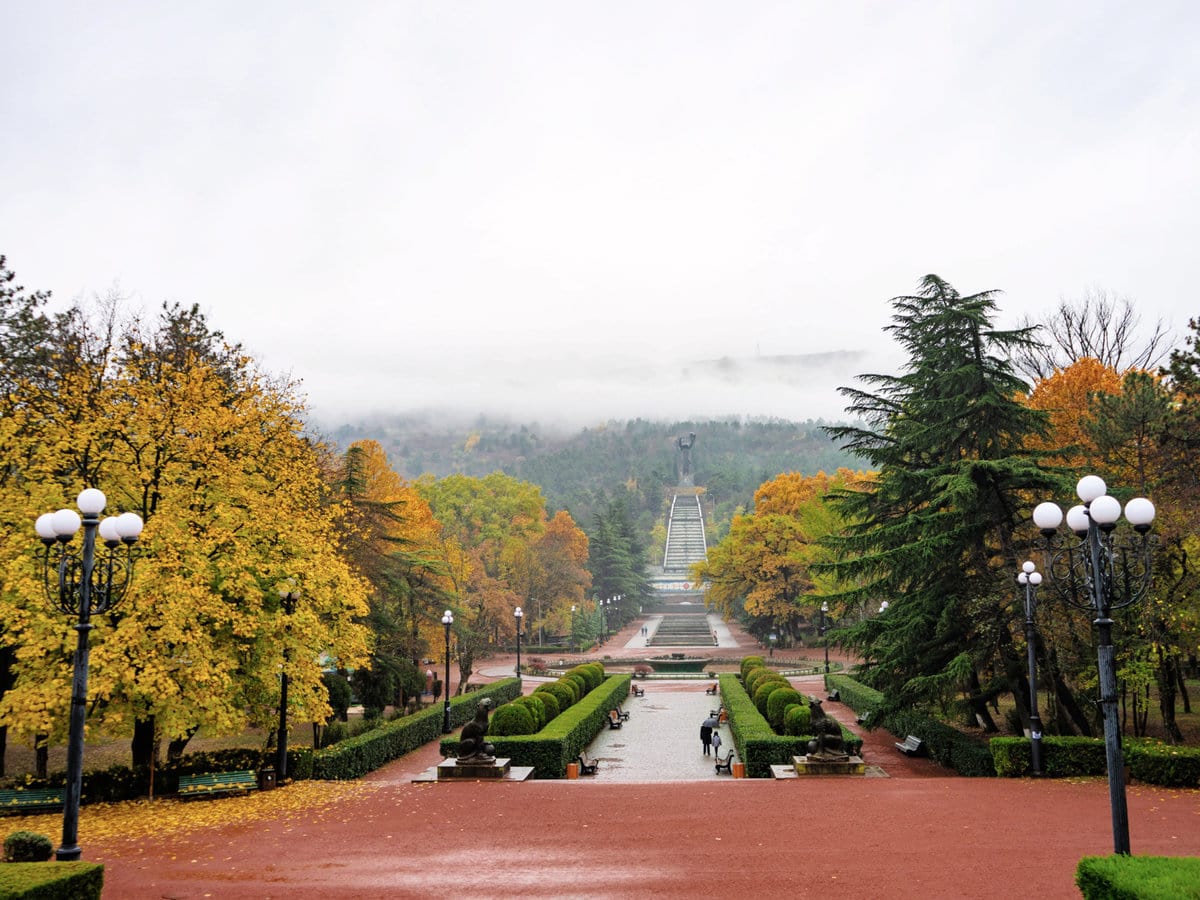 Because it's pretty huge, Vake Park is a good place to spend a couple of hours, and it's popular for family picnics. If you're here with kids, check out the child-friendly amusement area, with some small rides and snack bars.
6. Mtatsminda Park
If you're on the hunt for panoramic views (and Tbilisi has loads of them), this is the most beautiful park in Tbilisi.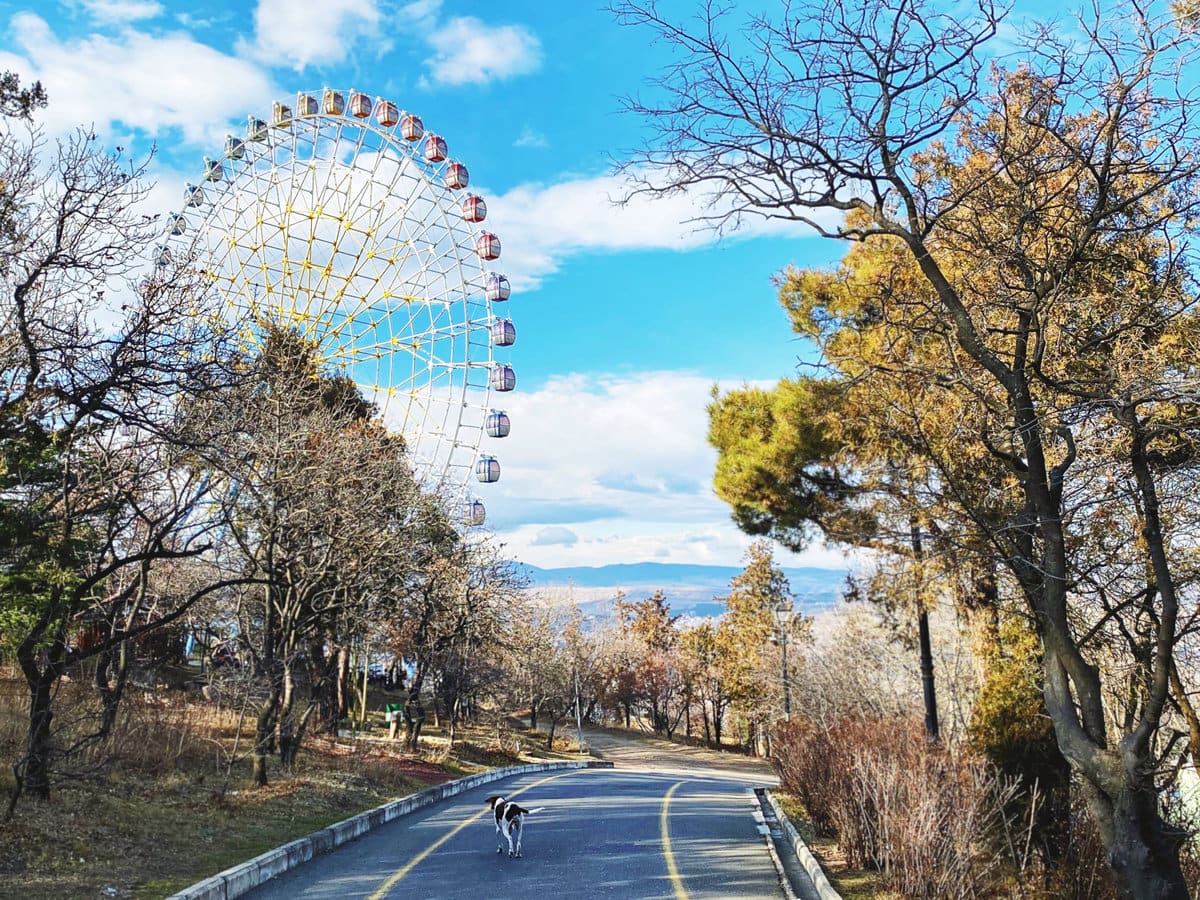 But because it's so big (and mainly because it sits on the flattened plateau of a big city-center mountain) it feels more like a resort than a park.
Up here, you'll find loads of fun stuff. Mtatsminda Park has fairground rides (including a rollercoaster, water slides, and a carousel), a classy-but-affordable restaurant, a funicular, lots of street food, some occasional festivals, and lots more kid-friendly stuff.
Whether you're traveling with kids or not, you should also ride on the park's huge Ferris Wheel, which offers great views of the city and its mountains.
Halfway between Mtatsminda Park and the city center, there's a pretty church and pantheon, where lots of famous Georgians are buried.
Last of all, Mtatsminda Park is also a good choice for hiking and trail running. If you stroll (or sprint) from here to the ruinous remains of Narikala Fortress, you get lots more great views of the city.
And you can even use your two little feet to get from here to Turtle Lake… but more on that place later.
7. Central Park
Calling this place beautiful is probably a bit imaginative. But I genuinely think it's attractive in a sort of oddly-apocalyptic way.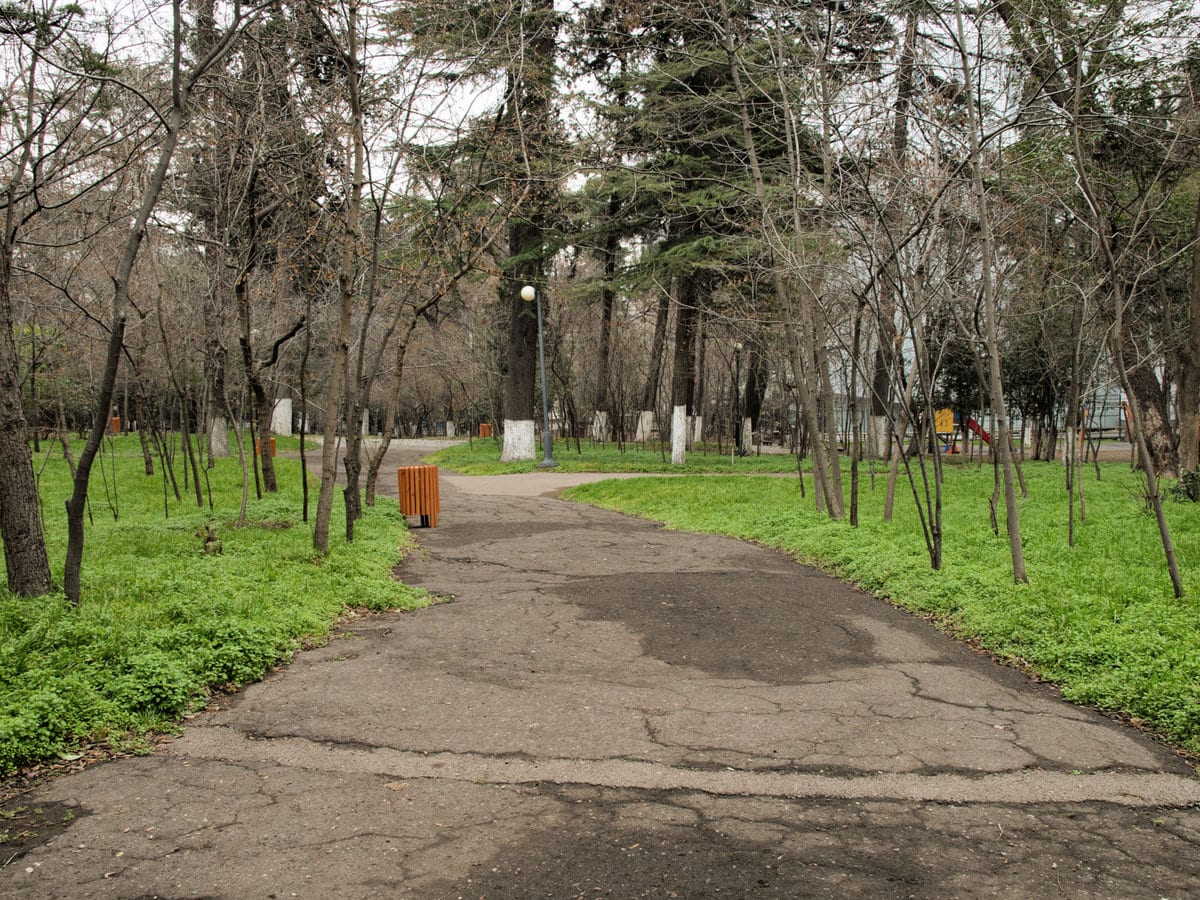 A racetrack-shaped feat of a desolate lack of landscaping, Central Park is great for running—it's circular, it has a track running around its perimeter, and it's never particularly busy.
But it's not just good for running—because it's flat and vast, it's a good place to let little ones explore without them getting lost. And because Central Park is sandwiched between the districts of Saburtalo and Vake, it offers endless residential views of the area's skyscrapers, tower blocks, and unusual street art.
It also feels wild and untouched, and you'll often find lots of friendly street dogs here.
So, yeah, this place isn't attractive in the traditional sense. But there's definitely something beautiful about it.
8. National Botanical Garden
Is a botanical garden actually a park? I don't know—but this place is definitely beautiful.
It's home to a waterfall, a river, some unusual futuristic buildings, a bamboo grove, and a whole load of different trees, plants, and flowers. The place features a massive collection of 4,500 different taxonomic groups (whatever that even means). It also has a small Japanese Garden, a kids' park, and a lengthy zipline.
And it's much bigger than most people realize… it measures in at a huge 161 hectares. You can easily wander around the National Botanical Garden for 2 or 3 hours without retracing your steps.
Best of all, it's right in the center of the city, hiding just behind Narikala Fortress—so you can easily visit the park while you're wandering around all the famous highlights.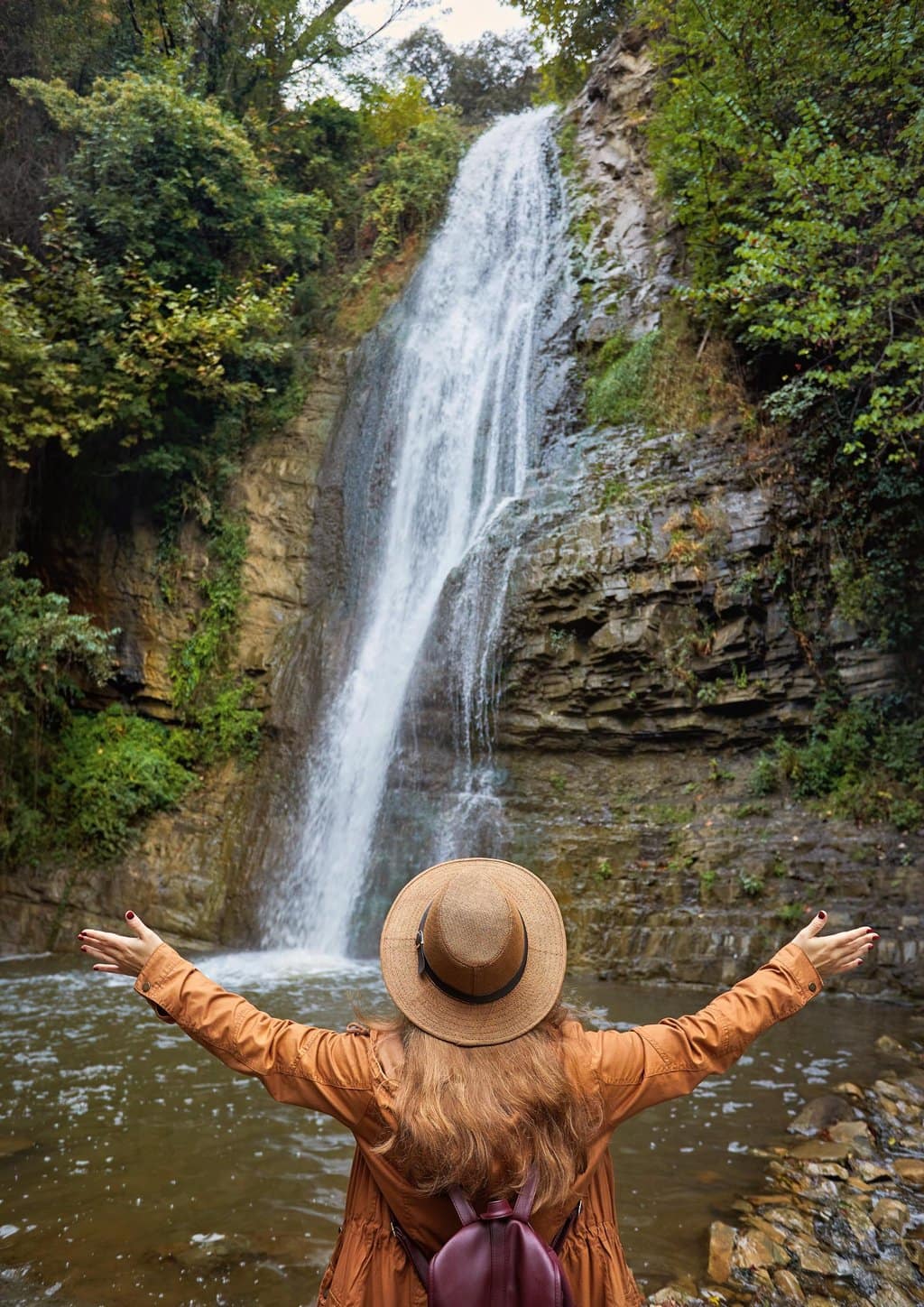 If you like plants, you'll obviously love this place. But even if you don't, you'll have a good time anyway—I have no interest in looking at flowers, and I still like the garden.
It's of course at its best during spring and summer… I don't recommend visiting during any other time of year.
9. Lisi Lake
Alright, this place definitely isn't a park.
But it's a big outdoor green space that's perfect for picnicking, exploring, and spending time with people. If that's not parkish enough for you, I sincerely apologize.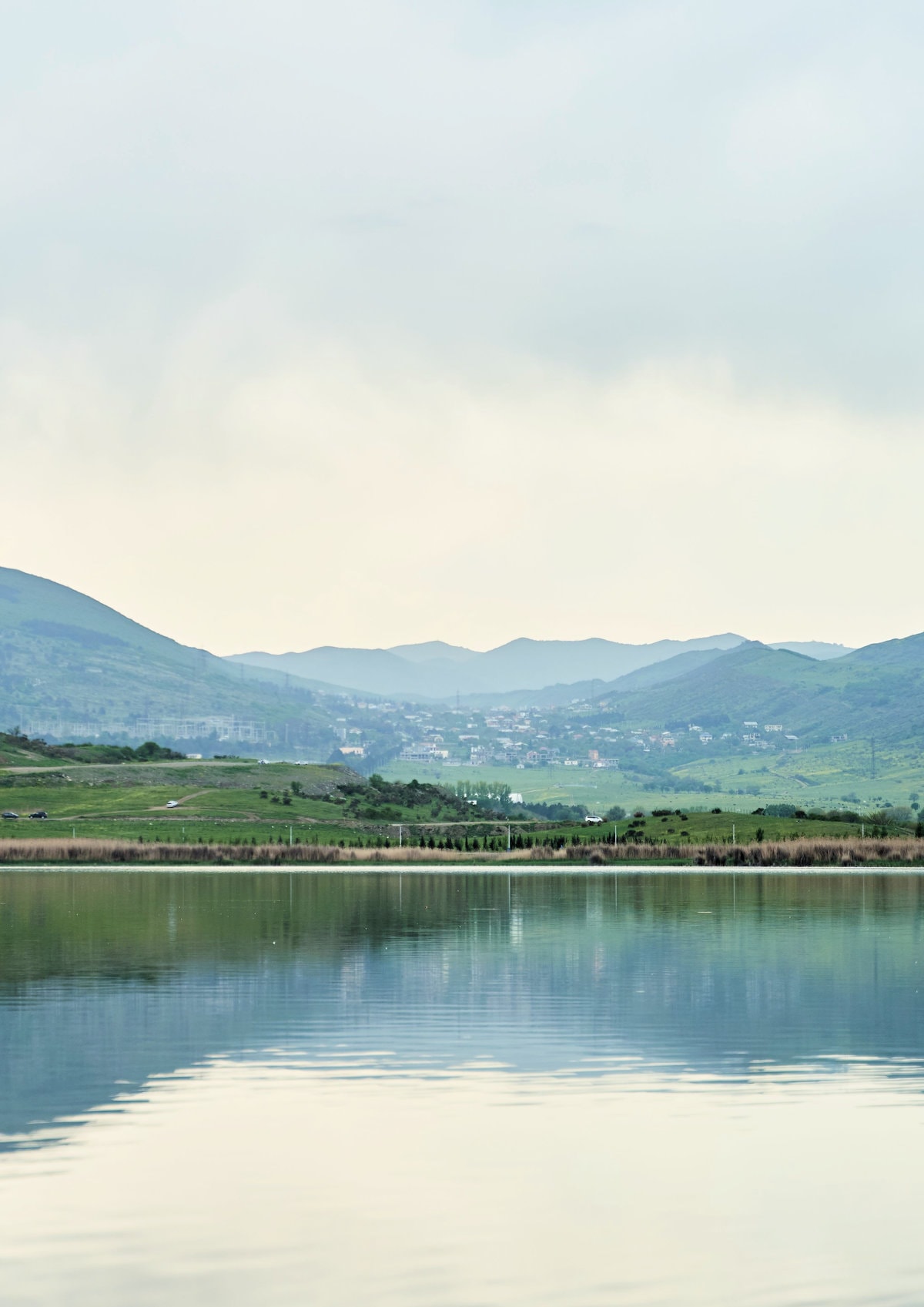 Lisi Lake itself is relatively pretty, and it has a paved road running around its entire perimeter—it's ideal for a gentle stroll or a mini bike ride. But if you want a better adventure, head to the two ridges just to the north of the lake.
The upper ridge in particular has a whole load of great hikes—to villages, lakes, crucifixes, and more. If you want remote fun just on the outskirts of the city, this is the best place to find it.
The #1 walk you should tackle is this: head west to Tsodoreti before then ascending the peak of Natlismtsemeli mountain. Come down the other side of the mountain, via a small pretty lake and you'll reach the Azeri settlement of Mskhaldidi.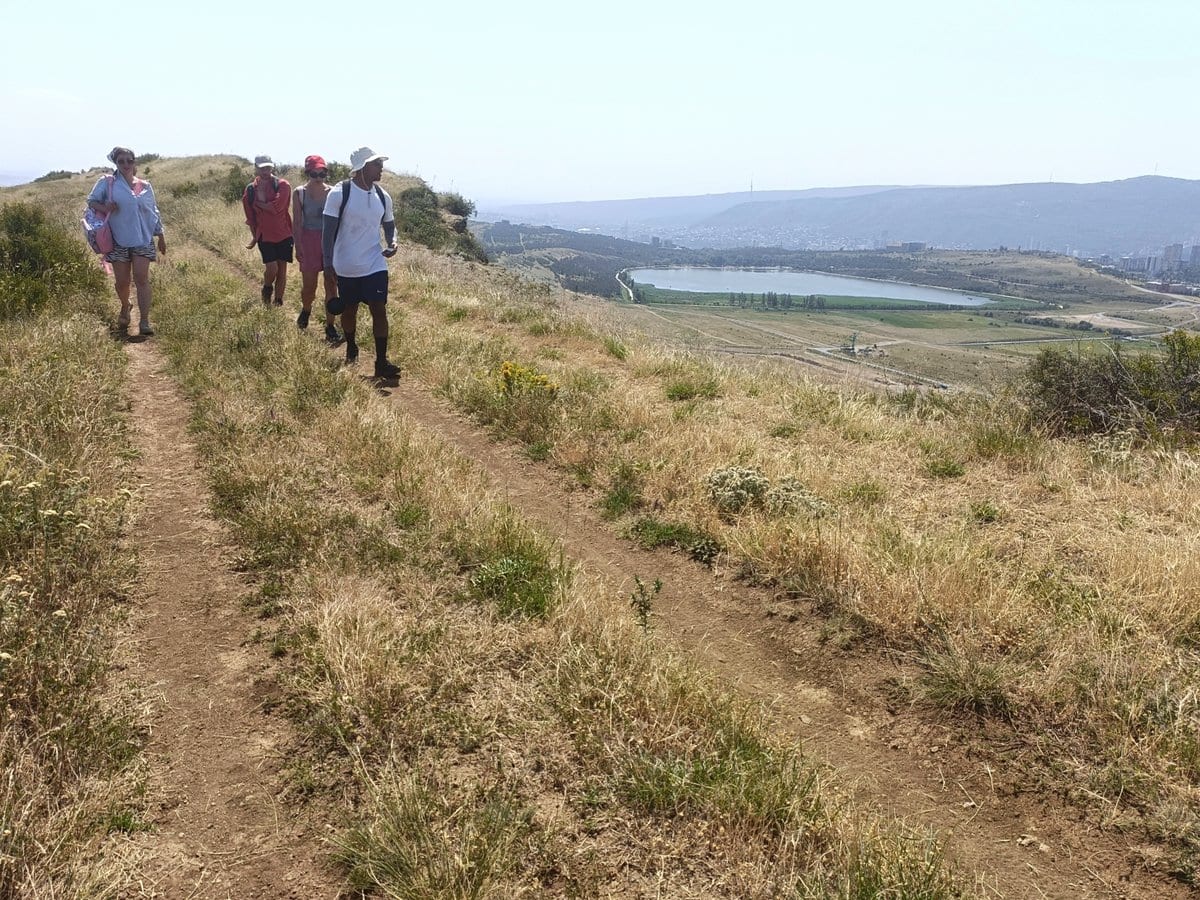 Oh, and for another excellent adventure, head to Dog Organization Georgia, a dog shelter just west of the lake. Here, you can meet some of the city's rescue dogs, and take them with you on your adventures around the lake. Massively recommended!
10. Turtle Lake
Turtle Lake is pretty similar to Lisi Lake—it's not an actual park, but it has lots of excellent outdoor stuff. Highlights include play areas, hiking trails, cycling trails, picnic spots, calisthenics workout zones, and… as you probably astutely intuited from the name of the place… a lake.
Other highlights include a lengthy zipline, rentable paddle boats, and the rickety-but-fun old-school cable car that runs from the lake to Vake Park. And when you tire of all the action, there are some nice places to eat and drink—meat-heavy Buri BBQ is my favorite.
Turtle Lake is a nice compromise between busy and quiet—although there are loads to do here, it's never particularly bustling.
If you want a bigger adventure, you can walk all the way from Turtle Lake to Mtatsminda Park. It's a surprisingly easy stroll, but it's packed with brilliant views. For a shorter option, you should instead wander to the lofty figure of Svan Tower, with great views of the lake.
Just underneath the park, there's the city's Open Air Museum of Ethnography, another attractive outdoor area. It's full of old-style buildings and offers a nice combo of good views, pretty green spaces, and a big ol' slice of insightful history.
11. Tbilisi National Park
Last up, the biggest park of them all.
Tbilisi National Park is just to the northeast of the city center, and it's one of the best national parks in the nation. It was also the first national park in Georgia, and it measures in at a surprisingly vast 210 square kilometers (81 square miles).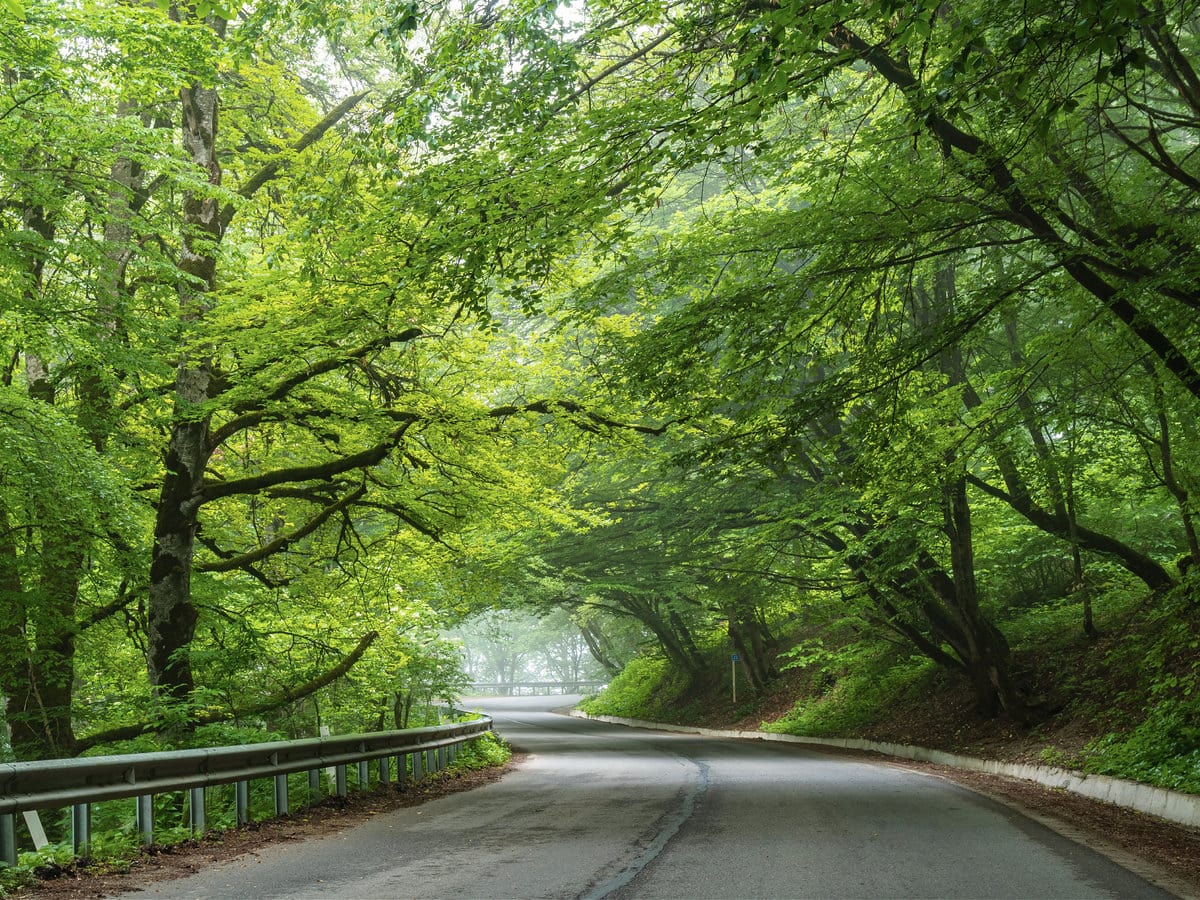 It's full of great hikes, and because a major road runs through the park, all the fun is super easy to access.
The best introductory wander here is the Big Viewpoint Trail (which, despite its name, is actually pretty easy). A much-more-challenging option is the Mamkoda Loop, which clocks in at a hefty 38km (23.5 miles).
This loop takes you to both Martkopi Monastery and Mamkoda Monastery. Even if you don't want to hike to them, you should visit them both—pretty much all of Georgia's biggest green spaces are packed with religious buildings, and these are both good examples.
If you're looking for something a little different, check out the park's bear sanctuary (which is also home to wolves and dogs). Here, you can feed the bears—and watch them chow down on 20kg of fruit in about 10 minutes.
Before You Go
That's your fill—the 11 most beautiful parks in Tbilisi!
For much more information on exploring Georgia's super-lovable capital, check out our guides to the best places to visit in Tbilisi, all the things the city is famous for, and the top 17 reasons I love Tbilisi.
Thanks for reading, thanks for checking out Travelness, and we'll see you again soon!
Being a Digital Nomad: Tips, Tricks and Places
Do you want to be a digital nomad?
If you do, maybe you don't know where you might want to live. Or how to live there. Or whether you need a visa. Or how to make friends in the scary sprawl of a brand-new city. Or how to stay productive while you travel. Or how to find an apartment. Or whether this lifestyle really is for you. Or… I'm sure you get the idea.
But with some insight and experience, it's not as difficult as you think. So in this book, I've gathered my 6 years of digital-nomadding experience… and I've used it to answer all your questions, soothe all your fears, and get you on your way. After reading this, you'll realise being a digital nomad is much easier (and much more possible!) than you think.